Introduction
WhatsApp is a great way for businesses to connect with their customers, but it's also a potential medium for sharing information and enhancing customer service.
If you're looking for ways to improve customer service with WhatsApp, you should consider incorporating WhatsApp chatbots with your business websites and other platforms.
Sources state that by 2023, businesses and industries would save 2.5 billion hours on average using WhatsApp Chatbots.
This blog outlines 6 ways to improve customer service using WhatsApp chatbots.
Keep reading to learn more.
1. WhatsApp chatbots automate lead qualification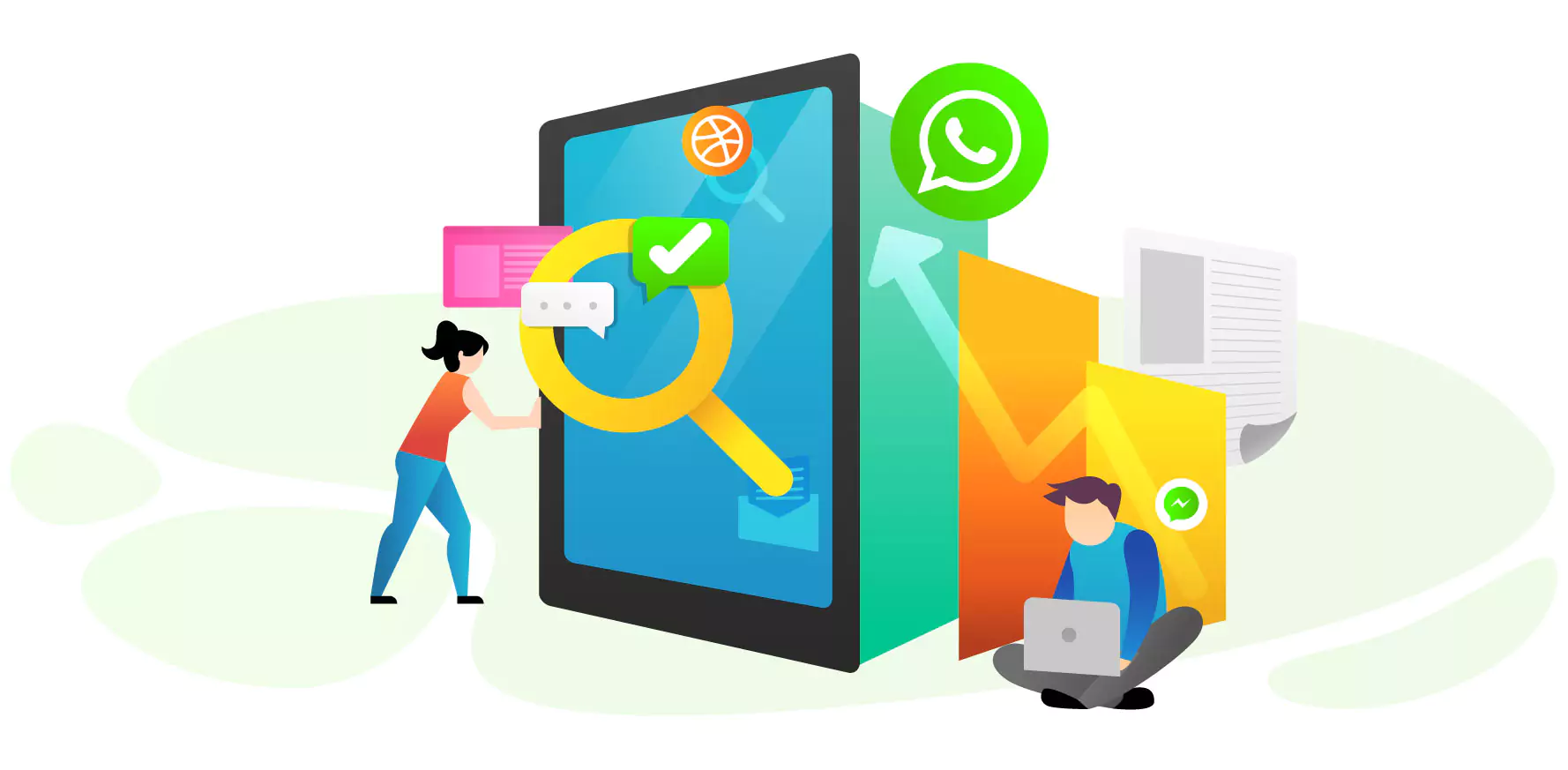 Your representatives no longer have to manually collect consumer information repeatedly, aswe all know that it is a very daunting task.
For nurturing leads with the correct information, products, and services, you need specific data about the said leads, and Whatsapp chatbots can do that for you.
You can automate WhatsApp messages based on the responses, qualify leads and send them further to the marketing and sales team.
Based on the data, AI chatbots may quickly segment your audience for you, assisting you in producing more qualified leads on an ongoing basis.
2. WhatsApp chatbots can respond to frequently asked questions:
Each minute of the day matters to a customer. In today's fast-paced world, customers look for prompt responses to their queries and doubts.
With WhatsApp chatbots, you can automate WhatsApp messages and help your customers by responding to their queries and resolving issues.
Thus, there is no need for the users to contact the business team which results in cutting off the manual workload for the team.
WhatsApp chatbots can also share information from the in-built knowledge base.
3. WhatsApp chatbots automate customer service
With WhatsApp chatbots, you can assist users while performing all the processes, including booking, scheduling meetings, sending applications, purchasing products, etc.
WhatsApp automation provides a consistent experience across all channels.
WhatsApp chatbots act as an automated system that can be accessed 24/7 by any employee and leads.
4. WhatsApp chatbots can send recommendations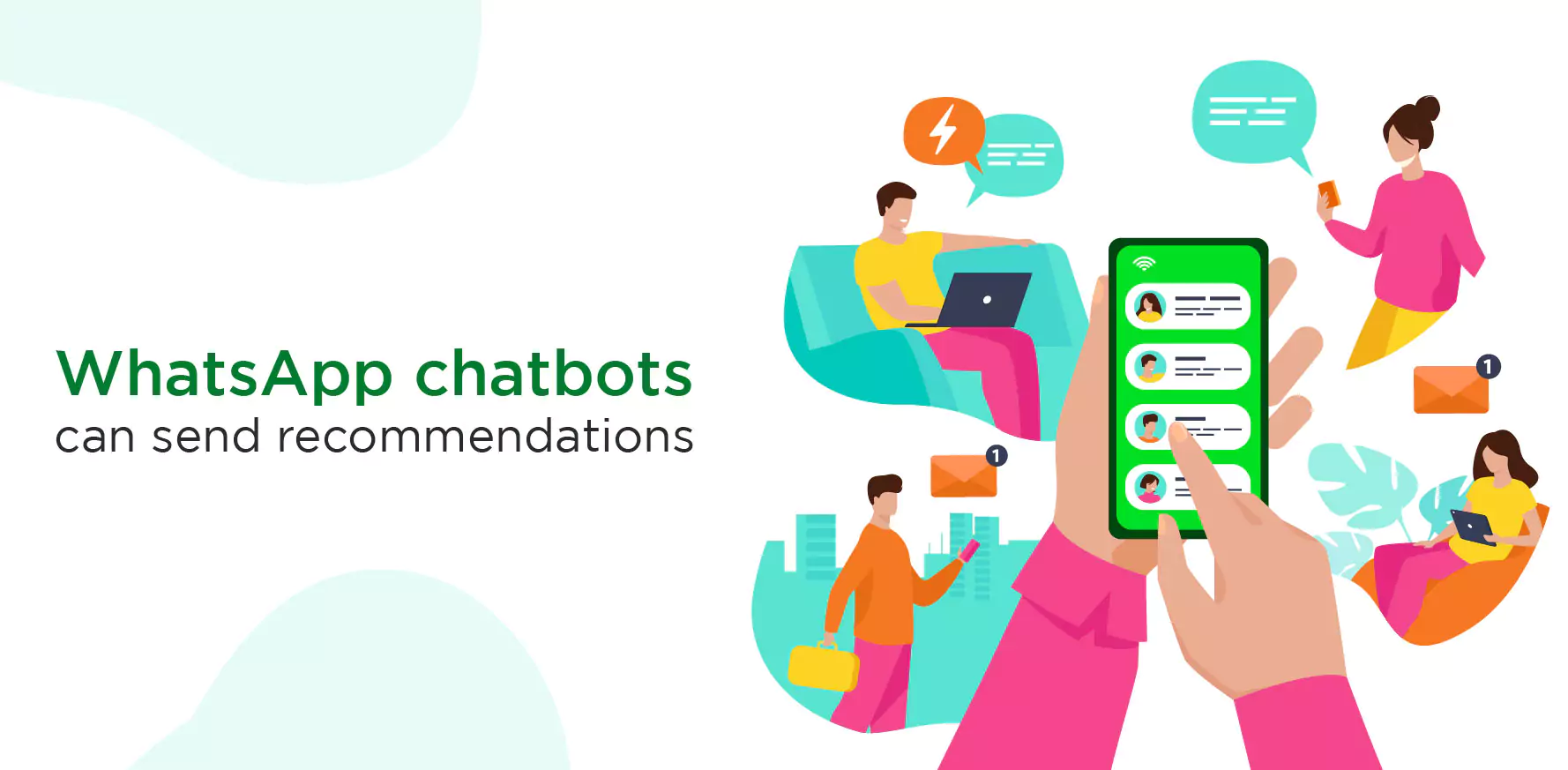 A user's purchasing history tells everything about the customer's choices, interests, and likes-dislikes.
You can automate WhatsApp messages to offer product and service recommendations.
This WhatsApp automation can also include abandoned cart messages which brings about the leads into purchasing them.
Your business's profits can exponentially amplify due to a regular product recommendation.
5. WhatsApp chatbots can automate sales
Based on the needs and requirements of the leads, WhatsApp chatbots can respond with many outcomes.
Moving ahead, leads can tap to buy the products and carry out the further sales process. It substitutes for the salesperson and proves more efficient.
The WhatsApp chatbot can be used by customers to request certain goods and services and get the desired result based on an Artificial Intelligence (AI), machine learning, and natural language processing (NLP).
6. WhatsApp chatbots can automate marketing campaigns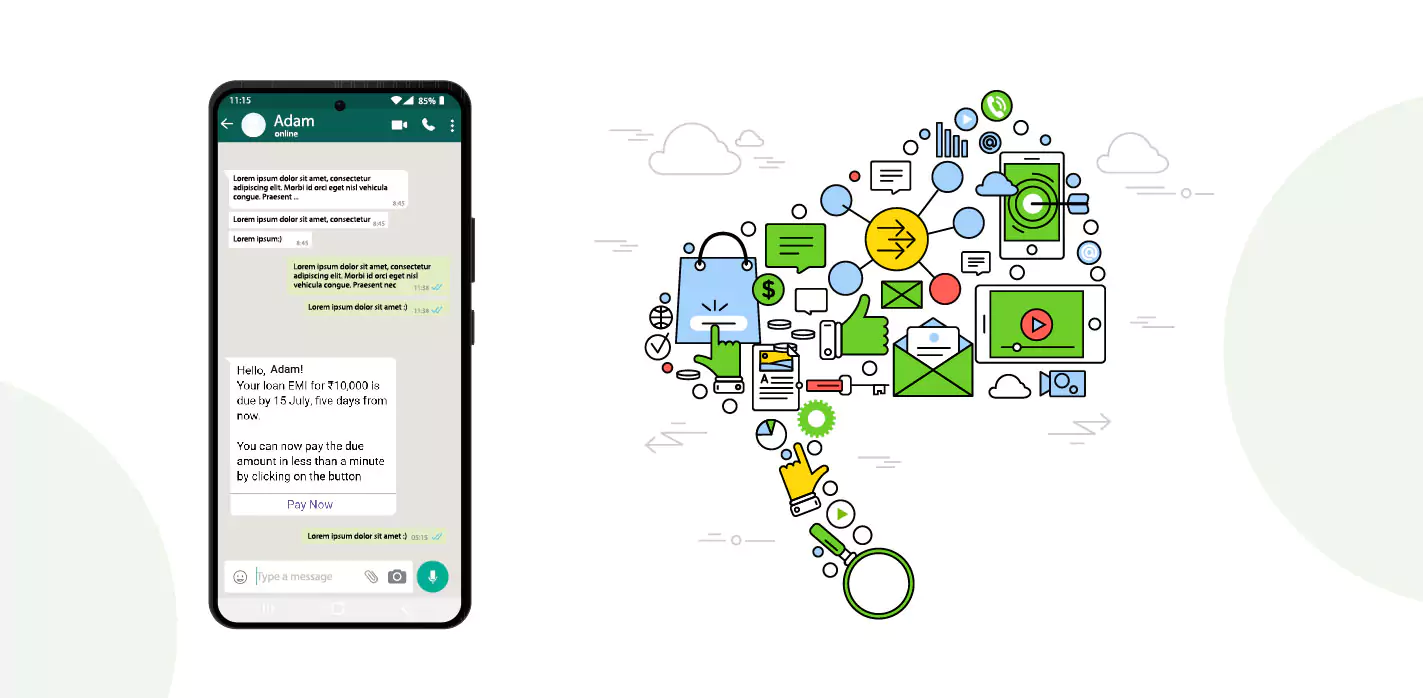 It's a challenging task to simultaneously execute and manage marketing campaigns on all social media platforms, apps, and websites.
You may forget any platform, reply to each lead regarding the campaign, and close the sales. Whatsapp Chatbots can automatically upload and post-marketing messages.
Automating WhatsApp messages to send discounts or promo codes, or even offers about all the products, aids in engaging all the leads and making more sales resulting in more profits.
Your business can enhance sales by automating WhatsApp messages as responses to product inquiries or delivering them as abandoned cart/out-of-stock notifications.
Wrapping it up
WhatsApp chatbots can streamline numerous tasks efficiently.
WhatsApp chatbots allow you to automate your business with the click of a button. It's not bounded only to automating sales, marketing, and customer support but beyond that.
In this blog, we have covered 6 ways you can improve customer service with WhatsApp chatbots.
By using these solutions, your business will be able to attract more customers and form a large sustainable customer base.
Join the league of successful businesses by incorporating WhatsApp chatbots into your business.
Contact Botpenguin right away and get your business the perfect WhatsApp chatbot.
So, what are you waiting for? Call us right away!