Software called Groove provides real-time customer help on a variety of platforms and dashboards. According to many, Groove is the most powerful modern helpdesk software around.
As some of the biggest and fastest-growing businesses in the world, like Google, BBVA, Atlassian, Uber, and Capital One, Groove is used by over 70,000 employees.
But are there any alternatives to Groove's Sales Engagement Platform? Consider sales force automation. Here you will learn about some amazing options to Groove, so keep reading below to know more.
Groove CRM: What is it?
Groove is a sales productivity platform whose revenue executives increase revenue-per-rep across all business divisions.
Whether a salesperson works in the office, at home, or on the road, Groove automates administrative chores and makes Salesforce simple to access and update.
Groove equips salespeople to perform at their best, whether via the development of repeatable playbooks or the use of A.I. to transform complex data into valuable insights.
Groove helps over 70,000 users at clients like Google, Atlassian, Uber, and Capital One to be more productive and efficient. According to the 5000 fastest-growing privately owned firms in the U.S., Groove, since 2020, has the highest enterprise customer satisfaction rating.
However, only some things are as rosy as it seems. Some things could be improved about Groove, which gives its alternatives an upper hand. Let us know these drawbacks and how the other options are emerging as a better solution.
Groove CRM has a few drawbacks that are worth considering: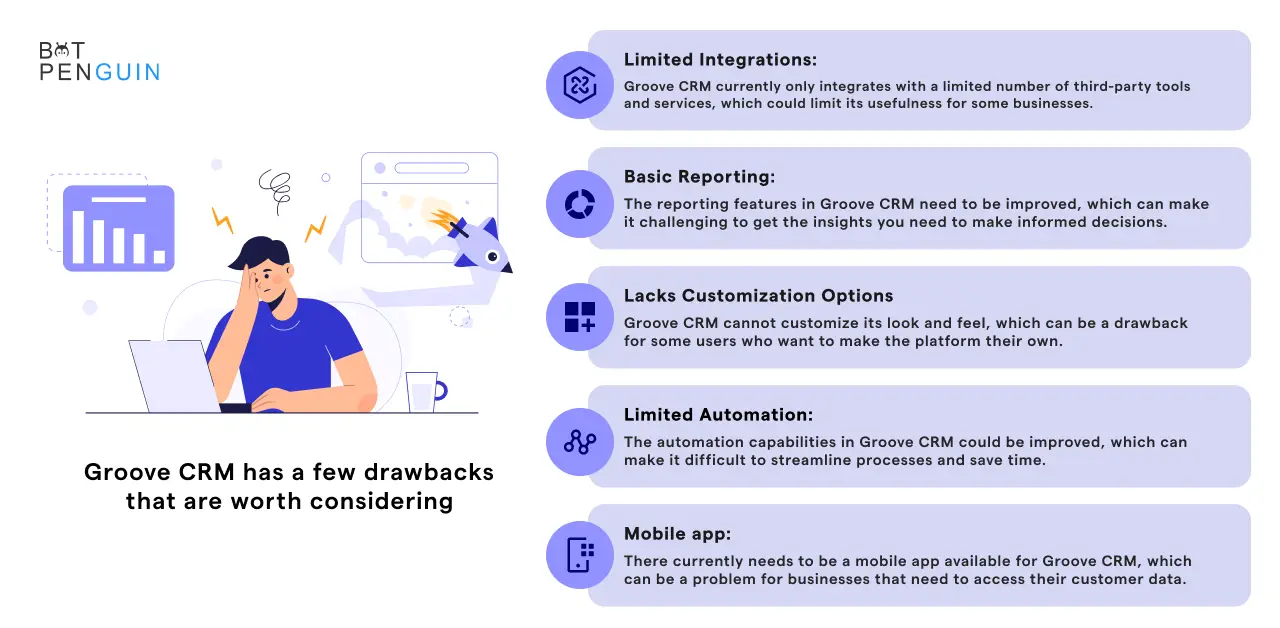 Limited integrations: Groove CRM currently only integrates with a limited number of third-party tools and services, which could limit its usefulness for some businesses.
Basic reporting: The reporting features in Groove CRM need to be improved, which can make it challenging to get the insights you need to make informed decisions.
Lacks customization options: Groove CRM cannot customize its look and feel, which can be a drawback for some users who want to make the platform their own.
Limited automation: The automation capabilities in Groove CRM could be improved, which can make it difficult to streamline processes and save time.
Mobile app: There currently needs to be a mobile app available for Groove CRM, which can be a problem for businesses that need to access their customer data on the go.
These are some of the cons of Groove CRM, but it's important to remember that every CRM has its strengths and weaknesses, and the best solution for one business might be better for another. It's always a good idea to consider your specific needs and evaluate several options before deciding. Here we list six alternatives to Groove that will help you make a better and more informed decision.
6 Amazing Groove Alternatives With Great Features and Reviews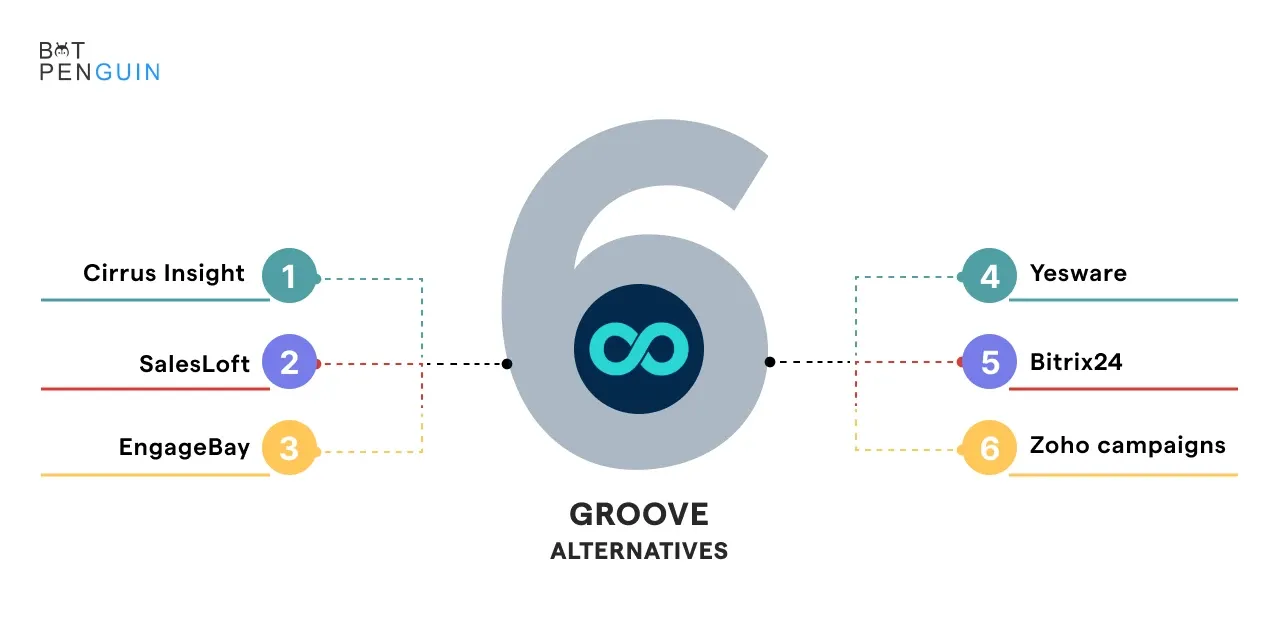 Cirrus Insight
Cirrus Insight is a customer relationship management platform that integrates with the popular email and calendar service, Google Workspace (formerly G Suite). Cirrus Insight integrates directly with Google Workspace, which makes it easy to manage customer interactions and keep all your data in one place.
Cirrus Insight offers several time-saving features, such as creating new leads and contacts directly from your inbox and calendar and logging emails and events as activities in your CRM.
Features
Sales Pipeline Administration

Calendar and Reminders

Management of Email

Email Promotion

Tracking interactions
Review- "The best tool to Improve SalesForce Utilization"
Overall, Cirrus' insight has improved the sales team's compliance with loading email exchanges and gathering data for Salesforce.
SalesLoft
SalesLoft is a platform for sales engagement that helps revenue teams interact and connect with their clients more effectively. It also aids in revenue closure, deal management, and pipeline building for these teams.
Teams responsible for sales development can create pipelines by finding, nurturing, and qualifying prospects. By building momentum, the tool aids in achieving and exceeding sales targets.
The ability to prospect and manage opportunities helps account executive teams close more leads. By giving the sales representatives the appropriate information at the proper time, they can implement account-based tactics at scale and enhance the purchasing experience for clients.
Features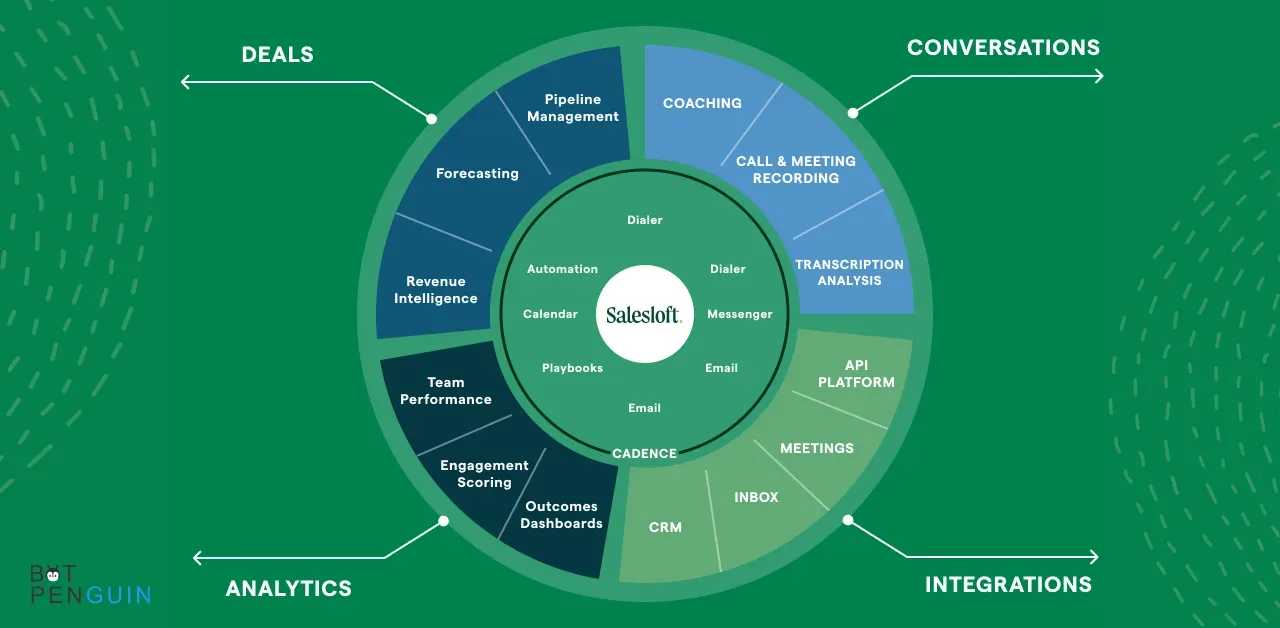 Preservation & Archiving

Auto-Dialer

Organizational Process Automation

Schedule Management

Call List Administration

Call Recording

Phone tagging
Review- "Uncomplicated to operate."
It is an excellent onboarding and user experience with the product. Every time a user has to contact assistance, they respond quickly and assist the user in resolving their problem.
EngageBay
EngageBay is an easy-to-use, reasonably priced, all-in-one marketing and sales CRM software for small businesses and startups. It helps them attract, engage, and nurture online visitors so they may become paying customers.
EngageBay's customer success software simplifies customer issues with only one user-friendly platform while increasing agent productivity, management influence, and customer empowerment.
Features
Communication Control

Delivery of Content

Customers are segmented

Customizable Templates

Drop and Drag
Review- "The perfect combination of CRM and email marketing tools."
It is an intriguing and compelling response to the problems. The user interface is simple and easy to learn and utilize. The workflow is simple to follow and comprehend.
Yesware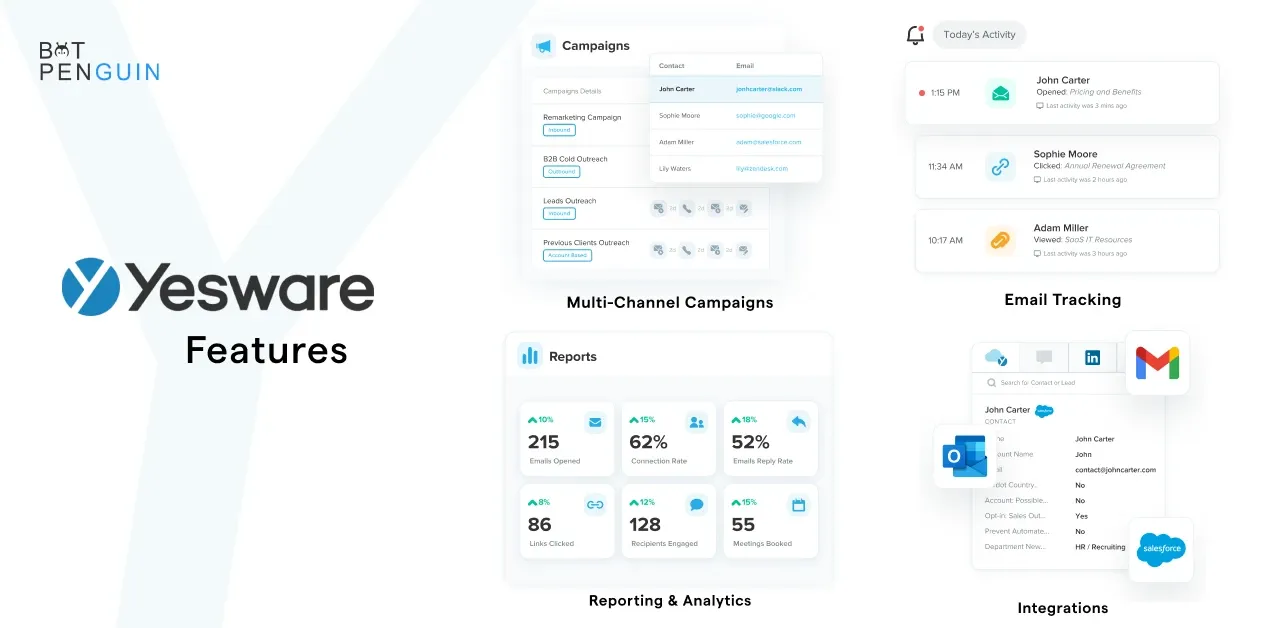 Yesware is an all-in-one emailing and sales toolkit software solution that gives your sales team a wide range of features to track email outreach activity, quickly test what works and what doesn't, and share the data with the rest of the team so they can achieve better results more quickly.
It does away with the need to manually organize your outreach or use spreadsheets, freeing up your sales personnel to concentrate on establishing contacts and closing deals.
With the use of Yesware, one may determine whether or not a prospect has received and opened an email and whether further contact is necessary.
Features
Testing AB

Activity Monitor

Activity Monitoring

Alerts/Notifications

Arrangement of Appointments

Audience Specification

Auto-Responders
Review- "Acceptable quality"
It is a good product all around. It's well-designed and generally simple to use.
Bitrix24
One of the few CRM systems, Bitrix24, combines a fully functional CRM with email marketing software. Bitrix24 differs significantly from other email marketing providers in several ways.
First, its CRM software enables you to build as many static or dynamic segments as you like and develop a particular email campaign for each group of clients or potential clients.
And yes, Bitrix24 also features email marketing automation and trigger-based emails if that's what you're thinking about.
Features
Free for all users

Free online storage of 5 G.B.

Bulk Emails start at $99/per month

Excel export and import

Emails To A CRM

CRM email messages

Integration with Mailchimp

Free iOS and Android mobile applications.

Available APIs and source code
Review- "A reputable CRM"
Bitrix24 is a great CRM software, superlatives, and all. Additionally, it is among the greatest CRMs available for free. Bitrix24 is a great option for teams, startups, and small enterprises who wish to use a CRM without committing.
Zoho campaigns
Zoho Campaigns is a feature-rich email marketing platform for companies of all sizes. This user-friendly email marketing tool offers everything you might need at a fair price, from subject and list administration to automation and tracking your results.
Build eye-catching emails using the drag-and-drop editor or ready-to-use email templates to create responsive email campaigns. To plan, carry out, and monitor upcoming email campaigns, you may automate every process step and keep track of your reports.
Features
Compliance with CAN-SPAM

Management of content

Subscriber Administration

Blacklisting

Email Monitoring
Review- "The top choice for email marketing for small businesses."
The tool offers a wide range of possibilities and is constantly improving. The platform's appearance has been altered significantly, and additional functions have been added. This one is one of India's top platforms for small and medium-sized businesses.
FAQs
What purposes does Groove software serve?
Small organizations can use Groove, a support desk application hosted in the cloud. It makes it easier for businesses to interact with their clients through the phone, live chat, social media, and email.
Some key features include ticketing, live chat, knowledge management, reporting tools, and customer self-service.
How much does a groove cost?
Pricing for Groove is unavailable online; instead, you must request a demo or estimate. According to online comments, the introductory price is $12 per user per month, while the business price is $22.
Conclusion
Searching for a Groove alternative that deals with businesses with 11 and 1000+ employees? Most individuals often use Groove to assist with audience targeting, campaign management, and activity dashboard, but you might have better options.
Many different products available might be an excellent match for your needs, regardless of your priority for usability, cost, user reviews, or value for your money.
Instantly investigate alternatives and contrast programs that provide Groove-like functionality. Check out these other top choices that come the closest to Groove in terms of usefulness, essential features, and advantages based on shared characteristics.
If you do not want any alternative to Groove but want to enhance customer relationships with Groove only, then you must go with it. BotPenguin is a chatbot platform that can be integrated with Groove CRM to enhance the customer experience and streamline customer interactions. To know how it can be done and the potential benefits, contact us right now!