Seeking an omnichannel solution to organize, track and streamline your business operations? With a gamut of project management tools out there, it's important to select one that best fits your needs. Among the popular choices is Asana, a versatile tool that packs critical features such as to-do lists, calendar functionality and system automation.
Primarily, Asana thrives where it matters most – boosting your productivity and making remote working a breeze. For small teams or standalone freelancers, its free basic plan may well suffice, bundling ample tools to kickstart your project planning journey.
Let's delve into Asana, a project management powerhouse, and explore five compelling reasons it leads the pack in task management.
Unpacking Asana
More than a mere tool, Asana is a fully-fledged project management platform that expertly juggles all facets of a project, regardless of scope. It's your one-stop hub for visualizing every task that demands attention, engineered with an intuitive, user-friendly interface.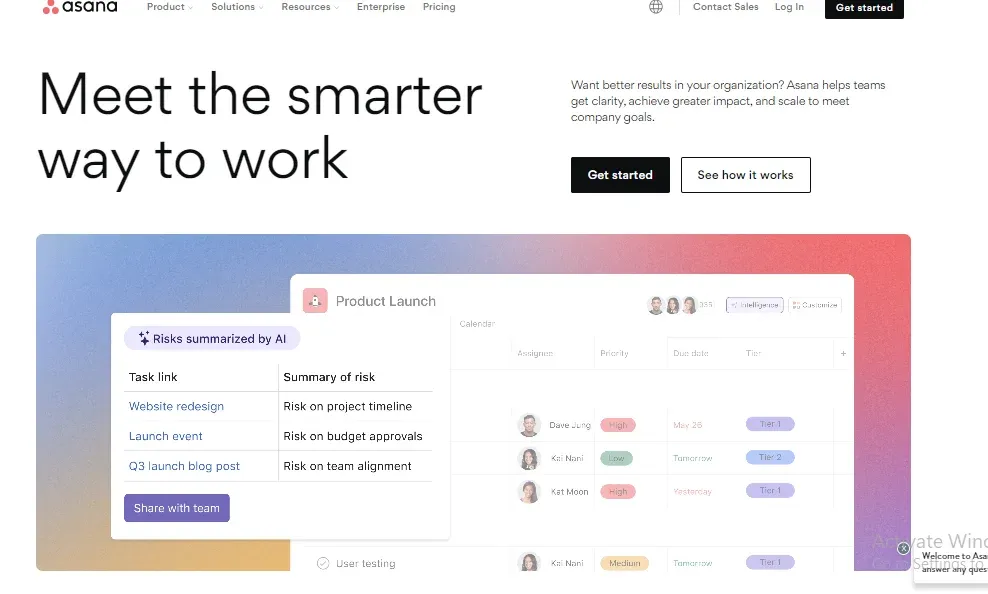 In essence, project management is about guiding teams through planning, monitoring and executing work to meet set goals. Here, a 'project' refers to a task ensemble designed towards attaining a specific aim.

Top 5 Benefits of Using Asana
Managing projects can be a Herculean task, especially without software assistance or spreading work across numerous disjointed tools.
Over time, it's all too easy to lose sight of the details and struggle to keep up. Asana rolls out a well-structured, organized platform to keep projects on track, enhance communication, and meet deadlines efficiently.
Track Progress
Harness Asana's real-time status updates and reporting tools. Always remain in the loop, saving precious time by nipping minor issues in the bud before they snowball into critical problems.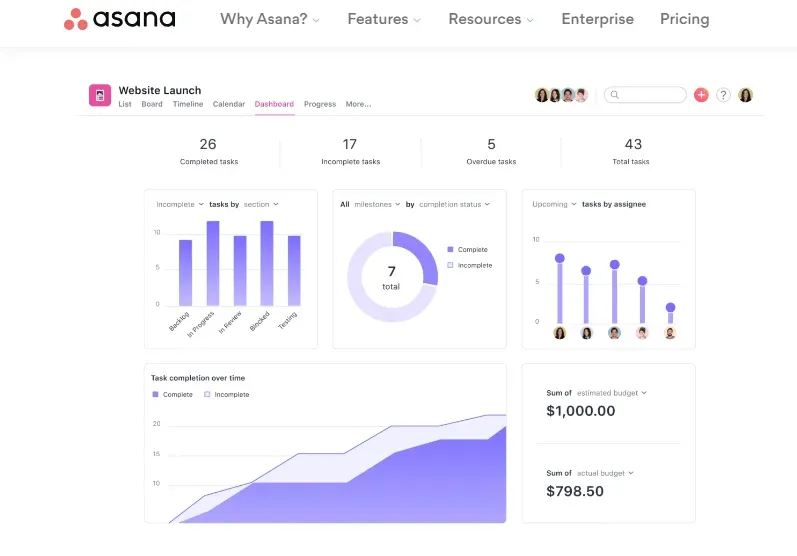 Utilize Templates
The platform offers templates for routine, repetitive workflows. Whether it's a multimedia content creation or routine blog posts, creating and duplicating template projects saves time and ensures you hit all necessary milestones.
Improve Collaboration
Asana provides a central repository for critical intel such as project plans, shared files, and feedback, simplifying the search for vital information and fostering better team collaboration.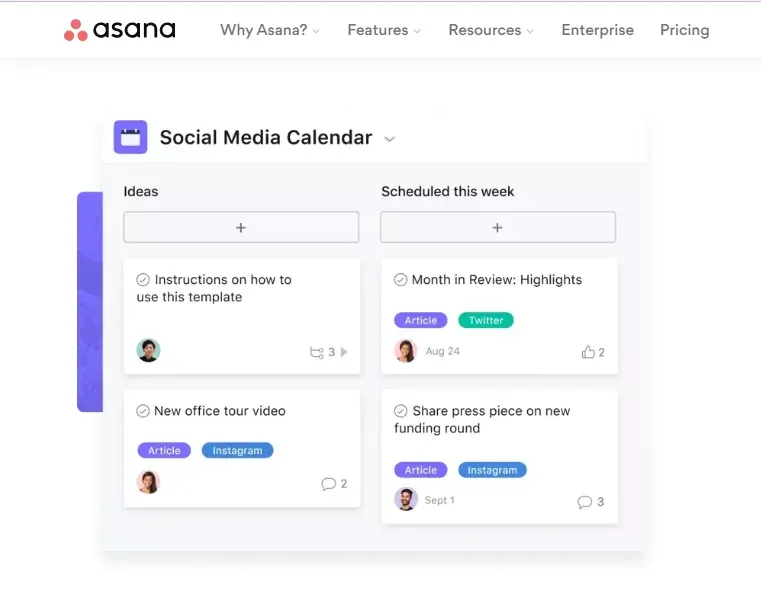 Streamline Communication
Asana consolidates all team, client, and vendor dialogues in one place to ensure consistent, clear communication, eliminating ambiguity and ensuring everyone's on the same page.
Stay on Schedule
Asana facilitates efficient goal setting and task prioritization, enabling faster project completion and deadline adherence sans frantic, last-minute rushes.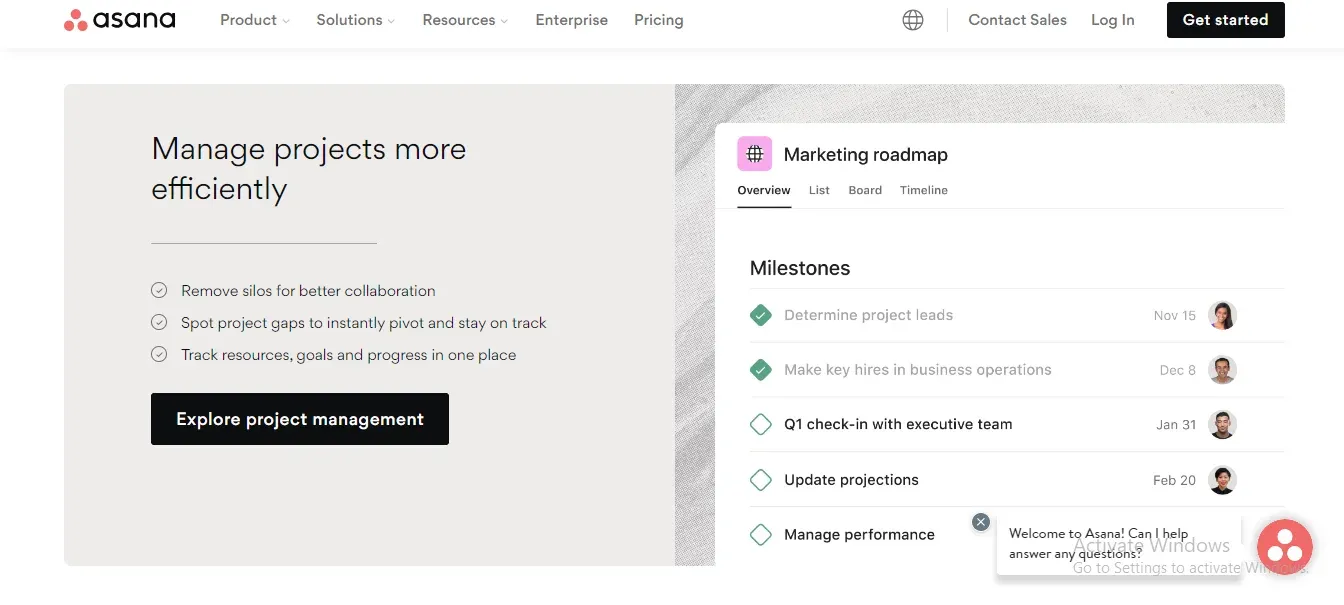 Asana's Key Features
Projects: Use shared projects to organize your initiatives, meetings, or programs via lists or Kanban boards.
Tasks: Split the workload into digestible pieces for your team.
Subtasks: Break down a task into smaller segments or showcase the steps necessary to complete a task.
Milestones: Track and share the progress of critical milestones in your project.
Task Assignees: Assign specific ownership for each task to avoid confusion.
Custom Fields: Not only tasks, but track any workflow item on Asana using customizable field names, types, and values.
Start Dates: Establish task commencement dates to avoid last-minute jitters.
Attachments: Enrich tasks or conversations with files from your computer or cloud storage, such as Dropbox, Box, or Google Drive.
Rules: Automate essential actions in your processes with Rules.
Approvals: Clear the confusion around your approvals process and set clear expectations about what work requires approval.
Integrating Asana into Your Workflow: A Real-World Example
To truly understand the impact Asana can have on your project management process, let's consider a real-world example.
Imagine you're leading a team to develop a new mobile application. Your plan includes a number of tasks such as UI/UX Design, Backend Development, Frontend Development, QA Testing, and Launch.
Without a project management tool, you'd have numerous emails, files, and communication channels to juggle. However, with Asana: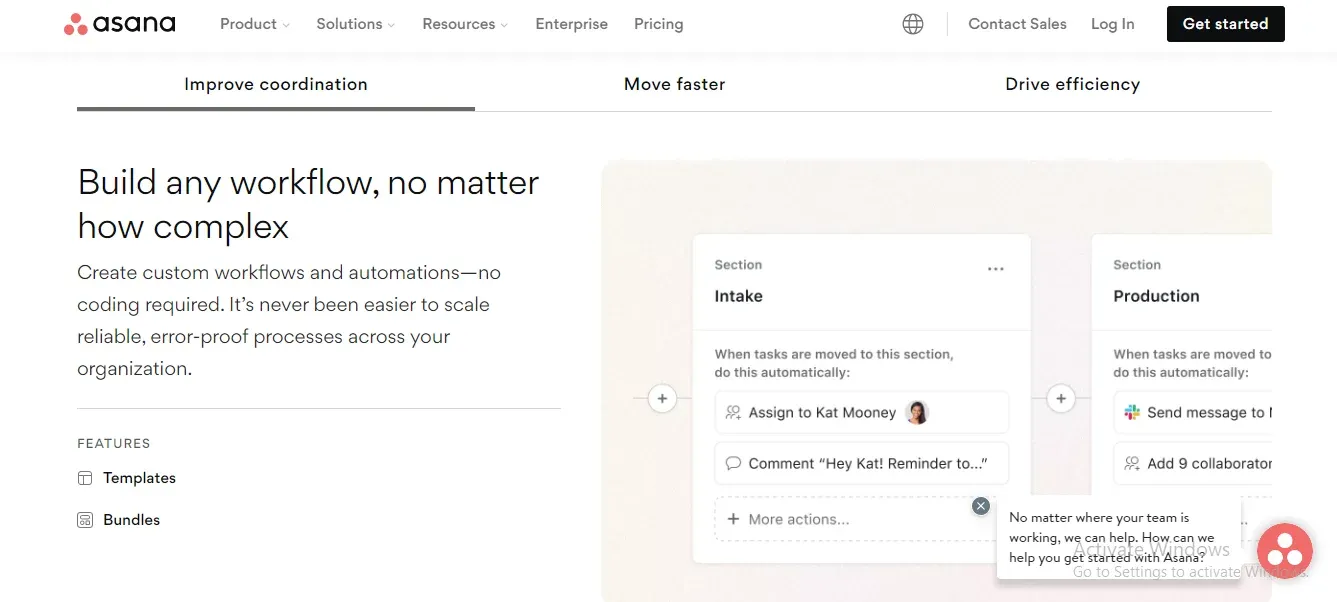 Centralize Information: You could create a project titled "Mobile Application Development", allowing your team to collaborate on tasks, share files, and discuss matters, all in one place.
Designate Ownership: Break down the project into tasks like "Design Main Menu", "Develop User Login Module", etc., and assign these tasks to respective team members. This reduces ambiguity and fosters accountability.
Monitor Progress: Using the project timeline, you can visualize your team's progress and avoid any potential bottlenecks.
Automate Workflow: Set up rules to automatically move tasks through different stages, or notify users for review or approval, thus increasing efficiency.
Enhance Communication: Keep team discussions focused on relevant tasks, and use @mentions to draw attention where required, keeping teams agile and flexible to changes.
With these elements in place, coordinating your project becomes a more streamlined, efficient process. The application takes shape in a structured manner, with every team member cognizant of their role and deadlines.
Wrapping Up
Millions worldwide trust Asana for superior work execution. Many businesses deem Asana as the go-to tool for project management.
Irrespective of your sector or organization size, your team stands to benefit from implementing sound project and task management principles.
By integrating even a few modifications in how you plan, manage, and measure your work, your team can become more efficient, accountable, and confident about addressing the most pressing issues.