Are you planning to create a chatbot for your business or are you here to learn about this trendy technology? Then, you have come to the right place. Today, this blog will tell you about the top chatbot use cases which would help you roll out chatbots at your organization seamlessly.
While we were writing about a chatbot, several bots in the market, and numerous details about it, we started noticing and examining the areas where bots added value to businesses, in short, chatbot use cases.
There are multiple ways to connect with your audience. But one of the most effective and efficient methods for any business irrespective of its size, nature, or type is an "AI-powered chatbot." In today's model time, companies improve their customer service game with excellent Chatbot uses.
But before moving forward, let's walk through some basics.
"Chatbot is that little chat box that opens up at the bottom right of most websites and usually sports a human image or icon and initiates conversation.
So, of talking about the technical definition- An AI chatbot is computer software that can interact by text for text to speech with the user of a website or any other bunch of applications."
The best thing about bots is that they can understand natural language, which makes them the perfect tool to engage a wider audience range without any problem. Even according to the present technological landscape, if you must know, New technologies Used In Chatbot Platforms Enhancing User experience, chatbot use cases are considered as promising expressions of interaction between machines and humans.
So let's get started!
Top Chatbot Use Cases / Applications in Business in 2021
So, we will show you how companies are using bots for various job roles in the different fields of Customer Service, marketing, and more.
The Chatbot Use Cases in Customer Support Services
There are many situations where Chatbot can be used for Customer Support Service
Answering and resolving Customer queries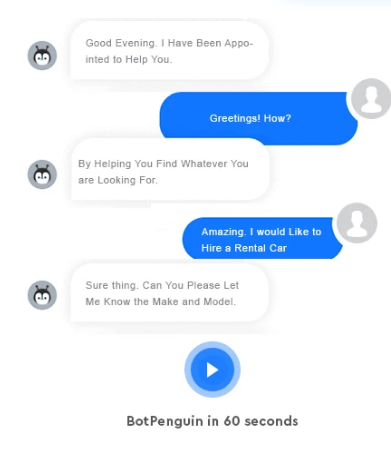 Here's your first Chatbot used. We all know the primary function of every Chatbot is to stimulate conversation with the users and support them throughout the purchasing journey. I'm most companies, 80% of customer queries are made up of just a few of the same issues.
Answering questions is the basic and foremost function to perform, but a highly supportive chatbot use case will help customers achieve instant payments from there itself.
For instance- if any customer wants to know the package's delivery time, it makes sense to let the bot perform and handle such queries and free the human staff.
Hence if the audience is wide, then it's not an easy task to offer high-quality and fast support services to every individual. Surprisingly, it even supported the world during the global pandemic with instant responses and offering assistance.
Thus, here one of the chatbot use cases can help you give 24/7 presence and power to treat everyone with impressive services. Take a look at how interactively BotPenguin is talking to the user!
Assigning the Customer to the Support Team
In case the customer query is complex and can't be resolved by the bot itself, you can train your bot to switch swiftly between bot to a human agent and lead them further to make sure the customer gets the needed solutions and all that it is looking for!
According to one of the Aspect customer experience index around 86% of users expect bots should always have an option to transfer to a live agent. This ensures consistency and offers hassle-free conversations between users and companies.
Here's one of the famous examples and ai use cases, the cosmetics giant Sephora using a boat to offer a quick and one-click customer feedback interface. To let them process the customer's unique demands.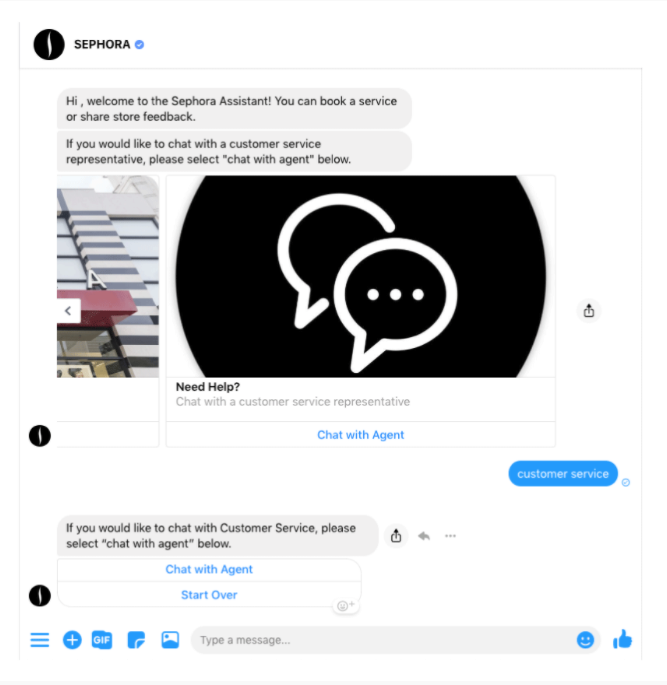 Order Food and Book Tickets Via Bots
Before making final purchasing decisions, the customers always ask for the same cushions regarding the products and services and other details. Hence, answering repetitive questions will take your valuable time and resources to reduce by using chatbots.
This chatbot use case can be the most feasible solution for your website and answer Innova solutions regularly without further delay. These can be the questions like:
Can you please tell me the available seats?
What types of pizzas do you have?
Can I order now?
What is the delivery time of my order?
What are the upcoming events?
And much more. By guiding them with the right solution, they can also help customers take action.
For instance, check out this dominos Bot offering quick options for orders and more.
To know How to Use a Restaurant Bot to Engage with Customers read our blog.
Recommending, Tracking, and Updating- all via Bot!
One of the best ways of delivering a positive impression on your customers is to help them make a better purchasing decision and make them aware of better options available according to their needs. With the learning bot, you can make it easy and way more useful than ever before. You can readily recommend while considering their budget and other inputs.
As we all know, there are cumbersome tasks to perform for any support agent, and you can easily lay off a lot of burden from their shoulders by automating and letting them focus on more crucial areas.
A bot cab performs all these roles seamlessly- recommending, updating customers with new discounts, deals, and offers, tracking orders, and notifying the respective team about the stock.
Some key highlights are:
Process Return and Exchange Request Seamlessly.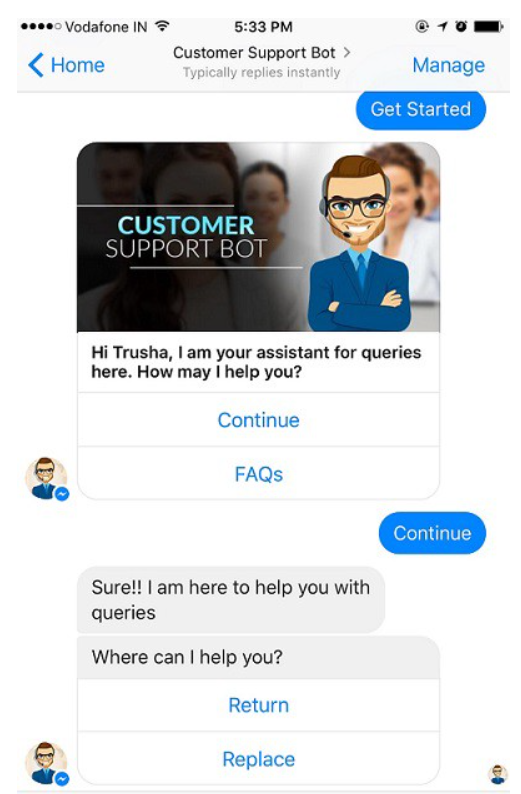 Facts say that one of the standard support FAQs (Frequently Asked Questions) is for refunds or exchange requests. Thus, businesses should have sound refund and exchange policies, but to communicate effectively, you can use a bot with which customers can register their inquiries within a minute.
With this one of the special chatbot use cases, you can improve your after-sales services too.
Helps in collecting customer feedback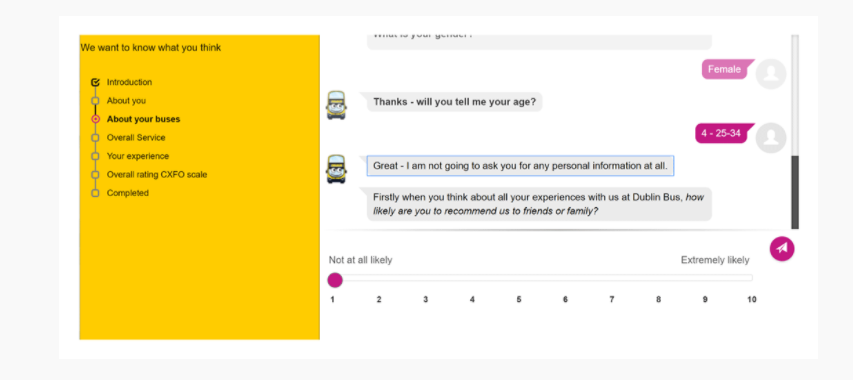 Here's let's talk about the next chatbot use case. Chatbots are collecting information and data from prospects, which helps in improving service and product quality and even conversion rates for the business.
Now, how do you connect customer feedback from a huge customer base? Previously, companies used to perform surveys, but it's not that easy to let your audience participate.
The primary reason is friction on customers' faces, and it's annoying to fill out long and lengthy forms. You can do it with a bot by just giving menu options, and a few clicks can record the feedback during the order or any other action.
Studies suggest that "traditional service over emails have a 10% open rate with less than 5% completion rate." And thus, you must know that they are for your benefit, not audiences.
The Chatbot Use Cases in Sales
Sales Assistant
With the advent of technology, people got smart and shop only after knowing the products and services. They are always keen to know what categories or varieties of colors are in stock and any other relevant information.
Thus, integrating this chatbot use case can act as an assisting hand to sales personnel by notifying them to simplify the lead creation process and other updates.
Managing a team requires a good period, cost, and effort. So, to minimize all of it, Deccan develops and streamlines new features within their sales departments with automated guidance. Thanks to AI, companies can have a 24/7 ready personal assistant for customers.
If you are willing to offer faster navigation throughout the wide range of products and services to the customers, this chatbot use case will be the ultimate choice.
Selling in Text-Only Channels
By integrating chatbots to your official site or website and even other messaging platforms (Facebook, WhatsApp), you can help your prospects purchase instantly within the chat interference without checking multiple pages.
For distance domino's lowest rates, pizza boat, which runs in Facebook Messenger, is the process of ordering pizza within the chat itself. The customer can easily order and get their pizza delivered to the given address in chat.
Best Assistant for your Team
So far, ai use cases discussed in this article are mainly customer-centric that are focused on supporting customers and reducing the organizational teams' workload. We will go on a different track and recommend to you all an internal or administration-supportive chatbot use case.
Even the company's employees belonging to different teams such as technical support teams and sales team marketing also need support to figure out solutions to complex problems and get fast access to customer information while handling any customer query.
And all this can be done via the bot, a boat into your CRM, and other systems that can help you with seamless onboarding, faster data access, and getting updates on relevant information to all the employees at once.
The Chatbot Use Cases in Marketing
Better Lead generation
All companies invest a lot in sales teams to find qualified leads to increase their customer base. The primary motive is to contact gold customers and get them interested in its services.
So, let's explore another useful chatbot use case.
Communicating with the prospects at every single stage of the sales funnel is essential to help them get more educated about your products and services and your business idea. Thus with the right time of interaction, it can help you get many qualified leads and help the staff do further nurturing.
Check out this super bot by a company named "Seattle Ballooning" that offers hot air balloon rides, about which you can get all your information via its bot! Have a Look over A to Z Lead Generion Strategies and Where should you use chatbots for better lead generation?
Fun Promotion
Every company needs to flourish its marketing mix and strategize impressive marketing pathways to promote its business immensely in the digital marketplace. This time people like to have fun and do their actions. The painting channel you used to attract audiences must adapt to their needs and requirements.
That's what chatbots do!
You can become more creative in your promotion campaigns by having short quizzes, offering goodies, announcing winners, and having a reward system with which you will automatically attract and generate more leads.
We say that chatbots can become an essential element to your marketing mix for sure! National Geographic uses its Chatbot to host several online short quizzes always to engage the audience.
Bots help in Simplifying Pricing
When visitors navigate the web pages to check out products and services prices, they might get confused with the sheer categories available to them even though they have comparison charts.
This confusion can lead you to miss out on a potential customer, so 2 to prevent this, you must support these exclusive use cases for Chatbot.
By having a live chat feature, customers can easily ask for what they are looking for and get all the related information then and there. Help in saving time and making the purchasing process more swift and fast.
Here's one of the companies, Amtrak, which helps its prospects find the best prices and shortest routes to travel seamlessly.
Conclusion
As you have seen, more than 10 creative and highly innovative AI use cases that help your brand grow in the long run. And the list mentioned above is not limited; they can do so much more and will do in the coming future.
If you are thinking about where to commence, then BotPenguin can support you with all these use cases and even more.
Frequently asked questions
How can chatbots enhance customer support in businesses?
Chatbots can enhance customer support by providing instant responses, 24/7 availability, personalized assistance, handling repetitive inquiries, and escalating complex issues to human agents when necessary.
What role do chatbots play in lead generation?
Chatbots can engage with potential leads, qualify them, provide product or service information, capture contact details, and even schedule appointments or demos, thus assisting in lead generation.
How can chatbots assist in sales processes?
Chatbots can assist in sales processes by engaging with customers, answering product/service-related questions, suggesting relevant offerings, guiding customers through the purchase process, and even facilitating secure transactions.
Are chatbots useful for appointment scheduling?
Yes, chatbots can handle appointment scheduling efficiently by checking availability, suggesting suitable time slots, capturing necessary details, sending reminders, and integrating with calendars.
Can chatbots effectively handle frequently asked questions (FAQs)?
Absolutely! Chatbots excel at handling FAQs by providing instant responses to common queries, saving time for both customers and businesses, and ensuring consistent and accurate information is shared.
How can chatbots assist in order tracking?
Chatbots can provide real-time updates on order status, estimated delivery times, shipping information, and address customer concerns related to their orders.
Can chatbots provide personalized recommendations to customers?
Yes, chatbots can leverage customer data and preferences to offer personalized recommendations, suggest relevant products or services, and enhance the overall shopping experience.
Do chatbots play a role in collecting surveys and feedback?
Absolutely! Chatbots can collect surveys, gather feedback, and conduct customer satisfaction assessments, providing businesses with valuable insights to improve their products or services.