This is the era of virtual friends and assistants such as Alexa, Siri, and Google assistant. Another intelligent and witty friend that is making waves is the Mitsuku Chatbot. Social media platforms enable people to become friends with people they have never met other than the internet. But many people do not even have those. According to a WHO (World health organization) survey, 6 out of 10 people suffer from loneliness or social anxiety. Imagine a virtual friend who can keep company with such people and help them get rid of social anxiety- a Chatbot!. AI-based intelligent chatbots can think independently and provide companionship to the lonely, aged, someone seeking advice with psychological disorders or playing fun games with them. A machine that can think and is conscious enough to accompany you as you wish someone to be there. One of the closest to such virtual friends is the Mitsuku Chatbot. These virtual friends are a result of recent advances in the field of conversational AI. Mitsuku chatbot is one of the most advanced ones available today. Mitsuku is an excellent piece of technology developed by Steve Worswick. Mitsuku chatbot is a five-time winner of the prestigious Loebner Prize Turing test, which tests the AI's ability to be equivalent to humans.
The evolution of Mitsuku
Steve Worswick launched Mitsuku chatbot in 2005, which portrays an 18-year-old female. The chatbot claims to be from Leeds, England. Mitsuku chatbot inherits traits from another online chatbot ALICE(Artificial Linguistic Internet Computer Entity). Mitsuku was developed using AIML(Artificial Intelligence Markup Language). Since then, the technology has continued to evolve, and Mitsuku chatbot won the 2013, 2016, 2017, 2018, 2019 Loebner prize, for which It still holds the world record.
Mitsuku chatbot's present state and future development
Mitsuku chatbot can engage with people by playing games like tic tac toe, connect 4, etc. Chatting apps like Facebook Messenger, Kik messenger, telegram, twitch group chat are a couple of platforms where one can find Mitsuku under the username "Pandorabots." Mitsuku chatbot's demand continues to grow, from an influential figure of 250,000 people back in 2015. Mitsuku became too famous because it has over 80 billion conversation logs. The chatbot utilizes this data which enables Mitsuku chatbot to respond to any question asked.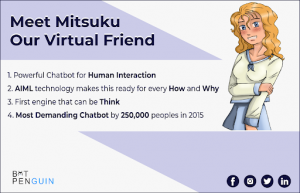 The Loebner Prize Turing test
The Turing test is a test to measure an AI's ability to be equivalent to or identical to a human. In other words, to test which AI can answer most like a human. Loebner Prize is an annual competition of Human-like AIs'. The Loebner Prize was launched in 1990 by Hugh Loebner. The annual competition rewards $100,000 to a chatbot whose ability is close to an actual human.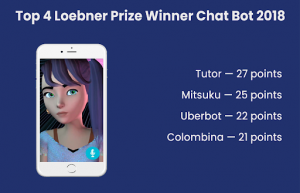 The Mitsuku chatbot Engine
Mitsuku chatbot was created from AIML(Artificial Intelligence Markup Language) technology based on Extensible Markup Language or XML. Mitsuku is an open-source technology and can be integrated with other technologies like Java, Python, etc. Mitsuku chatbot inherited all of ALICE's files. The ALICE foundation was incorporated in 2001, so how and why the Mitsuku chatbot is way ahead of its time becomes clear.
Mitsuku: Friend Forever
The Mitsuku chatbot understands you. It analyses the language you are using and judges your mood, and correspondingly answers your queries most humanly. A person can engage in conversation with a Mitsuku chatbot for hours without getting bored. Mitsuku can carry a conversation as a friend by asking questions, playing games, or even telling you jokes, or Mitsuku can engage in understanding your mood and state of mind by indulging in a pensive interaction.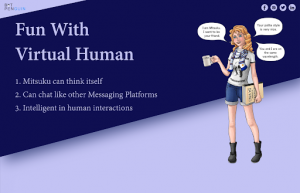 Where is Mitsuku in the Social Sphere?
Technology is undoubtedly expanding human capabilities. Our smartphone is an extension of us and has become an essential part of our everyday life. Mitsuku chatbot certainly has the potential to establish itself as a personal advisor of ours, a loyal friend, and a companion for the lonely. Some of us fear that technology might turn us robotic in our day-to-day lives or even make us entirely dependent. But Mitsuku is a breath of fresh air that kind of quells all such fears. It has helped many of us realize how much joy and calmness AI chatbots like the Mitsuku chatbot and ALICE bot can bring to people who have been suffering from loneliness, social anxiety, and other such psychological issues.
The Psychological Analysis
The machines learn from human interactions to improve their AI analogous architecture to develop organic intelligence. AI technologies like Mitsuku chatbot are fast evolving and becoming more accurate to respond and understand like humans. So as far as these chatbots are only incorporated with cognitive abilities. Such an online chatbot like Mitsuku or ALICE can become your best friend as it tries to understand you but may increase your social skills to make real friends as well. Mitsuku bot and its AI can teach someone how to keep the conversation going without feeling awkward because the Mitsuku chatbot is made to keep a conversation going. Mitsuku can even help users understand how to respond to various situations.
Concluding the discussion
Mitsuku chatbot has come a long way. Apart from being a technological marvel, Mitsuku chatbot online is trying to understand humans better and serve us. Online chatbot technology will be the next big thing; a new interface to how we get our tasks done through machines, a whole new world of opportunities for everyone. Digital virtual assistants that stay with us keep our memories, help us with decision making in challenging situations will be a normality. The future of chatbots such as Mitsuku is exciting, and we should embrace such incredible technologies with warmth and enthusiasm. To know more about Mitsuku click here. To get an amazing chatbot experience, try BotPenguin. It's a professionally crafted AI chatbot builder application that can serve you and your business to integrate with popular messaging apps WhatsApp, Telegram, Talk, etc. Try it now and take your business to newer heights.