Dealing with hoards of customer data is part and parcel of business management. So to manage the company's day-to-day activities, one needs an efficient system.
Ever wondered how companies like amazon and google can maneuver such complications with ease? They use a Customer Relationship Manegement (CRM) Platform.
CRM platforms help streamline this process which ultimately leads to better management of company resources, increased revenue, and higher customer satisfaction.
CRM is used in every function, including sales, marketing, customer service, business, and IT.
There are two robust, feature-rich CRMs accessible to your company: Creatio CRM and Zoho CRM.
Whether you choose Zoho CRM or Creatio, you need to ensure it manages not only your traditional sales activities with ease but also empowers your organization.
Confused about which is the right one for you? Compare the most important CRM functions of Zoho CRM Enterprise and Creatio Sales Enterprise side by side.
This blog provides a detailed side-by-side feature, support, and pricing comparison with everything you need to make the right decision.
Zoho CRM VS Creatio: Which CRM is Better in 2022?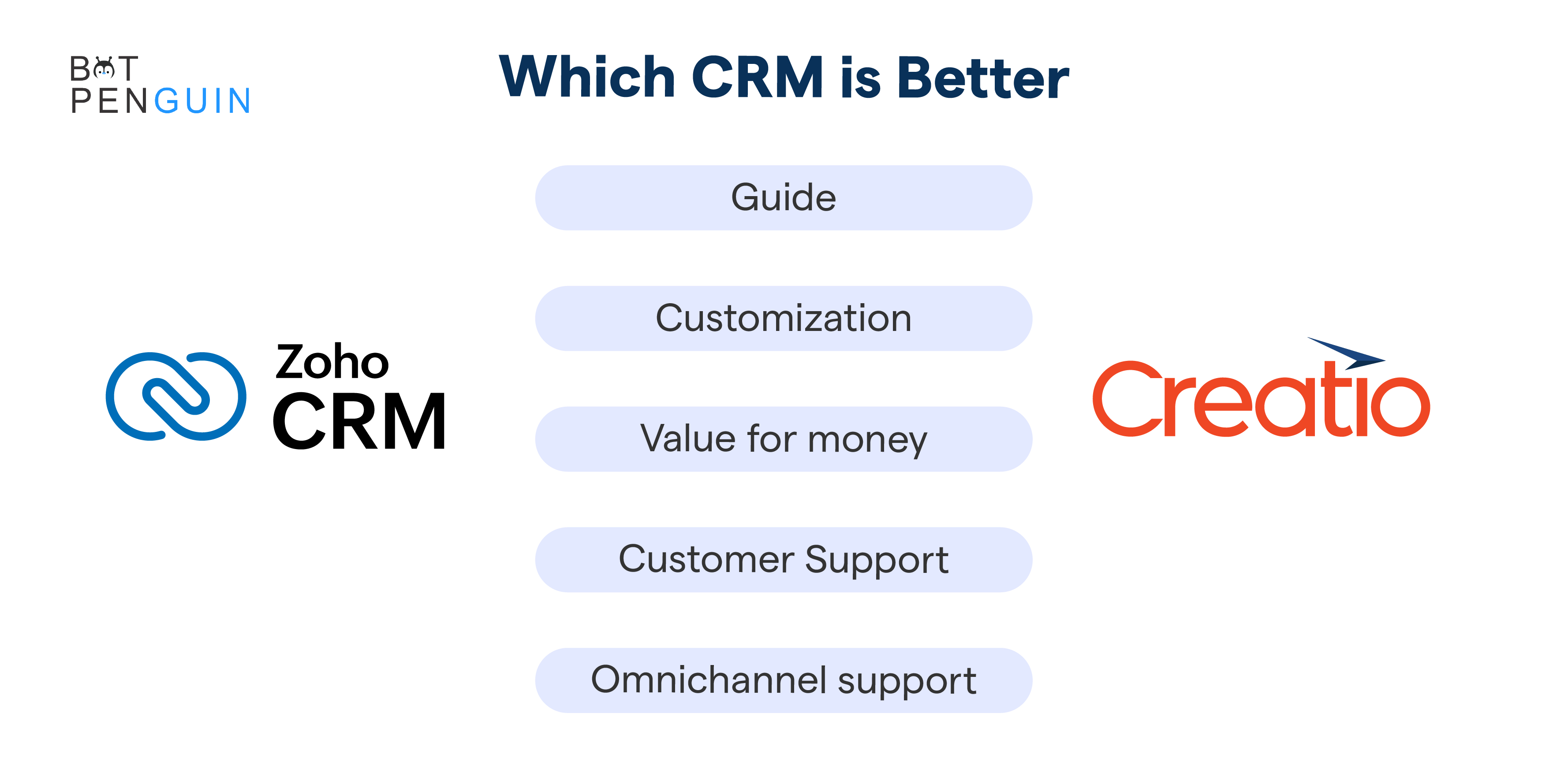 1. Zoho CRM VS Creatio: Guide
Zoho CRM
An Indian web-based office suite called Zoho CRM which can be used by businesses of all sizes created by Zoho Corporation.
With Zoho, you sell smarter and in a faster way and can even build your version of Zoho CRM.
Zoho CRM includes word processing, spreadsheets, presentations, databases, note-taking, wikis, web conferencing, customer relationship management, project management, invoicing, and other tools.
Creatio CRM
Creatio Sales is a SaaS CRM that highly customizable and user-friendly with a focus on business process management.
Creatio Sales offers startups and small-to-medium businesses to help businesses of any size and from any industry manage customer-facing processes.
Creatio applications have a versatile set of features to streamline their everyday sales and deliver an amazing customer experience.
2. Customization
Zoho CRM is a truly customizable solution that can be modified as needed to fit your business.
It uses custom fields, buttons, and layouts to capture various information from your prospects, create custom views, relate information, test customization before rolling out, and even localize the language and currency to fit your users.
On the other hand, Creatio offers a low-code UI editor that allows users to customize the look of forms, dashboards, and menus according to their needs.
This feature can be used across all their apps for sales, service, and marketing.
Creatio changes the options available in the dropdown lists dynamically based on user inputs in other fields and shows or hides fields on pages, making them editable or greyed-out, mandatory or optional.
You can add new objects, tabs, columns, and sections to your modules by the system designer and also adjust the business logic of any section or page.
Both the systems are great in customization, but Zoho provides the customization for canvas, whereas Creatio does not.
3. Value for money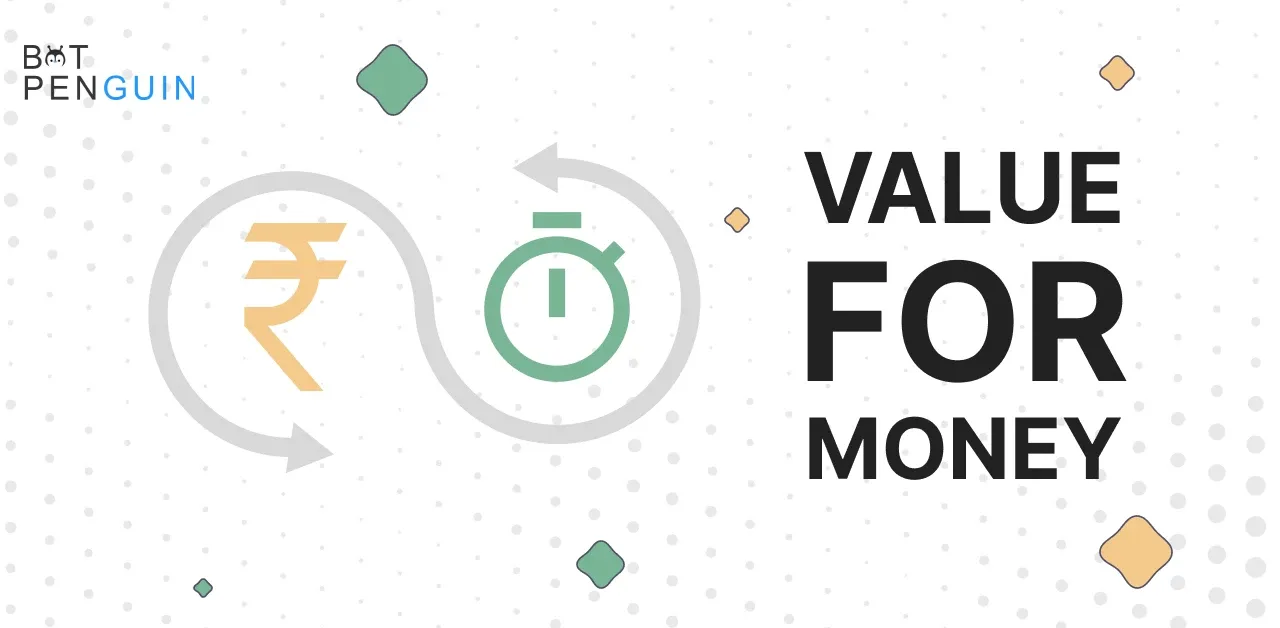 Zoho CRM has five different price categories.
The free tier is appropriate for small enterprises with three or fewer users.
A standard subscription costs $14 per user per month

A professional subscription costs $23

An enterprise subscription costs $40.
Even the Ultimate plan, the most expensive option, costs only $65 per month. It also offers a free version. This is probably why Zoho CRM is so popular amongst startups.
On the other hand, Creatio doesn't break the bank. Creatio CRM has three pricing plans and has no free version, though it offers a free trial.
The team plan costs $25 for small and medium businesses with direct sales teams.

The commerce plan costs $30 and comes with a complete set of tools for short sale cycles and e-commerce.

The enterprise plan costs $50 and offers sophisticated tools for medium and large enterprises to manage all sales channels.
Clearly, with Zoho CRM, you can obtain more features with less money than with Creatio.
4. Customer Support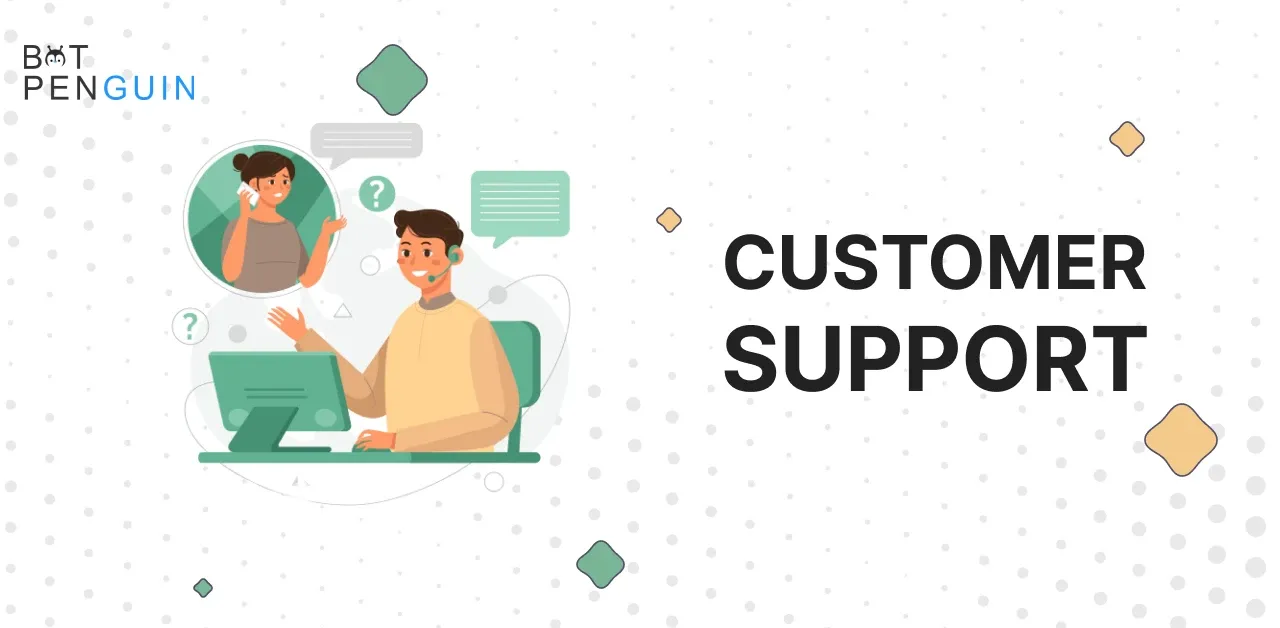 New software brings new problems. But it would not be the case if you know the program you've settled on provides solid customer support and can rest easy.
There are robust user groups where you may get help and recommendations for both creatio and Zoho.
Also, Zoho offers a bulk of free resources, including ebooks, tutorials, and video guides, in its extensive knowledge base.
Creatio also offers Case Management, a Customer Support Portal, Knowledge Base, call center features, and support analytics.
Unlimited free email, chat, and phone support are accessed by all paid Zoho customers. Indeed, that is the case, so all it takes is just a phone call to get all your questions answered.
Though, creatio is preferred by most reviewers over Zoho. Compared to other business software solutions, Creatio's online community is in a league of its own.
Although paying for high-quality customer service is part of the deal, Creatio is better equipped to meet the needs of its clients.
5. Omnichannel support
Zoho offers multiple channels or simply one platform for communication.
Zoho CRM allows you to have more ways to interact with organizations than ever before and connect with your customers through multiple channels.
While centralizing information with your prospects empowers your sales team to have contextual, meaningful conversations.
Whereas, Creatio Sales allows you to integrate your existing email accounts to send email templates and link them to objects in Creatio, like leads and contacts.
You can also integrate your existing telephony or PBX system to make and receive calls directly in your CRM.
Creatio Sales does not provide website live chat capabilities. For website engagement and live chat Zoho CRM integrates with SalesIQ.
Social media management is also not indigenous.
Zoho CRM permits you to respond to social posts, monitor customer social activity, connect multiple social accounts, and analyze social media reports natively in the app.
In Creatio Sales, there are no real-time notifications when a customer opens an email or responds to a live chat.
So for this, Zoho comes out on top.
The Final Thoughts
Zoho CRM and Creatio CRM have what it takes to be the best CRM by 2022.
Both systems are special in their ways, with various options to fit a variety of corporate requirements.
Zoho CRM and Creatio CRM are robust customer relationship management systems with both advantages and downsides.
With this side-by-side comparison between Zoho and Creatio, it would be simple to proclaim Zoho the victor.
When choosing a customer relationship management system, your responsibility is to assess your business needs and implement the most appropriate system.
To determine which solution is the best for your business, find out the critical functions of your sales process.
We hope you found this blog helpful, for more such informative blogs, visit our website BotPenguin today!