Ever wondered who's behind the scenes crafting impressive AI projects?
You're in for a delightful discovery because we're about to explain why our ChatGPT developers are your ultimate choice for turning AI aspirations into reality.
As the AI landscape constantly evolves and expands, the key to success lies in having the ideal team by your side. That's where our ChatGPT developers come into play.
In this blog, we'll delve into the reasons why you should be enthusiastic about having our developers on board.
So, let's begin by selecting the right ChatGPT developers for you.
Picking the Perfect ChatGPT Developers for You
Who can benefit from our ChatGPT developers' expertise? The short answer is pretty much everyone!
Whether you're a startup taking baby steps, a small business eyeing growth, or a big player with major-league projects, our developers have got you covered.
They're like the Swiss Army knife of AI skills, ready to tailor-make solutions that fit your unique needs.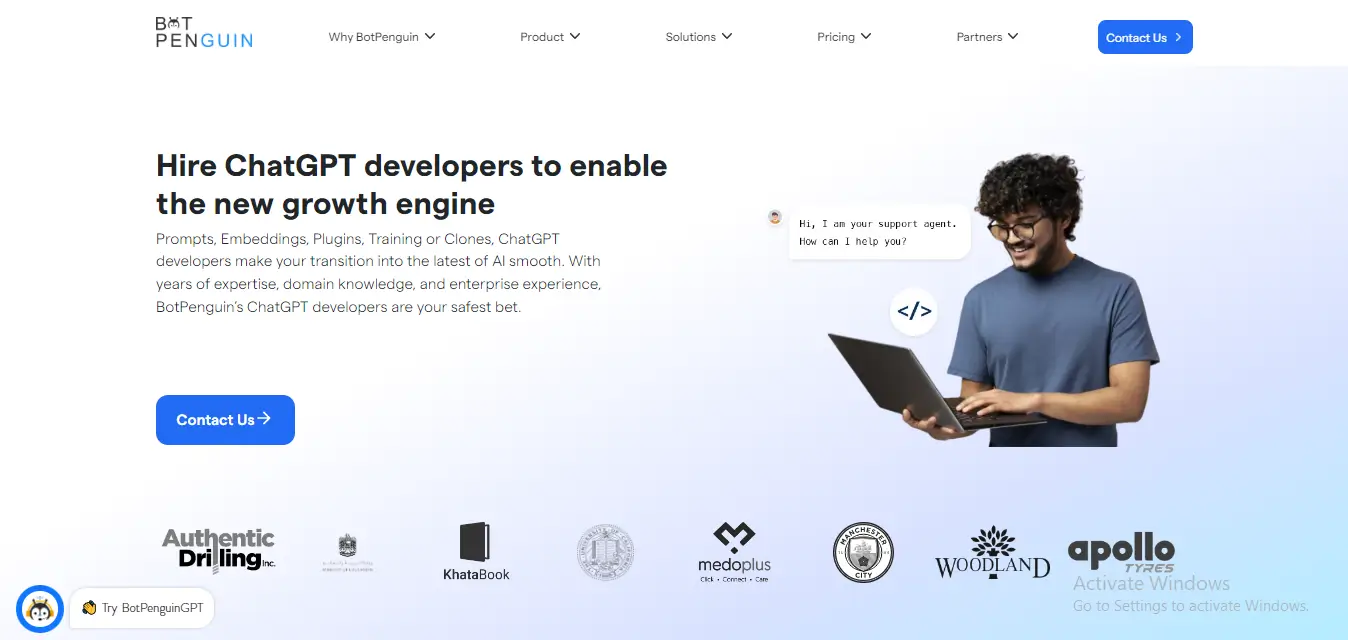 Small Fish, Big Pond: Benefits for Startups and Small Businesses
Our ChatGPT developers are like secret weapons in your corner.
They create solutions that won't break the bank but still give you the upper hand in the competition.
Translation: You can maximize your resources and watch your business blossom. Plus, they're like wizards at customizing stuff.
So, you'll stand out from the crowd with a strong brand presence, with customers returning for more.
When the Big Guns Come Out: Perks for Enterprises and Large-scale Projects
Enterprises and ambitious project enthusiasts, you're in for a valuable opportunity. Hiring ChatGPT developers for AI projects means partnering with seasoned professionals in the AI field.
They possess the expertise and a proven track record to handle intricate tasks effortlessly. They will craft solutions that can scale, integrate seamlessly, and deliver user experiences aligned with your business objectives.
Indeed, they are the pioneers of innovation in the AI realm.
Now, let's discuss what sets our service apart and makes hiring ChatGPT developers for AI projects stand out prominently in the AI landscape. There are several compelling reasons:
What Sets Our ChatGPT Developers Apart
When hiring ChatGPT developers for AI projects, it's crucial to consider their experience, knowledge, and past achievements. While their creativity and persistence, they continue pushing boundaries and raising the bar for what conversational AI can achieve.
Here's what sets BotPenguin's ChatGPT developers apart from the rest:
Experience and Expertise
Our developers at BotPenguin have years of hands-on experience in developing AI-powered chatbots, including ChatGPT.
They possess the necessary skills to understand your unique project requirements and deliver optimal solutions that meet your goals.
Advanced Knowledge of AI Technologies
Our ChatGPT developers are well-versed in a wide range of AI technologies. They are experts in open AI models such as DALL.E 2, GPT-4, embeddings, and plugins.
Additionally, they are proficient in AI frameworks like TensorFlow, PyTorch, and Keras.
With their deep understanding of natural language processing and deep learning techniques, they can fine-tune and debug ChatGPT models to ensure optimal performance.
And when it comes to ChatGPT, BotPenguin has got too many options:
Track Record of Successful Projects
We take pride in the successful projects completed by our ChatGPT developers. Their expertise and commitment to delivering high-quality solutions have earned them a stellar reputation.
By choosing our developers, you can have confidence in their ability to meet and exceed your expectations.
Suggested Reading:

ChatGPT Developers: Creating the Next Generation of Chatbots
Now, it is time to see the reasons why our ChatGPT developers are like a pot of gold for your AI projects:
Why Our ChatGPT Developers Should Be Your Top Pick
When you need technical expertise combined with an innovative spirit, our ChatGPT developers are the obvious choice.
With a track record of delivering groundbreaking solutions, they have the skills and passion to take on your toughest challenges.
Whether you require cutting-edge research or a polished product, these leaders will wow you with their talent, work ethic, and results. Discover for yourself why they're a cut above the rest.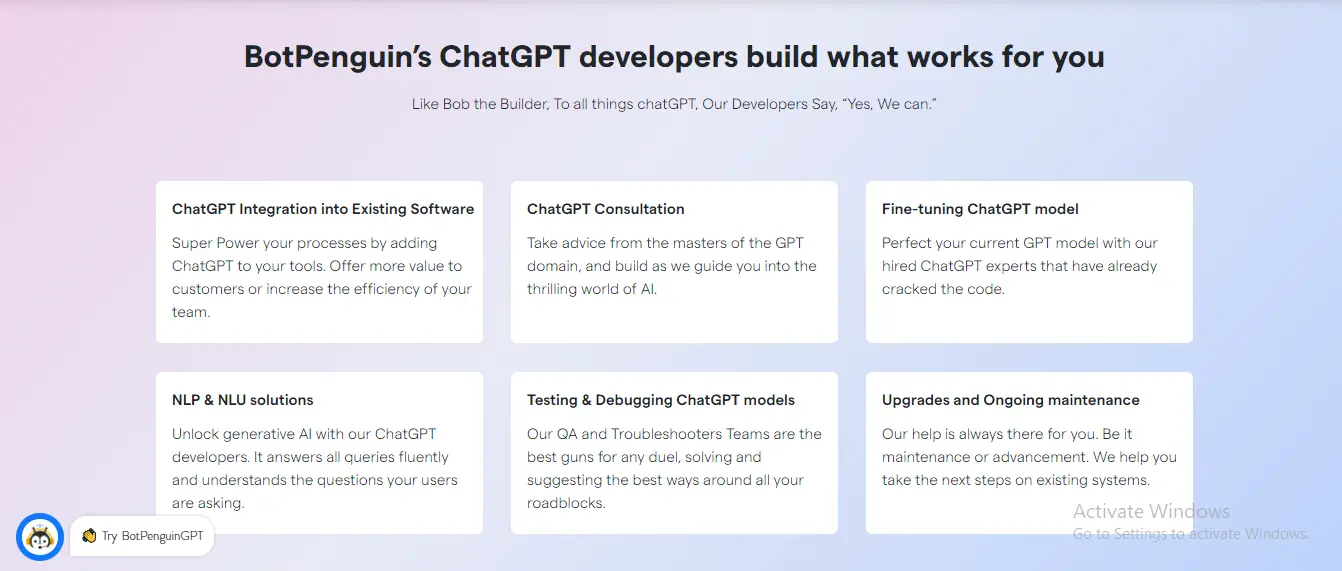 Budget-Friendly Brilliance
Our developers know how important it is to stay within budget, especially for startups and small businesses.
They're like budget-savvy artists who create solutions that don't burn a hole in your pocket while still giving you top-notch quality.
Tailored Magic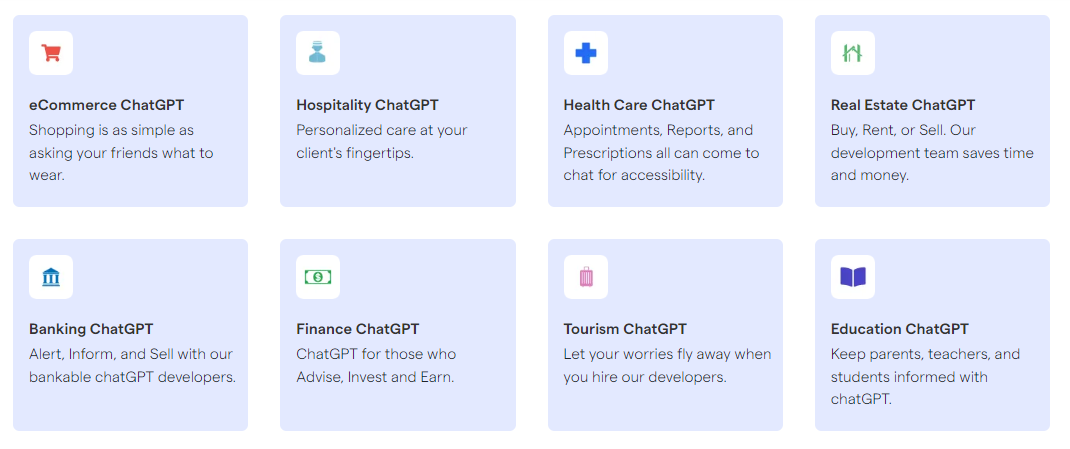 One-size-fits-all? Not in our developers' vocabulary. They're like tailors who craft custom solutions that fit you like a glove.
Need something big or small? They'll adjust ChatGPT's tricks to suit your growth plans and changing needs.
Smooth Sailing Integration
Adding new tech can be like a maze, but our developers are the navigators you need.
They're like the GPS of integration, seamlessly weaving ChatGPT into your existing systems without a hitch.
They make sure the whole process is smooth as silk, so you enjoy all the perks of ChatGPT without the tech hiccups.
A+ User Experience
In the world of AI, it's all about the user experience. Our developers are like UX pro, making sure your customers have the smoothest and most engaging interactions with your ChatGPT-powered solutions.
They know happy customers are the key to business success.
Suggested Reading:
The Mastery Behind Our ChatGPT Developers' Success
Our ChatGPT developers understand that each AI project is like a snowflake – unique and special.
They don't just rush in blindly; they take the time to understand your goals and requirements. It's like they're tailoring a suit just for you.
They then cook up a ChatGPT development plan that's tailor-made to meet your needs. This personalized touch guarantees that your final product is exactly what you aim for.
Our Clients, Our Partners: A Collaborative Journey



Our developers know that two heads are better than one. That's why they're all about collaboration.





They work hand in hand with you, keeping you in the loop throughout the development journey. This isn't a one-way street; they're all ears when it comes to your feedback.





They take your thoughts and weave them into the project so the final product sings to your tune.



AI's Hottest Techniques: At Your Service



Our developers aren't just masters of the basics; they're like AI ninjas with impressive techniques up their sleeves. They use top-notch AI techs like DALL-E 2, GPT-4, and more.





They're pros with AI frameworks like TensorFlow and PyTorch, making them like the conductors of the AI orchestra.





Their deep knowledge of

natural language processing

and deep learning is like the secret that makes your ChatGPT models top-tier.



Always Striving for the Best



Our developers are like perfectionists in the best way possible. They don't just build and walk away; they keep an eagle eye on your ChatGPT solution.





They're like AI doctors, constantly monitoring its performance and fixing hiccups.





This dedication to improvement means your ChatGPT solution is evolving and improving.
Wrapping Up: Unleash the Power of Our ChatGPT Developers
So, there you have it! Our ChatGPT developers aren't just developers; they're like your AI dream team.
Whether you're a startup looking to shine or an enterprise ready to conquer, they've got the skills, expertise, and experience to make your AI project a smashing success. With a track record of greatness and a knack for customization, our developers are the fuel to fire up your AI dreams.
Click on the "Hire Now" button below, fill out a simple form, and we'll reach out to you.