Artificial intelligence is transforming software development and training robust models requires expertise. While 78% of developers are eager to implement AI, only 14% feel fully prepared according to a 2022 Appen survey.
This is where leveraging specialists, like BotPenguin, can accelerate your AI capabilities. BotPenguin provides access to talented ChatGPT developers to integrate conversational AI seamlessly.
According to McKinsey, early adopters of AI generate over 25% more cash flow growth compared to competitors. Our ChatGPT developers keep your team on the cutting edge.
BotPenguin delivers custom virtual assistants, content creation systems, predictive text generators, and other AI solutions tailored to your needs. You focus on your core products while BotPenguin will handle end-to-end AI.
So continue reading to know more about streamlining your AI development with ChatGPT developers.
What is ChatGPT and How Can it Benefit Your Business?
ChatGPT is a cutting-edge technology that uses deep learning algorithms to create chatbots that can simulate human conversation.
Here's an overview of how ChatGPT can benefit a business:
More human-like: ChatGPT produces more natural conversations that mimic human responses better than traditional chatbots. This improves user experience.

Increased capabilities: ChatGPT handles complex queries, contextual follow-up questions, and multiple conversation threads more adeptly.

Faster deployment: Building on ChatGPT eliminates much of the NLP programming needed for chatbots.

Always improving: ChatGPT is continually trained to become smarter over time. So that bots stay highly effective for longer.

Customizable: ChatGPT knowledge and personality can be tuned for different needs through prompt programming.

Meet BotPenguin's ChatGPT Developers
BotPenguin is a leading company specializing in AI-powered chatbots. The team of ChatGPT developers is dedicated to delivering high-quality AI development services to businesses across various industries.
Our flexible revenue-sharing model allows you to focus on sales while we handle development and maintenance.
Whether you want to offer chatbots for lead gen, customer service, education, or more, BotPenguin enables you to launch and run a successful chat or AI reselling business quickly.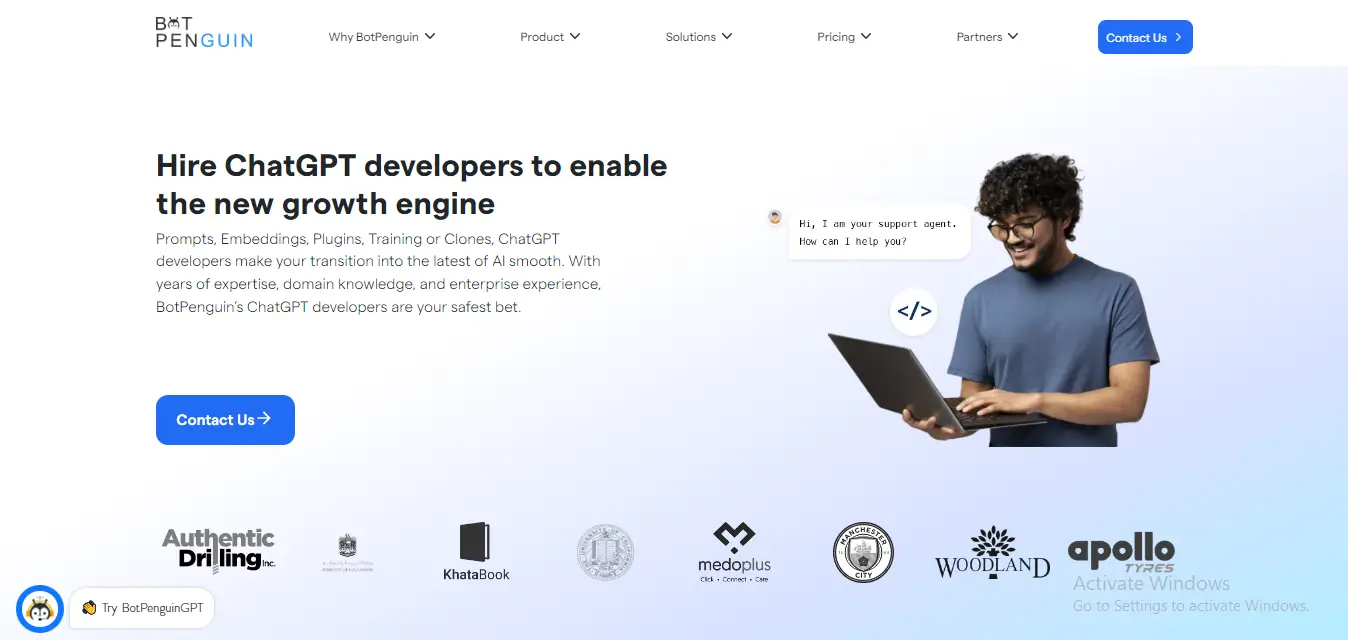 Range of Services
BotPenguin's ChatGPT developers offer a comprehensive range of services to cater to diverse business needs. These services include:
Chatbot Development



BotPenguin developers can build custom chatbots

from scratch, tailored to your specific requirements.





They will take into account your business goals, target audience, and industry insights. With this, they will create a chatbot that aligns with your brand and enhances customer interactions.



Chatbot Integration



BotPenguin developers can seamlessly integrate chatbot solutions into your existing software systems. Whether you use CRM software, helpdesk tools, or other business applications, we can ensure smooth integration to maximize the effectiveness of your chatbot.



Chatbot Customization



BotPenguin understands that business needs can evolve, and your chatbot may require updates or modifications.





Our ChatGPT developers can customize and enhance your chatbot as per your changing requirements. It allows you to stay ahead of the curve.



Testing, Debugging, and Fine-Tuning



Our developers rigorously test and debug chatbot models to ensure optimal performance. They employ various techniques to fine-tune the chatbot, making it more accurate, efficient, and reliable.
Ongoing Maintenance and Support
BotPenguin offers ongoing maintenance and support services to ensure that your chatbot continues to perform optimally. Our ChatGPT developers are available to address any issues, provide updates, and offer guidance whenever needed.
Why Choose BotPenguin's ChatGPT Developers?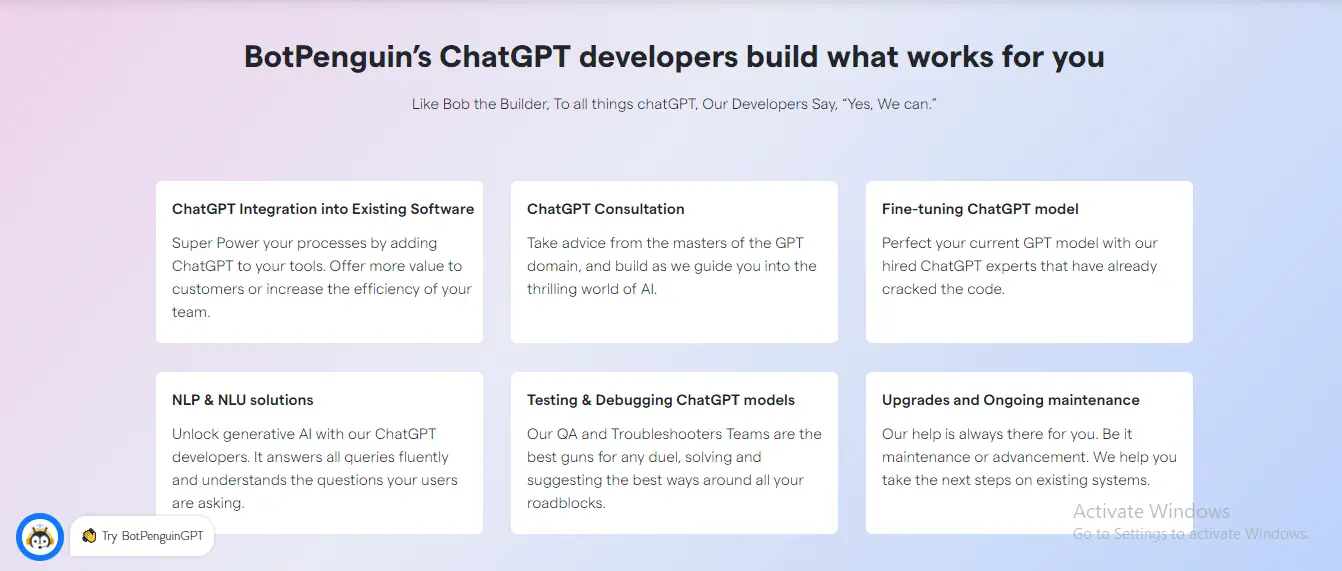 BotPenguin provides access to talented ChatGPT developers to integrate conversational AI seamlessly. Our developers have optimized over 5,000 hours of ChatGPT interactions for business applications.
So here are the reasons why you need to choose BotPenguin's ChatGPT developers:
Experience and Expertise
Our ChatGPT developers have in-depth knowledge of artificial intelligence techniques and applications, gained through years of experience working with a diverse range of industries. They are adept at handling complex projects and will ensure that your chatbot aligns with your business goals and enhances customer engagement.
Quality and Efficiency
We believe in delivering high-quality solutions efficiently and effectively. Our developers use the latest AI technologies to create chatbots that are accurate, efficient, and reliable.
Flexibility and Personalization
Our ChatGPT developers offer flexible plans and duration options that can be customized to meet your specific needs. Whether you require a chatbot for a short-term project or a long-term engagement, we can tailor our services to suit your requirements. Because when it comes to ChatGPT, BotPenguin has got too many options:
How to Hire ChatGPT Developers and Collaboration Process?
AI development with ChatGPT is accelerating as companies race to stay competitive. However, not every organization has the in-house resources to build robust AI development with ChatGPT solutions. Hiring specialized ChatGPT developers allows you to implement AI development using ChatGPT seamlessly without pulling your developers into unfamiliar territory.
At BotPenguin, we make it easy for you to get started on your AI development journey. Here is an overview of our hiring process and collaborative approach:
Consultation
Our ChatGPT developers will consult with you to understand your business needs and objectives. We will then work collaboratively with you to determine the best chatbot solution for your business.
Planning
We will create a comprehensive plan outlining the project scope, timeline, and deliverables. We will ensure that the plan aligns with your business goals and objectives.
Development
Our ChatGPT developers will create a customized chatbot solution based on the plan. We will employ the latest AI technologies and techniques to deliver a high-quality solution.
Testing and Deployment
We will thoroughly test the chatbot to ensure that it is accurate, efficient, and reliable. Once testing is complete, we will deploy the chatbot to your chosen platform.
Maintenance and Support
We provide ongoing maintenance and support to ensure that your chatbot continues to perform optimally. Our ChatGPT developers are available to address any issues and provide updates whenever necessary.
Conclusion
The demand for AI expertise has never been higher. IDC predicts over 50% of organizations will adopt AI within the next two years.
However, finding qualified AI talent remains a barrier. This is where leveraging ChatGPT developers from BotPenguin accelerates your capabilities.
Our developers optimize conversational AI based on hours of hands-on ChatGPT refinement. We stay on the cutting edge of prompt engineering and model training so you don't have to.
According to PwC, 37% of executives are concerned with keeping up with AI skills. With BotPenguin, AI pros provide support so your team can focus on core strengths.
Whether you need a virtual assistant, content generator, predictive messaging, or other AI solution, our ChatGPT developers deliver. We seamlessly bridge the gap between vision and results. Become an AI leader with our experts supporting you.
The future is now - let BotPenguin ChatGPT developers propel your organization to success!