Meta has just rolled out Threads, their latest shot at rivaling Twitter, and it's getting quite the buzz in the world of social media.
Built on the back of Instagram's existing structure, this new app is all set to give our online chatter a cool makeover.
With Threads, Meta's goal is to make sharing text updates, linking stuff, and chatting publicly as easy as pie. But does it really live up to all the hype?
In this blog, we'll closely examine Threads, checking out its cool features and sizing up what sort of difference it can make.
We'll walk you through everything from downloading and setting up to understanding how to maneuver inside the app.
Ready to jump in? Let's go!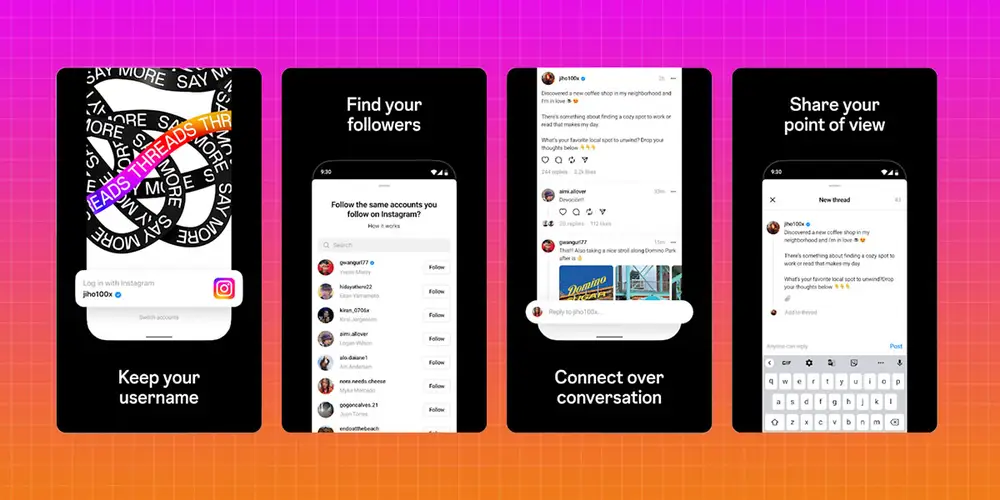 What is "Threads" by Meta all about?
Threads is a brand-new app built by Meta. It's been created to give Twitter a run for its money.
Working with Instagram accounts, Threads lets users post text updates, share links, and take part in chats that are open to the public. It's a place where users can share their thoughts in a positive and fun way.
Users can follow their friends and creators on Instagram. Threads has hit the ground running, launching in over 100 countries for both iOS and Android users, right around the time when Twitter is dealing with some advertising money woes.
Meta's goal with Threads is to give some healthy competition to the world of social media. With new features getting ready to roll out, Threads is shaping up to be an exciting place for having fun chats and keeping up with what's trending in real-time.
What are the features of the 'Threads' App?
Excited to explore the new launch from Meta. Let's dive into the handy features that Threads has to offer.
Threads: A platform for Text Updates
Threads offers a platform for sharing simple, text-based updates to your followers. This feature allows you to share your thoughts and ideas easily, providing a fun and positive arena for self-expression.
Engaging in Public Conversations and Link-sharing
Threads encourages active discussion and engagement by allowing you to share links to interesting articles, websites, or content. You can also join in on public conversations, facilitating discussions on a plethora of topics.
Building Connections with Friends and Creators
Just like on Instagram, Threads helps you stay connected with your friends and favorite creators. This feature provides a way to keep up-to-date on their latest activities and interests.
Interactive Messaging and Reporting
Threads ensures interactive and engaging conversations with its reply feature. It also ensures user safety by providing an easy way to report inappropriate content. The goal is to maintain a community that's both lively and respectful.
Available for All: iOS and Android
Threads is accessible across the two prevalent mobile platforms: iOS and Android. You can download it from Apple's App Store if you're an iOS user, and on Google Play Store if you're an Android user.
How to use the Threads App?
Still wondering how to get started with Threads, here is a brief answer to your question.
Downloading Threads
To start using Threads you will need to download it from either Apple's App Store (for iOS users), or the Google Play Store (for Android users). Navigate to your respective store and search for "Threads from Meta", then click download to install.
Setting up Threads
Once Threads is installed, launch the app and proceed with account creation. You can opt to use your existing Instagram login, or create a new account altogether. Remember to choose a secure password to protect your account.
Understanding the Threads Interface
Threads boasts a clean, user-friendly interface similar to that of Instagram. Begin by exploring different areas of the app by swiping up and down. Your main screen will host your personalized feed, where updates from the accounts you follow will appear.
Creating Content on Threads
To compose a post, tap on the "New Post" button at your screen's bottom. From here, you can draft your text update, and if desired, include links to any interesting articles or websites you've discovered. Click the "Post" button to share your thought or idea, and strike up a public conversation.
Building Connections on Threads
Much like Instagram, Threads allows you to follow and interact with friends, family, and creators. Use the search or suggested profiles function to find and follow interesting profiles, keeping you abreast of their latest updates, and allowing you to engage in their content through comments and messages.
Final Thoughts
Threads by Meta brings an innovative social media experience by cleverly blending the top features of Instagram and Twitter.
This modern app is designed with a simple and intuitive interface, making it a delight to use.
Boasting rich features and allowing effortless self-expression, Threads encourages meaningful connection while also serving a treasure trove of intriguing content.