What is E-commerce? How is E-commerce transforming the ways of business? And how are chatbots helping with E-commerce growth?
These are the few related questions that come to our minds when talking about chatbots and e-commerce growth. Today, we'll talk about these questions and explore our ways for better understanding.
E-commerce can be said to be as buying and selling of products or services over the Internet, which has sorted customer lives. Now, it is easy for customers to search for the product they are looking for. They can choose it, compare prices and then add the products to the cart and deliver them to their doorstep.
E-commerce has always been an attractive proposition for entrepreneurs, and E-commerce became popular when the Internet came into existence in 1994. Ever since then, E-commerce has been transforming how business is done. And in these recent years, E-commerce has changed these ways, and the most flourished one is the online retail store. People love to shop online rather than spend hours in retail stores and billing queues.
The E-commerce industry has even understood that they should put the user's needs before their business needs, and customer experience is the prerequisite to establishing their brand name in the market. And for which chatbots can be their one-end solution.
Chatbots are opening new channels of opportunities for the E-commerce industry. Most significantly, chatbots have revolutionized the customer experience for shopping sites since they launched. Let's find out more ways in which chatbots can help e-commerce growth.
How a chatbot can help with E-commerce?
Chatbots are the new-age technology that allows businesses to communicate with users, solve customer queries, qualify leads, offer 24-hour support, and act as conversational agents. Chatbots have become the most significant part of the e-commerce industry. E-commerce chatbot has led to tremendous e-commerce growth:
Convenience in Order Tracking
This order tracking feature has come out as a boon for the customers. Customers always stay tense about the arrival of their order and mostly feel that the order arrives at odd timings. So to avoid confusion and provide hassle-free delivery of orders, customers can track their orders via chatbots only. They need to insert their order no., and they are good to go.
Ease in Order Returns
Customers fear that order return is a cumbersome process and it takes too long, so most of them don't buy products in the first place. But chatbots have made this process way more straightforward. Chatbots allow them easy return options and ask for reasons for the return of the product and communicate the issues with the company to ensure the product quality.
Product Showcase
Chatbots can now portray how a person will look in a particular outfit in real-time and make relevant suggestions and tell which size will fit best according to the measurements. This advanced feature impresses the customer, and people will love too, again and again, buy products from the same site.
Consistent and Cost-Effective Customer Support
Chatbots act as conversational agent and facilitates easy conversation for the customers. Chatbots are fully integrated with your e-commerce business and are available 24/7. E-commerce chatbot help customers find the products, guide customers through different products and follow up with the customers.
Many shopping websites are indulging chatbots in providing a real-time shopping experience to customers. Now, chatbots showcase to customers what clothes will suit them and make relevant suggestions and act as an assistant to them.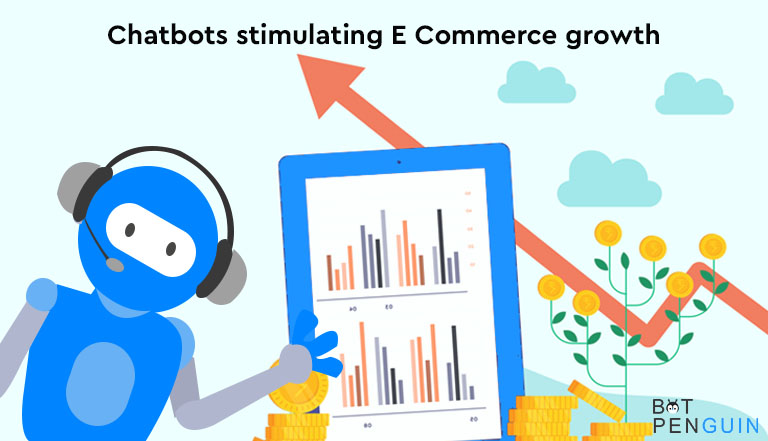 Personalized customer experience
E commerce chatbot provides customers easy search options rather than going through the whole of the website. E commerce chat bots also keep track of customer activities and preferences and give suggestions based on those activities, leading to more sales.
It's an easy way to attract more customers, and also chatbots follow up on incomplete orders from customers and provide them assistance in completing their orders. This boosts sales with upselling and cross-selling.
Provides Assistance in the Payment Process
E commerce chatbots provide ease to customers in the payment process. They need not go through lengthy forms and a long time taking payment options. Chatbots sort these processes. Integrate your chatbot with various payment options like PayPal, Mobikwik, etc., and provide your customers convenience in shopping.
Medium for Branding and Promotion
Chatbots have led to immense e-commerce growth through promotional activities. These have now become a medium of branding and promotion of businesses in-content ads.
Moreover, through a Business Insider report, it is known that customers feel it is enjoyable to shop through chatbots, and they are ready to integrate chatbots into their daily shopping.
Chatbots For E-Commerce Growth: Final Thoughts
E-commerce websites can increase sales but are not capable enough to provide a personalized shopping experience to their customers, and that is when chatbots come into the picture.
Chatbots not only assist clients, but they also collect plenty of valuable information about them- their preferences, needs, financial limits, and so on, which can help in e-commerce growth by providing personalized services and offers to the customers.
BotPenguin is a chatbot platform that can help your e-commerce business to grow. Also, BotPenguin allows you to integrate your chatbot with Shipway. Which will allow your customers innovative tracking features and take your online e-commerce business to new heights of success.