Hello, Fellow Penguin. Thank you for considering contributing a guest post!
We're always on the lookout for fresh perspectives, meticulously researched posts, and thought-provoking ideas from experts in the field.
If you're keen to share your wisdom and experiences with our community of executives, creative professionals, agencies, and entrepreneurs, we'd be more than delighted to hear from you.
But, before you start crafting your pitch, please take a moment to go through this page. Understanding these guidelines will ensure a smoother submission process for you and help you create an outstanding post that's a perfect fit for our blog.
Who you'll be targeting?
Our content caters to enterprises, executives, creative professionals, agencies, and entrepreneurs involved in building digital products and conversational experiences. Your post should resonate with one or more of these audiences.
What are we expecting?
It's wonderful that you're considering sharing your knowledge with the BotPenguin community!
Our goal is to provide high-quality, engaging, and unique content to our audience, and we're thrilled at the prospect of your contribution.
However, we want you to adhere to the following guidelines while writing your content:
Content Focus and Quality
We're excited to hear your take on anything related to Generative AI, LLMs, ChatGPT, Conversational UI, Chatbots, WhatsApp Automation, Marketing, and Communication Automation. Remember, originality and freshness are key.
Please ensure that your content is well-written, with proper grammar and spelling. Consider it your opportunity to shine!
We want the content to be Simple, Elegant, and Valuable.
Make sure your piece is insightful. Our readers appreciate content that enriches their understanding and provokes thoughtful discussion.
Avoid promoting your product or services in the content at all costs. The focus should be on helping the reader.
Ideal Article Length
Aim for between 1400 and 1800 words. We believe this length provides enough space for in-depth exploration without overwhelming our readers.
Formatting
Break up your text with subheadings, bullet points, and brief paragraphs to enhance readability. After all, we want our readers to enjoy the experience!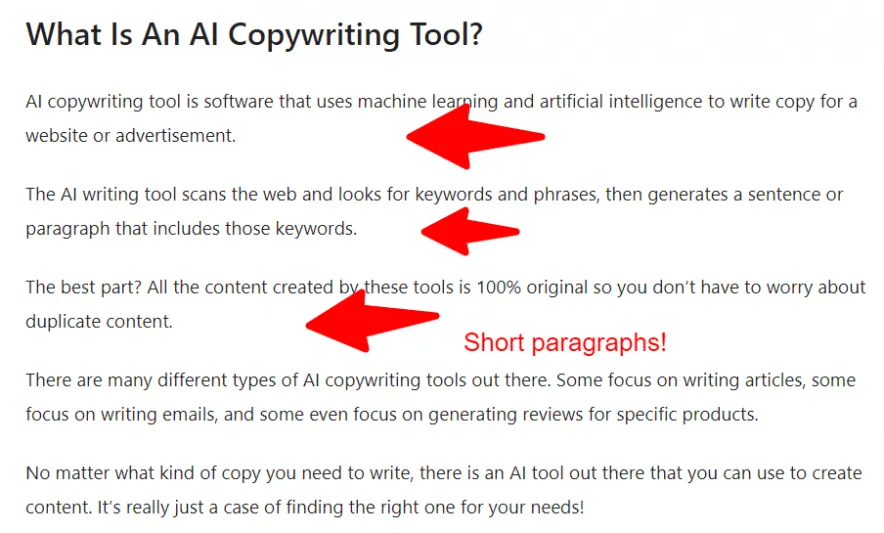 Write a compelling title and introduction—it's the perfect way to grab your readers' attention right off the bat.
Make the introduction relevant and relatable to our target audience. The length of the introduction should be 150 to 200 words.
The content should be easy to read. The paragraphs must be short. The words should be simple.
And finally, there must be a conclusion.
Keywords integration
Make sure to integrate keywords in your writing. The better you do keyword placement, the more the chances of a higher ranking. Here's what we expect:
Keyword Density And Placement

Minimum Keyword Density - 2% ( the focus keyword should appear once or twice every one hundred words

Keywords should be in the following:

Introduction

Summary

Body:-

Once Or Twice Per hundred words

Keywords should be included in H2, H3 & body of the blog. However, it should not exceed 75% of the headings.

Conclusion
Links
Feel free to include credible external links that support your points or offer additional resources. However, please avoid promotional or affiliate links.
Any links should enhance the reader's understanding and integrate naturally with the content.
As for backlinks, you're allowed to include one in each submission. But, make sure you don't put in in the beginning and make anchor text blend with the context.
Visuals
You're free to use images and visual elements in your content. However, make sure you have the appropriate right to use them.
Also, don't just include graphics for the sake of it or for decorative purposes. They should reinforce your point and make the content more comprehensible.
Editorial Adjustments
Our dedicated editorial team may make necessary edits to your submission to ensure it aligns with our blog's style and standards. This might include adjustments for SEO purposes or adding calls-to-action and links to our own content.
Submission
Submit your blog in Google Docs with editing permissions so that we can review it and leave some comments and suggestions if required. Send the finished blog via email to [email protected].
We promise to review each submission carefully, and if your post has been accepted, we'll let you know.
While reviewing the post, we check grammar and spelling, the narrative & flow of the content, keyword density, and whether or not the post is according to our guidelines. Speaking of reviewing, the whole process could take anywhere between 7 to 10 days.
If there're changes in the blog, we'll let you know. Correct them and revert back to us. Once the blog is up to the mark, we'll schedule it for uploading.
While we can't promise to accept every submission, adhering to these guidelines and tailoring your content to our audience will certainly enhance your chances.
We're genuinely grateful for your interest in contributing to BotPenguin's blog. We eagerly anticipate seeing your unique insights!