Introduction
Nowadays, automation is becoming more and more prevalent.
Instant engagement and customer satisfaction are highly sought after globally and keep expanding. This is particularly true in marketing.
That doesn't imply you should disregard any practical strategies your marketing team may employ.
The management of procedures and, most significantly for marketers, lead generation may now be assisted by bots and AI-driven automation.
Chatbot marketing, an emerging leader in contemporary eCommerce trends, is one method of automating your marketing plan.
Using social media messaging applications or your landing pages, you can automate client conversations and interactions before transferring them to a live person if necessary.
In this article, we will talk about the definition, working and advantages of chatbot marketing, along with some frequently asked questions about the same.
Let's get started!
Chatbot Marketing: What is it?
An artificial intelligence-based chatbot is a tool used in chatbot marketing to advertise goods and services based on a predetermined scenario.
With the aid of a chatbot builder, businesses develop this virtual assistant, which they then integrate into their websites or with messaging services like Facebook Messenger, WhatsApp, Snapchat, and Telegram.
You can make a chatbot for Instagram, Facebook Messenger, WhatsApp, and Telegram using SendPulse's visual chatbot builder without spending any money.
Chatbot Marketing: Working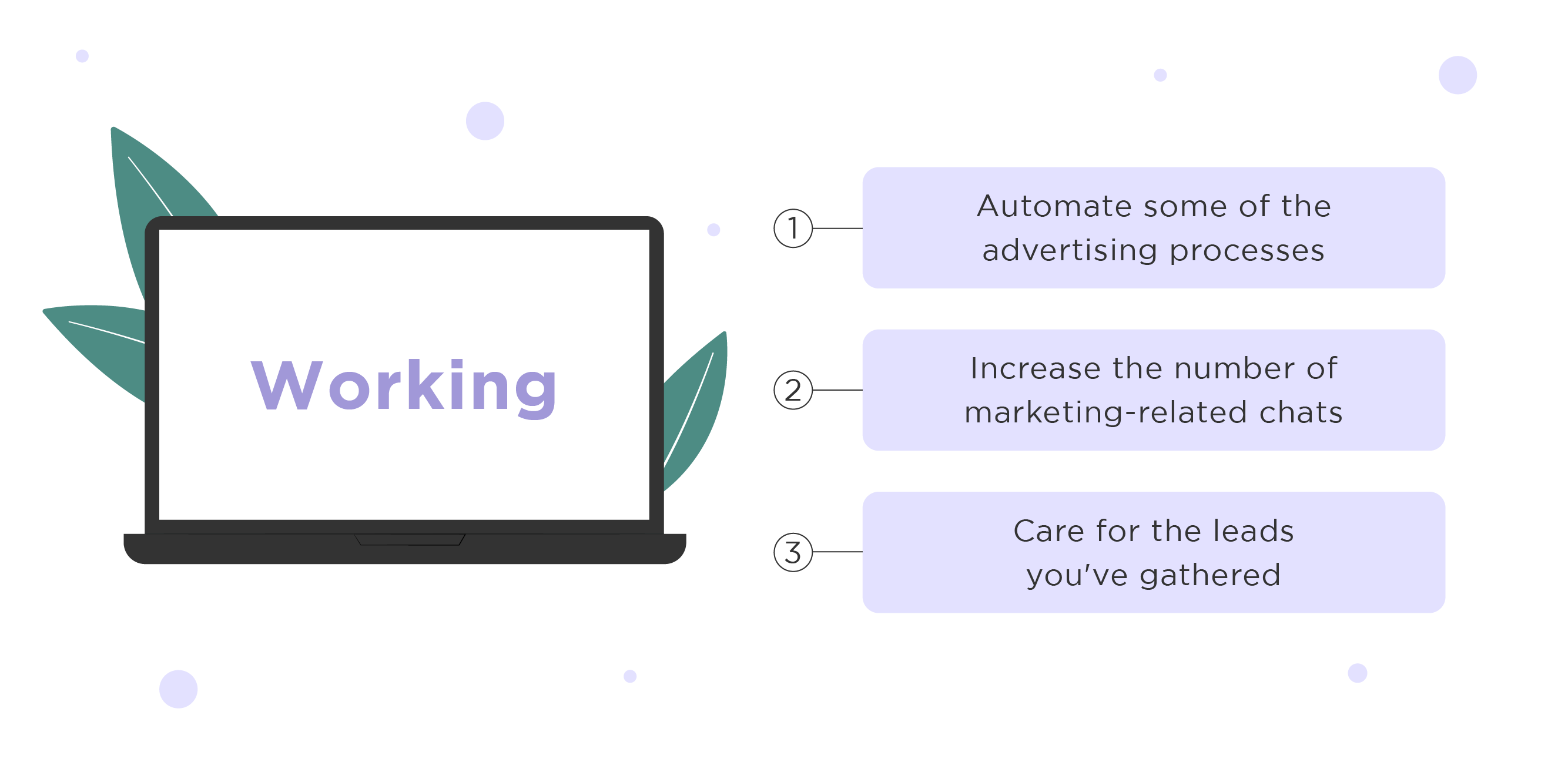 Chatbots marketing works as follows:
1. Automate some of the advertising processes:
Since there are so many various ways to reach clients, marketing requires work.
Most of the time, firms struggle to gather the labor and materials required to ensure the success of their marketing.
On that front, conversational bots may be quite helpful. Automating some procedures, particularly those at the beginning, make marketing simpler and more efficient.
Chatbots may be relied upon to manage first consumer contact and gather any essential information.
2. Increase the number of marketing-related chats:
Digital marketing techniques are always more successful for brands that manage consumer interactions properly than for others.
You will have greater bandwidth to manage a higher volume of chats and finish more sales calls since chatbots can automate a significant portion of the marketing process.
Naturally, conversational bots will aid in expanding your consumer base, generating more dialogues, and improving engagement.
3. Care for the leads you've gathered:
Conversational bots validate not only high-intent leads but also aid in nurturing the leads that have been collected, giving you more opportunities to make new sales.
Your lead generation bots may leverage the data they collect about your customers' requirements, preferences, and habits to get to know them better and encourage conversion.
After the marketing bot eliminates the sales prospects, it may set up a meeting or send the leads with the highest intent directly to the sales team for immediate closing.
Chatbot Marketing: Advantages
The ease of use surrounding a chatbot is its main benefit in marketing. They don't require a lot of memory or time-consuming installation and configuration processes.
Additionally, there are different kinds of chatbots on the market, so it should be simple to find one that meets your needs.
To engage in conversation with the bot, the user does not need to launch a browser or mobile application.
At least 50 interactions per day involve using a phone. In the world, text messaging is the most popular form of communication.
You can use bots for the following things:
1. Generating leads: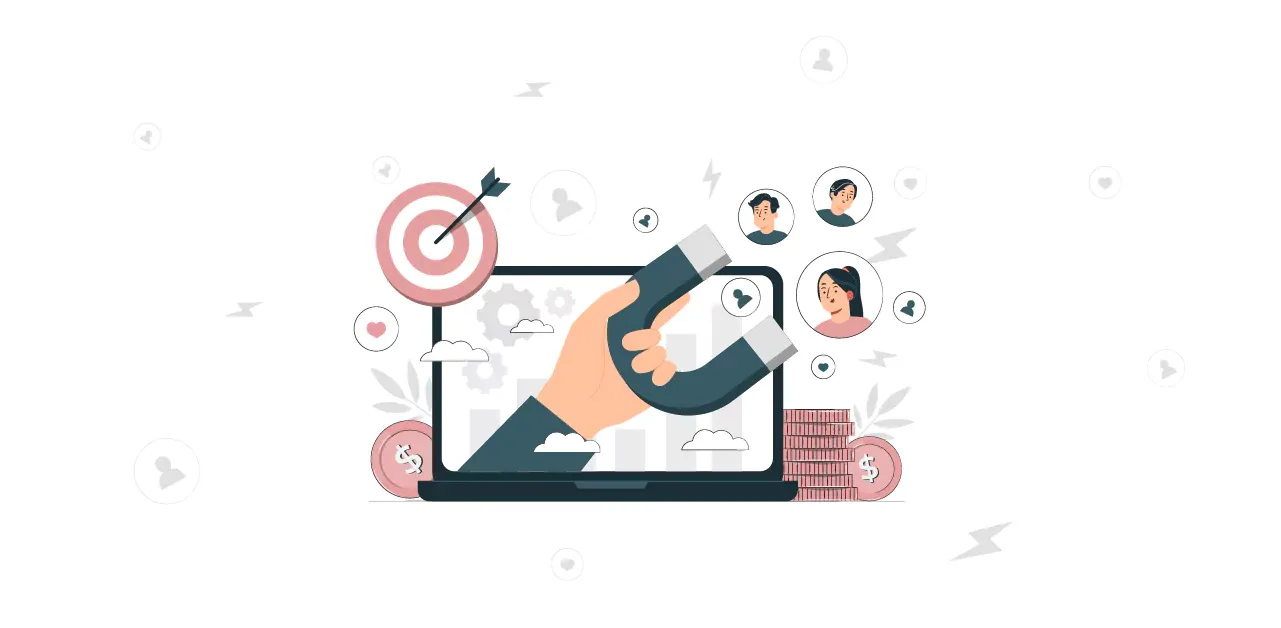 What detracts most from your viewing experience when you watch a video? A pop-up advertisement, right?
Disruptive sales strategies include all of these. You can have a terrible day and never want to interact with the brand again due to such interruptions.
So how does a chatbot differ from that?
Even if a chatbot softly pings you, it won't interfere with your browsing experience. If you want assistance, there is a little ping window and a chat window.
If you do require assistance, you can freely open the window and communicate with the bot.
Additionally, you may acquire data on these leads to assess their quality using conversational marketing and quizzes.‍
2. Leading nurturing:
Marketing chatbots may provide a personalized experience for your customers.
A chatbot may handle anything, from sending personalized greetings to giving discounts.
3. Qualification and evaluation of leads: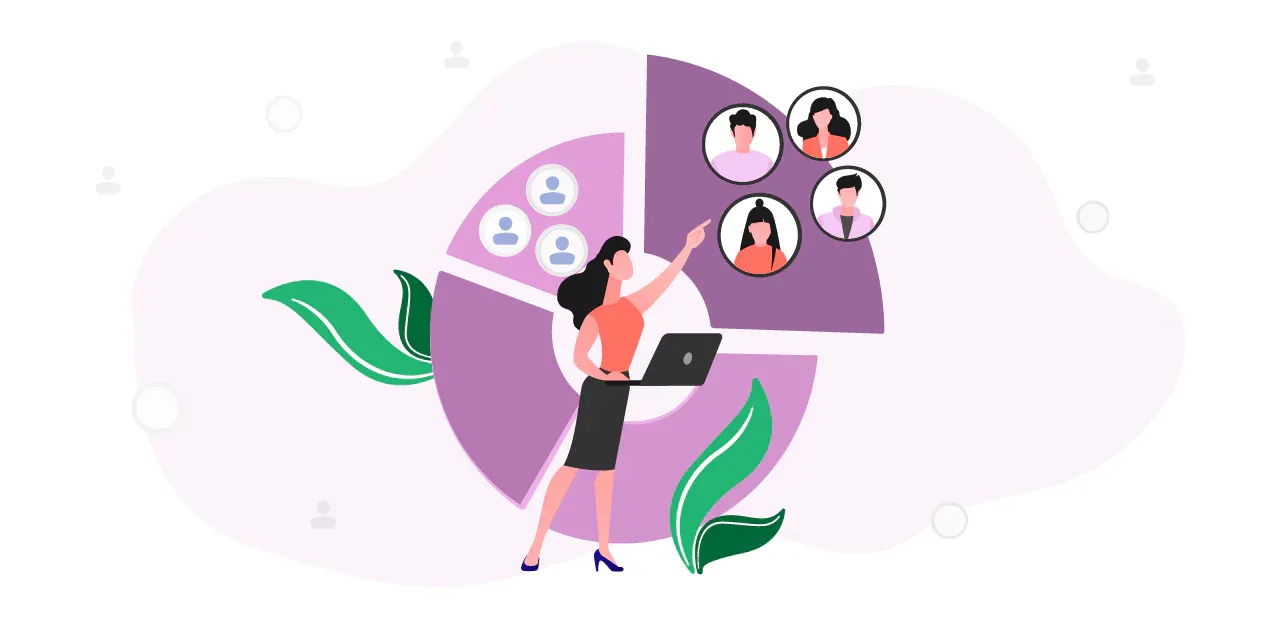 There is no need for sales representatives to qualify your leads manually. Your chatbots may converse with your leads, get pertinent information from them, and then utilize it to qualify and score them.
As they won't be put off by colossal forms with a million fields to fill out, it's even more effective than asking them to fill out forms.
Once the procedure has begun, they can only see the following questions, as they can only see one question at a time.
Your bot can use a series of questions to determine a prospect's place in the buyer's journey, which can help you determine their suitability (both for marketing and sales).
You may also use these bots to help your sales force work more effectively.
The bot ask basic inquiries (about their requirements, financial capacity, etc.), and it will then forward qualifying leads to a real salesperson who can seal the transaction.
4. Communicates with web users:
Chatbots perform this function often, are in high demand, and have many advantages.
Visitors to the website are searching for information about certain goods or services. Certain websites feature the best explainer videos for visitors to grasp a product better.
If there are no solutions, visitors eventually depart. Helping prospective clients is important, but it can be challenging if your customer support team is tiny.
Bots may be required and useful in this situation. Set up the chatbot to mimic live chat so you can converse with consumers.
It might surprise you to learn that consumers enjoy chit-chatting. 57% of users, according to Econsultancy, prefer talking.
Without needing a specialized sales crew, the bots provide an incredibly simple approach to setting up a chat environment.
FAQs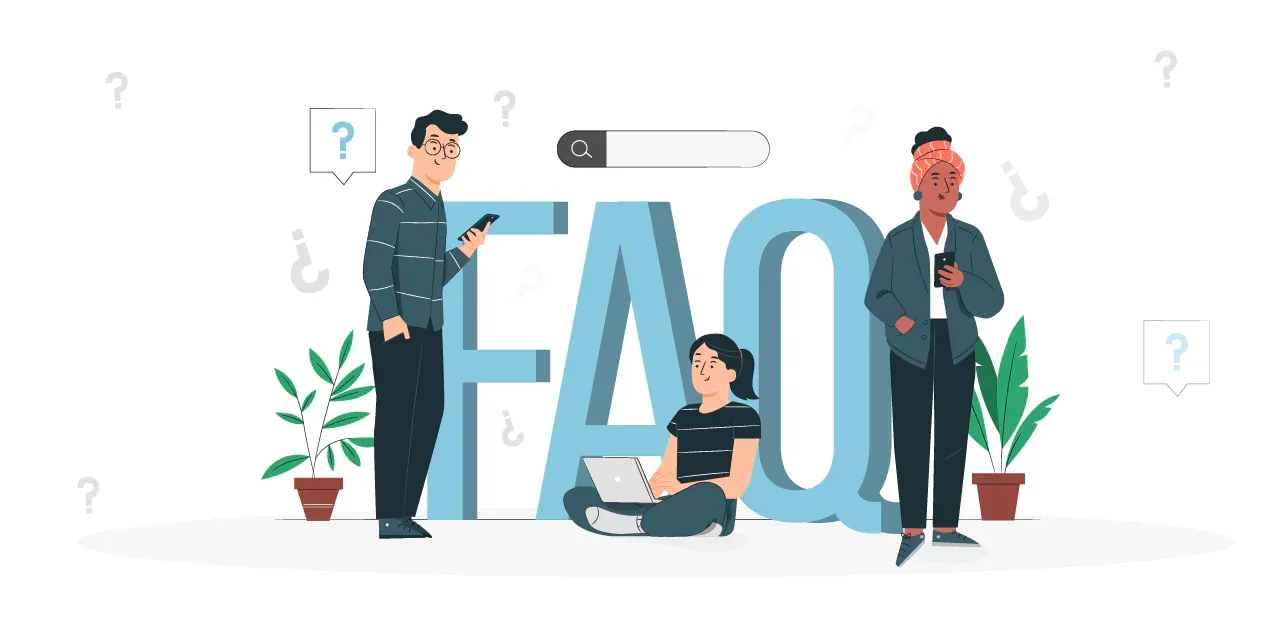 1. Are chatbots going to change how we market?
Chatbot marketing is being used more frequently and is becoming more sophisticated.
Future usage will increase, and they'll become more widely known for marketing objectives across several sectors.
However, chatbots won't take over conventional marketing role; rather, they will supplement it.
2. Is marketing using chatbots digital?
Chatbots do fall within the category of digital marketing.
They are especially helpful in the early stages of the marketing process, such as lead generation and customer support.
However, they may also be used to place orders and advertise goods.
Conclusion
The report on the worldwide chatbot market size reports that it was estimated to be worth USD 525.7 million in 2021 and is projected to grow at a CAGR of 25.7% from 2022 to 2030.
The market is anticipated to be fueled by businesses adopting more customer service initiatives to save on operational expenses.
It's crucial to keep in mind that there are still many don'ts in chatbot marketing. Even if it's a strong and successful plan, your marketing team or agency will still need to put some effort into it.
A well-liked and very effective digital marketing tactic is chatbot marketing. It does require some setup, especially when utilizing conversation trees and third-party tools to create your chatbot.
Still, if you employ this method properly, the initial time and money commitment will be well worth it.
Botpenguin is a marketing chatbot that will help you organize all the customer service easily and quickly.
BotPenguin offers fast service it also provide live chat service to your customer and also with 24*7 service will take your business to the next level.
So, what are you waiting for? Get in touch with us today!