Introduction
Visualize a virtual environment where individuals can live, work, shop, and engage with others, all from the comfort of their living room. Say Hi to The Metaverse!
In the fall of 2021, Meta (FaceBook) announced intentions to invest $10 billion in technology over the following year to realize its metaverse goal.
The Metaverse is considered the next phase in the evolution of the internet. Gaming, online forums, and business meetings where individuals communicate via a digital replica or avatar of themselves are just a few examples.
It is a web of interconnected virtual worlds focusing on social interaction. It's where the physical and digital worlds collide. Many people believe it to be the internet's next generation. Avatars, or digital representations of people, can converse in the Metaverse via various technologies such as virtual reality headsets, augmented reality glasses, smartphone applications, and other devices.
The shift is remarkable because of Meta's large scale, with revenue topping $117 billion in 2021. Statista estimates that the worldwide metaverse market will be valued at $38.85 billion in 2021, $47.48 billion in 2022, and $678.8 billion by 2030.
What is Metaverse?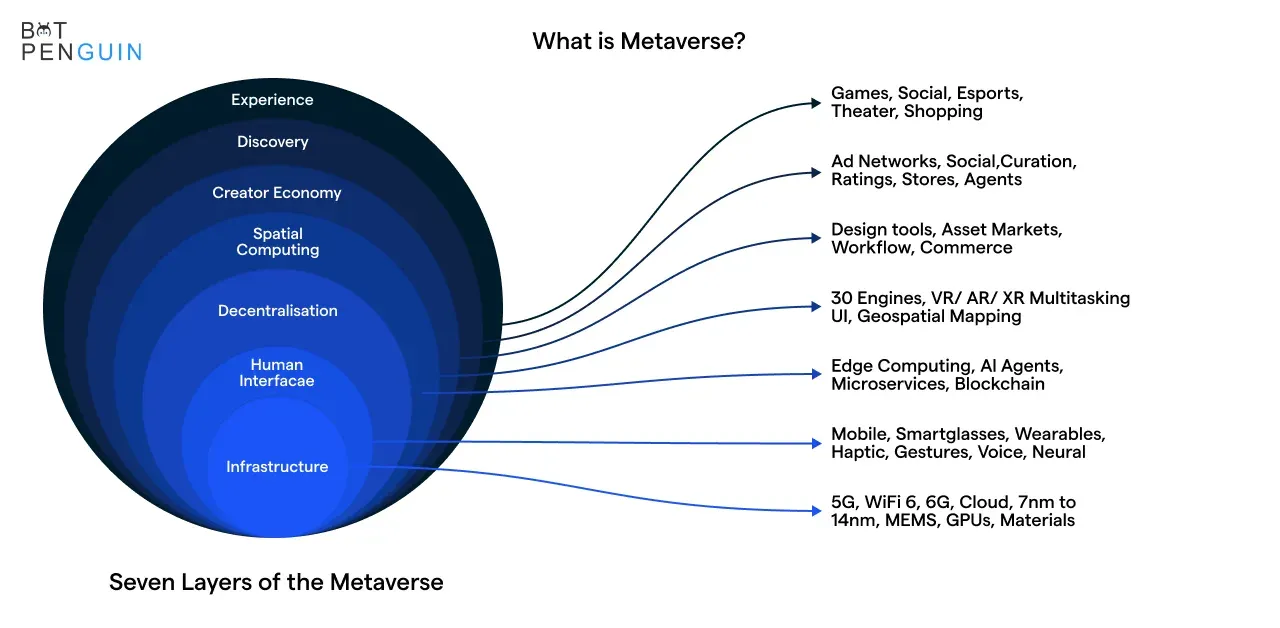 The Metaverse is a virtual environment where individuals may socialize, have meetings, acquire real estate, and do various other things. It has been a concept in science fiction films such as Ready Player One and the cartoon series Jonny Quest from 1964. The Metaverse allows individuals to execute virtual iterations of everyday tasks, resulting in a virtual economy that runs alongside our actual one.
The Metaverse is a future version of the internet that contains various virtual worlds in 3D, 2D, and augmented reality connected to form a permanent, concurrent shared virtual environment.
Some of the features of Metaverse
Digital Avatars
One of the most critical components of the Metaverse is the ability to create digital avatars of oneself to express our thoughts and sentiments uniquely. Digital avatars are a unique method to express yourself. There can be accurate duplicates of your actual form. Other than that, there can also be replicas of your favorite pop culture character or something completely different. Allowing users to customize their avatars induces gamification, resulting in a more engaging and immersive experience. Consider the 4.66 billion individuals who use the internet today.
Hardware
Virtual Reality headsets, which will transfer us to a realm of endless interactive space, come to mind when we conceive of the Metaverse. But that's only one method of entering the virtual world. Smartphones, tablets, PCs, and laptops all serve as entry points to the Metaverse. While discussing human-interface devices is important, focusing on the infrastructure that will keep us connected in the Metaverse is equally important.
Infrastructure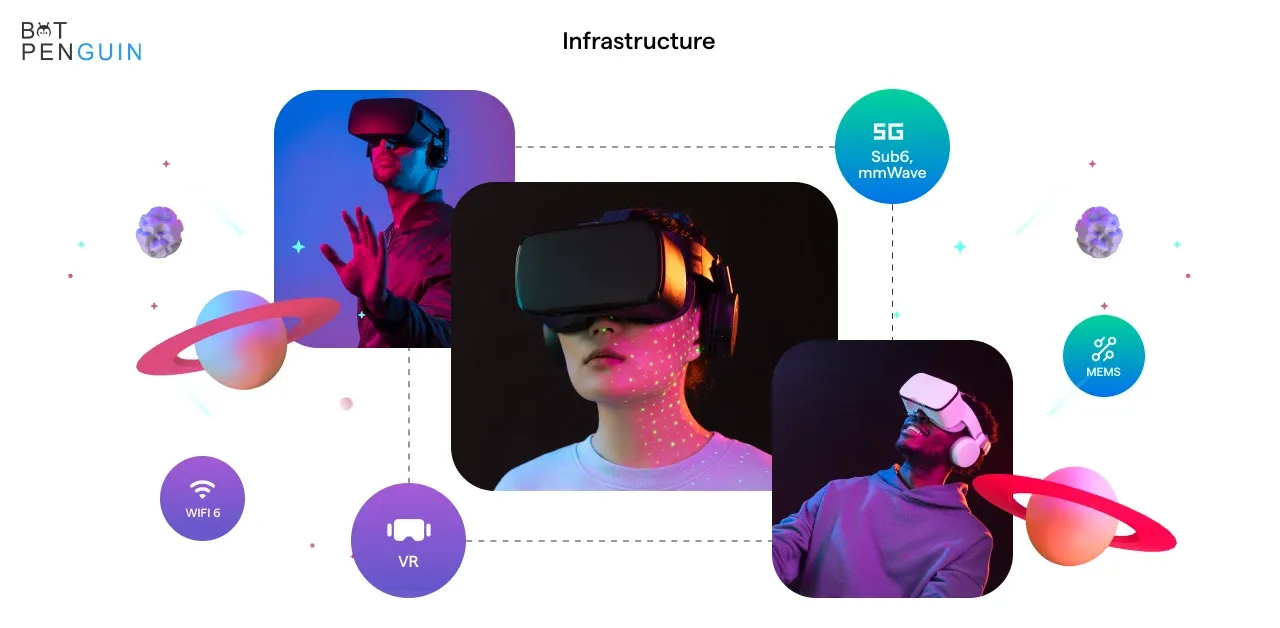 Infrastructure for 3D animation Built-in compression and poly-reduction techniques are required for Metaverse content to stream on 3D assets in various network situations dynamically.
5G networks will significantly improve the technology we rely on, including resolving latency difficulties.
Besides the physical infrastructure, the Metaverse will have an almost infinite number of interconnected worlds, similar to how the internet now has an almost infinite number of websites. It implies that users must be able to navigate easily from one Metaverse reality to the next. All the while, their avatar, 3D inventory, and other cross-platform features remain intact.
Experiences
It's difficult to imagine our physical experiences in the actual world being brought together under one virtual roof. We use Zoom or Discord to communicate with our coworkers or gather in the Rec Room on Monday mornings. These disparate experiences will combine into a single holistic experience that will aid us in navigating the boundless universe. For example, students will collaborate remotely in the education area by joining a shared virtual room.
Friends will be able to gather together for everything from a rollercoaster at an amusement park to a lunar landing, in addition to schooling. This concludes with a virtual drink at your friend's favorite TV bar or café.
Security
Cyber threats have been one of the most significant issues for businesses worldwide for decades. Without a doubt, discussing ethics and privacy within the ecosystem is necessary before envisioning the architecture of the Metaverse. There will always be a need to perform safe remote transactions and monitor people's behavior. It will ensure they act ethically, just as there is now with the internet and other online communities. Blockchain is an intriguing technology that might allow this to happen on a large scale. Still, we also need to consider the Metaverse's morality and ethics. The Metaverse will have a limitless amount of data regardless of who has power. Therefore, It is the responsibility of the companies/authorities in charge to guarantee that the personal data acquired is securely maintained and removed once it is no longer required.
Benefits of Metaverse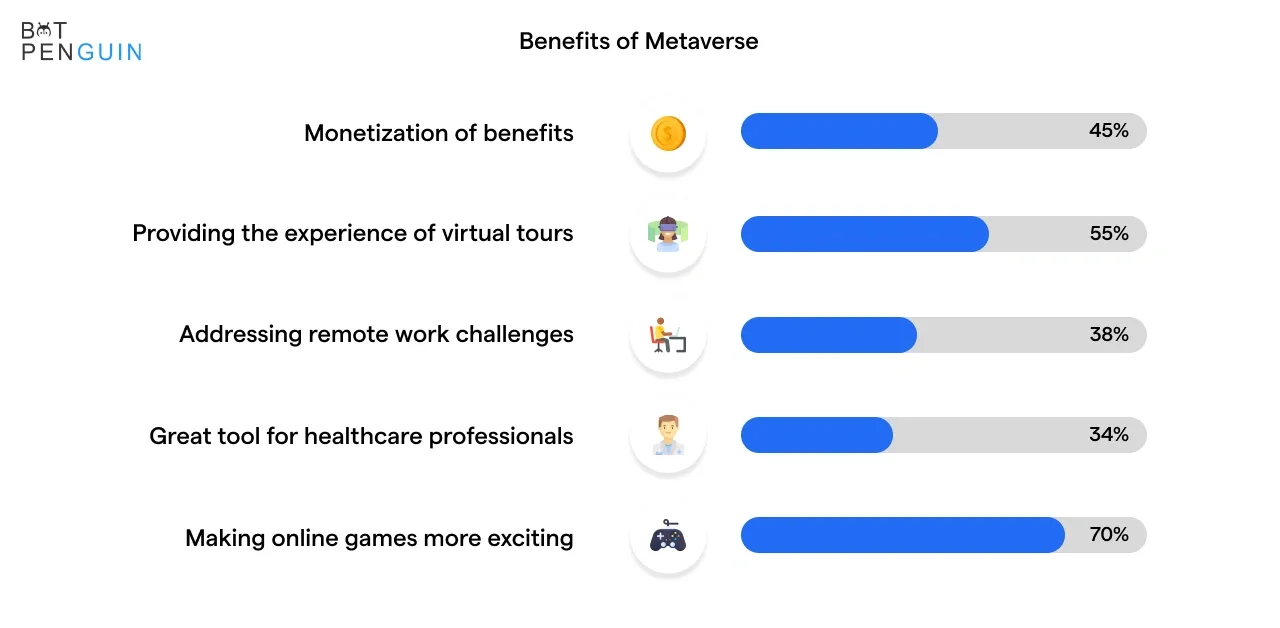 Addressing remote work challenges
Metaverse can address all of the current remote work issues. Managers may meet workers (their avatars), converse with them, interpret their body language, and maintain in-person connections in a virtual setting. Furthermore, by keeping track of the team inside a virtual office, the employer may handle issues like time theft and goldbrick at the workplace.
Great tool for healthcare professionals
A metaverse is a life-changing tool for healthcare experts and medical personnel who previously could not visit patients due to geographic constraints. They may engage with the patient and better understand their health state in the Metaverse's virtual reality.
Making online games more exciting
Most Metaverse games are now independent systems with an integrated economic model to accommodate play-to-earn gaming. Users can purchase, sell, and exchange in-game assets using NFTs in such games. The concept of avatars exploring a huge virtual area also appeals to gamers.
Providing the experience of virtual tours
Traveling is exciting, but not everyone can go to the places they want to go. That's where the Metaverse comes in, allowing individuals to visit locations they couldn't physically visit. A sophisticated virtual environment with a first-person experience is being constructed using Metaverse, AR, and VR combined capabilities.
Monetization of benefits
The Metaverse has piqued the curiosity of many individuals. Some developers want to harness the ecosystem to construct their business-specific applications. In contrast, others search for ways to make money. Fortunately, the Metaverse can suit both parties' needs. Due to its open-source nature, anyone may develop a meaningful project on top of the Metaverse ecosystem. People may join the ecosystem as ordinary users and make money by creating and trading NFTs.
Conclusion
The Metaverse is the internet's next generation. It focuses on things that you can do with your friends and coworkers. Using a new era of creator-oriented technologies, exponential growth in creators is mixing and matching, embedding, and connecting. It'll transport you to places you've never been before. And it's fantastic.
Metaverse's Virtual World has the potential to be the next big technological breakthrough. The Metaverse has already piqued the interest of some of the world's technological behemoths by exhibiting its multifaceted characteristics. It not only brings people closer together but also improves their User Experiences. It has a lot of potential to become the next "Reality."A virtualized version of the internet in which most elements of human existence are virtualized. It doesn't matter if it's about entertainment, the economy, or education.
It will give you a unique marketing opportunity. Try out Omni-Channel marketing for Free With BotPenguin!