In today's world, almost everyone has a smartphone in their hand with good data. Many people love one feature of smartphones, which is voice assistants. Personal voiced assistants can come through applications or web-based. Studies show that assistants can boost your productivity and mobility.
Siri, Google Assistants, and Alexa are fun parts of having phones. But some people may find that it is not their assistants and want something of their own. Speech and voice recognition has more than 700+ start-ups that work like voice assistants. One such starts up which made a big name in less time is Databot.
Databot is a software program that allows a machine to understand spoken commands by humans. It can also translate language and speech into different accents. As a virtual assistant, Databot can answer your questions, send messages, find a location, and provide weather forecasts daily. It can also set the alarm, find a location, and more.
Continue reading to find a complete review of Databot with features and pricing.
What is Databot?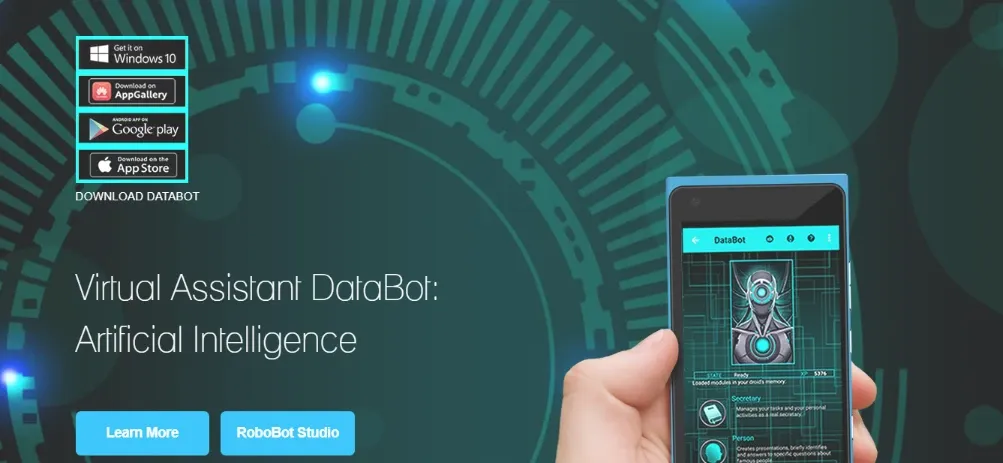 DataBot is a tool for cloud-based or application-based voice assistants that can answer any question asked. It increases its knowledge every day and learns to recognize the topics you need rapidly. Using voice, graphics, and texts, you may personalize multimedia presentations with this helper software. It may become your next virtual personal assistant for work, play, study, or leisure.
You may ask DataBot any question using the free module, and it will respond by speaking. It will answer questions about famous people, arbitrary subjects, fictitious characters, amusing insults, shopping lists, daily horoscopes, inspirational quotations, birthday quotes, and much more.
It can also assist in automating complex order processing for eCommerce stores and updating inventory management programs. Businesses may customize the system based on their requirements, thanks to the rules engine. Whenever there are issues with orders that call for action, DataBot sends email notifications to teams.
What are the Features of Databot?
The features of Databot are the following:

Innovative Services
Images, research services, and multimedia presentations are returned to you by apps and services coupled to modules in their memory.
Customizable
Adapts to your language, voice commands, name, and behavior preferences.
Speaks Different Languages
English, Italian, Spanish (Johan F. Antonio G.), French (Moad Rasem), German (Uwe Daufenbach), Portuguese (Paula C. F.S. D. Pires), Chinese (Jie Li), Japanese (Naoko Takeda), Russian (Anna Dotsenko), Turkish (Zeynep Semen), Polish (Paulina K.), Korean (Seung-Jong Shin), and Arabic are among the languages that DataBot (Asma Ahmed).
Modules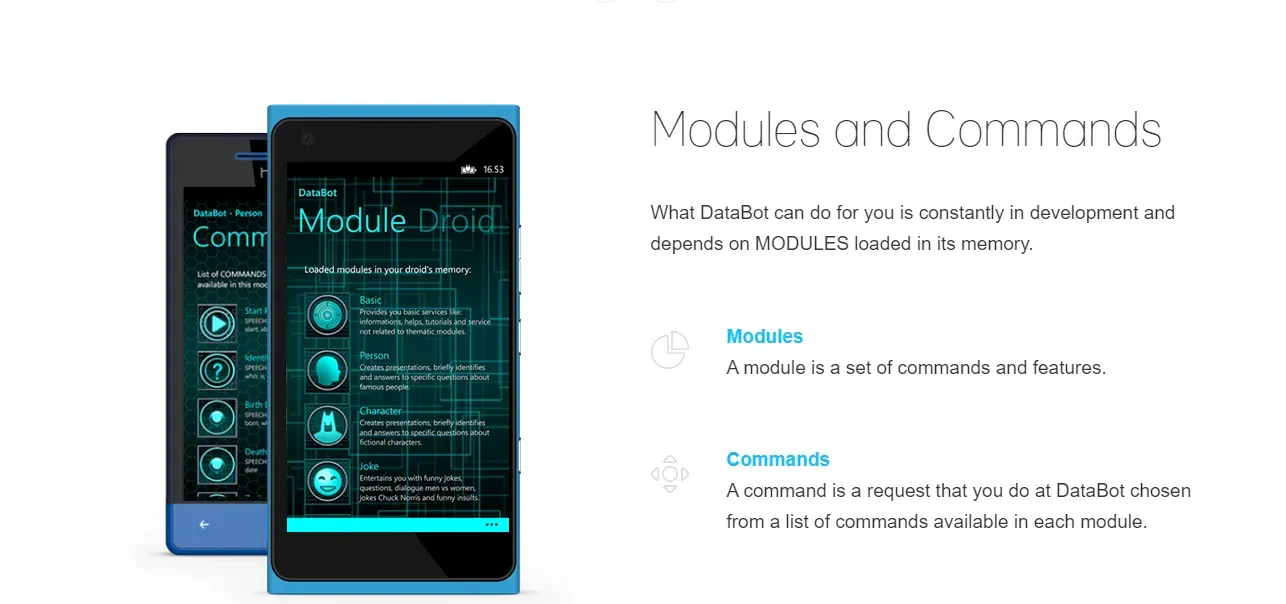 A module is a collection of features and instructions. What DataBot can accomplish for you constantly evolves and depends on the MODULES placed into its memory. The BASIC Module provides information, assistance, a tutorial, spoken conversation, a random subject, presentations and identifications, a flashlight, a countdown, a timer, and chat. You can find the definition, synonyms, and antonyms of the terms you need in the DICTIONARY module.
Commands
A command is an instruction sent to DataBot that you select from a list of instructions offered in each module.
Multimedia Presentation
While you travel, work, study, play, or unwind, use Databot. In a matter of seconds, it will look up everything you want to know or hear.
Effective Presentation Speech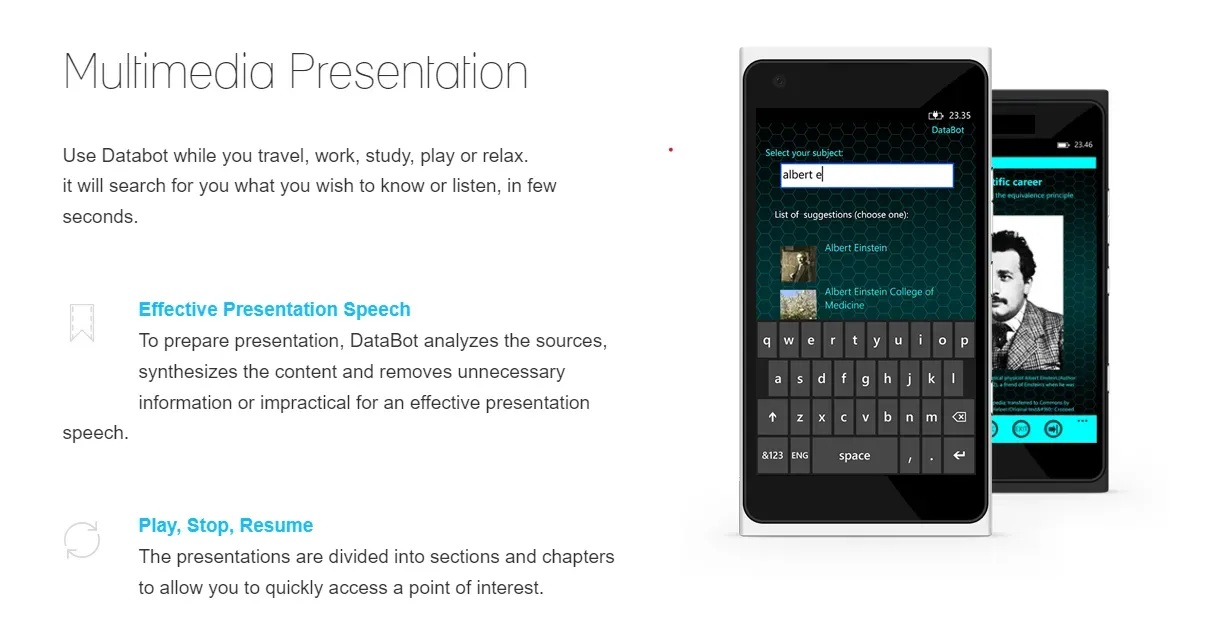 DataBot analyzes the sources, summarizes the material, and eliminates any information that is excessive or ineffective for a presentation speech to make a presentation.
Play, pause, and resume
The presentations are broken up into parts and chapters to make it easier for you to find a particular area of interest.
What are the Free Modules and Services?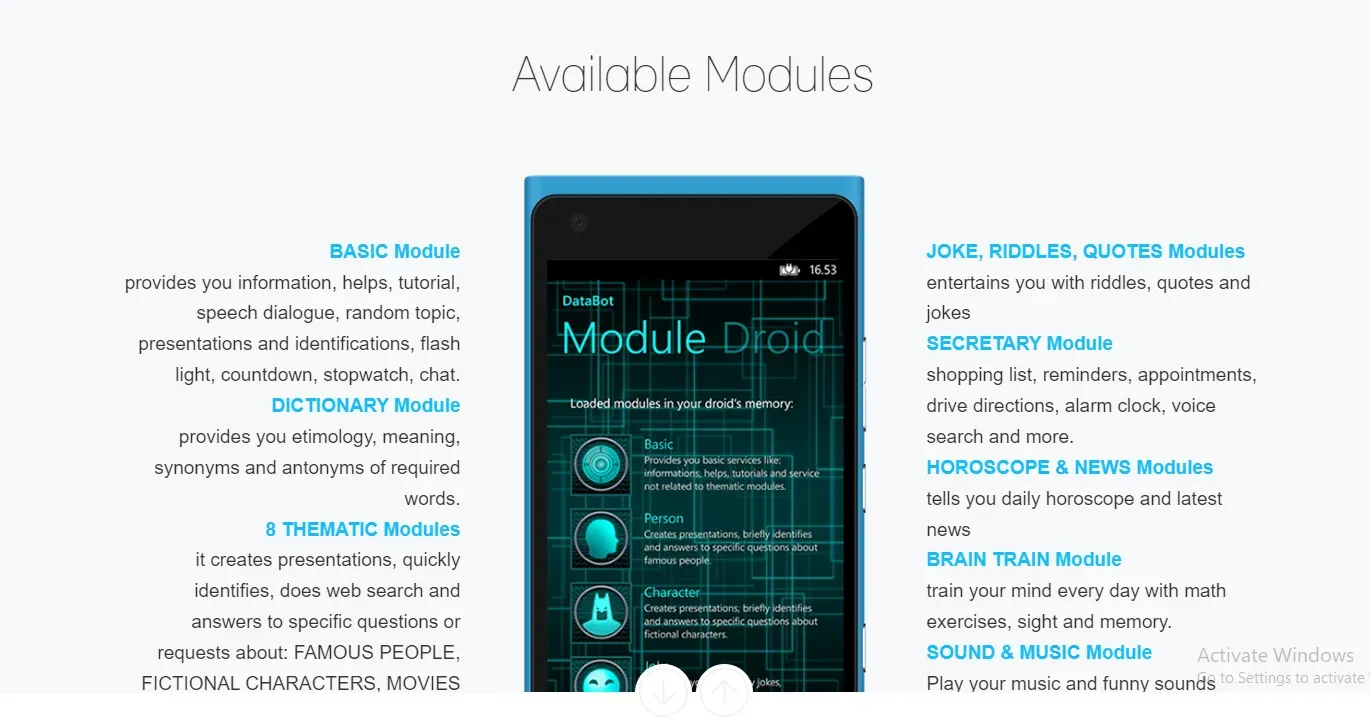 The modules of Databot are the following:
8 Thematic Modules: It generates presentations, rapidly locates, searches the web, and provides information in response to inquiries or requests regarding FAMOUS PEOPLE, FICTIONAL CHARACTERS, MOVIES, TV SERIES, CITY, NATIONS, FOOTBALL clubs, NATIONAL FOOTBALL, and BOOKS.
Health Module: It has a vast array of instruments and calculators for keeping track of your health
Dictionary Module: It gives definitions, synonyms, and antonyms for the terms you need to look up in a dictionary.
Horoscope Module: It provides you with a daily horoscope.
Secretary Module: It helps with the grocery list, appointments, reminders, and alarm clocks
Joke Module: It tells jokes, asks jokes, jokes about men and women, jokes about Chuck Norris, and insults that are humorous to use among friends.
News Module: Read the most recent news on subjects that interest you, like the global economy, movies, sports, and more. The RSS reader is fully customized.
Brain Module: It will help you develop daily memory, sight, and math skills.
Sounds Module: Plays sounds from a list of available voices, including impacts, human sounds, animal sounds, and sounds from weaponry.
Riddle Module: It amuses you by providing recommendations and solutions for arithmetic riddles, logic riddles, and other types of riddles.
Quote Module: It looks for quotations on the specified topic or random quotes.
Base Module: It gives you access to knowledge, assistance, tutorials, spoken dialogue, random topics, presentations and identifications, a flashlight, a countdown, a timer, and chat.
Benefits of Databot
The benefits of Databot are the following:
Creates personalized multimedia presentations using speech, text, and graphics.
This free intelligent digital assistant instantly recognizes the themes needed.
This virtual assistant uses resources from the web, including Google, Wikipedia, and RSS feeds, to provide precise responses.
It creates summary pages with your answer, pertinent information, resources, search services, and links.
DataBot is cross-platform, so you can use the same assistant on your smartphone, tablet, or laptop.
It enables you to share answers effortlessly through SMS, Email, and social networks.
You may alter your personal assistant's language, voice, name, and behavior to suit your tastes.
DataBot is accessible in English, Spanish, French, Italian, German, and Portuguese, so it speaks your language.
It can easily converse with people. Additionally, as a clever A.I., it picks up new terms during each chat session.
You can manage your diary, save notes and reminders, set alarms, and search your contacts with your virtual assistant.
This clever artificial intelligence is one of the greatest android assistants.
While utilizing it, the virtual assistant acquires experience. The experience is a free way to get unique gifts for your assistance or in-store enhancements.
Databot: Our Complete Review with Pricing and Features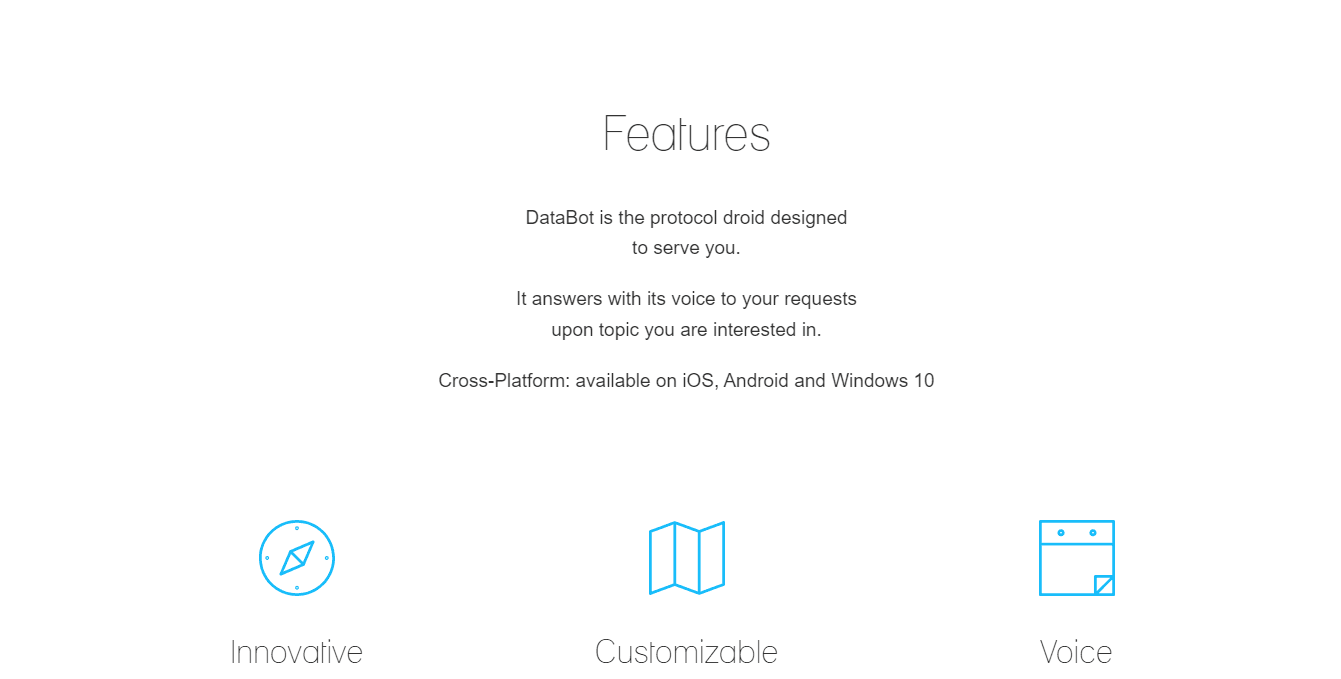 DataBot's ability to respond to questions on well-known historical figures was a helpful feature. I asked the assistant questions in speech and waited for her response purely out of amusement. It performed admirably, and you will see that DataBot is not a joke.
You can enlist DataBot to help with some important tasks. This application works on Android and iPhone well compared to the other applications for the same function. You can use it to set alarms before using it to create presentations.
Learning that the program is easily synchronized to a P.C. will take a few days. Further allows handling a wide range of tasks from the desktop. This app's ability to manage your most critical items, such as notes, appointments, and contacts, from any surface is beneficial. You can prevent the unintended sharing of sensitive data, unlike Google applications.
DataBot can handle social media accounts and emails and be a wonderful mobile diary. Using it may extract helpful information from your emails, record your responses with the data from related searches, and many other things.
The ability to utilize voice activation is also a beneficial feature. It allowed work even late at night when it was tough to stay awake and work. You can start walking while speaking into the device to keep your brain active. Then, you can see my words written down. It was preferable to carrying a dictaphone.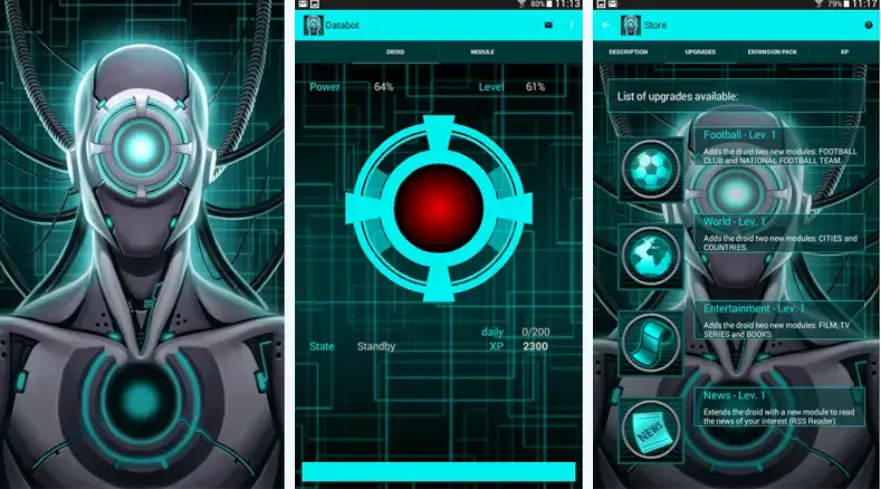 Databot app also offers some excellent language-related functions. It is a powerful thesaurus and a fully functional dictionary that can give both the definition and synonyms of a given word. For academics who are not natural English speakers, you must add that the service is a blessing because it is prompt.
The app's straightforward, quick, voice-activated capabilities increase productivity when you are engaged in a never-ending conflict with your ideas.
Funny enough, our only complaint is that it is capable of a little bit too much. Its humor module can even make up hilarious stories on the spot, which is a temptation for procrastination. Along with the superb chat function, daily horoscope, and a ton of other comparable features, the excellent RSS module is what puts the most important news in your hands.
We urge you to utilize DataBot and advance your Android or iPhone experience. There won't be any issues if you are careful and don't let these great features fool you.