BirdEye is a well-known experiential marketing platform used by thousands of businesses to boost their web visibility and attract new clients. Initially, BirdEye's purpose was to assist its customers in generating and managing online reviews. Now, the platform has grown to service over 60,000 customers as it continues to offer valuable solutions. It's prevalent in the dental, healthcare, legal, real estate, and retail industries. BirdEye is headquartered in Palo Alto, California, and employs around 400 people. It connects with all major review platforms and the industry's leading ERP, PMS, POS, and CRM systems. Hold on to your socks and explore this detailed review to decide whether Birdeye is a good fit for you!
How does BirdEye Stack up against others in the market?
BirdEye is a well-known market leader in reputation management, with one of the most comprehensive systems on the market. Podium is its main competition, usually costing $100-200 or more per month. BirdEye also competes with sector-specific businesses in the dental market, such as Doctible, NexHealth, and Swell. When comparing BirdEye to competitors, it's essential to list the particular items you want and see which firm offers the most for the lowest price. It is a good option for firms looking to use software to increase online lead generation and improve customer experience.
BirdEye Features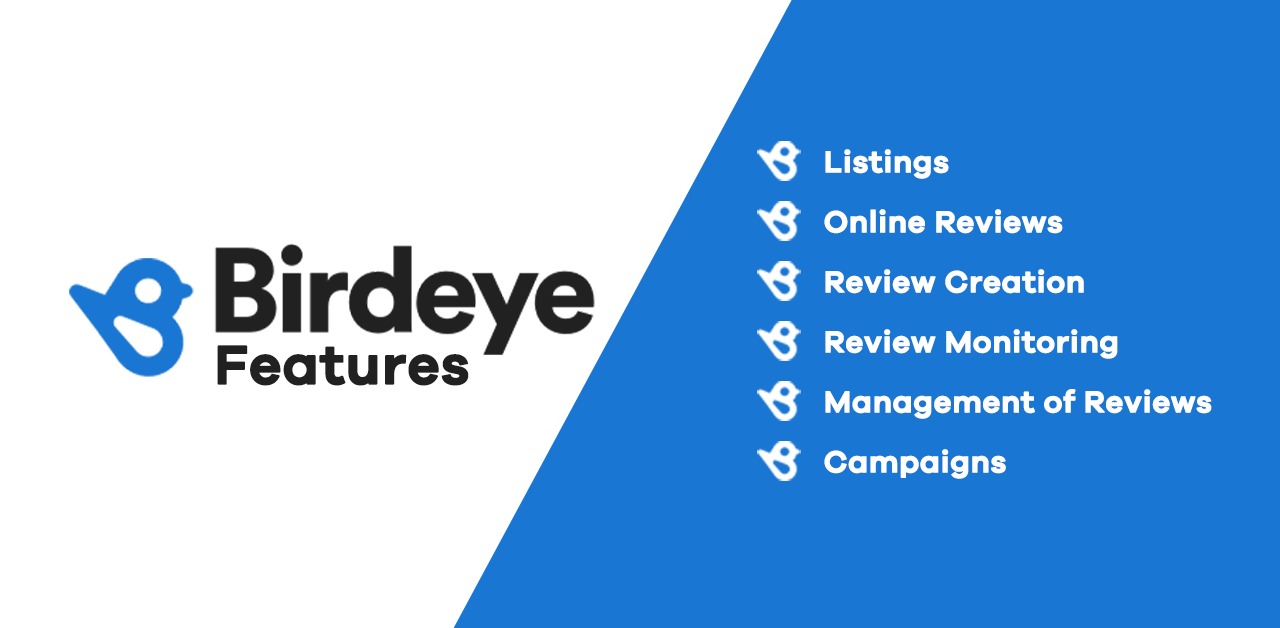 In this BirdEye review, we'll first go over the primary features of BirdEye and how they can help your business in the sections below. We'll also show you some photographs of the finished product to understand its style and arrangement. The following are critical BirdEye features:
Listings
Your business listing data must be correct and consistent across all major web directories. It is a crucial component of Google's search algorithm, ensuring that customers can locate your contact information online. BirdEye allows you to construct a business profile for each site instantly. Your profile includes your name, address, phone number (NAP data), business type and description, photos, and hours of operation. BirdEye's listings tool searches more than 100 websites for information about each of your locations. The tool indicates missing or incorrect listings and allows you to correct any issues immediately.
Online Reviews
The production and management of online reviews are why many consumers utilize BirdEye. It improves your SEO performance and brings in new clients. According to a recent study, 86 percent of consumers read reviews for local businesses, and 57 percent will not utilize a service with fewer than four stars.
Review Creation
Customers of BirdEye use the platform to generate hundreds of consumer reviews. These app and service reviews are available on Google, Facebook, and ZocDoc. They assist potential clients in evaluating your company. The primary means of generating reviews is through email and SMS campaigns you set up during deployment. After appointments or transactions, these campaigns interact with your practice management system or ERP to send messages to customers. Customers receive an email with instructions on how to leave a review on their preferred site quickly. BirdEye can distribute your consumers' feedback to over 150 sites, including
Amazon.
Angies List.
Facebook.
Google My Business
Healthgrades.
RateABiz.
RateABiz.
Yahoo!
ZocDoc.
Review Monitoring
BirdEye searches hundreds of platforms for reviews about your company. It covers both reviews you request from consumers. It also explores reviews on websites on which you do not engage regularly. The system notifies you of new studies, which you can manage via the dashboard outlined below.
Management of Reviews
BirdEye can also share customer feedback on your website and social media profiles. The platform has a customizable widget to embed on your website to display your ratings and reviews. There are many other designs and patterns, including the one pictured below.
Campaigns
BirdEye's Campaigns module lets you develop and deploy email and text campaigns to groups of clients. You can deploy Review campaigns, feedback surveys, or any other general marketing campaign to build your online presence. First, decide whether you want to create an automated drip campaign or a one-time campaign. You define your target audience, select a message template, and schedule the drive. BirdEye includes a simple editing tool for creating email and text messages. The editor lets you dynamically insert fields like business names and phone numbers. It also offers a feature for graphically previewing the message as you create it.
Interactions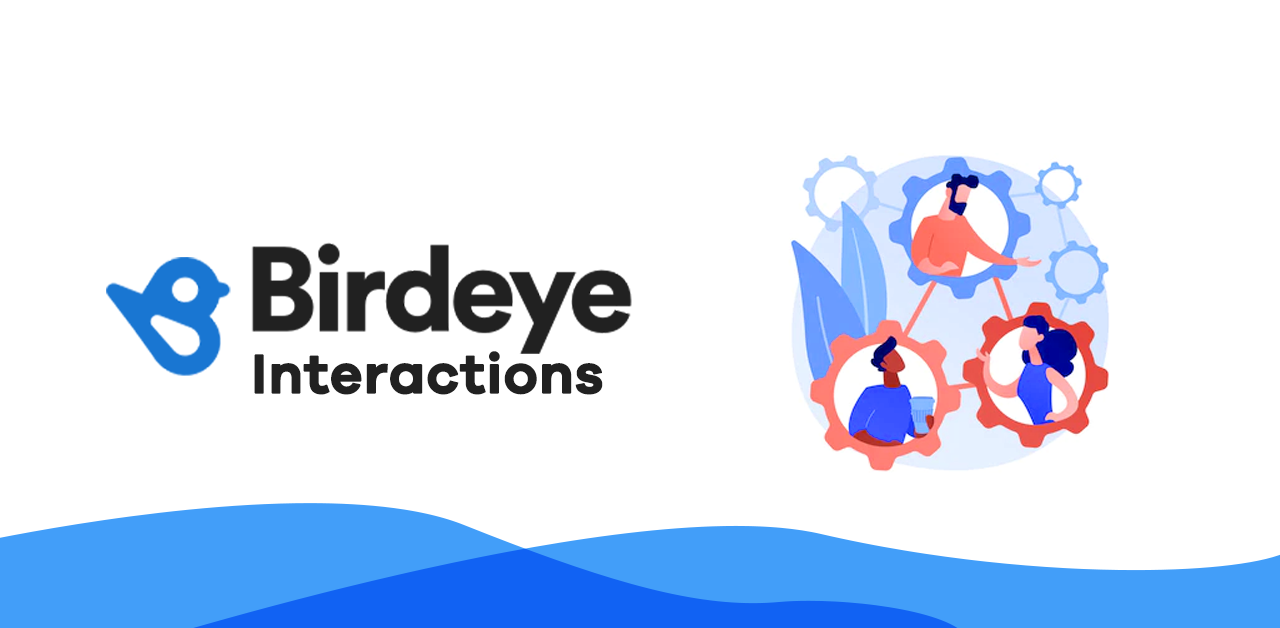 Inbox Unification
BirdEye's platform features a consolidated inbox for your team to manage all two-way customer contacts. A single conversation thread comprises every piece of client communication. BirdEye's unified inbox has the advanced features listed below:
The ability to send photos and attachments
Message templates help you respond more quickly to popular subjects or concerns.
Responses to automated reviews
Users also get the option to designate specific teammates for individual talks.
An inbox where you may keep track of unread messages and mark conversations as finished.
Webchat
BirdEye's platform comes with a chat widget that you may include on your website. You can set up a webchat to automatically respond to your most commonly requested questions. Moreover, you can have a staff member respond to incoming messages manually. All customer messages get saved in BirdEye's inbox, where your team can respond. The chat widget is versatile and has various customization options. The options include the size, colors, welcome greeting, and automatic messages for the chat window. Customers who use BirdEye generally set up automated messages to accept appointments, communicate operating hours, and respond to crises.
Surveys
To gain access to Surveys, you must subscribe to BirdEye's Premium Plan. You can use this tool to create and distribute any form of survey to your customers or patients. It operates like popular survey tools such as Survey Monkey and Google Forms. It offers features such as making specific questions required and question skip logic. Net Promoter Score surveys, one-question surveys dedicated to a particular customer encounter, new customer feedback, and internal employee surveys are popular among BirdEye customers. BirdEye just published Pulse Surveys. Pulse Surveys are two-way interactive surveys that allow respondents to write their responses to each question.
Referrals
BirdEye has also developed a service that enables customers to manage referral campaigns. Consumers of BirdEye can utilize this technique to acquire more customers through word of mouth. The referrals dashboard simplifies tracking the number of referral requests sent. It follows the number of times existing customers have shared these requests and the number of leads generated by referral campaigns. Existing clients also get Email referral requests. BirdEye users can refer their friends and family using a unique link, email, text message, or social media.
Ticketing
It is similarly available in the Premium Plan. You can use this application to convert incoming reviews into customer support tickets & can allocate a new key to a team member for follow-up when received. You can also sort the complaints into categories depending on different parameters.
Insights
You must first purchase the Premium Plan. The dashboard provides a holistic view of your sites on different metrics you define during setup. It lets you see customer feedback on the overall experience, team responsiveness, product or service value, and the most often mentioned topics at each location.
Benchmarking
It is similarly available in the Premium Plan. This dashboard lets you view how your company compares to its top competitors. Configuring this tool, you can add the same categories as the Insights dashboard.
Reporting
BirdEye has developed valuable reports based on your company profile and customer feedback data. The following statements are accessible in BirdEye:
Examine reports
Reports on public opinion
NPS surveys
Traffic updates
Usage statistics
Reports on ROI
Reports on service
The review reports help assess your rating's performance has changed over time. You can sort your reviews by source and by location. During onboarding, your particular settings also adjust accordingly. The NPS report is another example of a BirdEye report. This report shows how your NPS score has changed over time. You may view the individual reviews contributing to your score by clicking on any data item.
App for mobile devices
BirdEye has a mobile app accessible for both iOS and Android devices. This application contains many of the same capabilities as the web application. It's great for responding to reviews and handling consumer relationships when you're on the go. The App Store has over 75 reviews and a 4.4/5.0 stars App Store.
Other characteristics
Other functions not stated above are available on the BirdEye platform. BirdEye also has the following valuable features: Social media management: BirdEye provides a tool for your team to create and schedule social media postings. BirdEye microsite: It creates an SEO-optimized micro version of a website based on your company's information and reviews. It helps boost your online reputation.
Price & Cost of BirdEye
BirdEye's pricing for a single location begins at $299 per month. The total BirdEye cost depends on the products you purchase and other factors.
Standard Plan: Listings, reviews, and campaigns start from $299 per month.
Professional Plan: Listings, reviews, promotions, and interactions begin from $399 per month.
Premium Plan: Only custom quotations are available; they include surveys, ticketing, insights, and benchmarking.
Free Demo
Pros and Cons of BirdEye

Pros
A listing management solution guarantees that your company's information is correct and consistent across web directories.
You can use an online reviews service to generate hundreds of client reviews that will help you increase your internet profile.
A unified inbox feature makes two-way text messaging exchanges with customers easier.
Cons
The platform does not offer a money-processing solution.
It does not have a team chat function that allows your team to connect within BirdEye.
The $399 Professional Plan does not contain surveys, insights, benchmarking, or ticketing apps.
Alternatives to BirdEye and Competitors
Alternatives and competitors to BirdEye include:
Podium
Swell
BotPenguin
NexHealth
Doctible
NiceJob
Grade.us (aka ReputationLoop)
Chatmeter
Conclusion
BirdEye is a well-known experiential marketing platform utilized by over 60,000 businesses to boost their web visibility and attract new clients. BirdEye is the market leader in terms of its capabilities. Many alternative platforms, for example, do not provide business listing management or a fully-featured survey tool. BirdEye is a good choice if you are looking for software to help you reach more clients online and better engage existing customers. It is significantly less expensive than its main rival, Podium, and has more functionality than younger competitors. We urge you to compare BirdEye to industry-specific solutions currently available in your market. One reasonable and affordable solution is BotPenguin. They are an organization that will help you upgrade your customer service with versatile chatbots. If you want an automated and independent consumer service solution, check out BotPenguin. Related: BirdEye: Pros, Cons and Alternatives What is BirdEye and How does it work?