Your website's users will unavoidably have questions, no matter how detailed it is.
Your response to these inquiries should be quick, but that may not always be possible. WordPress chatbots can be helpful in this situation.
On other websites, you've encountered chatbots; they're computer programs that can converse via text.
A website can profit significantly from the easy and basic procedure of developing a WordPress chatbot.
Website owners may quickly add a working chatbot to their WordPress website by selecting a chatbot plugin, configuring the chatbot, designing its look, specifying its interactions, publishing it, and testing it.
This post will cover the steps for building chatbots and how they could help your WordPress site.
What is a WordPress Chatbot?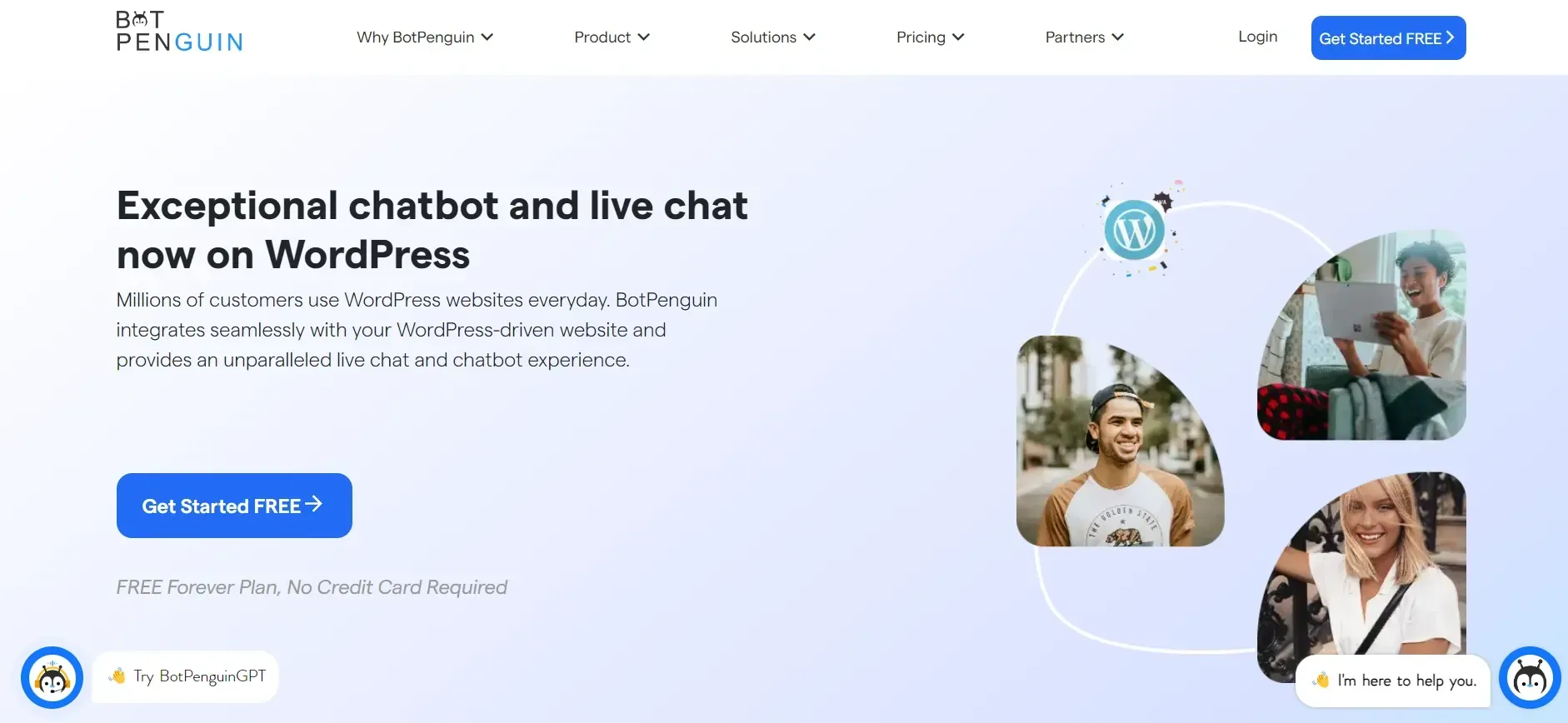 As its name suggests, a WordPress chatbot is a live chat website system that operates automatically and uses artificial intelligence to react to queries.
WordPress chatbots carry out specific tasks based on user interaction. Bots assist in automating customer care, but many companies are getting more creative.
A WordPress chatbot may be helpful in many ways. They enable clients to get quick advice and information without waiting for a human to become available.
It is advantageous for handling several requests at once.
Additionally, it enables consumers to interact with your website directly rather than wading through assistance pages in quest of the correct answer.
They may ask their question via a chatbot and receive prompt assistance.
Chatbots are becoming more and more common. It is because they can automate a range of time-consuming tasks, freeing you up to put your time and effort into other activities.
BotPenguin offers chatbot creation for social platforms, websites, wordpress:

6 Easy steps to create a WordPress Chatbot in 2023
Here are 6 easy steps to create a WordPress Chatbot in 2023
Step 1
Choose a chatbot plugin
There are several chatbot plugins available for WordPress, such as BotPenguin, Tars, and WPBot. Choose a plugin that best fits your needs and budget.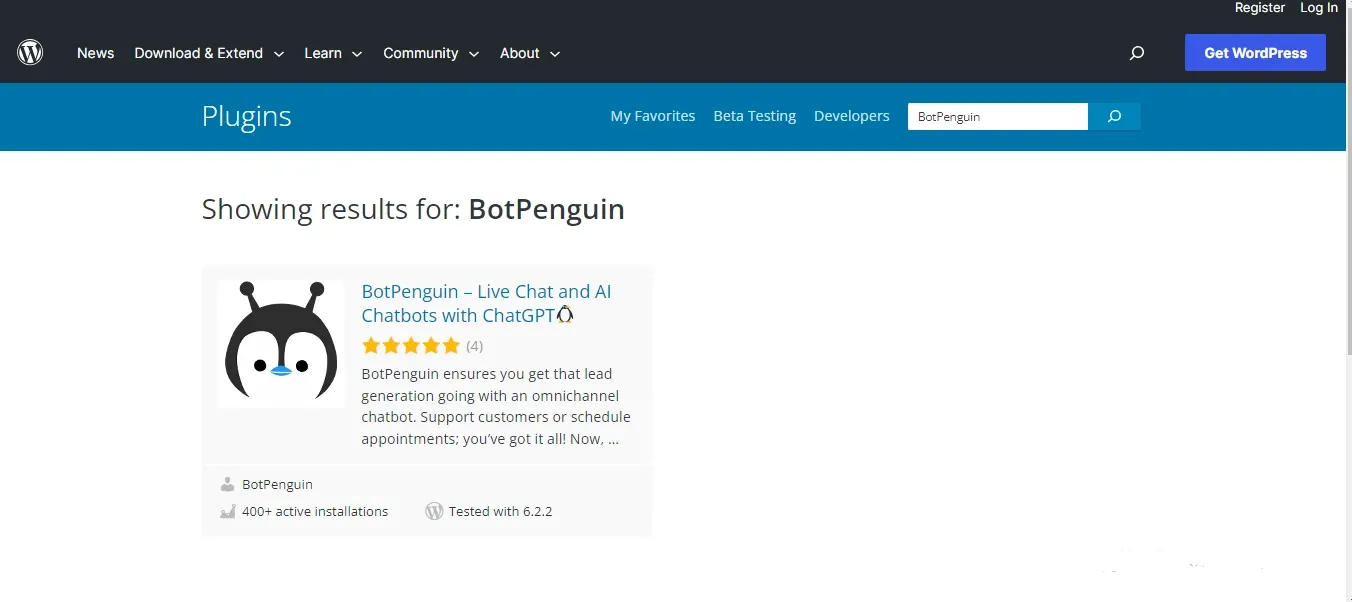 Step 2
Please install and activate the plugin
Once you have chosen a plugin, install and activate it on your WordPress website. Installation can be done through the WordPress plugin repository or by uploading the plugin directly to your website.
Step 3
Set up the chatbot
Follow the setup instructions provided by the plugin to configure your chatbot. The WordPress chatbot may include the following: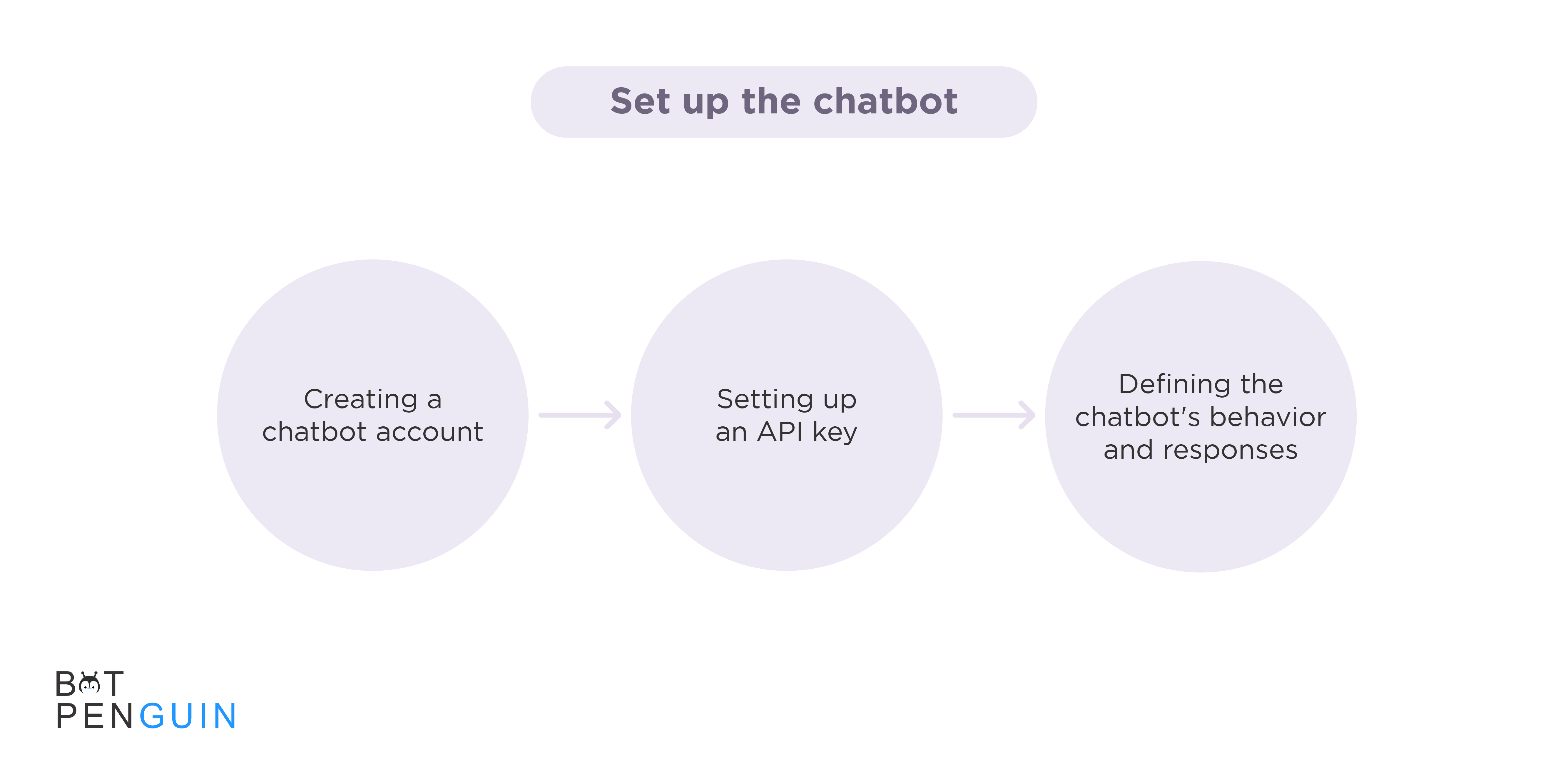 Creating a chatbot account.

Setting up an API key.

Defining the chatbot's behavior and responses.
Step 4
Customize the chatbot's appearance
Customize the appearance of your chatbot, such as its color, font, and icon, to match your website's design.
Step 5
Define chatbot interactions
Define how your chatbot will interact with website visitors, such as answering questions, providing information, or collecting lead data.
Step 6
Publish and test
Once you have finished setting up your chatbot, publish it on your website and test it to ensure that it is working as expected.
With these 6 steps, you can easily create a functional WordPress chatbot to improve user experience and streamline customer service.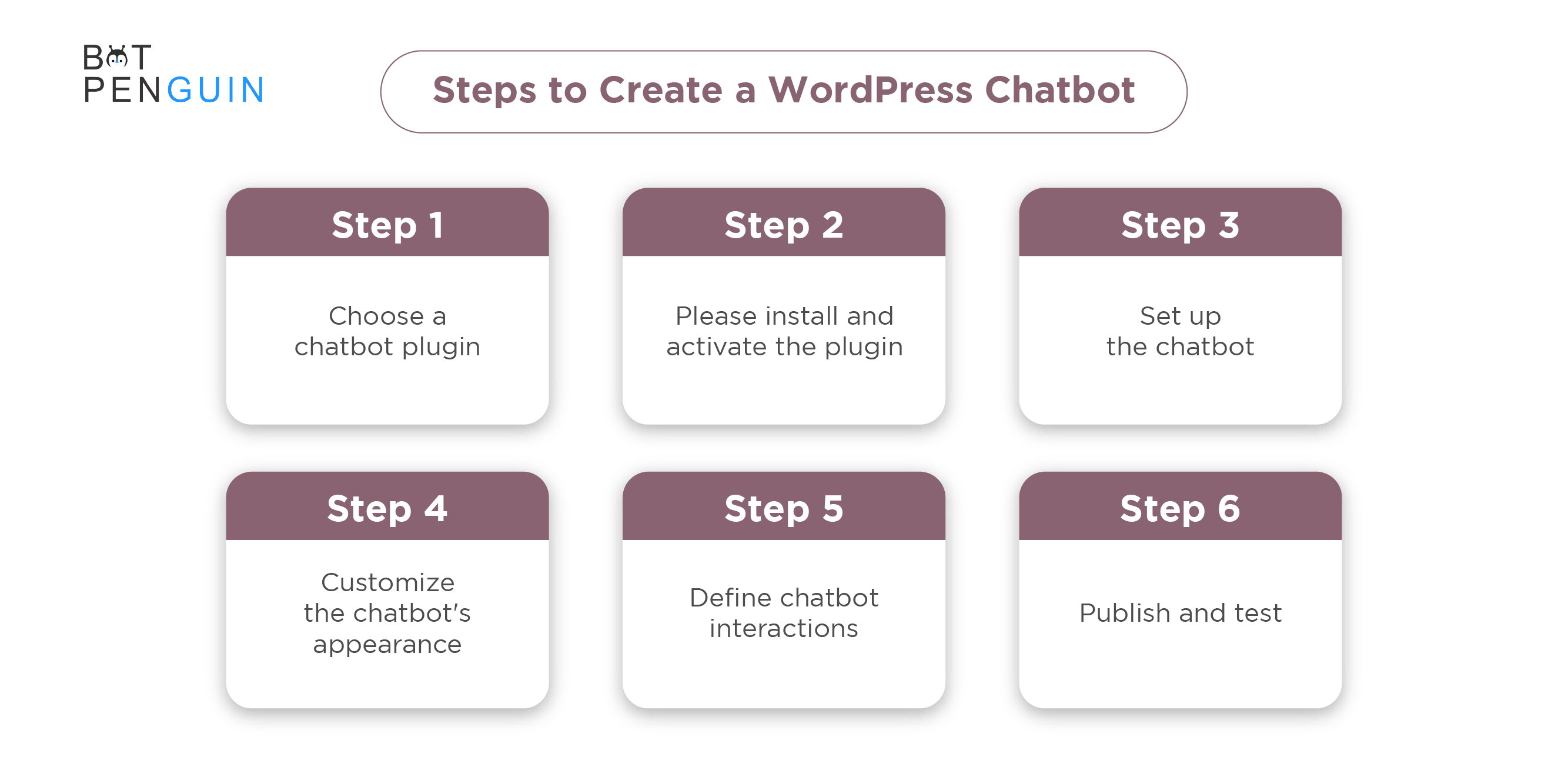 Benefits of WordPress Chatbot
Now, let us look at some benefits of having a WordPress chatbot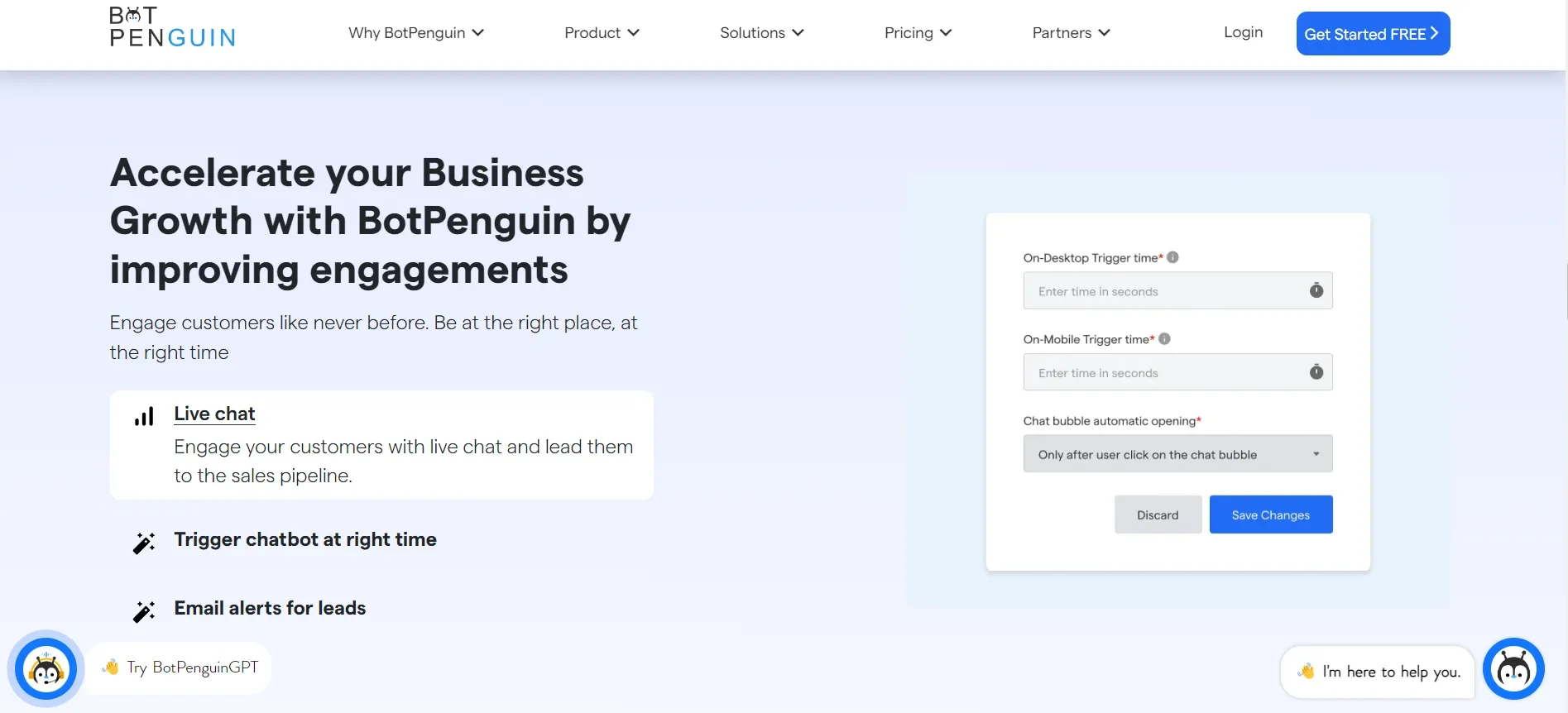 Improved customer service: A chatbot can provide instant, 24/7 customer service, helping to resolve customer inquiries and increase customer satisfaction.
Increased engagement: A chatbot can engage with website visitors, providing relevant information, answering questions, and guiding them through the website.
E-commerce support: A chatbot can assist customers with their purchases, such as recommending products or helping with checkout.
Content delivery: A chatbot can offer website users pertinent information and content, such as blog entries or reference resources.
Personalization: A chatbot can provide personalized experiences for website visitors based on their preferences or previous interactions.
Time-saving: A chatbot can automate routine tasks, freeing up time for your team to focus on more critical studies.
Cost-effective: A chatbot can be a cost-effective alternative to hiring additional customer service staff.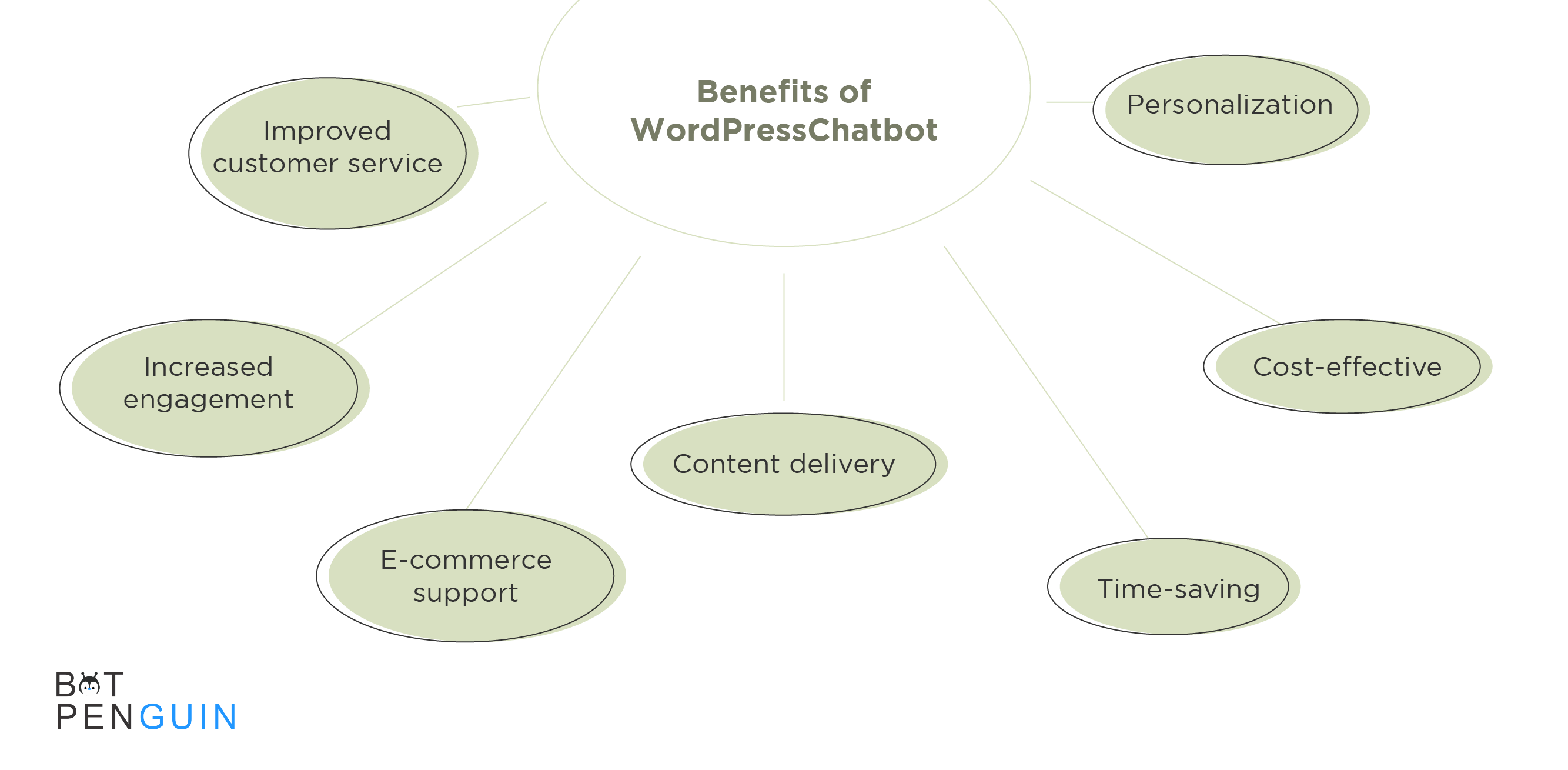 Conclusion
The WordPress Chatbot can offer numerous benefits to a website, such as improved customer service, increased engagement, lead generation, e-commerce support, content delivery, personalization, time-saving, and cost-effectiveness.
By integrating a chatbot plugin with a WordPress website, website owners can enhance user experience and streamline customer service.
Setting up a WordPress chatbot is simple, and with the ability to customize its appearance, interactions, and functionality, it is tailored to meet the specific needs of any website.
Overall, a WordPress chatbot is valuable for enhancing user experience and streamlining customer service.
Chatbots can be created and deployed on WordPress websites using BotPenguin, a chatbot creating platform.
BotPenguin provides pre-built templates and integrations with popular tools, such as Shopify, to make the chatbot creation process even more accessible.
BotPenguin makes it easy to create a WordPress chatbot, which improves customer service, increases engagement, generates leads, and more.
So, what are you waiting for? Call us today!