Suppose you have a well-structured website with helpful information. The navigation throughout your website is straightforward. However, that doesn't mean that your visitors and customers won't need help, even for some basic tasks. Without help, you may be on track for a bad user experience.
It doesn't matter if you use WordPress for your website. One of the best solutions to this problem is to have a chatbot for your website.
Chatbots are a powerful automating tool that every WordPress user can implement. It provides better customer service through your social channels or websites.
Chatbots quickly answer the frequently asked questions in seconds. It also adds a human personality to your site, being a robot. The chatbot interface helps deliver better drive calls to action, user experience and collect data from the site visitors.
Hence, it is essential to have a chatbot for your website, even your WordPress site. In this article, you will find an in-depth guide about WordPress chatbots.
What is a WordPress Chatbot?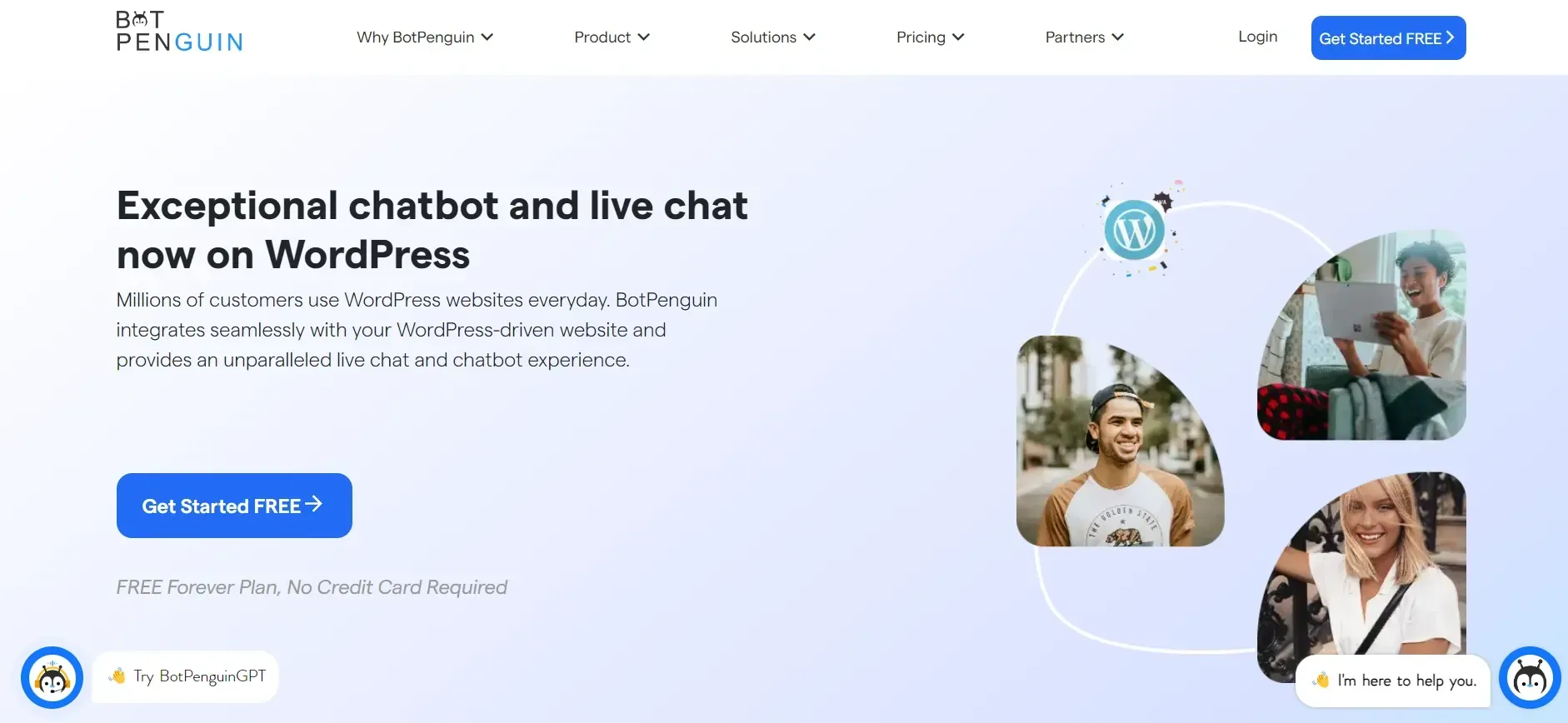 As the name implies, a WordPress chatbot is an automated live chat website system that responds to requests using Artificial Intelligence (AI). You may have seen them in action or even spoken with a few. Chatbots can be integrated into a chat system like Facebook Messenger or Skype or used directly on a website.
WordPress chatbots perform specific jobs based on how people engage with them. Bots help provide automated customer service, but many businesses are becoming more imaginative. Pizza Hut, for example, offers a live chat feature on its website that you can use to purchase pizza. Moreover, Endurance is a chatbot that serves as an Alzheimer's disease patient companion.
Using a WordPress chatbot has various advantages. First and foremost, they let customers obtain rapid assistance and information without waiting for a person to become accessible. It is beneficial for dealing with many queries simultaneously. It also allows users to communicate with your website without having to sift through help pages in search of the proper response. They may type their inquiry into a chatbot and obtain quick assistance.
Overall, chatbots are growing more popular. It is due to their ability to automate a variety of time-consuming chores, also allowing you to spend your time and effort on other things. They have a huge – and primarily untapped – potential since they can utilize machine learning to enhance their replies.
What are the features of the WordPress chatbot?
A WordPress chatbot may answer queries and conduct product dialogues with website users at its most basic level. However, as more people use chatbots, their skills and features grow.
Here are some of the capabilities that chatbot plugins often include:
Machine learning: Chatbots learn to interact naturally based on input using natural language processing, or NLP, so clients don't feel like talking to a robot.

Carousels/cards: Include photos, titles, and descriptions in the dialogue to help consumers find what they want. You may also include buttons that take the consumer to a different page.

Conversation templates: Use templates to create unique messages suited to your sector, so you don't have to start from scratch.

Appointment scheduling: Visitors to your site may schedule appointments with someone from your firm without going back and forth about your availability.

Mobile access: Users may converse with your chatbot from their mobile device, allowing them to fulfill their requirements while on the go.

Third-party integrations: Integrate your WordPress chatbot with your other company tools or social media platforms to get the most out of your collected information.

API: Integrate your chatbot with your customer service program and other solutions to manage chatbot conversations at scale and provide a seamless bot-to-human handoff.

Artificial Intelligence (AI): Avoid long wait times by using AI to qualify inquiries rapidly, create tickets, and identify which assistance channel to route the discussion.

Bot-to-human handover: Provide consumers with a smooth transition from a bot to a human support representative through phone or live chat.

Omnichannel support: Integrate your chatbot with your company's existing communication channels, such as your website, social media platforms, mobile applications, and WhatsApp.
7 Ways a WordPress Chatbot Can Help Improve Your Site
Ways in which a WordPress Chatbot Can Help Improve Your Site
1. Customer service is available around the clock.
It is undoubtedly one of the most significant advantages of a chatbot. According to research, 51% of consumers expect businesses to be available 24 hours a day, seven days a week.
Chatbots may operate 24 hours a day, seven days a week, connecting with consumers and addressing frequent questions.
2. Instantaneous responses
One of the leading reasons for consumer discontent is long wait times. Seventy-five percent of shops say they've lost consumers due to long lines.
When a user poses a query, chatbots respond immediately, unlike humans.
3. Ease of use
The first step in winning clients' hearts is to provide a fantastic customer experience (CX). The ease of connection between consumers and your firm is one of the most critical aspects of CX.
Customers may always ask the bot for assistance with only a couple of clicks if you have a chatbot widget installed on your website.
4. Keeping up with the trends
Messaging applications have become the most popular means of communication. They even eclipsed social media in terms of popularity in 2016.
Users are familiar with the UI of a messaging app, so chatbots that appear so much like them fit in nicely with the contemporary style of interacting.
5. Better team productivity
A chatbot is a fantastic automation tool to help your team more efficiently. Bots may start interactions with visitors, answer common consumer inquiries, and collect data without human intervention.
According to a recent poll, 77% of agents believe that automating regular jobs helps them focus on more complicated work.
6. Cost savings
You may save the costs of hiring more people by using chatbots in your customer service. According to Insider, chatbot automation might save $23 billion in yearly salary in the United States.
7. Increased customer engagement
It's not enough to interact with consumers merely when they contact you. It is critical to keep your consumers engaged and proactive at all times.
Manually beginning a conversation with each consumer would be a daunting chore.
Still, you won't have to worry about it with chatbots because they can do it 24 hours a day, seven days a week. You may dramatically enhance client interaction by putting a chatbot on your website, with response rates ranging from 35 to 90 percent.
4 WordPress Chatbot You Can Implement on Your Site
4 WordPress Chatbot You Can Implement on Your Site
BotPenguin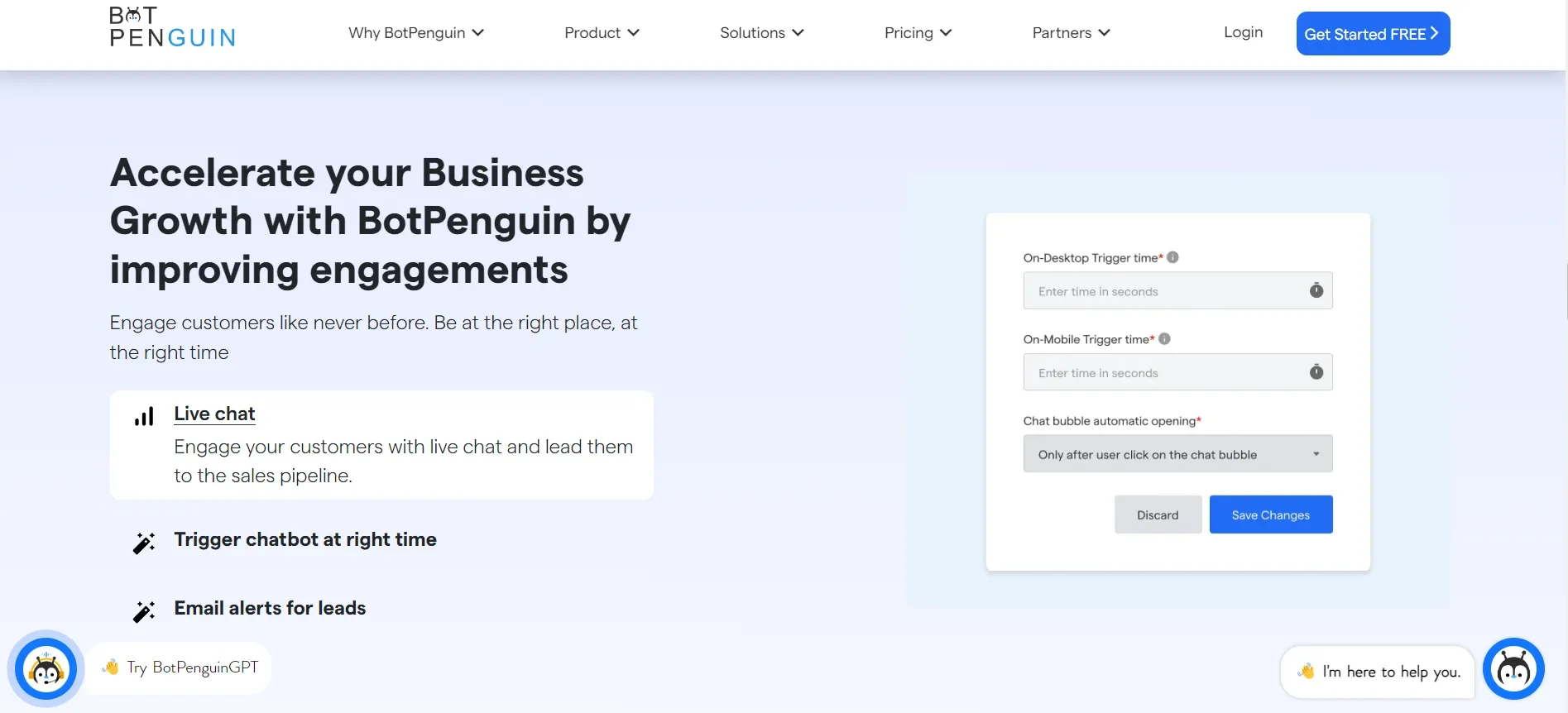 BotPenguin is a chatbot builder that is super simple to use. A drag-and-drop builder makes creating your chatbot interface straightforward. Many analytics features help you improve your WordPress chatbots over time. Furthermore, BotPenguin makes integrating your chatbot with WordPress a breeze.
Here are some reasons why you should choose BotPenguin over other chatbots:
The bot is easy to use.
It can integrate with any website using a simple API call.
You can personalize the chatbot to match your brand color and style
It works on both desktop and mobile devices (including tablets).
It has many functions and features, such as FAQs, product pages, contact forms, surveys, etc.
It can be customized by adding new questions or answers to your needs!
You can also add external APIs like Google Maps or Facebook Messenger to enrich your experience with BotPenguin!
You can even run multiple versions of BotPenguin simultaneously (one for each client, for example).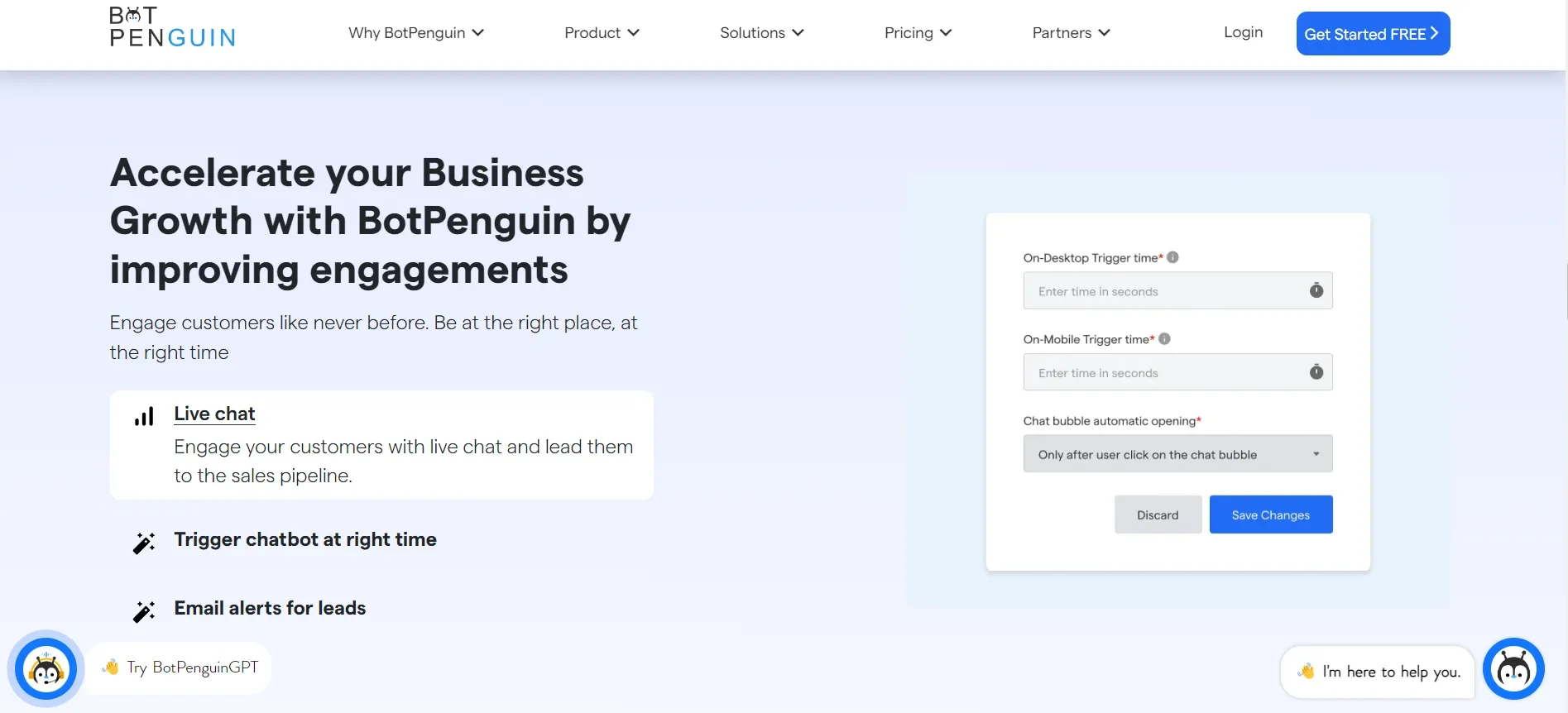 BotPenguin has an intuitive web-based interface that allows you to create your chatbot without writing code!
Drag & drop components into your conversation flow, connect them, and you're done!
No coding skills are required at all.
Assign one or more agents to specific tasks, such as handling customer orders or sales inquiries.
Save time and energy by automating repetitive tasks like sending automated responses.
Create a personalized experience for every visitor without having to hire extra staff.
Grow your business by increasing sales and boosting customer satisfaction.
Just like this, BotPenguin offers chatbot creation for social platforms, websites, wordpress:

IBM Watson assistant
IBM Watson Assistant is a comprehensive set of tools for allowing communication and providing help to your clients and website visitors. The plugin and bot focus on lead generation. You can configure them to provide assistance and guidance to visitors to your website. You may easily adjust the chatbox's design to match your theme and keep your clients interested.
The bot also has a VOIP call mechanism to contact genuine support professionals if necessary. Furthermore, the bot can be controlled entirely directly through its plugin settings, saving you time and work.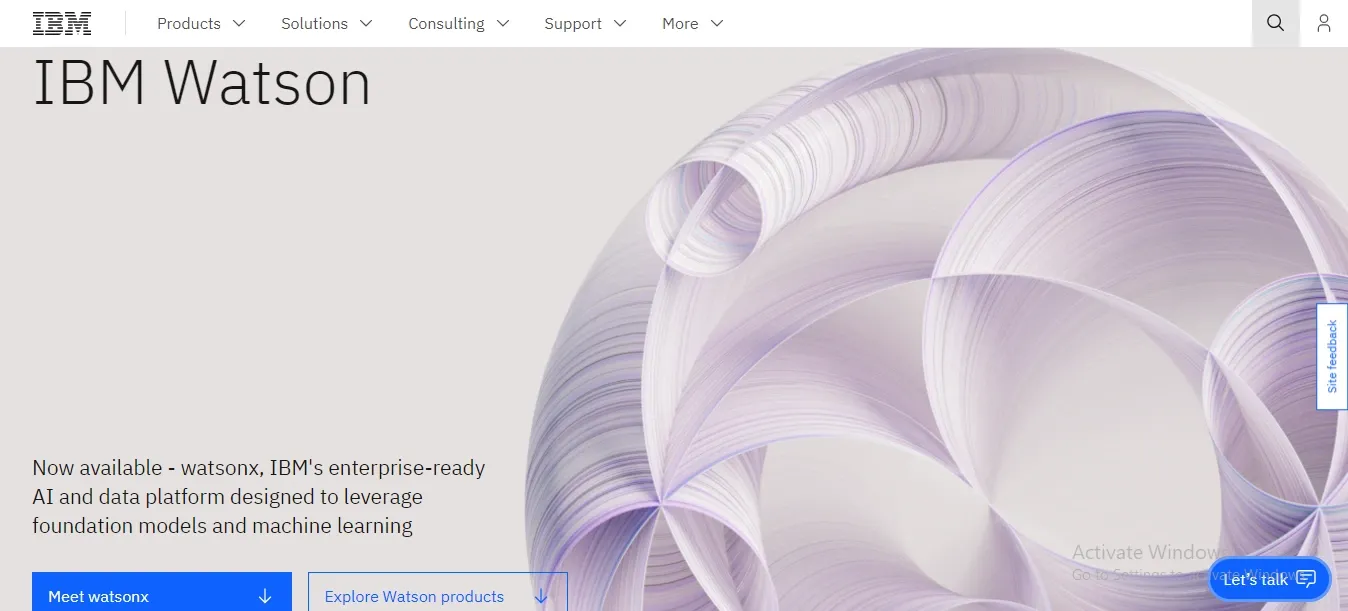 WP Chatbot
If you want to incorporate a Facebook Messenger chatbot into your website, WP-Chatbot is an excellent option. This fantastic plugin has a design with ease of use in mind, and it's pretty simple to set up and use.
This plugin is not without features, despite its minimal weight and speed. You may choose to conceal the messenger based on the kind of post, the post id, the category, or the device. You may also choose to allow or disable Facebook Analytics.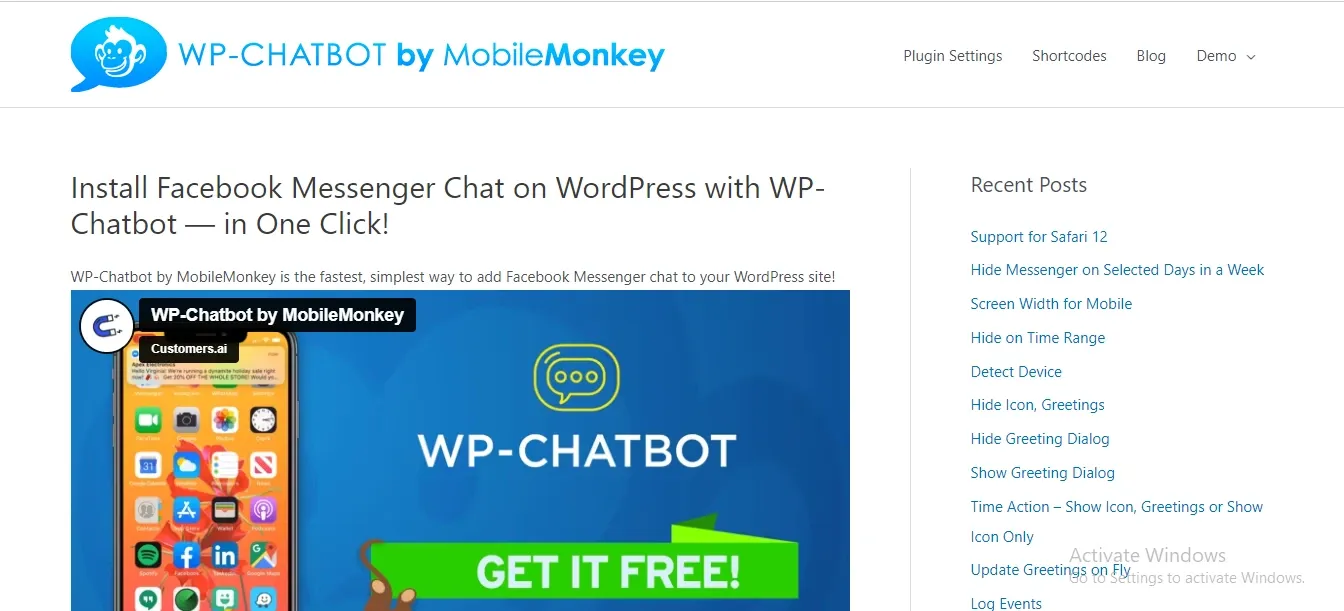 Why use WP-Chatbot on your website?
Increase conversions: Up to 40% with live Chat on your website.

Reduce shopping cart abandonment: Reduce the shopping cart abandonment rate by up to 80% with live Chat on your website.

Get feedback: Get feedback from customers in real-time and improve the quality of your product or service based on their suggestions.
Botsify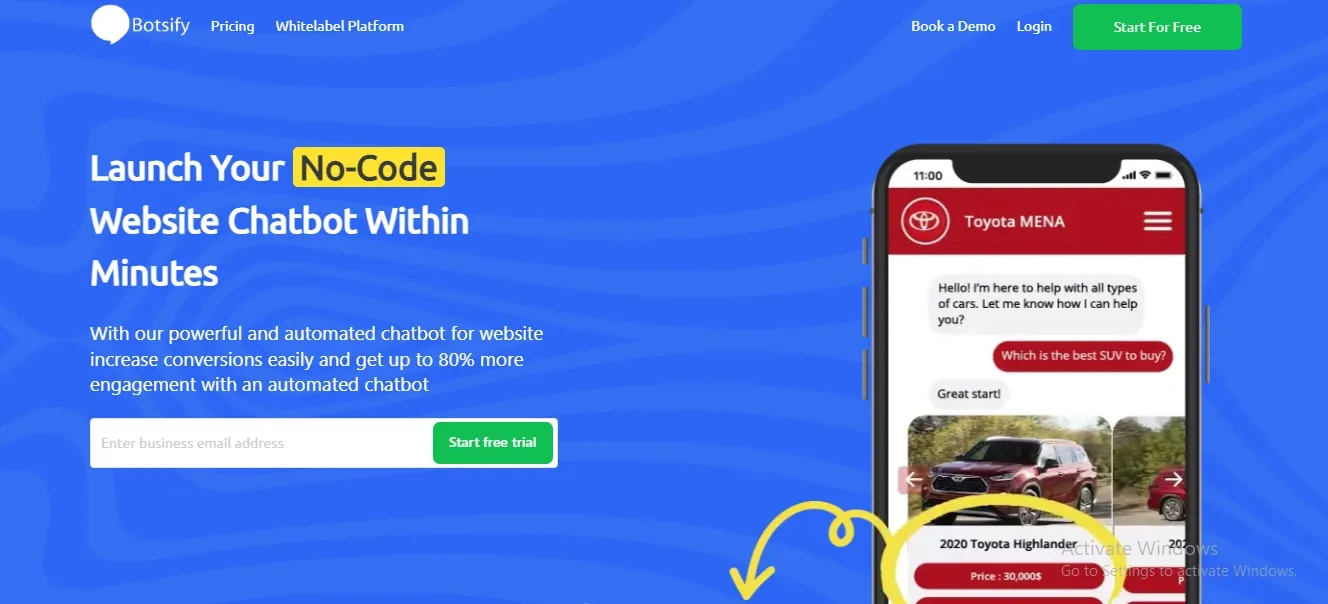 Lastly, there's Botsify. Even for beginners, this tool is straightforward to use. There is no AI built-in, but you may use it in conjunction with tools like Google Docs, Slack, or email to speed the transfer of collected data to your preferred intake method. If you require a simple chatbot to capture lead information, this might be the solution for you.
The builder itself is well-thought-out. You may make minor changes to the questions your chatbot will ask visitors and the colors and symbols used in the chat module.
To develop a website chatbot, you'll need one of the subscription options.
How can you add a chatbot to your WordPress website?
BotPenguin is simple and quick to integrate with your WordPress site. You may use our official WordPress plugin to install BotPenguin on your site.
Installing the plugin
Step 1
Open your WordPress dashboard and select "Add New" under the "Plugins" menu.
Step 2
In the top right search field, type "BotPenguin."
Step 3
Scroll down to "WP Live Chat + Chatbots Plugin for WordPress – BotPenguin" and choose "Install Now."
Step 4
For activating the plugin, click on "Activate Plugin."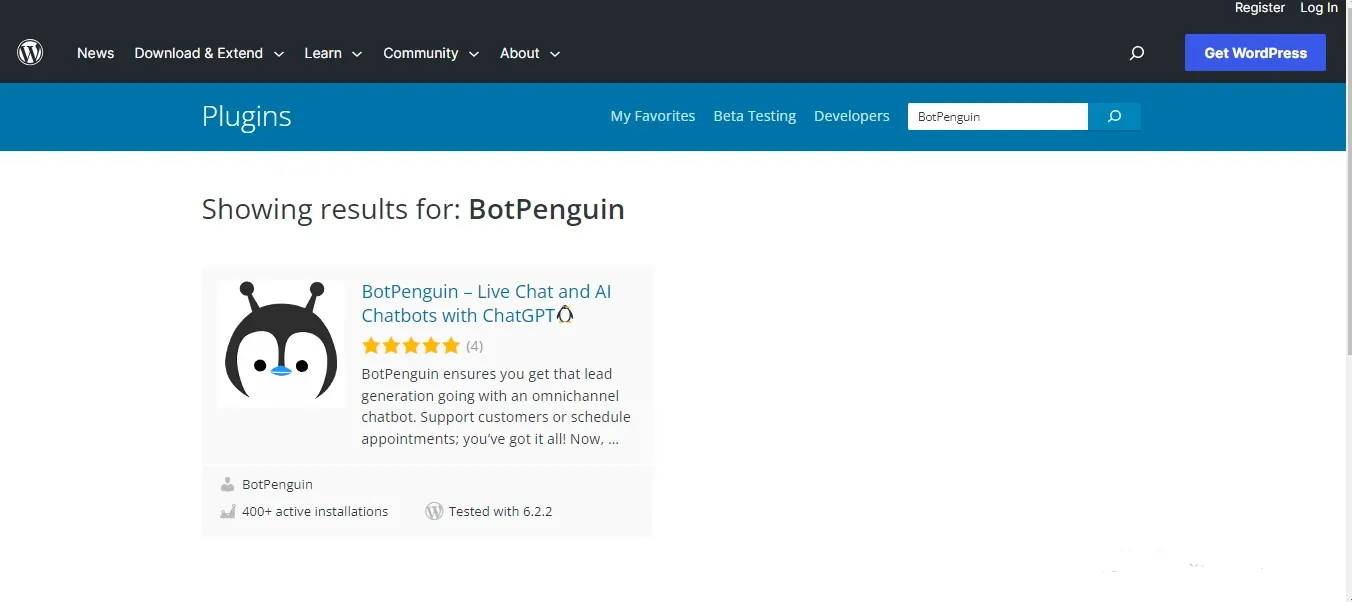 Configuring the plugin
Follow these simple steps to set up the BotPenguin plugin for WordPress:
Step 1
First, go to your WordPress account's "Plugins" section.
Step 2
Select "WP Live Chat + Chatbots Plugin for WordPress – BotPenguin" from the drop-down menu and select "Settings."
Step 3
Paste the installation JavaScript code or app ID in the appropriate area. In your BotPenguin account, go to Settings Installation Code and look for the regulation and app ID.
Step 4
Click "Save," Your chatbots are ready to communicate with your visitors now that the chat widget is accessible on your WordPress site.
Conclusion
A chatbot can make your website a valuable resource for your business. Even if you are not available, a chatbot acts as a virtual assistant that helps your users and visitors.
No company can answer the common question via email every day to different users. Chatbots can answer FAQs and keep your user engaged with your website for a long time.
WordPress AI chatbots provide an effective website service with proper communication methods to your customers.
If you use tools like BotPenguin, you can add a chatbot to your website in seconds. Now, it's time to make a wise choice.
Frequently Asked Questions (FAQs)
How can I add a chatbot to my WordPress site?
You can add a chatbot to your WordPress site by using plugins or third-party chatbot services that offer WordPress integration.
Many chatbot plugins are available, allowing you to easily install and customize a chatbot on your site.
What are the benefits of using a chatbot on a WordPress site?
Using a chatbot on a WordPress site can enhance user experience, provide instant support, save time and resources, increase lead generation, and boost customer satisfaction by delivering quick and relevant responses.
Can I customize the chatbot's appearance and behavior?
Yes, most chatbot plugins and services allow you to customize the chatbot's appearance, behavior, and responses to align with your brand's tone and style.
How does a WordPress chatbot handle user queries?
A WordPress chatbot employs NLP algorithms to analyze user queries and match them with predefined responses or direct them to relevant resources on your site.
Advanced chatbots can learn from interactions and improve their responses over time.
Are WordPress chatbots multilingual?
Many WordPress chatbots support multiple languages, making them accessible to a broader audience and providing a seamless experience for international users.
Can a WordPress chatbot integrate with other tools and services?
Yes, most chatbots can integrate with various third-party tools and services like CRM systems, email marketing platforms, and e-commerce platforms to streamline processes and improve user interactions.
Is it possible to use a chatbot for e-commerce on WordPress?
Absolutely. A chatbot on a WordPress e-commerce site can assist customers with product inquiries, suggest personalized recommendations, facilitate the checkout process, and provide order tracking updates.
How secure are WordPress chatbots in handling user data?
Chatbot developers prioritize security and compliance, ensuring that user data is handled securely and in accordance with privacy regulations.