No matter how tech-savvy you think your business is, there's always room for improvement. You need to use automation tools to make your business run smoother and faster.
Automation is the key to scaling an online business in today's digital-first world. There are so many ways to work smarter instead of harder. One is automation.
Here are five benefits of using Zapier to automate repetitive and time-consuming tasks at work!
Why Turn To Zapier?
It is a great way to turn tedious tasks on your computer or phone into simpler, automated ones.
It allows you to connect different web apps with "zaps" so they can pass data back and forth seamlessly.
For example, you can save the information you enter in your Google Calendar to a spreadsheet or automatically have new Tweets appear in Slack.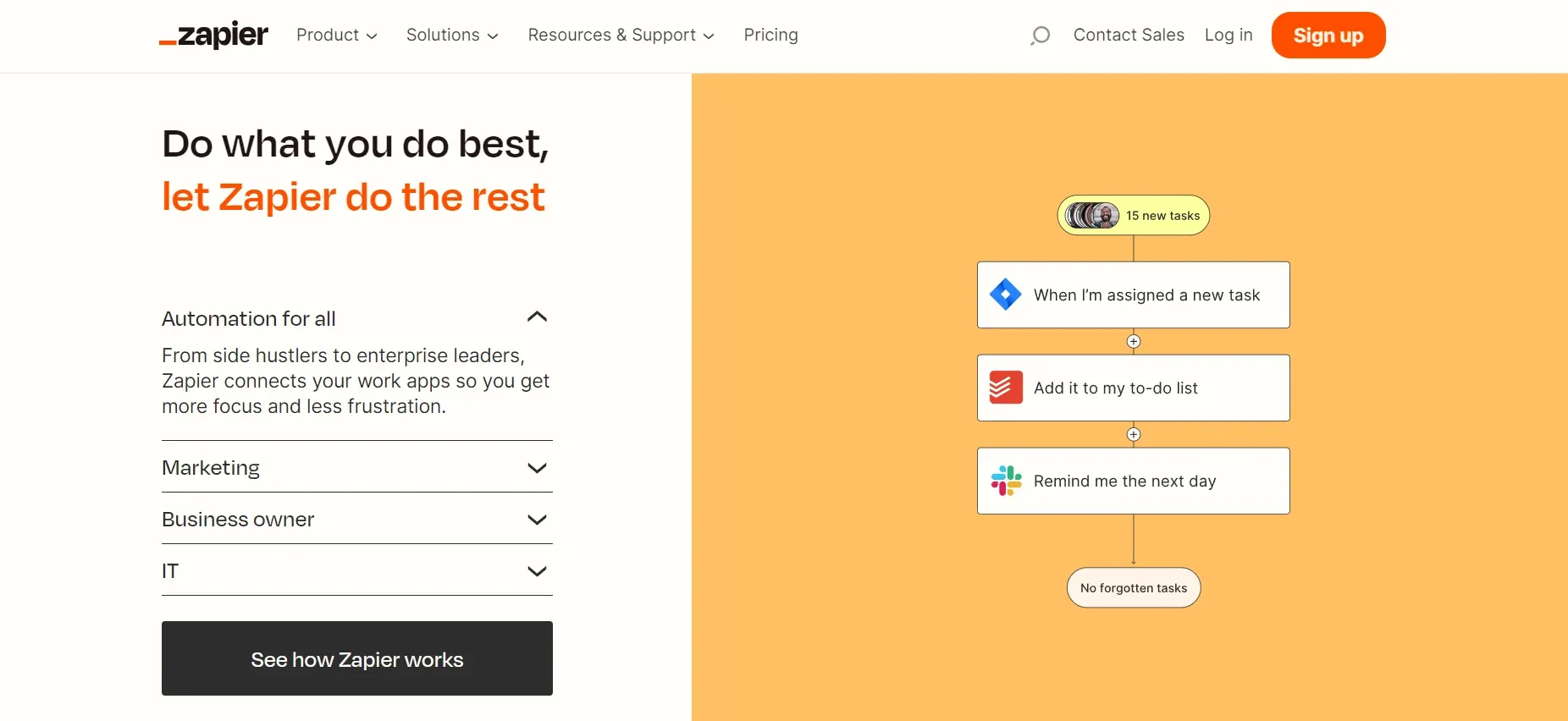 5 Amazing Benefits Of Using Zapier!
Check out these 5 Amazing Benefits of Zapier for your Business
1. Automation Saves Time
It will help save time and energy. With the help of automation, you can create an automated workflow that makes business management easy without worrying about technology.
For example, you can integrate your Google Sheets with MailChimp. Every time you add a new email address to your list in MailChimp, it will automatically update the spreadsheet with that contact's information.
It saves you from manually copying and pasting each contact's information into a spreadsheet every time they sign up for your email newsletter or mailing list.
2. Integrate Different Apps and Automate Your Business
Zapier allows users to connect multiple apps to transfer data from one app to another without manual effort.
For example, if one app has data in it but doesn't integrate with another app that needs that data.
You can connect them through Zapier so that there is no need for either party to transfer data back and forth between them anymore manually.
It saves time, effort, money, and resources — all essential when running a business or working within one!
3. You Can Work From Anywhere
One of the most significant benefits of using Zapier is that it lets you work from anywhere in the world. You don't need an office or a dedicated space to do your work.
All you need is internet access, a computer with an internet browser, and voila!
4. Measure Your Growth
Measure your growth with Zapier's analytics.
With over 1,000 apps on the platform, you can get a complete view of your performance. You'll be able to see everything from which apps are performing the best to which areas of your business need attention.
Zapier's analytics dashboard lets you see where your money is devoted and which factor generates revenue. It will help you make smarter decisions about your business.
5. Improved Reporting
You'll have access to better reporting capabilities when you use Zapier to automate your business processes.
You'll see what tasks each employee is responsible for and when they complete those tasks. It will allow you to evaluate their performance more efficiently and make changes if necessary.
You'll also see which tasks are most important for each employee. Hence, they'll avoid unnecessary tasks and move forward better.
Apart from Zapier BotPenguin has many Integrations such as-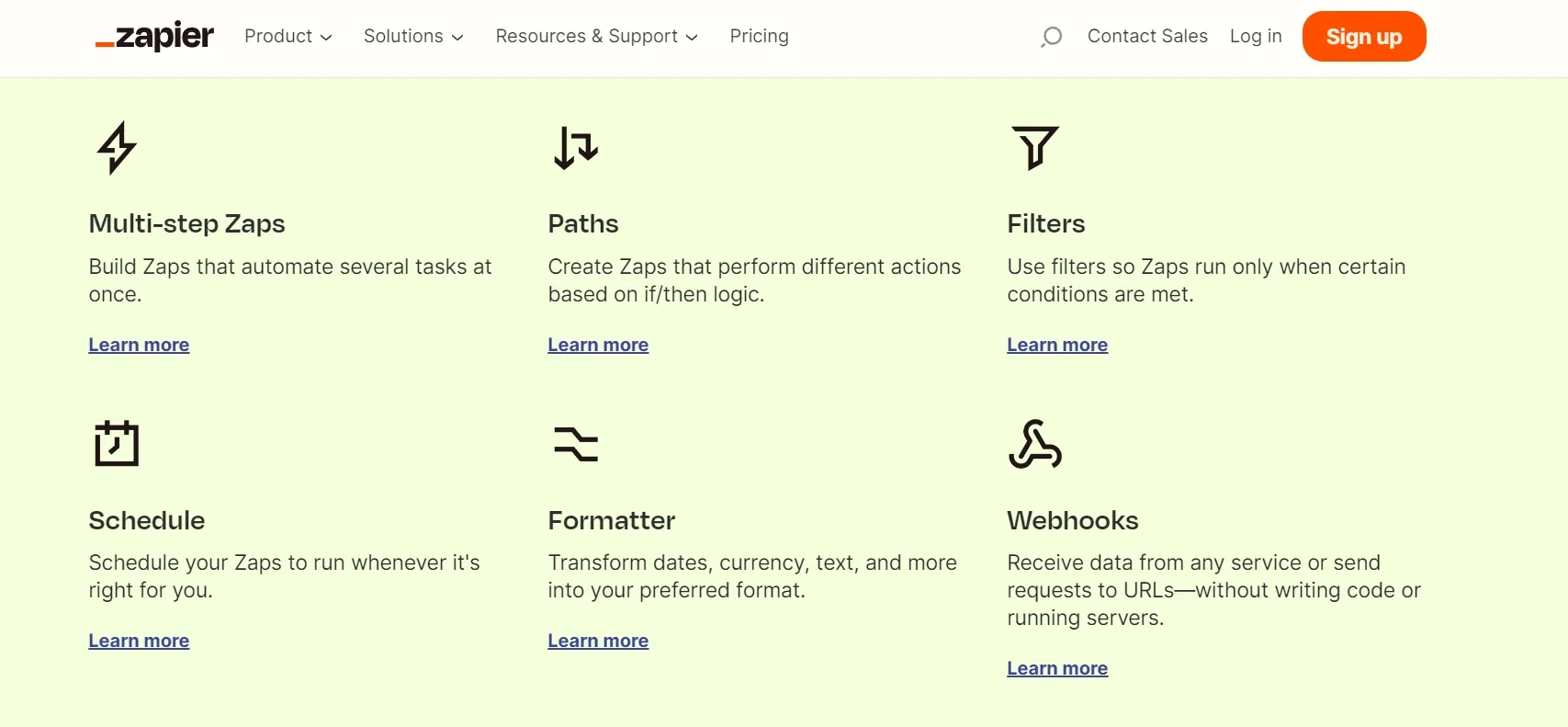 Final Thoughts
So, if you're looking for automation tools to keep your pipeline full and your work manageable, check out Zapier.
Its simple interface and extensive feature set make it easy to find, share, and create the right Zaps for your workflow.
With continuous improvements to their service and an affordable pricing structure, it's worth looking at even if you are still deciding whether to switch over completely.
Who knows?
If a bit of automation through Zapier can save you time and money now, who's to say that implementing more of these services as they become available won't do the same in the future?
Only one way to find out!
FAQs
What is Zapier and how does it benefit my business through automation?
Zapier is a web-based automation tool that enables you to automate your business processes. By creating "Zaps," you can automate repetitive tasks, streamline workflows, and integrate various apps to save time and enhance productivity.
Can Zapier integrate with my existing apps and software?
Absolutely. Zapier supports integration with over 3,000 apps and software, including popular ones like Gmail, Slack, Salesforce, Trello, and many more. Its extensive app directory ensures compatibility with commonly used tools and services in businesses.
How easy is it to set up automation using Zapier?
Setting up automation with Zapier is user-friendly and doesn't require coding skills. The platform provides a simple drag-and-drop interface for creating Zaps. You define the trigger event and specify the desired action, and Zapier takes care of the rest, automating data transfer and tasks.
Can Zapier assist with cross-platform integration?
Absolutely. Zapier excels at cross-platform integration, enabling seamless data transfer and communication between different apps and services. You can integrate platforms such as Shopify, WordPress, Google Sheets, and others to automate tasks and ensure smooth collaboration across various systems.
Can Zapier automate customer support tasks?
Yes, Zapier can automate customer support tasks and improve the overall customer experience. For instance, you can create Zaps to automatically send personalized email responses, update customer data in your CRM system, or generate support tickets when specific triggers occur.