You've located a chatbot that can help you with this, but there are two to pick from! Which one should you choose? We will contrast these two chatbots in this blog to assist you in selecting the one that is best for your company.
Chatbots are a way to automate many business tasks. Many companies use chatbots instead of customer service agents, which is excellent news for customers because their questions can be answered much faster, leading to better customer support.
Businesses can use chatbots to create automated marketing campaigns that reach out to potential buyers.
For example, if you're a realtor, you can set up a campaign that asks potential buyers about their budget and then sends out information on houses in those price ranges.
Chatbots are computer programs that can communicate with a user via text or voice to answer questions, provide information, and automate tasks.
They're also great for multitasking because they use artificial intelligence (AI) software to learn from previous interactions.
What are the qualities of a good chatbot builder?
The features and integrations of a chatbot builder decide its worth.
The best chatbots are designed to integrate with various channels, such as SMS (text messaging) and Facebook Messenger. It is significant because it lets your customers quickly contact you via their chosen communication channel.
The ideal chatbots also provide powerful analytics to customer support agents and sales reps, providing insights into user behavior.
The better understanding of a customer's psyche, the better prepared you will be to meet them in person. It lets your customers have a truly personalized customer support experience.

MobileMonkey vs. ManyChat: A Quick Comparison
Both of these are very helpful and offer great features. They both specialize in different aspects of chatbots. However, one outperforms the latter as being more approachable to beginners while still providing many useful features for businesses.
Let's compare these three chatbot platforms to see which is best for your company.
Cost
Cost is often a crucial aspect when it comes to choosing a chatbot.
MobileMonkey
MobileMonkey has a Freemium edition that is ideal for instant customer communication. They also have a free trial for the Operator and Engagement editions.


ManyChat
Manychat has a free version allowing you to interact with thousands of customers. You can get their Pro plan for only $10/month and interact with an unlimited number of contacts. If you require access to more features, their Business pricing plan is the best option.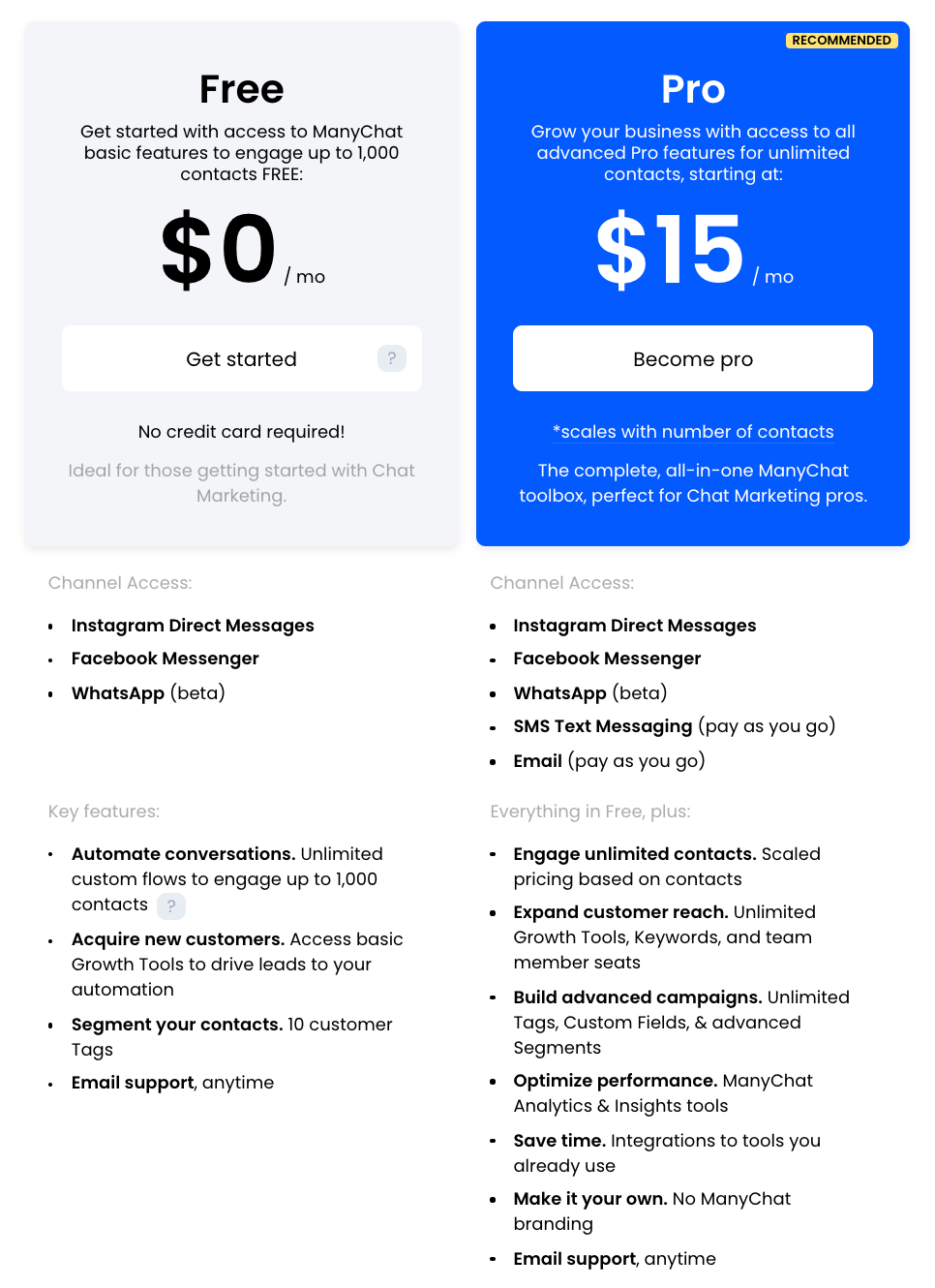 Interface and Usability
A chatbot platform is only as good as its interface and setup. Both are critical factors when selecting a chatbot platform for your marketing automation needs.
The best platforms provide an easy-to-use interface backed by solid support and training resources.
To give your consumers the best customer support, make it incredibly simple to set up the chatbots you want on your website or in your app. A business pricing plan would be the best option.
The interface of MobileMonkey is designed for simplicity, but it is powerful enough to support complex chatbots. It's also great for quickly creating new bots tailored to your requirements.
When developing or running a chatbot or campaign, ManyChat's interface is simple to use and makes it simple to discover what you need.
The setup process for ManyChat is equally straightforward, making it simple to add the app and any other apps you need to integrate with for your bot to function as intended.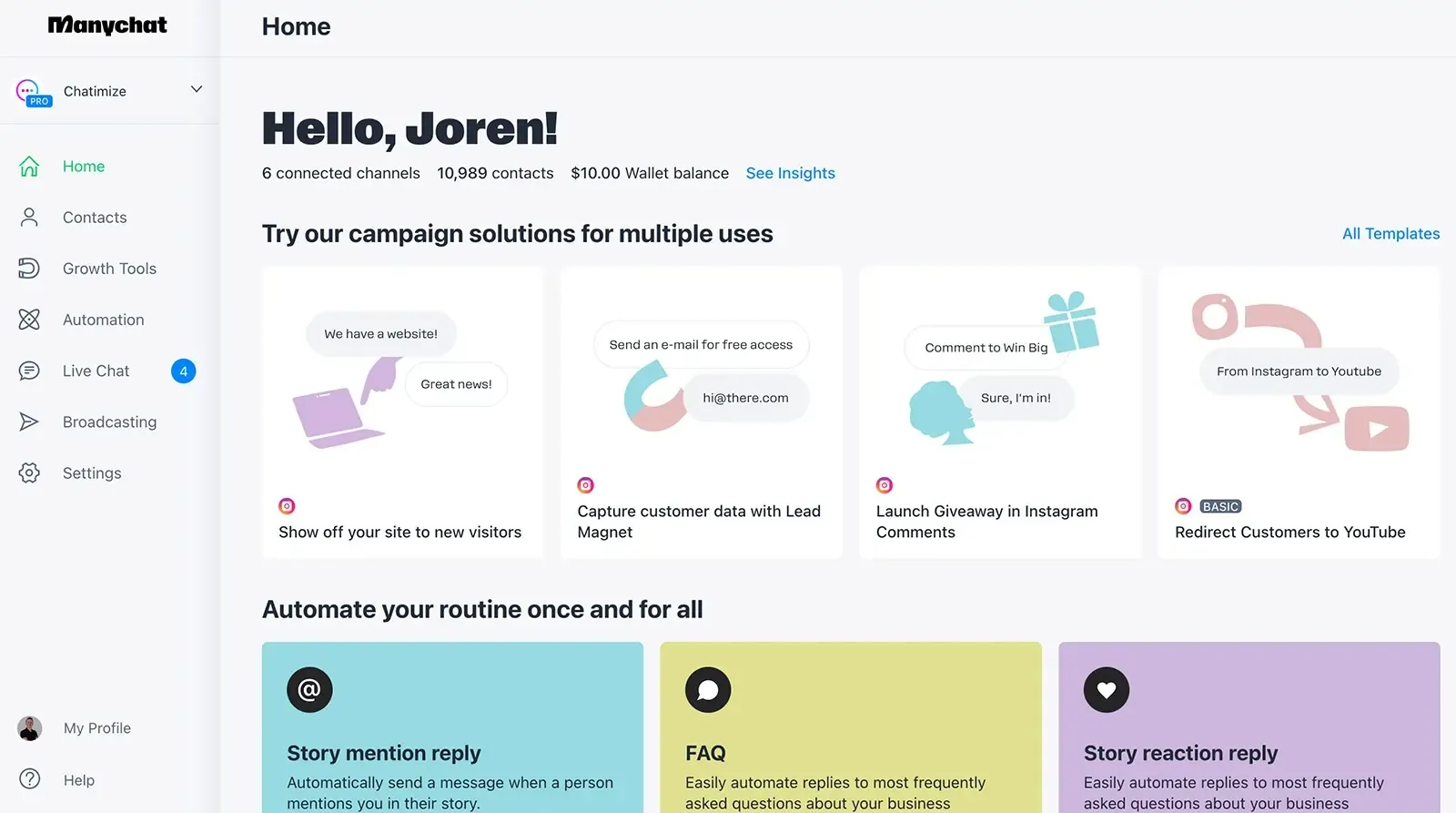 Who is a better chatbot builder?
When selecting a platform for your marketing automation requirements, it's crucial to consider the user interface and configuration. According to these standards, MobileMonkey has the most satisfying user experience and offers a simple chatbot builder supported by reliable training and support materials. Additionally, installing bots in your app or website makes it easy to give users the best customer support experience.
The setup process for ManyChat is simple, making it simple to add the app and any other apps you require. When developing or administering a chatbot or campaign, it also has a clean appearance and feel, which makes it simple to browse the app and find what you need.
By developing your chat flow for a bot, you can customize the user experience on MobileMonkey. It is done using a visual editor, which can quickly construct branching tracks based on user responses and then sends different messages to individual users based on their selection of replies.
Like MobileMonkey, ManyChat offers customers a visual editor to design their conversation flows. Although it's simple to create the user experience and choose the type of copy you want your bot to use in various situations, ManyChat does not include a branching path functionality like MobileMonkey.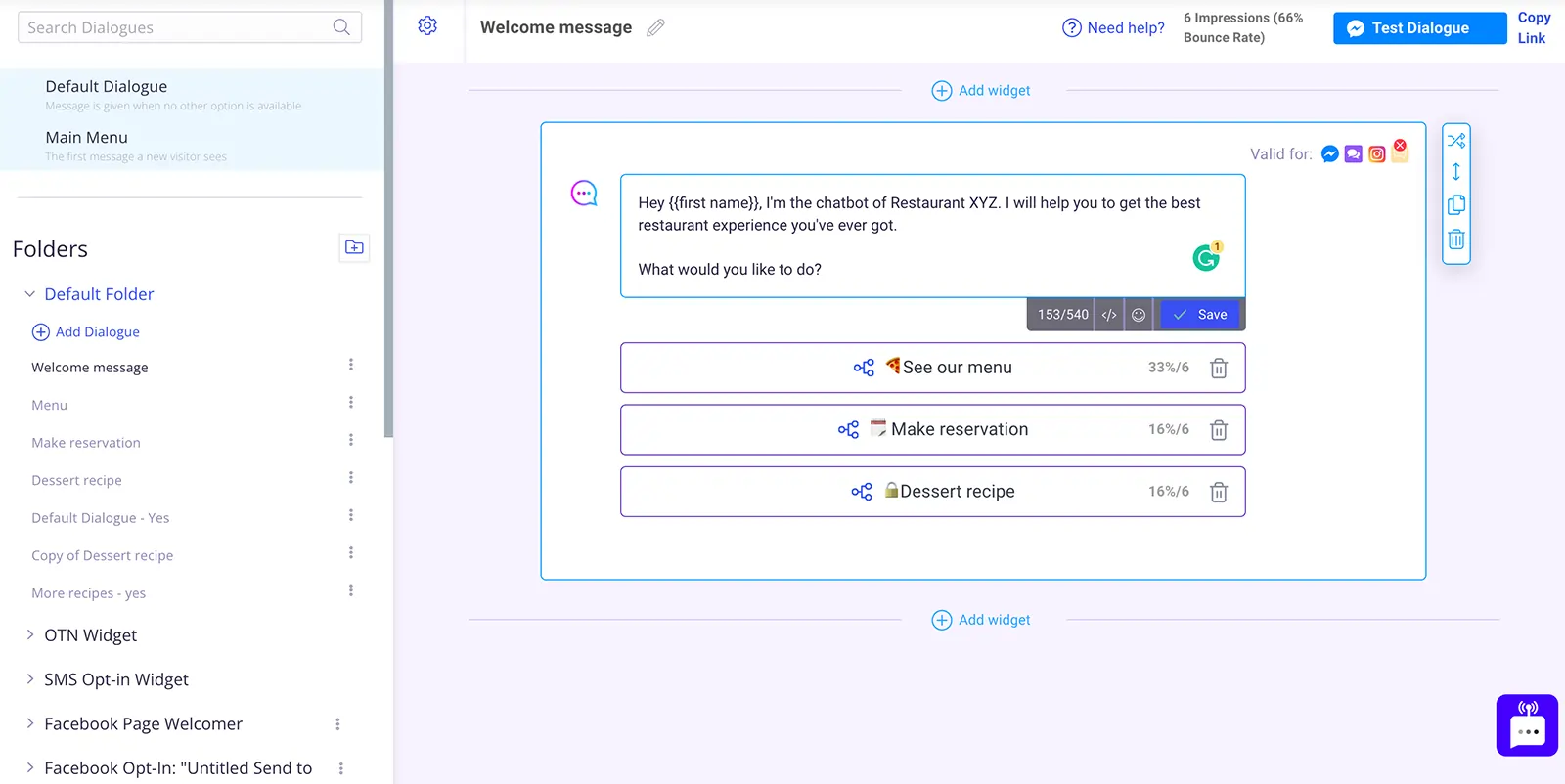 Marketing Tools
Any organization must consider marketing as a critical component. A chatbot can be employed to gather leads, promote your goods and services, or even carry out direct platform sales.
Questions like these must be thought of before investing in a chatbot.
What is my goal?
How many chatbots?
What features am I looking for in a chatbot?
Lead collection forms, such as a "sales funnel" that gathers leads and stores them in Salesforce, are available through MobileMonkey.
But that is pretty much it from MobileMonkey.

On the other hand, ManyChat features include
Custom targeting features let you send particular messages based on user behavior or profiles. For instance, those who have added a specific product to their cart or visited your pricing page could be your target audience if your bot is utilized for eCommerce.
Custom conversion events are launched when a user interacts with the bot in a particular way (e.g., fills out a lead collection form). The built-in analytics of ManyChat allows you to send messages based on those interactions and monitor which ones lead to conversions. There are possibilities for precise message targeting based on user behavior or characteristics.


Chatbot Elements and Integration
A simple-to-use chatbot creation platform is the forte of Mobile Monkey. It provides tools marketers and bot developers may use to build bots without specialized coding knowledge or experience quickly.
With the tool ManyChat, you can make uncomplicated messaging campaigns without requiring any programming. Although this platform is popular because it is simple to set up, it does not provide a higher level of customization.
Using the enterprise-level platform Mobile Monkey, you can connect your bots straight into all messaging systems, including Facebook Messenger, SMS/Text Messaging (and Google Voice), and even Amazon Alexa.
A Facebook Messenger Chatbot can be added and integrated into any web application or website using the Manychat platform.
Mobile Monkey is a brilliant option if you want an enterprise-level solution that allows you access to Facebook Messenger and SMS/Text Messaging.
But, if you want to integrate your Facebook Messenger Chatbot with any website or web application, ManyChat is a fantastic choice.
Payment Integration and AI/NLP
With its ability to integrate payments through Stripe and PayPal, Mobile Monkey, offers an excellent payment integration alternative.
The Stripe Checkout and outstanding Instant Pay services are accessible through ManyChat's user-friendly payment system. Manychat takes advantage of Stripe Checkout and Stripe's Instant Pay, just like MobileMonkey.
Current chatbot developments include using artificial intelligence (AI) extensively and natural language processing (NLP). Chatbot newbies (and even seasoned devs) must understand what these phrases represent because chatbot platforms that include AI and NLP are more likely to draw developers who want to design bots that appear clever.
Because they have three rules—listen, think, and respond—Mobile Monkey excels at developing human-like interactions. It keeps interactions between a bot and a person simple and creates excellent customer support.
To build clever bots to respond to most consumer inquiries, ManyChat employs AI and NLP to learn the meaning behind words, emoticons, GIFs, videos, and images. It makes it the most incredible platform for developing human-like interactions.
Customer Support and Chatbot Templates
The most crucial aspect of any chatbot or customer service is customer support. It's critical to have excellent customer support that can respond promptly and offer assistance if there are issues with your bot because a broken bot can cause some severe reputation damage.
You can get in touch with Mobile Monkey by phone, email, and other methods, and they also provide expertise to assist you in solving problems.
Through their website or by responding to the confirmation email they provide you after setting up your account, ManyChat offers ticket and email assistance. Additionally, they provide Facebook Messenger conversations. However, this service is only accessible for paying bills. There is no direct chat with a live person as these are primarily automated communications.
The templates from Mobile Monkey allow for several responses, which are then saved in a file. Because of this, you can quickly produce reused material and maintain organization for your chatbot.
Similar capabilities in ManyChat allow you to repurpose data from earlier conversations while maintaining consistency, although they are implemented significantly differently because they are all stored in one template.
Messaging and Managing Leads
Mobile Monkey gives programmers excellent tools that let them create sophisticated messaging applications that connect with users one-on-one. The platform supports sending SMS and MMS messages along with more sophisticated capabilities like in-app notification, chat windows, custom keyboard, rich media including audio and video material, and screen prompts.
The compelling ManyChat platform makes building messaging funnels for chatbot developers. Because of its emphasis on messaging is a fantastic option for users who want to send SMS and MMS messages as part of their chat and seamless customer support.
Lead tracking is available through Zapier or Salesforce integration on Mobile Monkey. The first choice would be ideal if you already use a Salesforce CRM. If not, or if you want a simple way to connect your chatbot to other well-known programs like MailChimp and AWeber, Zapier is the best option for you.
By letting users import their email lists and control which messages are sent to leads, ManyChat does provide, to some extent of, lead management. The tool's drawback is that it allows no tracking of specific interactions with your chatbot, such as when a user submits an inquiry or completes a transaction on your website.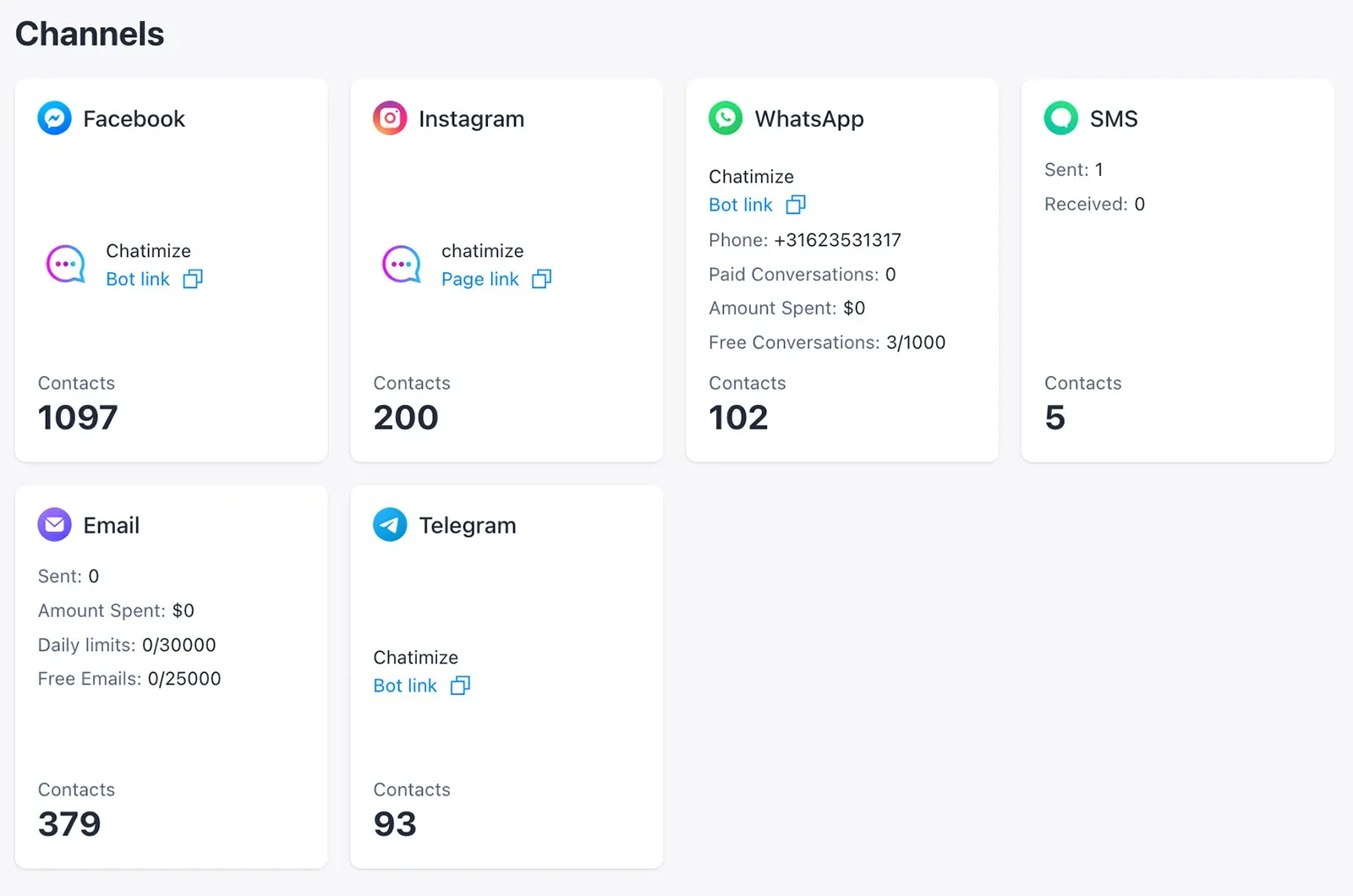 Who wins the battle of the best chatbot platform, Mobile Monkey or ManyChat?
For starters, It varies.
MobileMonkey is your only choice because ManyChat doesn't offer native website widgets, which are different from Facebook website widgets.
I will choose ManyChat if you don't like the native website widget. As you've seen in this comparison, ManyChat offers a slight advantage over MobileMonkey, making them marginally superior.
But, this doesn't mean MobileMonkey is subpar software. While ManyChat is slightly superior to MobileMonkey in most areas, it is still an excellent tool for creating chatbots.
This is something that also depends on the user's requirements and prerequisites. Choosing the one that supplements your business is extremely important. If Manychat works for one, it doesn't quite mean that it would work for another.
The key here is that one should assess the qualities of the platforms and what they offer. If it fits like a glove, then, by all means, leap and soar high since sometimes calculated risks can yield higher reward
Apart from MobileMonkey and ManyChat You have another platform BotPenguin to Build your chatbot for FREE. Try BotPenguin!

Frequently Asked Questions
Which features make MobileMonkey a better alternative to Manychat?
MobileMonkey offers a range of advanced features like chatbots, SMS marketing, web chat, and Facebook Messenger integration. Its user-friendly interface and intuitive drag-and-drop builder make it easy to create and manage chatbots for various platforms.
What advantages does Manychat have over MobileMonkey?
Manychat is known for its robust features like broadcasting, targeting, and integrations with popular platforms such as Facebook, Instagram, and WhatsApp. It also provides powerful automation tools and a wide range of templates to create engaging chatbot experiences.
Is MobileMonkey or Manychat more suitable for e-commerce businesses?
Both MobileMonkey and Manychat offer features that are beneficial for e-commerce businesses. MobileMonkey's integration with Facebook Messenger and web chat can help improve customer support and drive sales, while Manychat's seamless integrations with multiple platforms enable businesses to reach a broader audience and automate sales processes.
Which platform offers better customer support, MobileMonkey or Manychat?
MobileMonkey has a reputation for providing excellent customer support, with responsive live chat, email support, and extensive documentation. Manychat also offers support through live chat and an extensive knowledge base, ensuring users have resources to resolve their queries and issues.
Can MobileMonkey and Manychat integrate with third-party applications?
Both MobileMonkey and Manychat offer integrations with popular third-party applications. MobileMonkey integrates with platforms like Facebook, Zapier, and HubSpot, while Manychat provides integrations with Facebook, Shopify, WordPress, and more. The availability of integrations allows businesses to streamline their workflows and leverage the power of other tools.
Is MobileMonkey or Manychat more cost-effective?
The cost of MobileMonkey and Manychat varies based on the selected plan and features. MobileMonkey offers flexible pricing options, including a free plan with limited features and paid plans with additional functionality. Manychat follows a similar pricing structure, offering a free plan and tiered paid plans. The cost-effectiveness of each platform depends on the specific needs and requirements of your business.