There has been a dramatic increase in the use of chatbots in recent years, with their popularity and adoption by a wide variety of companies throughout the globe.
Besides proving to be excellent travel companions, they have also developed into a novel method of interaction between consumers and companies.
The meteoric ascent of these messaging applications, the maturation of wearables and sensors, the advent of AI, and other technological developments all played a role in this shift. Most companies use digitalization to streamline internal operations and provide more up-to-date customer service.
Shopify stores are among the best examples of thriving e-commerce website platforms using artificial intelligence (AI) in the form of chatbots. It is among the largest eCommerce platforms, and chatbots are among the most popular interactive platforms for managing their core business operations.
Shopify is now among the leading providers of infrastructure for online stores. Shopify has been of genuine assistance in making the most effective business-oriented websites for entrepreneurs, in addition to utilizing interactive communication via chatbot plugins, right from launching their brands at the optimum cost to dropshipping with an eCommerce setting.
Having successfully expanded to more than a million stores, Shopify has achieved massive commercial success.
In terms of predicting the future of customer care and making it easier for customers to communicate with a specific firm, chatbots have shown to be of quite an assistance.
"One area where chatbots built on Shopify are likely to shine is in supporting human customer service representatives. Because of their increasing messaging popularity, statistics suggest that more than 80% of enterprises would install chatbots."
Although chatbots have a wide variety of advantages, the most important thing is to use those advantages to serve clients better. These bots have proven indispensable for boosting user engagement and customer acquisition.
Best Chatbot features for your Shopify store
Completely Automated, Round-the-Clock Service to Customers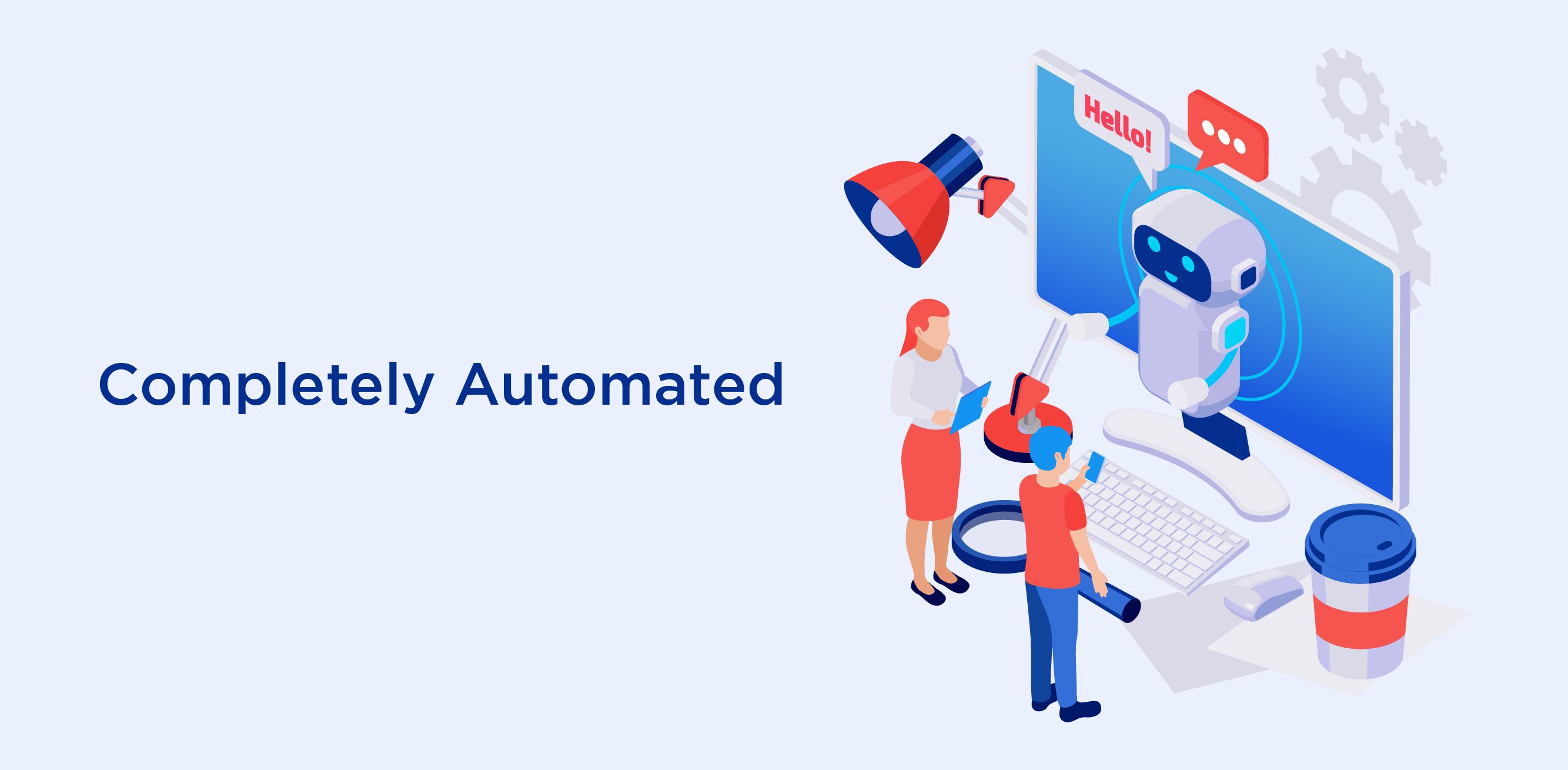 Customers who have placed orders often revisit the site to see what has happened to their shipment. There is a high return rate because many consumers need to change their orders, such as updating their phone number, email address, or physical shipping address.
Some customers may decide to cancel their orders. Dissatisfied customers sometimes use these automated systems to voice their complaints.
With Shopify bots, you can make a chat interface for customer service available around the clock. As a result, this facilitates expanding your company's current activities.
The most significant advantage of using a chatbot is that it makes your brand accessible at all hours of the day and night. Through these, businesses can interact better with their clientele.
Shopify bots facilitate interaction between your business and its customers to boost productivity and revenue. They put in a continuous, around-the-clock effort. Not even unusual or obnoxious people can get on the bots' nerves.
The nicest part about these robots is that they never take weekends off to make you anxious. Since this is the case, these chatbots have a high degree of veracity. Customers enjoy a streamlined ordering process from your company thanks to these chatbots, increasing revenue.
Immediate Reactions
A chatbot may instantly answer a customer's question and direct them to the best service or product for their needs. Before making a purchase, customers typically have a number of questions.
Customers want to know your refund, exchange, and order cancellation policies before they pay for a product or service from your company.
Customers in far-flung areas may want to know if you may ship to their Pincode instead of their street address. Your clients will inquire as to when they may anticipate receiving their order.
E-Commerce Support is available around the clock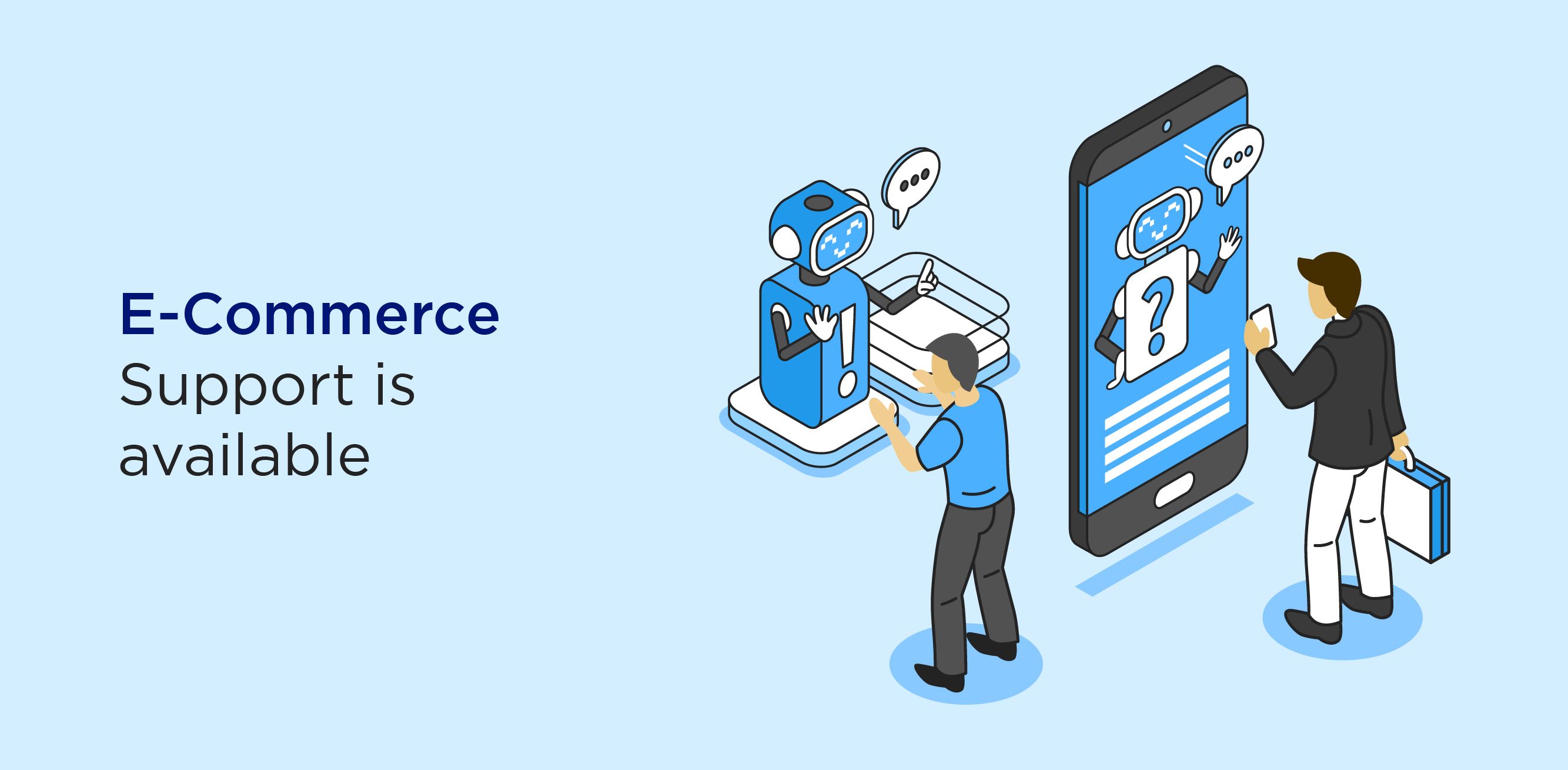 Customers placing a purchase have a lot of inquiries, many of which relate to these specifics. Because of the convenience of the internet, consumers now have high expectations that companies will reply swiftly to their questions and concerns.
Even during non-traditional work hours, chatbots may respond instantly to customer inquiries. Even though humans aren't always there, these chatbots can answer basic questions at any hour of the day.
Suggested Products
When a product or service is first introduced to the market, not all consumers will have extensive experience with it. To buy these items, consumers require assistance.
Using chatbots, you may create a recommendation engine that automatically gathers data and provides clients with useful suggestions based on their previous interactions with your business.
It's also worth noting that not everyone is comfortable with using online services just now. These buyers require suggestions before making a purchase. They are skeptical of what they see and prefer to make a well-informed choice.
Increasing Revenues
Improving your understanding of your clientele is crucial for driving more sales. Conversations with a chatbot can be mined for valuable demographic data about clients for use in remarketing campaigns.
You cannot effectively meet your clientele's needs without in-depth knowledge of your clientele. Conversations with a chatbot might help you learn more about their likes and dislikes. By learning which customers are interested in which products, Shopify chatbots can help increase revenue.
Chatbot to place your order
In today's tech-savvy world, mobile web browsing is the norm. Most people can't access the internet in any other way. These chatbots built on Shopify are very well-liked.
They offer a simple and effective method of communication from any mobile device. While some companies still utilize traditional customer service methods, many others are turning to Shopify chatbots to handle customer inquiries.
Using conversational UI, your consumers can now use these chatbots to place orders. Your revenue will increase by a factor of 10.
Easy way to deal with traffic
There are times of the day when traffic is heavier than usual. Consumers typically make purchases on their way to or from work. Traffic to the site spikes unexpectedly at such times. Shopify's chatbots can handle the influx of visitors and field their many questions at once.
Streamlines the difficult processes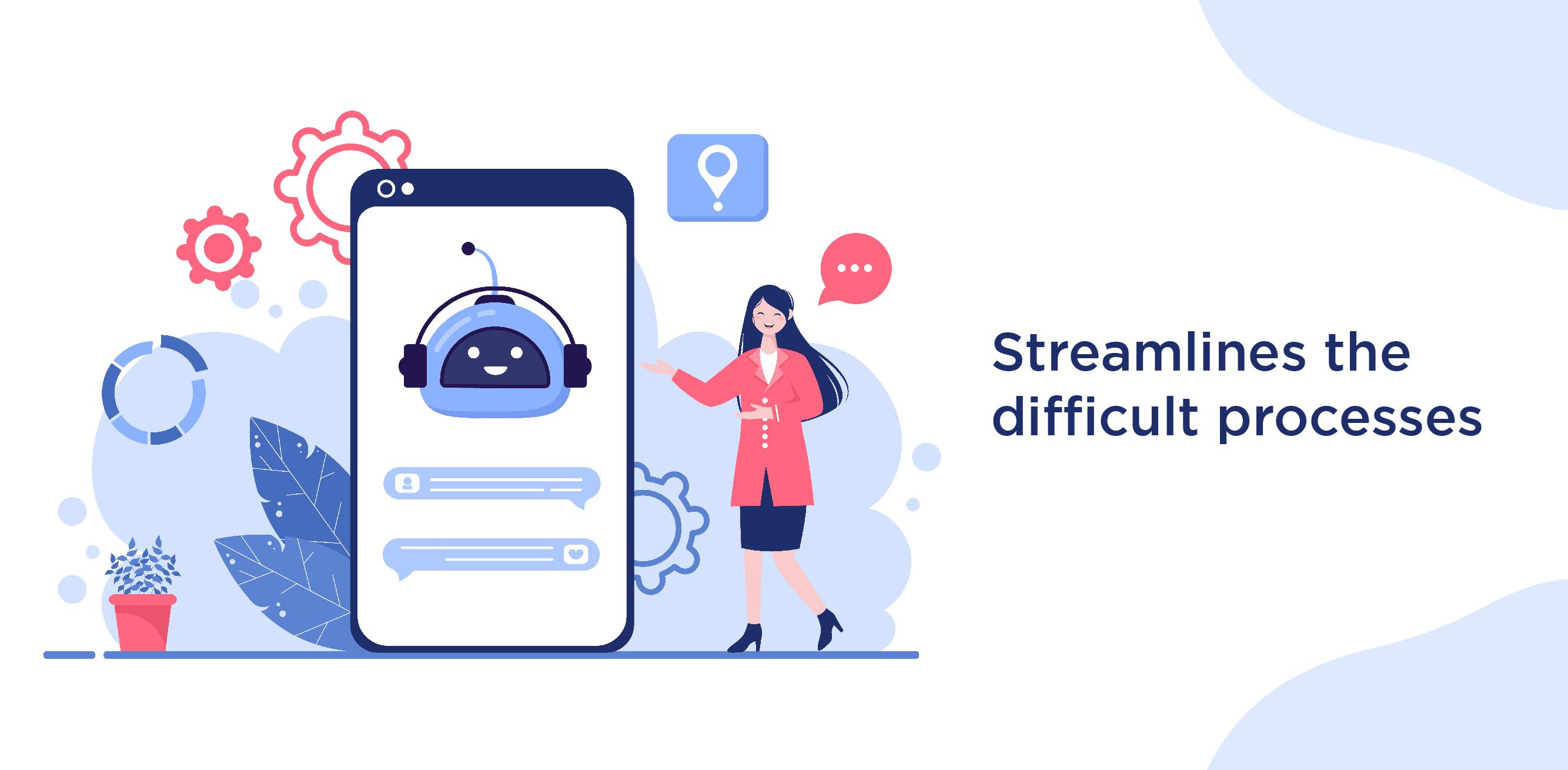 Customers who want to know when they will receive their order often call or email multiple times. An actual person needs to write down the order ID, look it up in the system, and then respond to the consumer.
Conversational chatbots built on Shopify make it possible to automate otherwise labor-intensive operations. In the end, it streamlines the procedure and saves them much time. With AI, these chatbots can reliably answer customers' frequently asked questions.
By having a chatbot handle routine questions and ensure that you always have time for urgent inquiries, you can reduce your workload and devote more time to matters that truly matter. This contributes to the success and expansion of your company.
Personalization
Shopify's built-in chatbots are designed to learn from users' past interactions and recommend tailored products and services. Based on this comparison, they provide conclusions and advice. For every consumer, this immediately adds a special touch.
When a customer logs in to make a change to an order, receive feedback on a recent purchase, or receive a special discount, the chatbot addresses them by name and asks for their input.
Customers' perceptions of a company's brand can be bolstered by using chatbots that act like human salespeople by providing them with unique experiences. Shopify's chatbots, which draw on previously collected consumer data, provide a similar experience.
Chatbots address clients by name and make recommendations based on their past purchases and other information stored in a database. By engaging in proactive conversations and tailoring their experience to their specific needs, businesses may enhance their customer-brand relationships, and better meet their consumers' expectations.
Personalized care for each client
Chatbots have human transfer as a backup for questions or problems too sophisticated for the bots to solve independently. Customers can get instant, personalized help just by clicking a few buttons.
Direct interaction between a service provider and client increases the likelihood of both outcomes. Your customers look to your brand to provide what they need and value purchases from your brand over those of competing brands.
Omnipresence
The report found that instant messaging apps make it simpler to contact potential clients than social media websites. When customers have the opportunity to communicate with your brand through chat features, they develop trust in your company.
Chatbots allow businesses to expand their consumer base because they are simple to operate and update. Also, this shows patrons that your company is up-to-date and hip. Customers are less likely to look for new apps if they have established a primary messaging app.
With chatbots, your consumers can contact you quickly and effortlessly using their chosen messaging apps like WhatsApp and Facebook Messenger.
Abandoned cart notifications are another feature offered by chatbots. These are push alerts delivered to the user's mobile device or their preferred platform and a gentle reminder of the goods they intended to purchase but did not.
Create your own Chatbot with Shopify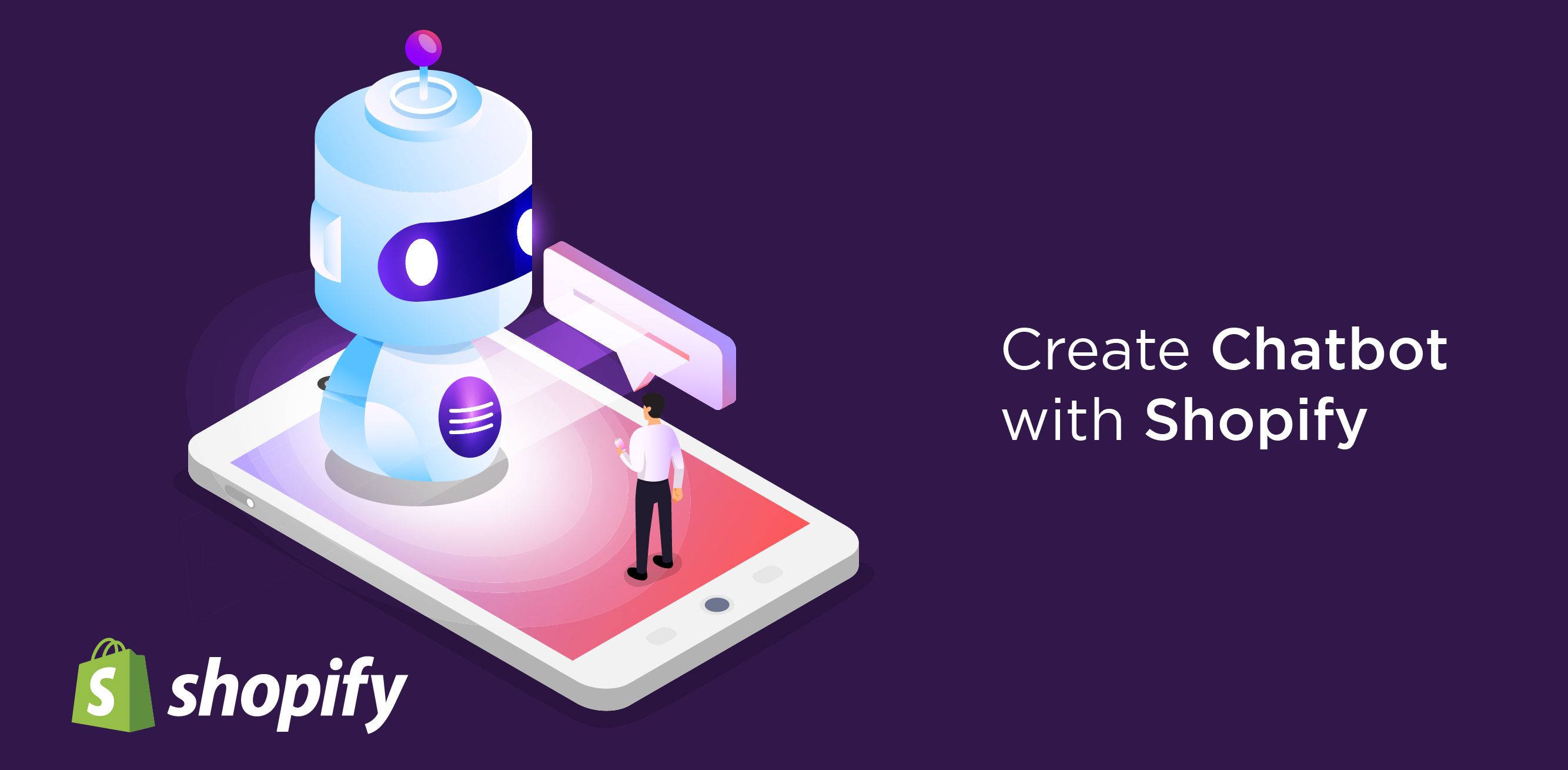 BotPenguin's comprehensive Shopify integration enables the chatbot to efficiently and effectively serve consumers by retrieving relevant data from Shopify stores. BotPenguin can easily respond to a wide range of questions from customers, including:
Checking on the status of an order, making changes to an order, searching for products, and placing an order via chat are all options that may be accessed instantly and without the need for human contact.
Using chatbot technology developed by BotPenguin, a single dashboard can handle all customer interactions across several platforms (Website, Facebook, and WhatsApp).
Using a combination of AI and human intelligence, BotPenguin provides clients with a completely frictionless conversational experience tailored to their needs.
It aids in the maturation of prospective clients into loyal patrons who will propel your company to new heights. Its omnidirectional availability means that you can count on it 24/7*365.
To tailor future interactions with leads and maintain their interest, the software records their contact details as the session progresses.
This produces actionable insights that aid in meeting the needs of consumers and delivering the goods they seek.
Conclusion
As a result of chatbots, it's easier than ever for customers to have an open line of communication with their preferred businesses. Chatbots have proven indispensable in facilitating natural conversation between Shopify and its clients.
BotPenguin provides a variety of chatbots that are tailored to various purposes and are equipped to handle all customer service automation on their own. These bots have become the most important component of corporate chat support systems because of their wonderful customer experience through the chat channel.
Since you did read this through, what are you waiting for? Visit BotPenguin today to get a chatbot up and running in no time!