Grand View Research predicts that the worldwide chatbot economy will reach $1.25 billion by 2025. According to a poll conducted by Oracle in 2016, 80% of company decision-makers have already used chatbots or expect to use them by 2020.
There are currently over 1,350 chatbots and virtual agents listed on Chatbots.org. Several major companies have developed exciting bots and proven wildly popular with their intended audiences.
Virtual assistants like Siri, Alexa, Cortana, and Google Assistant are already familiar to the general public.
Top 7 Chatbot Platforms of 2023
A chatbot is an AI system that simulates verbal or textual human interaction.
To ensure that users of your chatbots cannot identify whether they are conversing with a human or a machine, designers strive to make chatbots sound as natural as possible in their online interactions with humans.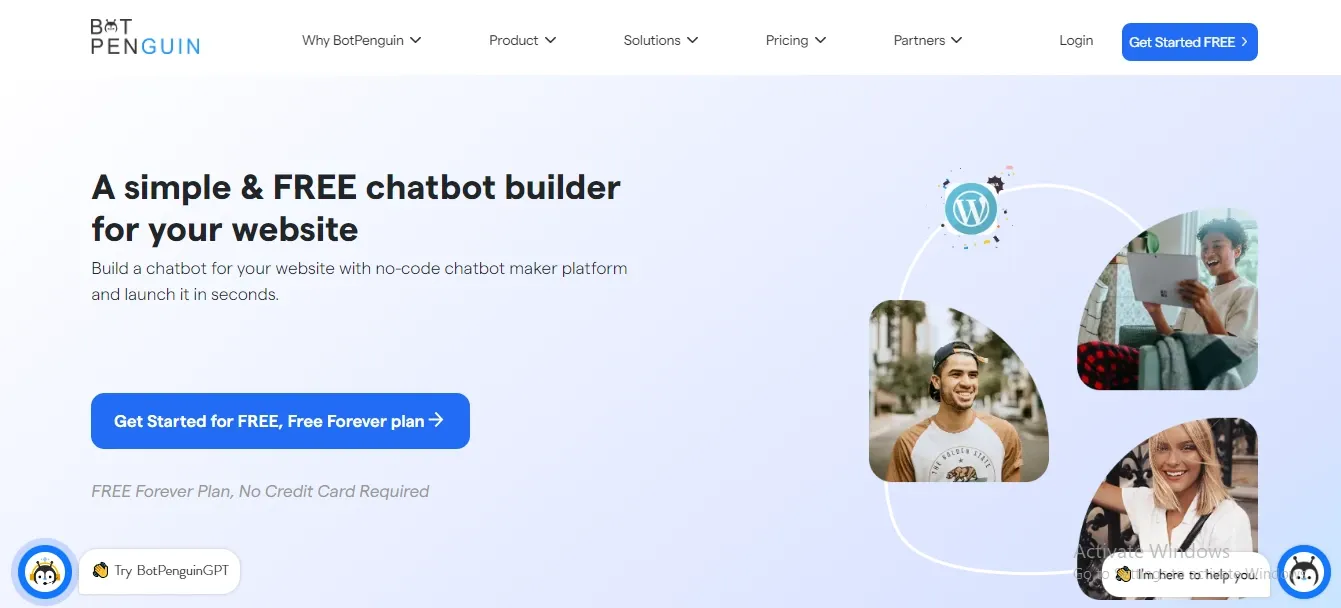 Michael Mauldin, the chatbot's creator, came up with the moniker "chatterbot" in 1994.
The original chatbot, named Julia, was constructed by him. A chatbot is an artificial intelligence (AI) computer program that simulates human conversation through auditory or textual means (also known as a talkbot, bot, instant messenger bot, intelligent chatbot, conversation bot, AI conversation bot, artificial conversation entity, or virtual talk chatbot).
An AI chatbot's ability to "learn" from its users' data sets it apart from its simpler counterparts.
These chatbots don't need to be trained to apply the pattern to new, similar situations or inquiries. This "intelligence" allows them to function independently of humans, carrying out activities, resolving issues, and managing data.
Many companies are beginning to include AI chatbots in their inbound marketing strategy. If you're looking to create an AI chatbot for your business, here are the top 8 platforms to consider.
BotPenguin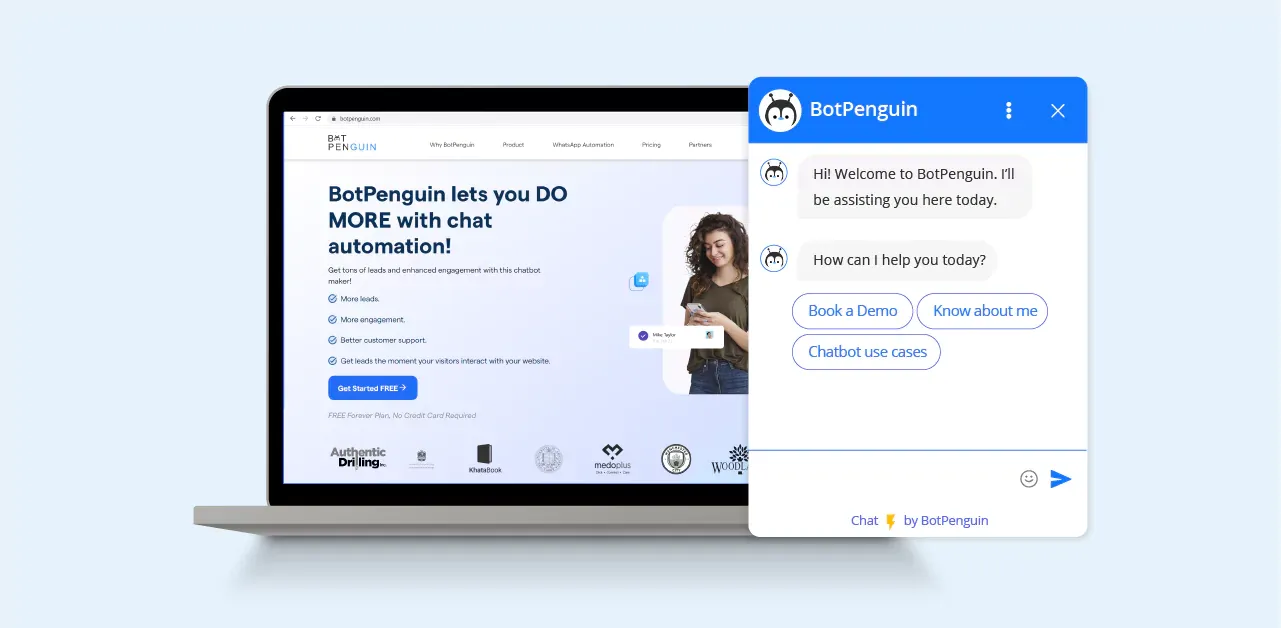 With the help of the AI-powered chatbot platform BotPenguin, you can create amazing no-code chatbots for your websites, Facebook Messenger, and other media. It will interact with and engage your clients.
Key Features
Natural Language Processing
Zero Setup Cost
Conversational UI
Deep Analytics
Easy to Integrate
Pros
To create the best AI chatbot, BotPenguin's simply the easiest chatbot builder.
Use NLP and AI to train your chatbots.
Delivers the finest conversational experience by enabling seamless handover between chatbot and live help.
You can schedule meetings and appointments by connecting to your Google calendar or any other planner integration.
Telegram, Facebook Messenger, and WhatsApp can all be integrated.
Ideal chatbot for banking, e-commerce, telecom, real estate, and most other businesses.
BotPenguin is Best Platform to use for Chatbot Development for Different Social Platforms-

Pricing
Baby Plan: Free Forver. No Credit Card Required.
King Plan: Starts with only $5. Unlimited Bots.
Emperor Plan: Completely customisable according to your business needs. Unlimted Bots. Dedicated Customer Success Officer.

EBI.AI's Lobster
Free trials of EBI.AI's cutting-edge conversational AI technology are available. This seasoned group creates cutting-edge AI assistants that facilitate various tasks, including discovering new recipes, scheduling meetings and events, and organizing trips on the fly.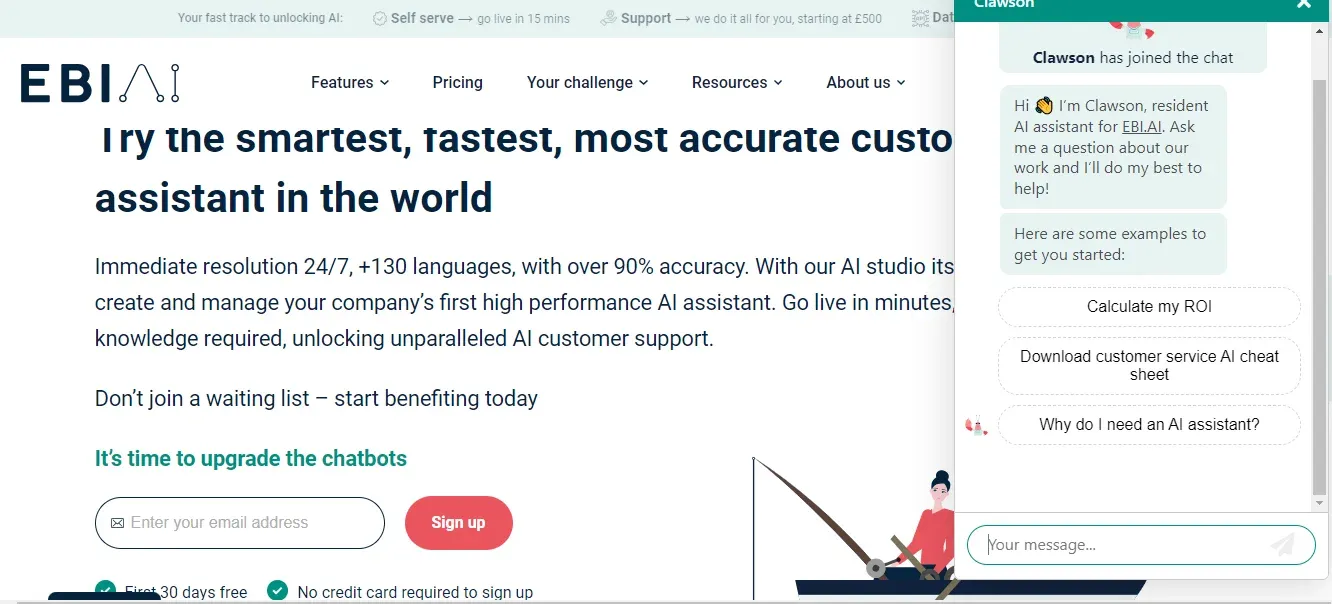 EBI.AI's artificial intelligence (AI) assistants go above and beyond the capabilities of a simple FAQ bot to offer engaging chat and voice interactions across all channels.
Your AI helper may be set up online, and the platform's first two weeks of use are complimentary, so you can try it and see whether you like it with no risk. The nicest part is that EBI.AI allows you to delve deeply into conversational AI.
Their platform includes everything you'll need to build your AI assistant over time, from real-time communication channels to seamless connection with your existing business software.
There is bank-level security, and they are not dependent on any AI service provider.
EBI.AI's conversation design, linguistics, and psychology team will work with you at every step to analyze and improve your AI assistant's interactions with your clients.
This ensures that your AI helper is always functioning at its best with zero effort on your part.
EBI.AI's engineers have worked in data engineering for over twenty years; therefore, they can connect any two technologies that otherwise wouldn't be able to communicate with one another.
Case studies for companies including Coop Sweden, Legal & General Insurance, and Stena Line ferries may be found on the EBI.AI website, along with informative blog entries and features that can be browsed by industry or use cases.
You may even have a conversation with an AI named Clawson on their homepage. EBI.AI's chatbot platform is ideal for businesses of any size and at any development phase.
Get more out of your customers and boost their engagement, loyalty, and lifetime value by creating your own AI assistant.
ProProfs Chat
Live chat software is primarily built for 24/7 automated connection, engagement, and conversion. ProProfs Chat was developed for companies needing quick website sales and support services.
The program lets users create chatbots to automate customer service, increase lead conversion, and boost revenue.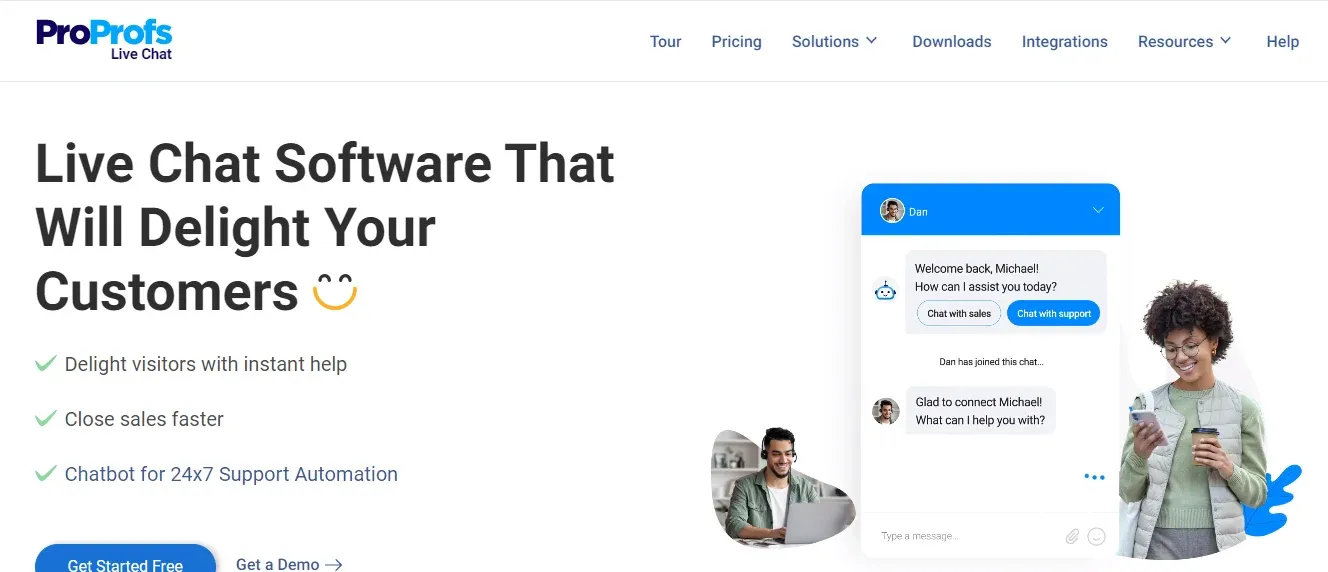 ProProfs is a chatbot-building platform that does not require coding knowledge or experience. Just a few minutes are all it takes to tailor your conversation flow to your specific needs.
You may make chat invitation pop-ups, tailor greetings, and include product tours. Proactively interact with clients by welcoming them by name or announcing new products based on their interests with a chatbot.
ProProfs Chat also aids in ensuring a positive customer experience by allowing agents to respond quickly to and resolve consumer inquiries. Customers can get instant responses to their inquiries by customizing chat widgets with prewritten responses and including links to relevant self-help pages.
ProProfs' data analytics functionality and adaptability to different apps are also noteworthy. Over fifty other programs and services can be combined with the software to produce a comprehensive service package.
In addition, ProProfs provides in-depth reports and analytics that can be used to track client feedback, analyze performance, and keep tabs on website traffic.
These give you information that will help you better serve your customers and tailor your approach to them.
With these capabilities, ProProfs provides businesses with a turnkey customer service solution that boosts revenue. Companies that want low-priced but successful methods of advertising, selling, and supporting their clients' needs would do well to invest in this.
ChatFuel
Chatfuel is a fantastic, no-coding-required tool for creating Facebook-centric bots. Since its inception, the platform has provided users with various editing tools for creating customized chatbots and a dashboard for defining rules for how they should interact with users.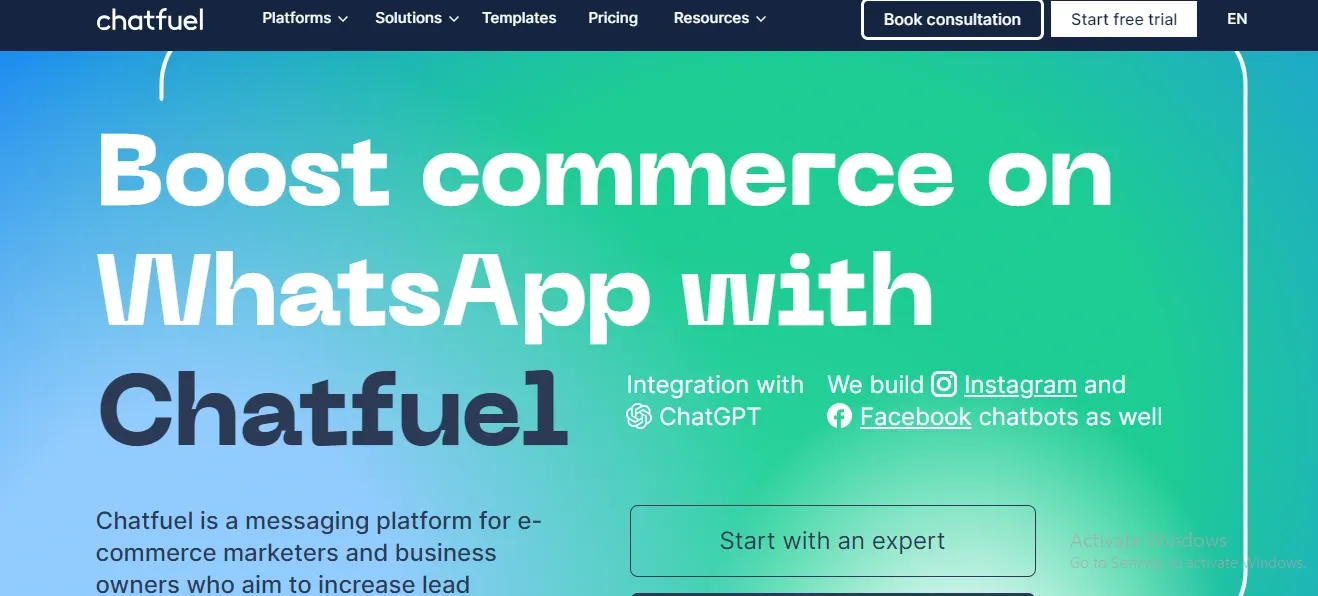 The bot utilizes natural language processing (NLP) to comprehend user queries and respond with preprogrammed responses.
A chatbot can be made to act as a personal avatar, event assistant, or customer support representative. The chatbot's ability to add users to a database for later contact is a handy function.
Chatfuel's analytics software reveals useful information regarding the bot's operation. It has developed chatbots for companies as diverse as Adidas, TechCrunch, Lego, and T-Mobile through the Facebook Messenger platform.
Chatfuel offers some services at no cost, but the Premium Plan, which allows you to create an infinite number of bots and supports up to 30,000 users, begins at $49.99 per month.
Customers.ai (Formerly MobileMonkey)
While MobileMonkey is a full-service mobile agency; it competes with services like Chatfuel and Botsify, which also cater to consumers who aren't particularly tech-savvy regarding chatbots.
MobileMonkey is simple enough for newcomers but includes options for creating complex actions. For instance, the user's answer to a query may be saved as a variable and included in future bot responses.

For example, MobileMonkey allows you to create chatbots for Facebook Messenger and use lead generation tools like chat blasts (messages sent to multiple users, either all users or a selected section), drip campaigns, and list building to improve your company's advertising.
In addition to reducing wait times and answering frequently asked inquiries, automated customer assistance is made possible. It's simple to take control of the conversation away from the chatbot and have someone join in whenever you choose.
Monthly costs begin at $59 for the basic package. You can schedule a meeting with the sales staff or initiate a live chat to inquire about MobileMonkey's rates.
Aivo
In 2012, Aivo was founded in Argentina by a group of individuals trying to reimagine how businesses interact with their clientele.
It is one of the world's most extensive and successful AI chatbot systems, with offices in nine different countries and a global volume of over 120 million English, Spanish, and Portuguese talks in 2018. Visa, Uber, LG, and GM are just a few of their satisfied customers.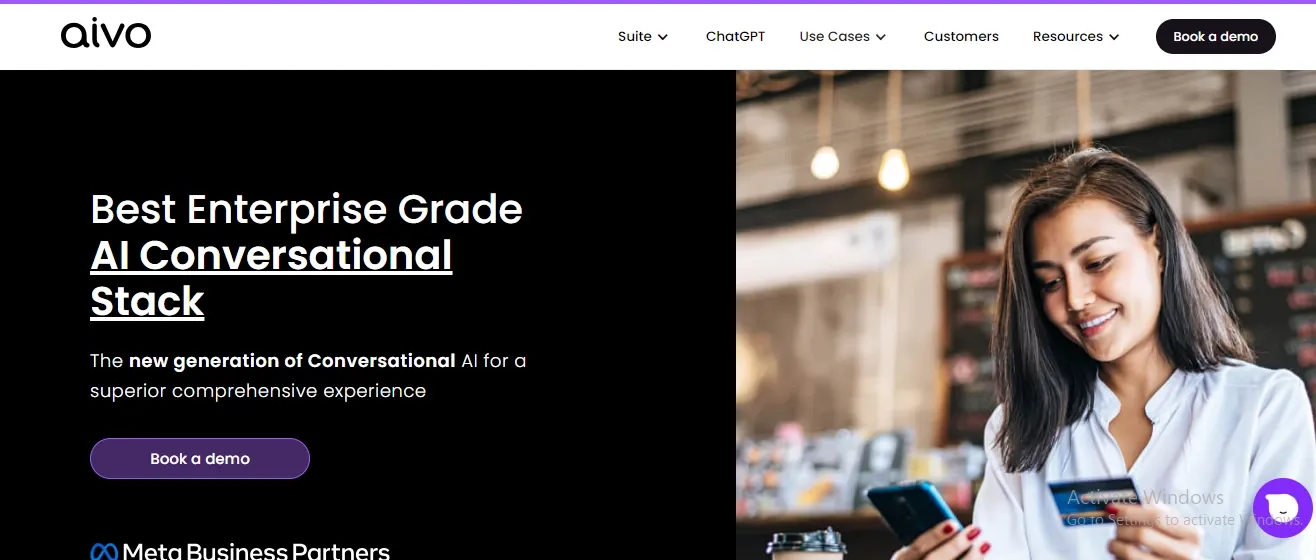 Organizations of all sizes can get a bot from Aivo.
Their AI-driven bots make it possible for your company to reply to customers via text or voice instantly. They can be trained to recognize and respond to customers' specific needs across various communication channels.
It's pretty simple to connect to other applications like Zendesk and Salesforce.
With Aivo's AgentBot, you can get started with $1,000 monthly sessions for as little as $75 per month. There is a $26 per 100 additional session fee. There is a free trial period of 30 days included.
ItsAlive
This French team has become one of the leading artificial intelligence chatbots on Facebook Messenger. Chatbots that recognize keywords in Facebook Messenger help businesses reduce the time it takes to respond to frequently asked questions.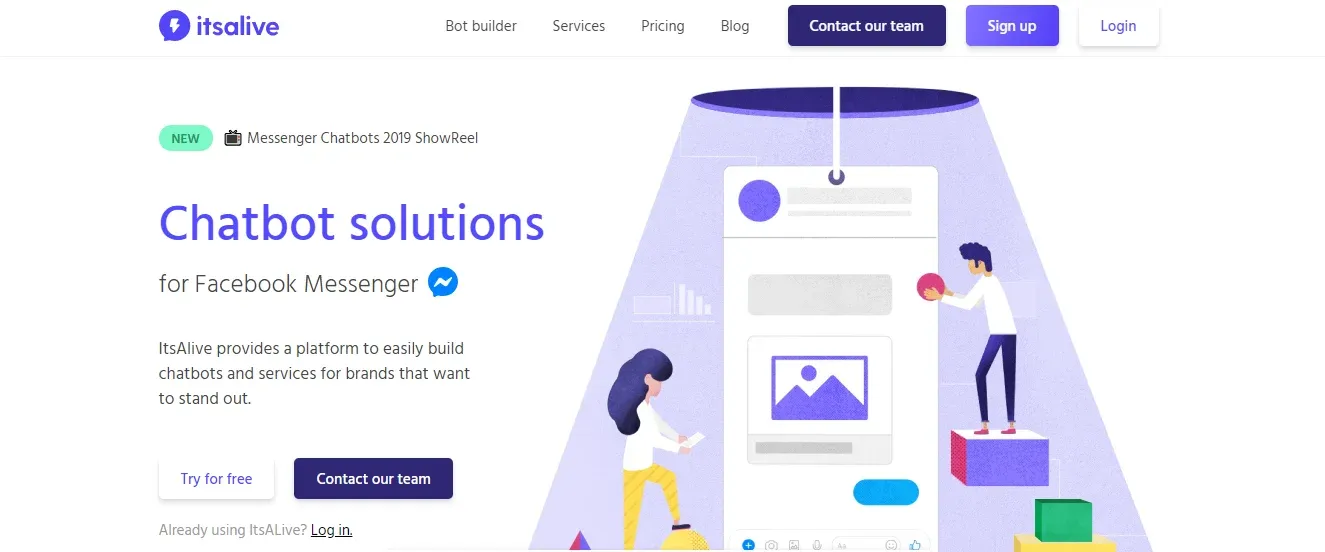 It is possible to shift the conversation to a human, just like any decent AI chatbot.
Comparatively, ItsAlive is more focused on technology than MobileMonkey and Chatfuel, but it still makes significant accommodations to ensure non-technical users have a positive experience.
To better anticipate and address customer queries in the future, it trains a set of bots to recognize and use a set of keywords.
Furthermore, it uses recipes to react mechanically to users' input based on particular keywords or phrases.
There is no limit to the recipes you may add or the times you can toggle them on and off.
Coca-Cola and Johnson & Johnson are just two of the company's many major clients. With the free plan, you get 1,000 monthly messages sent.
Its Pro Plan costs $99 a month and provides access to comprehensive analytics, key performance indicators, lead generation, and Intercom support.
Endnote
Since their introduction, AI chatbot platforms have seen rapid growth in user adoption. Artificial intelligence chatbots can be very useful for your company because they allow you to automate customer care, sales, and marketing at little cost.
There may be a lot of choices, but picking the one that's right for your company comes down to prioritizing a few things.
Get your finances in order first. A monthly subscription to an AI chatbot platform might cost anywhere from a few hundred to several thousand dollars. Consider secondly what is best for your business.
What would it be if you could choose the kind of customer service you'd like to receive?
Remember that artificial intelligence chatbot technology is still fast developing, and we do not anticipate a slowdown in 2023 or the years beyond.
This fad will only gain popularity; therefore, now is an excellent time to implement AI chatbots into your company's operations. Since they have so many benefits, giving them a shot is little to no risk.
Frequently Asked Questions (FAQs)
What are chatbot platforms?
Chatbot platforms are software that allows businesses to create, develop, and deploy chatbots on various messaging channels.
These chatbots use natural language processing (NLP) and machine learning algorithms to engage with customers.
What are the top chatbot platforms of 2023?
The top chatbot platforms of 2023 include BotPenguin, , Botsify, Tars, ChatterOn, and Botpress.
These platforms offer cutting-edge technology, user-friendly interfaces, and robust analytics capabilities.
What makes BotPenguin a top chatbot platform?
BotPenguin is known for its advanced AI capabilities, including NLP, speech-to-text, and machine learning.
These features allow it to adapt to a wide range of customer inquiries, making it an ideal platform for businesses across industries.
What industries can benefit from chatbot platforms?
Chatbot platforms can benefit a wide range of industries, including healthcare, e-commerce, banking, and customer service.
By automating routine interactions, businesses can reduce costs and improve customer satisfaction.
Can I use Chatbot platforms without prior technical knowledge?
Yes, most chatbot platforms have user-friendly interfaces that require minimal technical knowledge. Many platforms offer step-by-step tutorials and support to help users create and deploy chatbots on their own.
How can businesses leverage chatbot platforms to improve customer experience?
By using chatbots to automate routine tasks, businesses can free up their human staff to handle more complex requests.
This can reduce wait times and improve overall customer satisfaction. Additionally, chatbots can provide 24/7 support, giving customers the convenience to engage with brands at any time.