With the start of this new decade, everything is rapidly changing, especially in the artificial intelligence world. Recent changes brought a huge difference in the way of communication.
B2B, C2C, or B2C all conversation revolves around the new platform of AI. 67% of customers want to get in touch with retailers through chat. Moreover, 34% of customers and users prefer answers to their questions from AI through chatbots and virtual assistance.
Many start-up companies are integrating chatbots and live chat into their businesses. But many back off due to the development process of chatbots. Do you want to build and own a chatbot under your brand name?
Do you want to become a chatbot reseller? But you don't want to go through all the development and maintenance processes. That's when BotPenguin hops in with its white label chatbot solution.
BotPenguin offers you the white label chatbot solution to build a chatbot with your brand logo. You can use it for your company or can become a chatbot reseller. Continue reading to discover why BotPenguin is the ideal white label chatbot solution.
What is White Labeling?
When a corporation develops a product or service, it removes its logo and replaces it with the resellers. It is known as white labeling.
The items' maker seems to be the reseller. Essentially, one company develops the product and licenses it to other companies to sell it under their trademarks.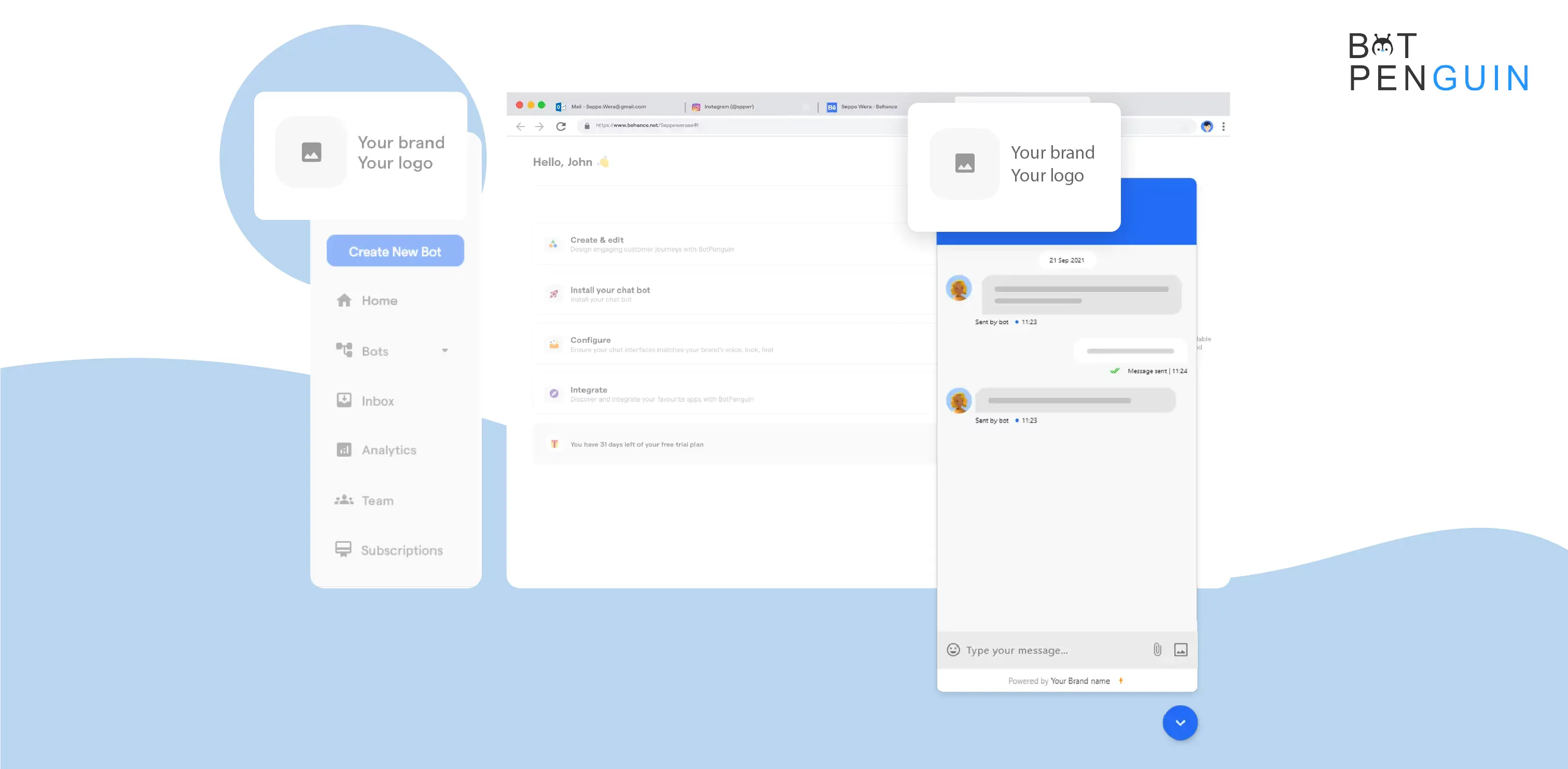 It allows the purchasing company to access the market without creating the items initially. This chatbot solution saves a lot of time and money on the merchandise they would have otherwise spent.
Another benefit of white label merchandise for the purchasing organization is that they allow them to expand their present offerings. They may deliver a more comprehensive experience to their customers this way.
Is Investing in a White Label Chatbot a good decision?
In 2018, the global chatbot market had a share of USD 1.17 billion. By 2026, it will reach USD 10.08 billion.
The need for conversational intelligence increases due to the COVID-19 situation and the lockdowns. Conversational intelligence is becoming increasingly popular among businesses.
They seek ways to engage their consumers effectively without jeopardizing their employees' health.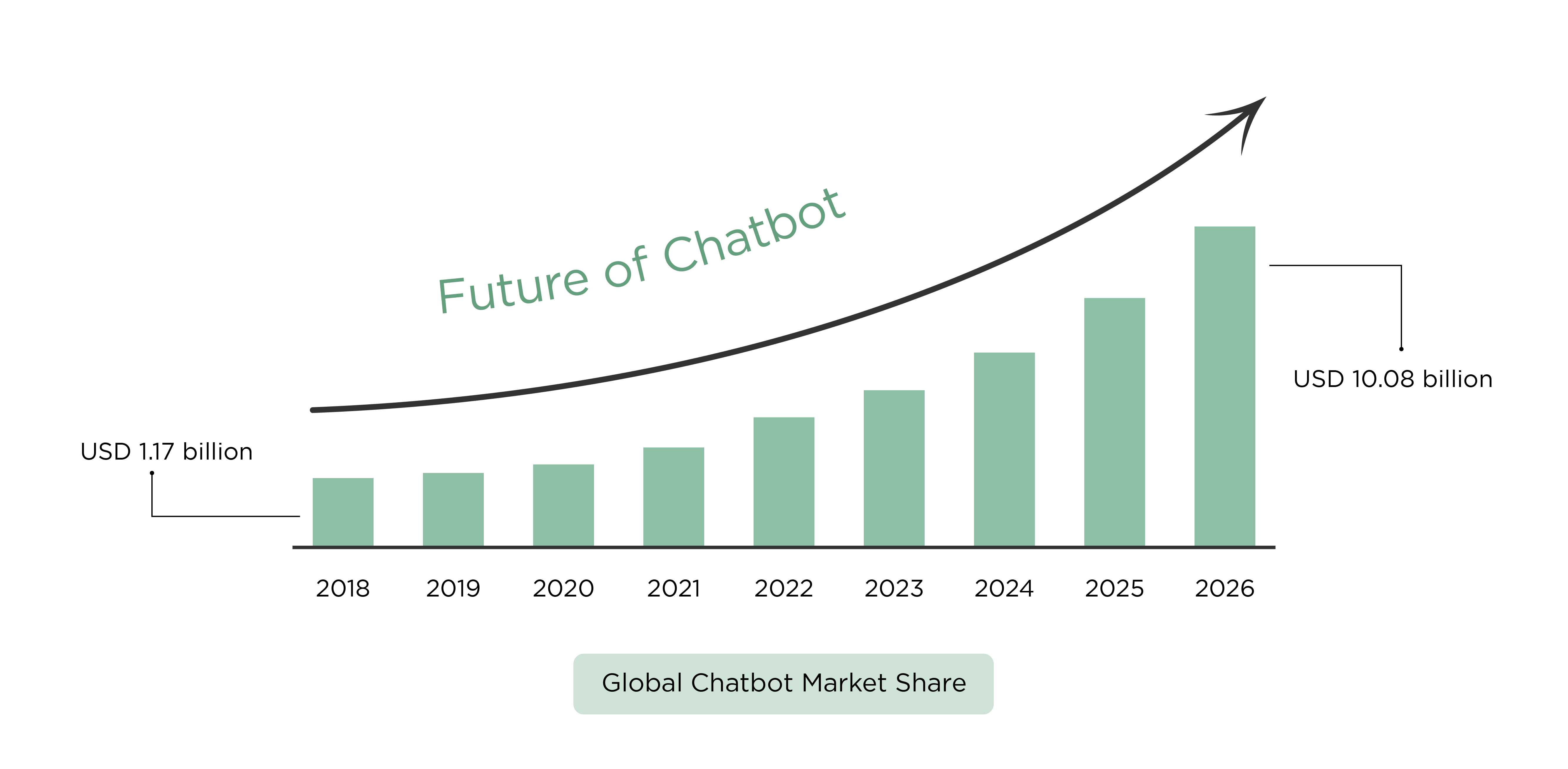 Because their customer support personnel work from home, businesses understand that they can't handle all of their clients' questions over the phone.
Chatbots increase productivity and efficiency by answering routine questions and only forwarding complex ones to the agents.
They also recognize that their clients have become spoiled. Customers have no desire to wait on hold for a live person to answer their call. They want quick service to go on with their day.
About 80% of the respondents in the research quit doing business with a firm due to poor customer service. A chatbot cuts down on the average time it takes to be served.
What are White Label Chatbot solutions by BotPenguin?
The benefit of adopting white labeling services is to increase your present products. You may provide a wide range of services to your consumer base by outsourcing them to a white label service provider.
BotPenguin offers four different types of Partner Programs:
Here is what BotPenguin white label chatbot solution means:
They are designed with partners in mind
BotPenguin designed each chatbot from the ground up because there was nothing else that could help provide what consumers deserved. Partnerships are an afterthought for most chatbot platforms.
It's a shot in the dark, an attempt to generate some more income. Partners are at the heart of our purpose at BotPenguin.
Maintains originality
According to findings, 53% of marketing companies want to include chatbots in their service offerings.
The BotPenguin chatbot partner program is for agencies wishing to use conversational software to creatively address their clients' problems.
There are many templates on the platform for use (that everyone else uses uniformly). There are many pre-determined conversational flows (that don't fully meet your clients' needs). You will not encounter unchanging characteristics (that hinder your creativity and put a ceiling on your revenue).
With all the templates, you will have all of the tools you need to develop the one-of-a-kind, fantastic, and rewarding chatbot experiences that your consumers want.
Unrivaled support infrastructure
The chatbot business is a brand-new, vast, and fascinating universe of possibilities.
BotPenguin team of professionals is available to assist you in any way, whether you are just starting or are a seasoned veteran.
The BotPenguin platform is a formidable tool. It has distinct characteristics that, if mastered, enable our partners to shine. The goal of our partner success team is to get you there.
Building and delivering solutions with strategic partners
The implementer program, designed for agencies and chatbot providers, offers additional income potential.
On the BotPenguin platform, offer chatbots to your clients as a managed service, where you create, install, and monitor the chatbot on their behalf.
Top fit industries for BotPenguin's white label chatbot solutions?
Here are the top sectors that can benefit from BotPenguin's white label chatbots: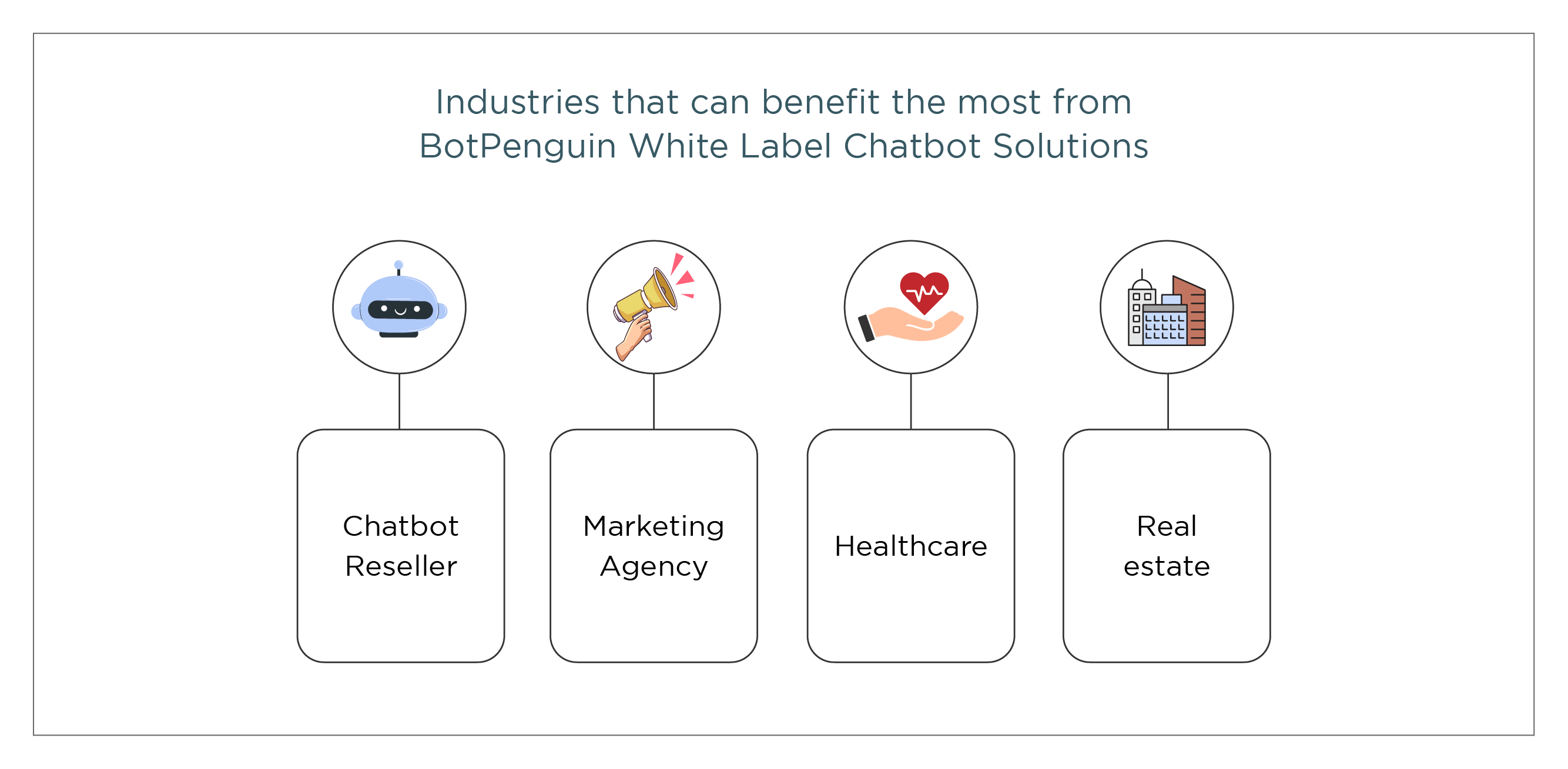 Chatbot Reseller
You can become a white label chatbot reseller without actually having to create chatbots. BotPenguin white label chatbot helps in communication flows for your results-driven clients. Make technology deployment a breeze and establish a presence on the client's website.
Marketing Agency
Chatbots for marketing agencies are conversational marketing solutions that may help your clients with lead creation and nurturing. Adopt BotPenguin White label software, and your advertising efforts will finally pay off.
Healthcare
With BotPenguin white label chatbot solutions, you may add a tech stack to your present healthcare line. Because of its no-code chatbot construction platform, they are easily adjustable for clients.
Real estate
You can now design chatbots that fit the brand language of your client's website using BotPenguin! You may include chatbots in your website bundle with everything from color schemes to layouts.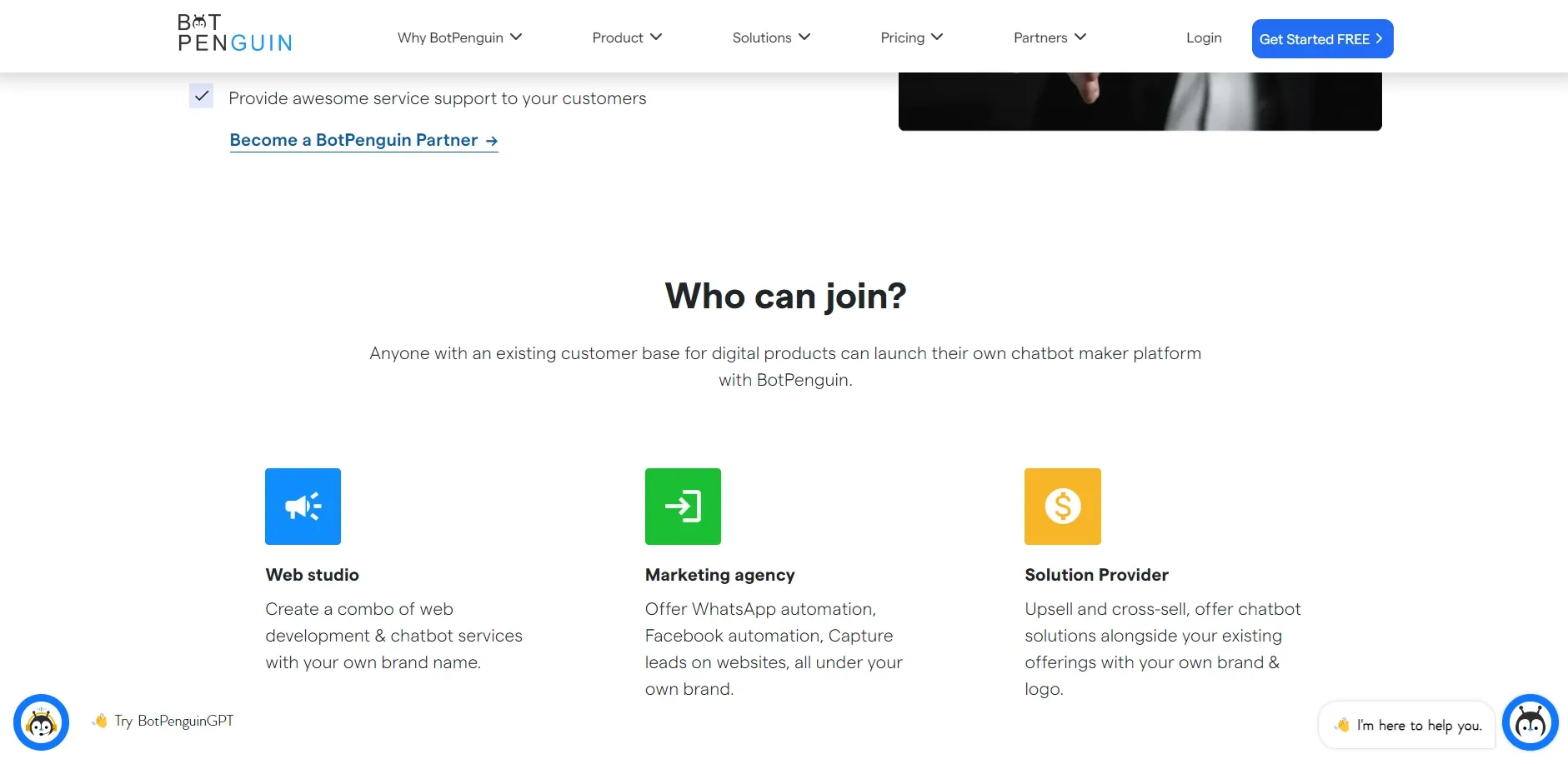 Why BotPenguin White Label Solution is best?
Your Brand. Your Chatbot. Our Platform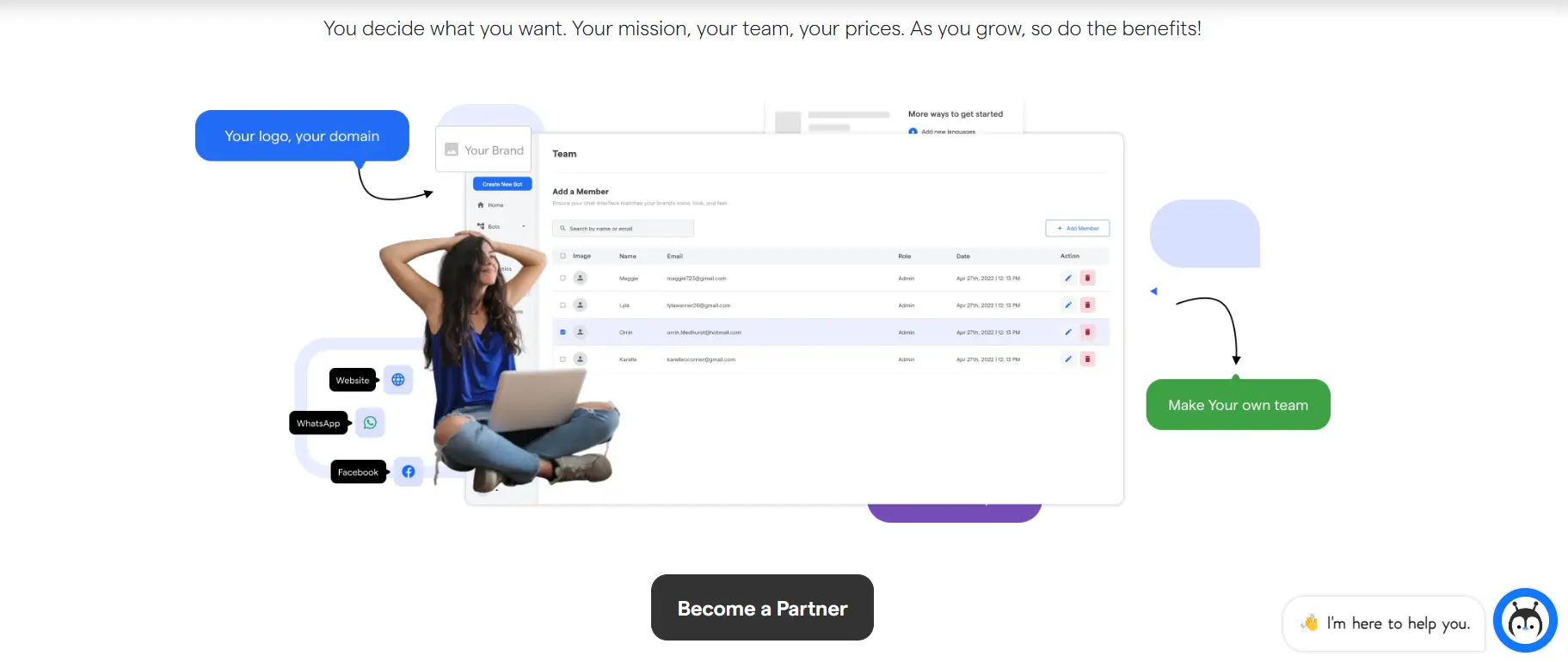 Increase your clientele
You will attract a new audience by expanding your service offerings. White labeling will provide access to a large consumer base from various industries. You can market your services to more people if you have more service offers.
High revenue while being cost-effective
The white label chatbot agency is cost-effective and produces significant earnings. Because building a platform from the ground up may be costly. Suppose you're a small business on a tight budget and want to add a chatbot platform to your service offering.
In that case, white labeling a chatbot platform provider might be ideal. You may avoid retaining a full-time crew of professionals by outsourcing services to a white label chatbot and live chat platform. Expenses such as full-time employee salary, administrative costs, training costs, development costs, licensing, and much more may be avoided or reduced.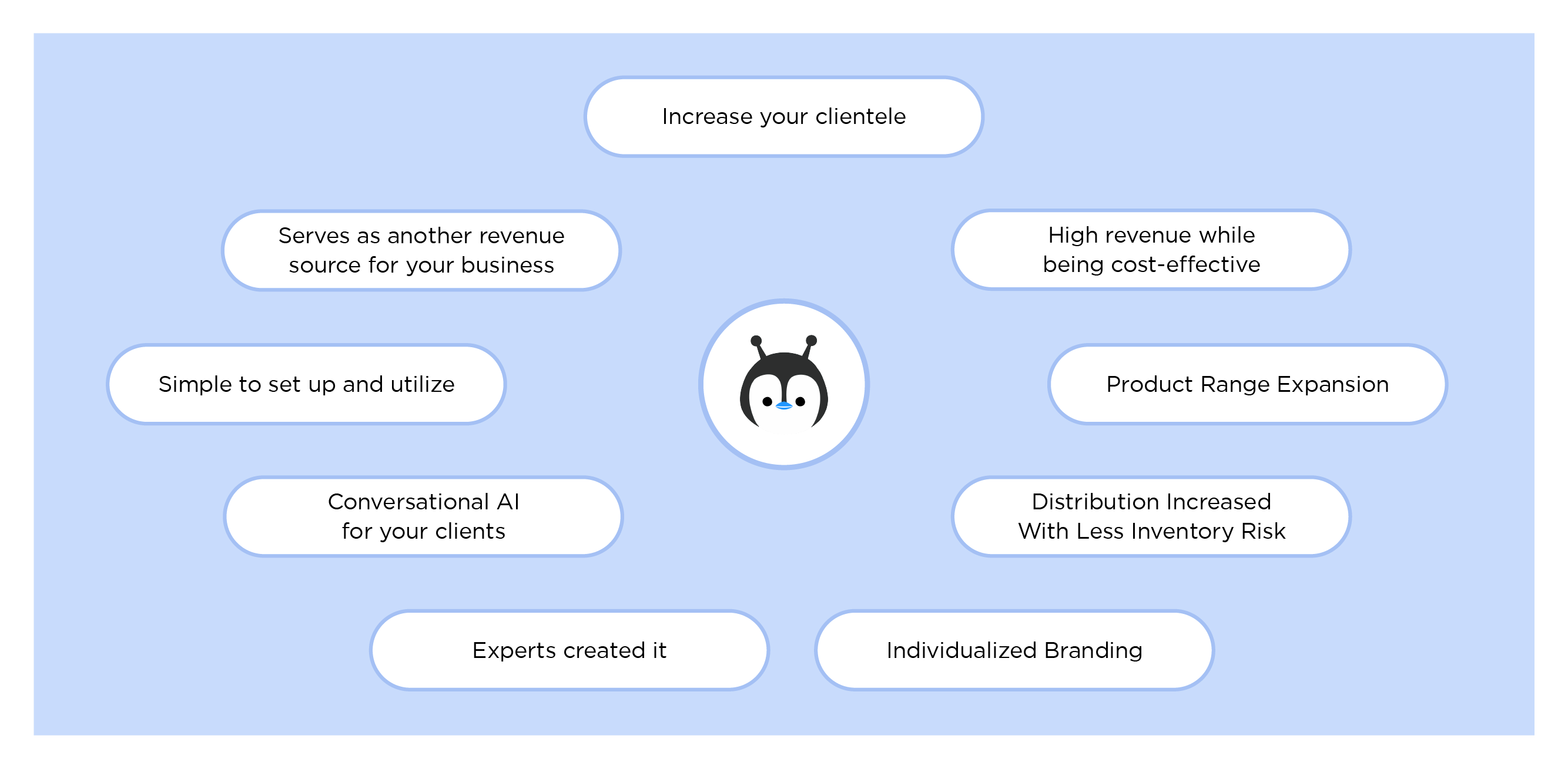 Conversational AI for your clients
The next big thing in marketing technology is conversational AI! With BotPenguin, you can provide your clients with conversational AI solutions that improve consumer interaction across numerous platforms.
Serves as another revenue source for your business
Each extra service you provide your consumers generates an additional revenue stream for your company. Of course, maintaining good revenue profitability requires reselling these services at a profit margin.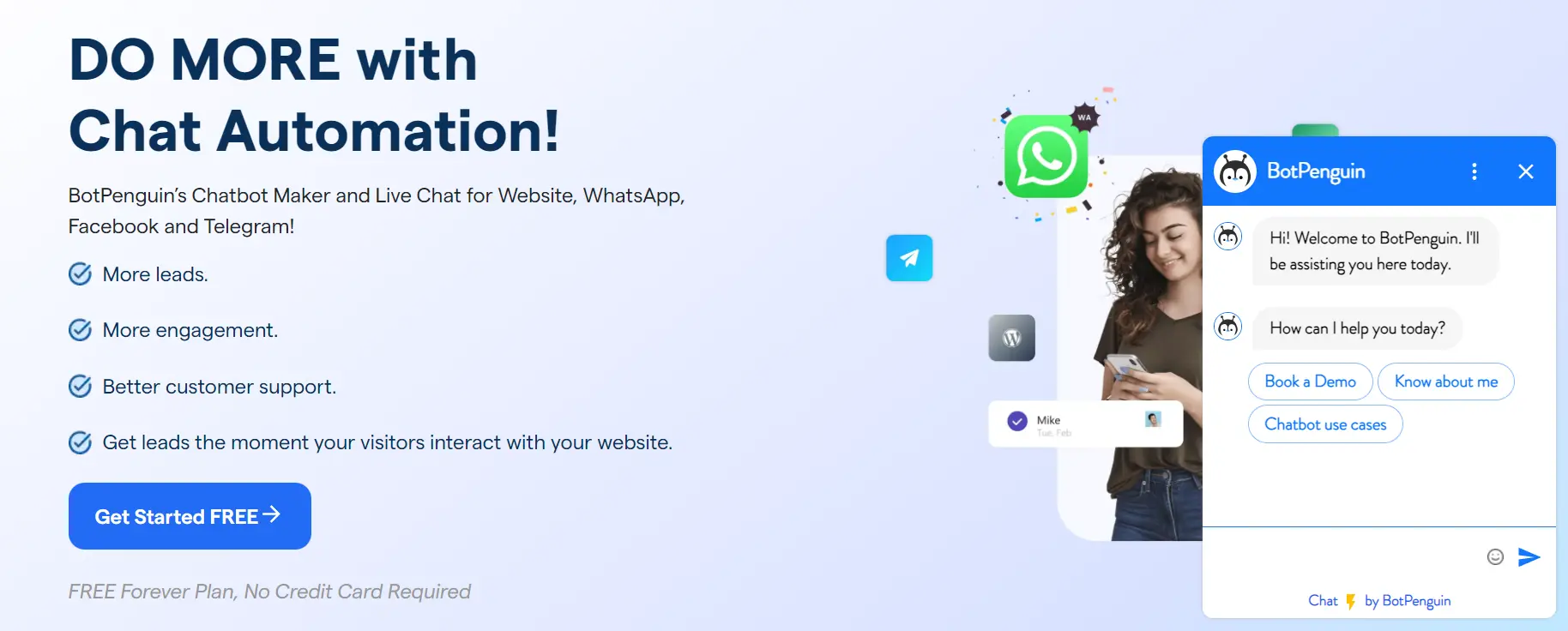 Product Range Expansion
A white label software product will be available on the white label chatbot reseller's product range. As a result, an organization's product offering expands.
Experts created it
Chatbots are a popular white-label software since your various clients can customize them to fit their brand and sentiment. Your customers may tailor dialogues, alter logos, use new colors and fonts, and modify bots to their liking.
Individualized Branding
Chatbots are a favored white label software because you can identify yourself on any client's website. Clients and consumers will see your logo, "powered by your brand" statement, and brand colors, which will help boost your brand positioning.
By deploying a chatbot for white label services, you can ensure to build a good brand name. If you can provide a wide range of services, you may position yourself as the go-to agency for various services.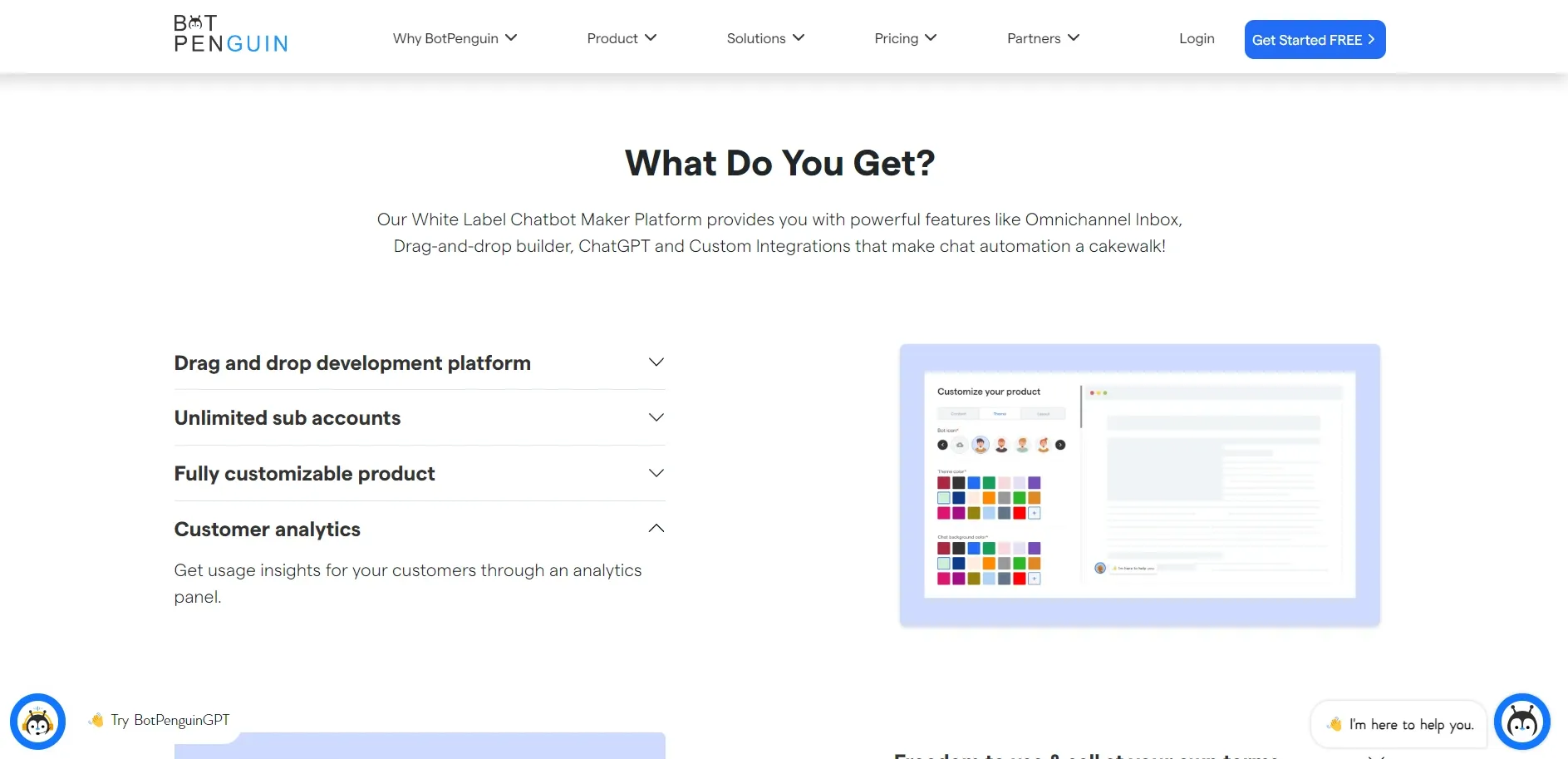 Distribution Increased With Less Inventory Risk
The commercial nature of white-label items means lower margins per item. However, minimum order amounts, bulk sales, and the opportunity to reach a larger audience can help overcome the difference.
Simple to set up and utilize
BotPenguin is easy to use and can quickly integrate with your existing services! You may create your own SaaS product out of BotPenguin.
Conclusion
You might be an agent with a customer base or a firm with software solutions. Integrating with white label chatbots can serve fruitful. White label chatbot solutions can work for any business, including start-ups, individual consultants, or big companies.
BotPenguin white label chatbot solution can develop a cross-platform communication process with CRM and integrations.
You don't need any coding knowledge to use BotPenguin white label chatbots.
You can use BotPenguin white label chatbot solution for e-commerce, customer service, healthcare, real estate, and other firms. Use BotPenguin white label chatbot and provide your customers with a beautiful experience.
Frequently Asked Questions (FAQs)

What is a white-label chatbot solution?
A white-label chatbot solution is ready-made chatbot software that can be rebranded and resold by a white label chatbot reseller or agency under its own branding.
The solution can be customized and deployed on behalf of clients without any technical expertise, thus enabling the white label chatbot reseller to offer chatbot services without the need to build a chatbot from scratch.
How does a white-label chatbot solution work?
A white-label chatbot solution typically provides a web-based platform where resellers can create and manage chatbots for their clients.
The solution is already pre-built and includes a range of features and integrations, such as natural language processing, machine learning, and third-party app integrations.
Resellers can then customize the chatbot's appearance and functionality to match the branding of their clients.
What is the best white label partner program for chatbot solutions?
BotPenguin White Label Partner Program stands out as one of the best options for chatbot solutions.
With its comprehensive features, industry-leading technology, and extensive support, it offers a lucrative opportunity for businesses to resell and brand chatbot services under their own name.
How can I become a chatbot reseller?
To become a white label chatbot reseller, you need to partner with a chatbot software provider that offers a white-label solution.
Once you have signed up as a reseller, you can start creating and managing chatbots for your clients under your own branding. You will typically earn a commission on the chatbot services that you resell.
How much does it cost to become a chatbot reseller?
The cost of becoming a white label chatbot reseller varies depending on the chatbot software provider. Some providers may offer a free reseller program, while others may charge a monthly or annual fee.
Additionally, some providers may require you to purchase a minimum number of chatbot licenses before you can become a reseller.
What support do chatbot software providers offer to resellers?
Chatbot software providers typically offer a range of support to white label chatbot reseller, including training, marketing materials, and technical support.
Resellers can also access a knowledge base or community forum to get answers to common questions and connect with other resellers.
Can I add my own features to a white-label chatbot solution?
Some chatbot software providers may offer the ability to add custom features to their white-label chatbot solutions.
However, this may require technical expertise or additional development resources.