What is Chatfuel, and How does it work?
Chatfuel is a cloud-based platform that uses artificial intelligence (AI) chatbots to assist small to large businesses in enhancing their marketing operations on Facebook Messenger. Users can provide automatic replies to commonly asked questions (FAQs) and route continuing discussions to sales reps for additional inquiry. Chatfuel can help you improve sales, cut costs, and automate support. There is no need for coding or prior bot-building skills.
They're perfect for brick-and-mortar stores, e-commerce companies, and charity organizations. It offers a framework for creating Facebook Messenger chatbots that are self-service. Non-technical and business users may design and develop chatbot routines and set conversational rules using the platform's straightforward visual interface.
What is Chatfuel?
Chatfuel is a bot-building system that provides people and businesses with a unified platform to construct AI conversational chatbots. Chatfuel intends to give customers an easy yet successful bot-building solution by incorporating simple editing tools, multi-user accounts, neuro-linguistic programming (NLP), and seamless third-party integration and analytics technologies.
Users may quickly develop chatbots with Chatfuel's editing tools, even without prior coding or programming experience. Users may set the conversational rules their Chatbot uses from the Chatfuel dashboard. Through phrase recognition and embedded NLP, these set rules enable each Chatbot to comprehend and respond to user requests effectively.
Thanks to Chatfuel's integrations with Facebook, Twitter, and Dropbox, users may easily sync their bot with major platforms. Chatfuel aims to provide users with the resources they need to build a configurable chatbot that can meet any user's demands.
Individuals can construct a chatbot to function as an event helper, personal avatar, or customer support adviser, depending on their needs. Furthermore, customers may obtain vital and actionable data about the success of their AI bot utilizing Chatfuel's analytics engine.
Key benefits of Chatfuel
The key benefits of using Chatfuel:
Chatfuel provides a user-friendly editor that allows users to easily create, update, and build chatbots without programming or coding experience.
Chatfuel integrates with various services, such as Facebook, Twitter, and Evernote, allowing users to effortlessly sync their bot with popular apps.
Thanks to analytics tools, users may quickly and easily collect and examine crucial information about chatbot performance and subscriptions.
Users may utilize the Chatfuel dashboard to establish conversational rules, ensuring that the Chatbot understands and responds to user requests quickly.
Chatfuel enables users to develop a versatile chatbot that may act as an event aide, customer service adviser, or sports team informant.
Key Features of Chatfuel
Chatfuel is a Facebook Messenger chatbot platform. They may help your brand by answering inquiries, recommending items, qualifying leads, automating activities, and doing other jobs. The key features of Chatfuel are the following:
Analytics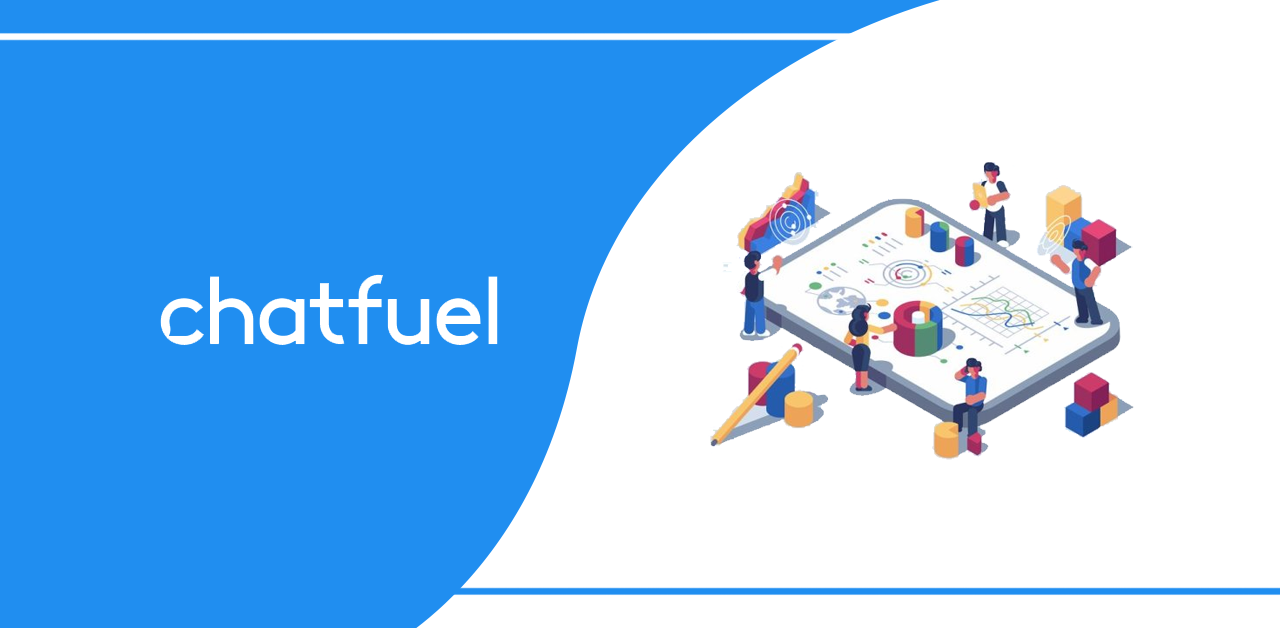 Chatfuel excels in analytics, the most crucial element of any chatbot software (if you don't have it, don't use it!). It comes with a simple dashboard that displays the number of users, retention, activity, popular blocks, buttons, and messages.
There are just three things it lacks: conversion rate (though some activities may still be tracked), fallback rate (which could be a nice enhancement), and custom dashboards/reports (not always necessary).
Dashboard
User input
User retention
Sent messages
Open rate
Click rate
Conversion rate
Fall back rate
Volunteer users
Custom dashboards/reports
ECommerce
With Shopify, Chatfuel offers an abandoned cart integration. It lets you deliver a message to consumers who have added a product to their basket but have not completed their purchase. You may reclaim that order and enhance your sales by sending them an abandoned cart message.
Furthermore, with Chatfuel's Stripe interface, you may allow consumers to pay straight from your Chatbot. Unfortunately, they don't offer a direct WooCommerce integration; however, you can still connect with WooCommerce via Zapier or Integromat.
Communication channels supported
Chatfuel's users can only construct their chatbots over Facebook Messenger. Customers will have a richer omnichannel experience across your website, email, and SMS, even though it is optimized and software particularly created for Facebook. This restriction of Chatfuel might wreck your chatbot marketing attempt, especially if your target clients don't use (or even despise) Facebook.
Templates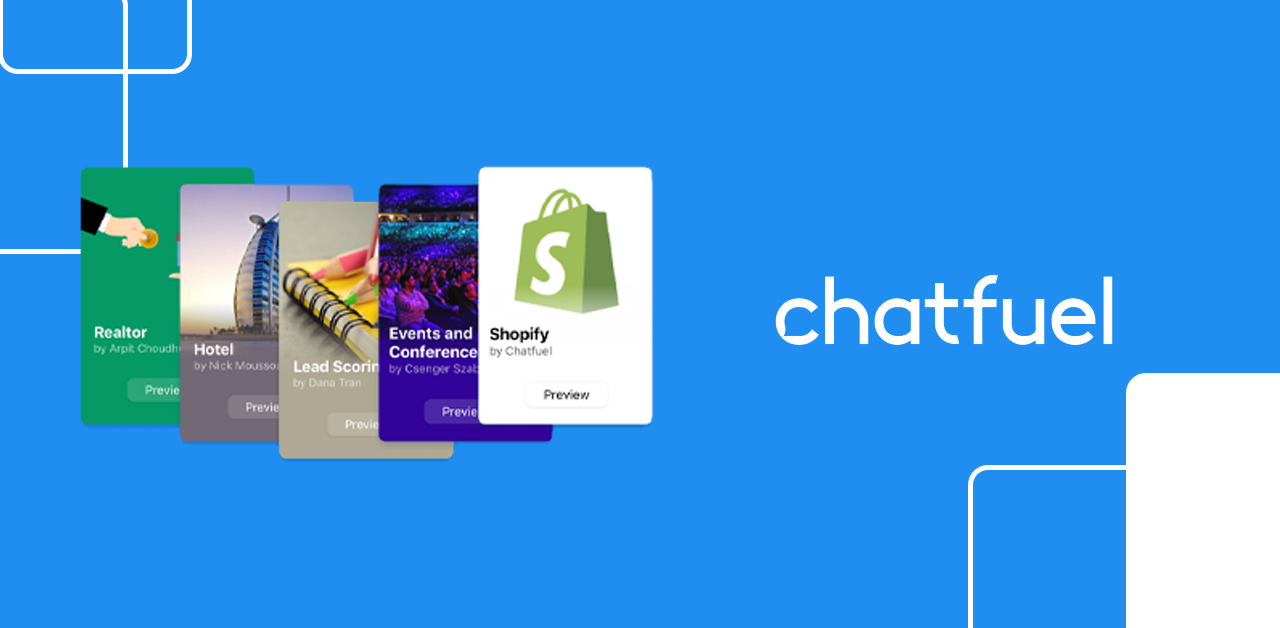 Creating a whole chatbot from the start, even with a nice user interface and working chatbot parts, takes hours and is difficult for any newcomer. That's why the ability to clone and alter a bot using pre-made templates is so important.
Chatfuel divides its pre-made themes into 11 categories, ranging from local businesses to travel to eCommerce to appointment scheduling. Chatfuel outperforms by providing Natural Language Processing (NLP) and Artificial Intelligence (AI) templates (AI).
Users of Chatfuel templates can:
Preview and test templates in Messenger: Check to see if the bot you're going to install is suitable for you.
Simple installation: Copy the template for additional customization and modification with just one click.
Growth Tools
Chatfuel is nearly identical in terms of marketing capabilities. Chatfuel's Growth Hacks are built around five primary entrance points that start a discussion with your bot:
Auto-reply to Facebook comments: Facebook postings include an auto-reply feature that responds to comments.
REF link entry point: Previously known as the bot link entry point)
Button Creator: Send consumers to your bot when they click the Message button on a product on your Facebook Shop page or the Messenger symbol in the bottom-right corner of a webpage. Click-to-messenger Customers are sent to the Chatbot when they click on the ad.
Support for landing pages: Create landing pages with a button that directs visitors to the bot. Chatfuel's auto-reply ends at sending private messages.
Chatbot builders
In the left column of Chatfuel, users can pick any created flow. Each produced flow consists of three primary components:
Card: Text, photos, videos, and other basic pieces for creating bot flow.
Blocks: These are containers for the material you wish to distribute to users. Each block will have a variety of messages and content kinds.
Connectors: The circular locations where you may drag the arrows to link one card to another.
Cards, in a nutshell, represent information of your messaging as well as media such as text or a gallery. The connections are used to connect these cards. Numerous cards can be collected and structured in blocks for a comprehensive bot flow.
Availability of chatbot-making elements
The ease of use of a chatbot platform is insufficient to assess its completeness. That's why, aside from the UI, the number of available elements for creating your bot's responses is the second factor to consider.
All of the parts needed to develop the bot are called "Plugins" by Chatfuel. A plugin is the same as a component applied to a bot block for bots created in the Automate tab. They're utilized in Messenger to automate sales.
Chatfuel categorizes and arranges these plugins into five key categories, allowing you to browse and select the best plugins for your needs:
Material Add & Send (7 plugins): This allows you to fill the bot's blocks with various forms of content.
User Data Collection (5 Plugin Types): This allows you to collect more information about your clients for outreach or segmentation reasons.
Import/Export (5 plugins): The plugins in this category help your bot manage data better.
Redirect Users (4 plugins): Using these plugins in your bot's blocks, you may route your users to a certain portion of your bot based on their attributes and activity.
User-to-Human Connection (2 plugins): Your staff may then take over the conversation from the bot and engage people in a live chat.
However, in terms of the comparison element numbers required to create the bot's content, the following card kinds are supported:
Chatfuel's block kinds
Text + Button
Gallery
Video
Audio
Typing
Quick replies
Persistent menu
Validation of email
Phone number and date
How Chatfuel works
Chatfuel is linked to your Facebook account and only works with Pages to which you have permission. When you choose whatever Page you want to add a bot to, it builds a basic template with a welcome message and a default response.
These communications are categorized as 'blocks' in Chatfuel. Each block is a pre-programmed response to a hypothetical inquiry posed by a user. In 'Set up an AI,' you may choose which 'blocks' the user sees. This system is the foundation of your bot and may be used to create a simple question and response system.
This Chatbot operates on a 'block system,' based on established rules.
Pros of Chatfuel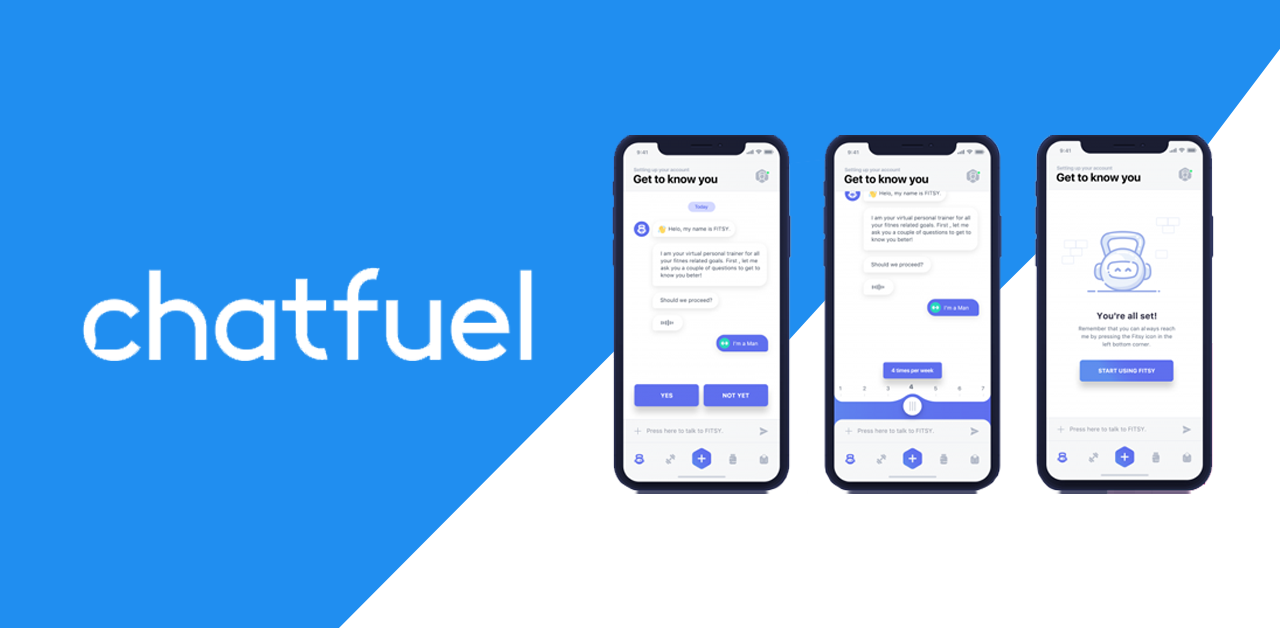 Let's take a look at some of Chatfuel's benefits.
Interface
Your workflow and productivity will suffer if the UI is unintuitive or merely clumsy.
Thankfully, Chatfuel's user interface is straightforward and uncluttered. There are no unnecessary tabs or categories because it is quite minimalist. Each area has a distinct role.
The top-level tabs are located in the menu sidebar on the far left. Because Chatfuel is built, you seldom have to switch between tabs, making navigating quick and straightforward.
The majority of the parts are all-inclusive. For example, in the Automation tab, you may complete a large amount of the chatbot building process. The "Test Your Bot" button in the lower right-hand corner opens a Messenger window where you can verify that your bot is working properly.
Advanced Features
Chatfuel has all of the essential characteristics of a chatbot, including keyword recognition, personalization, and a variety of automation options to fit a variety of consumer demands.
As a consequence, you'll be able to create sophisticated bots. They can diverge into several conversational paths, guide or redirect the user to specific locations or websites, and respond to frequently asked inquiries.
Users may have remarkably in-depth discussions with your bot without feeling like they're conversing with a faceless computer as a result of this.
Most essential, users may easily traverse the bot menus to arrive at their desired destination.
It also enables you to utilize your bot for many reasons, including lead creation, customer service, and much more. You may also construct several bots for each function or combine several bots to execute a single activity.
Cons of Chatfuel
Chatfuel, like every other platform, has a few flaws. Here are a few drawbacks of Chatfuel:
Free Features are Limited
It is to be anticipated with any freemium chatbot platform, and it's not a big concern. Still, the free version is missing a few key capabilities. The ability to modify, store and export user data is one such functionality. It would have been wonderful to include this in the free version when deploying Messenger bots for lead generation or eCommerce sales.
Templates of Good Quality
Some were excellent, such as Chatfuel's Starter template for newcomers, while others were less. The primary issue was that the templates were made to satisfy fairly generic demands, which means you'll have to tweak them a lot, defeating the purpose of using a template.
Chatfuel's templates could be a little more focused, in my opinion. Currently, they are far too broad to be successful.
Chatfuel has a lot of templates, both free and premium, so it's only a small niggle. In any event, it's simple to create your bot from the ground up if you want to.
Pricing of Chatfuel
Chatfuel is available in three different pricing tiers: free, pro, and premium.
You may acquire up to 1000 subscribers for free and all necessary tools for building chatbots.
The chatfuel pro version adds more functionality, such as eliminating the Chatfuel logo, integrating with Facebook Ads, and enabling numerous teammates.
The corporate version, which pulls out all the brakes and offers special capabilities like bot synchronization, is premium. This level has no established cost; instead, you must contact Chatfuel for further information, standard for enterprise-level pricing.
Conclusion
Chatfuel, in my opinion, offers excellent chatbot software at a reasonable price. It includes a well-organized UI, several chatbot aspects, the ability to deliver messages to specific user segments, numerous connectors, multiple marketing options, and excellent statistics.
The most significant downside of Chatfuel is that it can only be used to create a Facebook Messenger chatbot. Chatfuel is not the correct software for you if you want your Chatbot to work across various platforms. Also, later on in the process, if you wish to extend to another platform, you won't be able to (a good thing to keep in mind!). Chatfuel is still one of the best chatbot software platforms available and is still one of the best.