Are you a resident of the fascinating world of TikTok, where content reigns supreme and inventiveness knows no limitations?
If so, you're always looking for fresh, inventive methods to produce captivating videos that will catch your audience.
So stop searching because Uberduck AI is the answer you've been looking for!
Uberduck AI is sweeping TikTok by storm. This potent artificial intelligence tool can help you make fantastic videos with its text-to-speech technology.
Whether you're a seasoned TikTok creator or starting Uberduck AI can help you take your content to the next level.
This blog will walk you through how you can use Uberduck AI on TikTok.
So, get ready to unleash your creativity and take your TikTok game to new heights with Uberduck AI!
What is Uberduck AI?
In simple terms, Uberduck AI is an AI-powered chatbot that generates human-like voices.
Like other voice-to-text software, it utilizes AI-based text-to-speech technology to transform written texts into audible sounds.
With an extensive collection of over 5000 AI-generated voices, Uberduck provides users with diverse options to choose from while building their applications.
The library includes popular cartoon characters like Optimus Prime and celebrities like John Cena.
However, Uberduck's breakthrough came with releasing one of its AI-modeled voices, Kanye West, which amazed the TTS community with its remarkable rapping skills.
Over the years, Uberduck's community has expanded and flourished, with numerous contributors developing and submitting their sound data for evaluation.
Uberduck AI's innovative technology has revolutionized the voice-to-text industry. Its extensive library of diverse voices offers users endless possibilities.
The features of Uberduck AI
AI-powered chatbot
Uberduck AI is an AI-powered chatbot that uses advanced technology to generate human-like voices. It is designed to convert written texts into audible sounds, providing users with seamless and efficient communication.
Large voice library
Uberduck AI has an extensive library of over 5000 AI-generated voices, ranging from cartoon characters to celebrities. This feature allows users to choose from diverse options while building their applications and ensures that they can find the perfect voice for their needs.
Celebrity voices
The library includes voices of famous personalities such as Kanye West, John Cena, and Optimus Prime. This feature adds a unique and fun element to the chatbot, making it stand out from its competitors.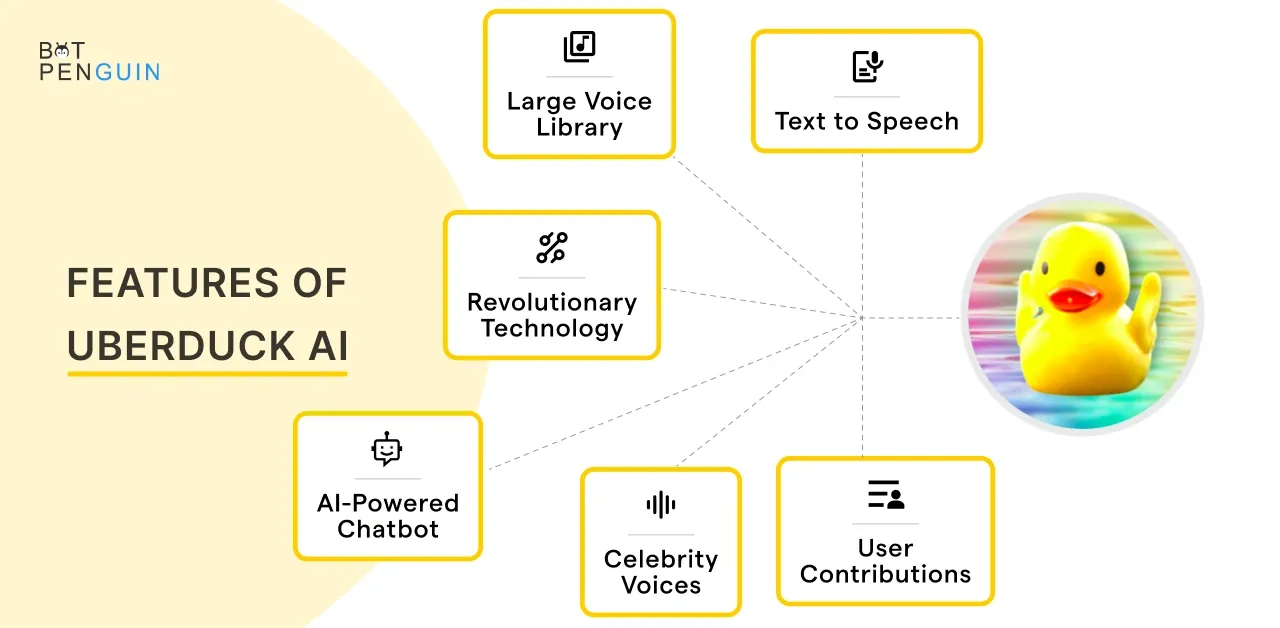 User contributions
Uberduck AI's community has expanded over the years, with numerous contributors developing and submitting their sound data for evaluation. It has helped improve the voice library's quality and diversity, ensuring users access the best and most relevant voices.
Revolutionary technology
Uberduck AI's innovative technology has revolutionized the voice-to-text industry, providing users a faster, more accurate, and more efficient communication method. It has made the process of generating human-like voices more accessible, allowing developers and users to create applications with a greater level of customization and personalization.
Endless possibilities
With Uberduck AI's extensive library of diverse voices, users have endless possibilities for building applications. This feature ensures that users can find the perfect voice for their needs, whether creating a chatbot, virtual assistant, or any other application requiring a human-like voice.

How to use Uberduck AI?
Uberduck AI is relatively simple to use. However, the users should be familiar with its interface as well as how it operates
Let us go through them quickly:
Go to Uberduck AI

You must register with a Gmail or Discord account to access these features.

After registration, head to the main screen.

Choose your desired voice artist and enter a text.

Click synthesize.

Voila! Your customized audio/video is ready!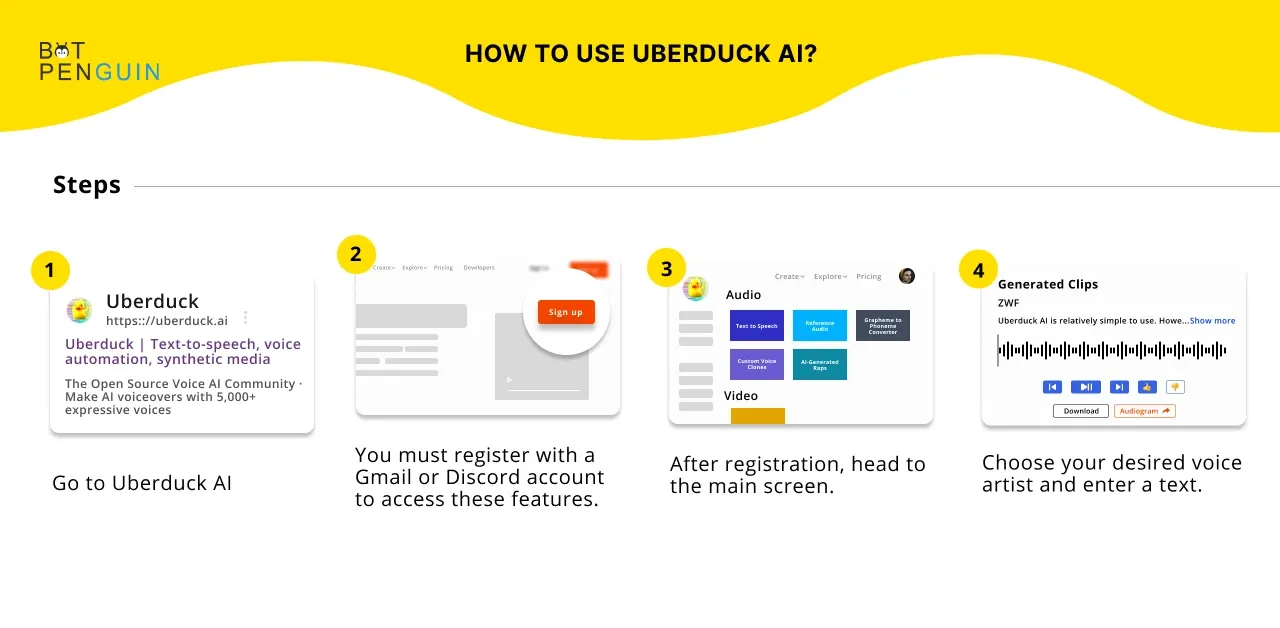 How to use Uberduck AI on TikTok?
To use Uberduck AI on TikTok, follow these steps:
Step 1
Log in with your computer or smartphone on the official uberduck.ai page.
Step 2
Sign up with a Gmail, Discord, or uberduck.ai account.
Step 3
Choose a voice actor after entering the text to be synthesized.
Step 4
Choose "Synthesize" from the menu.
Step 5
When you receive your synthesis file, listen; if you like it, download it as an mp3 file.
Step 6
Upload the file to TikTok.
Following these steps, you can use Uberduck AI to help you create more engaging content on TikTok.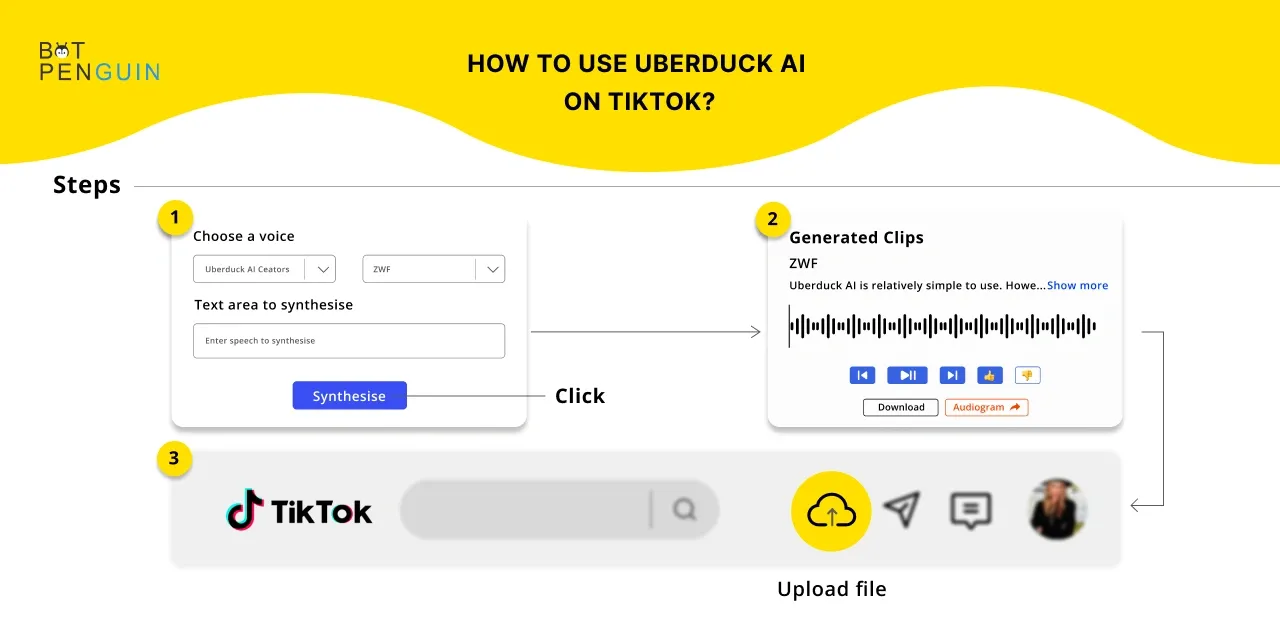 Pricing of UberDuck AI
Uberduck AI has four pricing plans:
Free
4,000+ voices

10 text-to-image renders

5 saved audio clips
Creator ($10/month)
4,000+ voices

Unlimited text-to-image renders

Unlimited saved audio clips

Commercial use Uberduck Studio voices
Clone ($25/month)
Creator plan +

Clone your face or voice

Choose your models—Singing voice (+$25), natural voice (+$25), and image clone (+$25)
Enterprise ($300/month)
Clone plan +

Bulk voice clones

Templated audio generation

Lowest latency

Interactive voice bots

Twilio integration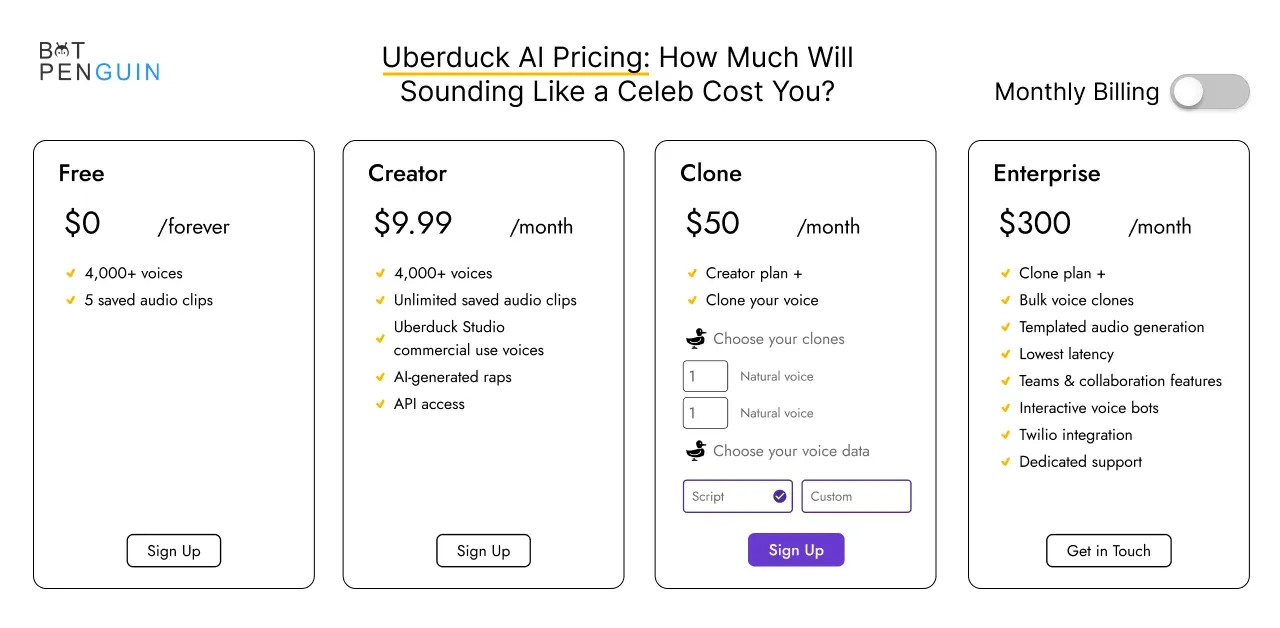 Alternatives to UberDuck AI
While Uberduck AI is a fantastic choice for many, several other options provide distinctive features and capabilities.
The top 4 Uberduck AI alternatives for 2023 are listed below:
Amazon Polly
This cloud-based text-to-speech Service offers a range of realistic voices in various languages.
Amazon Polly enables audio personalization with capabilities like speech markings and dynamic range compression.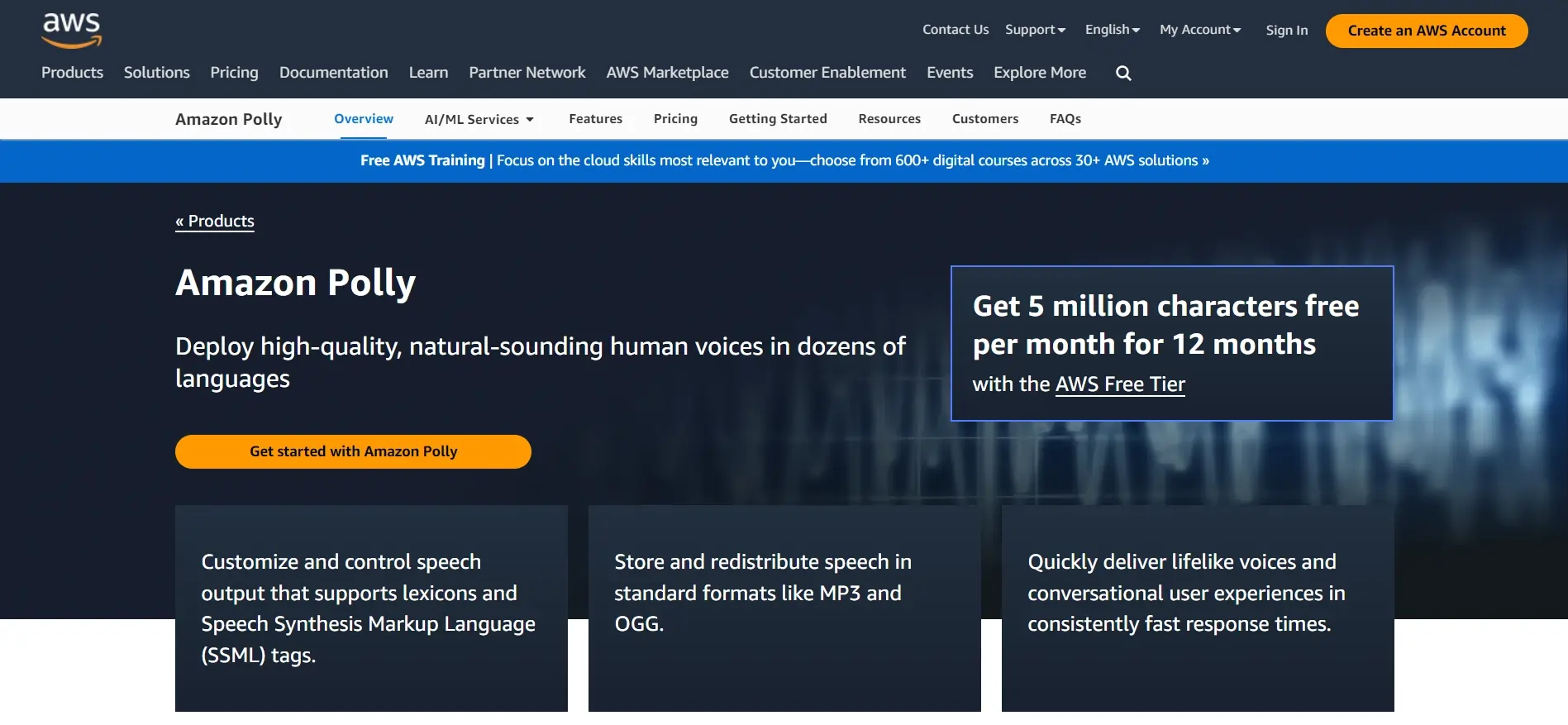 Google Cloud Text-to-Speech
Another cloud-based service that employs AI to produce voices with realistic tones is Google Cloud Text-to-Speech.
It is compatible with a wide range of applications and systems. It offers a selection of voices in various languages.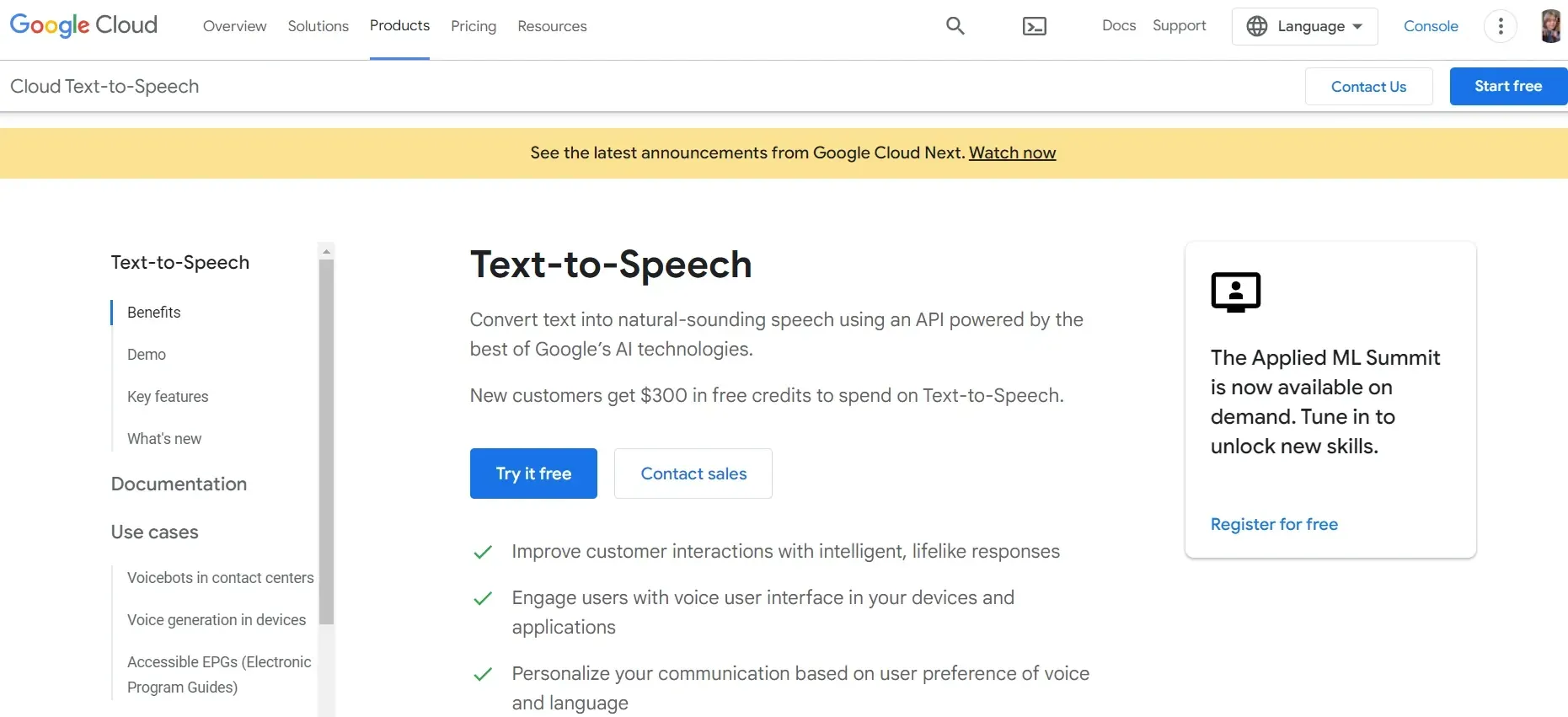 Listnr
The best UberDuck alternative with voice customization features is Listnr.
It enables users to produce distinctive voices tailored to them that can be utilized across numerous platforms and applications.
With Listnr, you can customize your voice to make it unique by adjusting tone and pitch and even adding effects.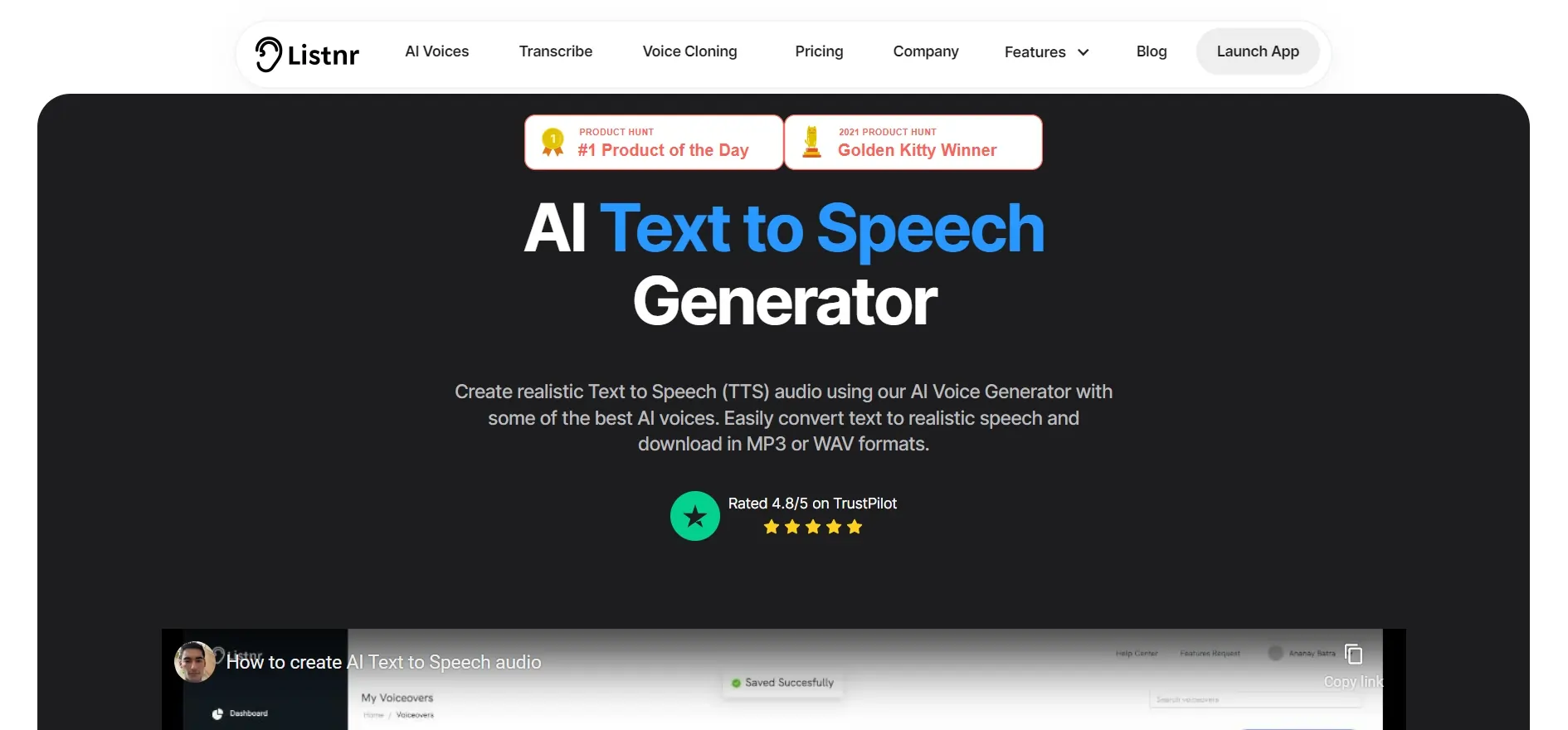 Murf.ai
Murf.ai is a text-to-speech program that uses artificial intelligence to produce realistic voices.
It has sophisticated voice modification tools that let users change their voice's tone, pitch and even add effects.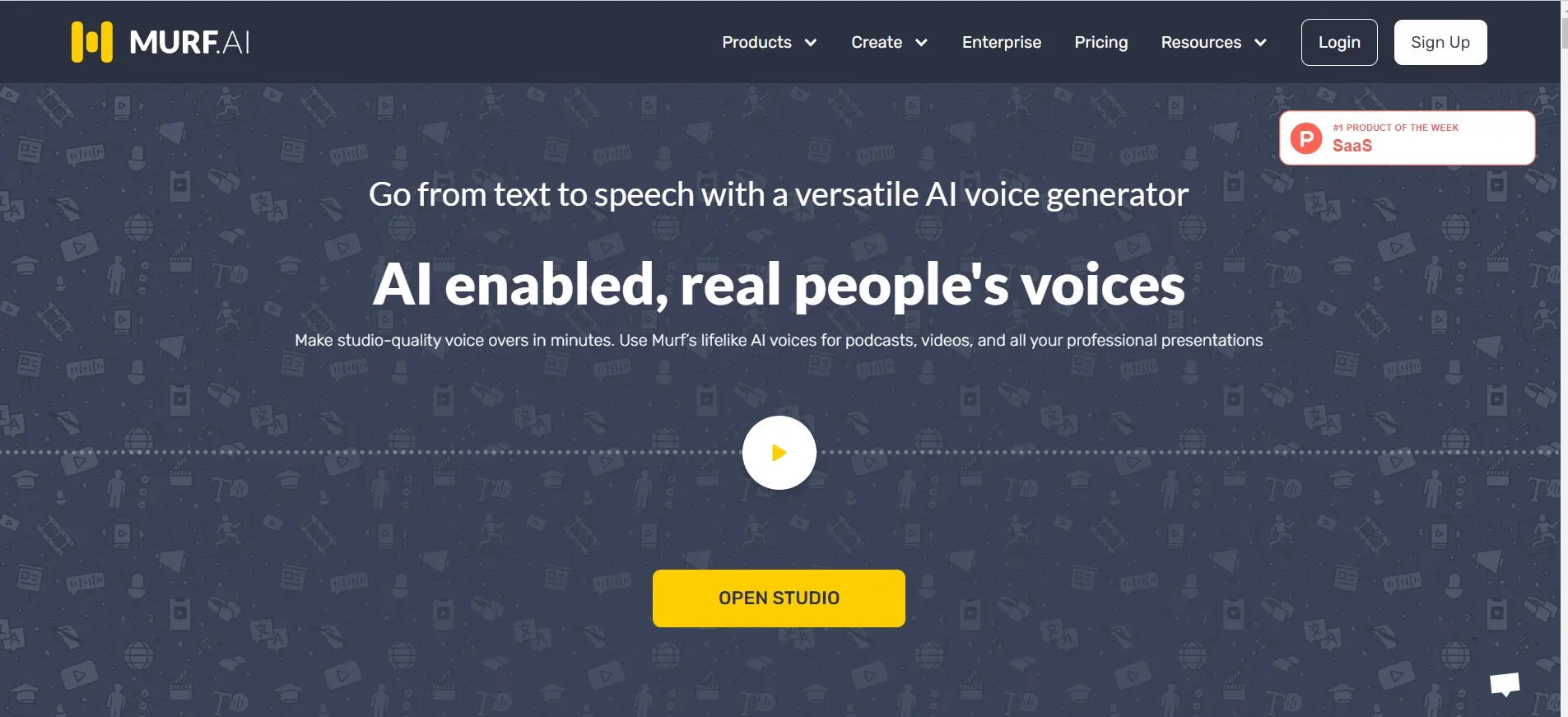 Conclusion
In conclusion, this comprehensive guide has demonstrated the fascinating possibilities of AI-powered technologies like Uberduck in reshaping your TikTok content.
Uberduck is useful for businesses and influencers trying to improve their TikTok videos due to its cutting-edge capabilities and simple UI.
Nevertheless, you might want to check out BotPenguin if you're seeking an even more sophisticated AI-powered solution to optimize your business across numerous platforms.
BotPenguin helps you build intelligent chatbots that can help with customer service, lead generation, sales, and more.
With its user-friendly interface, you can easily customize your chatbots in minutes without any coding skills required.
Hurry up! Try BotPenguin for free today!
Frequently Asked Questions
Can Uberduck AI be trusted?
The security and privacy of its users are highly important to the Uberduck AI platform, and all data processing is done securely.
Therefore, users can rely on Uberduck.ai to meet their needs for speech automation in a secure and trustworthy manner.
What are alternatives for Uberduck AI?
As listed in the blog, here are some alternatives to Uberduck AI
Amazon Polly

Google Text to Speech tool

Listnr

Murf.ai
What is the usage of Uberduck?
Uberduck AI, like many other text-to-speech tools, can be used to create well-known voices for content development.
You won't need to speak while creating content for presentations or soundboards since you can just write the text and create the desired sound.
Can Uberduck AI be used for commercial purposes?
Yes, you can use Uberduck AI commercially. The premium packs allow you to use a library of more than 5,000 voices. Over 4,000 such voices are usable in the free version.
Who is the founder of Uberduck AI?
Zach Wener is the founder of Uberduck AI.
Is Uberduck AI royalty-free?
The majority of the voices in the Uberduck AI library are royalty-free. It can be used for personal and commercial purposes.
Is Uberduck open source?
Uberduck.ai is a fantastic service if you're seeking an online text-to-speech audio application that works flawlessly.
It is an open-source speech AI community that supports creation and collaboration.
How does Uberduck AI work?
The immersive audio chatbot Uberduck is built on WebRTC and uses a transformer model to generate text responses before turning them into audio.
By engaging with the generative ML models, this online software operates by generating a virtual assistant via neural voice synthesis to enhance human creativity.
Can you delete your Uberduck account?
You can simply stop using the Service if you want to cancel your account.
The Conditions' ownership clauses, warranty exclusions, indemnity, and liability restrictions are only a few of the clauses that must survive termination by nature.