You've probably heard of the Uberduck AI if you've ever wondered how rap performers manage to make their songs sound authentic. This software develops a virtual assistant using artificial intelligence, including neural voice synthesis. Its objective is to interact with generative machine learning models to enhance human creativity.
The infamous GIFs of rappers were created using this technique, which has also been featured in commercial videos.
What is Uberduck AI?
This application uses neural voice synthesis to create a virtual assistant. It enables you to read your writing as a celebrity, a transformer, or a fictional character. Everyone enjoys receiving letters from their favorite characters on television or in movies.
For you to hear the voice of the artist you want to listen to, Uberduck AI voice takes care of the specifics. When a sentence is finished, you can input it into the program, and it will imitate it being said in the tone you specify.
The past and the present
A group of students created the "Uberduck" software in late 2020, transforming the text into speech. This artificial intelligence tool has gained popularity because it enables users to convert text into speech using a famous voice. Even celebrities' voices are available in the library, and users can add their sounds. It is hard to identify the voice because it has been recorded and transcribed.

BotPenguin offers chatbot creation for social platforms, websites, wordpress along many different features:
Even though many people are dubious about the uberduck AI, it is worth experimenting with. Users of the free Uberduck AI voice program can record or modify the voice of a famous person, a cartoon character, or other individuals. It has taken off on TikTok and gained popularity as a video voiceover replacement.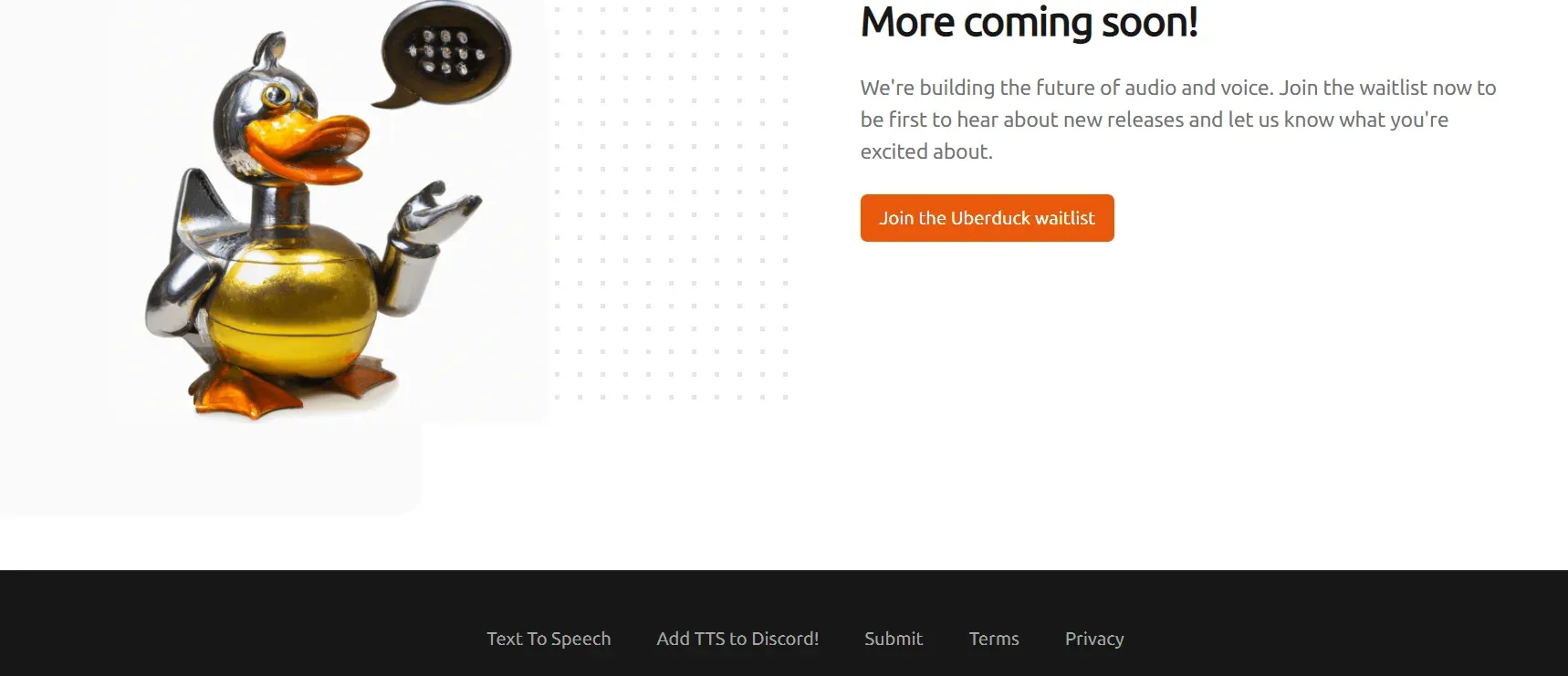 As a result, people began making amusing "covers" for the well-known AI program. With the popular text-to-speech tool Uberduck AI, users may choose from various prominent voices to convert text into speech. Among these voices are those of Mickey Mouse, Nicki Minaj, and Kanye West.
Text can be converted into speech by the uberduck voice AI. You can hear diverse voices and famous people on the platform.
A person can produce the voice of an actor. You can upload an actor's avatar with an actress's voice.
You can also upload a celebrity's voice to the Uberduck if you'd rather listen to them.
Since its late 2020 launch, Uberduck AI has gained popularity as a tool for creating viral sounds.
Despite specific concerns regarding AI, the field's advancement has generally been for the better. With the aid of the AI community, it has even inspired a new generation of viral sound videos. However, Uberduck's developers are dubious about the Uberduck voice AI's ability to imitate human speech. The results are hilarious, and the app is a terrific way to distribute original content.
What makes Uberduck AI so cool?
It is widely known that the software used in Uberduck voice AI is among the best at producing excellent results. The best of both worlds and sound-based ingenuity are well-represented in this work.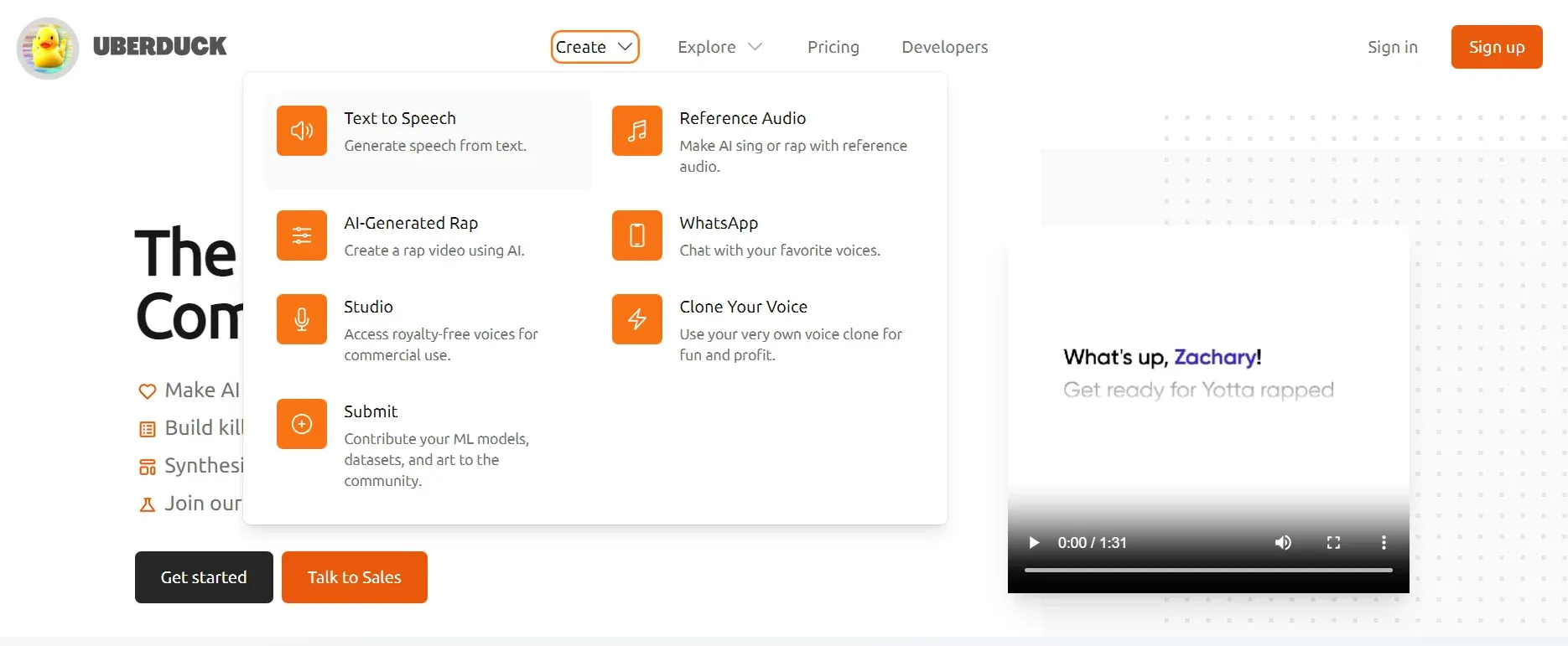 The Uberduck voice AI is based on AI technology; therefore, you can expect results in a short amount of time. The Text-to-Speech feature of this app uses Uberduck AI voices; however, there is scope for enhancement.
In addition, it provides several helpful features for voice-based development. Also, the app's creators assert that people could have a range of accents and learn a new language.
The Mechanics behind the excellent AI
Turning text to speech
You can hear a variety of sounds and personalities on the website.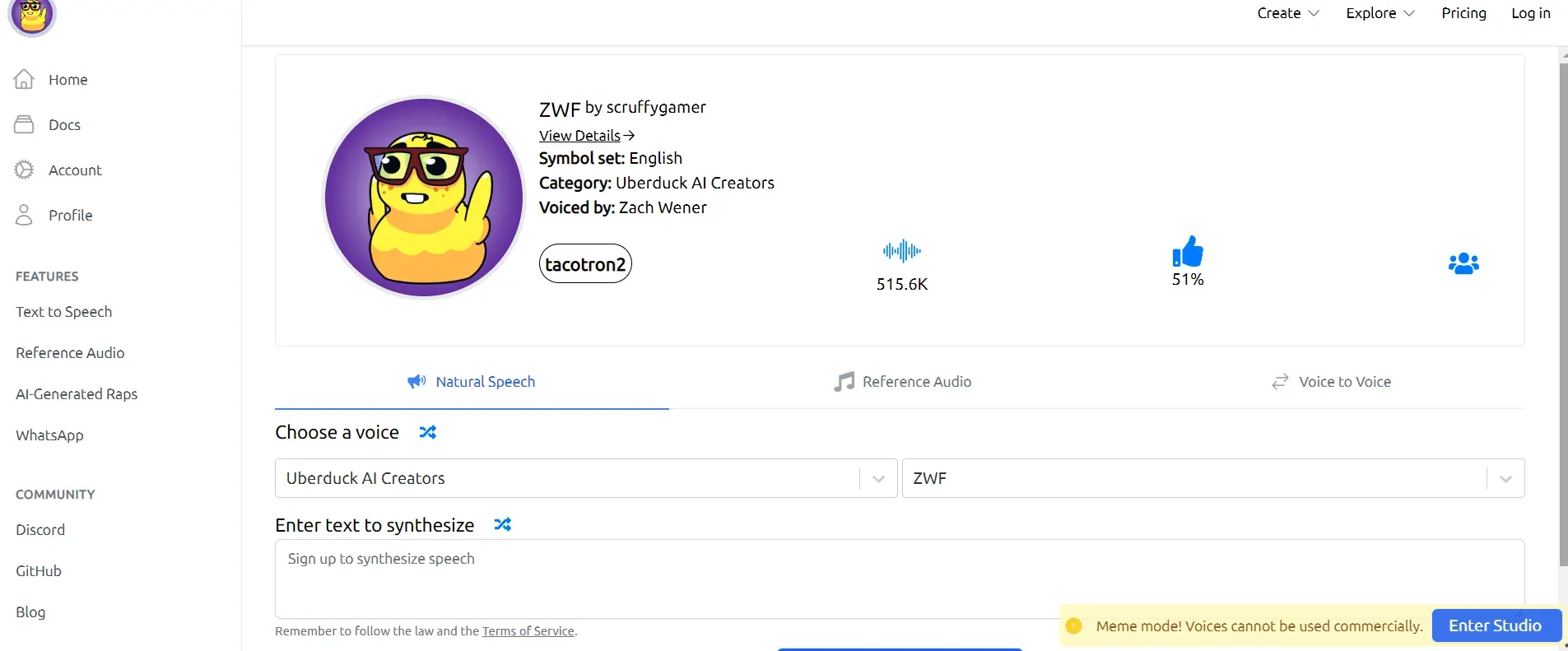 A single person can mimic an actor's voice, and the actor's avatar may employ the voice of an actress. Uberduck lets you quickly hear your favorite musician's or actor's voice!
Viral Marketing Tactic
Voice commands are translated into text using artificial intelligence in this way. What is cooler is that Uberduck AI's celebrity voice cast is constantly growing. You can use your famous status to your advantage by recording and distributing your voice. With the help of this program, a person changes the voice of an actor or rapper. This artificial intelligence tool is becoming increasingly popular among the younger generation.
The sky is the limit
Everything you do with it is up to you. According to its creators, a person's accent can alter. The ability of this program to teach users a new language from the beginning is one of its most crucial characteristics. Users can also modify their voices thanks to a feature provided by the app's developers.
Uberduck AI Pricing
The free plan lets you use a video editor, 2,000+ voices, and a throttled API.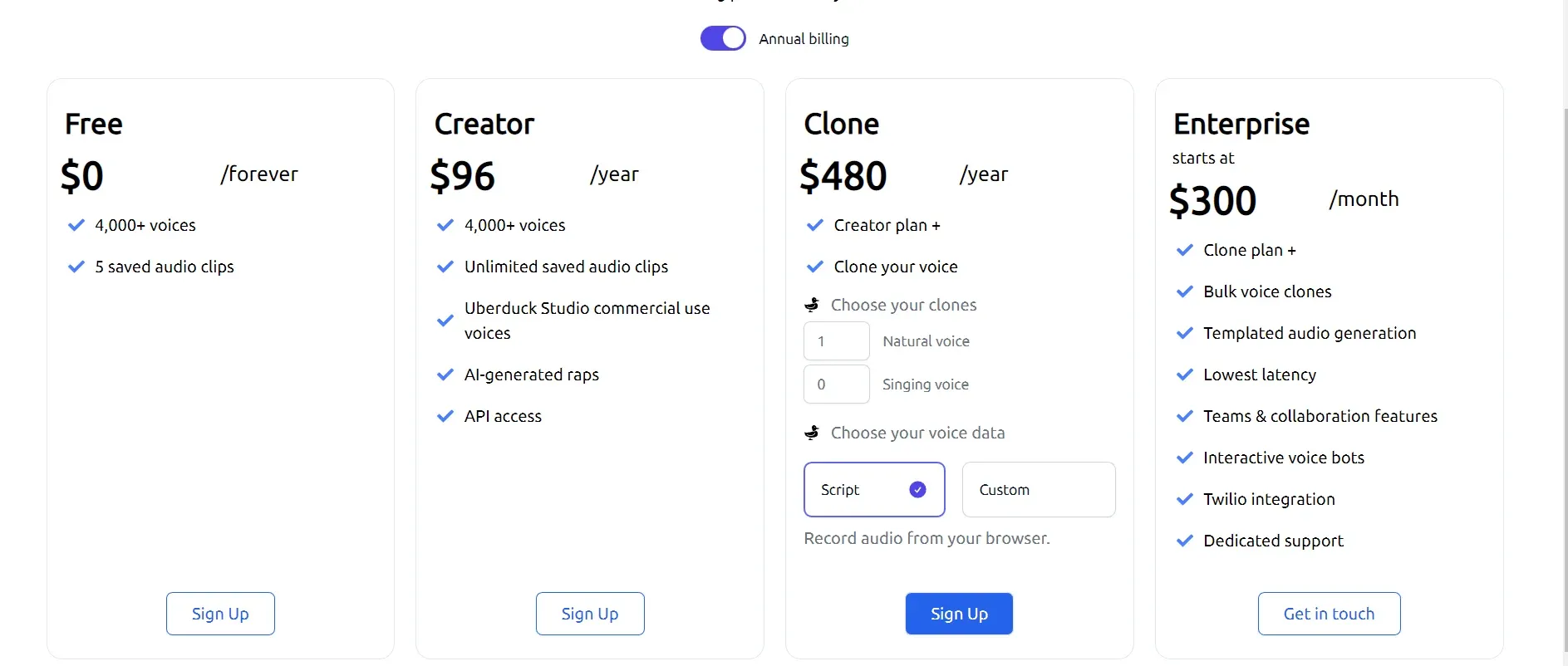 Creators Plan gets unthrottled API with a monthly starting price of $10. Additionally, it provides 2,000 Fastlane priority renders per month for Commercial usage voices. The producers are free to produce videos without watermarks.
Clones: The Clone plan, which includes a Creator plan plus a feature, costs $25 per month. It allows you to clone your voice and use it wherever you want.
How to use Uberduck AI?
Utilizing Uberduck.ai is not challenging. Follow these steps to produce voices:
Step 1
Go to the Uberduck.ai official page for additional information.
Step 2
Register on this website to use it.
On the uberduck website, you must first create an account and synthesize your voice.
On the webpage, scroll down to the "register for speech synthesis" button.
There are three ways to register:
Sign up for an Uberduck account by filling out the form.
Sign up using your Discord account.
Sign up with your Google account.
Step 3
Verify your email address once more.
However, as soon as you register, you'll consent to receive a verification email.
Discord works with Uberduck AI!
Step 1
Go to the uberduck.ai website.
Step 2
Click on, "Join Discord," to continue
Step 3
Enter your password and Discord account email address or phone number.
The fourth step will prompt you to grant access to your Discord server. Once you have the authorization, you can log in to Uberduck voice.
Although Uberduck voice AI is secure, I highly suggest you only use your discord account when necessary.
You can create an account on the website, which you may then use to log in.
Discord was a login option previously; however, three additional options are now available.
Use Uberduck on Tiktok.
Step 1
Sign in on the official uberduck.ai page using your phone or computer.
Step 2
Sign up using a Gmail, Discord, or an uberduck.ai account.
Step 3
Select a voice actor in the text field and enter the text you want to be synthesized.
Step 4
Click the synthesize button.
Step 5
After receiving your synthesis file, listen to it, and if you like it, download it as an mp3 file.
Step 6
ET Voila! You can now use Uberduck AI voice with TikTok videos.
Is Uberduck AI Safe?
Uberduck AI seems secure; however, even if it looks safe, one never knows what risks may be from hostile hackers.

It is therefore advised to log in with your Gmail or Discord ID. Because if you attempt to sign in using your Gmail or Discord ID, you will be asked to allow access to your account.
I recommend making a brand-new account on uberduck.ai and signing in there rather than using your Gmail or Discord credentials.
Uberduck AI alternatives?
Well, as they say, you can copyright a product, but you cannot copyright an idea. Therefore we get many options to Uberduck ai like clash.me, speechify, swifttalker, verbose, and TTS reader, to name a few. They might not be on par with Uberduck AI voice, but they still work perfectly!
Conclusion
With the aid of this program, actors, actresses, and even musicians can have their voices simulated. Due to its many applications, this program has gained popularity. A recent influx of YouTube videos employs the Uberduck language tool to produce fun online entertainment. You can speak as a different character with the application. You can also use this software to create the voice of a famous actor or singer. The cherry on top of the sundae is that everyone has easy access to the Uberduck AI voice, free of cost.

Create Your Own Chatbot with BotPenguin

Frequently Asked Questions
What is Uberduck AI?
Uberduck AI is an innovative Artificial Intelligence (AI) platform developed by Uberduck.ai, a technology company that specializes in creating intelligent solutions for businesses. The platform is designed to help businesses leverage the power of AI to automate their operations, enhance their decision-making process, and increase their profitability.
What are the features of Uberduck AI?
Uberduck AI offers a range of features, including natural language processing, predictive analytics, image recognition, and recommendation engines. The platform is also designed to be customizable, allowing businesses to tailor it to their specific needs and requirements.
How does Uberduck AI work?
Uberduck AI works by utilizing advanced machine learning algorithms to analyze data and generate insights that can be used to improve business operations. The platform can be integrated with various business applications and systems to automate tasks, improve workflows, and enhance customer experience.
Is Uberduck AI easy to use?
Yes, Uberduck AI is designed to be user-friendly and intuitive. The platform offers a range of tools and resources to help businesses get started, including tutorials, training materials, and customer support.
Is Uberduck AI free to use?
The cost of using Uberduck AI varies depending on the specific needs and requirements of the business. The platform offers flexible pricing options to accommodate businesses of all sizes and budgets. However, there is no indication that Uberduck AI is available for free. To learn more about the pricing options, businesses can visit the Uberduck.ai website or contact the company directly.
Is Uberduck AI safe?
Yes, Uberduck AI is designed to be secure and compliant with industry standards and regulations. The platform uses advanced security measures to protect user data and prevent unauthorized access.
What is the implementation process for Uberduck AI?
The implementation process for Uberduck AI varies depending on the specific needs and requirements of the business. Typically, the process involves integrating the platform with existing systems and applications, configuring it to meet the business's needs, and training employees on how to use it.
What are the benefits of using Uberduck AI?
Some of the benefits of using Uberduck AI include improved efficiency, reduced costs, enhanced decision-making, increased productivity, and better customer experience. The platform can also help businesses stay ahead of the competition by providing them with insights that can be used to make data-driven decisions.
Related Articles: Uberduck AI : Pros, Cons and Alternatives