Podium Review: Introduction
Every business has a way of communicating with its customers, but the methods and channels used vary greatly. Some businesses rely on social media to reach their audience, while others prefer phone calls or in-person interactions. For local businesses, one of the best ways to communicate with customers is through online reviews. Customers can rate their experience with a local business through a variety of online channels, such as Google My Business, Yelp Or Facebook Local Business Pages. They can also do so with the help of Podium. Continue Reading and we'll give you a complete podium review.
When it comes to online reviews, the results can be mixed. Some businesses see great success from their reviews and have a loyal fan following that will remain for years; other companies may only receive negative feedback that threatens to put them out of business altogether.
Regardless of whether you are receiving positive or negative reviews, there is no doubt that managing your online reputation is an important part of running a business in today's world.
A good reputation management tool will help you monitor and manage all of your reviews from one place and send automated messages to your customers asking them to leave you feedback.
Podium Review: How can you create a good online reputation?
Meet Podium!
Podium is a customer communication platform that helps businesses manage their online reputation, generate more leads and increase sales. They have gathered reviews from over 60,000 businesses and 4 million customers.
Podium has helped more than 1 million people improve their customer service. They help you manage your business's reputation with tools like review management software, which lets you respond to Google, Facebook and Yelp reviews all in one place.
You can also collect valuable feedback and get new reviews quickly with our interactive text messaging platform. It helps you get more reviews in less time by making it easier for customers to leave feedback directly on Google and other review sites.
They are also constantly improving their product to help you grow your business. With the launch of Podium Webchat, They are helping businesses enhance their customer service experience with live chat and messaging features that generate more leads and increase sales.
Podium Review: How Does it Work?
Podium is a platform that allows businesses to receive, manage, and respond to customer reviews through text messaging, email, and online.
Podium's mission is to simplify the way businesses and customers communicate. They believe the future of communication will be dominated by texting. That's why they created Podium Webchat. It makes it easier for businesses to get more leads, convert them into customers, and keep them coming back for more.
It helps businesses generate more leads with a web chat tool that integrates with their website. They can send automated follow-ups via text or email after chat conversations, which helps them grow their customer base and improve customer loyalty.
Here is a scenario for you to better understand how Podium works:
When someone texts your business phone number, the conversation automatically gets routed to the Podium Web application. The conversation can be managed right there in the dashboard.
From there, you can reply to customers or assign conversations to other team members. You can also set up automated responses to common questions and integrate them with other software. For example, you can send receipts directly from Podium if you're using Square for payment processing.
Suppose a customer wants to message over Facebook Messenger, head over to your Facebook page and hit "Messages" in the top bar. The entire chat history is synced in real-time between the two platforms.
All you need is a verified business page on Facebook. Once a customer has started a conversation with your business on Facebook, they'll also have an option to text your business phone number right from Messenger using Podium.
That's it, simple and easy!
Podium Review: Benefits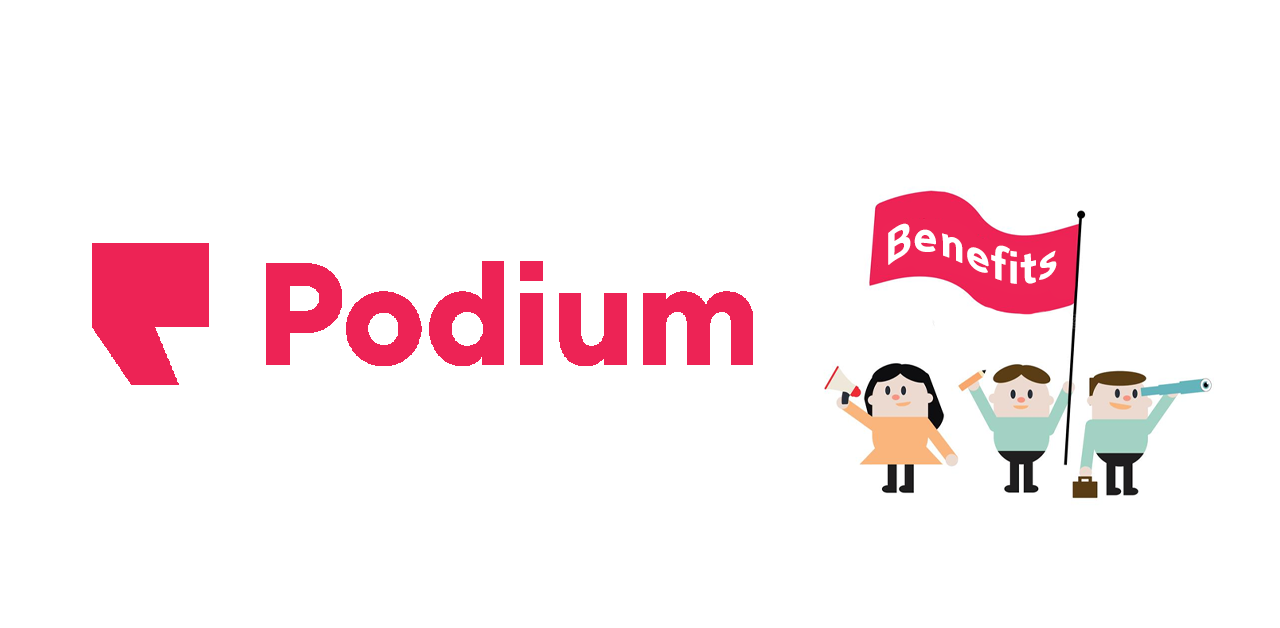 Podium WebChat
Webchat lets users connect with your business in real-time. They can also message you when you're offline and you'll receive the message via email or text, so you can respond as soon as you can.
Users are more likely to book an appointment with a business after they have a conversation with someone from that company. Webchat makes it easy to reach out and get their questions answered.
Webchat is a great way for businesses to reach out to customers at scale because there's no limit on how many conversations your team can start. With Facebook Messenger and SMS, customers can only message your business, but Webchat allows both parties to chat.
How is Podium's Webchat different?
Podium's Webchat is a game changer. Businesses can communicate with customers the same way customers would communicate with friends and family on their devices.
Online shoppers have widely adopted Webchat and this platform is becoming the most preferred option for customer service. It is no coincidence that Podium's Webchat was recently introduced after months of research and development. This feature was designed for businesses to use as a tool to engage with their customers, grow their businesses, and ultimately make more money.
Text Marketing
Text your customers after their purchase to keep them informed of their order status. Send shipping confirmation texts with real-time tracking information, and notify customers when their delivery is on the way.
With Podium's text marketing software, you can also send automated text messages to upsell customers and remind them about your loyalty program. If a customer has an issue, they can easily reach you for help through a text message for a quick resolution.
Texting your customers helps you build relationships, create positive experiences and increase the chance of repeat business and referrals. So building relationships with your customers positively impacts your bottom line. 90% of text messages are read within three minutes. That's how you know that your message won't get lost in a crowded inbox or spam folder.
If you're managing busy customer service teams, it's also easy to assign responses within Podium Webchat so that nothing falls through the cracks.
Video Chat
Video Chat is a great tool to have on your website because it allows you to connect with customers in real-time and answer their questions.
Podium Video Chat is a video chat platform integrated with the Podium Webchat feature, so you can continue to communicate with customers after they leave your website.
Furthermore, all of your chat transcripts are saved in the same place as your Webchat conversations, so there is no need to compile data from multiple sources. With Podium Video Chat and Webchat, you can offer customers a complete experience that lasts beyond their initial contact with your website.
Podium Review: Drawbacks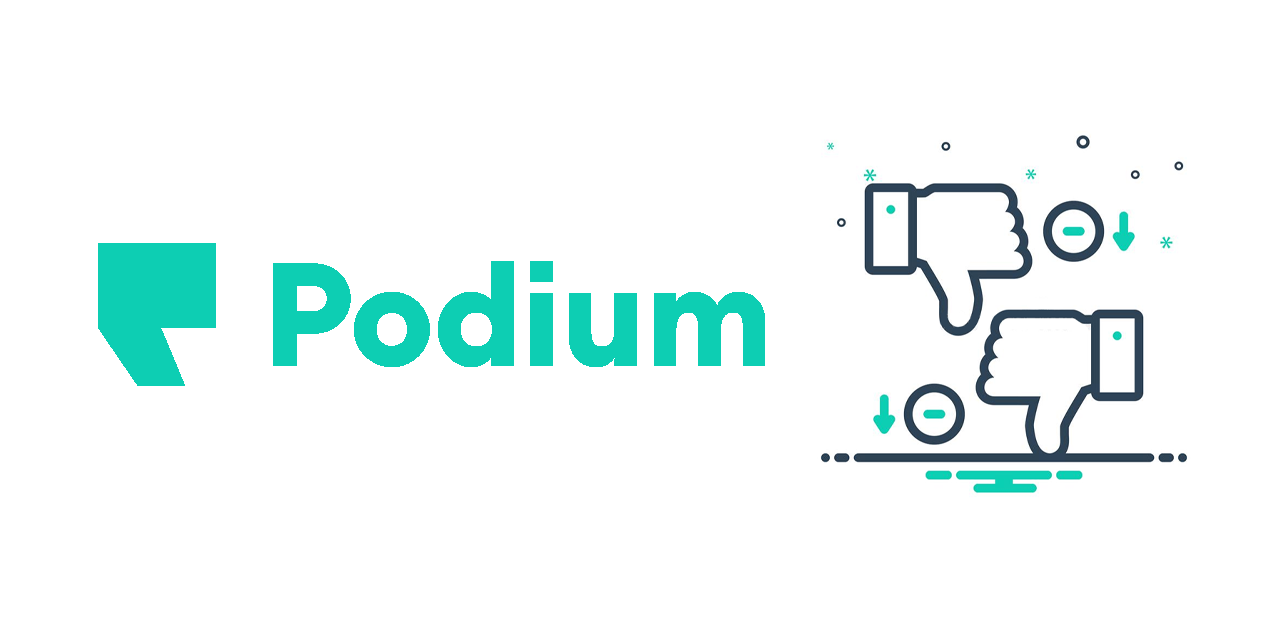 Not fully effective in collecting reviews
If you use Podium for your business, you can expect reviews. And that's great. But you can't expect all of your customers to leave reviews, which means that Podium may not be as effective for getting feedback from more reluctant customers.
Pricing may not suit every business
If you have a smaller customer base and are concerned about the volume of reviews you'll get, Podium's pricing model may be a concern. You may want to start at the lowest plan and see how many reviews you get before leaping up to a higher-priced plan.
Limitations on the user base
Podium also has some limitations on what type of businesses can use it. You must have an active Google My Business account to start using Podium. If your business doesn't have a Google My Business account, it's worth setting one up if you want to use Podium. This isn't a drawback of the tool itself, but it limits who can use it.
Podium Review: Pricing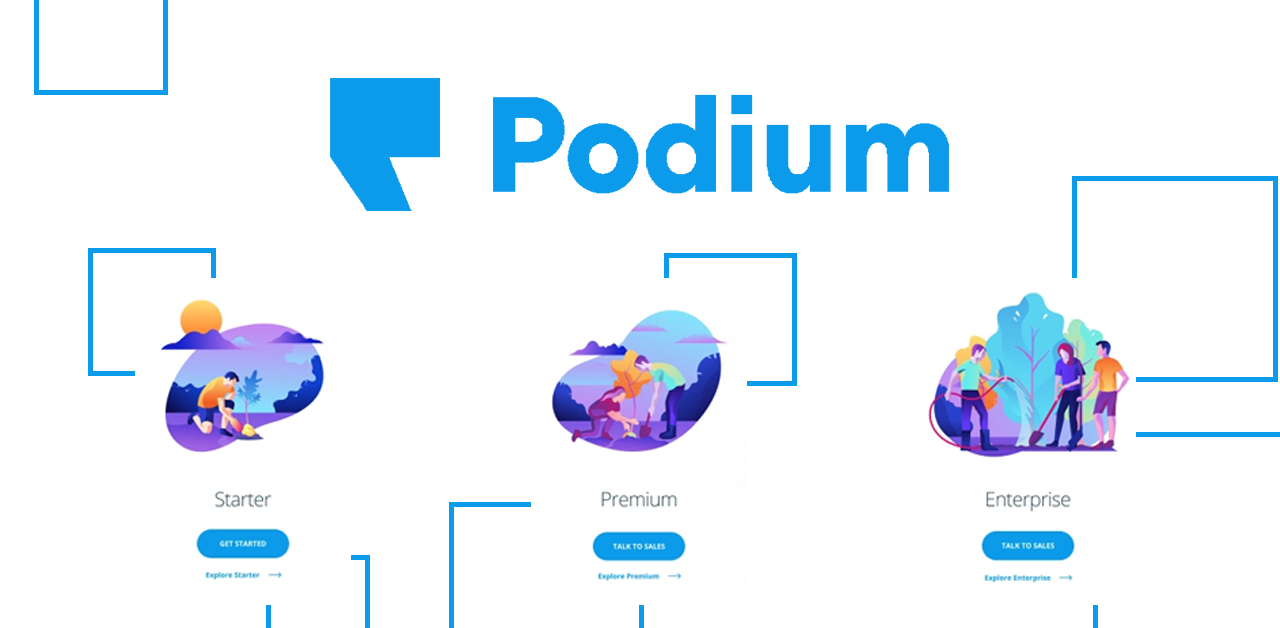 Trial
Podium offers a 14-day free trial with no credit card required. After your trial period ends, you can select the pricing plan that best suits your business needs. You're not locked into any contract so you can cancel at any time.
Podium Essentials
The Podium Essentials plan is $189 per month and provides the following features:
Unlimited text messaging
Automated Smart Texts
2-way texting between customers and employees
Text templates for common conversations
Review requests via text message
Monthly reporting on all review site reviews by location
Podium Standard
The Podium standard plan is $449 per month and provides the following features:
Unlimited Contacts
Unlimited team members
All of the benefits of the Essentials plan
Personalized setup & onboarding
Hundreds of app integrations
Website reporting & customization
Automated review invitations
Customized branding
Podium Professional
The Podium professional plan is $649 per month and provides the following features:
Unlimited Contacts
Unlimited team members
All of the benefits of Standard
Automations that streamline tasks
Round-robin lead routing
Personalized automated FAQs
Advanced payment options
Multimedia marketing messages
Podium Review: The Bottom Line
In a nutshell, Podium is a customer engagement platform that empowers businesses with messaging, reviews, Webchat and payments tools. Businesses use Podium to engage with their customers, manage their online reputation, and generate more leads.
They are a company that helps businesses improve their customer service experience by providing a mobile and web interface for customers to leave reviews and feedback. While many companies have tried to tackle this problem, few have done it as well as Podium.
If you have the resources to go for it, you should consider using Podium.
Related Articles: Podium, A Complete Guide: What is it and how does it work?