Business automation refers to the fusion of modern application development with business process management (BPM) and business rules management (BRM) to address the needs of a dynamically changing market.
Businesses used to be able to boost productivity and reduce expenses throughout the organization by simply automating procedures. BPM and BRM were significantly responsible for achieving this. Although BPM and BRM are excellent technologies, more is needed.
The key to thriving in the current market environment is digital transformation, which calls for collaboration between business and IT leaders.
How is BPA different from BPM?
Every time a routine company procedure is automated, business process automation occurs. BPA can be used efficiently in conjunction with broad business process management projects or as a stand-alone technique to increase productivity within your organization.
BPA can be used to assess and improve your process efficiency about those objectives continuously. At the same time, BPM is the approach that enables your organization to understand your end-to-end business processes more fully. BPM specifies and provides an infrastructure for all the business processes to be mapped and automated, making a BPA-plus BPM combo strong and difficult to adopt.
How does BPA work?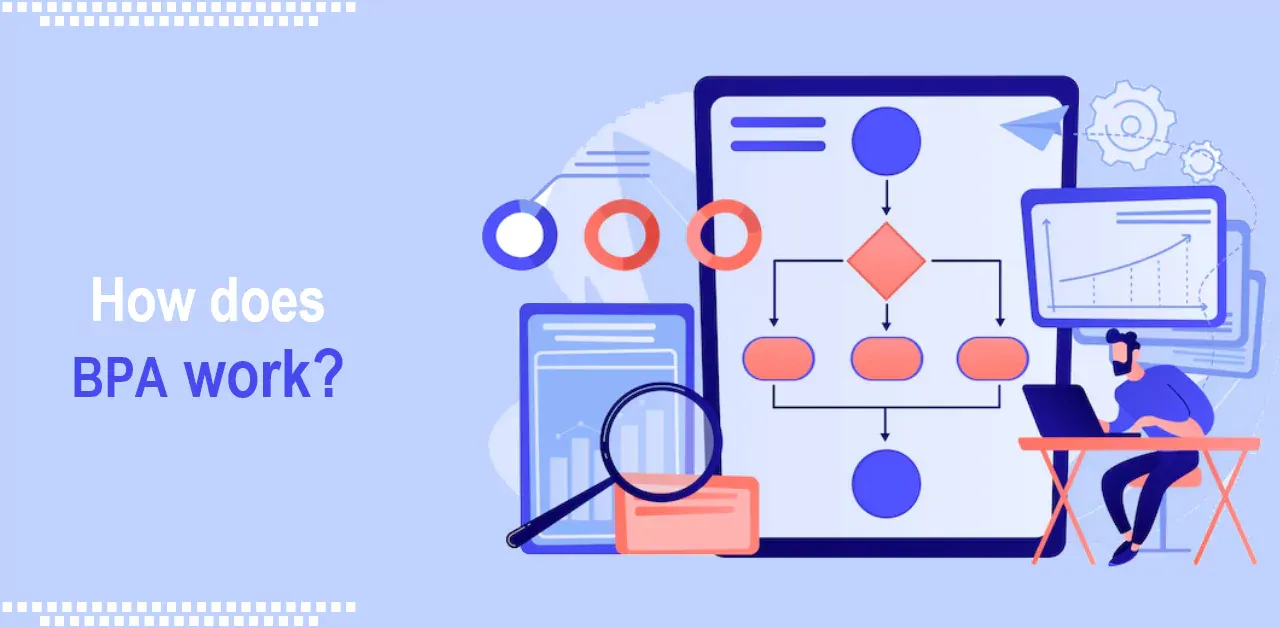 By extending your IT system, business process automation allows you to automate operations suited to your organization's requirements. Specialist businesses offer software solutions to find and then meet your organization's unique needs because adapting Automation can be expensive and time-consuming.
Artificial intelligence technologies are increasingly used in BPA solutions to help them comprehend and adapt to unstructured databases. Because the technology learns to deal with ambiguity and interact with user needs without the assistance of a technical expert, it enables a better user experience.
Why automate business processes?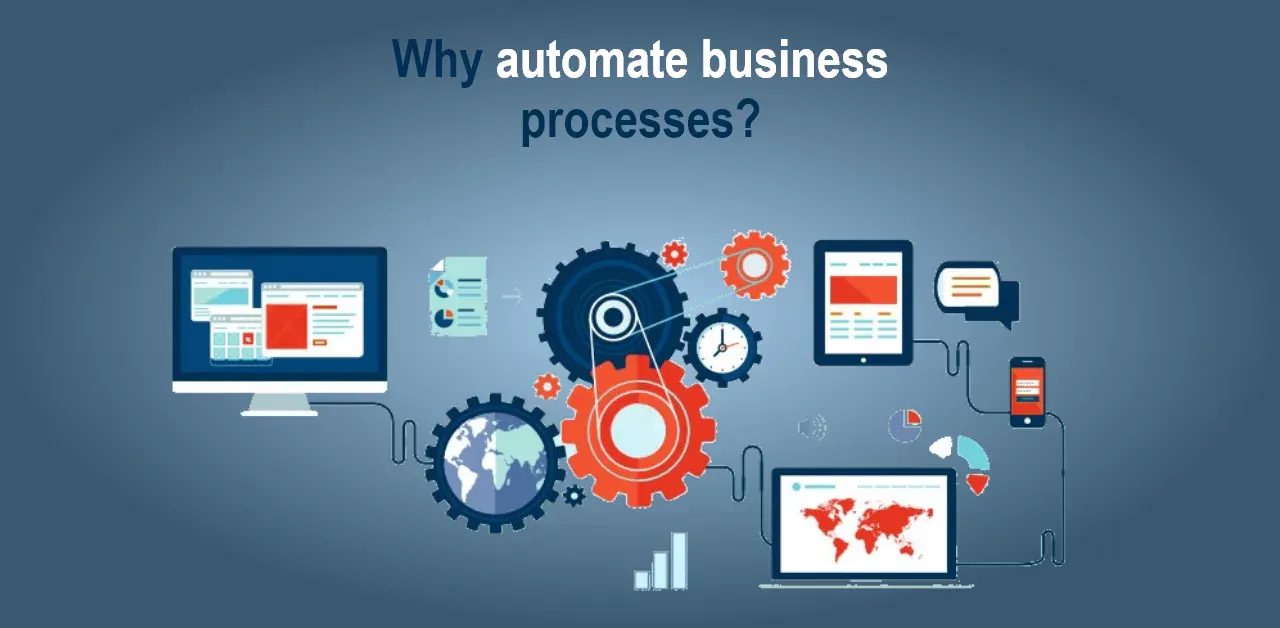 Henry Ford's moving assembly line, which debuted in 1913, pioneered the use of technology to automate commercial procedures. Ford's assembly line cut the time needed to make a car from more than 12 hours to a little over two and a half.
The same is done for modern corporate demands via business process automation software and apps, which reduce development and deployment processes from months to hours.
Automation of business processes carries on this tradition. It uses apps and software to streamline and accelerate difficult workflows while giving you visibility into and control over every step of the procedure. This frees you from routine so you can concentrate on what matters.
How does Automation improve Business Processes?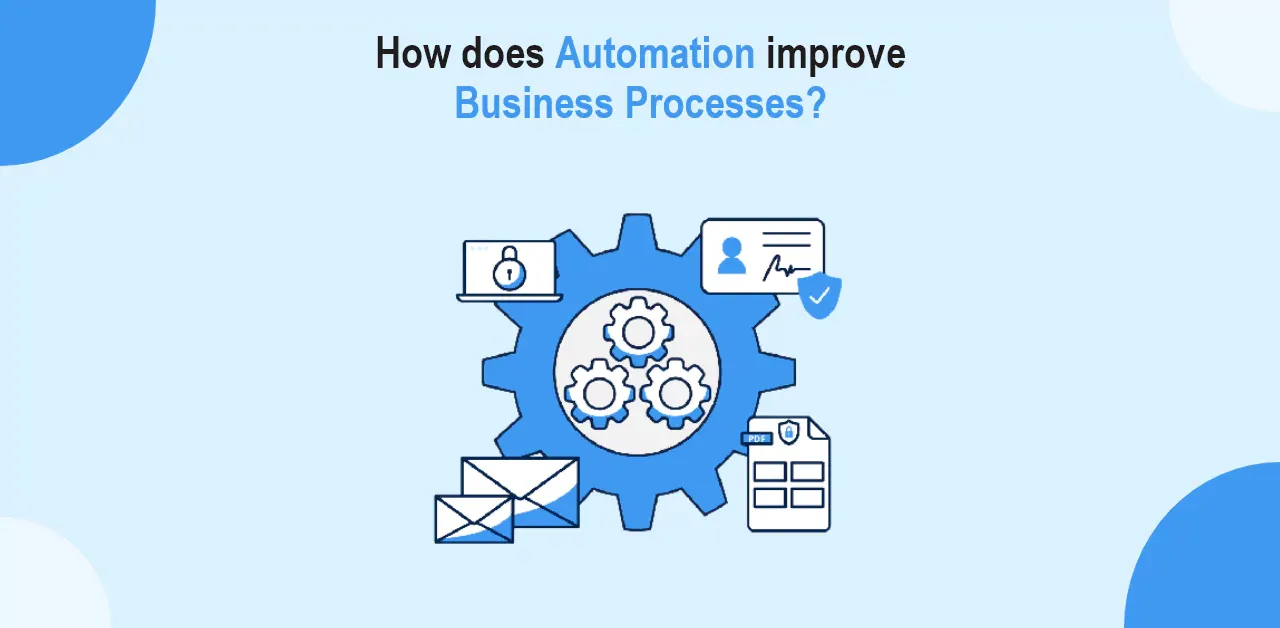 Gain better transparency and control
To always be aware of the status of your processes, Automation enables you to gather all workflow components onto a single dashboard. You keep the process under your thumb by controlling task reviews, approvals, access, and timelines. Business automation allows you to make educated decisions and communicate clear timelines to your stakeholders by streamlining the information gathered from all workflow steps. Know who is doing what, when, and what must occur next to achieve your objectives.
Speed up processes
Are you sick and tired of long email threads that bury the specifics of your workflow? Business operations that are automated take the role of manual, administrative, and paper-based tasks. The time and effort required for making copies, obtaining signatures, transferring documents, and processing paperwork are all necessary but redundant corporate tasks. Even minor mistakes in these workflows can be expensive, requiring organizations to spend time and resources repeating tasks while delaying stakeholders. Automation centralizes the process, which lowers human error and saves time.
Creative output and building relationships
The main goal of business process automation is to free up your time and energy so that you may concentrate on solving more complex problems. Automation involves collaborating with algorithms to manage corporate processes better so people can focus on higher-level activities, which is what people are best at. Your business will have more time and energy to attend to client needs. You can spend more on building relationships, and working on the next great thing if you allow Automation to speed up and simplify your normal procedures.
Time-Saving
Business process automation allows your staff to work more effectively and efficiently by saving time.
Employees can focus on work that needs critical thinking, creativity, or the personal touch while charging machines with completing routine, rule-based activities.
Increased Profits
While everyday operations are essential to the operation of every business, they do not add value for your clients. Therefore, manually carrying out these activities frequently results in lost revenue.
Businesses can boost their profitability with business process automation by giving routine tasks to machines and spending more time on tasks that benefit their clients.
Higher Productivity
The productivity of businesses that use technology to automate procedures rises as well. The primary explanation is that machines can simultaneously complete numerous tasks, speeding up operations.
Employees will complete more work simultaneously if they use technology to assist with some tasks.
Error Minimization
Even the most qualified and skilled workers err. Your employees' performance can be hampered by inattention, distraction, forgetfulness, and multitasking, especially when engaged in repetitive duties.
Computers are not human; they do not forget. They also never get bored or fatigued. Therefore, automating procedures greatly reduces the possibility of human error for businesses.
Better Standardization
Different employees frequently carry out identical processes in unique ways. But regrettably, these approaches aren't always the most effective.
On the other hand, automation solutions always adhere to the same procedures to finish tasks and always follow the guidelines you define. As a result, business process automation can assist you in standardizing procedures, obtaining repeatable outcomes, and enhancing organizational transparency.
Superior Customer Experience
For today's consumers, accessibility to goods and services quickly and conveniently is crucial.
Faster response times, data-driven personalization, and consistency across channels are made possible via business process automation. This enhances the client experience and assists businesses in standing out from the competition.
Conclusion
Business process management software (BPMS) is also developing as top BPM providers like Pegasystems, Appian, and others include RPA, AI, and low-code/no-code features.
Forrester Research has replaced the term BPM with DPA-deep and DPA-wide to reflect the development of BPM software. As a result of this rapidly evolving technology landscape, businesses must create what Forrester refers to as an automation framework that distinguishes between the various automation tools, weeds out the hype, and comprehends how to use them separately and together to achieve business process automation.