Chatbots are becoming increasingly popular in various industries, and for a good reason.
They offer a convenient and efficient way for businesses to interact with customers and provide information, support, and even sales.
As a result, there is a growing demand for chatbots, which presents an opportunity for entrepreneurs to get in on the action by reselling chatbots.
There are several reasons why investing in chatbot reselling is an intelligent move.
Why should you invest in chatbot reselling?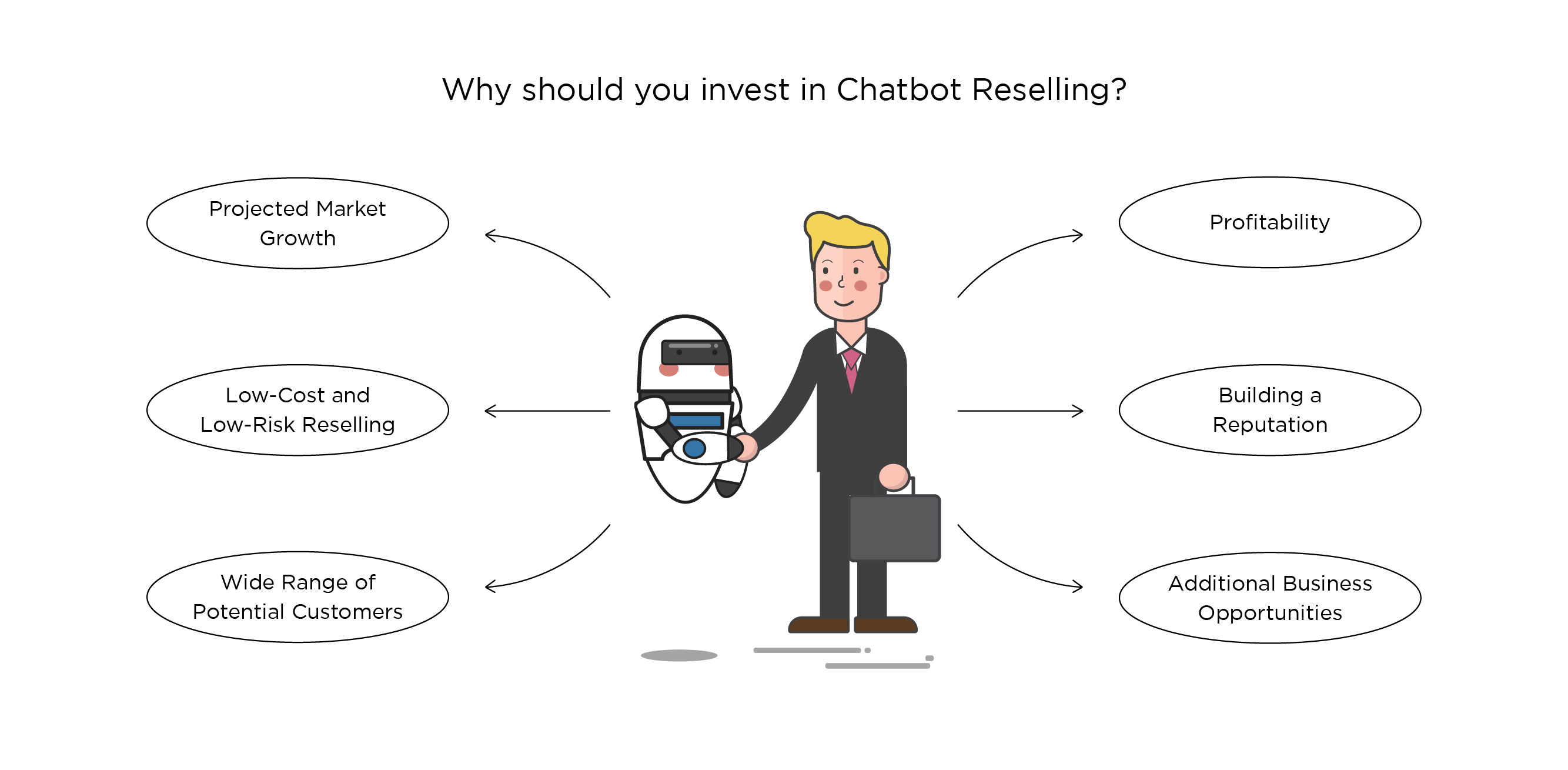 Projected Market Growth
According to a report by MarketsandMarkets, the global chatbot market size is expected to reach $9.4 billion by 2024, with a CAGR of 24.3% during the forecast period.
The increasing adoption of chatbots across various industries, including healthcare, banking, and retail, drives this growth.
Low-Cost and Low-Risk Reselling
Chatbot reselling is a low-cost and low-risk option for businesses looking to enter the chatbot market.
By partnering with a chatbot provider, you can eliminate the need for significant investment in research and development and reduce the risk of failure.
Wide Range of Potential Customers
Chatbot reselling allows you to tap into a wide range of potential customers.
Businesses of all sizes across various industries can use chatbots, including small and medium-sized enterprises (SMEs) and giant corporations.
Profitability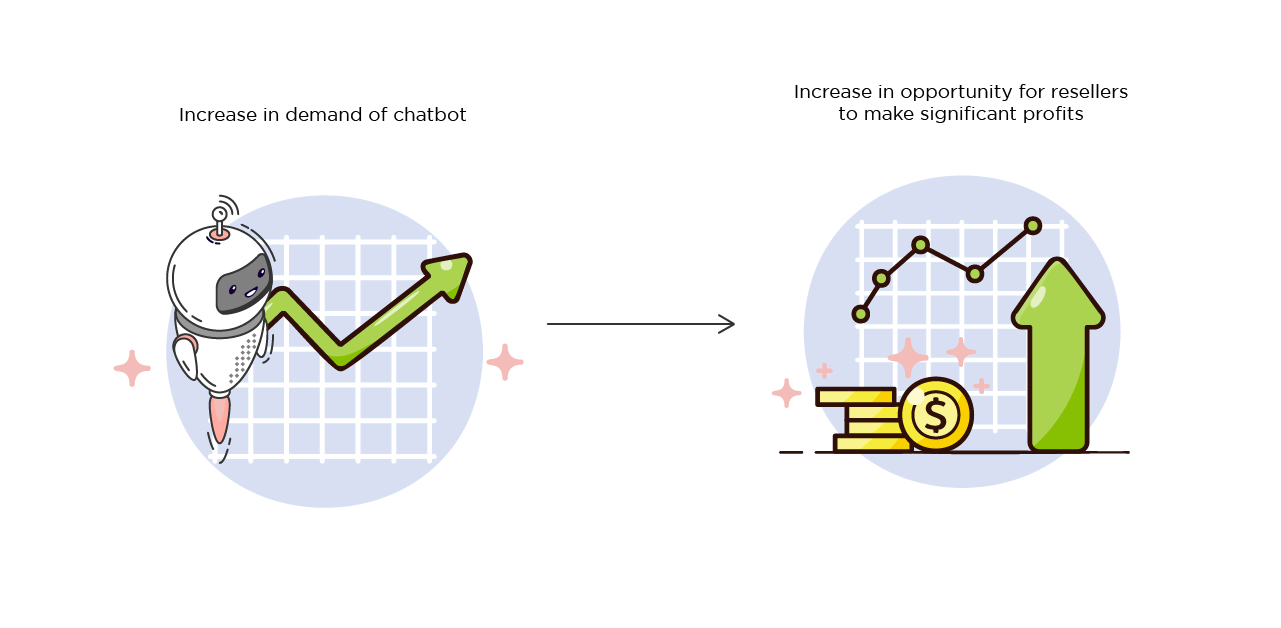 Chatbot reselling can be highly profitable.
As the demand for chatbots increases, so does the opportunity for resellers to make significant profits.
Many chatbot providers offer generous commissions to resellers, which can further boost earnings.
Building a Reputation
Reselling chatbots can help establish your brand and reputation as a trusted provider of innovative solutions.
By offering cutting-edge technology, you can help streamline customer operations and improve customer service, building a strong reputation and attracting more customers in the future.
Additional Business Opportunities
Chatbot reselling can open the door to other related business opportunities.
As you build relationships with customers and gain a deeper understanding of their needs, you may identify other areas where you can provide value, such as training and consulting services.
Every marketing agency or IT firm should consider becoming a chatbot reseller because it is a low-risk, no-investment, and high-return strategy.
Additionally, it aids in increasing new revenue streams and client retention.
Additional Benefits Of Chatbot Reselling
There Is a Demand for Chatbots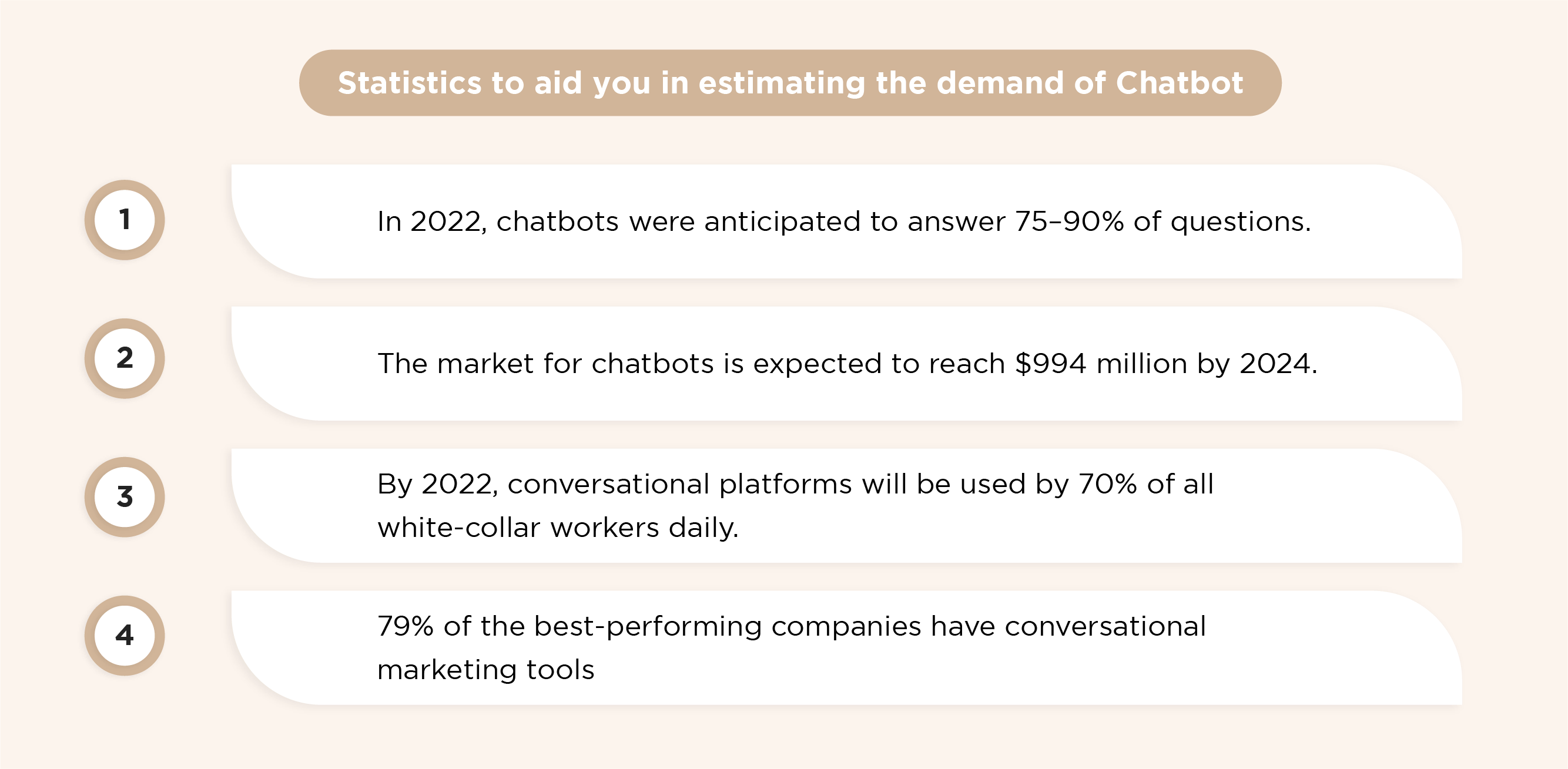 The increase in demand for self-service and automation in lead generation, customer support, and customer interaction drives the demand for chatbots.
In response to this desire, chatbots are providing excellent results by constantly advancing to hold interactions with clients in a human-like manner. Here are some statistics to aid you in estimating this demand:
In 2022, chatbots were anticipated to answer 75–90% of questions.
The market for chatbots is expected to reach $994 million by 2024.
By 2022, conversational platforms will be used by 70% of all white-collar workers daily.
These are significant figures that only point to the widespread use of chatbots. All of us have previously witnessed these changes.
Recall how everyone started getting websites in the 2000s. Then, in the 2010s, social media took off, and businesses realized how important it was to have a social presence.
Similarly, chatbots will overtake all other technologies in the 2020s. And a lot of businesses are already aware of this. Because of this, 79% of the best-performing companies have conversational marketing tools.
The timing is right to start selling white-label chatbots and provide a service that the market needs.
Today's consumers prefer direct communication over filling out forms and waiting to hear from a company.
An AI-based chatbot is preferred for interacting with clients on digital platforms. They respond quickly, bluntly, and effectively. Businesses can offer a rich customer experience utilizing instant messaging thanks to conversational AI.
Invest Little Money and Get Big Returns
Every investor's ideal investment is one with low risk and high returns. Bot resale is precisely that. Here, all you require is time and effort to develop a solution on a ready-made platform.
You may demand payment for it. It becomes much simpler to scale to more clients, increasing income if you get a handle on the many solutions that sell.
Open Up New Streams Of Income
Marketing firms may provide services restricted to website construction, social media management, ad management, etc. Because of this, they cannot increase their revenues above a certain point.
Bot sellers now have access to a whole new source of income. Their entire service package becomes profitable by including chatbots because it provides greater value to their clients.
Additionally, it allows them to focus on larger clients.
A ready-to-use solution can help you save time and reduce risk.
It takes a lot of time and work to create a chatbot. You can resell with a ready-to-use chatbot solution while saving time and work.
You obtain a tried-and-true solution, which is another significant benefit. It implies that you can stop testing it. You don't need to worry about its success because you can sell it directly to your clients.
Utilize a quicker time to market
Chatbots and conversational marketing are still in their infancy. This indicates that time is crucial in this situation. You can quickly resell chatbots to your clients thanks to white-label chatbots, giving you a competitive edge.
In summary, white-label chatbots have a much shorter time to market than custom-built ones. Therefore, selling pre-built chatbots to others is very profitable.
Rapidly grow your customer base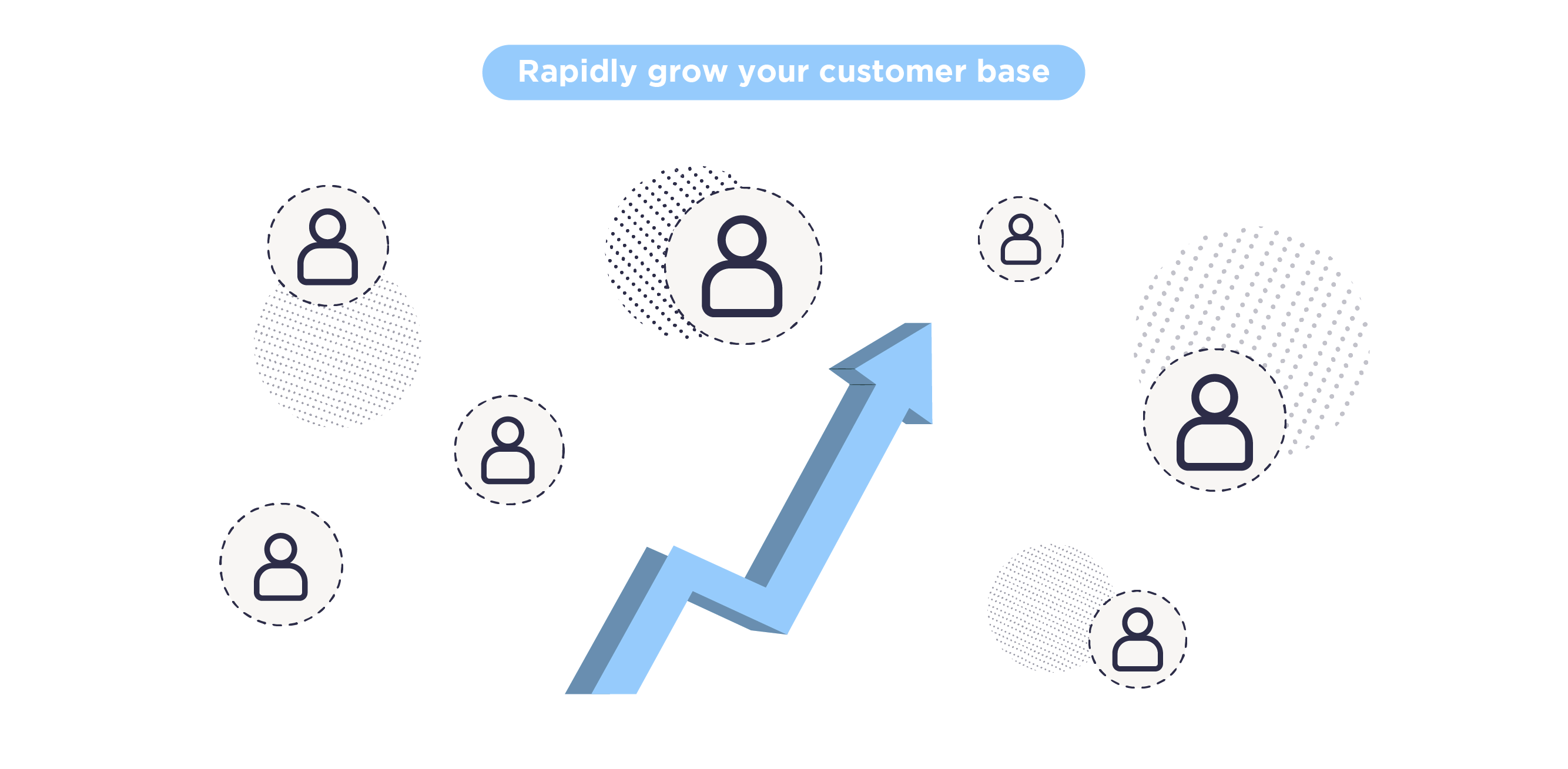 Due to the nature of their industry, marketing agencies typically invest a lot of time in providing for their clients. As a result, despite spending a great deal of time, they receive little returns.
A ready-made chatbot eliminates the need for agencies to spend a lot of effort on each consumer interaction. They can service a lot of consumers quickly thanks to chatbot reselling. Agencies can quickly grow their clientele in this way.
Conclusion
Chatbot reselling is an exciting opportunity for entrepreneurs to tap into a rapidly growing market and make significant profits.
The potential for success is high with low-cost and low-risk, a wide range of potential customers, and increased profitability.
Additionally, by reselling chatbots, you can establish your brand and reputation as a trusted provider of innovative solutions and open the door to other related business opportunities.
Note: Consider consulting with a business or legal expert before starting a chatbot reselling business, as there may be specific legal and regulatory requirements in your area that you need to be aware of and comply with.
We recommend considering BotPenguin as a suitable partner. Uncapped commissions, white-label chatbot, and round the clock support, what's there not to like?