Introduction
Undoubtedly, WhatsApp is the most popular messaging network. It has over a billion users sending messages and connecting via voice worldwide. Facebook bought the Business, which helped expand it more on the global market.
WhatsApp's inventors initially intended for the mobile messaging program to be used for accessible communication; nevertheless, it quickly exploded on the internet. WhatsApp's popularity has prompted its creators to add new features to the free messaging service continuously.
However, new features are slowly becoming available on WhatsApp (compared to other popular apps that already have many more).
WhatsApp has released a series of messaging features so far. WhatsApp can help businesses like yours increase conversions by up to 112 percent by reaching out to clients with the most up-to-date offers and personalized messages.
Take a look at the best twelve features of WhatsApp below. Don't miss out on these.
What is WhatsApp Business?
WhatsApp Business is a new WhatsApp app that focuses on the demands of small enterprises. It provides customers with additional functionality not available in the conventional app.
WhatsApp Business is an open source for businesses of all sizes with various functions. Using a WhatsApp Business account means creating a pleasant purchase experience for your users and saving time by personalizing chats.
When combined with the WhatsApp chatbot, WhatsApp Business is a valuable weapon for commerce. WhatsApp is becoming a wonderful shopping place, especially during distant times, thanks to numerous new features that the platform keeps launching.
The Twelve Best Whatsapp Business Features in 2022
Let's take a closer look at some of the features of the WhatsApp Business app that you would like as much as we do:
Business Profile
Profiles created on WhatsApp Business would be verified and referred to as Business profiles and receive a business account designation. By viewing their profile, customers may quickly determine if they are working with a business or an individual. The label Business account appears on all business profiles.
Quick reply
Quick responses are indeed a blessing. Who wouldn't want something like that? Quick answers in WhatsApp Business allow you to build shortcuts for commonly sent messages for those unaware.
You can now create a shortcut for messages like One can pay via debit card or send us via any wallet like PayTM, Airtel Money, Freecharge, and so on, thanks to Quick
responses.
Greeting Message
Message greetings are familiar to anyone who has ever managed a Facebook Page. You can also send a welcoming message using the WhatsApp Business app.
You may set the app to automatically send a personalized greeting message to customers who message you for the first time or just after 14 days of inactivity.
Setting Away Message
Greeting messages are similar to away messages. After business hours, everyone who attempts to contact the company receives a customized message. You can include a personalized note or the working hours in your message. You can set them to turn on at a specified time.
Setting up an away message is as simple as going to Settings > Business settings > Away message > "Activate away message."
Label Contacts
Businesses can arrange their contacts and label them to make them easier to find. You can effortlessly browse via your contacts and group and organize them this way.
To add a label to a new contact, click the menu button on the client's chat page, select a label, and save.
To add a new label, follow these steps: Click the menu button > select "New label" > save on the client's chat page.
Access Message Statistics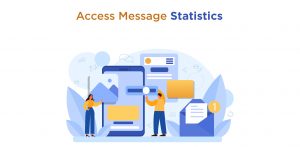 WhatsApp for Business gives you access to essential statistics like the number of messages sent, delivered, and read.
To get statistics, follow these steps: Select Menu > Settings > Business Settings > Statistics from the drop-down menu.
Catalogs and Collections
Catalogs allow your organization to display its products so that customers can browse and inspect products they are interested in purchasing. You don't have to send each item, price, and description individually as you did before with catalogs. You no longer need to drive your consumers to the website or elsewhere because everything is available on your WhatsApp page.
You can add information like price, description, and product code to each item in your catalog. Customers will appreciate not having to ask you about each item individually or switch from WhatsApp to the website.
WhatsApp added Collections in October 2021 to make buying more easier. They will operate like folders within a company account, allowing items to break down into groups. Users may quickly navigate to the category they want without scrolling through the entire product list.
Once uploaded, you can edit the Collection as you would items to keep the information current.
Interactive Business Messages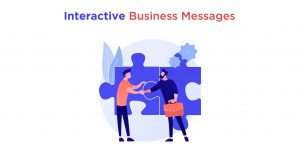 This sort of message allows you to insert interactive and visually appealing buttons. There are two sorts of buttons:
- CTA: the user will be led to a specific homepage or will be able to make a phone call by clicking this button.
- Quick reply: allows users to respond using predetermined options rather than typing the response manually.
Interactive buttons are beneficial to a seamless customer journey and overall customer experience (CX). First and foremost, your users will be far more aware of what they should do. Consider the following scenario:
For the user, it might be highly perplexing.
Should he provide his phone number in his response? Or should you write "Make an order"?If the user types something else, the bot will not comprehend, and the user will be unable to continue the conversation.
Second, swift responses are more aesthetically appealing and speedier for the client. He selects the correct answer and continues to the next question. No typing means less work, which translates to a better customer experience.
Finally, users can easily transition between platforms by employing CTA buttons.
Let's imagine someone wants to schedule a call with your Business.
The person had to copy the link previously, then paste it to the browser. Now, he has to press the right button, and the bot will take him to his desired location.
Clients will find interactive communication buttons to be easier, faster, more understandable, and more convenient. They improve the customer experience, resulting in higher levels of engagement with your company.
List Messages and Reply Buttons
New list messages let you add up to 10 alternatives, so people can click on the one they want instead of typing it out. When users contact a business, this form of communication provides a more straightforward and more consistent approach for them to choose.
Customers can instantly choose from up to three alternatives by just touching on the desired option. When users contact a business, this messaging allows them to choose from a menu more quickly.
Integration with Facebook Stores
Facebook Shops is a platform that lets you create a unique customer experience for your Business and easily integrate them throughout the Facebook family of apps. You may use your shop to show your products and services and engage with potential clients. It's an essential tool for any expanding company.
Payment using WhatsApp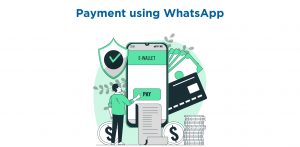 WhatsApp Pay is an in-chat payment service that allows users to send money to their contacts over WhatsApp. It's a UPI-based payment system that lets you send and receive money. India's National Payments Corporation (NPCI) works in Tandem with WhatsApp For UPI payments.
WhatsApp Business Directory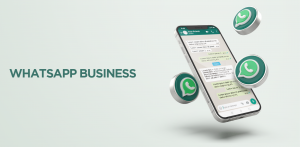 The WhatsApp Business Directory provides a straightforward method to find new business accounts without leaving the app rapidly.
Your phone number will not become public if you have a business account. Instead, you must join the Business Directory to make your account visible on a map.
Conclusion
WhatsApp is a network that provides businesses with limitless opportunities to reach and engage with their large audience. Companies can now communicate with clients on the platform they prefer, using WhatsApp chatbots rapidly and at scale, thanks to WhatsApp for Business.
WhatsApp is available in 180+ countries and 20+ languages, with 100 billion messages transferred daily and users spending 19.4 hours per month on the app.WhatsApp is the most popular Messenger Marketing Channel, with over 500 million businesses worldwide using it.
Everything is the same as the regular app except for the above features. The Business app has the same functions as the standard app, such as Status, Groups, Broadcast Messages, Video, Audio Calls, etc.
We hope this blog will help you find the best features and benefits of WhatsApp Business. Check our website for additional information on various bots.
Deploy a Chatbot On WhatsApp with a few clicks. Find out how to On BotPenguin's Website.