Considering you are already acquainted with Discord, which started as a boon for the gaming community but eventually served everyone who wants to interact with a district, audience, or millions of individuals without fuss.
However, did you know? Discord enables you to integrate with countless other apps? According to Data, registered users increased from 25 million in 2016 to 300 million in 2020, along with 6.7 million active servers.
Making managing tasks, work, community, or audience smooth as butter. It sounds like a dream for gamers and content creators.
Discord integration means connecting apps with Discord. It decreases the inconvenience of switching tabs and makes handling social media a bit easier as it provides features ranging from text, voice calls, and video calls, you name it.
If you are interested, it interests you in learning about the top 5 discord integrations and how to achieve them.
What are Discord Integrations?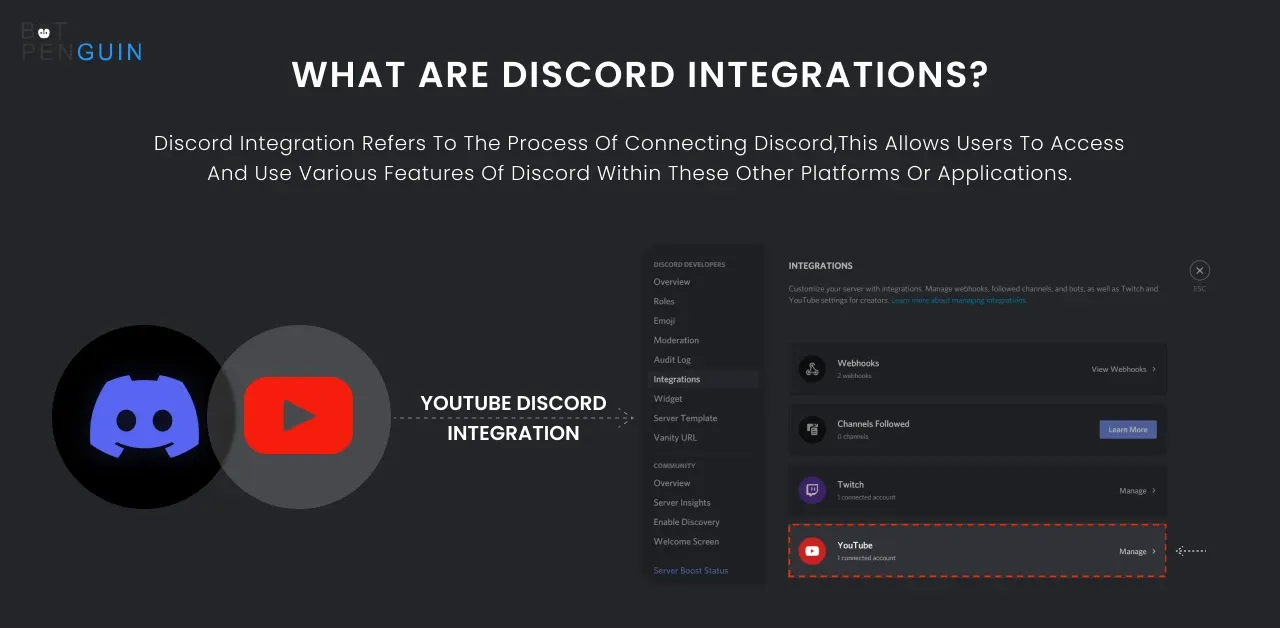 With Discord integration, you can quickly integrate your Discord app to hundreds of other apps, namely Google Calendar, Twitter, YouTube, Facebook Pages, Google Groups, BitBucket, etc., without any coding.
You can automatically keep updating your community by connecting your Discord account with other apps.
Why should you use Discord Integrations?
You can personalize your Discord server for your followers and subscribers with the convenience of integrating other platforms.
This feature helps to make your Discord server distinctively yours. It gives your friends and the community a sense of connectedness.
Your productivity may suffer if you repeatedly switch between your chat app and other applications. This context switching can waste hours of yours. Integration helps you reduce this by bringing everything to one place.
Integrating other apps with Discord notifies you and organizes everything to ensure you manage your work better.
You can manage your YouTube and Twitch integrations here if you're a streamer.
BotPenguin offers chatbot creation for social platforms, websites, wordpress along many different features:

The top 5 discord integrations and how to achieve them
Without wasting time, let's dive into the full five discord integrations you need and how to operate them.
1. How to integrate PS4 to Discord?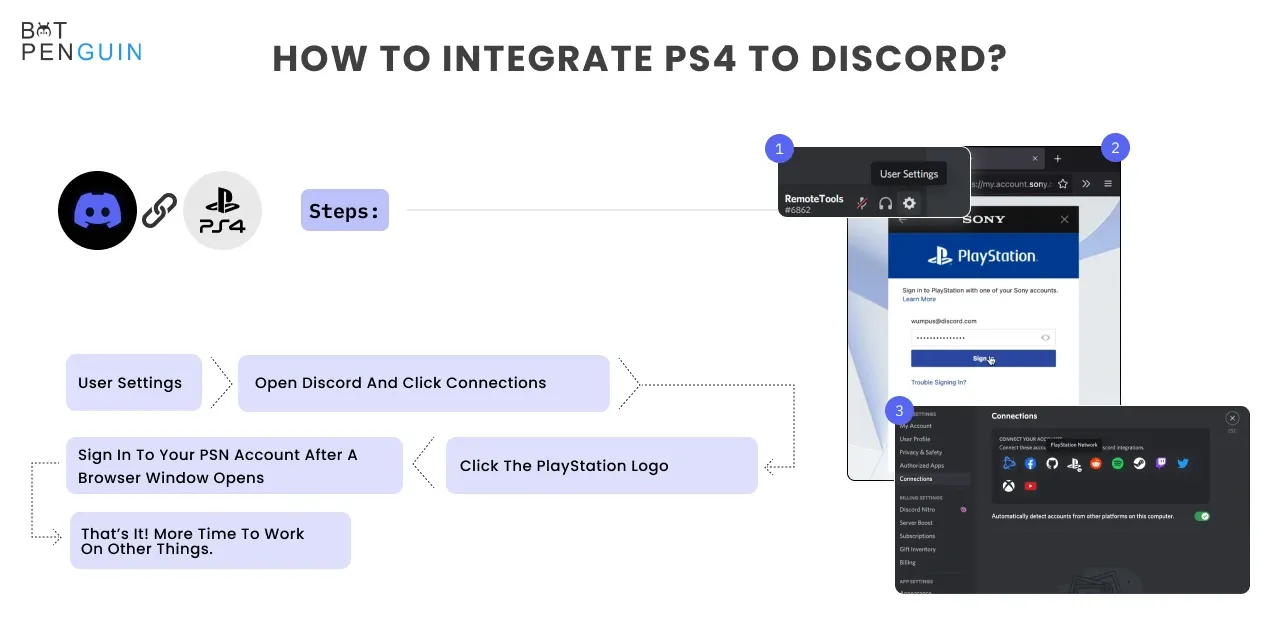 After the developer of the PlayStation console made a small investment in Discord in May 2021, Sony CEO Jim Ryan announced this integration.
Once you integrate your account, you'll be enabled to share the following with other Discord users:
PSN ID
PlayStation games you're playing.
Duration of your gaming sessions.
Steps to integrate your PS4 with Discord:-
Open Discord and click Connections underneath User Settings.
Now, the various platform to which you can link your Discord account are listed; from that, click the PlayStation logo.
You will sign in to your PSN account after a browser window opens.
Two more options will appear on your Connections page once you've signed in. Display on Profile or PlayStation Network as status. You have to turn on these two options to let your Discord buddies know what games you're playing and the duration.
According to Discord, you'll also need to check your PSN privacy settings and ensure that the PSN Online Status and Now Playing options are visible to everyone because if they aren't, Discord won't be able to access them.
2. How to integrate Twitch with Discord?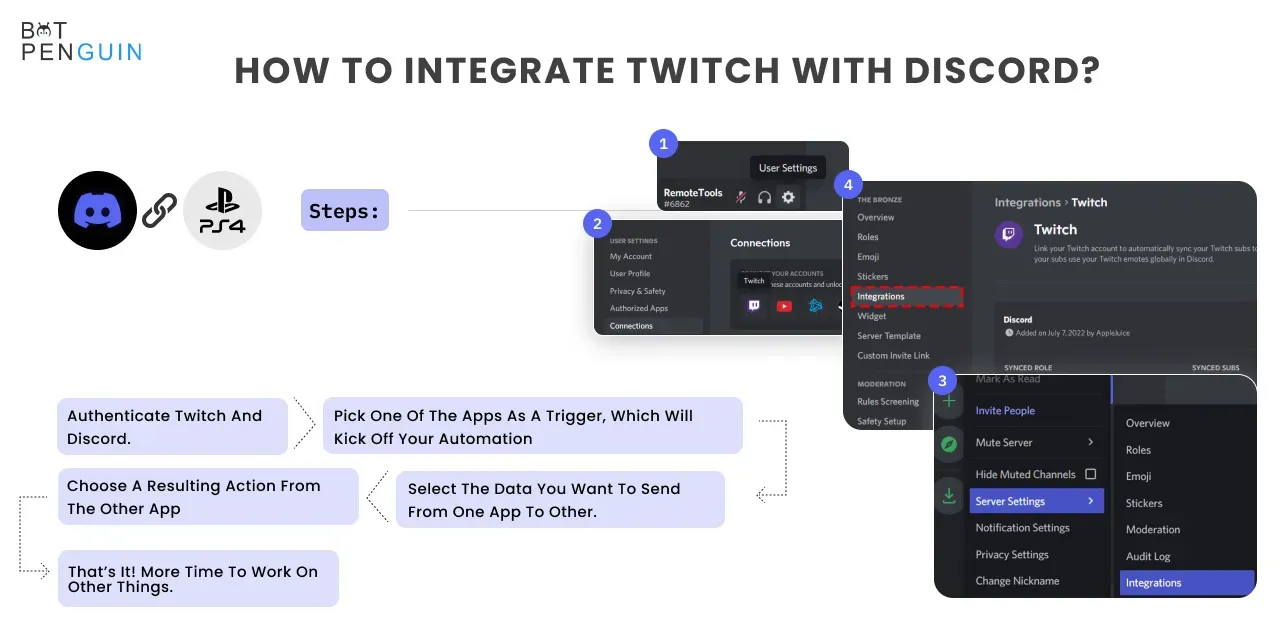 Linking your Twitch with Discord improves your user experience drastically.
Some of the many benefits are:-
It notifies you when you receive a new follower on Twitch
It tells you about all the new messages posted on a specific channel
You can also announce your Twitch stream on Discord.
Steps to integrate Twitch with Discord
Integrate Twitch with Discord
For Desktop Device:-
These steps can be used to integrate Twitch to Discord if you utilize both services on a desktop device:
Open both Twitch and Discord apps. Make sure you have a login to both of your accounts. You can also open both versions in a web browser.
Now, go to Discord and click on 'User Settings. Here, go to 'Connections.' All the accounts you can connect to Discord will appear here, along with their logo. At the top, you will see the Twitch app.
Click on the Twitch logo. Discord will automatically detect your Twitch account if you have the auto-detect option enabled. The application will then take you to the Twitch app.
After the app is authorized, your Twitch and Discord accounts will be linked.
All of the Twitch streamers you have subscribed to will be listed on Discord's "Connections" page. You can now click the "Join Server" button to join their server and get the unique sub role.
For Android and IOS devices:-
Follow the below-listed steps to integrate Twitch and Discord in Android and IOS:-
Open the Discord app, swipe right on your smartphone, or click on the three lines at the top to get the discord menu.
Click on 'Connections' then select Twitch.
Complete the authorization by logging into your Twitch account.
3. How to achieve Ethereum integration with Discord?
Ethereum, powered by blockchain technology, is a decentralized global software. The native cryptocurrency, ether, is sometimes known as ETH, popularly known for this.
Discord CEO Jason Citron said there are "no current plans" for the social network to incorporate cryptocurrencies into its platform, despite earlier in November 2021 making hints about a potential Ethereum integration.
Despite Discord's widespread acceptance in the world's crypto community, many users threatened to stop using it on Twitter and Reddit if crypto features were integrated.
4. How to integrate Zapier with Discord?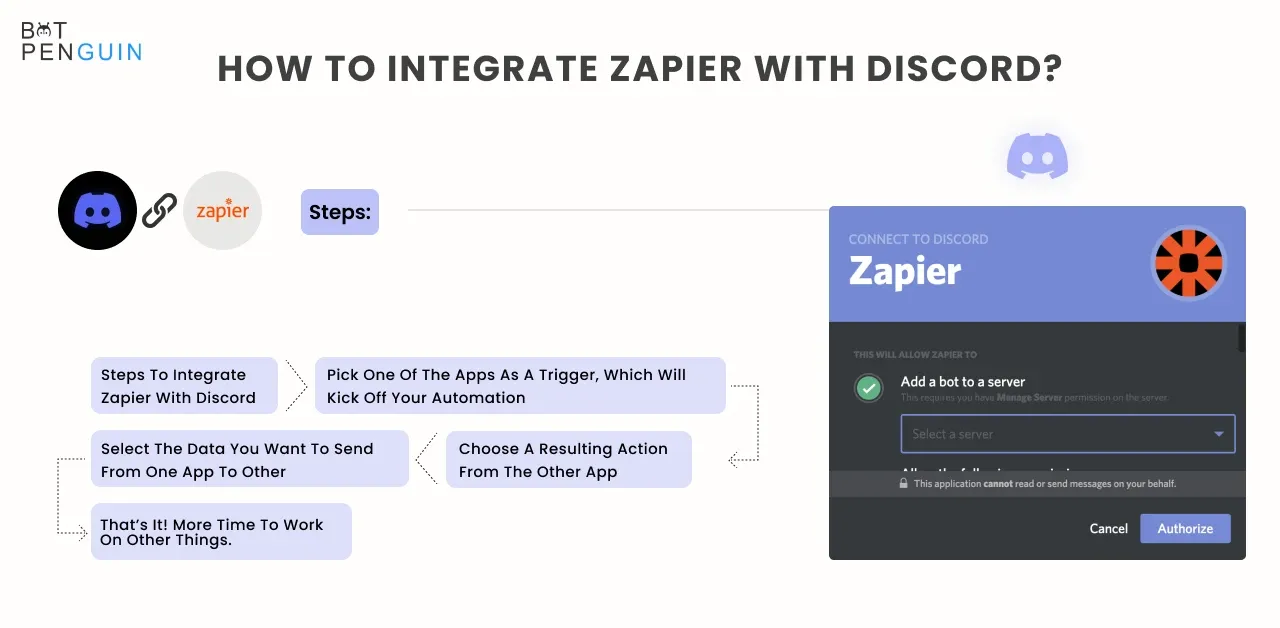 Although Discord only offers a relatively small number of direct integrations, you can increase this by connecting to a third-party integration service like Zapier. Without writing a line of code, Zapier can be used to connect to thousands of well-known apps, including Trello and Google Sheets.
Automations like these combine all your tools so you can minimize back-and-forth between apps and make more time for tasks and leisure. Just consider that Zapier has a (small) cost, unlike the other connections.
Steps to integrate Zapier with Discord
You will be requested to connect your Discord account when you begin to make a Discord Zap integration.
Now, Click to link to Discord.
Now, you must log in to your Discord account (unless you are already logged in).
You will then be asked to permit Zapier access to your server. Click "Authorize" after choosing your server to proceed.
Your Discord account will now be connected if all the processes are successful.
5. How to integrate YouTube with Discord?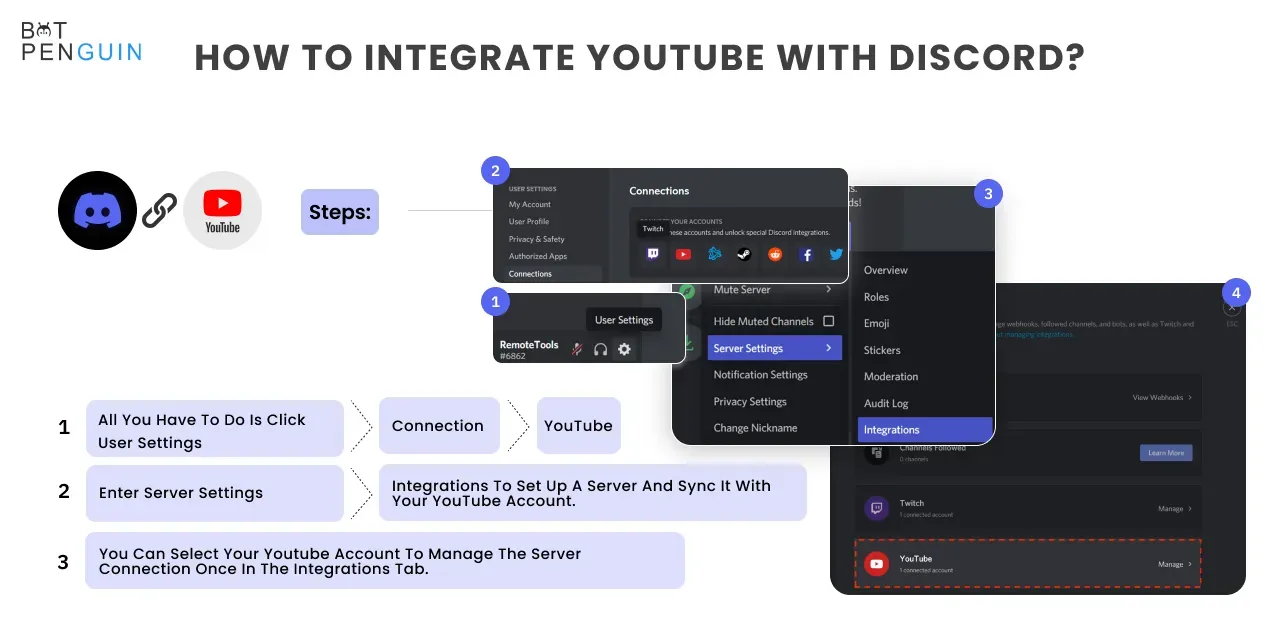 All YouTubers, streamers, and content creators feel like God's favorite child, thanks to Discord's direct integration with YouTube!
This integration allows all subscribers to connect through a dedicated Discord channel to hang out. This brilliant way to communicate directly with your community provides a tailored experience. Discord is ready and willing to collaborate with YouTube to introduce many more exciting features.
This integration lets you stay in touch with and update your subscribers. Furthermore, it informs everyone of your messages and channel activity.
Steps to integrate YouTube with Discord
All you have to do is click User Settings > Connections > YouTube.
Enter Server Settings > Integrations to set up a server and sync it with your YouTube account. It is possible with several versions! Chat parties while YouTube streams are super cool.
You can select your Youtube account to manage the server connection once in the Integrations tab.
Conclusion
Managing a large audience is a tricky thing to do and takes a lot of effort. The Discord mentioned above integrations can take some load off your shoulder and allow you to do your work more efficiently.
If you ask, what one should do to organize all external and internal connections on a single platter, the answer is Discord. Discord offers much to everyone, content creators, gamers, or budding entrepreneurs.
Additionally, Discord integrations are an excellent measure to boost your managing and organizing skills, contributing to your success. Furthermore, the number of active users was 19 million in 2019.
If you ask for another name, you can check out BotPeguin, which comes with brilliant integrations and attractive features, and excellent plans!