Are you looking for alternatives to ManyChat? Then try these! Hundreds of people want a Chatbot Platform software to support their business or brand with search tracking, a/b testing, optimization, and online behavior tracking about the customers. But the challenging part is to find the right software for you, as it will decide your brand's overall growth.
Hence, one minor mistake and would lead to a blunder. If you think that ManyChat can't be your ultimate fit, we will help you with the top 3 alternatives. This list has been made by considering a few factors such as reviewer data, ratings, features they offer. All this is done to find the best fit for your business.
HubSpot Marketing Hub, Drift, and BotPenguin are some of the most popular alternatives to ManyChat. But it might be possible, HubSpot Marketing Hub won't be an ideal choice for small-scale businesses. So, dive a little deeper!
ManyChat-Overview
It is the platform for chat marketing, which came into existence in 2016. It has been used by tons of companies for automating their operation or mainly Facebook pages. ManyChat can send e-mails and SMS directly with the help of a list of gathered e-mails. This is what ManyChat is and how it works.
ManyChat is termed as the most appreciated Chatbot Platform, which lets you form the Facebook Messenger bot. On the other hand, BotPenguin, Drift, and ActiveCampaign offer many tools and features using the powerful visual and for the editor, within less amount.
Meet Top 3 Alternatives to ManyChat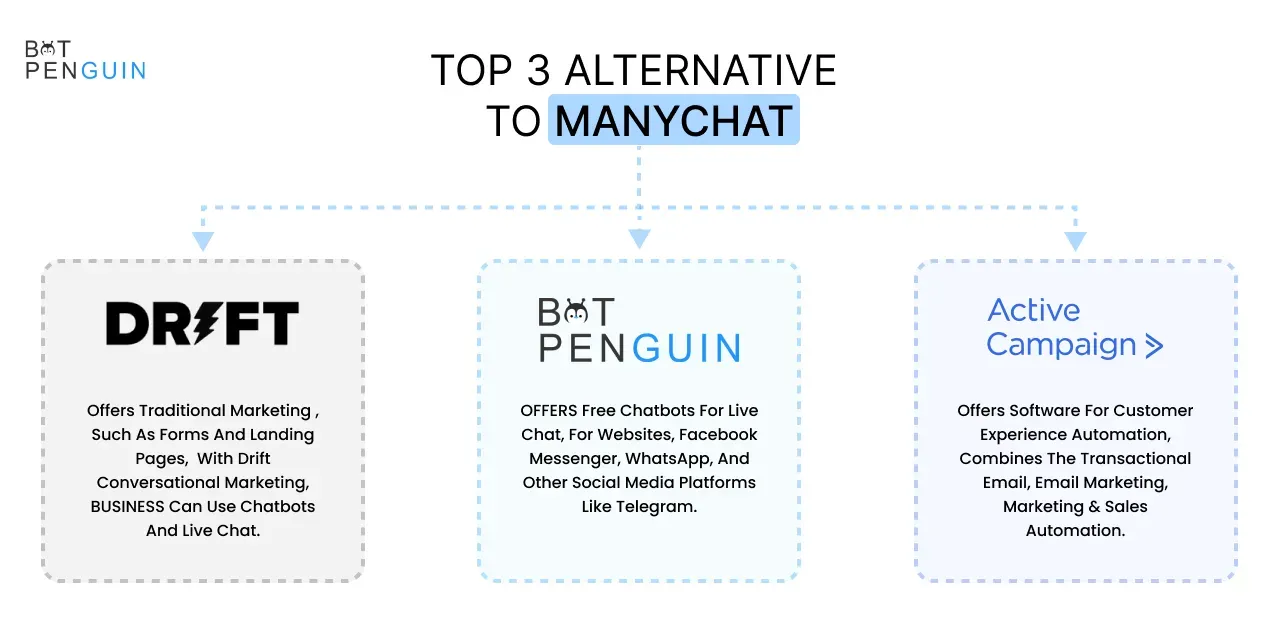 Scroll down, and you will find the ultimate guide with perfect knowledge and comparison.
1. Drift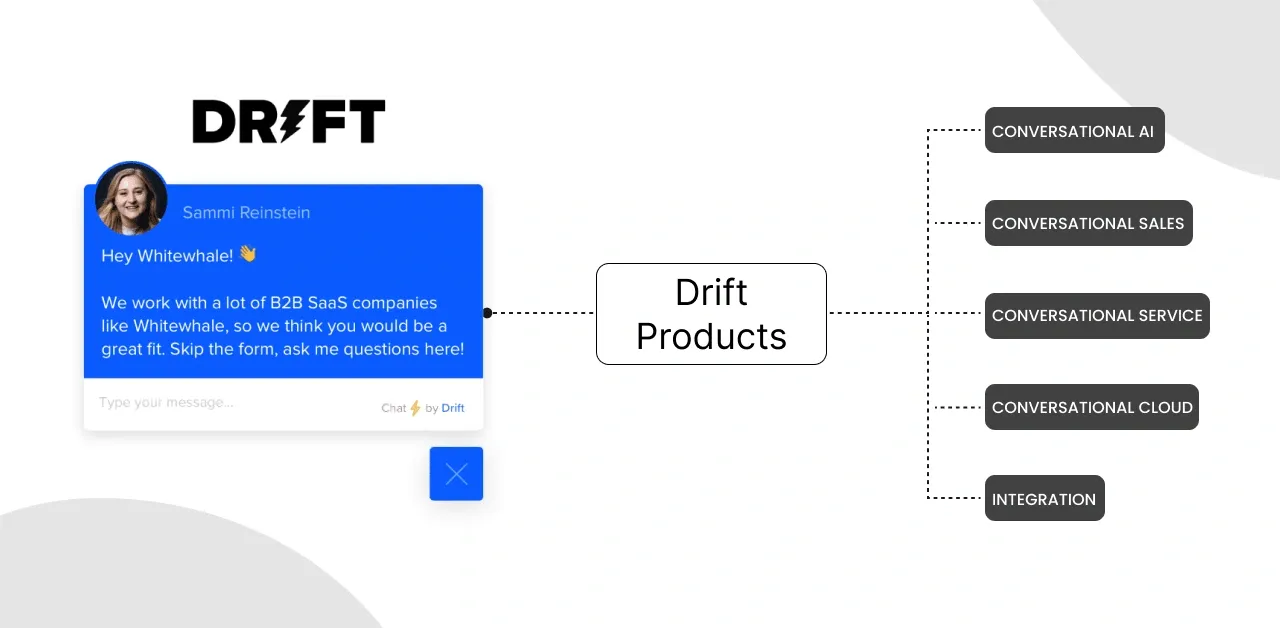 Drift is one of the world's leading conversational marketing and sales platforms that supports brands to connect with their customers and form a better relationship. Its continually advancing set of tools makes it possible to have a customer-driven interface through a conversational Chatbot Platform. You can unlock the exclusive hypergrowth of your business and offer a seamless purchasing experience over the site. It runs over Facebook Messenger like ManyChat and supports other crucial areas and platforms to automate the whole business.
It leads to dramatically accelerate the sales cycle by gathering qualified leads. Within just two years, the company has become one of the fastest-growing SaaS companies. Also, it got into several news and lists such as Forbes Cloud 100, LinkedIn Top 50 Startups, Entrepreneur's Top Company Cultures, Boston Business Journal's Best Places to Work, and more. It can be an ultimate choice because you can get started for free today via its platform.
Company overview
Year founded: 2014
HQ location: Cambridge MA
Features
Unlike old and rusty marketing and sales ways that depend on cold calls, countless follow-up e-mails, Drift connects with your potential audience via AI bots, provides you endless opportunities, and more.
2. BotPenguin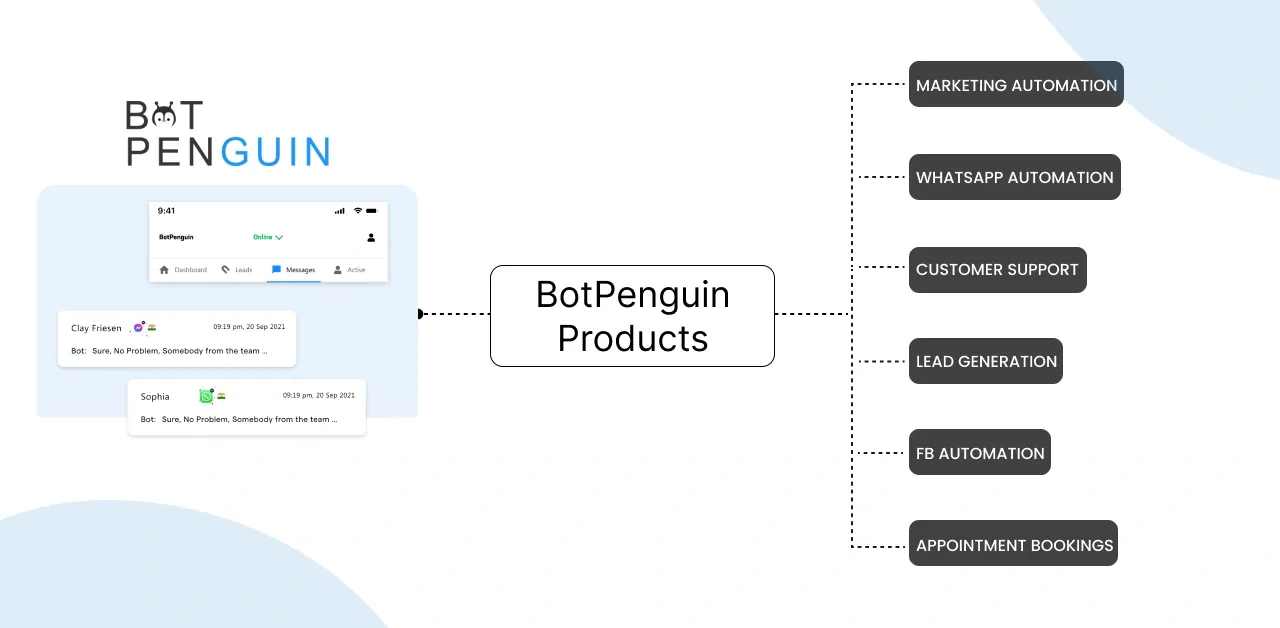 BotPenguin is an AI-powered free bot maker for sites and other social media platforms. It is an excellent part of this Chatbot Platform as it offers several sizes and types of pre-built automation or templates which combine all needed features. It involves e-mail marketing, CRM, CSS, machine learning, marketing automation for a powerful brand image. It involves platforms such as Square, Telegram, Facebook, WordPress, Salesforce, and more. It is considered one of the most feasible options for small-scale businesses or brands.
You can commence the whole process without any cost and let your brand automate its online presence with less or no investment. Thus, create your chatbot with BotPenguin and generate qualified leads, book appointments, place orders, and shop with just a few clicks.
Company overview
Year founded: 2016
HQ location: Chicago, Illinois, US
Features
As per the industry type, several use cases, whether you are from healthcare, e-commerce, or any other business, you will get a perfect bot here.
BotPenguin offers a Quick launch and building platform.
Personalized Chatbot Platform.
A seamless dashboard to keep track of all the needed data and insights.
Also, it provides a Template bot building
3. ActiveCampaign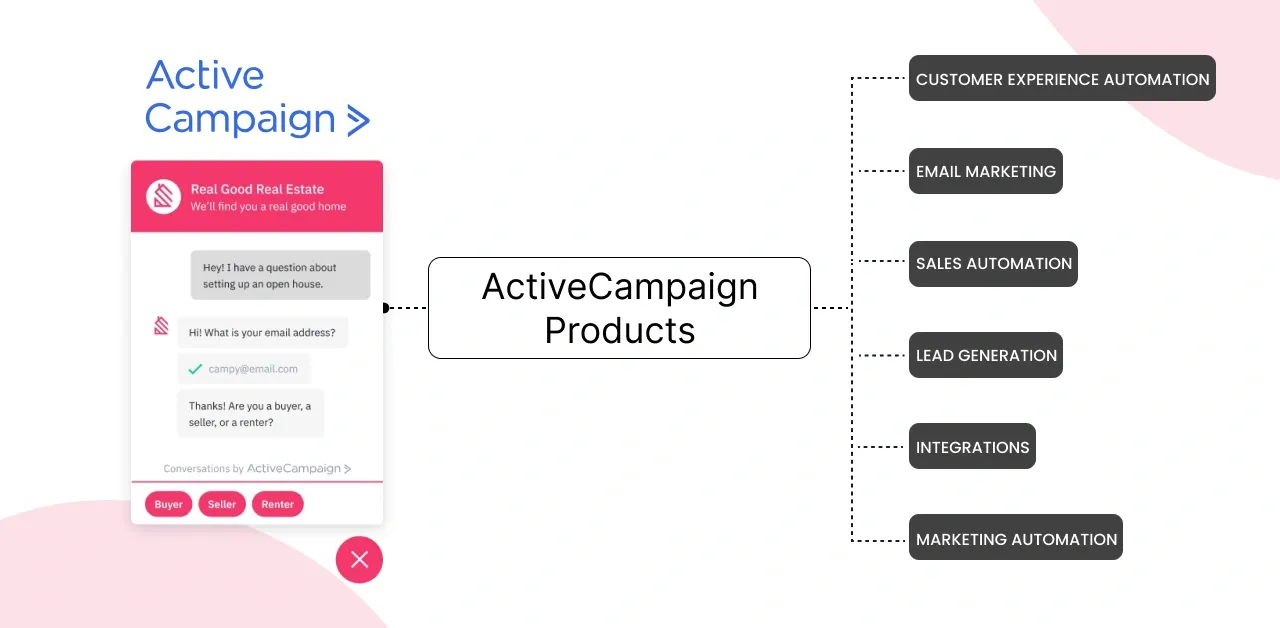 ActiveCampaign Chatbot Platform falls under the category-defining customer experience automation (CXA). It helps over 120,000 businesses or brands in around 100 countries. It lets you meaningfully engage your users and gathers relevant information. Approximately 70% of its clients use its 300+ integrations such as Shopify, Facebook, Eventbrite, and more. It's pricing chart starts from $9 a month. So, it's quite reasonable to go for ManyChat.
Company overview
Year founded: 2003
HQ location: Chicago, IL
Features
It delivers a high-touch experience, adding channels, additional teams, customer segmentation, deep insights, and managing complex relationships.
Track purchaser preferences, behavior, and other custom attributes.
Set the dialogue flow so that your messages are always targeted for the right audience base.
Use the whole data for better content creation and also upgrading your marketing strategy.
It helps you create campaigns with minimal cost and effort.
Offer a one-on-one experience to your customers.
Check out this table for more quick insights!
This tabular data will help you make the right decision as per your budget rate, brand, and products or services. Take a look at the comparison between ManyChat, BotPenguin. So, stay tuned!
| | | | | |
| --- | --- | --- | --- | --- |
| Chatbot Platform | ManyChat | Drift | BotPenguin | ActiveCampaign |
| Ratings | 4.6 / 5.0 | 4.4 / 5.0 | 5.0 / 5.0 | 4.6 / 5.0 |
| Pricing Plan | Free: $0Premium: $10/per month | Free: $0Premium: Contact | Free: $0 Little: $13/per month (paid yearly) | Lite: $9Plus: $49/per month (paid yearly) |
| Highest Rated Feature | Lead Gathering, Social media marketing, Sales conversion | Website: Conversational marketing, Live chat, Other channels: conversational marketing | Live chat, Lead generation, sales conversion rate, Social media marketing | Automated Email responses, Sending outbound emails, Performance & reliability- marketing automation |
| Top industries presented | Marketing and Advertising, Education Management, Health & wellness, Real estate | IT & services, Marketing, Education management | E-commerce, Education, Healthcare, And more | Marketing and Advertising, Health and Fitness, Professional Training & Coaching, E-Learning, Information Technology and Services |
Conclusion
As of now, we are quite sure that you have ample information and relevant facts to understand every platform precisely. Now you can easily draw an accurate judgment about us and other alternatives. Take into consideration all your needs and choose the most ideal platform and let your brand image get stronger in the online market. With the visual editor, powerful tools, and much more, "BotPenguin" can be a game-changer for you!