Introduction
Have you ever experienced bad service as a customer? What kind of Idea do you form about the company if you receive such behavior- obviously a bad one?
It is what happens if you are unable to provide good customer service. It directly or indirectly ruins your business's future. It's high time that businesses should understand the importance of customer service and start investing in good CRM software.
Customer Relationship Management (CRM) software is very popular nowadays. But it is crucial to choose wisely. There are many CRM software available in the market to perform the task of customer relationship management.
Zendesk is one such company that provides CRM solutions. But there are certain drawbacks faced recently.
In this blog, we will discuss Zendesk and its problems. We will also discuss 5 Zendesk alternatives that are equally good and reliable. We will discuss their features and advantages and help you to choose the best Zendesk alternative according to your needs and requirements.
So let's begin!
What is Zendesk?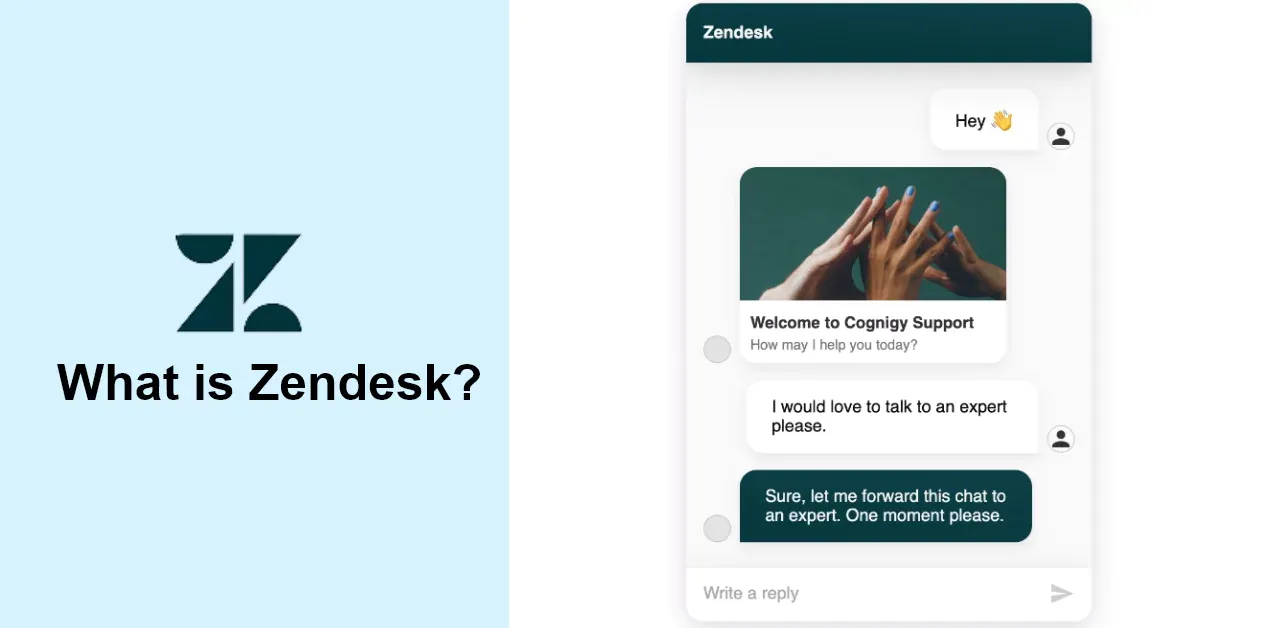 Zendesk is a popular and well-known help desk platform in the current market. It is popularly known for helping companies improve customer relationships and manage the entire experience for their customers by bringing all marketing and support functions together under one roof.
Zendesk is a top choice for people seeking a customer service enhancement app, and this is not without good reason. Zendesk has many amazing features that attract customers, like multi-channel support, good integration with all mainstream apps, and proper analytics. All these have earned Zendesk a noticeable reputation in the customer service sector.
If you are looking for customer service software in the industry, Zendesk would be the best choice.
But sometimes, not all business houses have the capacity to invest in such high-end services. There are many more reasons to find a good Zendesk alternative. Let's look at some of the strongest reasons.
Reasons to look for Zendesk Alternative.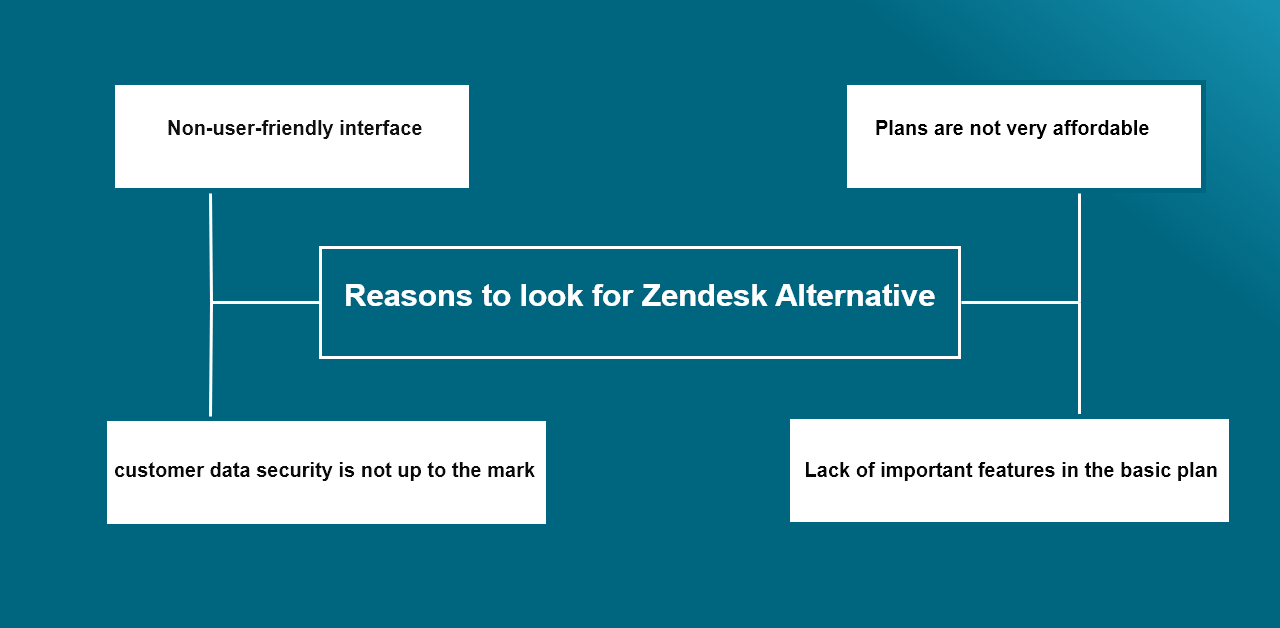 1. Plans are not very affordable
Zendesk plans come at a lot of high rates because of their popularity. The lowest plan ($5) may sound accessible but lacks several key features experts cannot afford to lose.
The higher and more expensive plans create more confusion among buyers as various options are available, and vast differences between plans. It often leads to the buyer making the wrong choice for their business.
2. Lack of important features in the basic plan
Most startups are under a specific budget and, therefore, lean towards the basic plan of Zendesk. However, Zendesk's basic plan lacks the essential features that beginners need.
The basic plan lacks service features such as a self-service customer portal, customizable ticket layouts, Ai-powered knowledge management, completely customizable dashboards, and many other options. The buyers are forced to opt for the more expensive plans to access these essential features.
3. Non-user-friendly interface
A common complaint from Zendesk users is about the software's complexity. The platform is filled with excessive information and functions, thus making it difficult to understand initially. There's a high chance that you won't even need half of the dashboards, sections, buttons, and everything else provided by Zendesk. Finding the exact tool that will satisfy your needs is a time taking task.
4. Customer data security is not up to the mark
Handling customer data play's a vital role when choosing such an app. Zendesk is a SaaS-based system that handles all the data by its servers, giving them the power to control the data completely.
It can cause two problems. First, the customer's data might stay on Zendesk's servers even after they have deleted their account. The second problem is if a breach occurs on any of their servers in your company.
The Top 5 Zendesk Alternatives
Freshdesk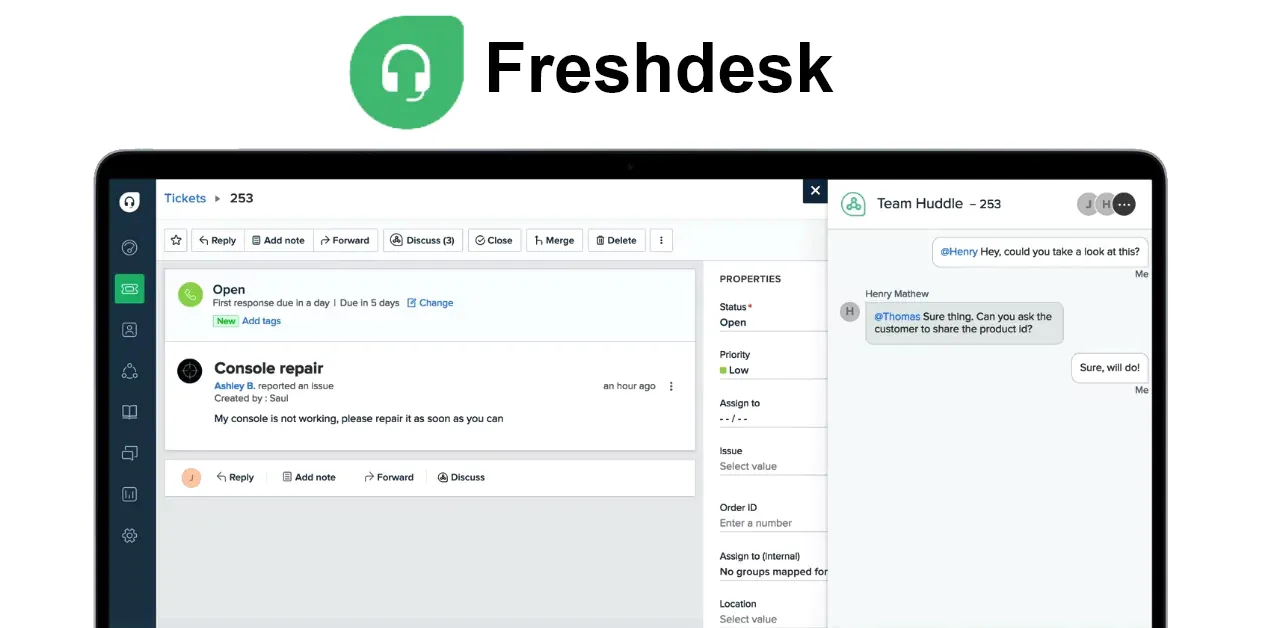 Freshdesk is one of the best Zendesk alternatives. Freshdesk helps businesses to provide customers with smooth and hassle-free service across traditional and digital channels like email, chat, phone, and social media. It is a complete application with different widgets and a multilingual knowledge base supporting 42 languages. The platform is flexible to use as it lets businesses design a self-service experience for their customers, where they are free to help themselves.
Freshdesk's key features
It comes with built-in omnichannel support.
Freshdesk has amazing collaboration features that boost teamwork and increases efficiency, like their shared ownership of tickets and parent-child ticketing, in which tickets are split into smaller tasks that respective teams can work on together.
It comes with an open-source API that helps to integrate with different integrations like the robust Freshdesk chatbot solutions.
Freshdesk comes with analytics to measure improved efficiency, including team dashboards, custom, detailed reports, and customer satisfaction ratings for easy understanding of customer needs.
It also comes with AI-powered automation to make workflows a lot easier, like scanning through tickets every hour to check if there's a need for an update or an alert and auto-assigning tickets to the suitable agents at the right time.
Freshdesk gives you the freedom to completely customize your space, including custom ticket forms, custom apps, and portal customization.
nTask
nTask comes second in the list for Zendesk alternatives. It has a user-friendly and interactive interface that lets you experiment with all the features. For this reason, it is a premium solution among all the other tools in the market. You can look into the growth statistics to determine future strategies in your customer engagement progress. This platform gives you the accessibility to create a task with different types of settings. You can either assign everything together or update it from time to time. You can also set deadlines for every particular task. You can create checklists based on your top priority tasks to track easily.
The automatic keeps you updated with the progress, monitoring all the primary team reminders and saving you extra effort or time. This app also gives reminders about the updates to keep you and your team on track.
Key Features
Some of the unique features of nTask are:
It comes with a simple GUI consisting of a variety of different modules in them.
nTask makes work on the go much easier with its mobile application, designed for Android and iOS.
It is a secure platform having two-factor authentication for accessing the dashboard.
nTask has built-in resources like progress charts, checklists, timelines, and Gantt charts to make work much more manageable.
It is the best platform for creating, managing, dedicating, prioritizing, and sharing different projects and tasks among team members.
It can schedule meetings and tasks based on the current preference, including single-time and recurring sessions, to make it hassle-free for users.
nTask helps you to keep track of daily goals with alerts and reminders.
It has a specified workspace for each task with parallel organizing and tracking features.
It is beneficial because it allows integration with amazing third-party software like Zapier, Zoom, Slack, etc.
Zoho
The third best Zendesk alternative has to be Zoho. It is a tool with good integration capabilities and offers everything Zendesk has only at a justifiable rate. Most importantly, they even have a free plan to help buyers check out all the basic features and see if the app is the right one for them. Once satisfied and invested in it, they can move to higher plans with more
Its noteworthy features include detailed analytics, integration capabilities, and versatility in billing. All these unique features are offered at half the price of Zendesk, which is quite a bargain.
Key Features
Some of the notable features from Zoho Desk are as follows:
It has an ultra-wide customization domain with every price chart that helps the customers to choose the best plan for them.
In Zoho, you can update or rename components and disable or rename modules.
It has an efficient management system with automated workflow operations that saves time.
Zoho comes with a list of impressive features having a minimal interface.
It has reporting and analytical capabilities to help customers.
Zoho can integrate with other varieties of products authorized by the Zoho platform, making it more versatile.
Gladly
The fourth best Zendesk alternative has to be Glad. It is a customer service platform that treats customers in the best way by giving them personal customer service. This platform is more of a people-centered platform rather than a ticket-centered platform, which means that all conversations from different channels are tied to customer profiles. Agents can respond across all channels during a talk from a single screen because voice, email, text, and chat are all available on the platform. You can also find data about a customer's previous interactions.
Key features
It has a unique feature called 'People match' which pairs customers with the "service hero" best suited to guide them based on their situation, history, and needs.
It comes with an open-source API to integrate robust Gladly chatbot solutions to improve work capabilities.
Gladly has a 'Conversation timeline' that stores customer communications through different channels in one conversation thread and centralized view. It helps to find out old data and amazing their problems better.
The customer service analytics of Gladly offer insights across different channels that create remarkable impacts.
It easily integrates with applications such as Shopify, Twitter, Messenger, and Netomi for better work flexibility.
HubSpot
One of the best Zendesk alternatives is HubSpot. If we talk about service management, HubSpot gives tough competition to Zendesk. It has a wide range of marketing and site-building tools to help startups and large-scale businesses reach new heights.
The incredible feature of HubSpot is how it has combined all these tools and put them under its 'Service Hub.' It helps you to get everything you need in one place. It also comes with a user-friendly interface that makes tasks more manageable. By using HubSpot, users can spend more time doing productive work, managing tickets, and solving problems rather than spending time on non-productive activities.
One drawback of HubSpot is that it can be costly for some plans. However they come as a free option, but it lacks several essential features. You cannot keep your customer requests in one place.
Key Features
HubSpot comes with many efficient performance resources. It also has a free version.
It is an easy-to-use platform with an understandable mechanism, smooth dashboard, and intuitive UI for the ease of its customers.
It comes with advanced email integration features with additional supporting tools so that the work is done in minimum time with added support.
HubSpot updates contact from time to time, resulting in practical conversions within the network.
It allows you to integrate with some famous email service providers online, like Outlook and Gmail.
Conclusion
Every company has its set of requirements when it comes to the field of customer relationship management. Small businesses don't have the financial flexibility to invest in high-end CRM software. People also search for some unique features which may be available in some different CRM software.
Hence, it is necessary to know alternatives available in the market. Zendesk is undoubtedly an amazing CRM tool, but it also has some drawbacks. The five best Zendesk alternatives can be used without hesitation in this blog. All of these come with amazing features and is accessible to small as well as big business houses.
If you have any queries regarding Zendesk alternatives, feel free to drop a comment down below. It would be a pleasure for us.
Also, if you are searching for an alternative chatbot maker, feel free to check out the customizable and reliable chatbot maker- BotPenguin!