58% of users say chatbots have positively changed their expectations of customer service, and 64% of agents using chatbots are free to spend their time solving more challenging and complex problems. (SalesForce)These statistics might seem enough to grab your attention, but 46% of users would rather communicate with a live person instead of a chatbot (Tidio), and we know why. Want to learn how to use chatbot platforms like ManyChat? Continue reading this comprehensive tutorial on ManyChat for an in-depth guide.
Chatbots can be a great tool only if used correctly. Unfortunately, many chatbot builders aren't used optimally and don't solve customer queries adequately. This is why you need an optimizable, custom chatbot for your business. ManyChat lets you do precisely that without coding knowledge.
Read this tutorial to find out exactly what to do with your chatbot and how to set up ManyChat so your customers are happy and you make the best ROI in 2023!
Why Your Business Needs a Chatbot for Social Media?
Chatbots are more than simple conversational agents. A human agent is prone to errors and cannot be available for your business at all times of the day.
Chatbots can be connected to various APIs, enabling them to solve a wide range of customers' requests. But these are the general use cases of Chatbots.
How exactly are chatbots benefiting your business through social media integration?
Let's answer that question with a simple question. Where are all the millennials today? That's right, on their smartphones and messenger apps. That's not it. The net potential reach of Instagram ads in 2022 is 1.8 billion people.
This means that successful ad campaigns on Instagram can reach over half of Instagram's users in 2023 (HootSuite). Luckily, Social media chatbots are also capable of receiving payments with the help of Paypal, MasterCard, and other payment gateways. So everything is automated, and your agents are not constantly bouncing off different platforms to talk to visitors and customers.
And lastly, but most importantly, chatbots give instant replies to user queries on social media. A demand of every social media user.
ManyChat : An Overview
ManyChat is an all-in-one platform widely known as the best chatbot provider for Facebook Messenger. However, it also provides chatbots for other popular social media apps and eCommerce platforms to help users carry out ad campaigns and provide superior customer support.
You can create and use these chatbots for a range of purposes. Such as marketing/ advertising campaigns and also providing customer support.
Its key selling point is the ease of use; ManyChat claims that setting up a chatbot through its chatbot building platform takes about two minutes.
Must-Use ManyChat Features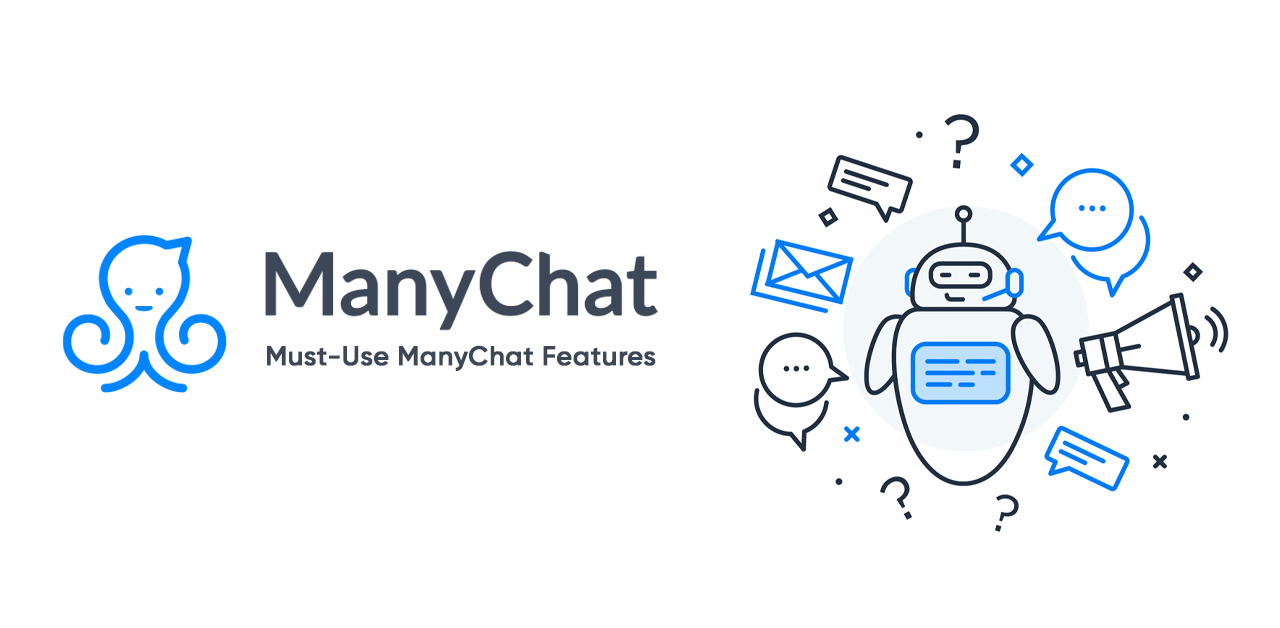 Chat flow builder
Apart from the excellent UI design that can significantly reduce the learning time for new users, ManyChat offers two kinds of interfaces: The Basic Builder and The Flow Builder.
They allow you to create and edit basic to complex chat flows. Basic Builder comes with many tools to perform quick and simple editing of generated message flow. The task of Basic Builder only comes with fundamental editing options and hence is suitable for simple messages.
The flow builder offers users a more visual approach to editing generated chatbots with the drag and drop functionality.
It can show your Flow with configured messages in the flow map, giving users a more structured view of the chatbot content.
Diverse Growth Tools
ManyChat offers numerous basic to advanced growth tools to draw conversations with configured bots to expand the customer base and improve lead generation.
Drive leads to your bot through multiple channels, such as - Facebook Comments, Website live chat widgets, QR codes, and landing pages.
Analytics Tools
A must in every CRM or chatbot software, Analytics allows users to track progress, find deficiencies, and understand customer behavior.
ManyChat Analytics Tools logs conversion events and metrics to help its users track the performance of each campaign. ManyChat provides measurable stats to monitor the dynamics behind each block in the Flow, such as the active and inactive contacts, impressions, opt-ins, open rate, click rate, and conversion rate.
ManyChat Tutorial: Best ManyChat Integrations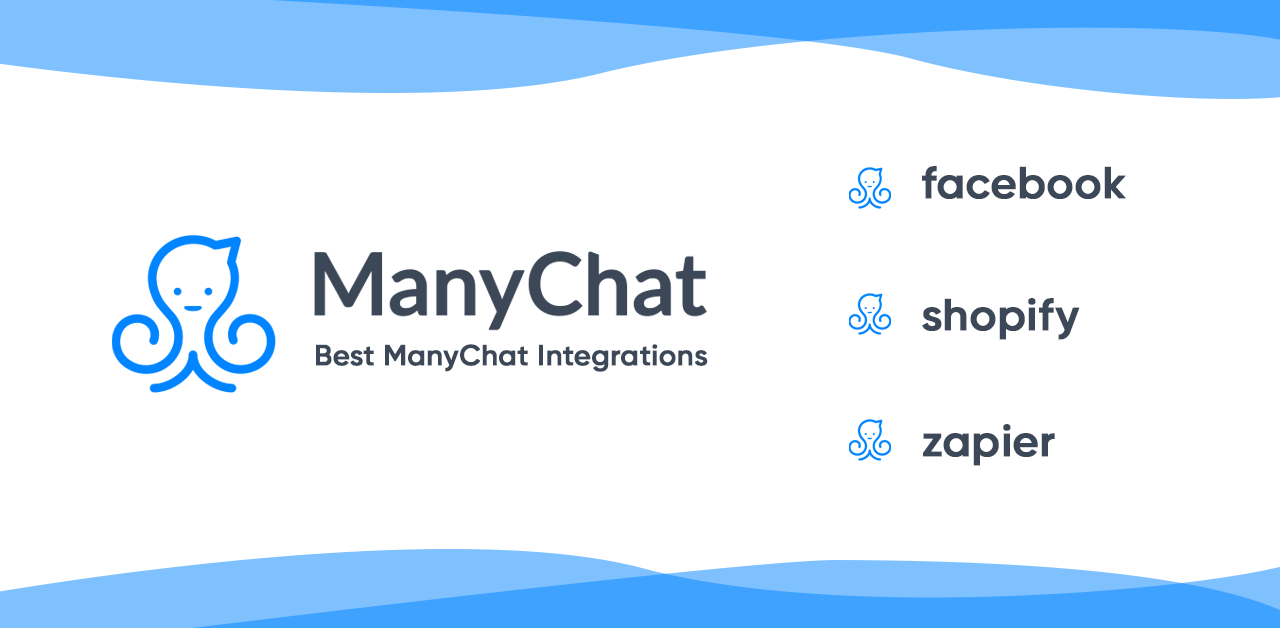 ManyChat Tutorial: Facebook Messenger
Facebook has a massive 2.91 Billion active users currently. ! That's more than any other social media platform. Thanks to its ease of access, Facebook Messenger is also a hub for businesses to connect with their product users and prospective customers.
Facebook can be an excellent way to reach out to customers, and ManyChat quickly seized the opportunity by partnering with Facebook. Integrating it with Facebook lets you-
Automatically Qualify Leads
Recover Abandoned Carts through Facebook
Send Coupons & Promotions
Collect Feedback and Reviews
Share News and Updates
Answer Support Questions
Book Appointments & Send Reminders
ManyChat Tutorial: Shopify
A popular eCommerce platform used by millions daily, Shopify presents you with an excellent opportunity to connect with and redirect visitors to your Shopify page. Integrating Shopify with ManyChat will let you-
Place a ManyChat widget on your Shopify page
Set Abandoned Cart reminders
Send the user back to the store with a single button
Offer automated discount codes to prospects
ManyChat Tutorial: Zapier
The best thing about Zapier is that you can use it to move data from ManyChat into the other systems and vice versa to run your business the way you want to.
Integrating ManyChat with apps using Zapier doesn't just make syncing easy, but it also keeps all databases streamlined with 1500+ apps.
You can quickly transfer information stored in the ManyChat software to other applications, including:
CRM software such as Zendesk and HubSpot
Email Marketing Platforms such as Help Scout and MailChimp
Slack notifications with new contact requests
A tutorial on how to use ManyChat [In 2023]
Follow the best ManyChat practices to boost your growth and improve customer experience-
ManyChat Tutorial: Install ManyChat Templates
Using a pre-built template has many benefits. It can save time, be a tremendous accessible tool for people who are new to chatbots or have no prior experience.
Chatbot templates on ManyChat can also give you ideas or elements that you can add to your chatbot.
Getting started with a ManyChat template is as easy as it sounds; follow the three steps mentioned below!
Open the dashboard and click 'Templates' on the left panel.
In the dashboard, you can see preloaded Templates that are already existing, below which there's a section for personal workflows you've made earlier.
Choose your page, elements, and add descriptions to your Template, so you always know what you're using and install it.
ManyChat Tutorial: Sync it with Facebook
On the ManyChat account page, click Get Started. Navigate to the page that you're an admin of.
On the list that shows up when you connect your Facebook account, select Connect.
To Create a Greeting Text, head to the ManyChat dashboard and click on settings. You'll find a Greeting Text box at the top. Fill out a message within the 160 characters limit.
After setting up the greeting, it's time to build the main menu. The main menu lets people navigate your conversation to arrive at your main products.
On the left side of your dashboard, click Automation and select Main Menu.
Type in the services, choose your options, and click done.
Next, create a Welcome Message. In the dashboard, head to Automation and click on Welcome Message. Here you can start typing a welcome message and setting workflows for your chatbot.
Tip: Try using emojis, gifs, and other tools within the widget to have a more personalized and entertaining experience with your customers!
ManyChat Tutorial: Combine SMS with Facebook Messenger and Email
SMS isn't dead. 91% of consumers would opt for text messages from brands (99Films). Combining the power of SMS with Facebook Messenger and Email can streamline tasks across all platforms and bring them together.
With customers' phone numbers through your eCommerce store, you can send text order updates or abandoned cart reminders. Connect Shopify stores or WooCommerce with ManyChat to bring back lost customers.
To set up SMS, follow the steps below:
Activate SMS under Settings > Channel > SMS tab
Click the "Connect" button and choose the country. A number based on the country's location will be assigned. This number will be displayed to customers through SMS communications.
Next, you have two System Fields to store data: SMS Opt-in and the contact's mobile number to get consent for receiving SMS and phone number.
Enable SMS Opt-In feature in the User Input Block. It is a necessity to send SMS. Also, make sure that users know that they agree to receive your SMS by confirming their phone number.
To send bulk SMS to contacts with SMS opt-ins, go to Broadcasting > Broadcasts section of ManyChat:
While clicking the button, you will be prompted to select the channel you want to start with (Facebook messenger, Email, or texts in a single flow)
Opting for your options, the setup is finished by clicking on the "Send now" button. Here on, you'll see the Broadcast event in the "Live Chat."
Final Thoughts
According to IBM, Chatbots can answer 80% of standard questions. So if you're not using chatbots to carry out your ad campaigns across multiple platforms and engage with customers, you're missing out on a massive chunk of the pie.
ManyChat is a great chatbot builder platform that lets you provide omnichannel customer support while making it easy to set up, integrate, and use. So whether you are new to chatbots or a highly skilled user, ManyChat can be an excellent option for your business. Keeping in mind the mentioned must-have features, the best integrations, and the ideal setup tutorials, your business can scale using this chatbot platform.
Related:
A complete guide to ManyChat: What is it and How it works?