Introduction
With growing e-commerce, it is essential to have a helpdesk tool for your support and service teams. While searching for options, you might have come across LiveChat's online platform. You can use LiveChat to offer live customer services, increase website traffic, do online marketing, and drive sales. Having live chat software for your business is value for money. What are the drawbacks? Are there any LiveChat Alternatives? LiveChat has pros, cons, and alternatives like other consumer service tools. One's flaw is the other's perfection when it comes to alternatives. LiveChat has promising characteristics, but it doesn't mean it will be an excellent fit for every organization. The customer support industry is vital to every growing business, and it's fluid at the same time. This article will help you decide if LiveChat is worth your money.
What is LiveChat?
LiveChat is an online tool for communicating with potential customers directly on your websites and in real-time. LiveChat comprises three primary parts: a web-based chat window, a web-based control panel, and an operator application. The operator program is cross-platform, allowing users to check in and communicate with guests from their desktop and mobile devices. For more than a decade, LiveChat has established itself as one of the best business chat systems. Big worldwide companies such as Tesla, Ikea, PayPal, and McDonald's rely on it. It interfaces and interacts with a wide range of other programs and platforms. It helps increase the software's capabilities to include e-commerce, sales, CRM, email marketing, content management, accounting, and analytics.
LiveChat Features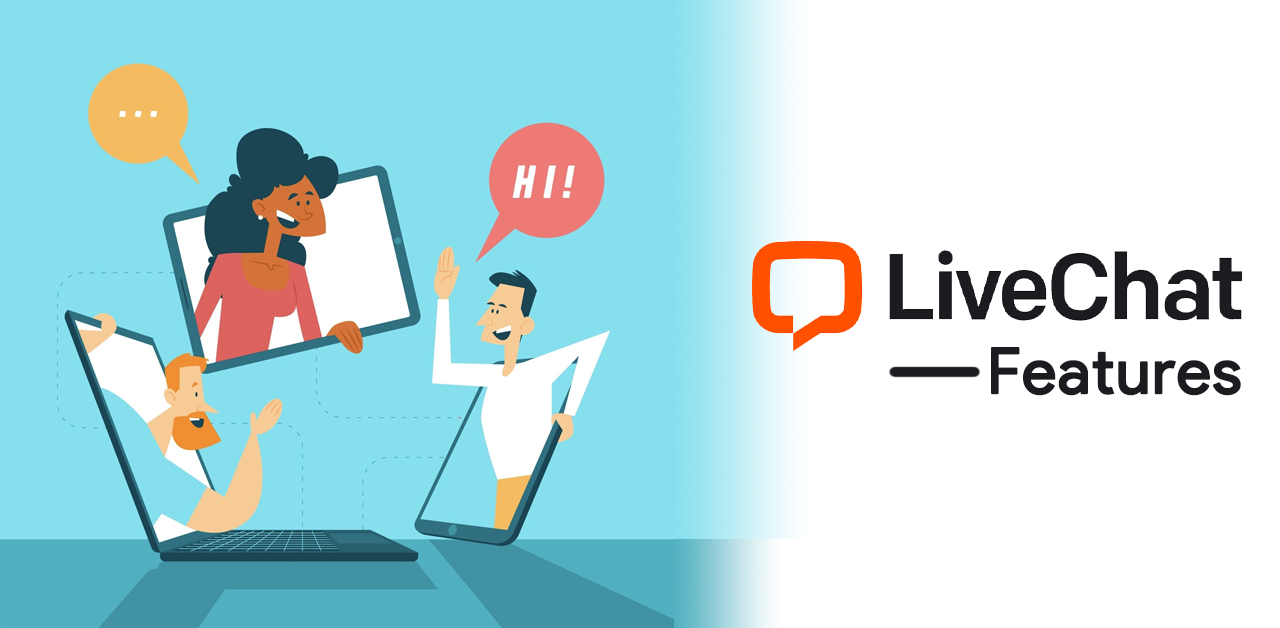 LiveChat has the most features and capabilities of any of the live chat platforms we've looked at, and it also has the most tools.
Ticketing
Customer involvement
Third-party integration
File sharing
Job scheduling
Comprehensive reporting
Various branding
Data protection
Geo-tagging
Co-browsing
Chat polls
Real-time website traffic monitoring
Dashboards and statistics
Efficiency analysis
Custom/standard or interactive reports.
LiveChat Languages
It is accessible in numerous significant languages, including
English
Dutch
French
German
Italian
Polish
Portuguese
Spanish
Russian
Chinese
Thai
LiveChat Plans and Pricing
The Teams package from LiveChatInc comes with a 30-day free trial. You may create an infinite number of agent accounts with each pricing package. However, They charge the number of support agents that log in monthly. Their whole price bundles are as follows:
Starter: $16/agent per month
Pro: $33/agent per month
Business: $50/agent per month
Enterprise: $149/agent per month
LiveChat Pros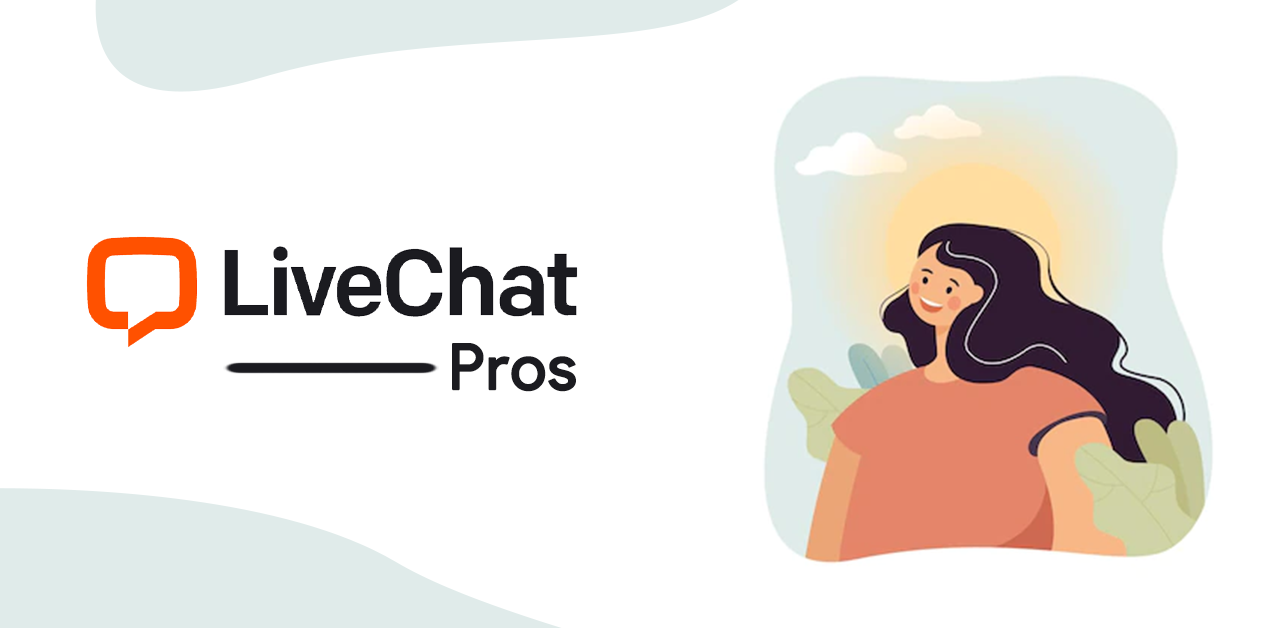 LiveChat's key advantages are its steady functionality, language support, and excellent integrations. Here are some further details:
LiveChat Pros 1: Assists Your Customers
LiveChat assists your helpdesk agents in providing outstanding customer service to your customers. It can accomplish more than a phone call or an email can because it can handle the heavy lifting. Provide prompt responses to your consumers and avoid long lines. As a result, LiveChat can help you gain a significant competitive advantage.
LiveChat Pros 2: Track Your Visitors
According to LiveChat evaluations, the program allows you to track your website visitors. You can see if they are filling or abandoning their shopping basket, and if they are, you may start a dialogue with them. The benefit is that using LiveChat, a single agent may speak with ten times as many visitors as a phone agent. Your helpdesk team representative can communicate with more individuals in less time when compared to a phone agent. The program can instantly create data for each helpdesk staff member, examining the number of conversations, time spent with customers, and chat invites they've received. You'll analyze ways to enhance the service by measuring the speed with which your staff responds.
LiveChat Pros 3: Intensive customization
LiveChat offers two types of chat windows (pop-up or embedded). There are six premade styles for minimized or maximized chat windows, a custom chat window logo, and customizable chat buttons. It also includes its unique CSS editor, which allows you even more freedom and control. It can help change the appearance and behavior of any area of the chat window. You may also add your social media buttons so that your consumers can go right to your fan page from chat. To achieve the most significant results, you can customize agent profiles with authentic images instead of just names and titles. You may also employ engagement graphics, such as eye-catching images and bespoke greetings and buttons to provide clients with an even more appealing experience.
LiveChat Pros 4: Integrated ticketing system
While most similar systems give basic live chat with a few frills, Live Chat includes a ticketing system that enables complete help desk capabilities. You get a significant advantage over your competition just because of this, allowing you to fix consumer difficulties promptly. It handles the heavy lifting that email and phone can't, allowing you to avoid long lines while engaging consumers with speedy responses. Its ticket management feature enables you to automatically get tickets via chat and emails, tag them, and follow up on them.
LiveChat Pros 5: Insightful Reports
LiveChat may provide reports for each agent, including the number of chat invites sent, the number of conversations held, the average time spent with a visitor, etc. You may also track response times and devise tactics for bettering your service. You can also access statistics such as the number of people who have waited, response time, and the average conversation duration. Use these reports and staffing projections to hire the necessary customer service representatives to handle all interactions. Customers may also see information like customer satisfaction ratings, targets achieved, and the number of talks they've had.
LiveChat Pros 6: Useful Chat Tools
Agents can see what their clients are typing and write answers or insert template messages. An agent can move their chat to other team members if necessary. Use chat surveys to learn about your visitors' wants to provide more accurate and tailored service. Managers can monitor new team members' discussions to guide them and measure their progress. Agents can use the tickets tool to close queries they can't handle via chat.
LiveChat Pros 7: Built for e-commerce and customer support
For LiveChat, efficiency is the name of the game. As a result, it's an excellent online chat software application for e-commerce sales and support. It gives you a reliable communications platform with your consumers, objectives, and sales tracking. You can start using LiveChat, embedding a few lines of code on your websites. It will provide you with a real-time tool to connect and communicate with your visitors. Furthermore, you can monitor each conversation. With over 30 languages supported, compatibility with all browsers, and native iOS and Android applications, you can access and operate your online company from anywhere, at any time.
LiveChat Cons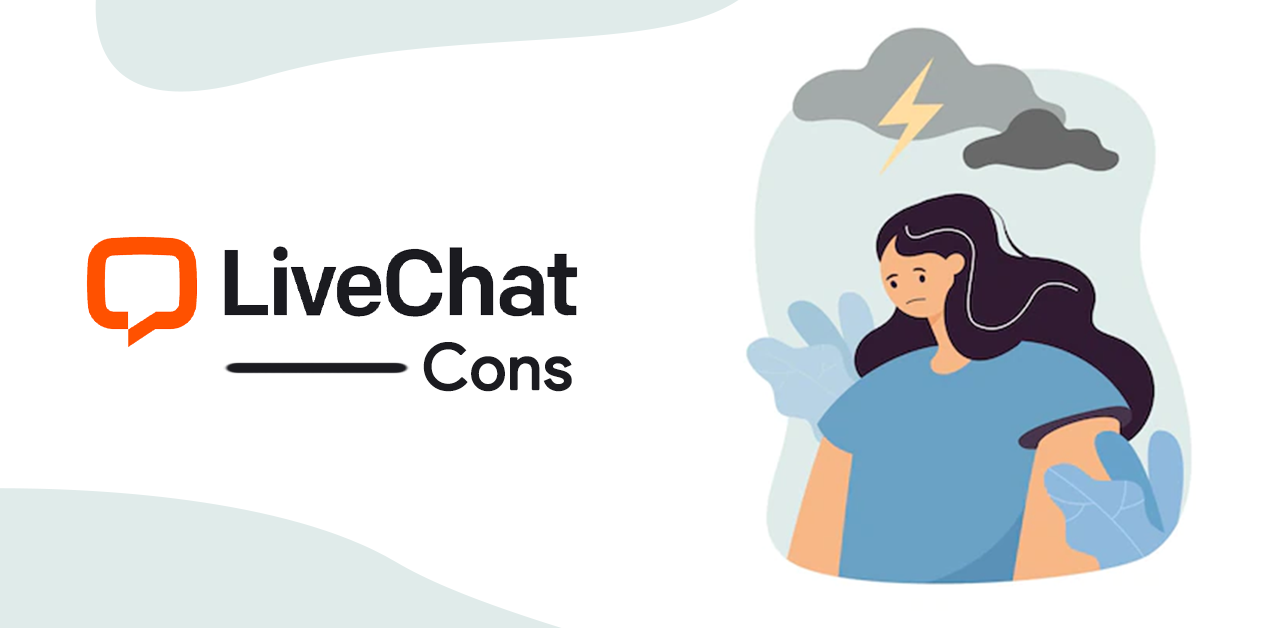 The cons of LiveChat are the following:
LiveChat Cons 1: Safety
Not as safe as other suppliers, lacking transactional security measures such as PCI compliance
LiveChat Cons 2: Communication Difficulties
You may not express your tone through live chat unless emoticons are utilized (which is not professional). There is always the risk of people misreading your remarks. As a result, it's critical to choose your words carefully to avoid misinterpretation.
LiveChat Cons 3: Sometimes Limited
Functionality is restricted, lacking co-browsing, agent wrap-ups, spellcheck, and other features. There is often a latency in getting chat messages, which can cause problems.
LiveChat Cons 4: Unfamiliarity and resistance to technology
Unlike most visitors, senior visitors may not know how to utilize the live chat option. Moreover, they may not feel comfortable using it and might prefer to speak on the phone.
LiveChat Cons 5: Delayed Responses
Your representative must respond to all messages as soon as possible. If they don't, the entire point of the live chat function is lost, and visitors may become upset due to delayed responses. You might lose prospects due to response delay.
LiveChat Cons 6: Misaligned Time Zones
As a business, you must recognize that internet visitors will not necessarily contact you between the working hours of your time zone. Because they may be in entirely different time zones, you must ensure to assign tasks to your support team correctly. It covers all hours to give 24 hours live chat assistance to whoever visits.
LiveChat Alternatives
The LiveChat alternatives are the following:
LiveChat Alternatives 1: Kayako
Kayako is a live chat program that allows businesses to quickly deliver immediate customer care and answer inquiries. Users can incorporate customer service live chat into their help centers and websites to respond to client inquiries. With the easy-to-use live chat mobile app, operators may give consumers help from any location. LiveChat Alternatives 1 Pricing: $15/month/user
LiveChat Alternatives 2: BotPenguin
BotPenguin is another option for you to consider as a replacement for LiveChat Inc. It is a chatbot and live chat application that allows users to personalize client interactions. An omnichannel universal inbox, real-time live chat, a built-in phone center, and a customer care portal are all available with BotPenguin. According to the vendor, customers may boost productivity by using the vendor's customer segmentation, automation, built-in CRM, sophisticated analytics package, and gamification capabilities. BotPenguin's customer messaging platform aids users in increasing lead generation and conversions at every step of the customer lifecycle. BotPenguin, as a live chat technology, enables you to build a tailored customer care experience, which leads to more delighted customers. LiveChat Alternatives 2 Pricing: $4/month/user
LiveChat Alternatives 3: Olark
Olark makes it simple for you to communicate with website visitors, allowing you to acquire quality leads and increase sales. You can collect data for your sales and support staff using the live chat tool. It will enable them to create the most remarkable customer experience possible during interactions. Olark, a LiveChat alternative, makes rapid engagement easier and offers seamless support experiences. LiveChat Alternatives 3 Pricing: $19/month/user
LiveChat Alternatives 4: Drift
Drift is another live chat option that helps businesses develop individualized interactions with consumers. It is one of the fastest-growing customer care products. Users will be able to contact purchasers right away, increasing brand engagement. That's not all, though. The online LiveChat alternative allows your sales staff to record and access client information to provide a positive customer experience. LiveChat Alternatives 4 Pricing: $50/month+$20/user
LiveChat Alternatives 5: Acquire
Acquire is one of the most acceptable LiveChat alternatives, allowing users to nurture visitors into customers with real-time help. From engagement to speedy client onboarding, Acquire is one of the top LiveChat alternatives. It not only helps a company increase revenue but also improves brand loyalty. Aside from that, the live chat feature assists in qualifying leads and routing them to the appropriate departments, lowering bounce rates. LiveChat Alternatives 5 Pricing: $38/month/user
LiveChat Alternatives, Pros, and Cons: The Bottom Line
LiveChat serves businesses in over 150 countries. It is one of the most popular chat automation and client interaction software. It integrates with all major platforms, helps improve customer engagement, and as a result, generates more revenue. LiveChat has the merits of being a good influence on your business. However, remember to go through both pros and cons of the organization. At the same time, don't forget to cross-check the alternatives like BotPenguin. Related: Livechat Review – An In-depth Look 2022