A recent survey on companies using CRM software showed that the average return on their technology investment is $8.71 for each dollar spent (Nucleus Research). According to qualifyCrazyEgg, 38% of consumers are more likely to buy from a company if they offer live chat support(like Hubspot). Do these statistics align with your experience? Or your answer would be something like:
"But I already have a Live Chat widget on my website and CRM, but didn't see much growth."
The gap that you are probably unaware of is that simply implementing a Live chat feature and CRM won't show any drastic growth. Most of the issues or tickets created to end up unanswered at least for a few hours.
Why? Because humans are imperfect and agents can't be present to answer queries at all times. Besides, the recurring cost of having agents working the night shift simply isn't practical nor affordable for small and medium businesses. A pickle.
CRMs are a great tool for customer service management, and HubSpot is, without a doubt, an exceptional CRM software. But using a CRM without the right tools won't do you any good. The Solution? When chatbots– a 24x7 virtual assistant is implemented and integrated with a business' CRM software, they can do magical things.
Chatbots are getting more advanced and can handle 68.9% of chats from start to finish (Startupbonsai). So how should you, and more importantly, why should you integrate Chatbots into CRM software like HubSpot?
What are Chatbots?
A Chatbot is a computer program that replicates and processes human conversation, allowing humans to communicate with it as if they were talking to a real person.
Chatbots can be as simple as basic programs that answer a simple query with a single-line response or as complex as digital assistants that learn and adapt to deliver human-like personalized responses as they collect and process data. Chatbots can act as 24x7 customer service agents.
Why Every Online Business Needs a Chatbot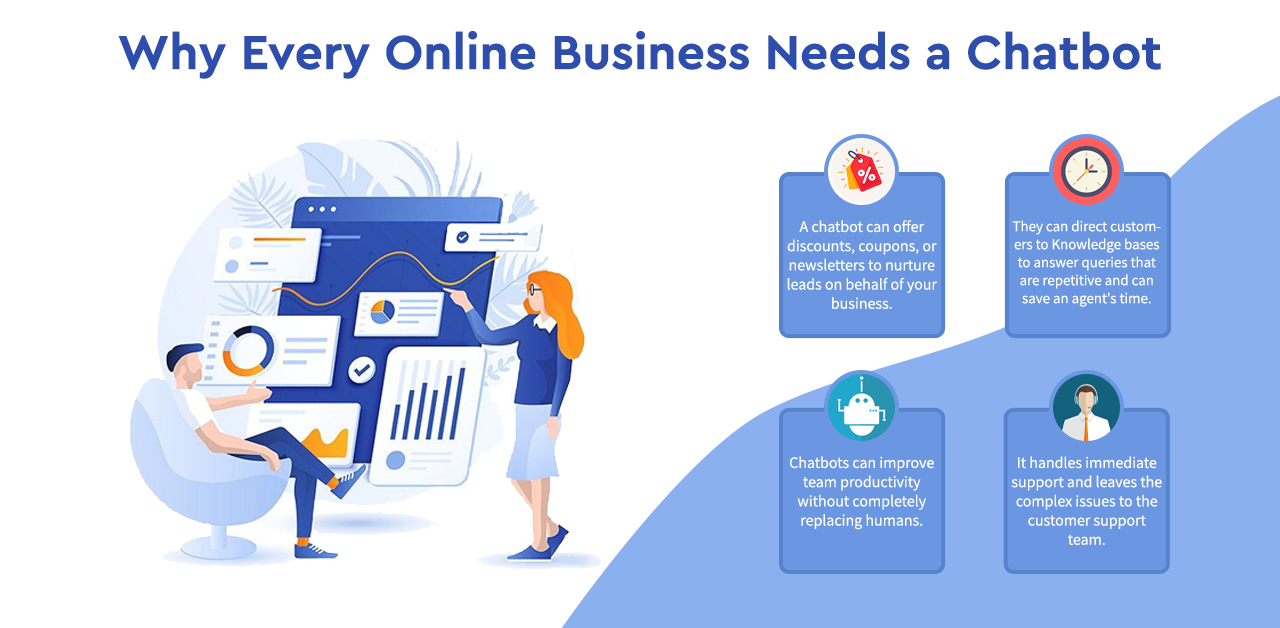 According to Chatbot Magazine, chatbot and AI agents implementation can reduce a company's overall customer support cost by up to 30%. A chatbot is no longer an additional or optional service choice to customers. SMEs have also started incorporating chatbots to improve their customer service and take a step towards efficiency and ease of operation in their businesses.
Nearly half of all the customers want companies to respond faster than 4 hours.
At the same time, 12% expect a response within 15 minutes or less (SuperOffice). Incorporating this still new form of communication can do businesses well, giving customers immediate responses.
Chatbots can boost lead generation, qualify leads, and direct them to the relevant department for support.
A chatbot can offer discounts, coupons, or newsletters to nurture leads on behalf of your business.
They can direct customers to Knowledge bases to answer queries that are repetitive and can save an agent's time.
Chatbots can improve team productivity without completely replacing humans. Its add-on support boosts the operations of the sales or marketing team.
It handles immediate support and leaves the complex issues to the customer support team.
What is HubSpot?
HubSpot is a leader in the industry of digital marketing. Its blogs and certification courses are quite popular amongst marketing aspirants too. While you might have heard about HubSpot, its collection of software is not so popular amongst the general public. HubSpot goes far beyond being a marketing tool and blog.
HubSpot offers a cloud-based, all-in-one CRM designed to help manage sales and marketing teams, boost ROI, and generate leads. Companies using the HubSpot software can organize contacts and keep a record and track every conversation they have had with them.
Today, CRM is still an integral component of HubSpot's software. Instead of functioning only to support marketing teams, HubSpot's existing CRM is used to help every team in a company, from marketing to sales to customer service.
Some HubSpot CRM benefits
Unlimited Users: Teams have access to their company's CRM with no limit on the number of users.
You can store 1 million contacts with the free plan.
HubSpot allows users to store records of conversations with any contacts for future analysis and feedback.
Integration with Gmail and Outlook: A team's conversations with leads and customers are saved independently.
Schedule Emails for newsletters and email marketing campaigns.
Team Inbox: A common platform so that everyone is working toward the same goals and are on one page.
Live Chat with Chatbot Integration for websites and apps to collect leads even beyond working hours.
HubSpot offers a lot of free tools for its CRM platform. These tools include the lite versions of select features and free CRM, which serves as a database, powering each HubSpot product.
How To Integrate Chatbots with HubSpot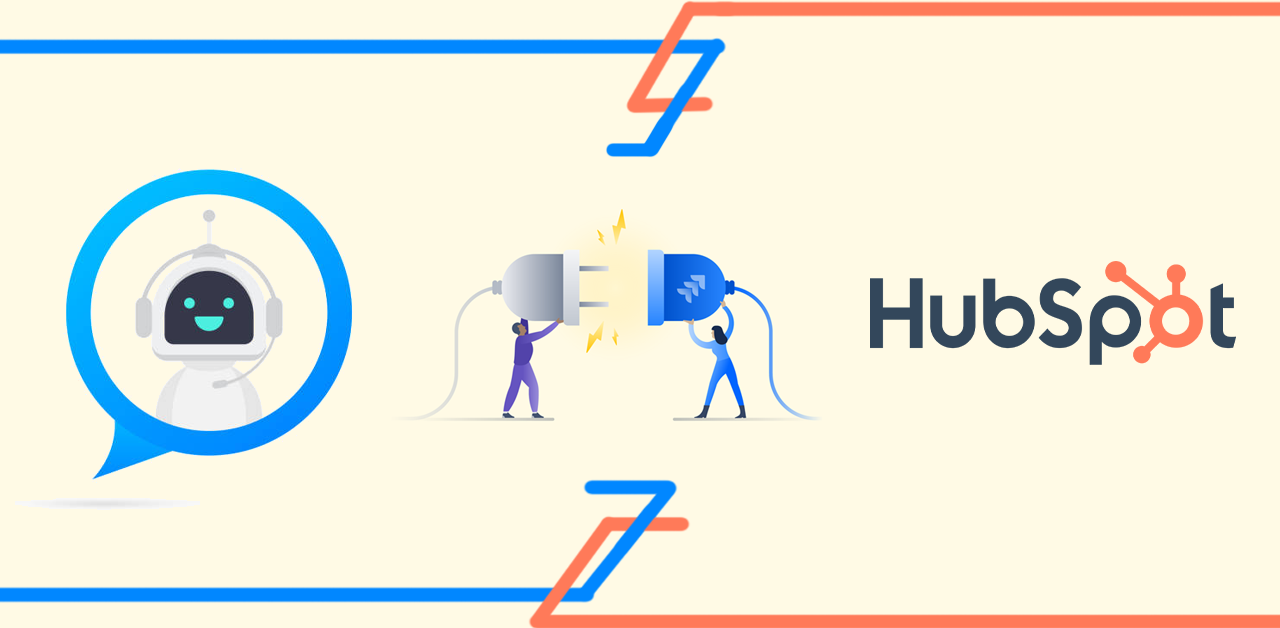 There are three ways you can Integrate a chatbot with HubSpot, and it all comes down to your goals and requirements.
Consider HubSpot's Chatbot as an option if you don't want to go through the task of integrating a chatbot. But if not your ideal choice, worry not. Because integrating a chatbot with HubSpot is easy.
The fastest method to do it is through Zapier, which barely takes 2 minutes and requires no coding knowledge-
Install Zapier and create an account
In the Marketplace, install HubSpot and your choice of chatbot
Authenticate the chatbot and HubSpot on the account.
Pick one of the apps as a trigger, which will start the automation process.
Choose an action on the other app.
Select the data you want to send from one app to the other.
How to Build and automate a chatbot from HubSpot
Navigate to Conversations > Chatflows on your HubSpot account.
Click Create chat flow.
Select Website if you wish to add a chat flow to your Facebook Messenger account
In the sidebar, under Build a bot, select one of the five templates Or create your bot from scratch using different bot actions.
Click Next.
On the left panel, customize the inbox and language settings.
Click Create.
How to Customize your chatbot
To create a greeting message and add chatbot actions on the Build section:
In the Welcome message panel that opens up, enter a message of your choice, and click Save.
To add new questions or make actions, click the add + icon.
In the right panel, select an action.
To edit the settings for an existing action, click the action in the bot editor and make your edits in the panel.
In the right panel, click the If/then branches drag down.
To get the chatbot to show when a visitor is on a particular website URL, click the dropdown menu in the Website URL section, and select Website URL.
Click the next dropdown menu and select a targeting rule.
Enter your rules in the text field.
The company name from the account's branding settings will show as the chat heading by default. To make changes to the chat heading, expand the Choose chat avatar tab, and edit the name in the Chat heading. To change the image avatar, head over to the avatar and click Change photo.
The Chat display behavior section controls the widget's behavior on desktop or mobile screens. Click the Chat heading to expand the selection.
When done with editing the bot, click Save. In the top right, click Preview to test the chatbot's setup. When done editing, toggle the switch on to add it to a website page as a widget.
Benefits Of Integrating chatbots with HubSpot

Chatbots are pretty useless in business terms when it's not integrated into a website or app. Aside from the general benefits of a chatbot, A chatbot integrated with a CRM as HubSpot can-
Deliver friendly and personalized messages based on visitors' data effortlessly in conjunction with the CRM software.
Program the chatbots to pass on the conversation to team members from the sales team when a lead is qualified.
Add contacts to different lists and workflows when they
Add contacts to different lists and workflows when they meet set criteria.
Track and record all the information the chatbot collects on first contact since conversations automatically sync and store data in contact records in their HubSpot CRM, giving teams the full context of interactions and where the contact is in the buyer's funnel.
Save an organization's time and resources through automation, and improve an organization's customer service capabilities. Chatbots can enable simple answers to simple customer questions at scale
Hubspot Integration: The Conclusion
Forrester's report found that 1 out of 5 customers would stop using a product or service for slow response times via online chat.
Integrating a Chatbot with HubSpot (or any other CRM you are using) can upscale your customer support team's efficiency while engaging with visitors and automatically saving data and records on customers. Chatbots, in most cases, are either free or very low cost.
Using a CRM platform without the necessary features is the parallel of an unnecessary investment. To use HubSpot to its fullest potential, consider the chatbot add-on available.
This article is all you'll need to start integrating and using chatbots with HubSpot.