According to Stat Counter, 52% of all internet traffic comes from mobile, with desktop usage on a trending decline. Over the past decade, desktop usage has become obsolete compared to mobile because of the mobility and use-on-the-go feature mobiles possess. Everyone owns a smartphone, from the local vendor to the Uber driver to your best friend. So, what do the 6.3billion people owning a smartphone do on it? According to eMarketer, 88% of mobile time spent by users is on apps. Companies that have been slow to adapt and still use traditional web support face problems engaging with their customers. Today, customers rarely seek support through email anymore and use platforms like Helpshift.
Helpshift is the first dedicated in-app mobile customer support provider that solves customer queries where they need it most, in apps. This guide will answer all your questions about Helpshift, how it works and what sets it apart.
What's the difference between In-App and Web customer service?
Convenience
According to a survey by Ovum, customers like to use mobile for customer service because 1) it's faster than other channels, 2) it's more convenient than calling a customer service center.
Let's add to that. In-app customer service is more convenient than web service because it acts as a one-stop solution for all customer needs. From placing orders to getting discounts and seeking customer support, you can do it all on an app.
Businesses can use an app to collect crucial data from customers based on location, purchase history, and demographics. It will help them work on their marketing more strategically to enhance customer experience.
Push Notifications
A capability of apps is when webpages are still slow to load. They adapt and send push notifications to customers who have the app installed on their devices, giving app publishers the ability to send messages to users directly.
40% of consumers admit they have at least 50 unread emails in their inboxes, but unread mobile messages are much less common (Forbes).
Why is this important? Because customer service agents can engage and notify users of their presence better on an app.
Before we dive into what Helpshift is and how it works, you should understand some terminology that Helpshift revolves around.
Some Terms to get familiar with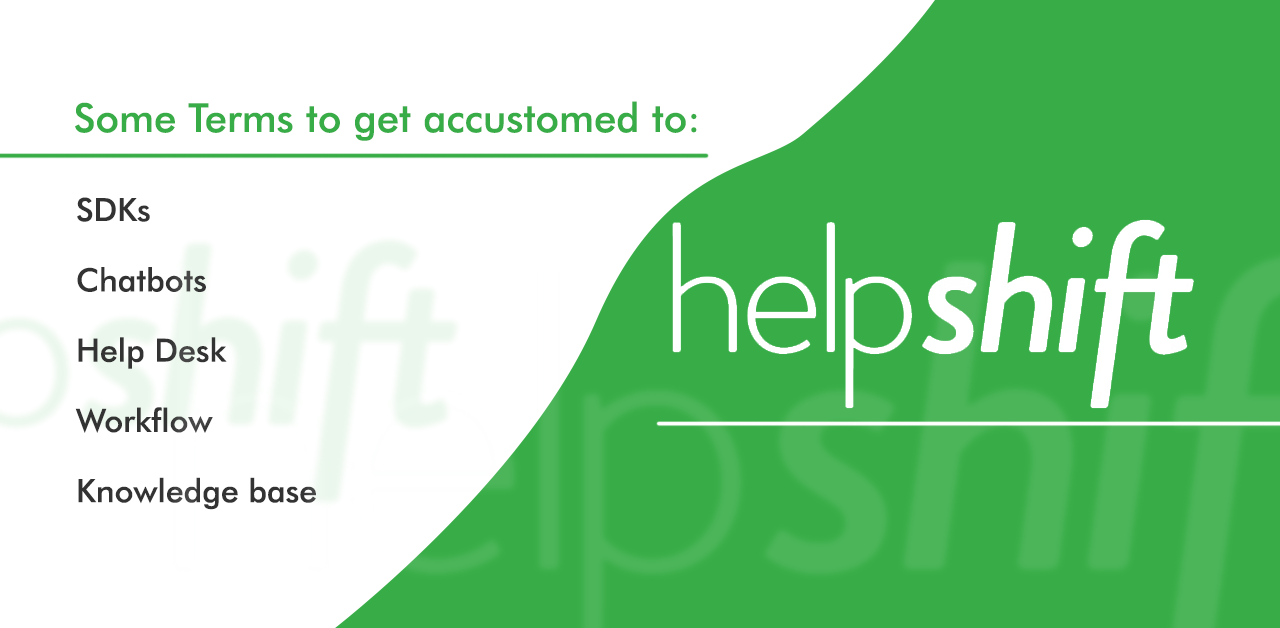 SDKs
A software development kit (SDK) is a collection of tools that helps programmers. It enables them to build custom apps that can connect to other programs. SDKs allow developers to build apps for a specific platform.
SDKs have four categories-
SDKs for operating system environments (iOS, Android)
Open-source SDKs
Proprietary SDKs
Hardware SDKs
Chatbots
A chatbot is a computer program that replicates and processes human conversation (written or spoken). It allows humans to communicate using digital devices as if they were talking to someone.
Chatbots can be as simple as basic programs that answer a simple query with a single-line response or as complex as digital assistants that learn and adapt.
Digital assistants can deliver increasing levels of personalization as they collect and process data.
Help Desk
An online Helpdesk or customer service desk is a contact system that provides centralized information and supports management services for both internal and external queries of services.
Helpdesk software helps companies resolve customer grievances quicker and more efficiently by automating complaints with the ticket management system.
Workflow
Users can set up workflows to monitor a defined set of tasks and their sequences. Workflow management helps reduce the manual efforts of humans in automating tedious tasks.
It further allows users to collaborate and automate processes and define different tasks for processes and applications.
Knowledge base
A knowledge base is a self-serving online library for information about products, services, departments, or topics.
Features to look for in an online customer support platform?
Assign and track tickets
Mobile App
Integrations with third-party software
Multi-language
Automation and reports
Cost and ROI
Knowledgebase to ease the effort of agents
Cloud-based support
What is Helpshift?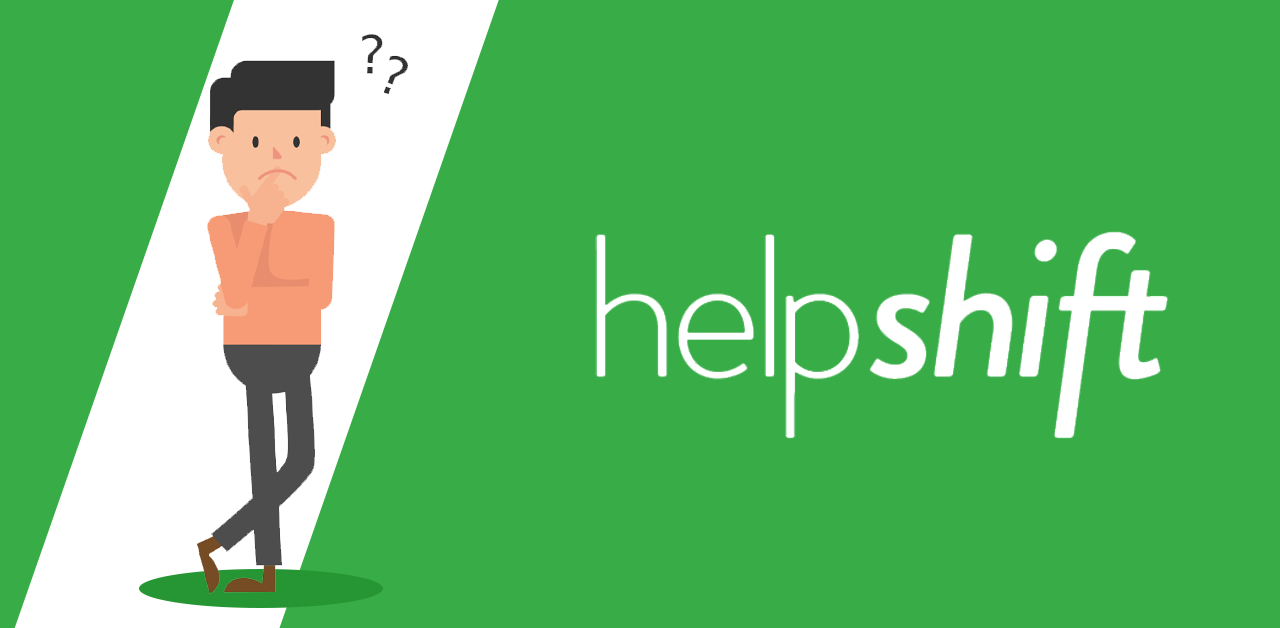 Helpshift is an in-app-first platform for providing customer support. The solution helps app developers, executives, project managers, and support managers ease customer support tasks for their mobile and web users.
The software allows users to resolve customer queries, requests, and issues through in-app tools for live chat, promoting seamless communication between customers and support agents.
Tasks of agents and customer support teams get easy by allowing customers to interact with chatbots or access the Helpshift knowledge base. It can solve simple queries, saving customer agents time and giving customers quick solutions.
It fits businesses of all sizes. Support agents using Helpshift can segment tickets based on priority, status, language, and topic.
What are Helpshift Products, and how do they work?
In-App Help
The native iOS and Android SDKs allow support agents to offer a seamless, conversational texting experience to in-app users unified with the Web Chat experience. The AI-powered chatbots can work alongside the Helpshift SDK X to help in handling routine conversations. It can help support teams take on end-to-end Issue management.
How it works:
The in-app offers all the tools users need, a dashboard to manage workflows, chatbots for interaction when agents are away, and custom SDK tools for easy app development.
To use the in-app help, users have to download the latest SDK for iOS and Android from the Helpshift developer documentation.
Next, team admins should review and enable special Dashboard features that work best for their workflow. An example is the "conversational Issue Filing." It offers a wholesome conversational support experience for app users.
After enabling Conversational Issue Filing, users can allow chatbots to customize the in-app experience and provide 24x7 customer support.
Web Help
Web self-service can be synonymous with a knowledge base. It refers to customer service that puts the control button in customers' hands. Using web self-service, customers can access answers to common queries and resolve common problems without contacting an agent.
All customers need to do to solve their problem is visit a company's website and search for the issue of concern.
How does it work:
Helpshift lets you competently combine human and automated customer service elements. It utilizes the same knowledge base to answer queries and solve customer problems across every channel. Seamless and conversational in-app support and AI-enabled bots give your customers access to knowledge base articles with no barriers.
Users can use chatbots as the first point of contact to guide customers to the knowledge base articles that may solve their problems before getting a human agent involved.
Chat and Conversational Help
The chat and conversational help that Helpshift provides emphasizes delivering modern, enjoyable conversations for customers while keeping agent involvement as far away as possible. How? By incorporating intelligent chatbots that can provide natural, free-flowing conversation wherever it happens.
How does it work:
Asynchronous messaging works in tandem to collect customer information, suggest helpful self-service choices, and route issues to the agents. It ensures that the customers' problems get resolved as quickly and efficiently as possible.
The chat and conversational help also offer a unified experience for the support team with a unified experience. Agents can easily switch between different support channels on a single platform, reducing the risk of any customer falling through the cracks.
Help Bot Automation Software
Customer service chatbots use AI and automation to deal with customer service issues on a live chat or messaging platform. The Helpshift Help Bot uses Natural Language Processing (NLP) to find and answer customer questions and supports over 180 languages.
How does it work:
Using content from a knowledge base, QuickSearch Bot responds instantly to customer tickets depending on keywords within the search. It enables your support team to automatically resolve fundamental issues or, in worse cases, escalate conversations to human agents upon customer requests.
Helpshift has a user-friendly platform that enables users to create automated bots for various tasks and operations. Users don't need to know coding to learn bot automation.
They can choose from pre-built help bots or use the bot templates to create a tailor-made chatbot that fits their personal needs. Once the chatbot creation is complete, it's easy to start using it in any customer service channel.
Agent Desktop
Agent Desktop is a comprehensive ticketing platform that provides a unified Dashboard for all customer information and easy navigation for agents using Helpshift.
How does Helpshift agent desktop works:
Agent Desktop improves productivity by giving admins and agents access to reports and analytics, equipping them with the automated tools they need. The unified agent desktop solution gives teams complete visibility on tickets, active cases, and history, ensuring a speedy resolution of all tasks.
Teams can even automatically segment user data to route grievances to the proper department. The unified agent desktop platform has room for exploring new opportunities in personalization and further improving customer satisfaction.
Data from all channels is collected and shown as a holistic view of each customer on a single platform.
How does Helpshift benefit a business?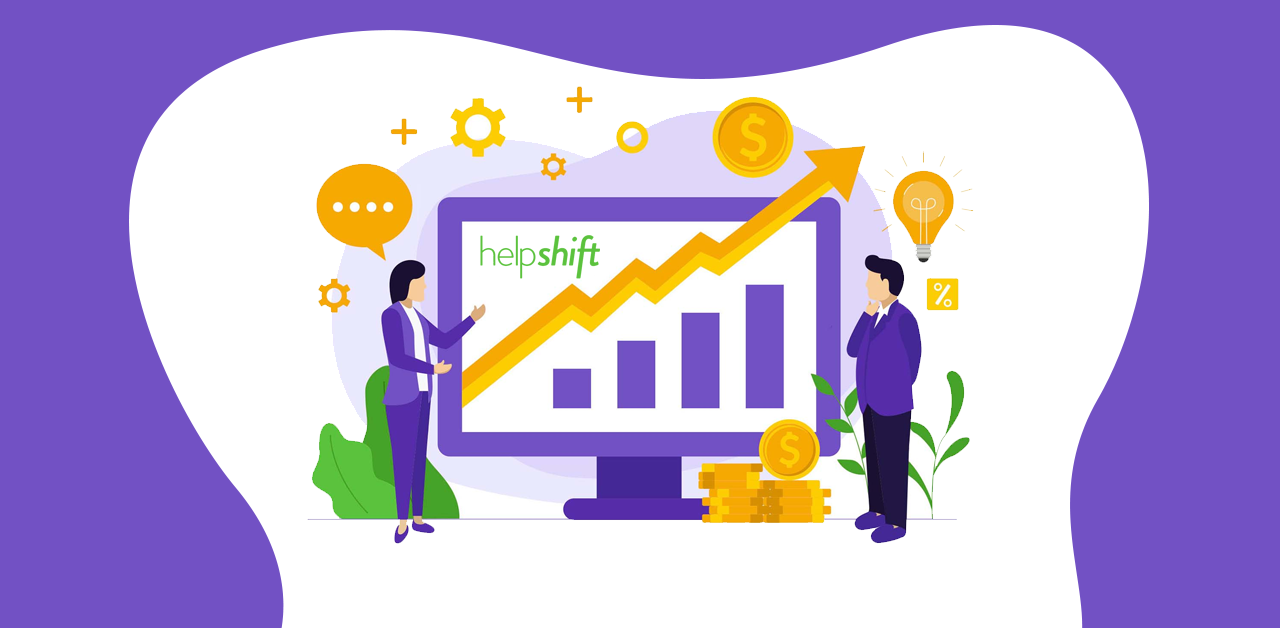 Helpshift is a Multichannel and Omnichannel Communication platform
Omni-channel customer engagement is the choice of nearly 78% of the customers (Salesforce). Helpshift acts as a one-stop solution for all customer support needs. Helpshift allows customers to reach out to the support team on their preferred platform from issues to self-service. Be it apps, webpage, email, or self-serve, Helpshift gives customers complete control of where and how they want to handle their problems.
Helpshift offers Better ROI
A well-functioning online support system can reduce labor costs with customer support technology solutions. It reduces the volume of tickets since customers can quickly solve their problems. By providing a knowledge base and automated replies, agents don't need to step in. What does that mean? Lower costs and better return on investment.
Monitoring and Tracking
It's easy to monitor the status of issues or service requests raised by customers on the Helpshift Dashboard. It gives you perspective on the complete problem resolution cycle, starting from the opening time of a ticket to its closing. Monitoring and tracking customer requests can keep work organized and save your agents time to work on what's important.
Helpshift Improves customer engagement and relationship
There is a 70% greater chance of converting re-targeted visitors, and 64% of the customers expect tailored engagements based on previous interactions (outgrow). By helping you provide superior customer support and assistance, Helpshift helps your business earn quality customer satisfaction. It all happens due to its real-time and personalized chatbot features. Furthermore, you can build healthy and profitable relationships with existing and new customers by re-engaging with them through automated messages.
Helpshift offers Faster Problem Resolution
Helpshift can simplify various tedious and time-consuming day-to-day processes. Your customer support team can save crucial time and effort and use it to perform other vital tasks in the long run. A great help desk solution can help decrease ticket resolution time substantially.
Helpshift gives Better agent productivity
More data history on customers can improve the quality of assistance and support provided to them by the agents. Agents can elevate their roles, focusing on trickier problems that require a personal touch and have a far more significant impact on the overall customer experience. You can ensure that your customers get complete and accurate service with all their troubles and questions in focus.
Key Takeaways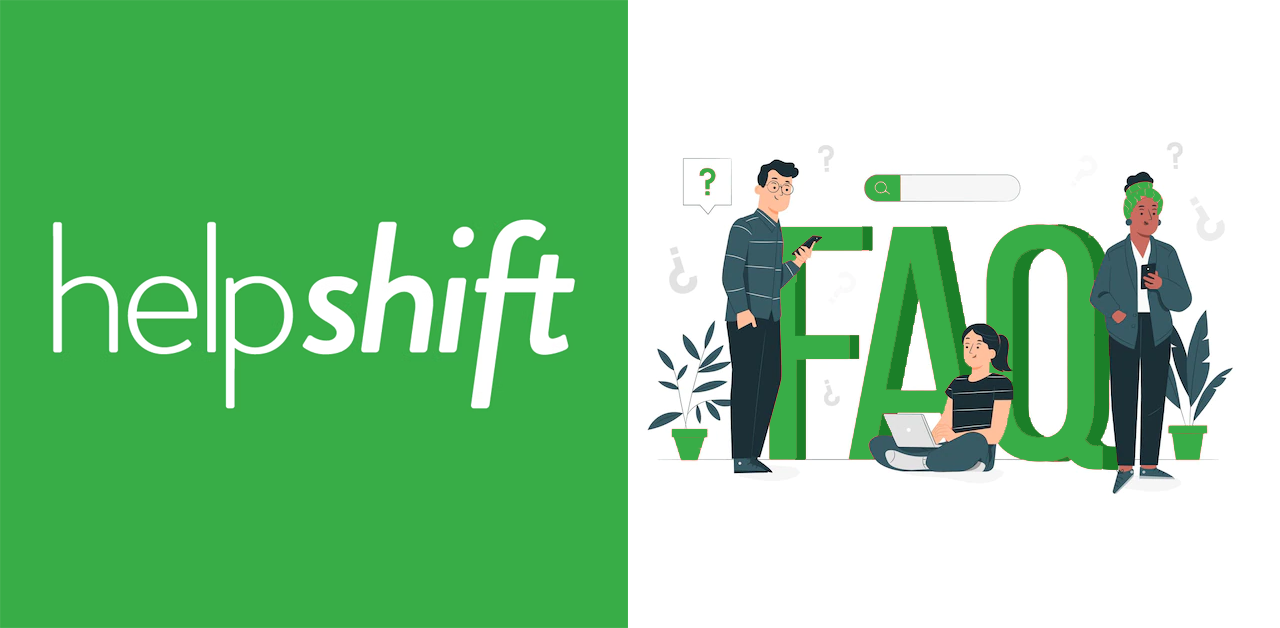 If you're wondering whether or not to implement an in-app customer support solution for your business. These statistics will help change your mind.
79% of millennials tend to buy more from brands with a mobile-responsive customer support platform(Microsoft).
67% of customer churn is preventable if firms resolve issues immediately as they occur (Ameyo).
86% of service teams report having a help desk system increased their productivity. (HubSpot, 2020)
More than 60% of US consumers prefer an automated self-service, such as a Knowledge base or mobile app for simple customer service tasks.
Helpshift provides easy-to-use tools and integrations to carry out online in-app customer service tasks efficiently. Moreover, you can still offer support on other channels. Real-time chat and quick responses can reduce customer churn rates drastically, something email-based customer service platforms fail to meet.
Whether an enterprise or a small-medium business, Helpshift is highly scalable. It has good features and offers a good ROI for companies wanting to meet their customers where they want.