Ever since covid-19 hit the globe, all businesses have prioritized virtual communication.
According to Modality systems, 80% of people on the internet have shifted to online meetings, live chat, and other mediums. Tending to customers online with a full support team is the new normal.
Calling is one of the basic functions of every help desk globally.
Twilio has been one of the top business communication providers since 2008. It is no surprise, as Twilio is one of the best market automation tools for businesses of all sizes.
However, the top market automation tool might not be the best option for your brand. Although Twilio offers an easy user interface, the cost can dent your pocket. But not to worry, we got you covered.
Continue reading to learn more about the top 5 Twilio alternatives.
What is Twilio?
With the help of the fully editable application program interface (API) that Twilio offers, you can quickly integrate communication features like voice, SMS, and chat into your current app or website.
Twilio is constructed similarly to Lego in that you may combine and customize its software and APIs to meet your communication needs.
Twilio offers essential software and communications building elements without sacrificing performance, security, or compatibility.
Even further, Twilio provides credentials to your developers so they can modify keys on the backend without changing the app's shortcake.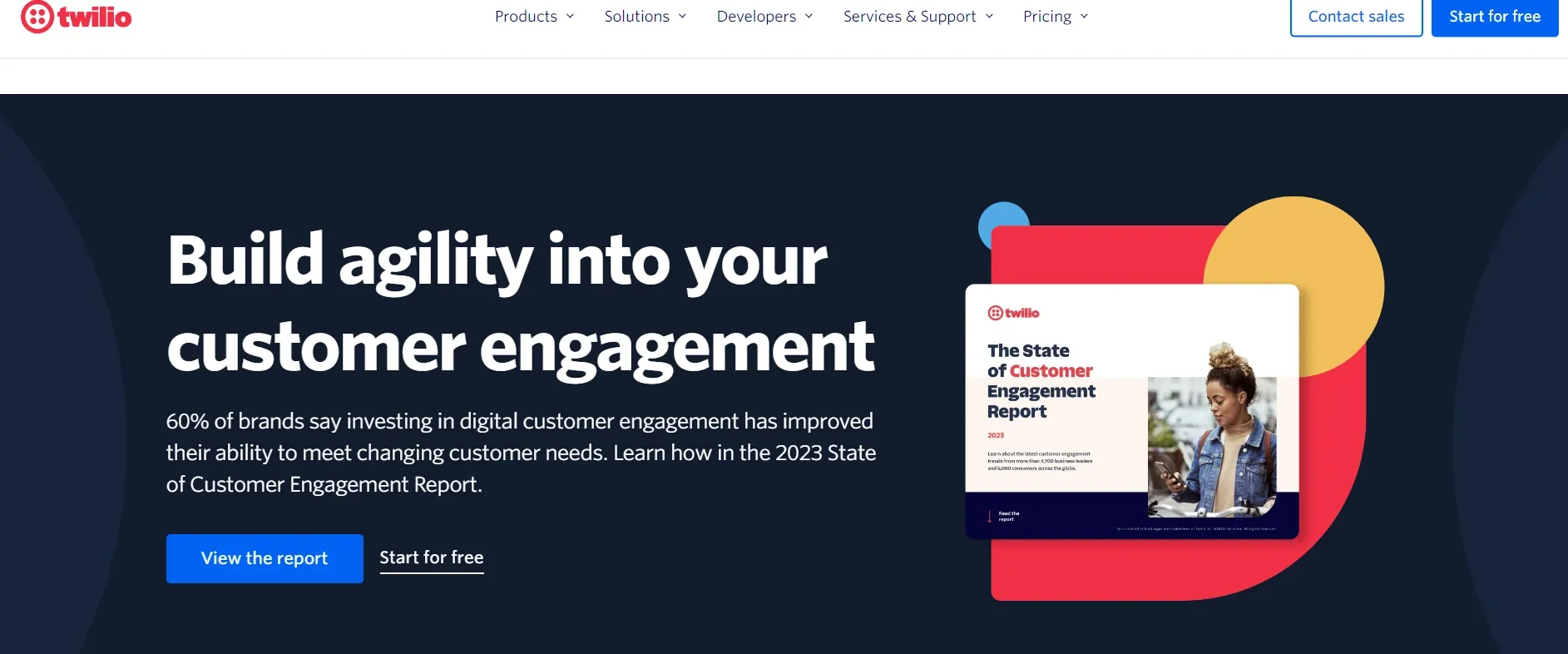 How much does Twilio cost?
The phone calling solution from Twilio is accessible for a range of markets, sectors, and requirements.
Video calls start at $1 for local numbers, $0.0085 per minute for receiving, and $0.013 per minute for placing calls, according to their range of tariffs.
For toll-free lines, a number is $2 per month, while the cost of calls is $0.0022 for receiving and $0.013 for placing calls.
Participants in conference calls pay $0.0018 per minute, while the recording costs $0.0025 per minute.

Why look for an alternative to Twilio?
It is difficult to suggest Twilio to someone searching for a quick solution for their phone system needs because it is, first and foremost, an API and does not have a direct user interface.
The Twilio team's documentation is comprehensive, necessitating a person or a full team to understand and put it into practice.
Additionally, many online individuals claim that Twilio lacks an effective customer service mechanism.
It becomes clear why people are looking for Twilio alternatives when considering the difficulty of implementing such a system. At the same time, there is no one to support you actively.
It is especially true given that most people want a set-it-and-forget-it option.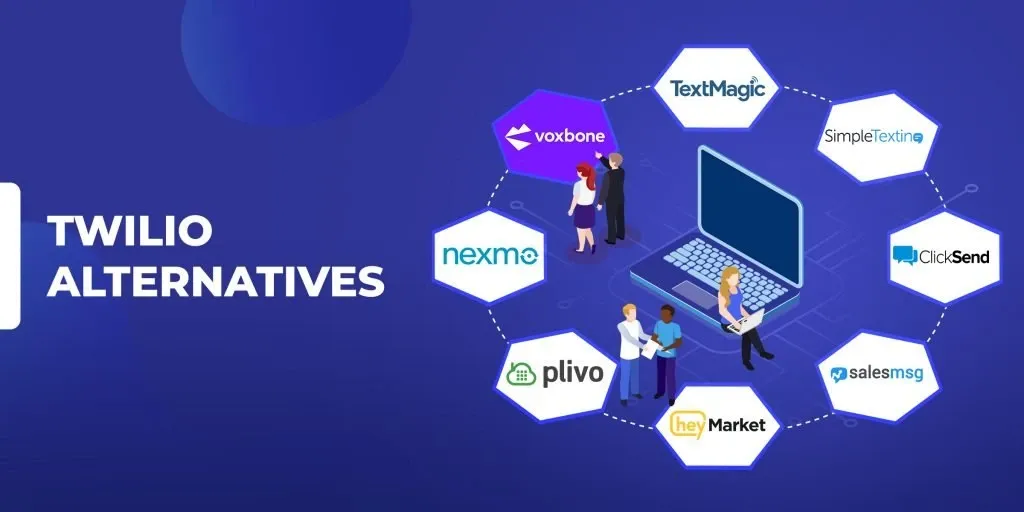 5 Twilio alternatives that you can try right now!
Alternatives one can try in place of Twilio
Plivo

With Plivo, you can create customized calls and SMS APIs thanks to the company's network of more than 1,600 international operators and connections in 195 nations.
It provides messaging in 19 countries, conference calls, recording, and multi-language support for text-to-speech functions. Furthermore, Plivo offers prices for several APIs rather than providing various services.
On the Plivo SMS API platform, users can use programming to send and receive text messages. SMS APIs enable users to communicate with clients anywhere in the world.
Many large, creative companies use Plivo to increase engagement. GoDaddy, Workday, Wix, Greyhound, and Deckers Outdoor Corporation are a few of these companies.
With Plivo's long message concatenation, you can still send SMSes that are longer than the typical 160 characters. The phone recognizes when a sender exceeds the limit and divides the message into two SMSs.
However, the receiver receiving multiple illegible texts as a single message makes this function more intriguing.
You'll value the assistance Plivo offers for any character set as a developer. Thanks to the GSM and Unicode character sets already supported by the device, you can communicate in any language.
Transmit communications from your business in Arabic, Chinese, English, or Japanese. Additionally, you don't have to use plain text in your communications; instead, you can be imaginative by using symbols and emojis.
Apart from Plivo BotPenguin has many Integrations such as-
Vonage (Nexmo)
The SMS API platform Vonage, formerly Nexmo, prioritizes precise and secure text communication with your customers. Vonage is a tool that developers may utilize to facilitate productive collaboration without compromising privacy.
Users can interact with your business by scheduling appointments, confirming deliveries, and more.
Only four countries — Svalbard, Western Sahara, North Korea, and Myanmar — do not allow Vonage message delivery. Users can allocate virtual numbers in regions like NMEA, North America, South Africa, and Australia.
Developers from businesses in a variety of industries have used Vonage to great effect. These industries include, among others:
Vonage offers a more direct connection mechanism than Twilio from a business standpoint.
Through SMS gateways, Twilio connects to suppliers, also known as aggregators. Messages repeatedly bounce before arriving at the carrier since these aggregators frequently sell to others, which causes high redundancy rates.
The simple and intuitive Vonage API uses a RESTful (representational state transfer) architecture. It is dependent on a stateless protocol, usually HTTP. REST allows for any server object's creation, editing, and deletion.
This architecture is regarded by many developers as one of the most customizable ones accessible, making it simple to add new connections for websites or mobile applications.
On the other hand, Twilio employs a RESTful API, which is stateless and has many of the same capabilities but is also far more difficult for novice developers to grasp.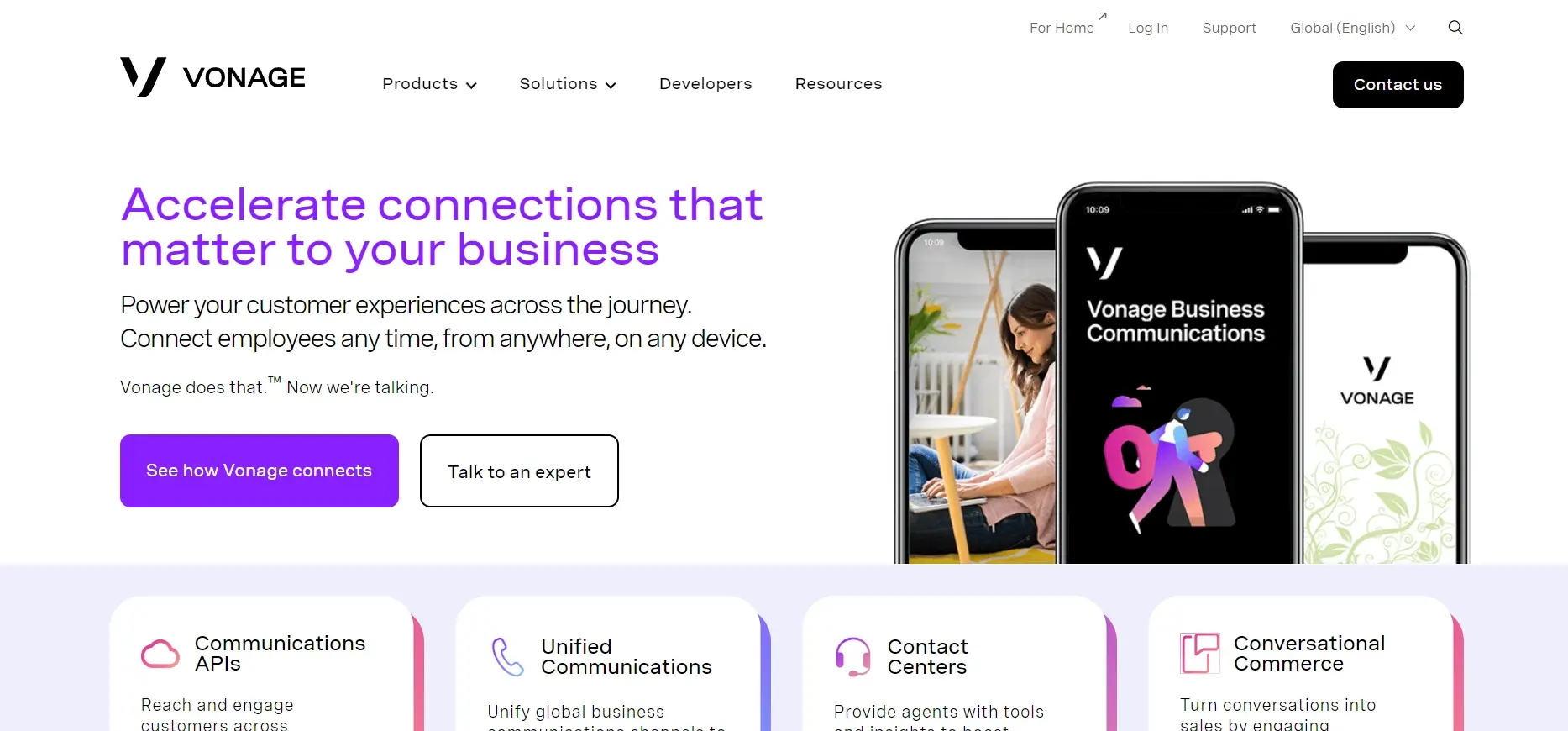 Voxbone
With SMS API services from Voxbone, you may extend the reach of your business. The Voxbone platform has been around for a while, giving it plenty of time to develop a fully integrated global network.
The platform can reduce failure points and adhere to all international regulations thanks to the network's connections with carriers and authorities.
Voxbone enables users to keep in touch with their clientele in an easy and close-knit manner. It offers interconnectivity that is private and safe from more than 450 sites.
You can choose from various interconnecting choices to meet your expectations for quality and security. A business of any size can easily switch to Voxbone thanks to automated number porting.
Voxbone has been used by many well-known businesses to improve customer communications. Some of these companies include:
Five9
8×8
Dialpad
com
Skype
FrontSpin
Uber
SignalWire
Bandwidth
A platform for cloud-ready voice, text, and emergency services are called bandwidth. It has one of the most well-known names in the CPaaS industry. It provides a wide range of communications APIs and many useful features.
There are a ton of capabilities in its voice calling API, including customized and automatic call routing, call recording and transcription, and text-to-speech. Also, it has call tracking, IVR, automated voice reminders, conference calling, and fully complete SDKs.
SMS surveys, SMS to email, real-time delivery receipts and updates, and SMS reminders and notifications are just a few of its messaging features.
One of the few Twilio options with a national carrier network is bandwidth. Although bandwidth boasts on its website that it can save Twilio users up to 50%, this does not only refer to direct-to-carrier savings.
Additionally, it denotes a greater standard of connection and assistance.
Additionally, unlike Twilio, Bandwidth offers free incoming SMS and does not tack on a support cost.
While Twilio will give information on message delivery, bandwidth goes above and above to give more specific information about whether the message truly reached the end user and not simply the carrier network.

TextMagic
It is a UK-based business with almost 15 years of experience assisting businesses with mobile marketing and improving customer relations.
This corporate text messaging service can notify your clients and send them SMS marketing messages, alerts, and reminders.
Using the desktop or mobile versions of TextMagic, one of the most practical things you can do is send mass SMS online.
Other SMS marketing platforms don't allow for two-way discussions with clients, which fosters a higher level of personalization.
Even without having extensive coding skills, you can configure the application to allow you to send and receive texts via email.
Users of TextMagic can use API gateways and Zapier connectors, and this service also offers a team-sharing tool.
You'll be able to monitor your messaging campaigns and make adjustments as required.
You may utilize the reporting and analytics features to monitor your total outreach, which makes them especially helpful. You may record how many leads you acquired over a specified period, which allows for very specific reporting choices.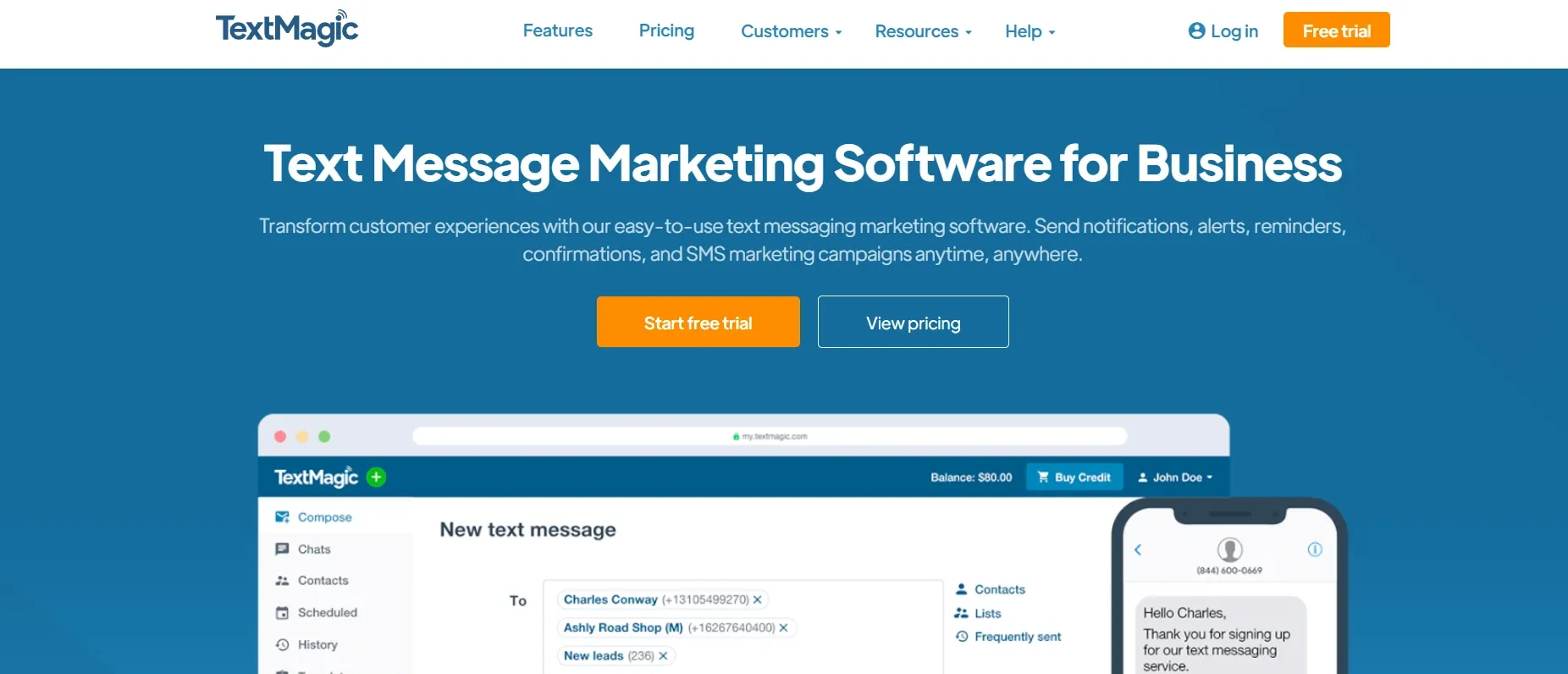 Conclusion
To sum up, Twilio is a great SMS API platform for developers. Although it takes some getting accustomed to, an experienced developer shouldn't have any trouble adapting its capabilities to serve the needs of their business.
However, Twilio might not be a good fit for every organization.
Go Through our list and experiment to find which suits you best. No matter your service provider, you'll undoubtedly enhance client communication for your company and boost profits! Good Luck!
FAQs
What are some alternatives to Twilio that can be used immediately?
There are several Twilio alternatives that you can try right now, including Plivo, Vonage (Nexmo), Voxbone, Bandwidth, and TextMagic. These platforms offer similar services to Twilio, such as SMS and voice communication APIs, and can be easily integrated into your applications or systems.
How does Plivo compare to Twilio as a communication platform?
Plivo is a popular Twilio alternative that provides robust communication APIs for SMS, voice calls, and video. While Twilio and Plivo offer similar features, Plivo is often considered more cost-effective for businesses with high-volume messaging needs. Plivo also boasts global coverage and reliable service, making it a suitable choice for companies looking for an alternative to Twilio.
Can Voxbone be used as a replacement for Twilio?
Yes, Voxbone is a viable Twilio alternative, particularly for businesses focused on international communication. Voxbone specializes in global phone number provisioning and inbound SIP trunks, offering a wide range of virtual phone numbers from various countries. By integrating Voxbone into your system, you can establish local presence in multiple regions and enable international calling capabilities.
What sets Vonage (Nexmo) apart from Twilio as a communication provider?
Vonage, also known as Nexmo, is another strong alternative to Twilio. It offers APIs for SMS, voice, video, and messaging applications. Vonage stands out for its carrier-grade infrastructure and extensive global network, allowing businesses to reach customers worldwide. Additionally, Vonage provides powerful tools for authentication and security, making it an attractive choice for businesses that prioritize data protection.
Can these Twilio alternatives integrate with existing systems or applications?
Yes, these Twilio alternatives are designed to be easily integrated with existing systems or applications. They provide comprehensive documentation, SDKs, and libraries that facilitate seamless integration. Whether you are using popular programming languages like Python or Java, or if you prefer using RESTful APIs, these alternatives offer the necessary tools and resources to ensure smooth integration into your existing infrastructure.