Many customers expect to be able to text a company with their questions. Millions of people have already received text messages from businesses, whether an appointment reminder, a promotion, or a link to complete a customer satisfaction survey. A Few text message marketing tools are as comprehensive as Podium. Sending promotional and instructive messages to clients via Podium is only the start of what can be accomplished with basic messaging. The whole suite of technologies enables seamless integration of all corporate communications into a single dashboard. Bringing together previously fragmented customer touchpoints into a single point of contact for your entire team.
Continue to read a complete guide to Podium - What is Podium, and how does it work?
What is Podium?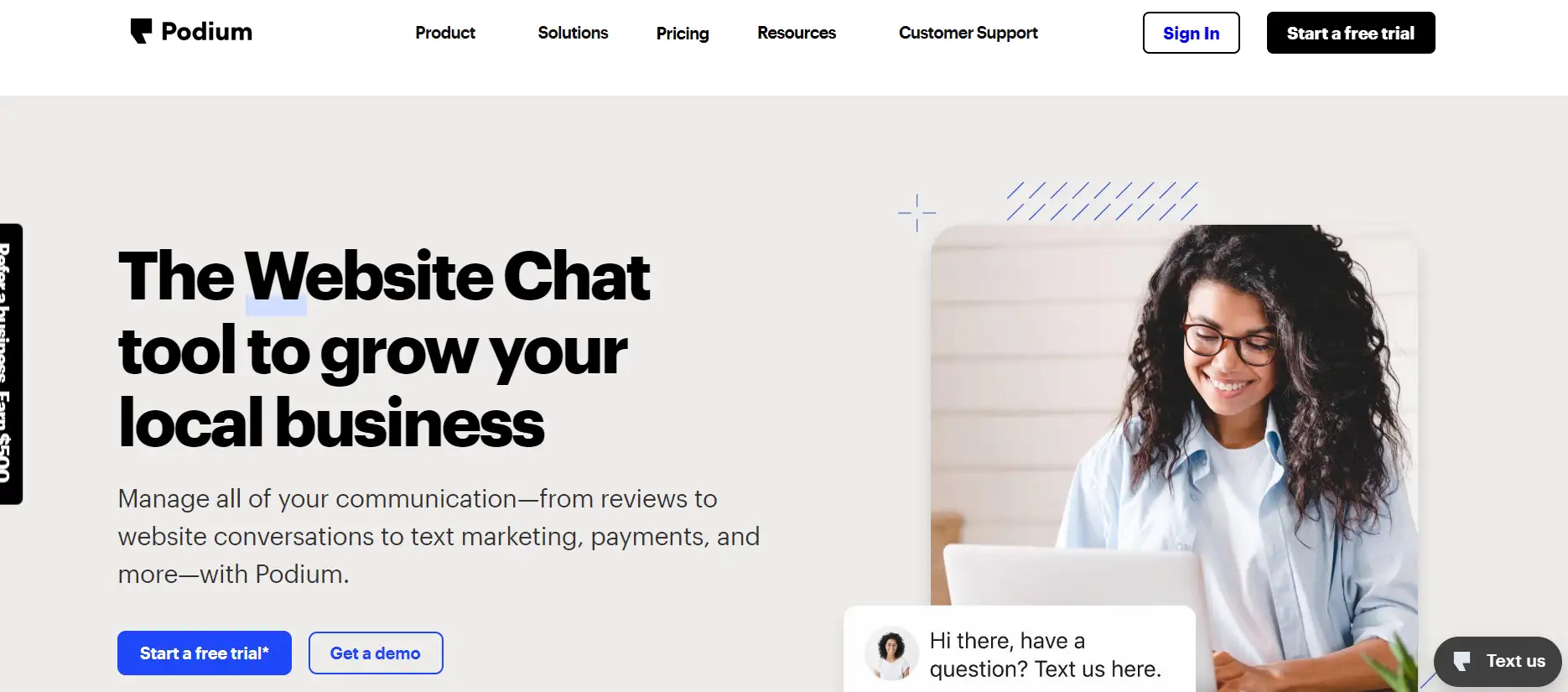 Podium is redefining customers' interactions with local companies. It is the solution for everything from collecting reviews on the sites that matter most to text-enabling your website with Webchat. It also helps accept payments by text or gather private feedback after an experience.
To top it up, one can manage all customer communications from one dashboard with Inbox. Podium's Interaction Management platform employs messaging to make it easy to connect with your prospects, customers, and the team at every customer touchpoint. You can contact your prospects and customers, get reviews and comments, collect payments, and connect with your team all in one simple Inbox with Podium. It fuels the most important conversations in your company, putting you miles ahead of the competition.

BotPenguin offers chatbot creation for social platforms, websites, wordpress along many different features:

Features of Podium
The features of the Podium are the following: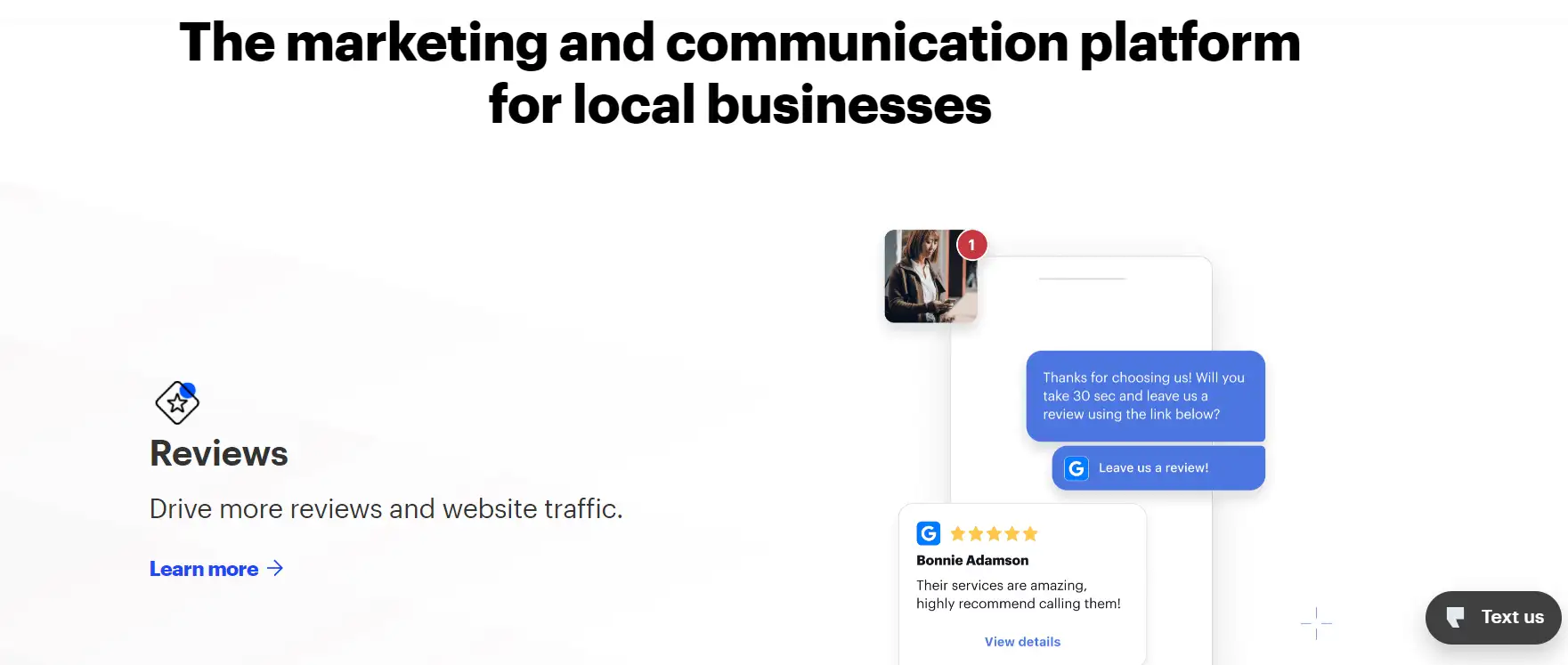 Usability
Podium users see a single dashboard that shows an overview of all activities. Users may link their Google My Business and Facebook profiles, connect inbound prospects and invite other users to the account with only a few clicks. You can access your mailbox, check reviews, and manage text message marketing campaigns all from the same window after you've logged in.
It works with systems like Facebook Messenger and Google's click-to-message feature. Podium offers direct interfaces with specialty CRMs for customers in certain sectors, such as Dentrix for dentistry clinics and CDK for automotive shops.
Campaign Management: Text Message Marketing
The Podium has many capabilities, including managing text message advertising campaigns. Manage signups and lists using Podium's text message marketing capabilities, distribute targeted content to certain groups or lists, and provide coupons to customers. All communications are displayed in the same thread where your consumer communicates with you. The Podium also provides analytics, allowing you to examine key indicators such as open rates and click-through rates.
Solicit and Manage Reviews
Customers may submit online evaluations on Facebook, Google, and various platforms. All of these reviews may be controlled using Podium, which is an easy-to-use platform. Customers receive a link to post a review on the platform of their choosing using Podium's review tool, which automates the time-consuming review soliciting process.
Businesses can watch where their customers are coming from with Podium's switchboard function, allowing them to double focus on the review sites that matter most for lead creation. Simple reporting allows you to evaluate how you stack up against rivals, allowing you to fine-tune your internet marketing efforts.
Organize Messages in One Place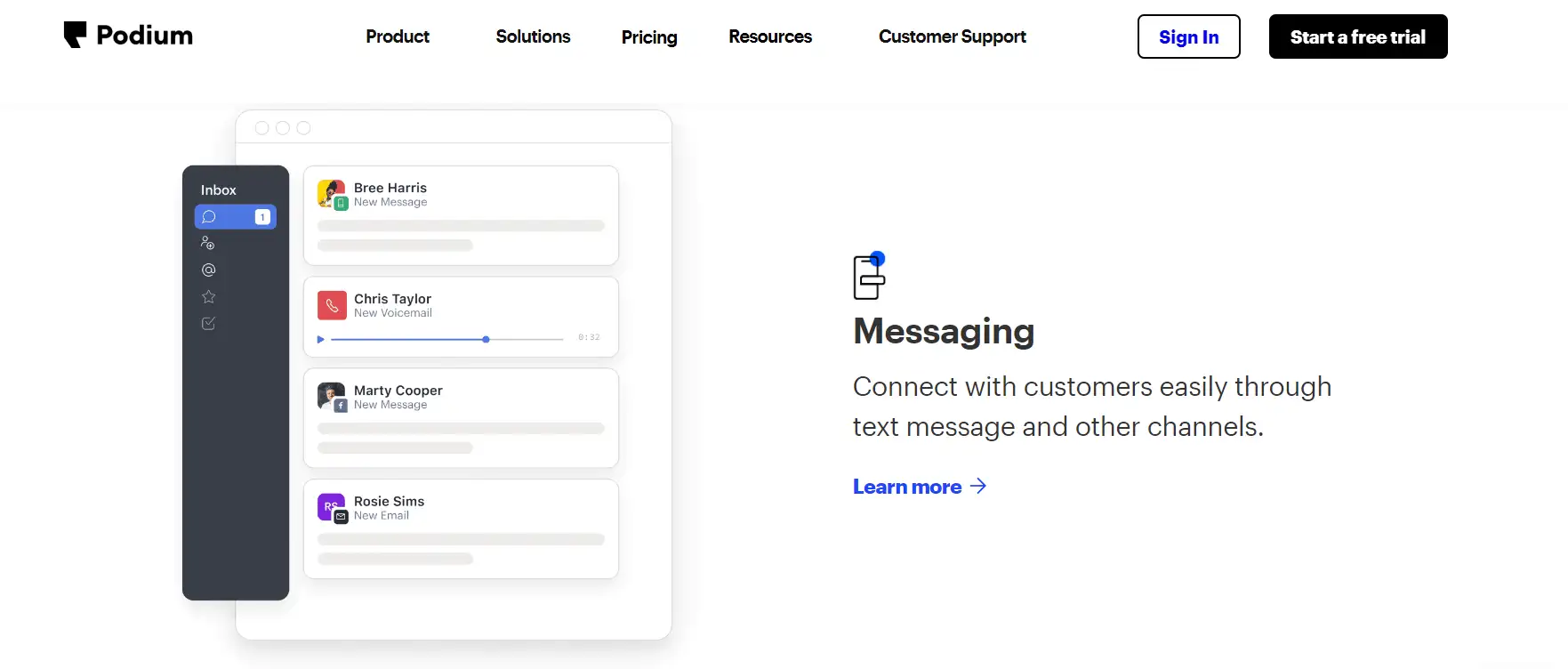 Leads are coming from every way. Podium integrates with Facebook, Instagram, Google, and Zendesk, among other networks, to bring all of these communications together in one spot. The platform-agnostic messaging board keeps track of customer messages. It provides a profile of the person you're conversing with, so you always know what's going on. Each message may also be assigned to a customer support agent, allowing you to track completed and pending tasks.
Text to Pay Option for Customers
You can provide consumers a direct link to pay for goods and services straight from the conversation using Podium. This aids in capturing and maintaining the interest of consumers when conversing with them. It also avoids the need to send out invoices that may take a long time to clear. Text message invoices may be paid with a debit/credit card or Apple Pay. Podium Payments card readers, which Stripe powers, may collect payments at physical places.
Video Chat Function
Podium's secure video chat is a quick and easy method to communicate with consumers. Use video to answer client queries appropriately. Customers may more effectively show an issue with a product via video, which is a great tool for customer care.
Customer Surveys
Quickly and collect user input. Before customers get too busy or forget to finish it, the customer survey feature provides an easy approach to acquiring vital client feedback and information. This aids in retaining vital knowledge that can be put to use across the organization.
Automated Appointment Reminders
Podium also helps remind consumers of impending appointments. These appointment reminders may be delivered by SMS text message, WhatsApp, Facebook Messenger, and Instagram, among other methods.
Managing Multiple Locations
Podium's Enterprise feature allows your team to handle evaluations and conversations across various locations. Podium Enterprise allows you to get high-level overviews of your company's performance as well as dive down into evaluations and customer conversations for a single location.
Webchat Function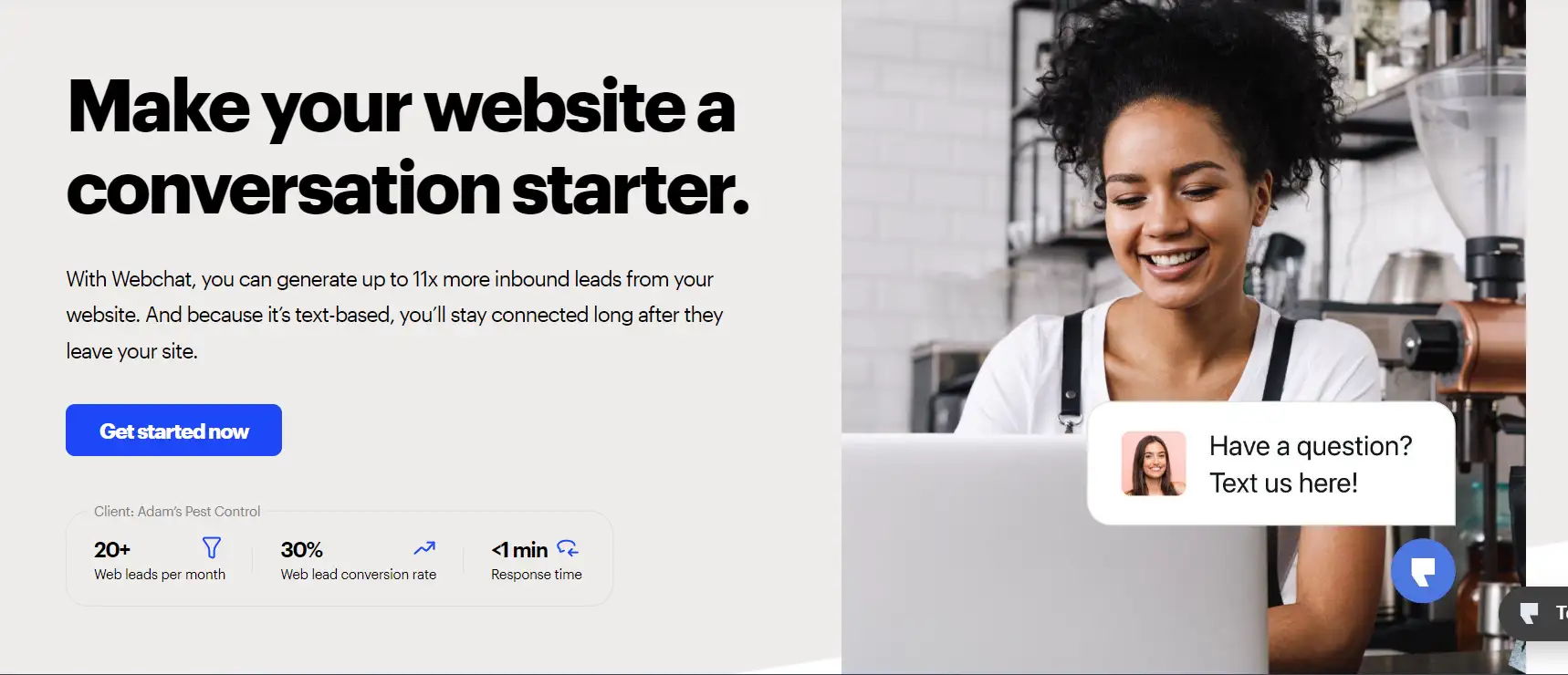 Customers who visit your website may effortlessly use a Podium-powered chat function. Customers enter their name, phone number, and message, and the discussion is sent to their phone right away. Thus allowing them to continue conversing without having to wait for a response.
Customer Service
Existing Podium clients have access to customer assistance via email, SMS, and a help center.

Its web chat function converts the dialogue to text, allowing you to communicate with a customer care person without sitting at a computer. Within a few minutes, a representative should respond to your query. You may also text a salesperson to go through your options and answer your questions.
Pros and Cons of Podium
Podium is a prominent online reputation management service that helps small companies flourish by improving customer contact and increasing online reviews. The pros and cons of Podium are the following.
Pros:
Customers can submit Google reviews in two clicks
Highly rated mobile app helps you handle customer discussions on the road
Includes a team chat tool for individual and group talks.
Businesses with multiple locations that receive a high volume of incoming customer requests and information
Businesses that want to increase the number of customer reviews they have and need a simple tool to do so
It manages a high level of complexity and needs to send personalized content to specific target audiences.
Cons:
Does not contain a company directory listings tool
The customer survey component is less robust than other rivals
Webchat conversations must be conducted through text message.
Small firms that can't afford to pay hundreds of dollars per month for the service
Teams that don't have the resources or infrastructure to

use all of Podium's capabilities

.
Podium Pricing
Podium's price starts at $99 a month for a single location. The total cost is determined by the number of sites and reviews required.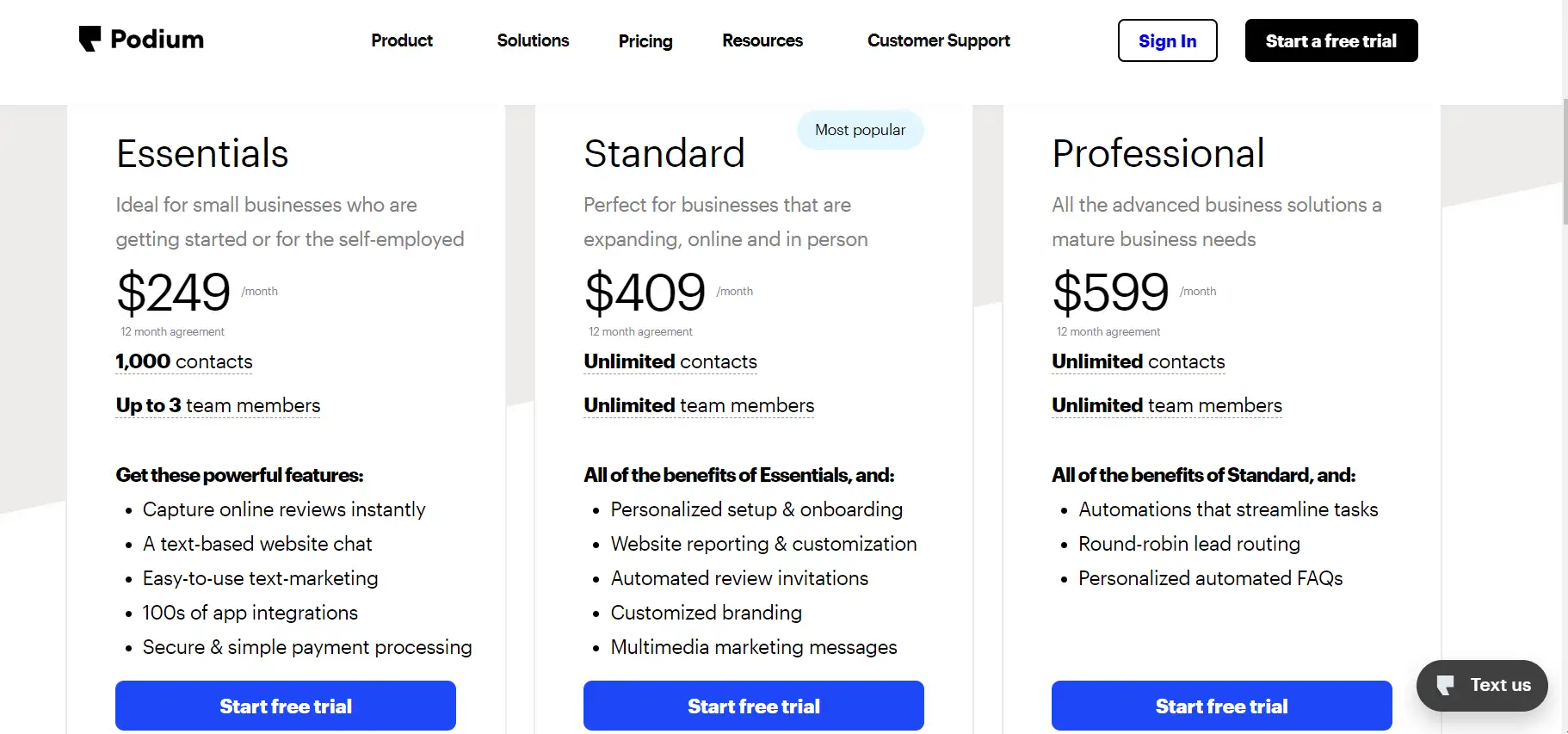 Essentials: $99 for up to 75 reviews each month
Review Plus (up to 250 reviews): $249 a month
Marketing Plus (up to 500 SMS contacts): $349 a month
Podium just released Podium Starter, a free version of their software. The majority of the primary features featured in Podium's subscription plan are included in Podium Starter - they are just more limited. Podium Starter, for example, only comes with 250 review invites.
Our Review On Podium
Podium encourages your customers to leave reviews by giving them customized text and email prompts. According to Podium, the average client sees a 115 percent boost in Google review volume after deploying Podium.
Podium integrates with the most popular ERP, POS, and CRM systems (full list below). Podium may issue automated review invites once consumers complete their appointment or check out using these connectors.
It prompts customers to post a review on the most important site, Google My Business. Thanks to Podium's interface with Google's API, it takes merely two clicks. If a consumer declines to submit a Google review, they are sent to the next best review platform for your company.
Podium The Bottom Line
Podium is one of the most popular products and an established leader in the sector, with over 45,000 clients. It offers many sophisticated features and a personal client success manager. As a result, Podium is more expensive than basic alternatives and better for large teams.
Create Your Own Chatbot with BotPenguin

Thus if you have a sizable team and or a small business, consider Podium for all the amazing features and value-addition it provides.

Frequently Asked Questions
What is Podium?
Podium is a platform that businesses use to communicate with customers through channels like online reviews, text messages, web chat, and more. It helps businesses manage all their customer interactions and improve their online reputation.
How does Podium work?
Podium provides businesses with tools to communicate with customers effectively. Businesses can send and receive text messages, manage online reviews, and engage with customers on social media, all from one platform. This helps businesses build stronger relationships with customers and improve their online reputation.
How can businesses get started with Podium?
To get started with Podium, businesses can sign up for an account on the Podium website. They can then explore the various features and pricing plans and choose the one that best fits their needs.
What features does Podium offer?
Podium offers various features to help businesses communicate with customers, including text messaging, web chat, online review management, social media management, team collaboration tools, and automated messaging.
Can Podium integrate with other business tools?
Yes, Podium can integrate with other business tools like CRM software and marketing automation tools. This helps businesses manage customer interactions more efficiently.
Is there a mobile app for Podium?
Yes, Podium offers a mobile app for iOS and Android devices. This allows businesses to manage customer interactions on the go and stay connected with customers even when away from their desk.
What benefits can businesses get from using Podium?
Businesses can benefit from using Podium in several ways. They can manage all their customer interactions from a single platform, which saves time and resources. Podium also helps businesses improve their online reputation by managing and responding to customer reviews. Additionally, it allows businesses to communicate with customers in a way that is convenient and familiar to them, improving customer satisfaction and loyalty.