Have you heard about this? WhatsApp ranks as the most used mobile messenger app in the world. More than 100 billion messages are sent each day on WhatsApp.WhatsApp is an instant messaging application that provides services for mobile devices and PC.
WhatsApp is the most popular mobile application, with two billion monthly active users. It allows users to share text, videos, voice messages, and supporting voice and video calls. We all know WhatsApp is a mobile application but do you know You can also use WhatsApp on a desktop or a laptop! That's what WhatsApp web is all about. It allows you to chat with people on your computer rather than on your phone. After reading this, you can find many more exciting facts about the WhatsApp web.
How Do I Use WhatsApp Web?
While using WhatsApp web on a PC or Laptop, you just have to log in on WhatsApp, and there you go. Earlier it was not so convenient. Here are instructions to use WhatsApp web properly:
Step 1- First of all, you need to search www.web.WhatsApp.com on your address bar, and then as soon as it opens, it will flash a QR code on the screen.
Step 2- Now, you have to open WhatsApp on your phone in this step. After that, in the right corner, click on the three vertical dots and select WhatsApp web.
Step 3- Scan the WhatsApp web QR code with your phone, which appears on your computer screen.
Step 4- Now, you can easily access WhatsApp on your PC. You can start with a completely new chat by clicking on the new chat, or else you can find your contacts and chat with them.
Step 5- We can also open the WhatsApp desktop app for Windows or Mac.
Step 6- Make sure that your phone's WhatsApp account is on and has a proper network connection to access WhatsApp web easily.
What Are The Conditions Necessary To Use Whatsapp Web?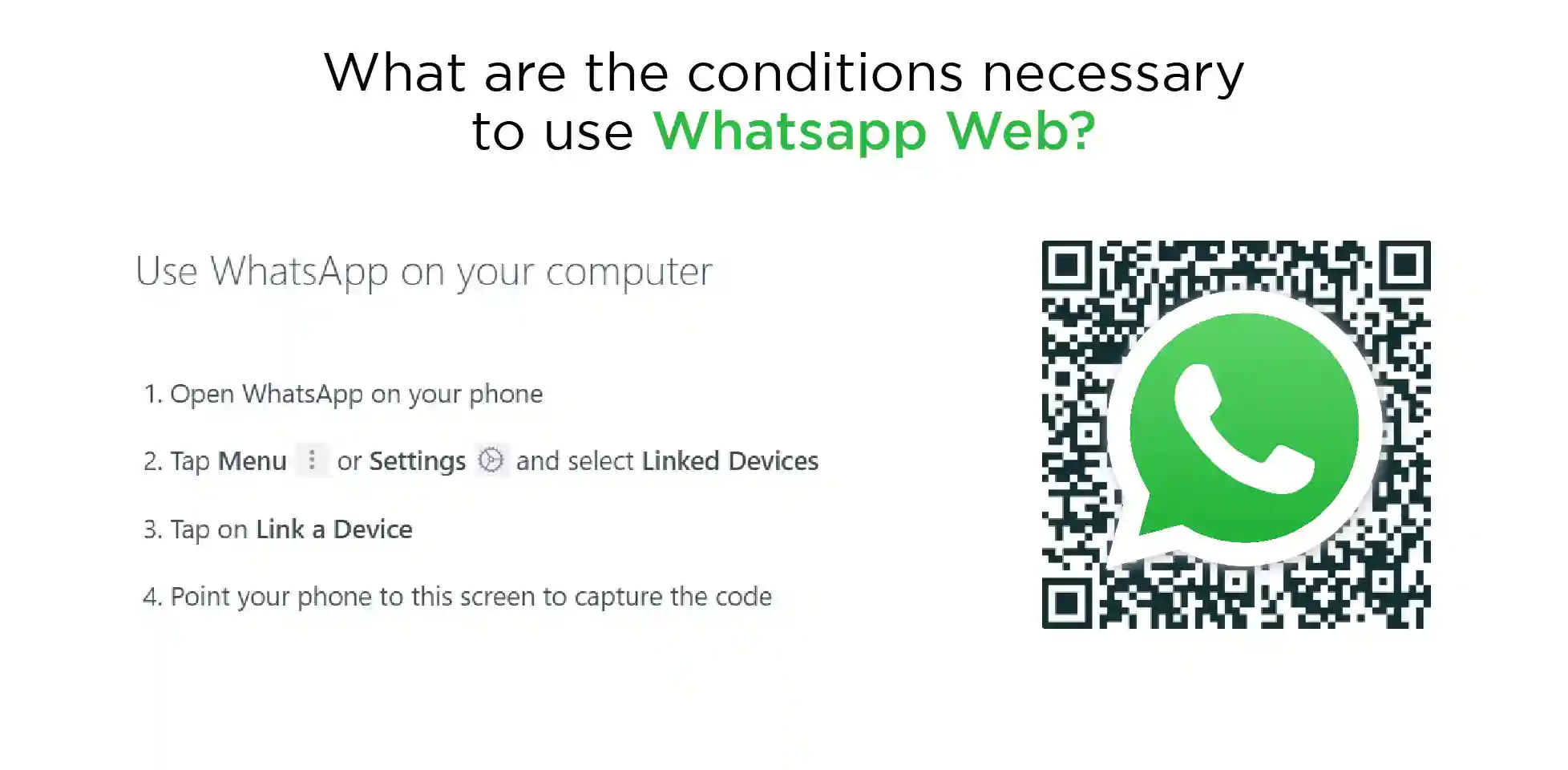 You must have a modern browser that will support WhatsApp web on your desktop.
You must install WhatsApp on your mobile phone, and it needs to be active while you are using it on the computer.
Make sure to connect your smartphone to the wifi to avoid losing unnecessary data from the phone.
Get access to WhatsApp Web mirrors WhatsApp on your phone to see all the content of your WhatsApp and vice versa.
Always try to keep updated to the latest version.
Another condition is that you can only log into WhatsApp on one device simultaneously.
What are the Advantages and Disadvantages of the Whatsapp Web?
The most prominent advantage of using it is using a computer rather than a mobile phone. Let's explore some points which are in favor:
As the desktop comprises a big screen, we can type faster on a keyboard than on a mobile.
A large screen shows things more clearly and is easy to identify.
It is effortless to chat with more than one person simultaneously.
You can chat on WhatsApp web even while browsing.
You can keep your phone on charge as you do not have to check your phone constantly.
It is helpful in places where you won't have access to a phone.
Easy to send text messages, files, and videos in no time.
While using WhatsApp on your desktop, you can do other tasks simultaneously.
You can scroll faster through the desktop.
You can read messages without being marked as read.
There are also some facts you cannot process on WhatsApp web:
You can't share the WhatsApp broadcast with any of your contacts.
You can't log into two different browsers simultaneously.
You can't access it if your phone is off or out of charge.
Also, the internet connection to your phone is vital.
You can't make calls or video calls from WhatsApp web.
You can't share Whatsapp status through the WhatsApp web.
You can't share locations even via WhatsApp web.
You won't be able to see messages offline.
WhatsApp Web Tutorial
How To Forward Videos On Whatsapp Web?
Forwarding videos on the WhatsApp web is not that tough. It is quite the same as WhatsApp you use on your mobile. Here are the following steps to guide:
Step 1- Open WhatsApp on your desktop.
Step 2- Select one to whom you want to forward the videos. If you're going to deliver to more than one person, go to the files and select the video or videos you want to send.
Step 3-Then attach the video with the chat of that particular person.
Step 4-Tap on send to forward the videos.
How To Send Photos?
Step 1- Select the photos you want to send.
Step 2- Open the particular chat to whom you want to send.
Step 3- Press the send option and send your photos, but you cannot send more than 30 photos in one go.
Step 4- If you want to send more than that, you can repeat the same process.
How To Send Files?
Step 1- To send files or any documents, go to the files option.
Step 2- Select a document you want to send.
Step 3- Attach the document with the chat.
Step 4- Then send.
How To Send Voice Messages?
Step 1-Make sure your computer has access to a microphone. Then, only you can send the voice messages.
Step 2-Open the desired chat with whom you want to share the voice message.
Step 3-Click on the microphone option available on the right side.
Step 4-Now start speaking into your desktop's microphone.
Step 5- When you do it, click on confirm to send the voice message.
How To Save Whatsapp Photos Or Videos To Your Computer?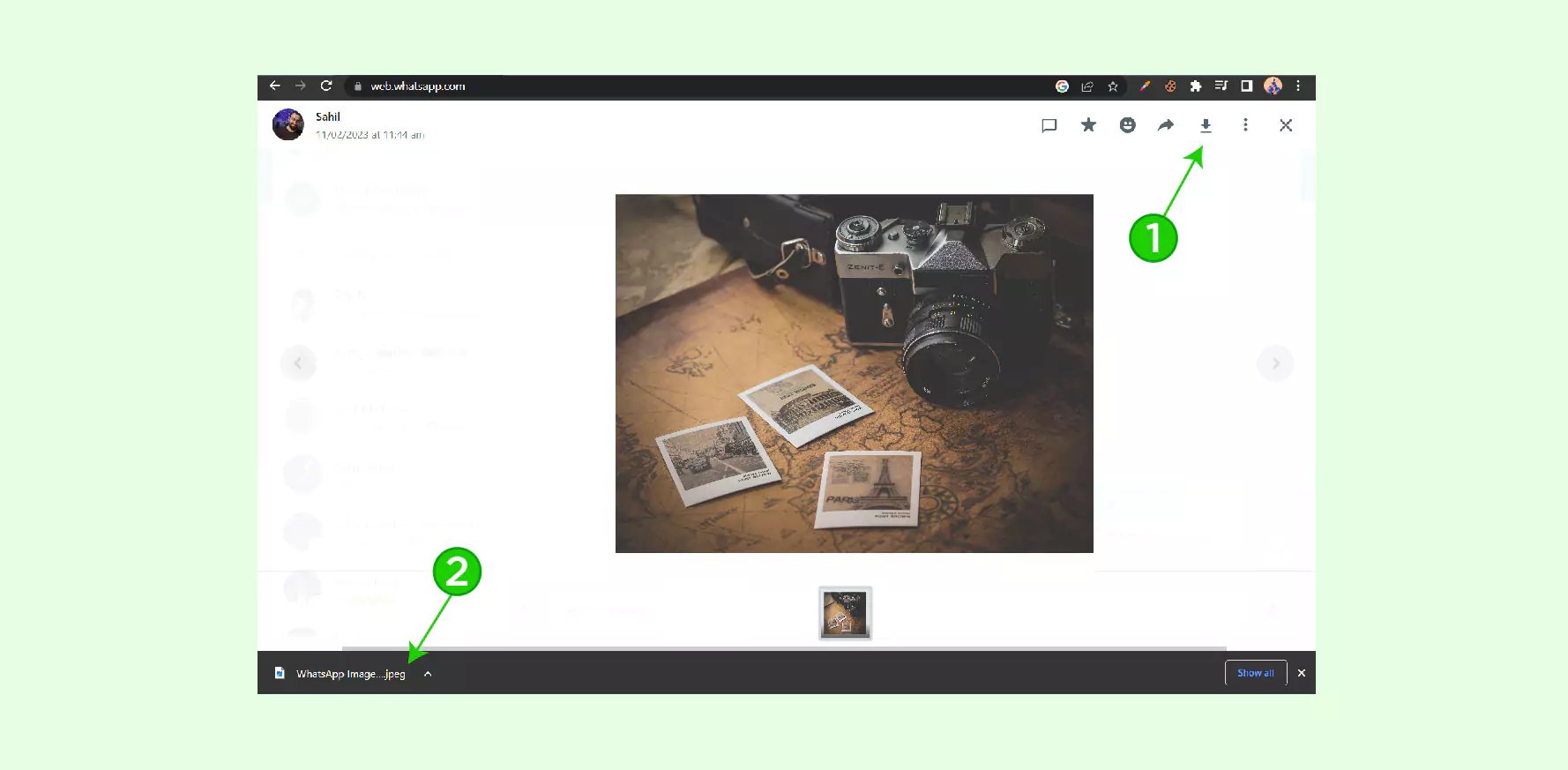 Step 1-Open the WhatsApp web
Step 2-Click on the particular chat, then open the video or photo you want to download.
Step 3-Now, click on the download button, then automatically, the video or photo will save on your computer.
How do you start a group chat on WhatsApp Web?
Click the new chat option.
Choose the new group at the top.
Select the contacts you want to add.
And you are ready to start a group chat.
How To Edit Profile On Whatsapp Web?
Step 1-First open WhatsApp Web on your desktop.
Step 2-Then click on the profile option at the top.
Step 3-To change your profile photo, click on it, and there will be an option to upload or take a picture.
Step 4-If you already have the picture, you can click on it and select the profile picture of your choice.
Step 5: Then come a little down to edit your name.
Step 6-Click on the pencil tool and edit as per your choice.
Step 7- Your profile is now ready, but there is a single drawback you can't post your status from the desktop, but you can check others' statuses.
How To Fix Whatsapp Web If It Is Not Working?
There are times when you may face glitches from this application for various reasons, but here are some tips to avoid it:
Sometimes there might be some network issues that directly affect the WhatsApp web. To fix it, make sure to keep your internet connection well.
You may have wifi problems that can provide you with some obstacles. In that case, keep track to set up to bypass traffic to WhatsApp.net.
Wrapping It Up
Overall, WhatsApp Web can prove to be a boon to us as it allows a lot of things. We are getting access to use it on a big screen. And most importantly, we don't have to keep changing devices to use WhatsApp because now we can work and chat from the desktop. You can use multiple accounts on a single desktop and get notifications in the background. It's a packet full of benefits which everyone should try.
Did you know you can deploy a WhatsApp chatbot for free with BotPenguin? Check Out BotPenguin here and go for it now!