Intercom is a platform for consumer communication. It demonstrates who uses its product or website and facilitates communication through tailored content, behavior-based messaging, and conversation assistance.
As a result, it is essentially a live chat system for support, sales, and marketing teams. If you just bought it and want an Intercom Tutorial, continue reading.
According to the statistics on Chatbot Life, 50% of organizations want to spend more money on chatbots than on mobile apps.
Chatbots have grown more trustworthy and thriving due to technology advancements, as seen by chatbot engagement numbers.
As a result, consumers are more interested in chatbots, leaving mobile apps in the dust. However, many platforms are coming up due to the constant increase in market size and demand for chatbots.
Intercom is one of the best chatbots and live chat platforms that manage your communication with consumers. Let us learn the processing of this fantastic platform and make the best out of it.
How to send a message on Intercom ?
You can also select the message format for "post" messages; Small or large. It would be best to deliver it to Web, iOS, or Android.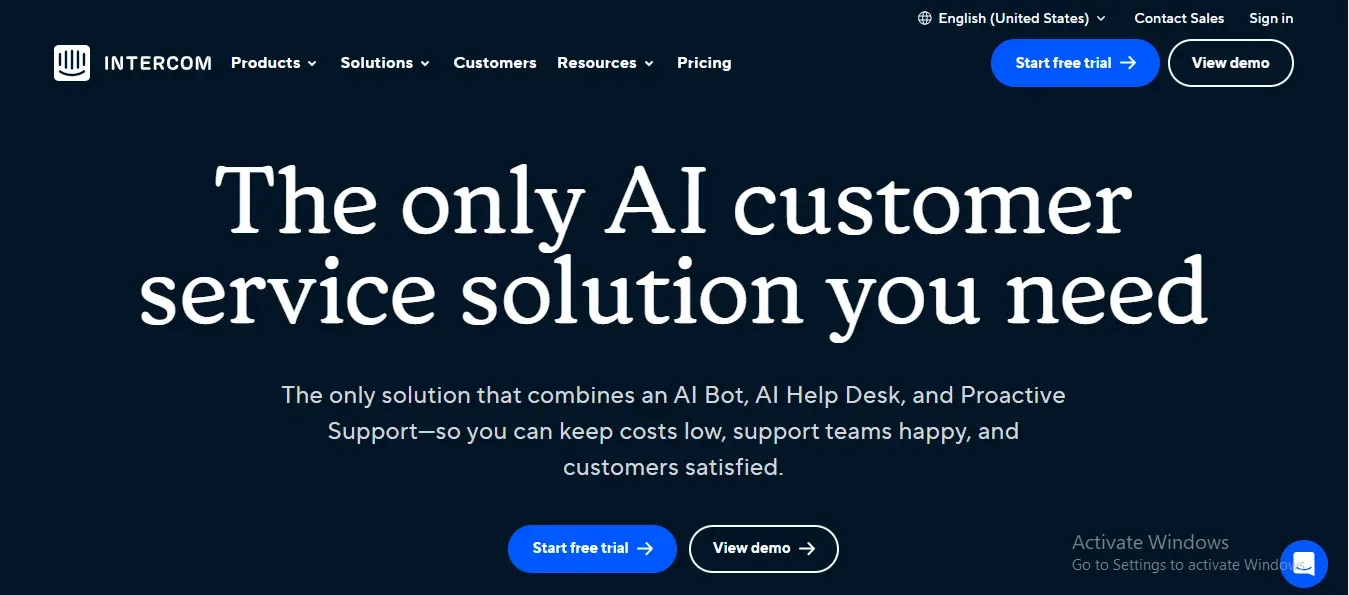 Select all the options available for message delivery wherever the customer opens your app. This option only appears if you have an intercom installed on your mobile app.
Suppose you have installed Intercom and configured push notifications in your mobile app. In that case, you can also send push notifications with chat messages:
They will be redirected to your message when the customer opens the notification. These are great for initiating conversations with customers.

You can count Messages as 'sent' after receiving the push notification and marked as 'seen' when the user opens the message.

Now, write the content of your message. Simple Composer allows you to create personalized messages that look great with speed and confidence. Styling your text, inserting images, and adding calls to action is easy, all with just a few simple clicks.

To format text on Mac, press "Command + I" for italics or "Command + B" for bold. Use "Ctrl" on Windows. Add headers links, highlight some text, and display the options. Type -, +, or *, and then press space to create a bullet list.

Type one and press space to create a number list. When you click on the space at the end of any URL, it converts automatically into a link.

Easy to add videos, pictures, buttons, apps, and more. Add them using the + sign on the left. The video clip must be in mp4 format, and the size should not exceed 40MB and are displayed in a 4: 3 aspect ratio.
Sticking to one solution takes good level of trust, what about keeping an alternative in mind; BotPenguin an AI based Chatbot building platform- It provides Chatbot solution for different platforms such as:
Add follow up
If you want to take new leads with the operator or help the resolution bot to help users respond to this message, turn on the follow-up at the bottom of the message and select one or two. If you select "Email Collector" as the reply type, you can also send an auto-reply as the next step:
Choose when, how, and how often to send your message
There are a few different ways to build your ideal message listener. C
Setting a goal for your message
Every message you send should have a target, but open and click rates will only tell you a lot. Objectives are an accurate measure of how a message works.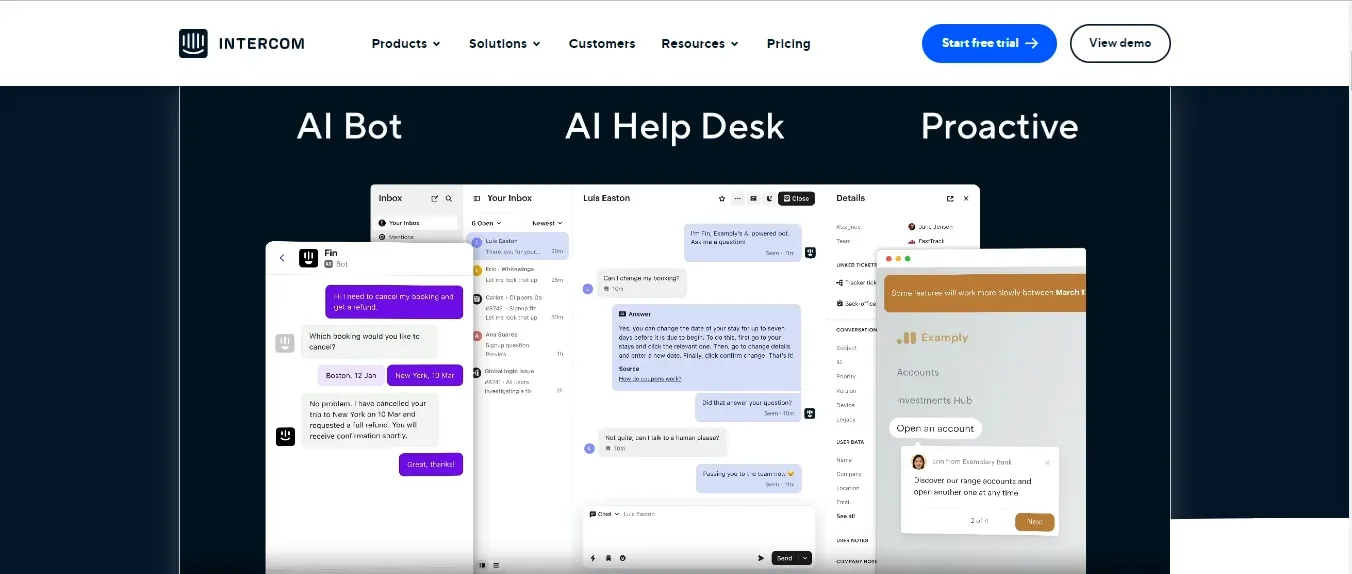 You can set a target using any data tracked on the Intercom, an event, or a customer/company attribute. E.g., If your message encourages people to build more projects, your goal may be to "grow the project."
Schedule your message
Next, you can schedule the message at the right time. You can do this in three ways.
Set specific dates and times to start and stop sending your message.

Schedule messages during or outside your office hours.

Set a custom delivery time when your wish to send the message.
How to use bots on the Intercom?
Dogfooding the bots is not a way to gain product knowledge or test new functionality. Intercom's bots automate everything from workflows to chats.
With the launching of custom bots and resolution bots last year, the bots are supporting us the same way our customers are.
Automating sales and marketing
You can use custom bots to engage with our marketing website visitors and send them to the right customer journey based on their goal. Fully customizable, these chatbots are like friendly receptionists who guide you in the right direction once you walk in the door. They are improving the sales and marketing potential in three key ways.
The business now takes 24/7 qualified leads and quickly connects them to the right next step, whether booking a meeting with a salesperson or delivering relevant content.

It is fast adding high-intent leads.

The business can ask more deserving questions on pages with fewer intentional visitors.
Intercom has ten custom bots that run on the main landing pages that our highest purpose leads usually visit. Bots work differently depending on the page and what visitors tell us about their goals.
Consider the size and capacity of your team. Get more information before rooting the lead to ensure the candidate is a good fit for a busy team.
Or use rich customer data to determine if visitors meet specific criteria such as employee count limit before linking to the sales team.
Automatic support
Resolve bot automatically answers common customer questions so the support team can focus on tough questions and tasks. "ResolutionBot has taken over much of our support work, becoming a teammate."
Resolve bot took over much of our support work and became a teammate. Our team uses it to update other support materials and save answers. You can constantly update ResolveBot answers and create new products and features.
Go wide and deep. Pay attention to the questions your customer frequently asks to maximize the effectiveness of the resolution bot. The more answers you set to these questions, the greater the chances of a resolution bot.
Consider the resolution bot as a resource for all your customers, answering issues that affect many of your customers and not just a tiny part of it. It ensures that every answer the customer receives from the resolution bot is relevant to them.
Develop the habit of keeping the resolution bot up to date. As your business changes, check your answers periodically, add new answers and make sure they are up to date for your answers.
How Task Bots, Custom Bots, and Resolve Bots Work?
Learn how task bots, custom bots, and resolution bots communicate with your customers and with one another.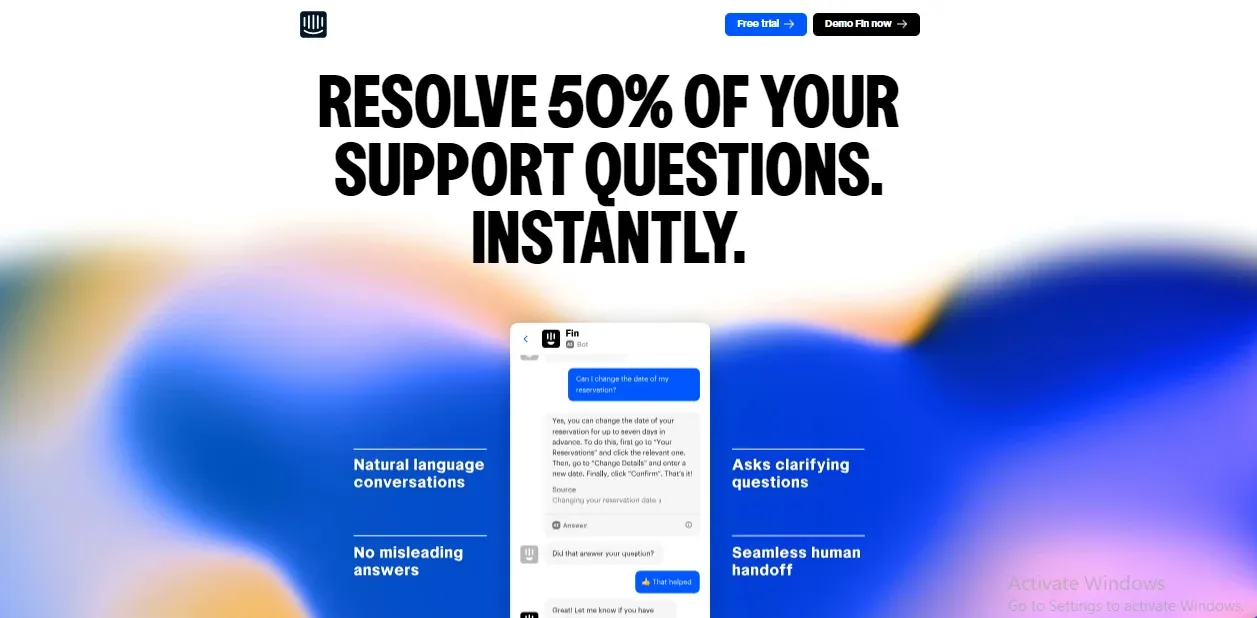 Operator Bot
Operator automation is the technology that powers all the bots in the Intercom. Depending on which boat you are using, the operator will help you automate the easy task, answer the question, redirect customers to the right Inbox, and much more. Learn more about how the operator works here.
While some task bots work on free intercom platforms, you need specific intercom products to access some task bots. Custom Bots and Resolve Bots are available as add-ons.
ResolutionBot uses automation and machine learning to answer common customer questions.
Custom bots are a great way to qualify leads, direct customers to the right team, and engage visitors to your website. Here are some custom bot templates.
Product Recommendation Template: Increase first purchase

Enterprise Template: Schedule calls with Enterprise Leads

Financial Services Template: Support customers in advance when they launch your app

Education Platform Template: Redirect different types of users to the right place
Task Bots
Your website or app can trigger task bots based on customer actions. You can do this in several ways.
When a user or lead initiates a new conversation, the operator shares your usual reply time.
When logged out, visitors start a new conversation. They will have to answer if they are an existing customer. If yes, they will reach out to support. The bot may also request contact information from visitors who have logged out when beginning a new conversation.
The operator can automatically qualify for new leads initiating conversations.

When the lead or user responds to an article, the operator initiates a new conversation, asking for further assistance.

When the conversation is closed, the operator requests a conversation rating and asks the customer to rate their experience.

When a new discussion begins, the operator refers to articles from your Help Center but only relevant to the inquiry.
Using the Github integration, the operator will add internal notes when creating or updating the issue and reopen the dialogue when the issue is closed. The operator also recommends relevant help articles for colleagues working in the Inbox.
Custom bots
Custom bots will start new conversations, ask further questions and lead your customers to the proper channels using the obvious ways. You can send them outbound or reply to inbound conversations depending on the type you create.
These bots can also target specific users and leads, using the same audience filters you use to target outbound messages or divide your users. Here's how different custom bots are triggered.
Custom bots for customers and visitors
Custom bots for users and visitors are pre-triggered. The bot is triggered when the user or visitor is active on your site or app and meets the audience filter.
Button custom bot
When a user or visitor clicks on a target element on your website or app, custom bots are triggered. Use these bots to engage high-intent users and visitors to your site with call-to-action.
For example, you can use bots with buttons to replace your contact form, qualify your sales team, or collect email addresses for your newsletter.
A positive bot with new conversation
Custom bots are sent from new conversations when the target user or lead initiates a new conversation in Messenger. You can set up filters for these inbound custom bots to trigger as custom bots for users and visitors who meet specific criteria.
When someone who matches your audience filter starts a new conversation, your custom bot instantly captures and tests the conversation accordingly.
Use these bots to triangulate your inbound conversations, gather helpful information, and streamline your support team workflow. Read more about custom bots from the new conversation here.'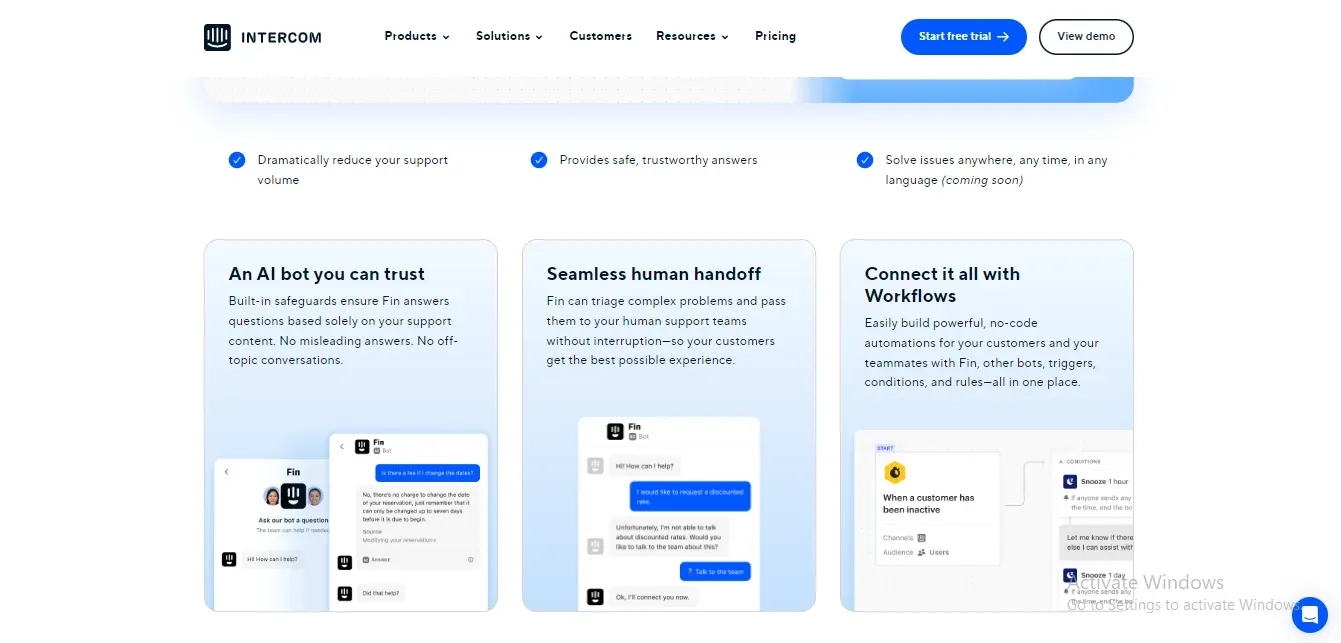 Resolution bot
When a user or visitor poses a question that fits one of the responses you have defined, the Solution Bot jumps in with that answer. It delivers more information or helps your clients wait for your support tea. Doing so gives the option.
The resolution bot triggers the conversation only initially. It never captures the conversation between the customer and your support team. You can also configure the Resolve bot to answer the following questions about your outbound messages.
The Conclusion
Intercom provides exceptional customer support that the consumer will relish. It will increase your consumer engagement through cohesive and coordinated campaigns. Moreover, help in conversational marketing. The fascinating features of Intercom like live chats, support bots, Shared Inbox, and much more make it popular.
This no-code and easy-to-use chatbot platform is a must-try.