Imagine assigning a companion to your users for their support and complete customer journey.
Something that can turn the entire process into an interactive user experience.
In this highly competitive market place, you need someone who can maintain proactive communication tirelessly all around the clock.
And the good news is machine learning has made this a reality, and its name is "Chatbots".
Big added a couple of facts and figures that show how the website chatbot usage evolved in the past few years, so let's jump in!
Before moving further..
Wonder having your own AI Chatbot? You are just a step away, Try BotPenguin and have your own AI Chatbot today-
Chatbot Usage Stats
It has been noticed that the Chatbot Platform is popular among younger generations, and even millennials also like to handle support issues on their own and find a partner bot the perfect solution. Thus, more and more business units, including market giants such as Starbucks and Linkedin, integrate chatbots in their customer support strategy.
According to Demandsage Using chatbots in businesses can save up to 2.5 billion hours as customer support representative handles 17 interactions every day on average.
The chatbot sector is expected to have a significant impact on the market, with an estimated income of approximately $137.6 million by 2023.Chatbot industry is predicted to continue growing, reaching an impressive sales figure of $454.8 million by 2027. Looking at the historical data, it is notable that in 2018, the income generated by the chatbot sector was a mere $40.9 million, showcasing a substantial increase in its revenue potential over the years.

As per Shopify, Chatbots can improve conversion rates for ecommerce businesses by up to 30%.
Now you have a clear picture of acquiring the market and leading to its ultimate potential. Hence, earn customers for life via intelligent chatbot creator. Select the best among the top 5 Chatbot platforms in the US. But before jumping to it, let me teach you how to select the best chatbot UI design for your business or brand.
How to select a bot for your brand?
As we already know what this technology is and why it is in the market. They are specifically meant to refurbish customer engagement and reduce operating costs for businesses.
Most business owners choose a Chatbot Platform to automate many of their business roles; it's tough to select the one you need from it.
Thus, not all bots are meant for all use cases. It would help if you thought about what and where you want to integrate to revamp that specific role to offer a better experience.
5 best Chatbot Platform to look for in the US
Chatbot maker streamlines the interactions your users have with your brand. Your team or staff no longer have to deal with mundane interactions, answering repetitive questions, and more.
Here in this blog, find our list of the top 5 platforms to look out for if you are a US-based brand or business. So, let's get started.
BotPenguin
If you are looking for a highly advanced and flamboyant Chatbot Platform, you must consider our top 3. Its user-friendly interface makes it easy for the users to navigate through the portal.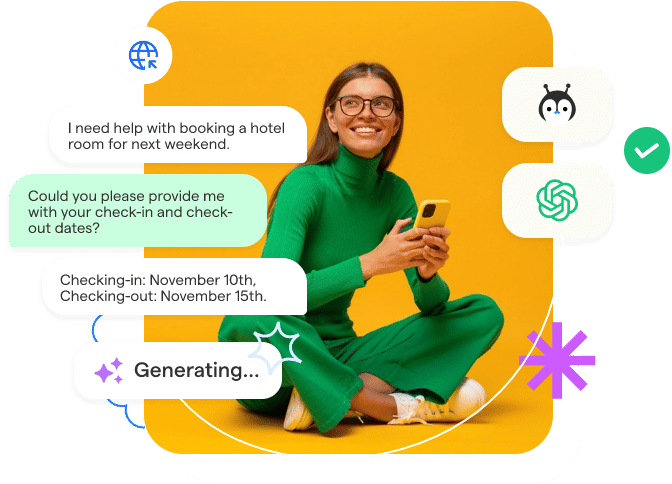 It came into existence with the idea of making small-scale businesses get the best tools within small and no investment. Another surprising part of this best chatbot UI design is that it is quite feasible and can be availed and savored by fresh startups and enterprises without any hindrance.
You will get all the needed and essential tools with a full-fledged no-coding platform. It gives you a better understanding of types of bots by giving easy-to-click options such as e-commerce bot, lead generation bot, and much more.
Integration of bot can be done on multiple platforms.
Its baby plan is free of cost, where you can enjoy how a chatbot works and help you improve your business customer support services and other areas.
In case you feel like upgrading, then the further plans are also reasonable with its bunch of features. Check the BotPenguin pricing.
Features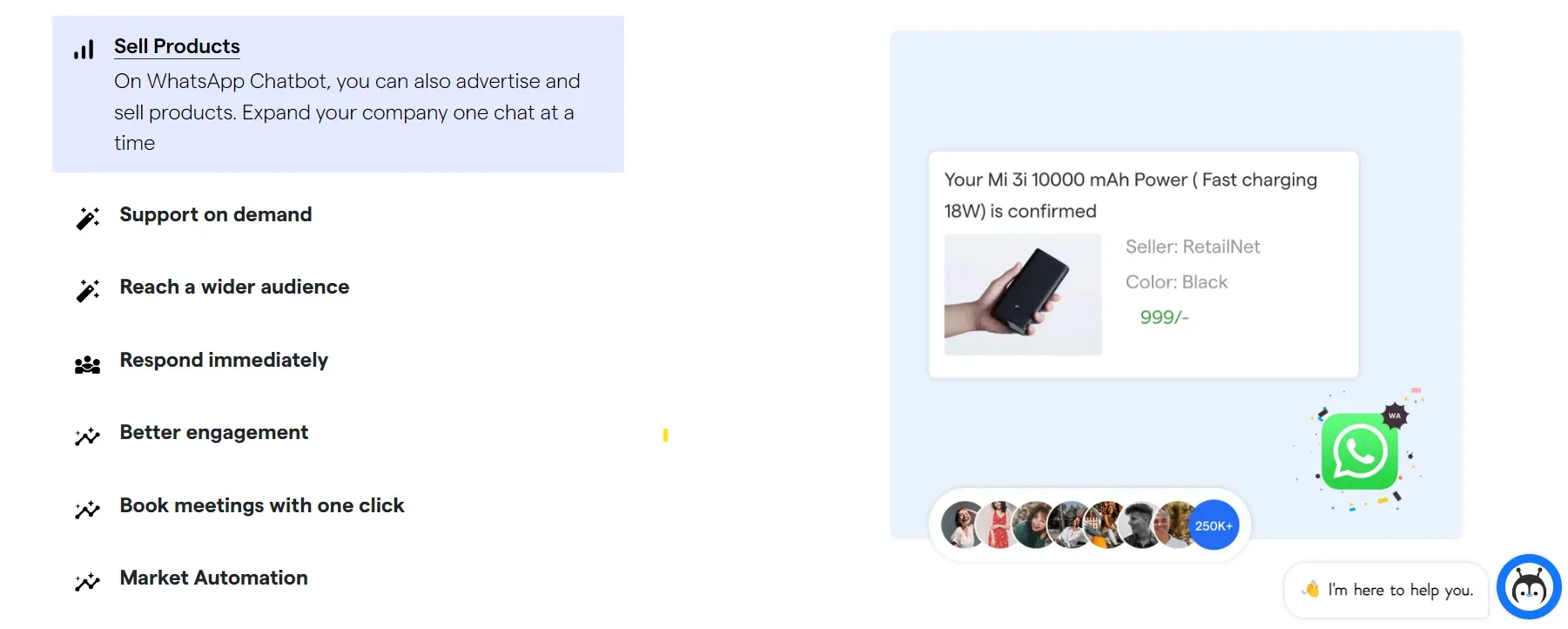 Streamlined and User-Friendly Interface
BotPenguin provides a streamlined and user-friendly interface that helps in easy navigation and a seamless along with good user experience.
With its intuitive UI and design, users can quickly create and customize chatbots without any help of technical expertise.
Rich Interoperability with Other Business Tools
BotPenguin offers rich interoperability with other business tools and platforms.
It seamlessly integrates with popular business applications like CRM systems, email marketing tools, and project management software, allowing for efficient data sharing and automation.
Quality Lead Generation
With BotPenguin, you can generate high-quality leads for your business.
Its chatbots are equipped with intelligent lead capture forms and dynamic questionnaires, allowing you to gather valuable information from potential customers and nurture them through the sales funnel.
Flexible Operational Workflows
BotPenguin provides flexible operational workflows, empowering businesses to automate and streamline various processes.
From customer support and lead qualifying to appointment scheduling and order processing, you can create custom workflows tailored to your specific business needs.
Excellent Engagement Features
Enhance customer engagement with BotPenguin's excellent features. Its chatbots are capable of providing personalized recommendations, conducting surveys, sending targeted messages, and even initiating transactions.
These engagement tools help to drive customer satisfaction and boost conversions.
Pricing
BotPenguin offers a range of pricing plans to suit different business needs. It starts with a free basic plan with limited features, giving users the opportunity to explore the platform before committing.
These pricing plan includes-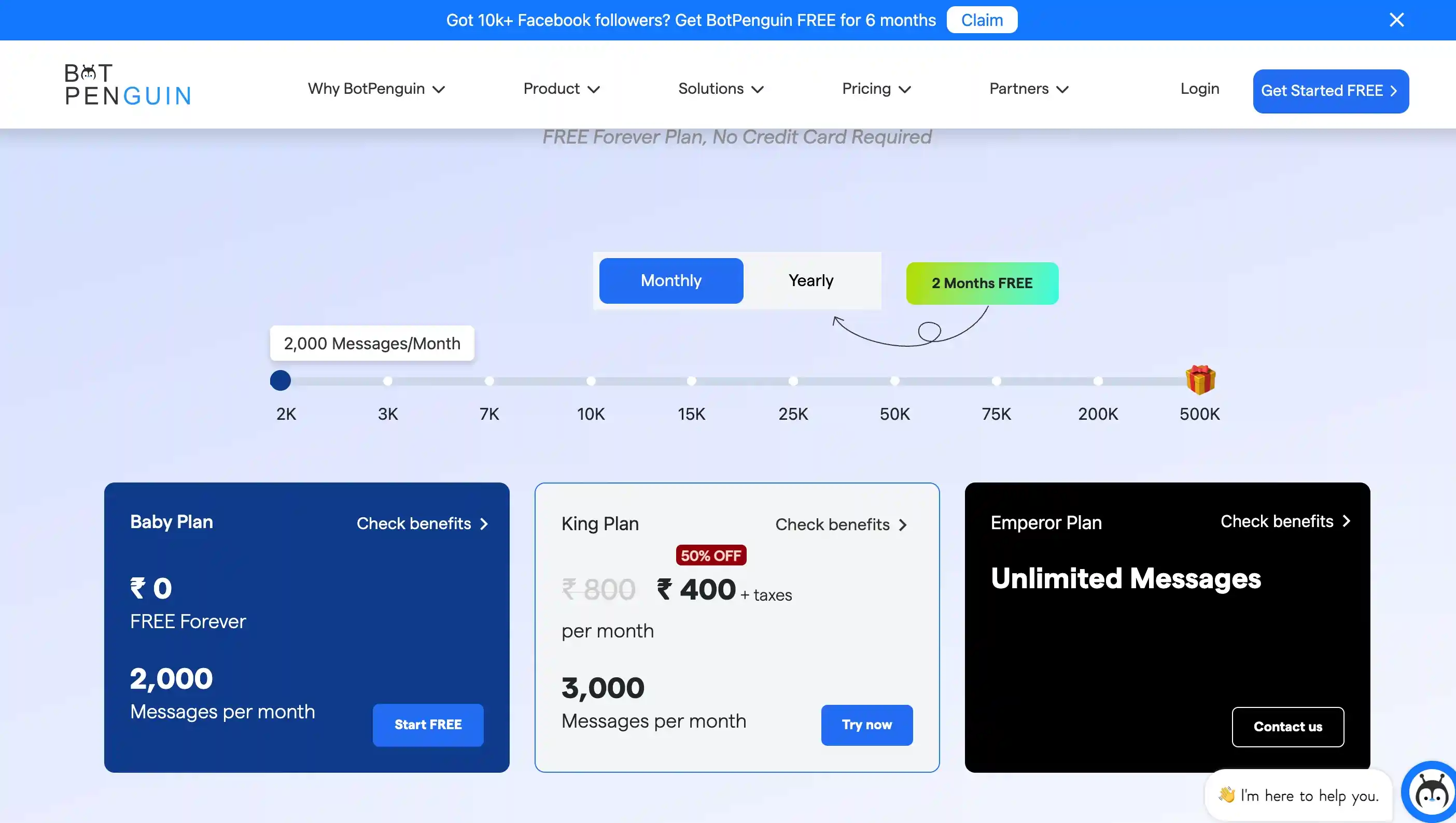 Paid plans start from as low as $6, providing access to advanced functionalities and customization options.
Whether you are a small business or a large enterprise, BotPenguin offers affordable pricing options to accommodate your budget.
Chatbot Creation for Various Platforms
In addition to WhatsApp, BotPenguin offers chatbot creation for other popular social platforms and websites.
You can create chatbots for Facebook, WordPress, Telegram, your website, Squarespace, and more. This versatility allows you to engage with your audience on multiple platforms and provide seamless customer support and assistance.
Flow XO
This exclusive Chatbot Platform earned its place in this list with more than a hundred built-in integrations and modules of the best chatbot UI design.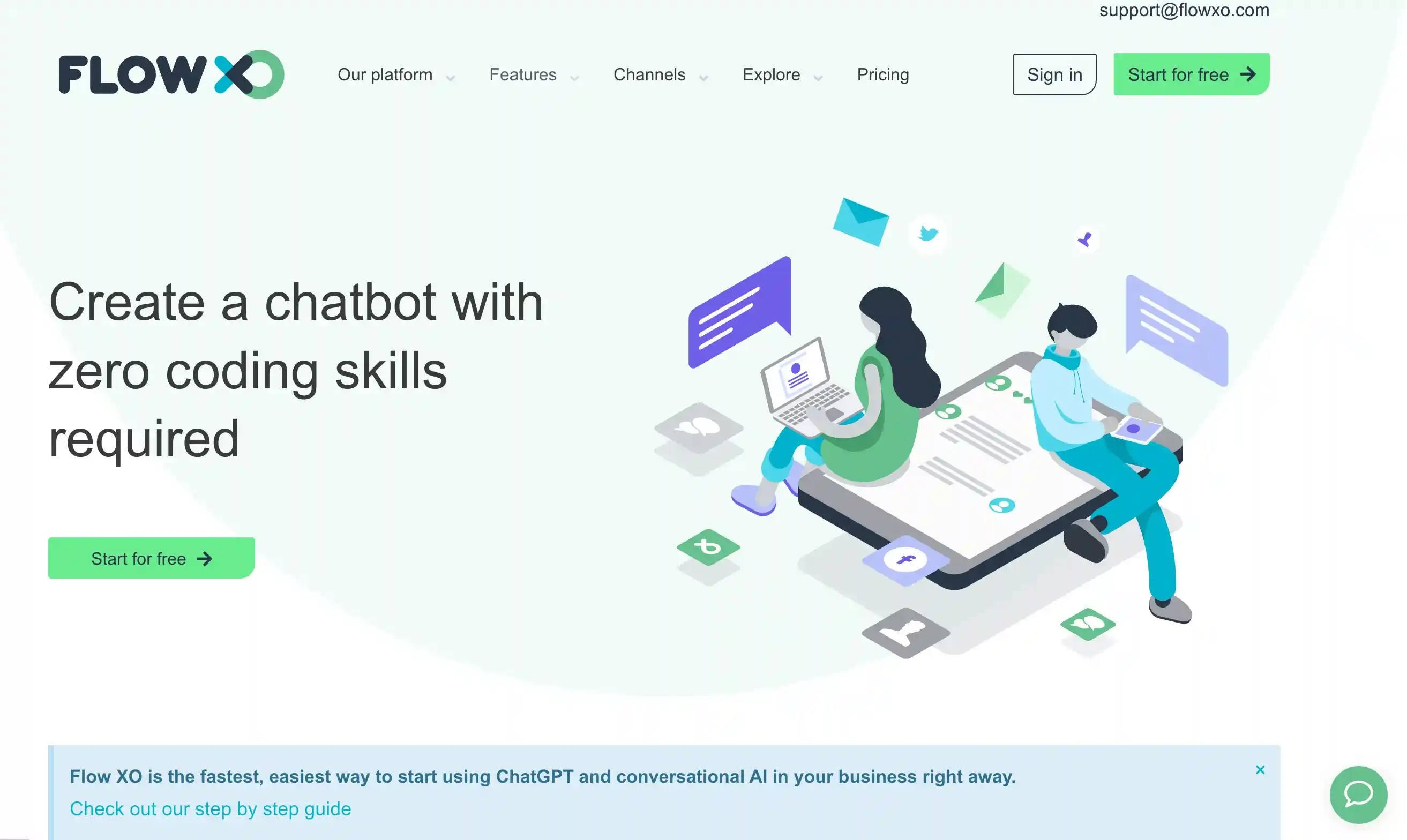 Another highlight of this chatbot creator is it is relatively easy-to-use and lets you build a bot within a few minutes.
Saves time and effort through loads of prebuilt templates, which let businesses get the instant bot for varied use cases and roles. It can support your business to carry out many e repetitive and complex jobs such as scheduling appointments and more.
Not only this, but it also enables you to personalize JavaScript or delay a message for a given period. It offers an exclusive feature to save data and can be analyzed via Trello and Google sheets.
The initial free plan offers you 500 conversations from 5 chatbots. And with the paid account, it assures you an unlimited amount of chatbots
Suggested Reading:
FlowXO Alternative
Aivo
This chatbot creator is considered one of the best and smart platforms.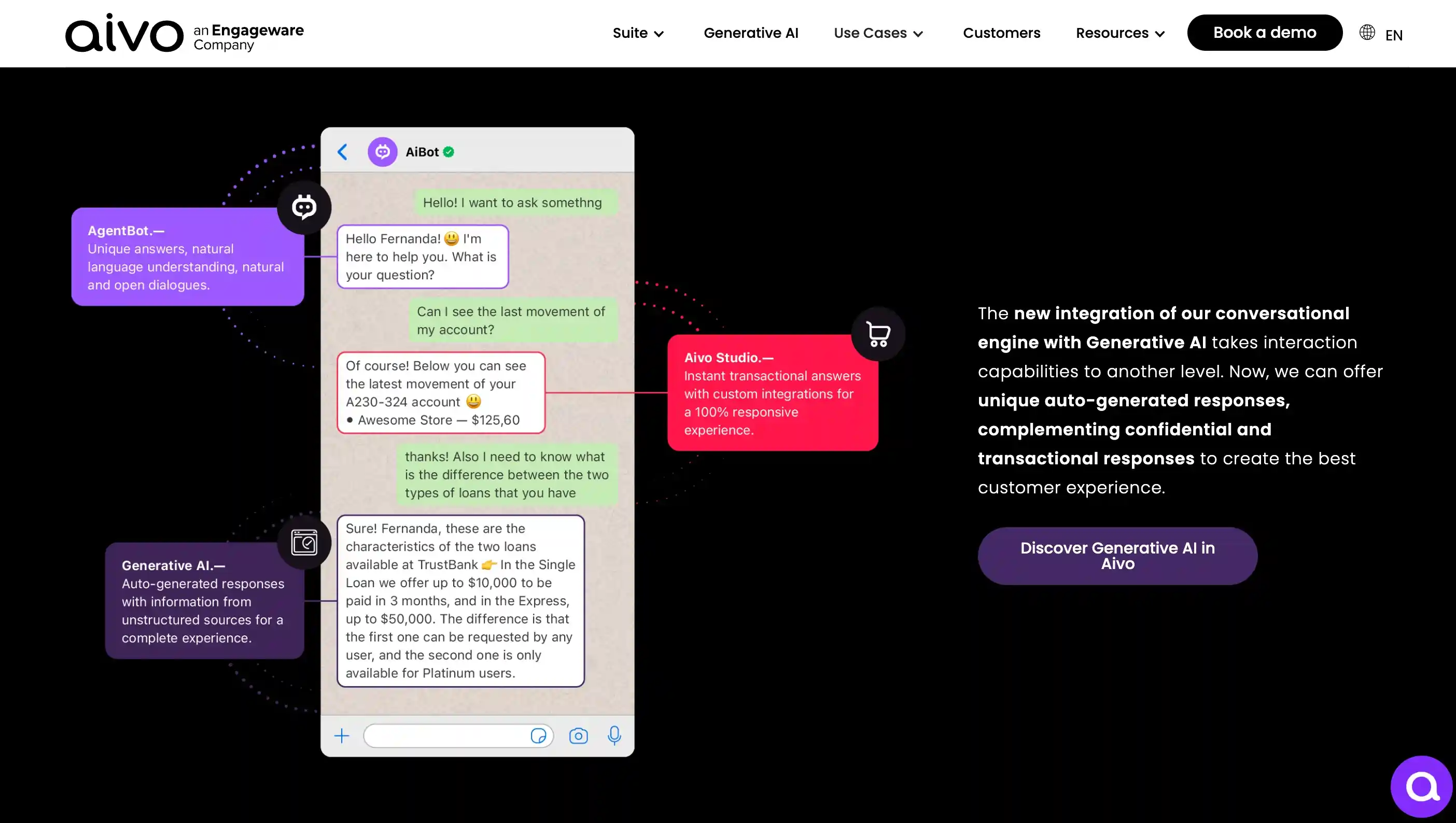 It helps businesses to communicate with their audience in real-time via voice or text. Its website chatbot "AgentBot" is flexible enough to adapt itself by the rules and needs the channel or area it is planted in, such as -CMS, CSS, and more.
The automated responses without compromising on delivering a customized and seamless experience are the thing every digital business craves for.
The platforms it involves are Zapier, Zendesk, Salesforce, and Live promise better and advanced knowledge.
You won't get the Aivo bot for free; its starter plan is USD 99/ month and as per the modifications and add ons the pricing increases.
Suggested Reading:
Top 10 AI Chatbot Apps to Grow Your Business 2x
Chatfuel
This we placed on top 4 position, it is another Chatbot Platform that helps just about anybody to have a bot with no coding and technical requirements.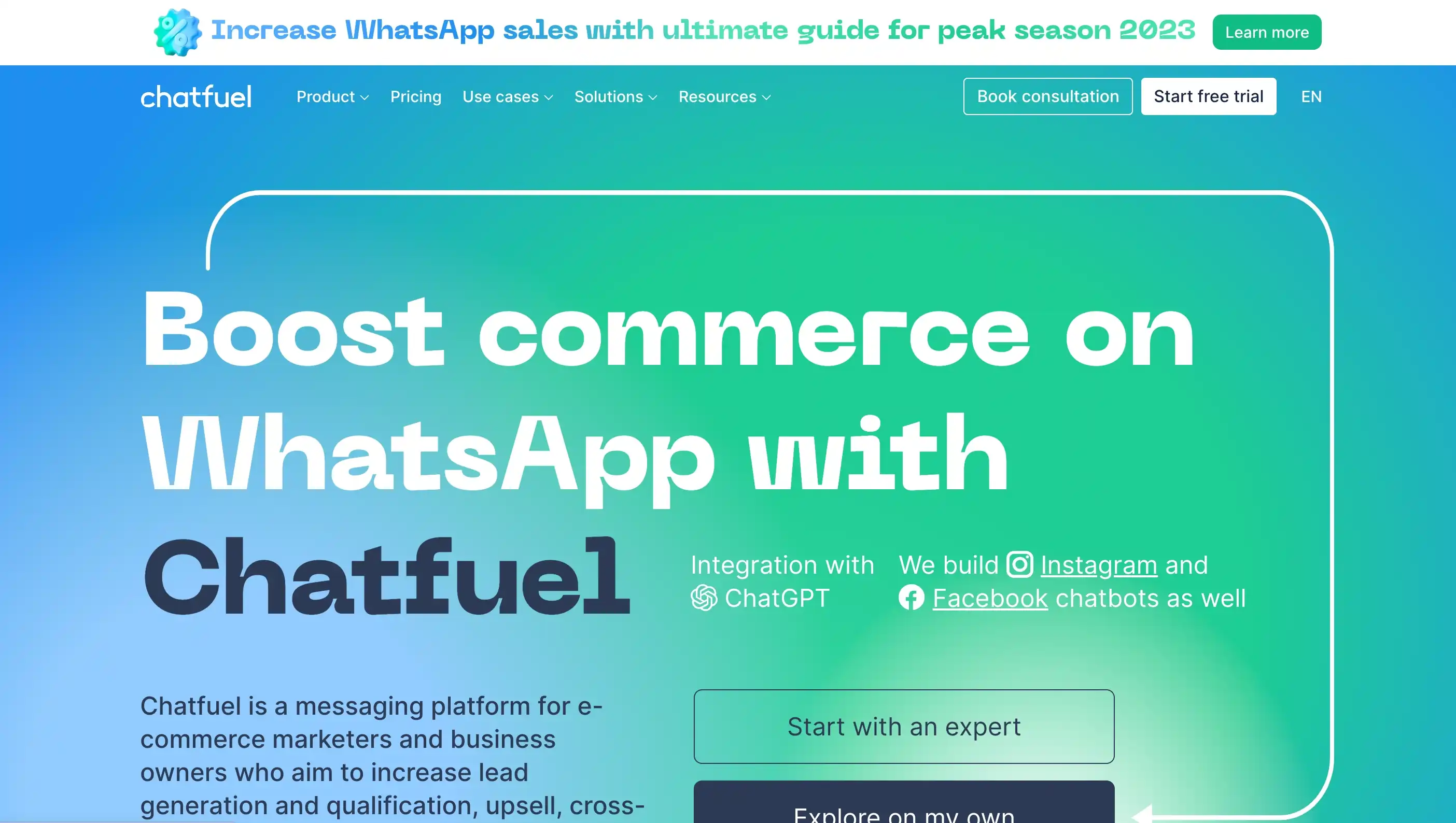 It mainly focuses on restaurants and media agencies.
In under 7 minutes, you will be owning a full-fledged and featured chatbot UI design that promotes your brand and lets you build your brand image more strongly.
It can be used to share news and engage your audience with proactive and instant communication. Set up FAQs and can be used for scheduling reservations.
Have a coherent integration hosted by Chatfuel and make it adaptable to all your brand and audience requirements. The basic version is for free, and the new version costs 30$ per chatbot.
Suggested Reading:
Chatfuel Alternative
Customers.ai (Formerly Mobilemonkey)
Last but not least is "Mobilemoneky." This chatbot maker makes chatbot for SMS, Facebook, web fun, and other platforms.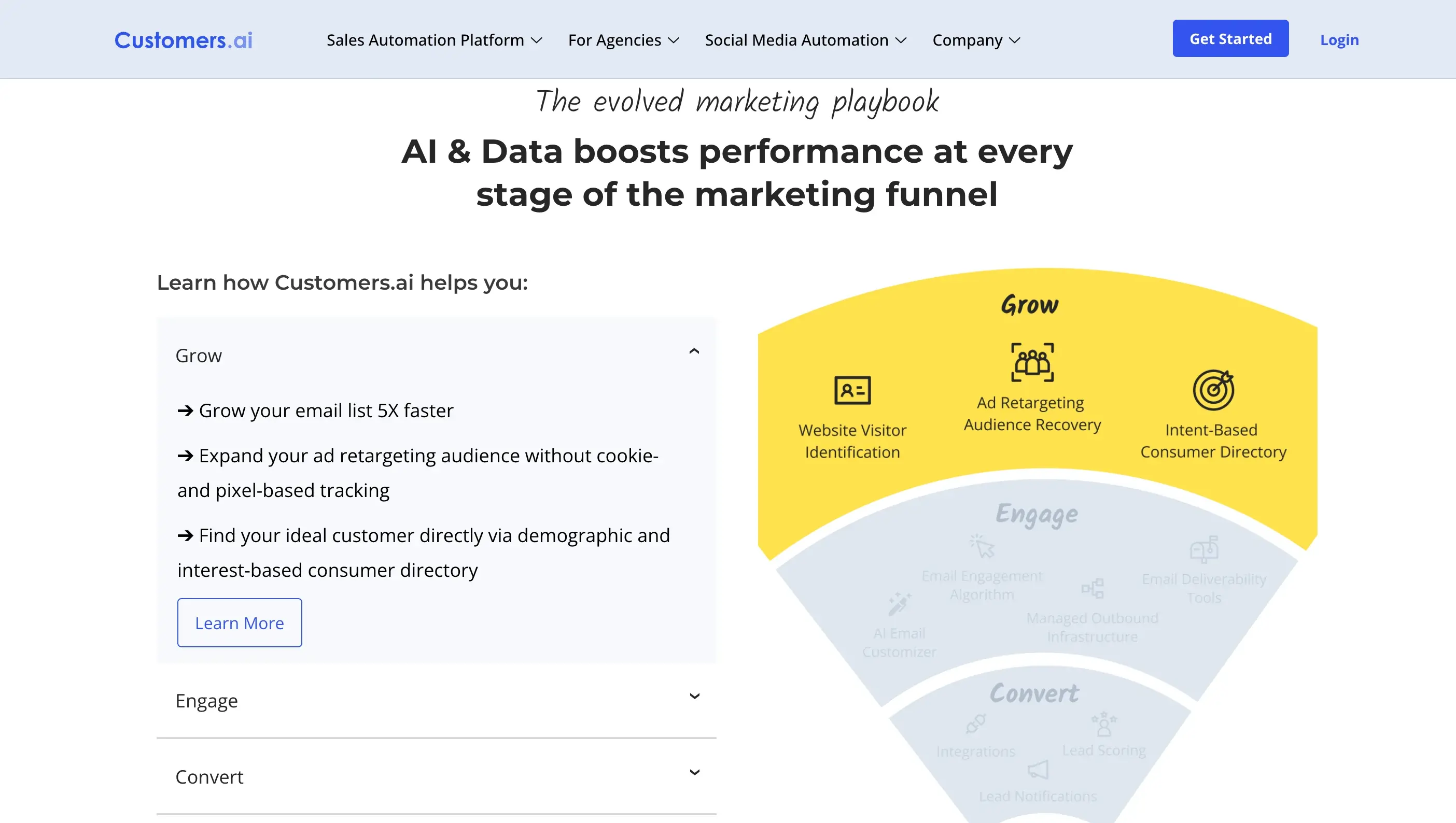 It is amongst the quick, easy, and very efficient Chatbot Platform.
It supports businesses by optimizing software, customer service and formulates and amazing alternatives to newsletters. It is also amongst the right messaging platforms already in the current and worldwide.
Suggested Reading:
MobileMonkey Alternative
You can quickly get started with its free plan and upgrade as per your wish and requirements in the coming future.
Conclusion
As we already discussed, all the top 5 chatbot platforms in the market offer chatbot UI design to support businesses with new technologies with less effort and investment.
But one thing to consider is to think which will be your ideal choice amongst these. So be wise enough to select one as per your brand requirements.
Frequently Asked Questions (FAQs)
What are the 5 best chatbot platforms available in the USA?
The top five chatbot platforms in the USA are BotPenguin, Botpress, MobileMonkey, Dialogflow, and Botsify.
Are these chatbot platforms suitable for small businesses?
Suitable for all types of businesses whether small or large. Their features and pricing plans are designed according to the needs of .
Do these chatbots can be integrated with different websites and social media pages?
Chatbots can be integrated with websites and various social media platforms such as Facebook, WhatsApp, Telegram, and more.
Does any technical knowledge is required to create a chatbot using these platforms?
No, most of these platforms offer a drag-and-drop interface that requires no coding or technical knowledge. However, some platforms like Botpress may require some coding skills.
What types of chatbots can one create using these platforms?
These platforms allow you to create various types of chatbots for different industries like customer support, eCommerce, lead generation, and more.
You can also develop voice bots, AI bots, and messenger bots.