The growing popularity of chatbots in the current market and especially in the restaurant industry can be readily noticeable. The primary reason is that they can be attributed to the wide bunch of services for which they can be put to use. Thus, becoming the support system for multiple brands.
Real-World Examples of Restaurant Chatbot
Some of the most prominent players and food chains like Taco Bell and Burger King leverage their restaurants to establish better customer service and engage with their customers to simplify delivery and takeaway.
The other three most prominent online ai chatbot users in this space are TGI Friday, Domino's, Wingstop, and Pizza Hut. Whereas Domino's and Pizza Hut leverage this technology for food ordering apps and TGI Friday for making reservations. It might be possible your mind is full of questions such as as-.
"Can Chatbots be used by a restaurant?"
"Why do restaurants need a chatbot?"
"How do you make a chatbot for a restaurant?"
"Can a restaurant use a chatbot to take customer orders and make menu items suggestions?"
Then it would help if you considered this enormous actual instance that we are about to discuss. Hold your mind and let it collect all the information!
Instance- Burger King's New Chatbot for QSR Chains' Order-Ahead Options!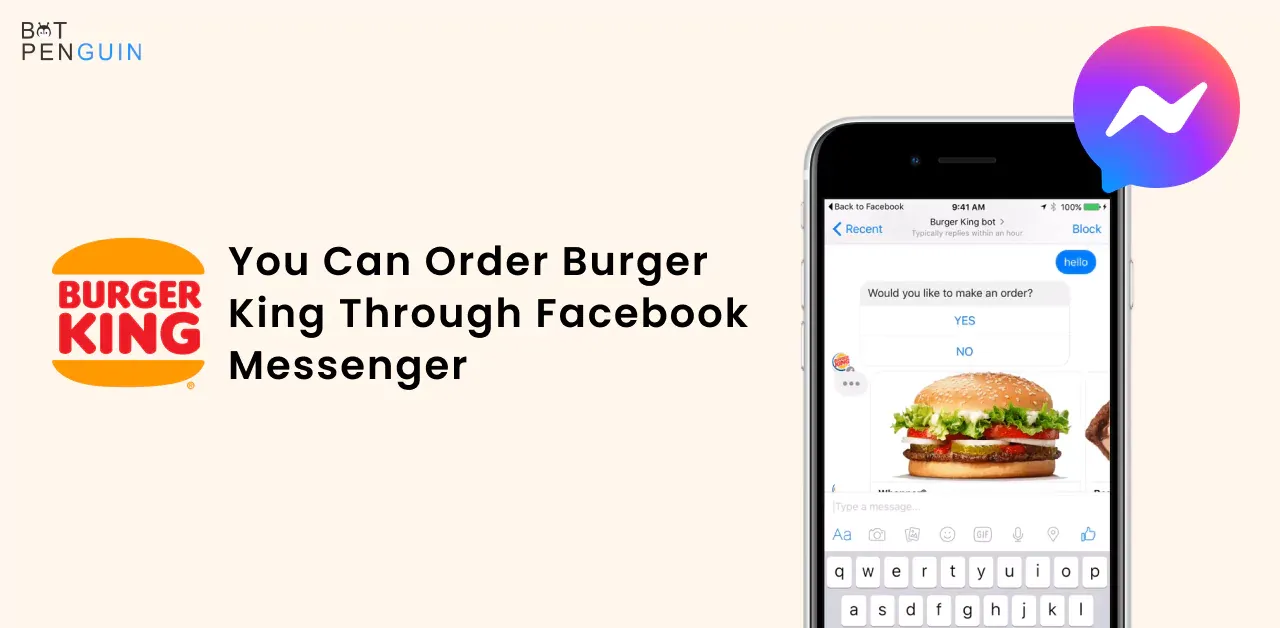 Burger King is already up with an order-ahead tool within the Facebook Messenger platform. With this bunch of QSRs, marketers started debating whether to invest in chatbots or not. And eventually, they landed on the belief of facebook's ability with an online AI chatbot to serve as a viable food ordering platform. It came up with a chatbot platform to test a bot that enables customers to place food orders, pick-up locations, and seamless payments.
Thus, the QSR industry finds online chatbots helpful, mainly when a brand or business is uncertain about investing in a whole new mobile application.
Burger King has demonstrated a top hand in this space as it previously worked with Kik's bot and now with Facebook Messenger to engage people with a compelling and easy-to-use interface.
Niki, an AI-powered chatbot that launched an in-chat ordering feature for Burger King. And is working in partnership with LimeTray. LimeTray is a Chatbot builder that helps the food industry get a restaurant chatbot to enable a better online presence.
Now I'm sure that you got all your answers with this example as it shows how big players are stepping into technology and leading to a better future. Now let's take you deeper to understand better using bot generators for your food business. Here's
Use Restaurant Chatbot for Improving the Customer Journey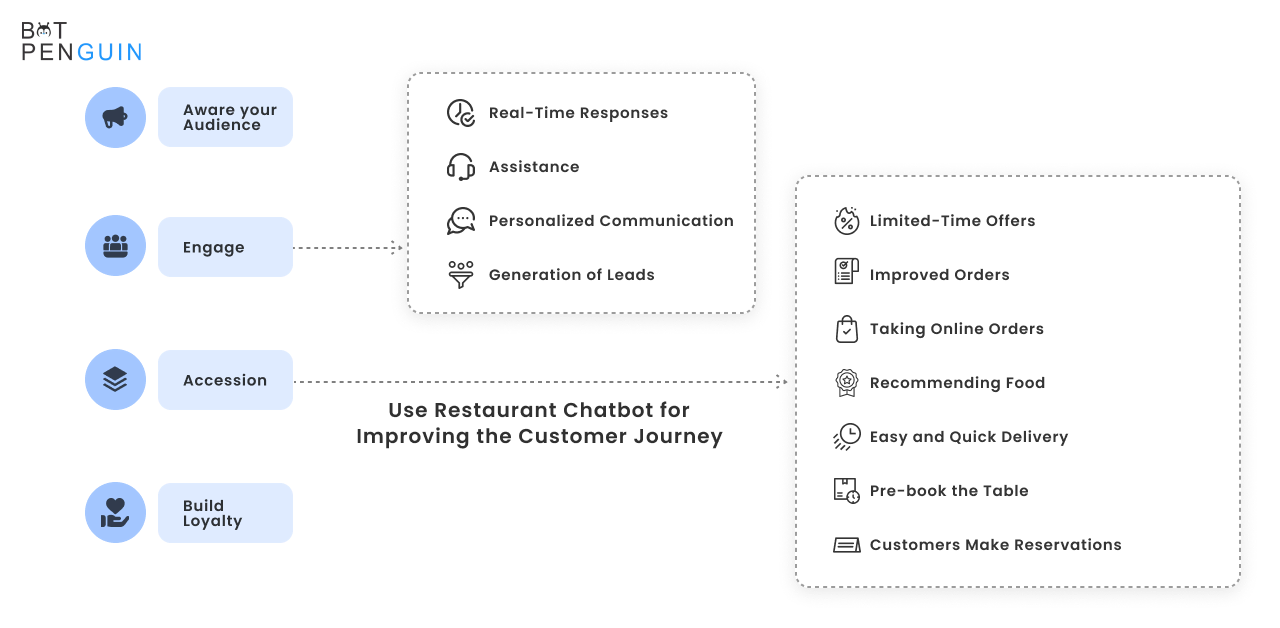 1. Aware your Audience :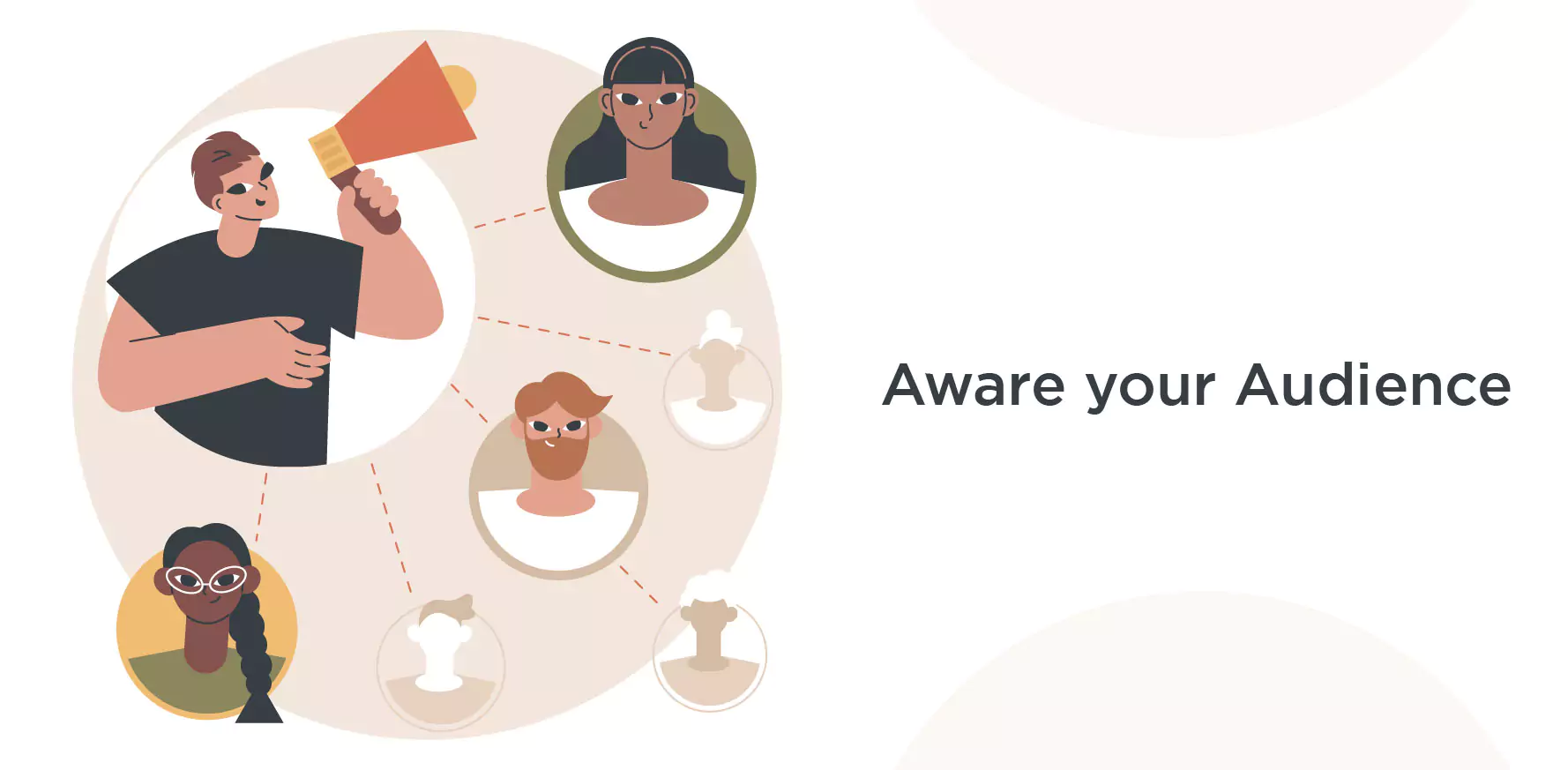 Nowadays, people are spending more time on the web and social media platforms. A restaurant bot is an ideal medium to reach out to your customers. Grab their attention and let them know that you are here for them 24/7.
You can design an online AI chatbot to engage via asking questions, guiding them on the right path, updating new menus, telling offers, and much more. It can also collect customer information, such as email addresses and phone numbers. Offering instant response helps you build a better user experience.
2. Engage :
a) Real-Time Responses
Having a quick response system helps you boost customer support and engagement. For instance, any customer visits your website and wishes to inquire about the store timings via number or any other way.
No matter how dedicated your staff is, they won't be able to respond at odd hours. But with the help of a restaurant chatbot, you can quickly respond to customers in real-time. It will significantly reduce the average time taken to respond to customer requests or messages. Moreover, an engaged customer is more likely to purchase from your store.
b) Assistance
You can build a platform where your customers don't have to scan your entire website to find whatever they are looking for. Your chatbot platform can FIR instant and relevant solutions the moment they will select their preferences.
c) Personalized Communication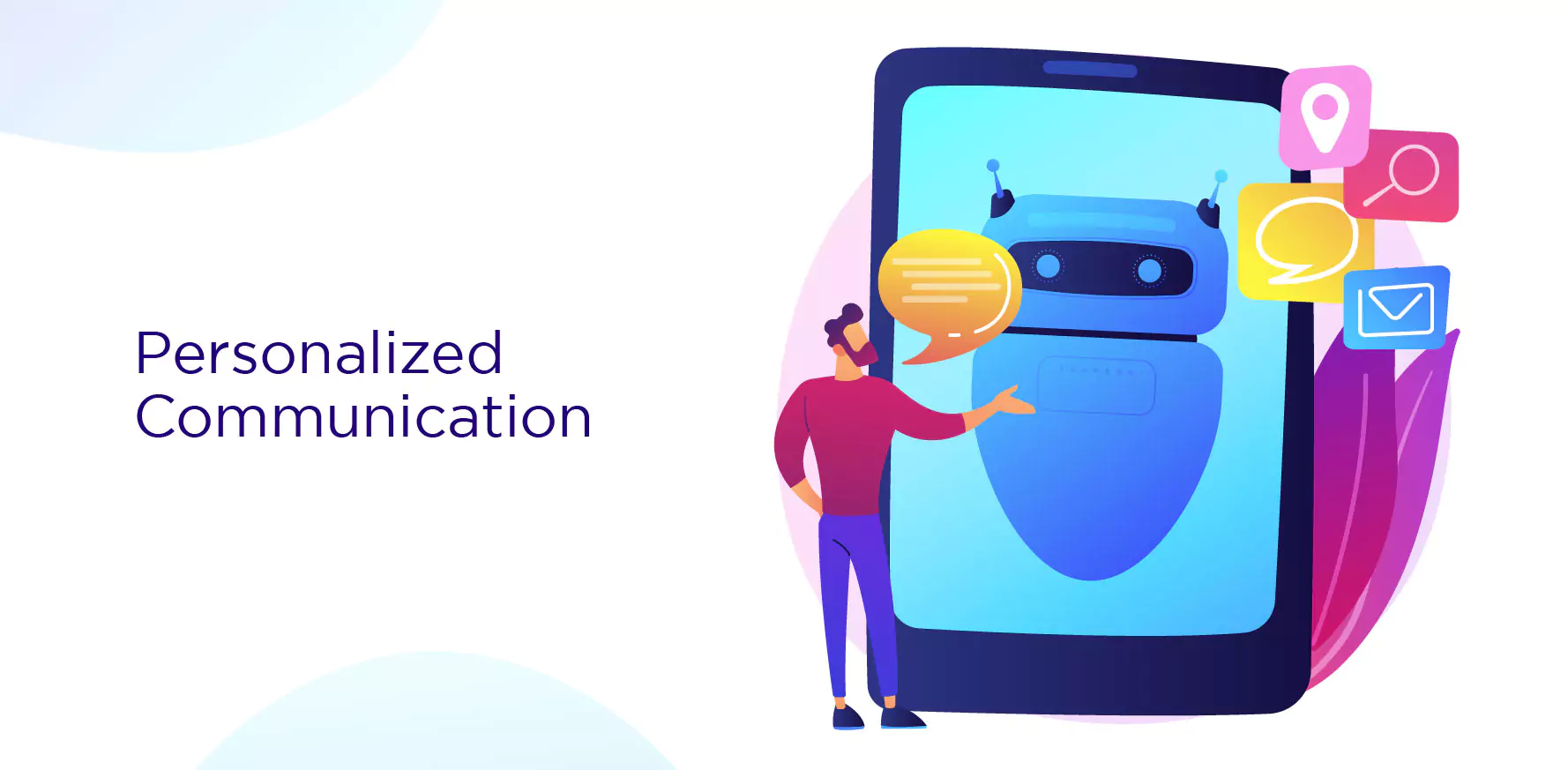 You can nurture your potential customers and persuade them to visit your store or order from your restaurant. For every new deal you offer, you can send them via message or email, tempting them and leading them to your food.
d) Generation of Leads
Your restaurant chatbot has immense potential to collect qualified leads and help your sales team nurture well for future productivity.
3. Accession
a) Limited-Time Deals, Offers, and Discounts:
You can take advantage of a bot generator and send regular emails or text messages. They can directly email lists and offer your customers exciting offers and limited-time deals.
b) Improved Orders:
A restaurant bot can revamp your order efficiency by incorporating your customer support services with few add-ons or quick turns. They are as follows.
c) Taking Online Orders:
A restaurant bot lets your customers have their time choosing what they want to eat without any hurry. By offering an interface for online ordering will save time and result in satisfied customers.
d) Recommending Food:
A bot can also recommend food according to the mentioned preferences by the customers.
e) Easy and Quick Delivery and Takeaway: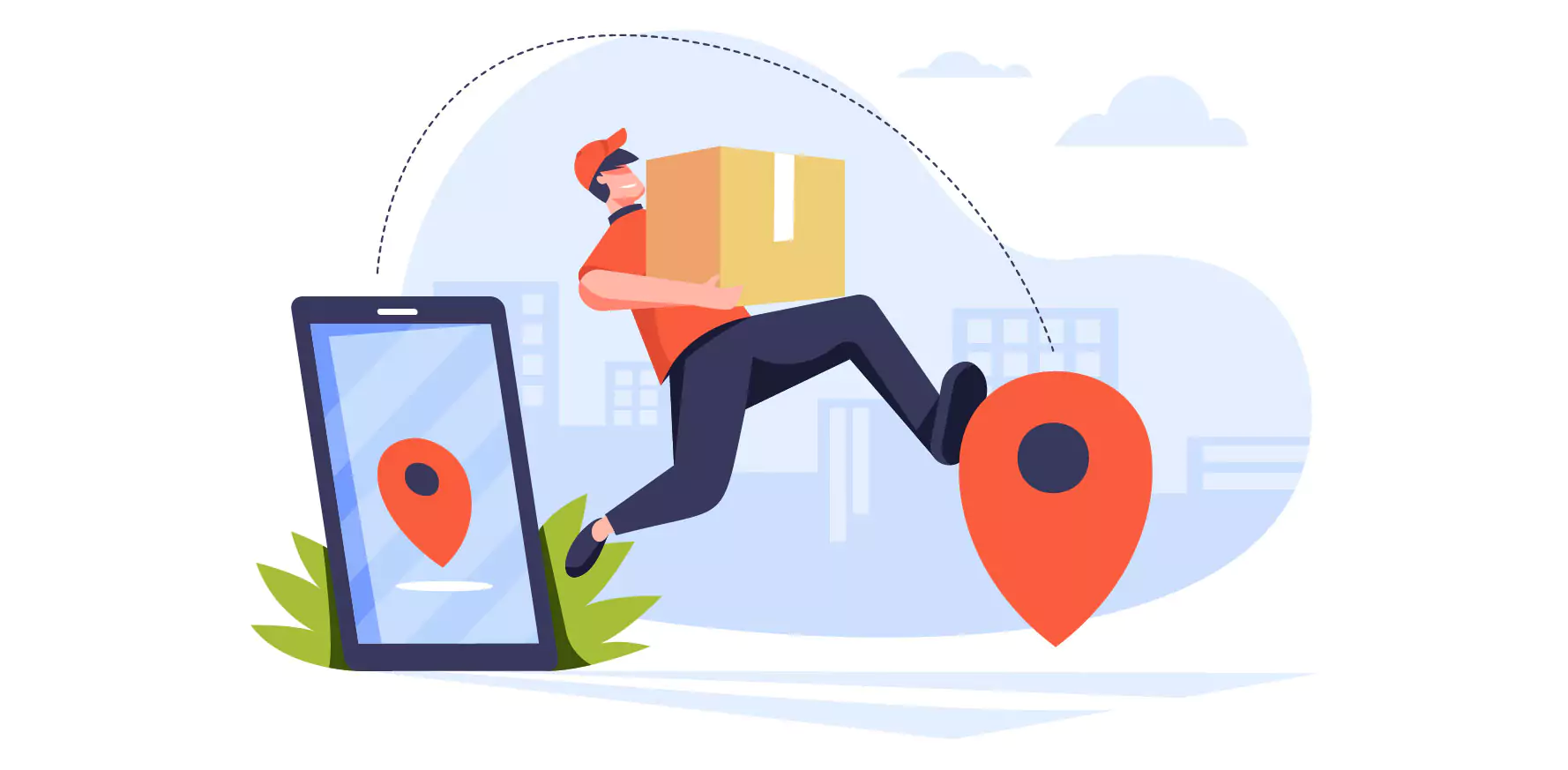 Let them choose the location quickly and enjoy more effortless and seamless payment getaways.
f) Decrease Waiting for Durations by Pre:
Booking orders- allow them to pre-book the table and need not stand or wait on calls at the last minute.
g) Let Customers Make Reservations:
Some of the players are using bots for making reservations of tables, which leads to less chaos and a happy experience in the restaurant.
4. Build Loyalty :
Ask for Feedback: Most people go online shopping, whether it is about clothing or food, looking for feedback and reviews over the web. This helps customers make up their minds about whether they should go to that restaurant or not.
Thus, assign your restaurant chatbot to send timely reminder reminders to the customers for submitting their feedback and review and what was their experience with your food.
Letting customers share their experience at your restaurant by a quick button on your online ai chatbot can be a great way to attract attention. This will help you build loyalty amongst your future and potential customers in the long run.
Final Thoughts
Finally, you made it to the end! Hopefully, you are as amped about restaurant chatbots and how to use them to their fullest potential. The food industry would never see a backfall if managed and nurtured with the latest tools as per the dynamic market.
Yes, the taste makes the food chains popular amongst the people, but another crucial area is customer service and treating them. Thus, you need to analyze the latest technologies and integrate them into your systems. BotPenguin is one of those chatbot builders with which you can have your bot within a few minutes less and with no investment.