With the world being online, digital services are in high demand. Customers want to interact and find solutions to their problems on any day. Business looks for new methods to optimize the customer experience and boost lead generation online. There are many tools available to generate leads, but companies prefer chatbots. That led to the birth of lead generation chatbots.
Lead generation chatbots are conversational agents for businesses to transfer website traffic into the sales-qualified lead with 24/7 support. Chatbots are a reliable tool for customer engagement. It can transform the way customers and brands interact with each other. Chatbots can also help companies to acquire leads without any significant investment.
The statistics say that 55% of the AI chatbots businesses generate more high-quality leads. Many firms take the path of automation route and use the chatbot to provide round-a-clock support. Chatbots can also help in offering quick answers and delivering personalized responses. Without any, chatbots are the best tool for lead generation.
So, in this post, we'll provide a detailed guide to lead generation chatbots.
What are lead generation chatbots?
Lead generation chatbots are software programs that automate interactions between businesses and consumers. Artificial intelligence, machine learning, and simple drag-and-drop interfaces are standard features of these chatbots.
Lead generation chatbots employ a conversational approach to acquire consumer information, help customers through the purchase process, or qualify leads.
They enable businesses to actively engage with prospects and keep them from leaving your website unconverted by allowing website visitors to navigate through a tree of options.
Chatbots help build relationships with consumers and prospects and engage with them 24 hours, seven days a week.
According to 64 percent of clients, the most acceptable advantage of chatbots is the availability of assistance 24 hours a day, seven days a week. Chatbots ensure you never miss a lead by aiding your website visitors outside of business hours when your sales staff or live chat operators are unavailable.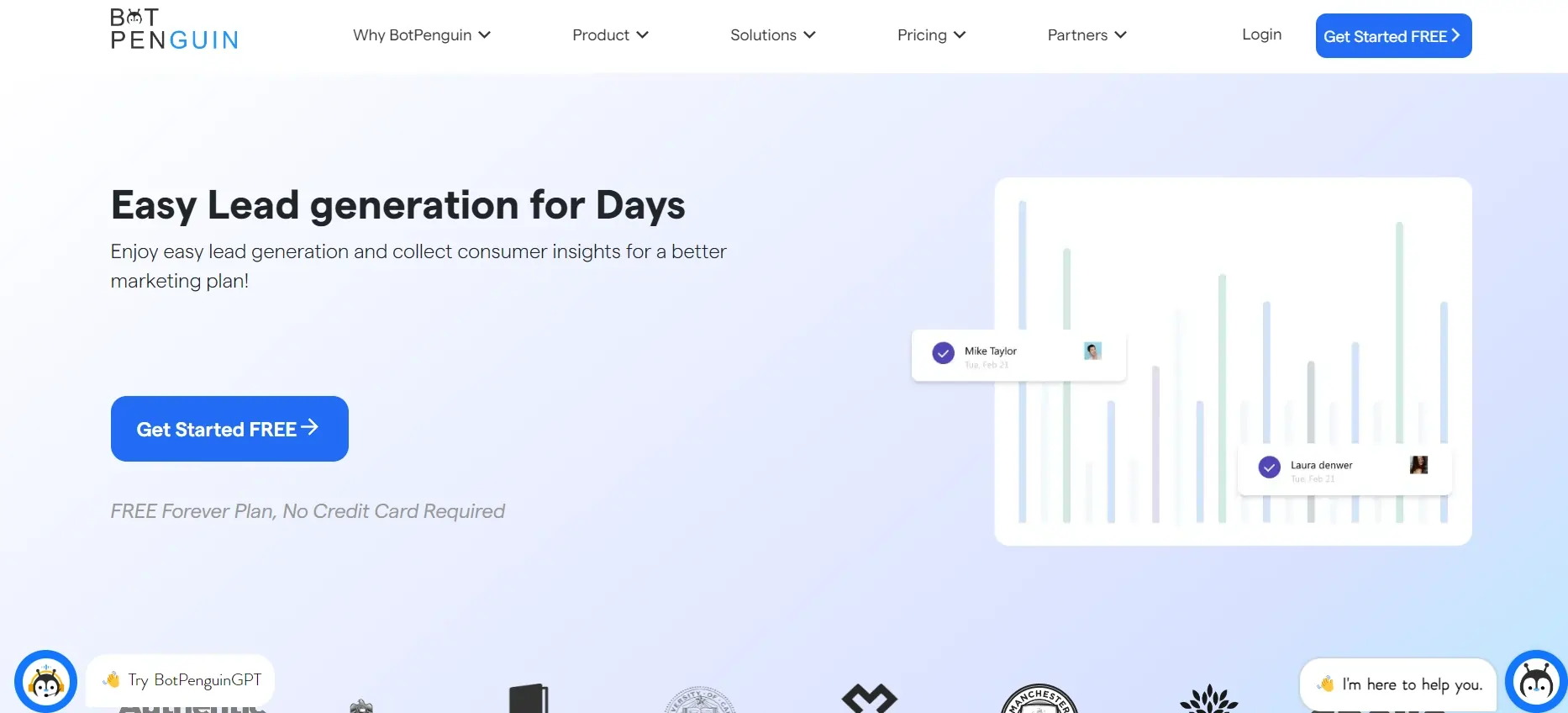 Types of lead generation chatbots
Lead generation bots
Lead generation bots use a decision tree logic. Instead of typing their query or question, the lead follows a pre-determined path by selecting from the chatbot's options.
These simple chatbots will help you segment and acquire extra information on leads before forwarding them to your sales team, resulting in better lead capture quality.
FAQ Chatbots
Chatbots that respond to commonly requested queries can serve various roles. They are used to steer website visitors to relevant content on your site and generate leads. FAQ chatbots collect all frequently asked questions in one place and let consumers self-serve
BotPenguin can do many services apart from Lead Generation like:
They do the heavy lifting work for you when generating B2B leads
Create your own Chatbot now!
Chatbots for booking appointments
These chatbots display your real-time calendar availability. Customers can use it to request a demo, set up an appointment, or book a room.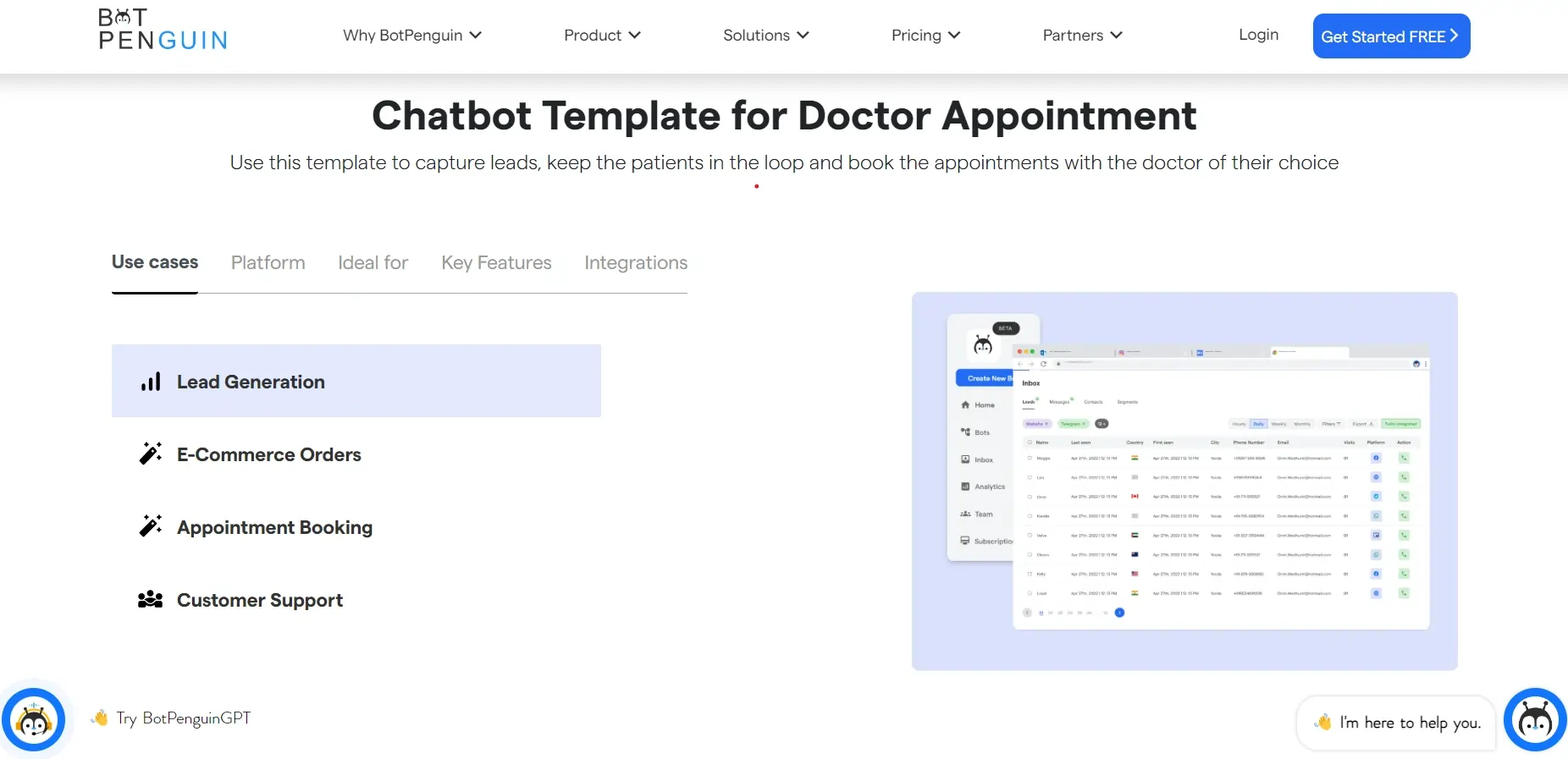 Newsletter chatbots
You can transform an essential pop-up window into a pleasant, conversational bot. It can collect feedback on your message and allows your audience to score your content using newsletter bots.
Lead magnet bots
Make your content download forms conversational. Chatbots allow you to collect more data in exchange for content while not overburdening your leads.
Chatbots for lead magnets encourage consumers and prospects to convert and offer information to the chatbot in exchange for gated material like manuals, white papers, webinar recordings, and other similar items.
Promotional chatbots
Chatbots may be used to promote new products or campaigns. Moreover, you can use chatbots to alert visitors about new items if you have a special deal.
You could use promotions to motivate and reward those ready to share their information. You can provide a discount on a product or service as a reward to consumers. It's a great way to keep users from leaving your site without making a purchase.
How to use lead generation chatbots?
Segment your customer
Segmentation is the process of adequately profiling an audience to deliver content that is relevant to them. It also simplifies the creation of essential audience segments based on consumer data.
Customer segmentation's primary purpose is to offer marketing messages relevant to the users. After all, you may divide your audience into different groups based on demographics, hobbies, age, and gender.
Lead qualification chatbots have a wide range of uses since they can categorize audiences based on their information and help generate more qualified leads. You can better nurture your leads by utilizing AI chatbots to segment your audience.
Generate more leads
When a new or recurring user comes to your website, a lead generation chatbot launches to greet them with a proactive message. The bot might pretend to give a discount to a first-time visitor or push a firm newsletter subscription to activate a potential consumer. Chatbots can also engage with visitors to avoid leaving the website by inviting them to join up for a webinar.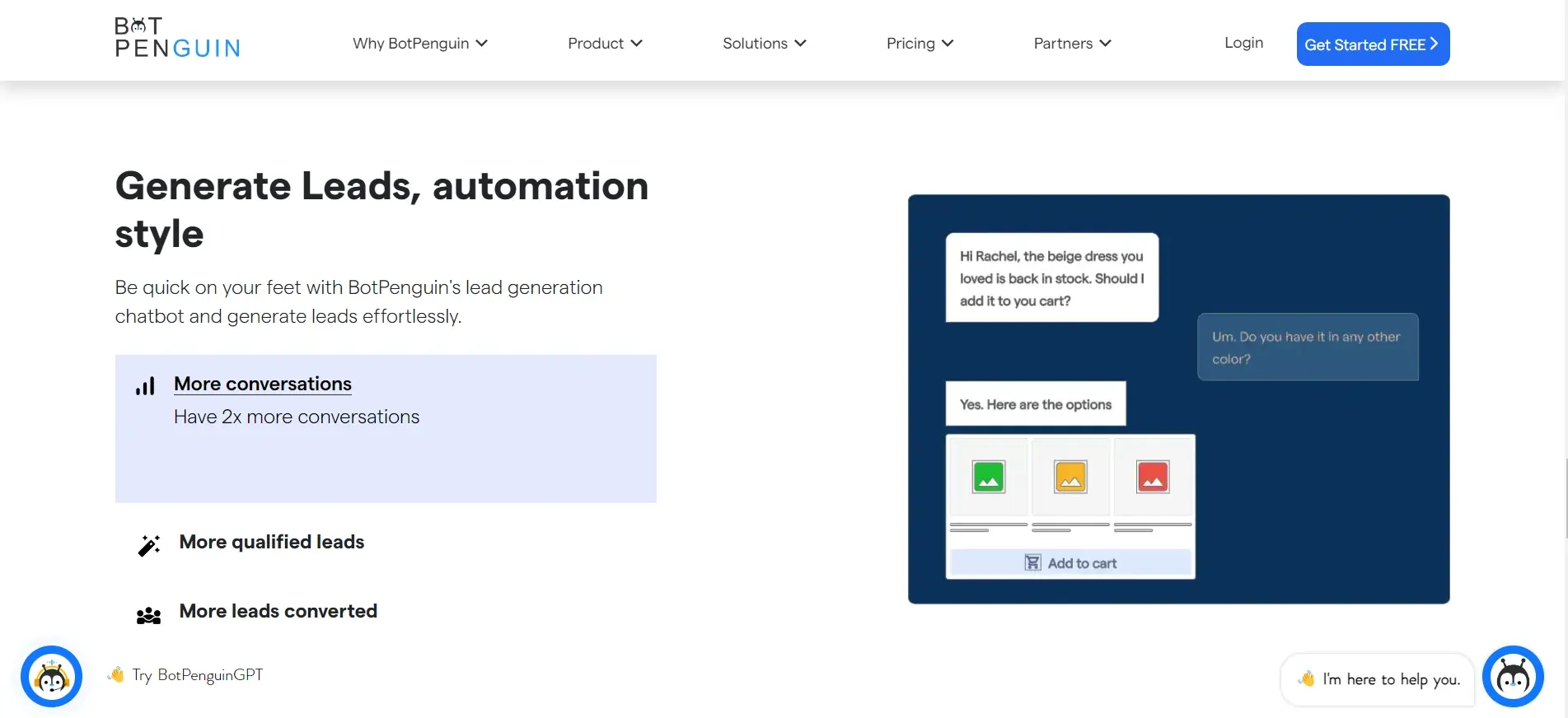 Understand the target audience better
Many businesses mistake attempting to convert to a market that they are unfamiliar with. That path always has errors, so you should never go down it! Every business should better grasp its target market, learn about its interests, and target them as potential leads. Lead qualifying bots are helpful in this case since they aid with prospect comprehension and segmentation, which is critical for any lead generation endeavor.
Qualify more leads
Lead generating chatbots can obtain specific information from leads and convert website visitors. This data may identify how sales-qualified a lead is or how far along the buyer's journey.
A lead-generating chatbot with qualifying questions will be presented to customers to accomplish so. These inquiries align with your firm's sales process and MQL and SQL specifications. There may be an obvious 'gatekeeping' question that automatically qualifies a prospect for you. In contrast, others must go through a series of more in-depth inquiries.
Build strong customer relationships
Many major corporations, such as Amazon, employ chatbots as their primary customer service representatives. It enables them to respond to consumer inquiries quickly and deliver an appropriate response.
After all, keeping your business open at all hours increases your brand's credibility in customers' eyes.
You may also go a long way toward building a solid client relationship by replying fast and appropriately. AI lead generation bots can effortlessly engage clients 24/7. They provide immediate sales-related assistance and establish trust between the user and the company.
Your firm may provide a smooth experience for consumers and turn them loyal by balancing lead generation bots and human help.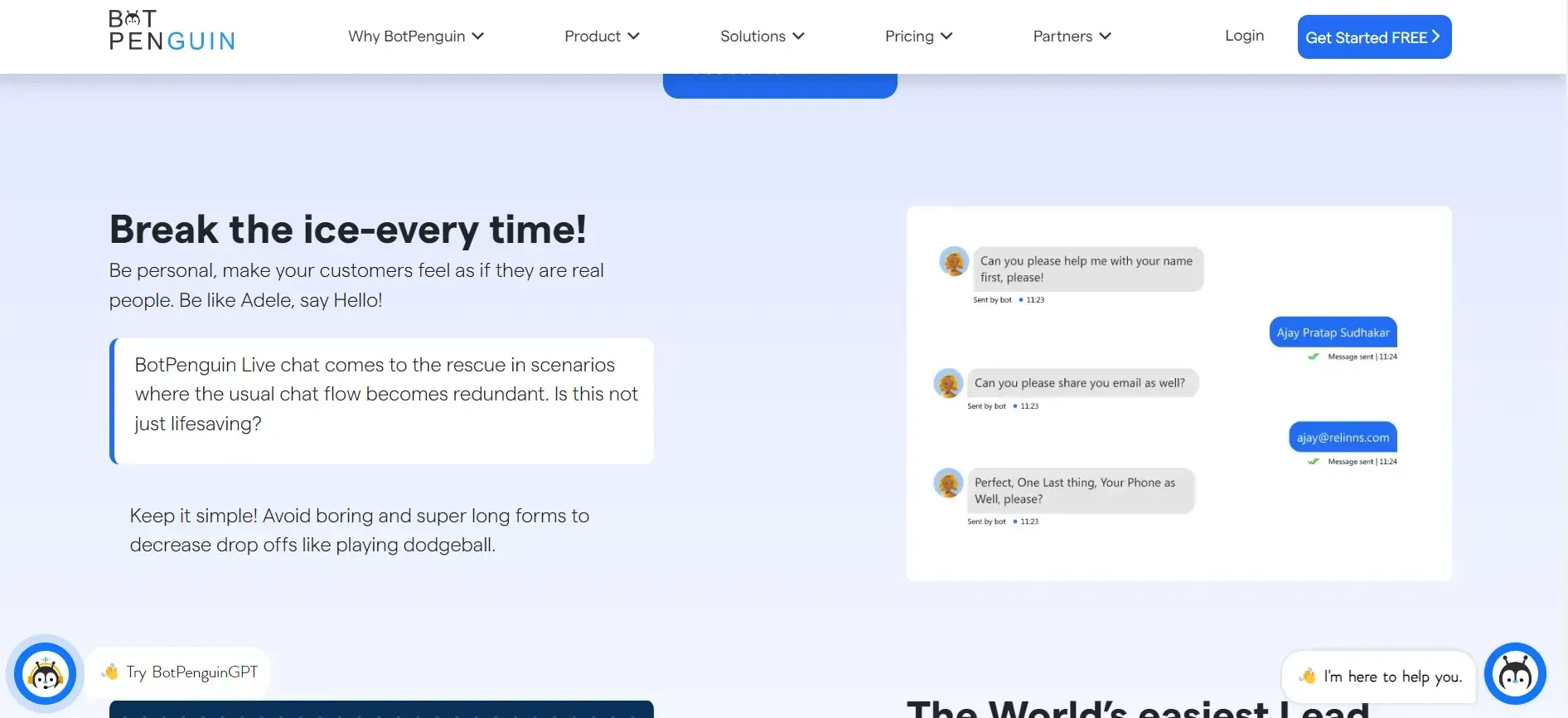 Engage visitors who intend to bounce
Customers frequently abandon websites in favor of rivals because they cannot obtain correct information in real time. Chatbots for lead generation might be the most effective tool or technique for decreasing shopping cart abandonment and engaging customers as they leave your website.
Any firm selling online things, including eCommerce sites, may gently employ the bot to remind customers. You can push messages like "your basket is empty" or "your favorite product is waiting in the cart." Chatbots not only send out gentle reminders but also initiate conversations with customers to resolve their problems.
Chatbots can engage users and persuade them to complete the contact form if they fill it out but neglect to submit it. The best part is that lead bots give real-time sales support, exactly what buyers want.
When to use lead generation chatbots?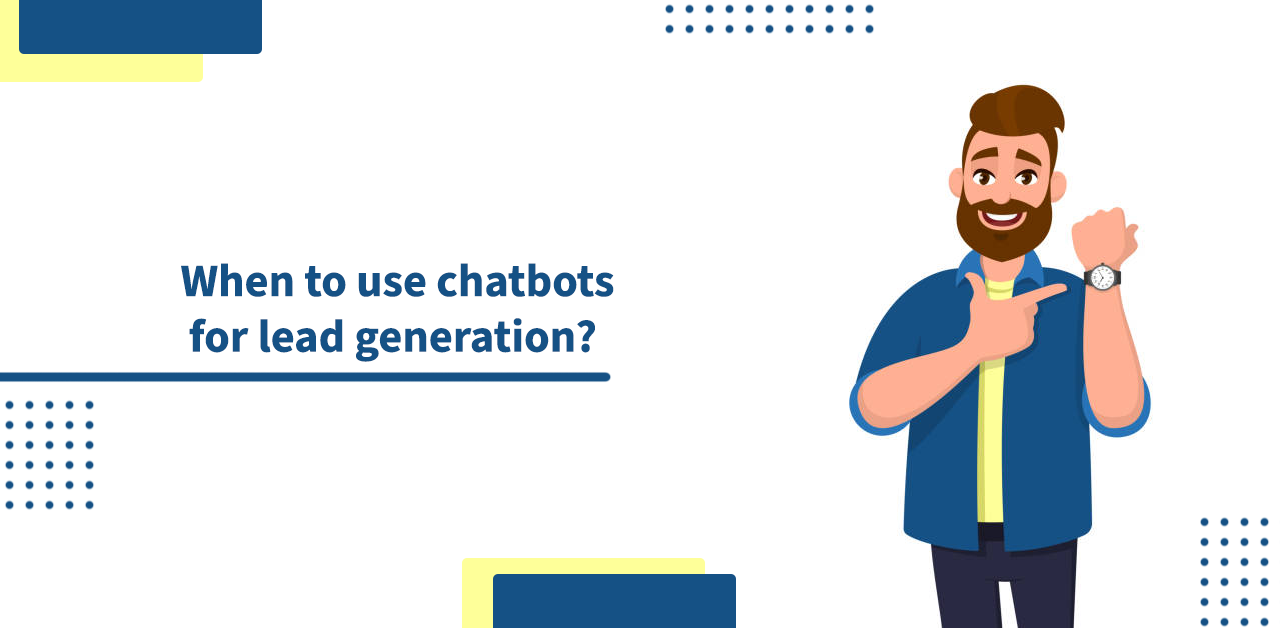 lead generation chatbots: Supporting your customer journey
Here is how you can use chatbots in your marketing funnel:
The Funnel's Top: Use a lead generation chatbot to drive content downloads and boost lead capture in the awareness stage.
The funnel's middle: Chatbots can help promote newsletter sign-ups, webinars, and other material worth considering. Interactive material, such as chatbots, may boost subscriptions by 4X with promotional newsletters.
The Funnel's Bottom: Chatbots may be used to schedule a demo, meeting, or start a free trial after recognizing high-intent prospects. Contact information for valuable leads may also be delivered straight to your sales team through the chatbot.
Lead generation chatbots: Building positive customer experiences
Chatbots are an excellent marketing automation tool for simple tasks like scheduling a demo session with a prospect. They intend to aid marketing and sales activities and assist customer care departments in helping current customers.
On the other hand, Chatbots can rarely answer complex queries or complete the last steps of the sales process. As a result, a personal touch is frequently necessary. Chatbots and human operators can work together to provide outstanding client experiences in the best-case scenario.
How to set up your lead generation chatbots
To begin, make a list of your objectives
You should establish your chatbot's aims and objectives per your company's business goals and objectives.
Decide what constitutes a lead
When creating the questions your chatbot will ask, think about your sales team's information to qualify a lead.
Choose a tone for your chatbot's voice
Knowing your target audience can help you choose the tone and language of your chatbot's conversation.
Decide how to target your chatbot
Where should your lead generation chatbot appear on the web? When is the best time for it to be activated?
Conduct A/B testing
Testing will reveal which leads respond to your chatbot message, on which pages, and at what times, allowing you to optimize your bot regularly.
Create your chatbot's flow with your company objectives
We propose concentrating on the essential details, keeping the flow simple, and ensuring that each inquiry leads to the same number of alternatives.
Decide where you send your chatbot leads
Do you want them to contact your sales staff directly? What department will be in charge of lead nurturing? You can achieve a smooth transfer by integrating your chatbot with your existing CRM and marketing automation tools.
You're now ready to start building your bot!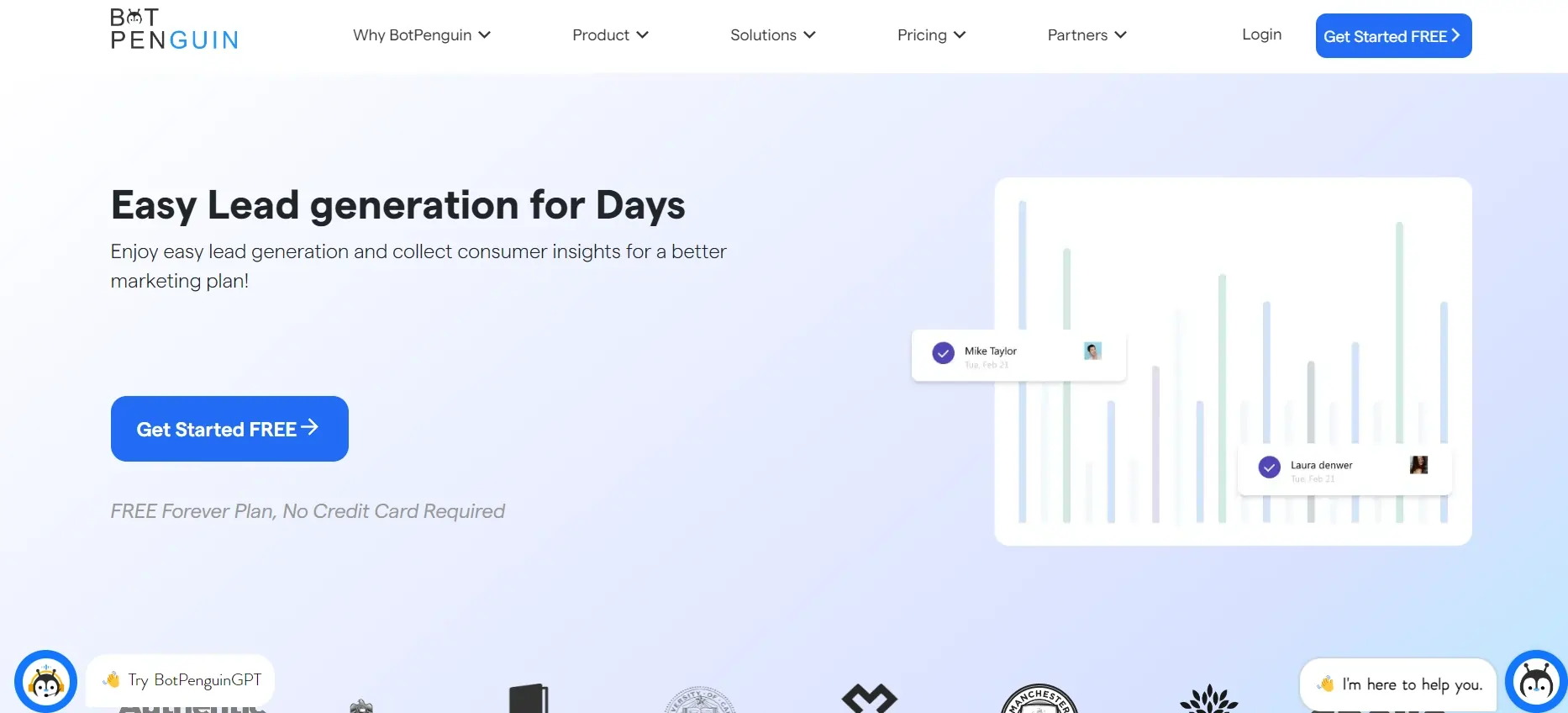 Lead generation chatbots: The Bottom Line
In conclusion, you can use lead generation chatbots for several reasons. Chatbots can deliver streamlined lead generation for personalized user interactions. It also helps you deliver information effectively to the right customer at the required time. By doing this, it generates lead 24/7.
These benefits from the lead generation chatbots help customer experience. It also boosts operational efficiency and gives you an advantage over your competitors. These chatbots serve as the best tool for leveraging AI capabilities and increasing website visitors' everyday experience. With chatbot integration, you can increase website engagement, maximize business revenue and boost sales.
Do you know where you can get the above benefits and then some? BotPenguin!. Try it. It's free!
If you have any problem regarding how chatbots help generate leads, feel free to comment below and contact us.
Also, if you are someone who is searching for excellent customizable chatbot-creating software, do check out the fantastic features offered by BotPenguin!
BotPenguin can help you create your lead generation chatbot with just a few clicks.