Conversational AI is the new business trend, getting popular each day. It has spread its wing over entertainment purposes as well. But do you know the concept of conversation? AI has been around for decades. It was almost non-existent from 2005 through 2017. Over the last few years, it grew among as the latest trend.
If a computer has a natural conversation with humans, engineers have put a lot of work and effort into making it human-like. Conversational AI plays a significant role in talking to a chatbot, responding to an automated email, or speaking with virtual assistants. They help interpret, classify and prepare appropriate responses. Then, they send the answer in a more natural and easily understandable to humans.
Conversational AI helps transform the customer buying experience and enhance sales rates. Conversational AI comes in various forms, like chatbots and voice assistants. It is one of the best ways to satisfy your customers.
Want to know more about conversational AI? Then continue reading.
What Is Conversational AI?
Conversational artificial intelligence (AI) refers to a group of technologies that operate behind voice-enabled and automated messaging systems to create human-like interactions between humans and machines. It enables computers to comprehend, analyze, and reply to human text and speech.
Conversational artificial intelligence can decode diverse languages, grasp human intent, and reply in a human-like manner. Behind the scenes, conversational intelligence is at work. Human language is a complicated scenario because of the numerous interpretations of the same word, slang, explanations, interruptions, and other factors. It examines text, tone, voice, and gestures from people. Conversational intelligence, as a result, has capabilities that transcend beyond established routes.
What is the Difference Between Only Chat-Interface Chatbots and Conversational AI
Even though conversation AI and chatbots are frequently used interchangeably, they are not the same. The following are the primary distinctions:
Conversational AI can handle both text and voice commands, whereas chatbots can only run text commands.
You can use Chatbots can only as a chat interface; conversational intelligence is popular with voice assistants, websites, and smart speakers.
Natural language processing (NLP) is a part of conversational artificial intelligence, and chatbots follow a pre-scripted dialogue text flow.
Chatbots are focused on navigation, whereas conversational AI helps with discussion.
Conversational intelligence can handle broad-scope, dynamic interactions, whereas chatbots struggle with out-of-scope jobs.
4 Types Of Conversational AI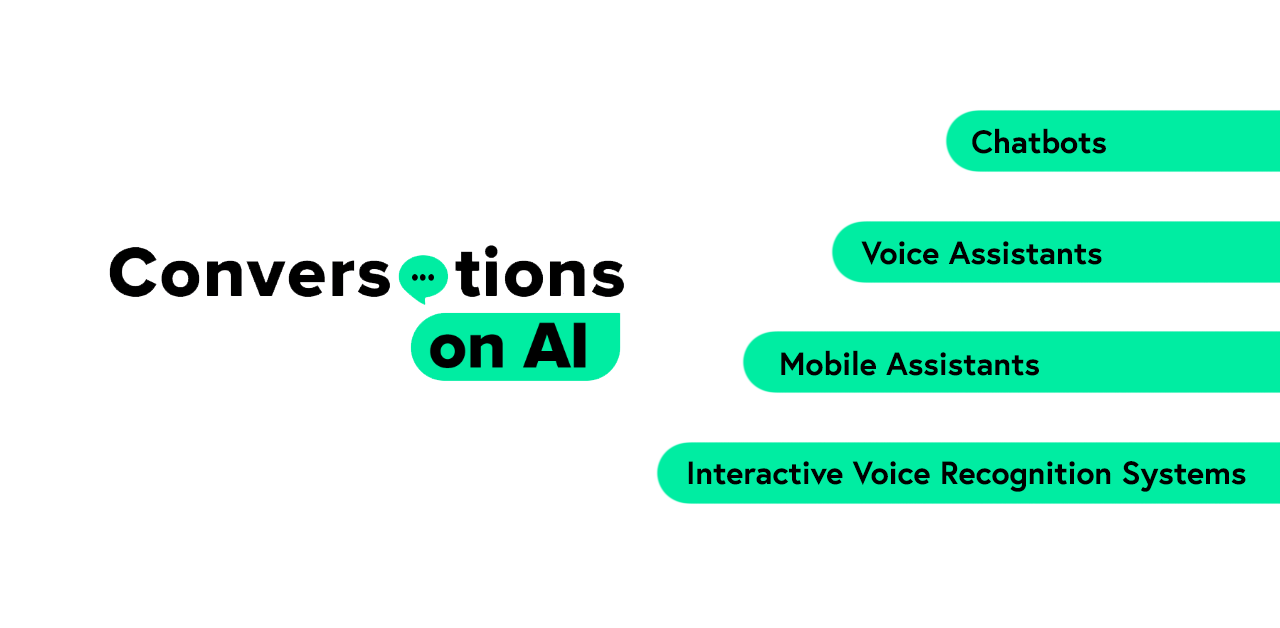 Chatbots: These help automate customer service. Chatbots are available on various platforms, including websites, display advertising, and Facebook Messenger. They mostly react to customers' basic support questions and assist them in locating things that they want to purchase.
Voice Assistants: These are similar to chatbots, except they need you to communicate with them by speaking out. These mainly assist you in making phone calls, responding to inquiries, setting reminders and alarms, playing music, and providing weather information. Amazon Alexa and Google Home are some popular voice assistants.
Mobile Assistants: Siri, Google Now, and other mobile assistants function similarly to voice assistants. They assist you in completing things that need speed while you are doing something else, such as driving or walking.
Interactive Voice Recognition Systems (IVRS) are used in contact centers to automate customer care assistance. They aid in the reduction of service expenses and the improvement of client satisfaction.
Why Conversational AI is becoming so critical today
Conversational AI helps in marketing, sales, and customer service to engage customers throughout their whole customer experience. Customer service and customer experience, a $600 billion business with a lot of repetitive knowledge labor, is one of the most popular and effective deployments of conversational AI.
It allows businesses to automate highly customized customer service resolutions at scale since it does not rely on manually developed scripts. It makes each connection feel more personal and meaningful while lowering effort and resolution time.
Advanced conversational AI can help businesses assess and predict when customers may have inquiries or difficulties. Moreover, identify typical pain areas, and respond before a client contacts them.
Conversational AI for customer experience is highly adaptable and used in customer care channels such as email, voice, chat, social media, and messaging. It enables firms to expand assistance to new and developing channels, allowing them to reach consumers where they are.
Top Conversational AI Applications and Use Cases
The introduction of new items
Similar to promotions, introducing new goods to your customers may be done with the help of a chatbot. At all times, the chatbot will be ready to greet potential consumers and promote your new product or service. You can provide your clients with consistent updates about your products.
Automate responses to frequently asked questions (FAQs)
Many firms have 5-7 different queries that account for more than half of all customer care inquiries. A sophisticated AI can decipher the multiple ways humans could pose the same topic. For example, an airline may use a travel chatbot to answer frequently asked inquiries like "can I alter my flight?" without involving a human representative.
Suggestions for products
One of the essential helpful qualities of a chatbot is its ability to retrieve data from databases. Because of the use of a chatbot in customer service, customers will be able to locate products faster and more efficiently. A chatbot will be able to offer additional similar products To enhance your customer experience
Boost customer involvement
Conversational AI may reach out to consumers proactively at crucial moments in the customer journey or based on behavior indications to give relevant information at the right time. It can assist increase revenue, reducing turnover, and reducing irritation.
Lead generation
Companies now employ a chatbot to communicate with potential customers exploring their website for products and services.
Improve product accessibility
Artificial intelligence is being used by businesses to give more inclusive services to all of their clients. A sophisticated AI may automatically use NLP and NLU to translate text or even text to speech. Businesses may assist people with impairments to utilize their goods more effectively.
How Does Conversation AI Work?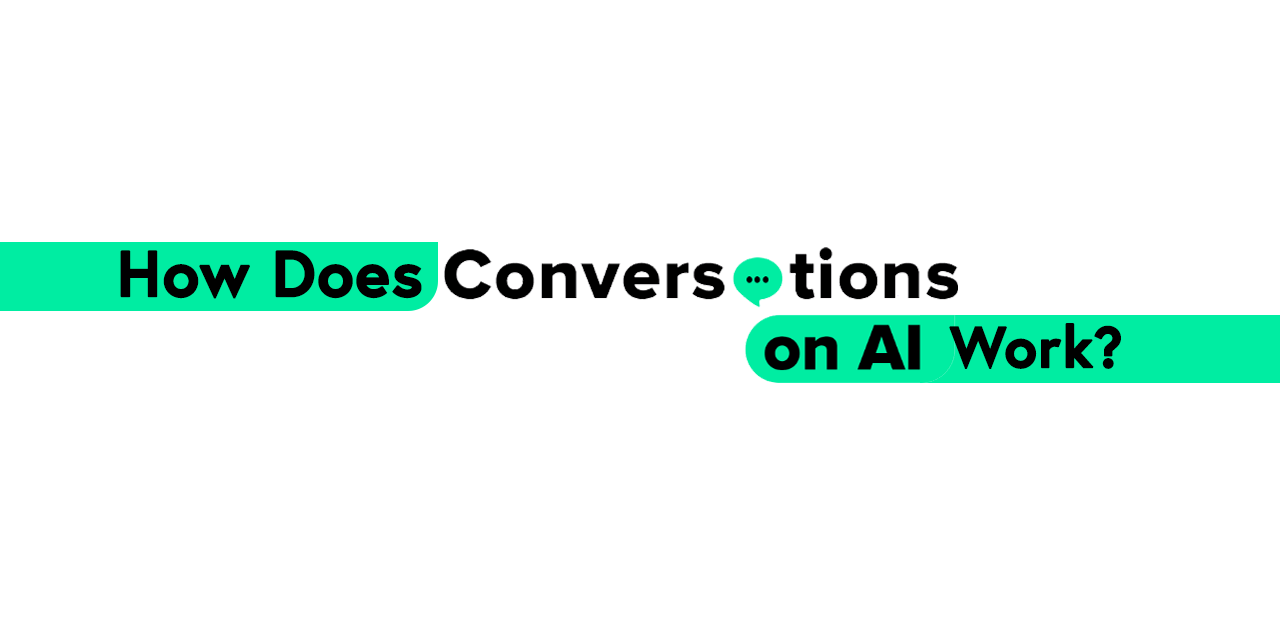 A typical conversational AI flow, which is driven by underlying machine learning and deep neural networks (DNN), includes:
Automatic Voice Recognition (ASR) is a user interface that translates speech into text or a user interface that allows the user to enter text into the system.
Natural language processing (NLP) extracts the user's intent from text or voice input and converts it to structured data.
Natural Language Understanding (NLU) is used to analyze data based on grammar, meaning, and context, understand purpose and entity and serve as a conversation management unit for developing suitable answers. Based on the user's intent and the AI model's training data, an AI model predicts the optimum solution for the user.
Natural Language Generation (NLG) derives an appropriate answer to engage with humans based on the preceding steps.
In many situations, the user interface, natural language processing, and AI model are all offered by the same company, which is usually a conversational AI platform. However, various suppliers for each of these components are also an option.
How To Build Conversational AI
The optimal technique to construct conversational AI relies on your company's individual goals and use cases. However, here are some pointers on how to make conversational AI:
Step 1: Begin by gaining a thorough grasp of your use cases and needs.
Understanding your organization's particular goals and use cases is the first step in implementing conversational AI. What kinds of discussions do you want it to be able to hold? Defining these needs will assist you in deciding on the optimal method for developing your chatbot.
Step 2: Select an appropriate platform and toolset.
To construct conversational AI, you may leverage various platforms and toolkits. You must select the platform that best meets your requirements. [24]7.ai Conversations and BotPenguin are two prominent platforms. Microsoft Bot Framework, Amazon Lex, Google Dialogflow, and IBM Watson are all examples of bot frameworks.
Step 3: Create a working prototype.
It's time to start developing your prototype when you've established your needs and picked a platform. Before releasing your chatbot to your users, you should build a prototype to test it and iron out any bugs.
Step 4: Deploy your chatbot and test it.
It's time to deploy and test your chatbot after your prototype is complete. Make sure you run it by a small group of people to gather feedback and make any required changes.
Step 5: Improve and optimize your chatbot.
The final step is to optimize and develop your chatbot constantly. You may achieve this by adjusting the algorithms, introducing new features, and gathering feedback from users.
How do you implement conversational AI?
Enterprises must evaluate several aspects before incorporating Conversational AI into their IT stack. Here are a few general guidelines:
Begin with a specific and well-defined use case.
Determine the interaction model by understanding your company's goal.
Plan ahead of time to make clear decisions and determine the solutions to frequently asked questions.
To maintain long-term contacts, get to know your consumers and their concerns.
Try to understand your clients' emotions before deciding whether or not your chatbots should respond to them.
Finally, get the word out about your conversational AI product.
How To Automate Conversational AI?
It would help if you automated all customer interactions to become an automated conversational AI firm (voice and text-based).
Here is a list of things for automating Conversational AI:
Use a low-code conversation editor to handle all talks with a configurable interface.
To acquire language assistance via NLP, use AI-based language understanding.
Use an omnichannel integration approach to deploy your bots across many platforms.
Integrate live chat with your customer service software.
To fulfill company goals, automate regression testing of all client interactions.
Conclusion
Every business gains a customer depending upon the conversation and service. The immense demand for effortless solutions is increasing. Conversational AI is the perfect solution for answering conversations that contain more than one intent. Most businesses implement conversational AI to improve customer support, customer experience, and marketing. It can help you answer the questions in a second to multiple customers. It also integrates SMS, social media, web-based chat, and other messaging platforms. Lastly, conversational AI depends on the intent-driven conversation design for delivering solutions to any business.
BotPenguin is an AI-powered chatbot platform that enables you to quickly and easily build incredible chatbots to communicate and engage your customers on the website, Facebook messenger, and other platforms.