Many brands are focusing on WhatsApp Business to enhance their customer support service. There is a massive demand for WhatsApp Business API for eCommerce, especially for small businesses. With this uproar of WhatsApp, you must have heard about WhatsApp Chatbots.
Yes, you heard it right. WhatsApp, too, has a chatbot option for the business owner at no extra cost. It has an easy, user-based interface and comes in handy to use. Its premium features also make customers happy and provide a satisfactory experience.
But there is a catch to this perfect solution. WhatsApp directly doesn't provide a chatbot from its application. Instead, you can get WhatsApp chatbots for customer support from WhatsApp chatbot providers. Several WhatsApp chatbot providers give users a hassle-free and simple-to-get-start chatbot option. These platforms build WhatsApp chatbots for your business according to your needs with no code and by bringing authentic WhatsApp API.
This post is for you if you want to incorporate a WhatsApp chatbot but don't want any hassle. Continue reading to find the top 5 best WhatsApp chatbots for customer support.
What are WhatsApp Chatbots?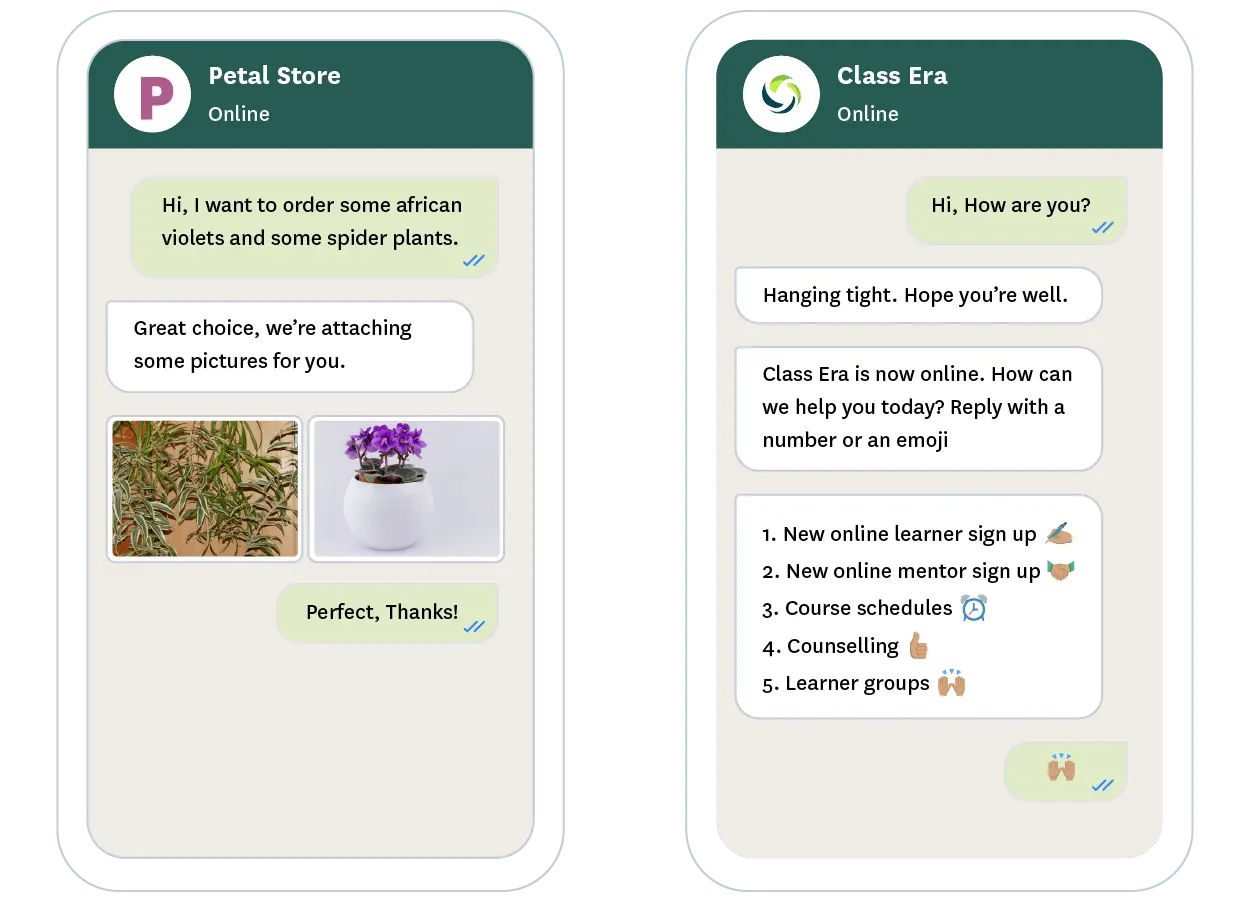 There isn't a chatbot for WhatsApp that is officially supported. Still, you may add a chatbot to the platform using one of the Best WhatsApp Chatbot tools mentioned in this post or by writing your chatbox code if you're a developer.
A WhatsApp chatbot enables customers to communicate with your company over WhatsApp by simulating and processing human dialogue. WhatsApp chatbot works through automated rules, natural language processing (NLP), and machine learning power chatbots (ML).
Try BotPenguin to create your WhatsApp Chatbot NOW!
Along with WhatsApp Chatbot, BotPenguin offers chatbot creation for other social platforms like:
What are the Features of WhatsApp Chatbots?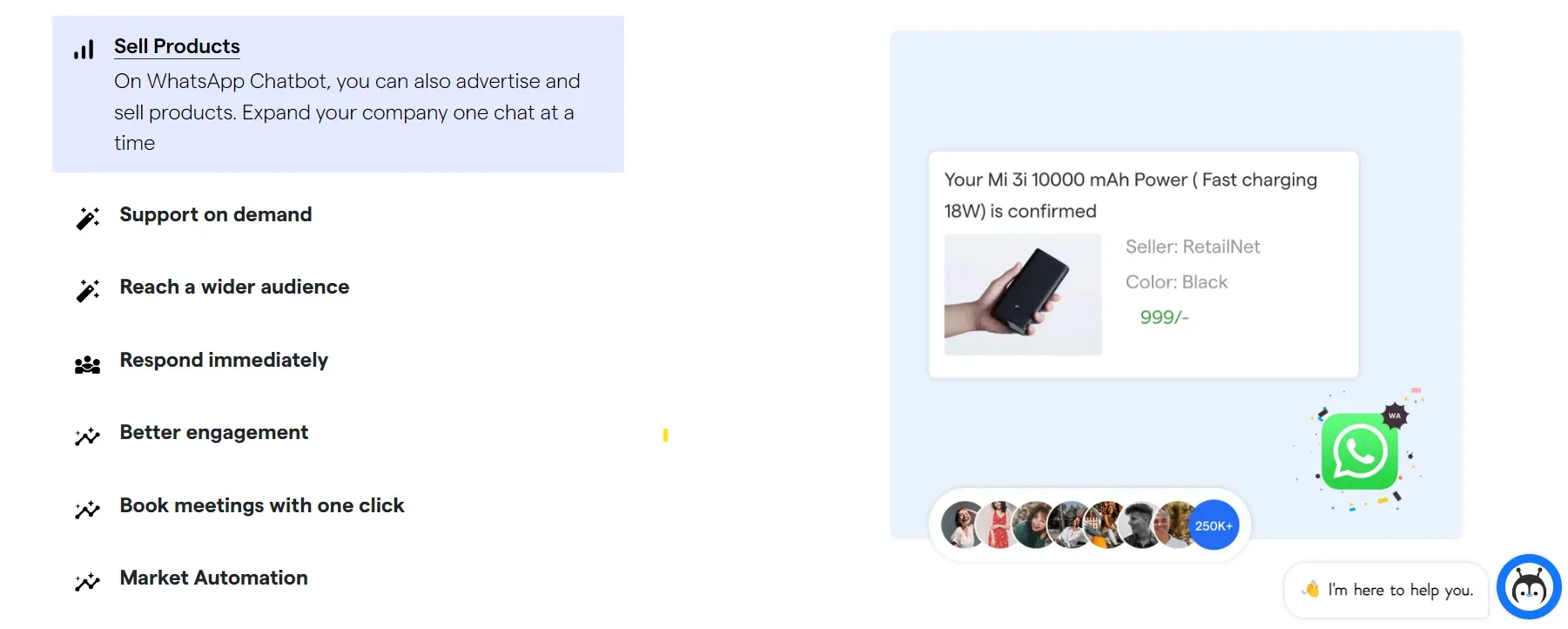 Simple to use interface
The WhatsApp chat interface is relatively easy to use, and users may get real-time information on the items in the category of their choice. Instead of browsing the whole website for things they want, consumers can now choose the best offers for the product categories that most interest them.
Multi-faceted interaction
Depending on the direction of the discussion, a WhatsApp chatbot for eCommerce enables users to execute various actions. The WhatsApp chatbot for eCommerce gives consumers access to multiple touchpoints, from browsing to placing purchases to raising tickets. The effectiveness of conversational marketing and interaction aids eCommerce businesses in attracting and keeping consumers.
Broadcasting and collective power
eCommerce businesses have great potential thanks to WhatsApp chatbots to continuously communicate with their clients in real-time. Even better, WhatsApp's broadcast function enables enterprises to establish groups and simultaneously communicate with many people. With the help of this tactic, you can reach a large number of people at once and provide discount coupons and promotional messages to them.
Easy access
eCommerce businesses may use Facebook's click-to-WhatsApp capability and engage their target consumers in real-time. It can happen by clicking on the appropriate ad using WhatsApp chatbots for eCommerce.
Stored user history
The backup of talks provided by WhatsApp chatbots is an additional advantage, enabling businesses to easily maintain track of their prior contacts with customers.
Delivery simplicity
For a better experience receiving your products, consider using the WhatsApp chatbot for e-commerce. Finding the address may be made unnecessary. Customers may quickly disclose their position via WhatsApp, streamlining and expediting the delivery procedure.
Automated message transmission
You no longer have to make your consumers wait for an answer to a straightforward question. Even if consumers message you outside regular business hours, you may still respond to them and answer their questions.
You can also get immediate consumer feedback when using the WhatsApp chatbot for eCommerce. Moreover, you can utilize that information to provide them with better services in the future.
Multimedia Attachments
eCommerce businesses may use WhatsApp chatbots to respond to client inquiries in a much more engaging way by integrating various multimedia assets, such as audio, video, photos, documents, text, location, and contact information.
Imagine your customer's happiness when they inquire about a product identical to one they purchased last month but is out of stock. You send them a WhatsApp message as soon as it returns with a photo of the item! Additionally, you can provide the consumer with a URL to monitor their delivery and live location.
Why Consider WhatsApp Chatbots?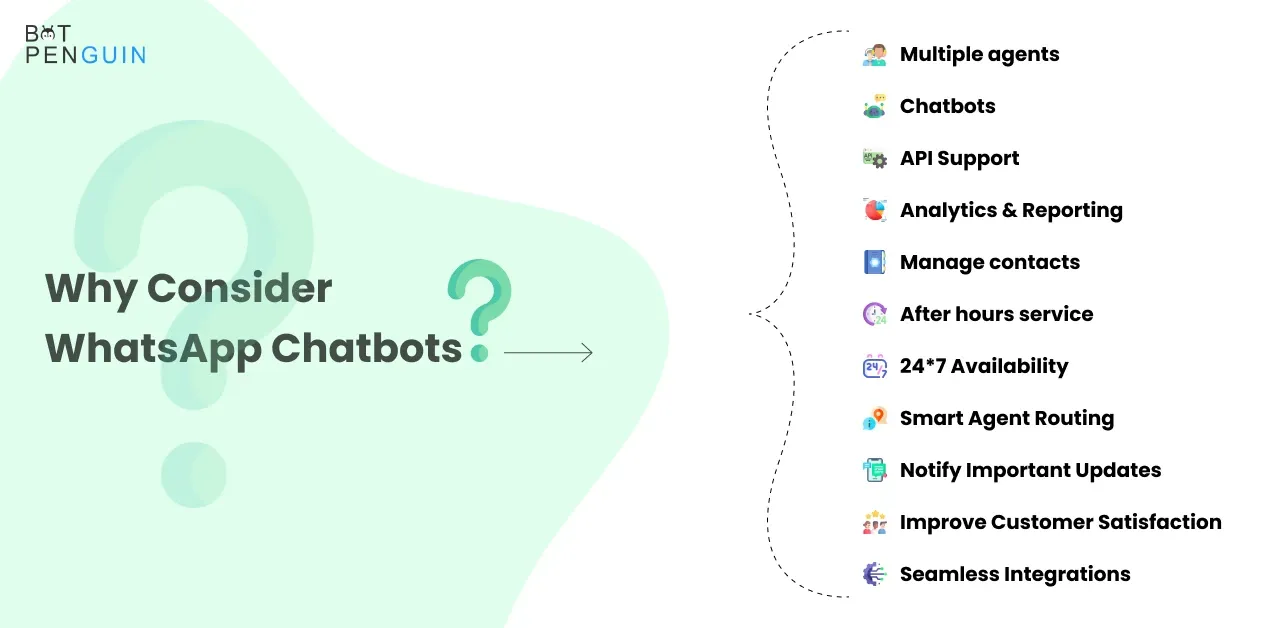 There are several AI chatbots. AI Chatbots are available to proactively assist you in locating what you want, whether you're on a website or Facebook Messenger. As surveys reveal that 69 percent of customers prefer utilizing chatbots owing to their rapid and easy replies, businesses are more tempted to install AI chatbots.
Additionally, 56 percent of clients said they would instead use AI chatbots than place lengthy customer service calls. In this epidemic age, the need for AI chatbots has increased because of their usefulness in business.
The most popular messaging program is WhatsApp, which you may already know. So, WhatsApp announced in 2020 that it had passed the landmark of 2 billion active users in a month. What could be more advantageous than utilizing WhatsApp to expand your business?
WhatsApp bots are available for just this reason. Customers are served quickly, common questions are answered, and a seamless customer experience is provided.
Even though we've shown why you should think about WhatsApp bots, you could still be unsure about using them unless you see some practical applications.
Top 5 Best WhatsApp Chatbots For Customer Support
BotPenguin
The drag-and-drop WhatsApp chatbot development feature offered by BotPenguin complements its wonderfully designed user experience. The utilization of rich media in their product is one feature that drew our attention. To improve consumer experiences, brands may work with videos, photos, GIFs, and more, easily integrating them into scripts.
With the help of the AI-powered chatbot platform, BotPenguin, you can create amazing no-code chatbots for WhatsApp Channel.
It will interact with and engage your clients. But the fun does not stop here since you can easily deploy drip campaigns, bulk messaging, live chat, track orders or simply help your customers get the latest product information, all on WhatsApp. See, ain't this Penguin super friendly?
Key Features
Natural Language Processing
Zero Setup Cost
Conversational UI
Deep Analytics
Easy to Integrate


Pros
To create the best AI chatbot,

BotPenguin's simply the easiest chatbot builder

.
Use NLP and AI to train your chatbots.
Delivers the finest conversational experience by enabling seamless handover between chatbot and live help.
You can schedule meetings and appointments by connecting to your Google calendar or any other planner integration of your choice.
Telegram, Facebook Messenger, and WhatsApp can all be integrated.
Ideal chatbot for banking, e-commerce, telecom, real estate, and most other businesses.


Pricing
BotPenguin

has a free plan called Baby, which allows anyone to create a free, working chatbot.
The King plan costs $4.17 annually, allowing Unlimited Bots 500,000 messages/month, 10 Facebook Pages, and 3 Team Members.
Meanwhile, the Emperor's plan depends on your needs and prerequisites. You can discuss this through a demo session or a chat.
BotPenguin offers the possibility to create connections to aid real-time data collection, similar to other bots. Slack, Google Analytics, Sendgrid, Zapier, Mailchimp, and Salesforce are a few other connectors.
They take pleasure in their capacity to take advantage of circumstances to produce naturally flowing, hyper-personalized interactions. BotPenguin enables human interaction in addition to real-time dialogue handling by bots. You may always take control of client interactions, which is helpful if you want to deal directly with a hot new lead.
You'll have difficulty finding a tool with as many features as this. Various clever methods to interact with your audience are already available in BotPenguin. For instance, you may execute tailored ads using sophisticated filters to discover the correct audience for your service. The technology has to develop conversational opt-ins, which will increase the number of subscribers to your company account.
BotSpace
BotSpace is a platform that enables businesses to use hybrid chatbot solutions on WhatsApp to automate, streamline, optimize, and organize their sales and customer support engagement workflows.
Without having to worry about training, BotSpace can swiftly implement end-to-end chat solutions within minutes. BotSpace offers pre-made conversational templates that you can use right away.
Additionally, you can link Bot Space to your current customer service systems, making it an expandable, corporate-wide solution.
Pricing: It is $29/month, including 500 active contacts each month, and $15 for each additional 500 contacts.
WATI
WATI is only a WhatsApp-specific tool. Suppose WhatsApp is your favorite method of consumer communication. In that case, it is appropriate for businesses of all sizes and has options that address every company niche.
Businesses may use WATI's software for free during a trial period, choose a suitable plan, and determine whether the service is right for them.
WATI offers several rather distinctive features in addition to a shared inbox tool for customer assistance. One enables customer care representatives to provide service while traveling and from any location.
On WATI, automated messaging is made possible by a chatbot that requires almost no coding for business users to implement.
Pricing: $40 per month for five agents, payable annually. There are monthly subscriptions and annual plans that both come with a certain number of complimentary session messages. Receive free session messages. Outgoing messages cost, on average, $0.005 each message. Additionally, WATI offers a set quantity of complimentary session texts.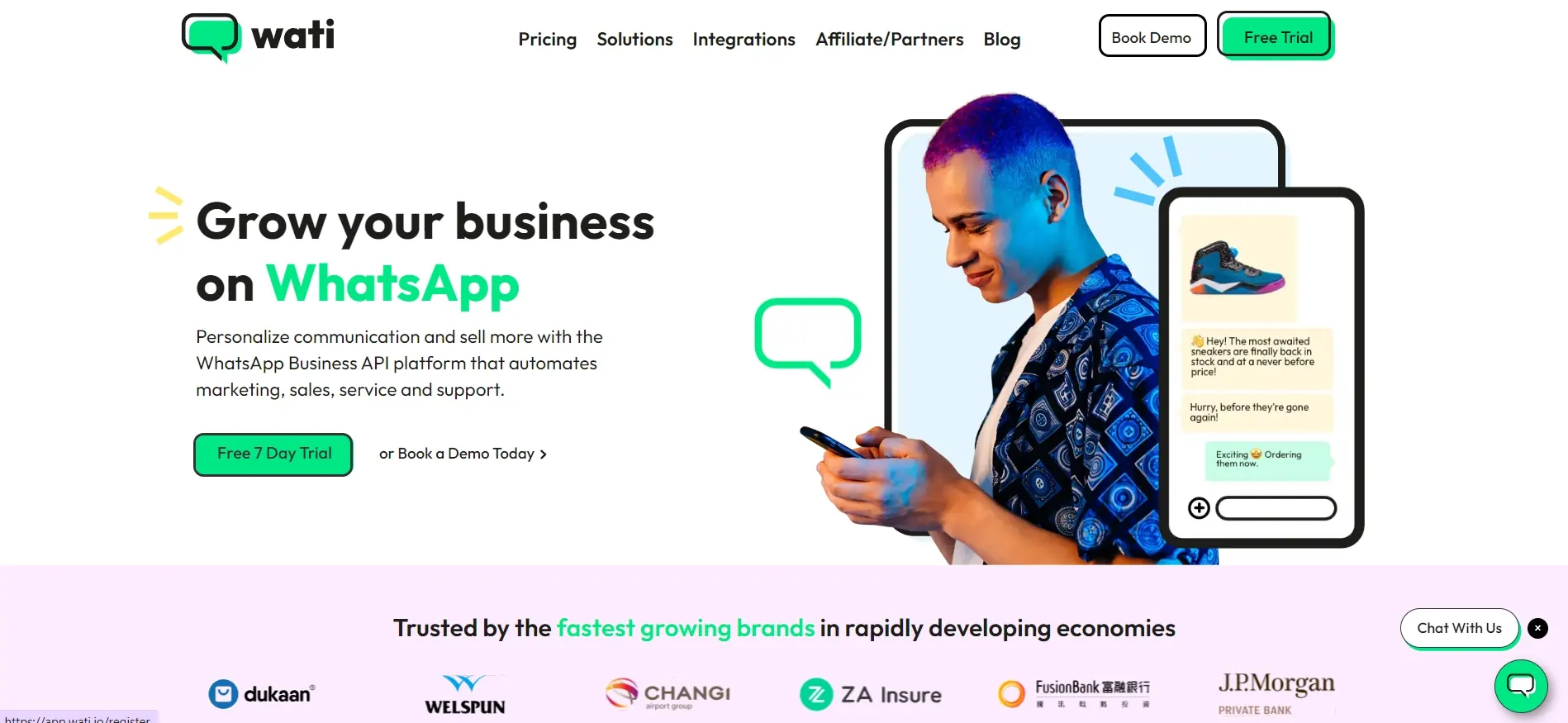 MessengerPeople
Medium and big enterprises are the target market for MessengerPeople. It is advertised as a rather simple-to-use WhatsApp chatbot application, and that description is accurate.
You may quickly construct discussion flows to make client contact more logical and professional. A feature not frequently advertised in this market, MessengerPeople also provides the capacity to compile user attributes.
User preferences are retained during chatbot discussions, enabling you to have more in-depth dialogues with clients about their requirements and how your business can meet them. They have also worked on their backend to provide users with a simple interface.
The ultimate objective is automation, but MessengerPeople provides useful features like ticket assignment. Tickets created by WhatsApp chatbot interactions are readily drag-and-droppable by users.
The success of MessengerPeople is very remarkable. BMW has automated their workshop customer service thanks to the implementation of their solution.
Pricing: Pricing starts are €99.
Botscrew
The ecosystem of WhatsApp chatbot tools is rather diverse if there is anything we've learned about it. For practically every type of business, there is a solution. Consider Botscrew, which offers some intriguing marketing features as a corporate solution. Your remarketing approach may need you to customize chatbot messaging. With a few clicks, you can.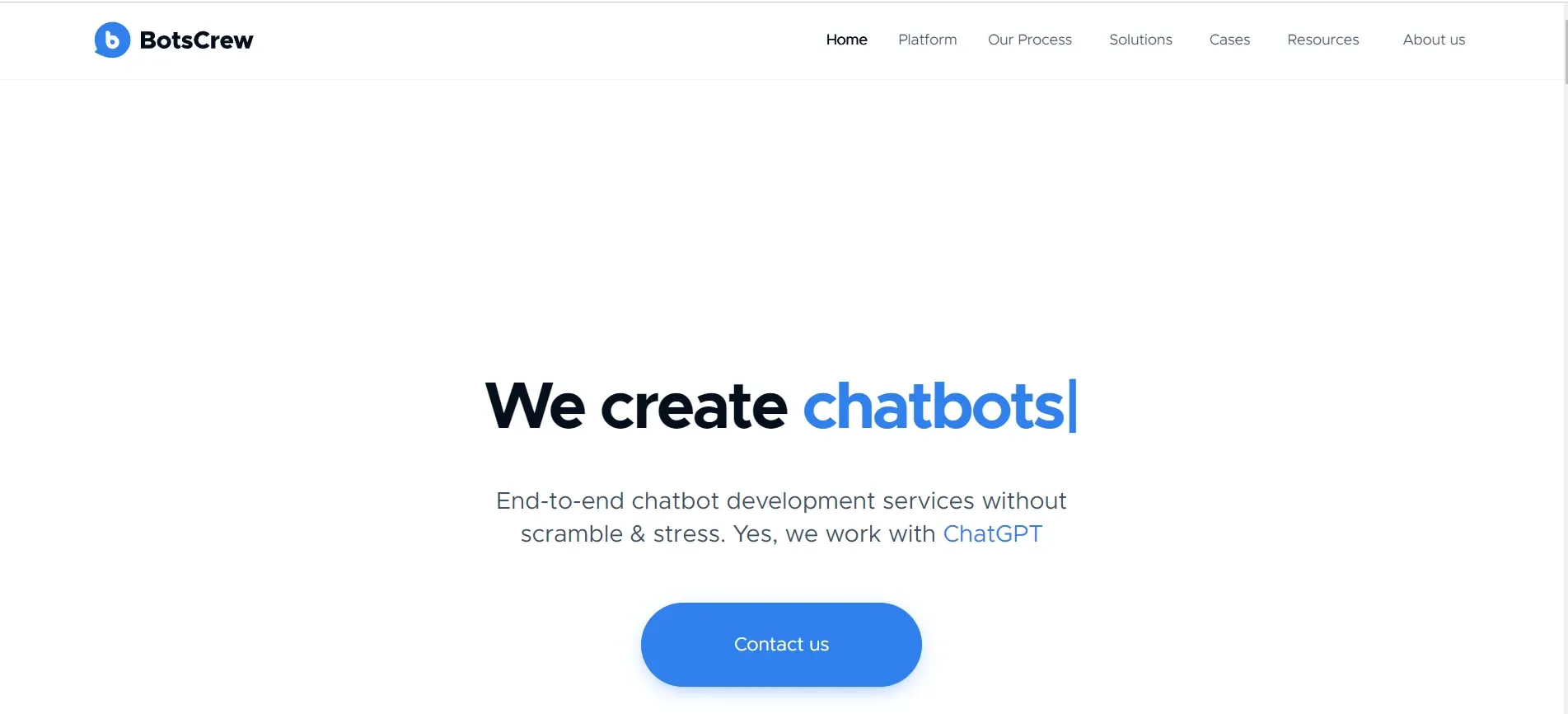 Depending on your company, Botscrew's discussion flow can be controlled by category or product. Unlike Agentbot, constructing your conversation flow uses text, which is just as straightforward.
Additionally, Botscrew has AI, allowing you to teach your chatbot to provide more accurate and useful replies. Running a business requires more than one piece of software. Therefore, integrations with your CRM, Salesforce, Messenger, Trello, and Slack's API are Botscrew. Additionally, analytics are accessible to assist you in further tailoring your WhatsApp chatbot for improved outcomes.
Pricing: Arrange a demo to start a sales conversation.
Conclusion
Although many WhatsApp chatbot tool providers exist, not all are the same. Each provider is different from the others. Some providers only give basic functionality and integrations. While others provide advanced features with more business intelligence, including the basics. Thus, list your company's needs while choosing a WhatsApp chatbot tool and check with each tool. The one that matches your goal goes with it. By doing so, you can have more success rates and less revenue. If you want to upscale your business, having a WhatsApp chatbot for customer support is a great way of doing it.
Think carefully about the current state of your company's operations before settling on a WhatsApp chatbot service which is available at various WhatsApp Chatbot Platform.
Frequently Asked Questions
How can WhatsApp chatbots improve customer support?
WhatsApp chatbots improve customer support by providing instant responses, 24/7 availability, and personalized interactions. They can handle a large volume of inquiries simultaneously, reducing customer waiting time. Chatbots can also assist with FAQs, order tracking, and product recommendations, enhancing the overall customer experience.
Are WhatsApp chatbots easy to set up?
Yes, WhatsApp chatbots can be relatively easy to set up, especially with the availability of user-friendly chatbot platforms. These platforms often provide intuitive interfaces, drag-and-drop functionality, and step-by-step guides, allowing businesses to create and deploy chatbots without extensive coding knowledge.
Can WhatsApp chatbots integrate with other systems?
Yes, WhatsApp chatbots can integrate with other systems such as customer relationship management (CRM) software, ticketing systems, and e-commerce platforms. This integration enables chatbots to access and retrieve customer data, track order status, and provide personalized recommendations based on previous interactions.
How do WhatsApp chatbots handle complex queries?
WhatsApp chatbots handle complex queries by utilizing natural language processing algorithms. These algorithms enable chatbots to understand the intent behind customer inquiries and provide appropriate responses. Additionally, chatbots can escalate complex queries to human agents when necessary, ensuring a seamless customer support experience.
Can WhatsApp chatbots handle multiple languages?
Yes, WhatsApp chatbots can be designed to handle multiple languages. By leveraging language detection algorithms and translation APIs, chatbots can understand and respond to customer inquiries in different languages, enabling businesses to provide customer support to a global audience.
Are WhatsApp chatbots secure for customer interactions?
Yes, WhatsApp chatbots are designed to ensure secure customer interactions. They utilize encryption protocols to protect sensitive information exchanged during conversations. However, it is important for businesses to adhere to privacy and data protection regulations and implement appropriate security measures when integrating chatbots with their systems.
How do businesses measure the effectiveness of WhatsApp chatbots?
Businesses can measure the effectiveness of WhatsApp chatbots by tracking metrics such as response time, customer satisfaction ratings, resolution rates, and the number of queries handled. These metrics provide insights into the chatbot's performance and help businesses identify areas for improvement.
Can WhatsApp chatbots be customized to match a brand's voice and tone?
Yes, WhatsApp chatbots can be customized to match a brand's voice and tone. Businesses can configure the chatbot's language, tone, and style of communication to align with their brand identity. This ensures consistent messaging across customer interactions and enhances brand perception.