It is not unknown that leads are the hidden agenda behind every successful business.
If you build the highest quality product, it won't be successful unless you convert the lead at the right time. As per G2, lead generation is at the top of the funnel for today's companies.
Over 60% of the eCommerce marketers report that their CAC (Customer Acquisition Cost) increased drastically.
That doesn't mean marketers have to ping every user to get more leads. Neither do they have to invest their time and effort in tracking information. After all, finding leads can be very tedious work.
So what to do? Instead of finding leads by themselves, investing in an online lead generation service would empower sales and marketing.
Lead generation service helps businesses to quality leads and compete fiercely in the market. These lead generation services partner with your company and promote service through websites and applications.
With this information, you would want to know about lead generation services. Continue reading to find more about ten lead generation services available online.
What are lead generation services?
Lead generating services augment or replace in-house initiatives that employ lead generation technologies like lead capture software.
Lead intelligence software and lead scoring software evaluate further leads acquired through an outsourced services provider.
Lead generation services providers oversee initiatives to identify and qualify potential consumers for businesses, commonly known as leads.
These services may help fill an organization's sales funnel with new clients, create first communications, and increase brand awareness (demand generation).
These companies will help with follow-up efforts and other "lead nurturing" forms to achieve the highest conversion rate possible.
Sales departments often utilize lead generation services or lead gen services. However, marketing teams might use them to plan focused outreach or advertising initiatives.
How to choose a lead generation service?
Know what you're doing
The most crucial step in any business is to become acquainted with it. Knowing your business will reduce the chances of being bombarded with plans, offers, and campaigns that will not benefit the company's long-term success.
You must also know which lead-generating firm is most suited to your needs.
Recognize your strengths and weaknesses
Look for a firm that can identify your strengths and weaknesses and complete a thorough SWOT study of your organization. Develop your talents and shortcomings, and seize your company's chances.
Addressing these elements will result in a more successful marketing approach that will boost all of your company's wonderful and positive attributes.
Plenty of Research about a company's flexibility
Some industry-specific lead-generating services focus solely on their areas of expertise. Make sure your working style is consistent with the company's.
You will devote a considerable amount of time to brainstorming and developing ideas and solutions.
Determine who you want to reach
Ascertain that a potential lead generation marketing firm will focus on more than just the number of leads they can generate.
Qualified leads will meet specified criteria that are taken into account: lead scoring methods, list segmentation, and the Ideal Customer Profile (ICP).
The most effective tools for these initiatives
After identifying your target market, the following stage is to decide which tools are most effective for your company's campaigns. Some of the ways may have been used before, while others may be new.
Most of these are covered by digital lead generation and digital marketing organizations.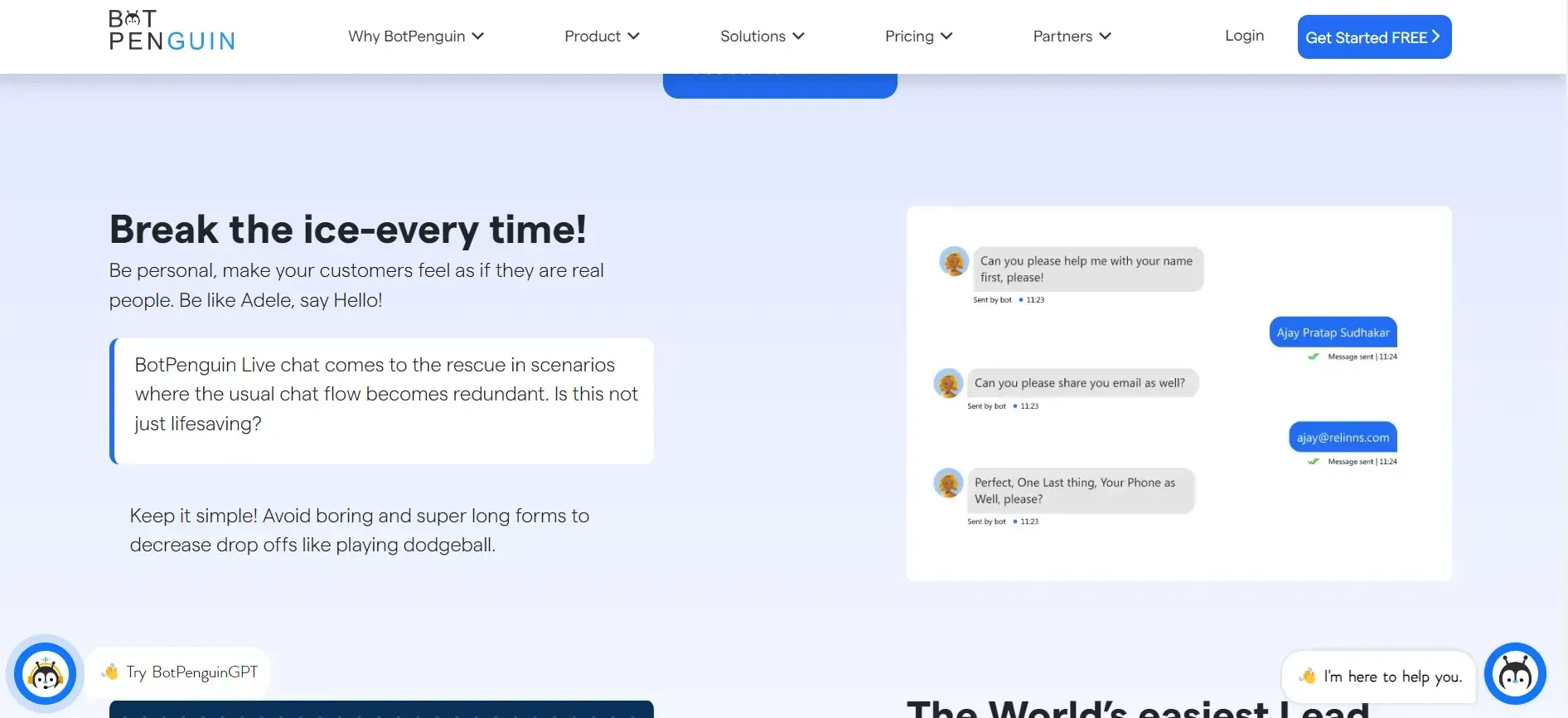 A reputable lead generation firm
Companies with a good reputation and consistent reviews are more likely to assist you. You can inquire about these agencies' previous clientele in the business.
Some businesses also have portfolios and references available for potential clients to review to see whether they are trustworthy.
Conduct research
Finding a lead generation and marketing firm requires extra effort because these are the B2B firms that will make or destroy your business. You'll be putting your money, time, and faith.
You should look for these firms and conduct in-depth research on their previous clients and projects.
The ten best lead generation services available online!
Explore the ten best lead generation services available online
BotPenguin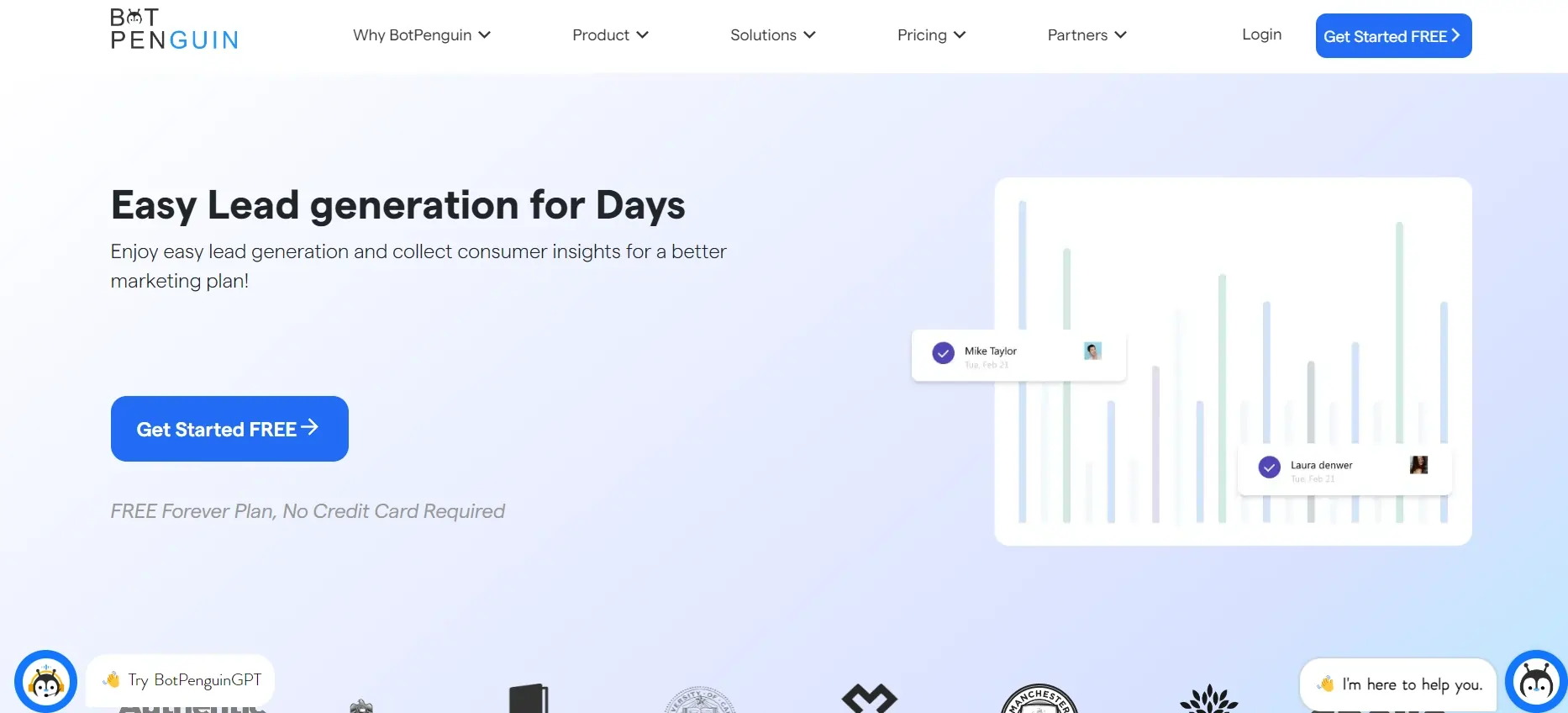 BotPenguin, unlike other lead-generating providers, offers a Conversational Relationship Platform for managing your interactions with current and new consumers.
It's an excellent tool for attracting and converting website visitors into leads. Using BotPenguin's live chat and other technologies, you may create leads from your website.
Not only that, but BotPenguin also provides a lead generation chatbot.
It has conversion up to 400%. You may also use tailored communications, targeted product tours, and email marketing campaigns to nurture prospects.
BotPenguin also offers database solutions, event marketing services, account-based marketing, and lead generating.
Apart form Lead Generation,
BotPenguin can do many services apart from Lead Generation like:
They do the heavy lifting work for you when generating B2B leads
Create your own Chatbot now!
Callbox
Callbox specializes in generating B2B leads. Do you want warm leads, webinar attendance, and scheduled meetings without work? Callbox is based on this concept.
Concentrate on closing sales rather than filling your pipeline. This firm appeals to me since it provides niche-specific lead creation services.
Callbox will develop a list of organizations that fit your target company profile when you first start working with them. Callbox takes it further by identifying the companies' important stakeholders and prospects.
Callbox will communicate with those prospects via various media contact types. The final stage in their procedure is to set appointments and confirm those encounters with a certified lead.
A lead has already gone through numerous phases with Callbox when you talk with them. These leads have been prepped and are ready to sell.
CIENCE Technologies
When a lead generation agency's clientele includes well-known companies like Uber, Microsoft, Google, and Yamaha, you know it's worth paying attention to.
CIENCE Technologies is a company that does more than generating leads. They offer reliable inbound and outbound SDR services.
You'll also have access to a customized sales enablement tool for tracking the progress of various prospects.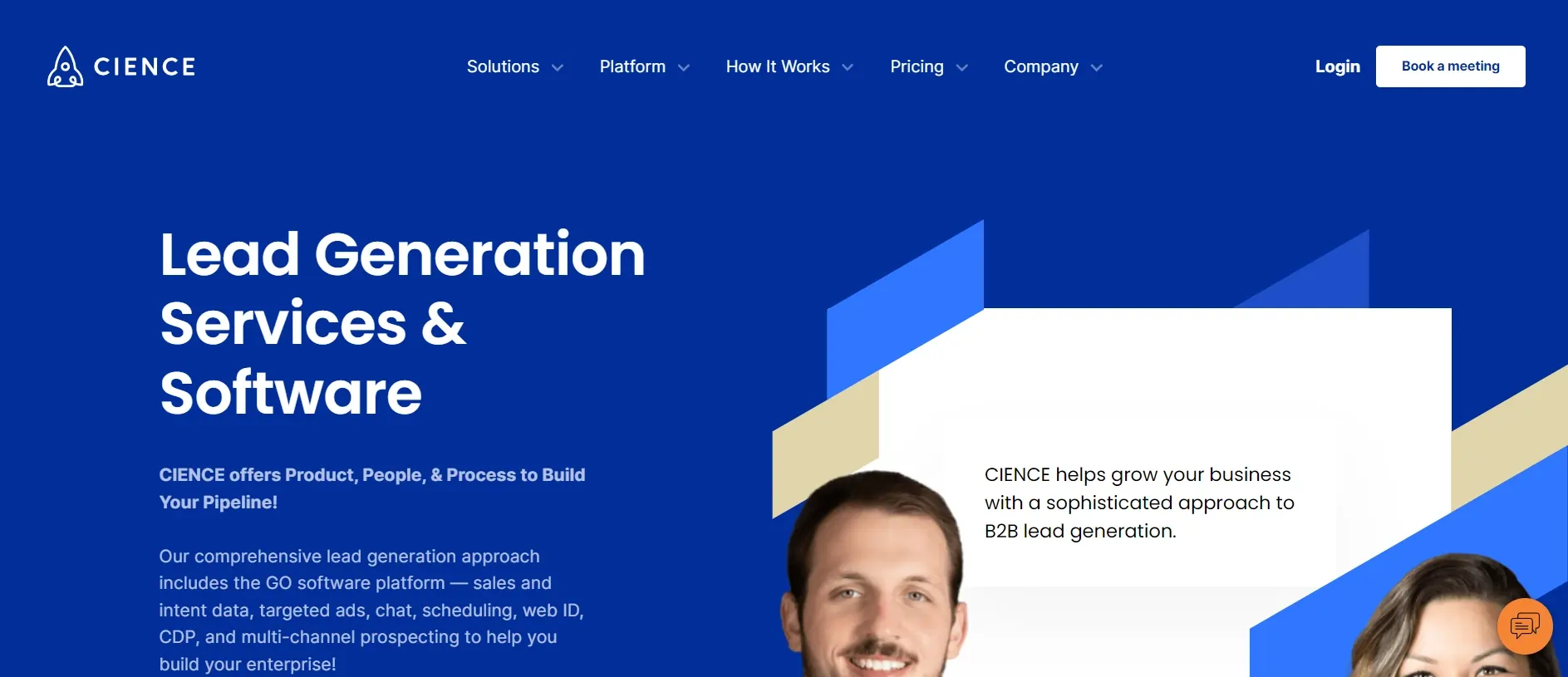 Prospect.io
Prospecti.io is a sales automation software that works with Salesforce, Pipedrive, Close.io, and HubSpot.
Prospect.io is a Chrome plugin that allows you to locate prospects with a single click and send cold email campaigns directly from your browser.
It takes time and effort to find new leads. Prospect.io allows you to focus on what matters most: selling to decision-makers.
Leadgeneration.com
LeadGeneration.com is a fantastic lead-generating service that guarantees 100% exclusivity, which means anyone else has never used the lead. Outsourced lead generation might easily give you a leg up in this area.
LeadGeneration is a valuable tool for generating new leads of high quality and improving revenue. They have excellent customer reviews and have worked with well-known organizations.
Many companies that need lead-generating services would know to contact them.
When you choose Lead Generation as your lead generation firm, dedicated staff will be assigned to you to generate leads and connections.
The team can present you with various lead generation tactics suited to your company's demands. The quality leads you will be pretty beneficial.
Leads are generated and delivered in real-time, allowing you to reply fast and use the database created by LeadGeneration.
This database is entirely compatible with most CRM software on the market. You can contact their sales team to discuss a custom integration.
Their staff can design customized B2B lead generation campaigns to match your unique demands.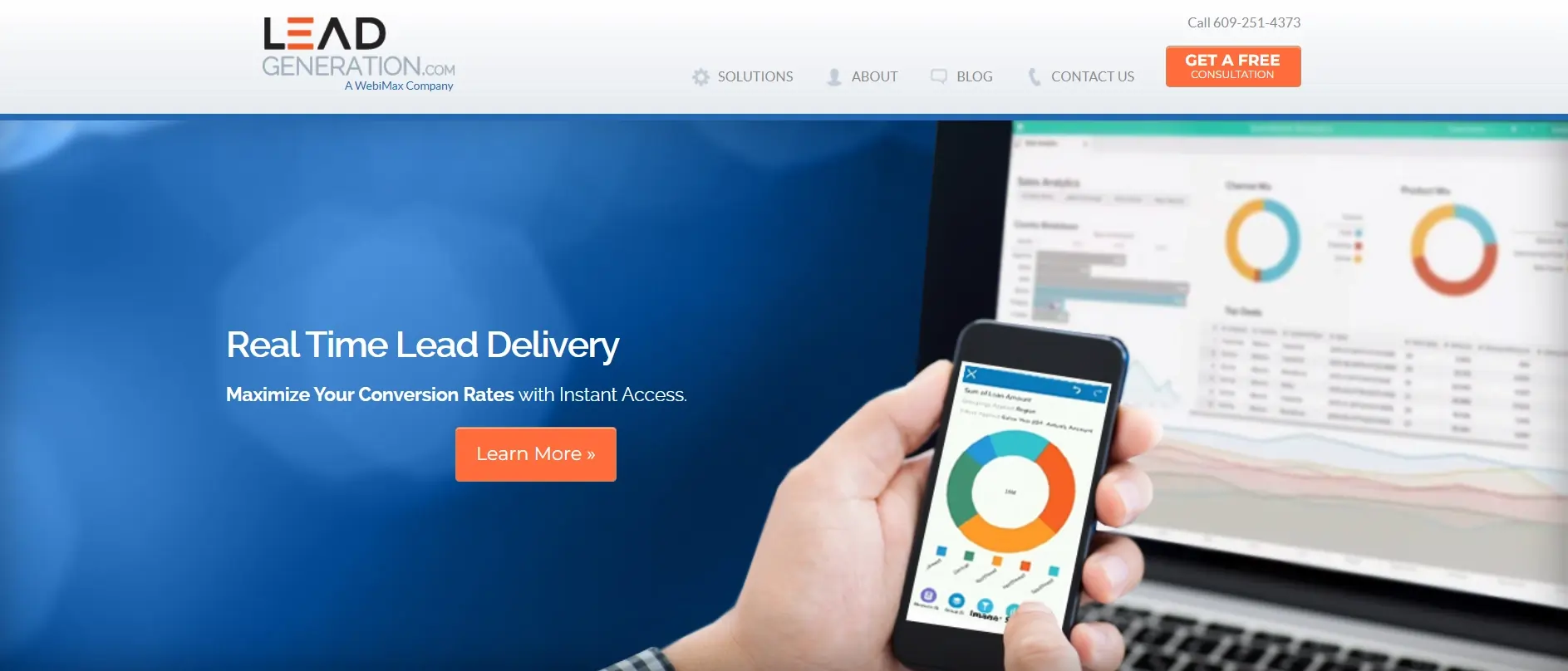 LinkedIn Sales Navigator
Do you require a robust B2B lead generating platform that allows you to tap into LinkedIn's 700 million+ professional community? Then LinkedIn Sales Navigator is a must-have tool for you.
Advanced search functionality is included in the feature-rich platform to assist search professionals in identifying suitable leads.
It also recommends tailored leads based on your search history, saved leads, and preferences.
You may keep track of prospects in real-time and keep up with their company's newest news. HubSpot, Drift, Outreach, and G2 are just a few CRM solutions that link with the platform.
DiscoverOrg
DiscoverOrg is a database of business contacts. They'll put you in touch with B2B prospects directly and supply you with business data and sales intelligence so you can pitch a prospect with confidence.
DiscoverOrg promises that its data is accurate to the tune of 95%. They employ a method that mixes humans, technology, and research. It's a user-friendly cloud-based platform that anyone may utilize.
DiscoverOrg's free trial is a nice feature. So, if you want, you can try it out for free. It provides a realistic representation of what the actual database will provide, albeit on a smaller size.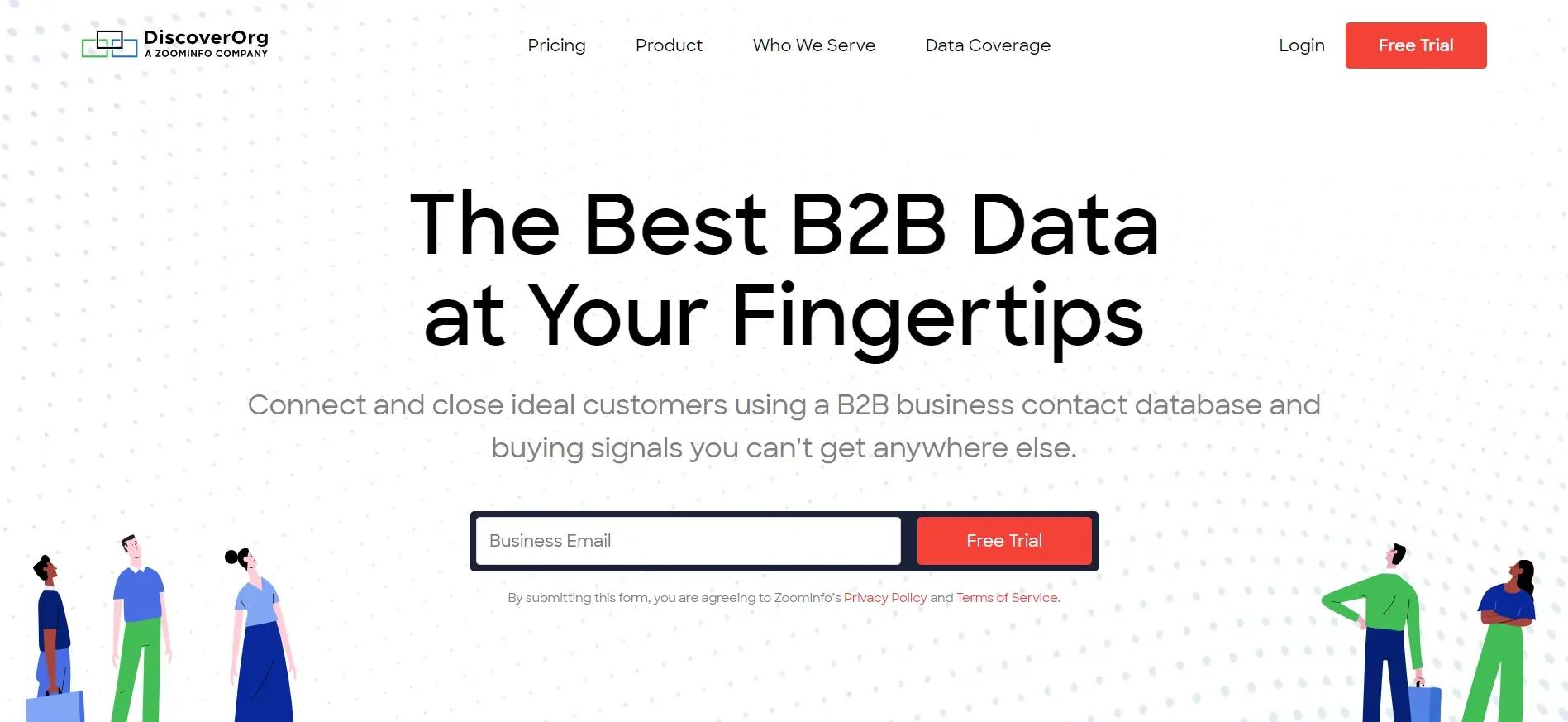 RocketReach
RocketReach is a leading lead generation firm that assists IT firms and startups with sales, recruitment, and marketing. It contains a global database of emails and direct calls to improve lead scoring.
Their add-on gets leads on sites like Google, AngelList, and Crunchbase. The API to add contacts straight into your app and Email analytics to fine-tune discussions and measure performance.
Individual subscriptions start at $468 per year for 1,500 lookups. Team and corporate options are available following a consultation.
Reply.io
The new Reply Chrome extension makes it quick and easy to locate prospect emails on LinkedIn, keeping your pipeline full. You may either hunt for the relevant contacts one by one or use LinkedIn Sales Navigator to bulk-source emails.
This plugin allows you to add new contacts to multichannel sequences, access and manage your tasks, and make direct calls. It's a great addition to Reply's sales engagement platform.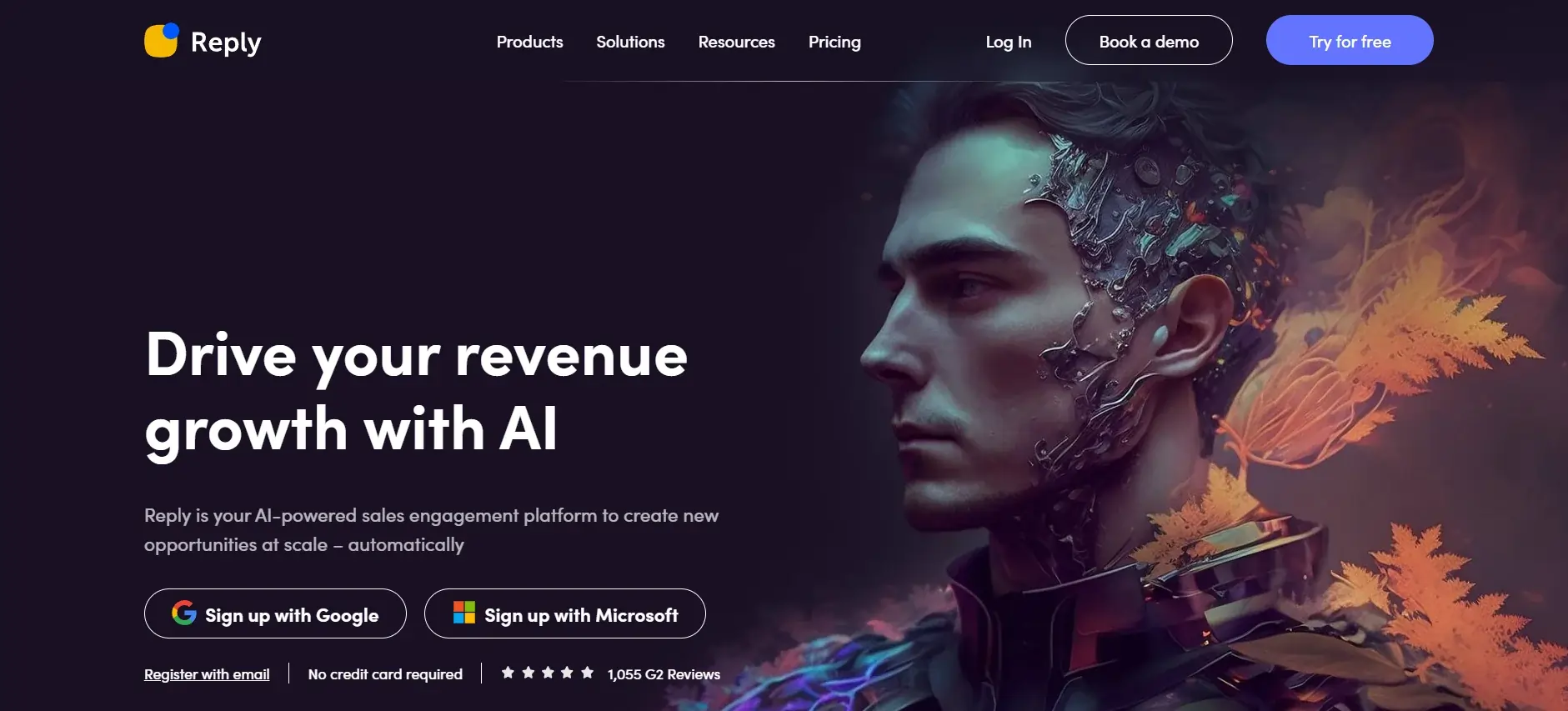 Upcall
Upcall is another excellent cold-calling lead creation service. This lead-generating firm provides a team of highly trained callers to your organization.
They'll make the calls and deal with the leads on your behalf. It's a fantastic lead generation alternative that delegates the complete duty to a third-party lead creation firm.
You won't have to make any calls; they'll provide you with everything you need to communicate with a possible customer or business partner.
They may contact prospects and respond to their requests, making the lead creation process more straightforward.
Upcall engages experts that work with established businesses and provide top lead-generating services.
Outbound cold calling is just the beginning for them.
They make strategic phone calls to leads you already have and devote the time and talent necessary to warm them up for sale.
They may speed up the entire lead creation process and provide more high-quality leads.
Upcall's lead generation experts will ask the right questions to determine the worth of that contact as a potential customer.
Upcall links prospects with your sales staff or dedicated agents, allowing you to focus on your core responsibilities.
Conclusion
Lead generation services work as an additional force to the management of campaigns to discover quality leads from the users.
These services are beneficial providers to fill the organization's sales pipeline with potential leads or clients.
It begins by initiating initial communication and building brand interest among the audience. You can use it with other tools like email marketing and inbound marketing to double the effect.
Working with lead generation services eliminate the cold sales call and give quality lead based on the customer's choices.
It can further streamline marketing and sales strategy, making sales quotas easy to attain.
It is how lead generation works to bring success to companies. You can pick any of the above-mentioned lead generation services to generate your leads.