If companies made a new year resolution in 2024, it better be improving their customer support. Because Gartner predicts that 89% of businesses will compete mainly on customer experience and 96% of consumers say customer service is a crucial factor in their choice of loyalty towards a brand (Microsoft).As a result of this competition, many software providers have started offering tools for online customer support tasks. But they all differ in terms of their features. As a rule of thumb, you need a multi-channel tool, tons of integrations, and an affordable option. Additionally, you will also need a SmartSupp tutorial if you opt for it as a multi-channel tool. Smartsupp is a tool that offers all the features you can want from an online customer support platform, offering live chat with tons of integrations. It emphasizes social media chatbots since they're becoming a popular interactive medium for businesses and customers alike.So how does one make full use of it? How to integrate it with an eCommerce platform? How to set up a Chatbot?You'll get the answers to all these questions in this step-by-step tutorial for Smartsupp, focusing on the latest trends of 2024.
Smartsupp Tutorial: What exactly are chatbots?
Chatbots are AI-powered software solutions that embed your web page, live chat widget, app, and social media accounts. Chatbots are a significant part of live chat. They provide 24x7 customer support to your customers through text or voice without human intervention. A chatbot may identify itself as a chatbot or mimic a natural person if programmed. Think of it as a customer support agent without the massive recurring costs!
Smartsupp Tutorial: An Overview
Smartsupp is a bright, all-in-one, lead capturing and retention platform that uses live chat, video recordings, and chatbots to cater to the needs of every customer or visitor. It can act as an online shopping assistant that guides customers through different products and answers their queries, bringing the in-store shopping experience online. Smartsupp emphasizes heavily multichannel and omnichannel support. Hence, it provides its services on every channel your business' customers exist. Its chatbots have been built specifically for Messenger, Instagram, Facebook, or simply as a website or phone live chat widget.
Smartsupp Tutorial: Integrations
Smartsupp can integrate with almost every third-party software out there. Integrating multiple software can make customer engagement more effective, giving you the necessary custom tools. Integrate it with:
Shopify: IIntegrating Smartsupp with this eCommerce platform will add a live chat widget on Shopify and give you detailed insights on customers and a choice to chat with them on the go.
Google Analytics: Measure the impact of Smartsupp on conversion rate and visitor behavior using Google Analytics.
LeadsBridge: Integrating with this iPaaS solution can help Smartsupp users streamline their omnichannel activities, a must-have integration to use Smartsupp to its fullest.
You can take your optimization game to a whole new level by using the API Platform to integrate Smartsupp with any website or software.
Smartsupp Tutorial: Top Features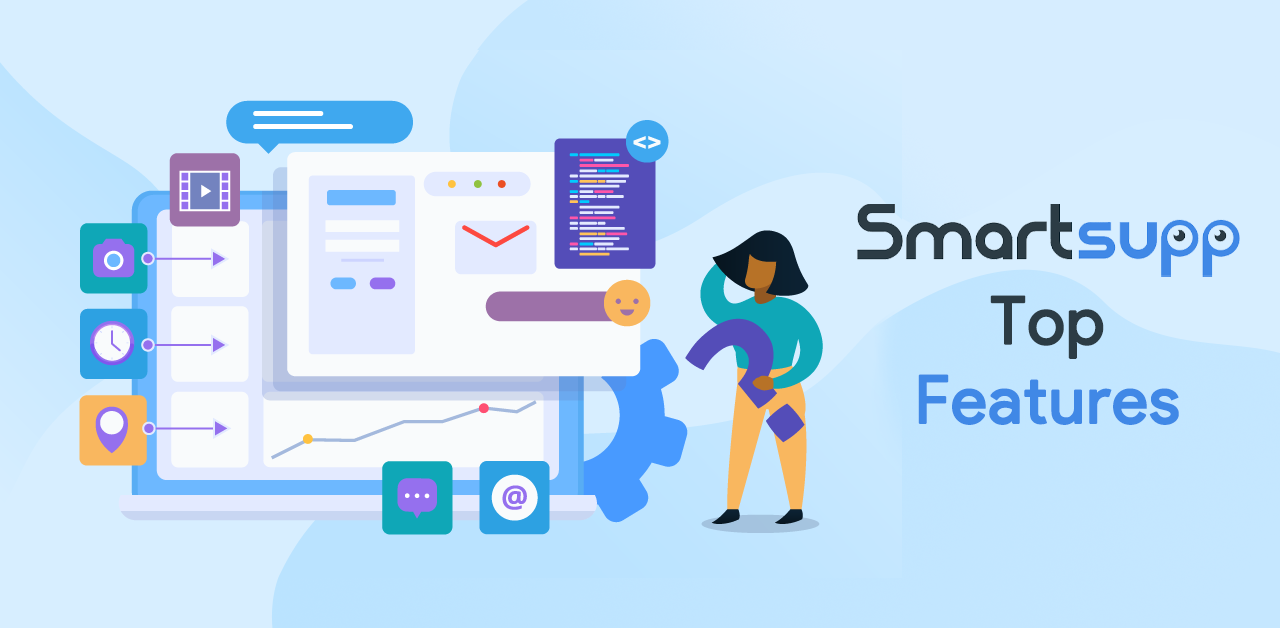 If you want to use it right, use its most stand-out features.
Video recordings
Smartsupp is the only live chat software that offers video recordings to track the movements of each website visitor. Agents can identify design problems, understand customer behavior, and learn where they lose them.
Automated messages
Engage visitors right when they need it most to complete a purchase. Smartsupp allows for the easy creation of personalized automated messages according to your own rules. These messages can be as simple as a greeting or as complex as a trigger when an app visitor leaves.
Detailed statistics
Track customer satisfaction ratings within Smartsupp to measure the impact chatting has on conversions in Google Analytics. Compare chat volume and response time of agents to make any necessary improvements.
Out-of-the-box integrations and API
Choose from a ton of integrations for e-commerce platforms and website builders. Use this feature to automatically link data about customers to Smartsupp or any other integration. You can even do your personalized integrations using the Smartsupp API.
Smartsupp Tutorial: How to use Smartsupp [In 2024]
Smartsupp put together with its multi-channel support looks very promising. Want to learn how to use it? Here's how you can get started with Smartsupp to make sure your business is knocking it out of the park.
Smartsupp Tutorial: Add Smartsupp to your Website
Create an account by signing up
You will receive a Chat code on your provided email. It is also available in (Settings > Chatbox > Chat code)
Insert the provided code in your website between the tags <head> … </head>
You can install Smartsupp on an unlimited number of websites. Paste the same chat code into all your websites.
Optional: If you are subscribing to the paid plans, you can customize the color of the chat widget and other customizations on every website using the API.
The Live chat widget is now visible on your website to visitors. Sign in to your Smartsupp account to start chatting with these visitors. You can even change the visibility and design of the chat box in the Settings.
After adding and assigning agents to your team, it's time to enable automated messages. It will ensure that your website visitors know they're in safe hands if and when they need help.
Smartsupp Tutorial: Create Automatic Messages
Using the Automatic messages lets you talk to each visitor on a website and make your presence felt. An automatic message is sent to visitors when they meet specific conditions set by you. Your chatbots can send these messages when visitors have been on a page longer than two minutes. In Smartsupp, six in-built automatic messages cover the majority of everyday situations. You can find them after clicking on the button +New bot in the upper right corner and scrolling down to the Automatic messages section. Creating the automatic messages can also be done by clicking on +New bot and choosing Automatic message.
Smartsupp Tutorial: Set up and customize Chatbot
First, go to the dashboard and click on the Chatbot tab.
After opening the chatbot tab, click on the "Add new bot "button.
Create a new chatbot from scratch or use a predefined template in the automation panel.
Decide whether to use the Smartsupp predefined questions and answers or create your custom texts. If you choose custom texts, click on the message tab, and it will open a window where you can put your message text and title.
Fill in your text in the text field of the message, change the title and add new buttons to create a personalized chatbot.
Change the order of the buttons by clicking on a reply that you'd like to move and dragging it to a new position.
Next, click on the "Preview" option to see how the Chatbot displays on your website to activate the chatbot.
Suppose you wish to use the predefined questions in the chatbot. In that case, Smartsupp offers three predefined automatic messages that cover the most common use cases.
Smartsupp Tutorial: Change Chatbot Design
Smartsupp gives you the option of changing the design of your chatbox. A handy feature today where personalization and brand image play an important role. A must-have in your arsenal. You can change the color of the chatbox in Settings > Chatbox > Design and texts > Colors Change the texts of the chatbox in Settings > Chatbox > Design and texts > Switch texts to online or offline
Smartsupp Tutorial: Switch on Desktop Notifications
Desktop notifications are visual notifications that alert users of incoming messages from website visitors in Smartsupp chat. This way, you can avoid missing conversations on your website. Desktop notifications are usually in the bottom right corner of your screen: The way to set up desktop notifications is slightly different for each browser. Here, you'll learn to allow notifications in Chrome's most commonly used web browser.
You will find the notifications settings by clicking on the agent's photo > Notifications. Click on "Enable"
For individual desktops, the setup of notifications is slightly different.
After clicking "Enable," a new window appears where you can enable notifications by clicking "Allow."
Disable system notifications on your desktop
Copy-paste this text to the Chrome address line: chrome://flags/#enable-system-notifications
Select "disabled" for system notifications
Relaunch the browser
Integrate Smartsupp with Facebook
Using the Facebook integration, you can reply to messages sent on the Facebook page directly from the comfort of your Smartsupp dashboard.
Open Facebook integration configuration by clicking "settings" in the left menu and the channels section. Here you can make the connection in a few simple steps.
Click on the "Connect" button.
Go through the Facebook connection wizard, select the page to connect, and grant the required permissions. For the connection to work correctly, you must give all permissions.
Once you're done connecting with Facebook, try sending your Facebook page a message, it should appear in the dashboard.
To connect more Facebook pages, select all the pages you want to connect to
You can reply to all Facebook conversations from the dashboard. The only difference is the Messenger icon next to the conversation, and its messages will display on it.
Activate Video recordings
As mentioned earlier in the features, video recordings can help agents identify design problems and understand which products get more clicks. Enable video recordings to track the visitor's movements on your website.
To activate video recordings, head to the dashboard.
Click on the Settings button. You can choose what should and shouldn't be recorded (mobile devices, number values, email addresses, etc.).
Recordings will likely appear 3 minutes after a visitor has left the website. If a website visitor is still browsing through the website, their recording will not move to the dashboard. You can save up to 10,000 recordings in the Standard package and 50,000 recordings each month in the Pro Package.
The Bottom Line
All Live Chat solutions have the same fundamentals as said earlier. However, some are much easier to use than others and go further into their helpful features.Over 50% of companies report that their biggest customer experience issue is providing a seamless experience across multiple channels (Nextiva). Smartsupp provides all your company's tools to grow effectively in 2024 and ensure you're ahead of your competitors. The most significant advantage over similar live chat software is the ease of setup, seamless integrations, and the additional video recording feature. Similar live chat solutions don't provide this feature yet. If Smartsupp doesn't fit into your plan, then look at BotPenguin. BotPenguin is an innovative organization that helps you build top-notch chatbots. They offer a free trial for first-time users. As a business owner, you must consider all options before you decide. Related: 11 Best Live Chat software For Small Businesses