SendinBlue is a powerful email marketing platform that enables your business to strategically manage its interactions with customers and prospects.
The platform helps companies create meaningful customer experiences by providing robust email marketing solutions, SMS messaging services, etc.
SendinBlue serves over 80,000 clients worldwide, including many small and medium-sized businesses that rely on our easy-to-use and intuitive platform.
Find out how to use it to your advantage in our SendInBlue tutorial.
SendinBlue's core values are transparency, quality innovation to help enterprises grow, and excellent customer support.
How to make Brevo ( Formerly SendInBlue) work?
SendInBlue is an innovative email/SMS marketing service that lets you create, send and track your email campaigns. Their solution intends to meet the needs of all businesses, regardless of size or industry.
As well as sending emails, you can use SendInBlue to send text messages.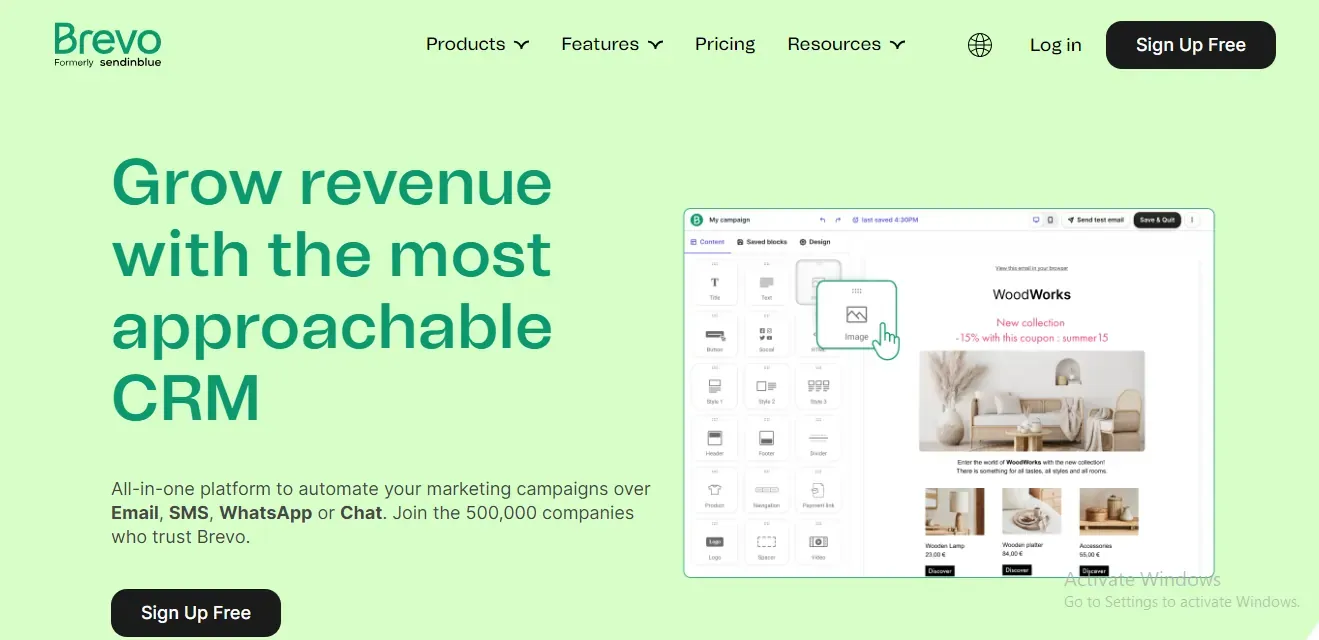 Build a Prospect List
One of the most important aspects of any online business is building a list of prospects interested in your products and services.
With this list, you can reach out to them with promotions, new products, services, etc. One of the best ways to build this list is using an email marketing service like SendInBlue.
Reach Out To Them
SendInBlue allows you to create email campaigns and send them to your subscribers through its easy-to-use interface.
You can also use the drag-and-drop editor to customize your emails with text, images, buttons, etc.
And if you're not sure what kind of content should go into your emails, SendInBlue has a library of pre-built templates you can use as inspiration.
The free plan lets you send up to 300 emails per day and have 1,000 contacts in your account. That's enough capacity for someone just starting with email marketing.
Track and build more efficient campaigns with visual dashboard
When you sign up for SendInBlue, you'll get access to its simple dashboard where you can quickly create and send new campaigns or manage your contacts.
You can start building an audience for your business by uploading contact lists or syncing with other apps like Salesforce or Zoho CRM.
By sending targeted, personalized emails and newsletters, you can build closer customer relationships. SendinBlue allows you to easily design beautiful emails and send them in just a few clicks.
You can even see when users opened your emails and what links had interactions.
Divide And Conquer: Segment your audience and win them over
Have a small team? Are you just starting with email marketing? Don't worry about it!
SendInBlue is great for businesses with small teams looking for an all-in-one solution to manage their customer base and grow their business.
The platform allows you to segment your audience based on specific criteria while still communicating with the entire database or a particular part.
As SendInBlue is good solution for email automation, just like that BotPenguin is go to solution to automate your business in different ways such as:

Get a Holistic View with CRM integrations
Sendinblue helps you get an integrated database where you can track every minute detail. In other words, you can be omnipresent with this feature.
Organizations use CRM integration to streamline business processes and improve customer engagement.
The goal is to provide a comprehensive view of all customer interactions across multiple channels and devices in real-time, enabling employees to resolve problems quickly.
Why integrate CRM software?
Integrating your CRM system with other software allows you to save time and automate repetitive tasks, making a real difference to your productivity.
It also ensures that everyone in your business is working from one source of truth rather than duplicating work by using multiple tools.
Another benefit of integrations is that they allow you to solve problems without buying new software. Many add-ons, usually called plug-ins or apps, can perform almost any task.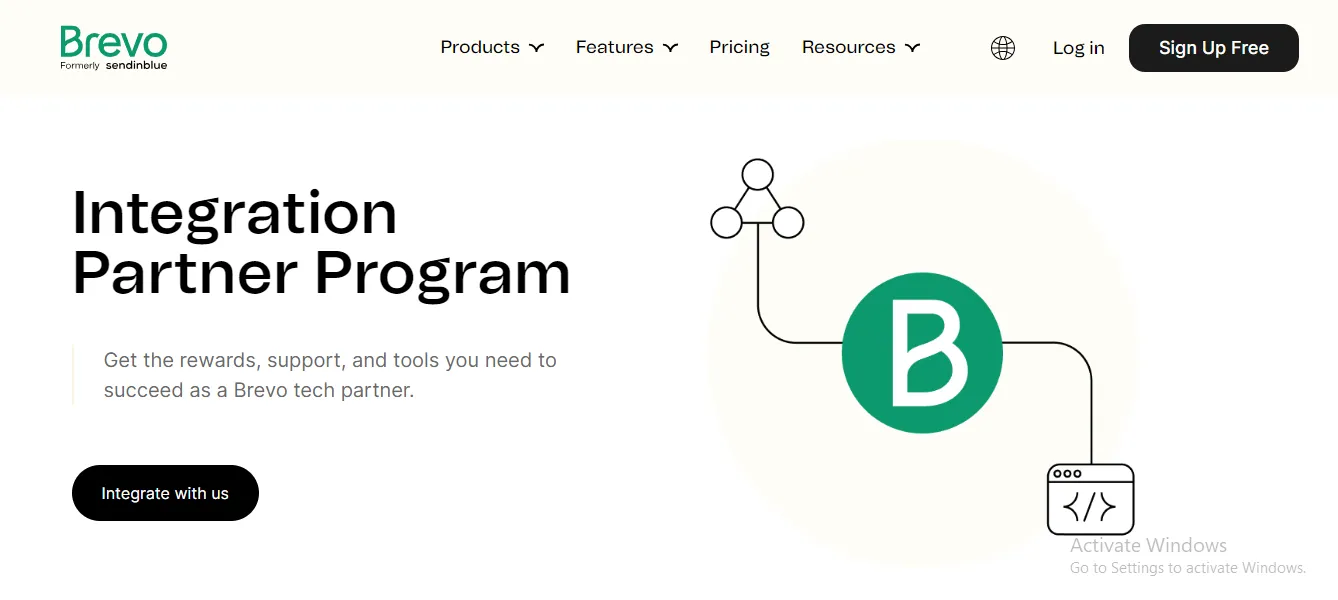 Here are some examples of popular CRM integrations with Sendinblue:
Integration with accounting software. A CRM integration with accounting software allows users to easily track and manage sales leads, open estimates, and invoices in one unified platform.
The integration automates workflows and eliminates duplicate data entry across platforms.
Integration with email marketing tools. Integration between CRM and email marketing software allows you to send targeted emails based on information collected from your customers.
For example, suppose you know someone has not visited your website in three months. In that case, you can send them an email asking about their experience or inviting them back in for a discount or gift.
Create The Ultimate Landing Pages with Brevo ( Formerly SendInBlue)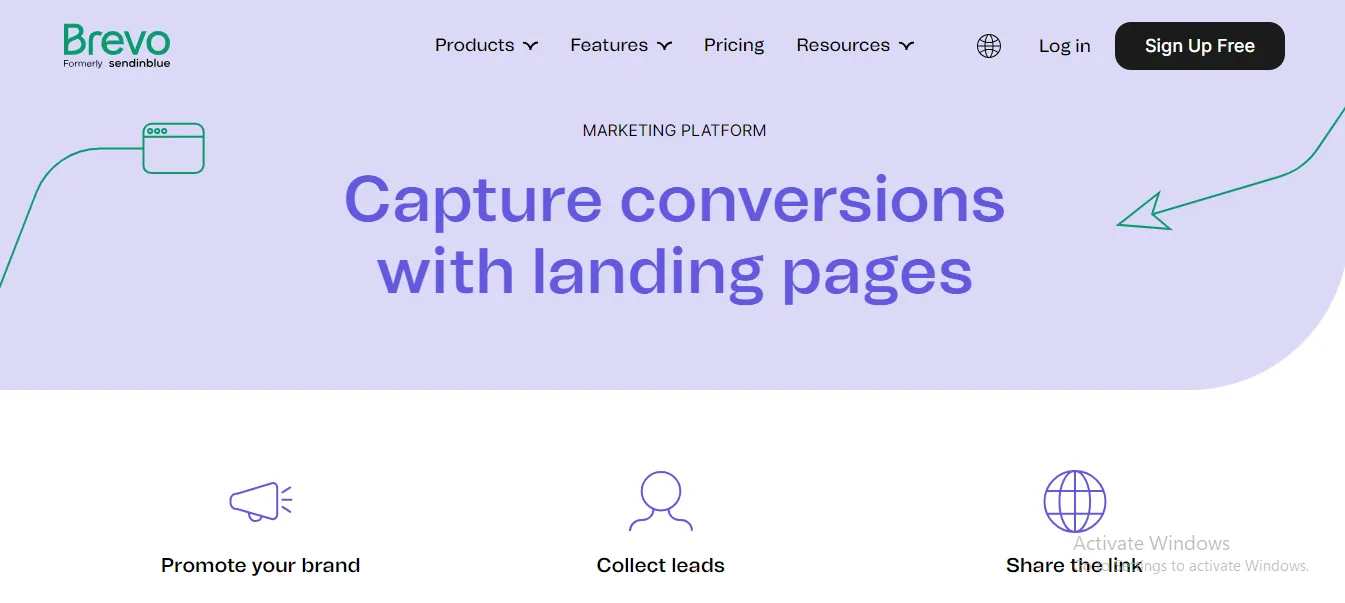 A landing page is the first page a user sees after clicking on an advertisement or search engine result.
These pages are customized to attract new customers and encourage sales, provide information, and allow users to interact with your brand.
Landing pages can be a powerful part of your marketing strategy.
The more targeted your landing page, the better chance you'll have of converting visitors into customers. The visitor will see that you've designed a page, especially for them, and, in turn, feel like they're on the right path.
How to create the ultimate landing page?
Use a unique URL for each campaign so you can track which marketing efforts are effective

Always make sure your design matches all other ads and web pages in terms of colors, fonts, graphics, and layout

Remove clutter from your main content area, so visitors know what you want them to do next

Always make sure you have a call-to-action (CTA) button on every landing page

Include testimonials or reviews from satisfied customers if possible to help build trust
Features of Brevo ( Formerly SendInBlue)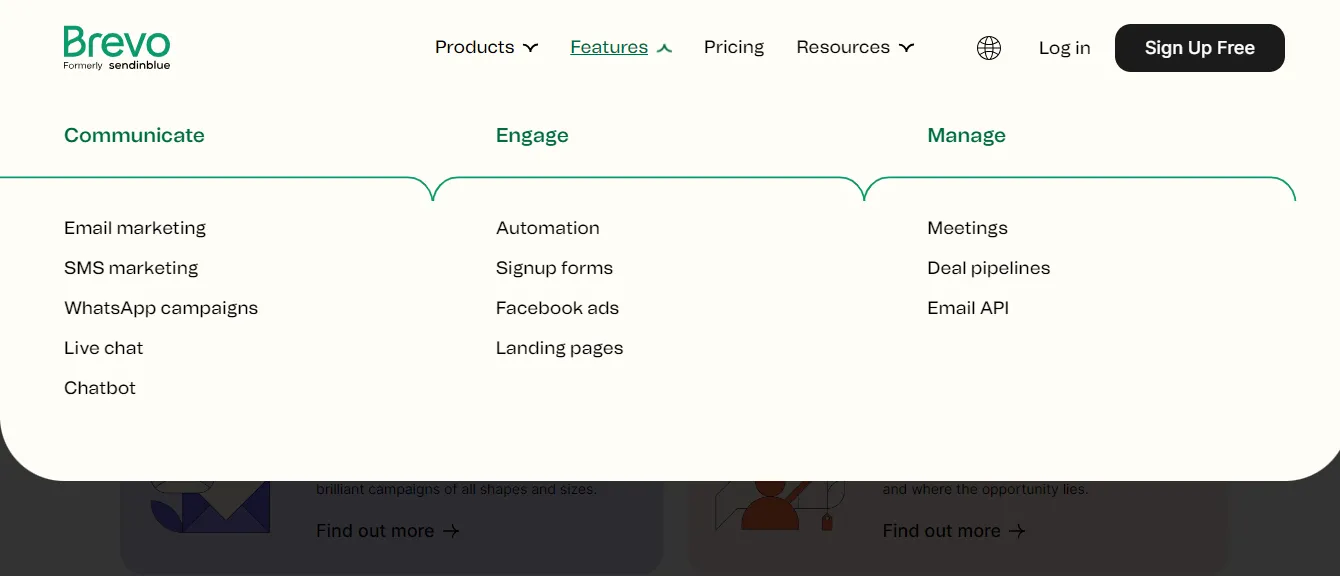 Tried And Tested Email Marketing
Email marketing is sending a commercial message, typically to a group of people, using email.
Every email sent to a potential or current customer could be considered email marketing. It usually involves email sending advertisements, requesting business, or soliciting sales or donations. It will build loyalty, trust, or brand awareness.
You can send marketing emails to a purchased lead list or a current customer database.
The term usually refers to sending email messages to enhance a merchant's relationship with current or previous customers, encourage customer loyalty, and repeat business. It also intends to acquire new customers or convince existing customers to purchase something immediately and share third-party ads.
Email marketing is widely used among businesses to direct communication with customers.
Marketing Automation with Brevo ( Formerly SendInBlue)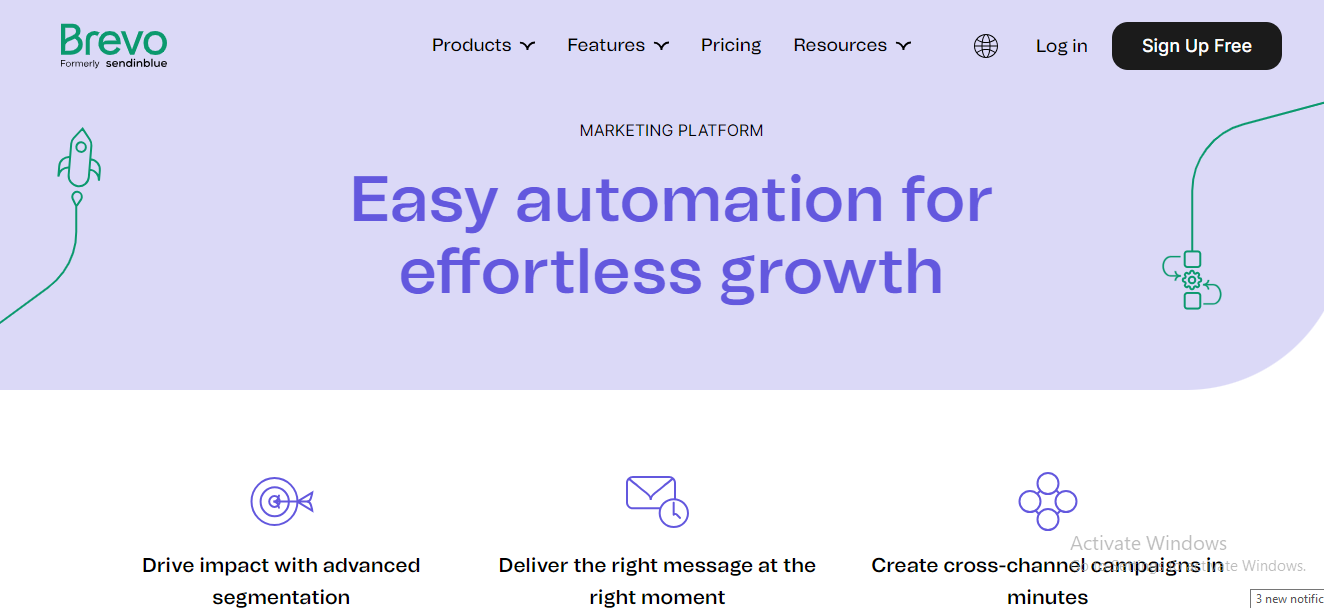 Marketing automation is a technology category that allows companies to streamline, automate, and measure marketing tasks and workflows to increase operational efficiency and grow revenue faster.
It is an integral platform that ties all of your digital marketing together.
Without it, your campaigns will look like an unfinished puzzle with a crucial missing piece. Sendinblue has Marketing automation software that streamlines and automates marketing tasks and workflows.
Most importantly, it measures the results and ROI of your digital campaigns, helping you grow revenue faster.
How does marketing automation work?
SendinBlue makes it easier to send personalized, 1 to 1 targeted messages. In other words, marketing automation makes communication stronger. When you automate your marketing, you can focus more heavily on the quality of your campaigns and messaging.
Marketing automation gives your team the tools to add more personal touches to your campaign. By collecting data on a prospect's interests and goals, you can custom-tailor future offers to be more relevant.
CRM Integration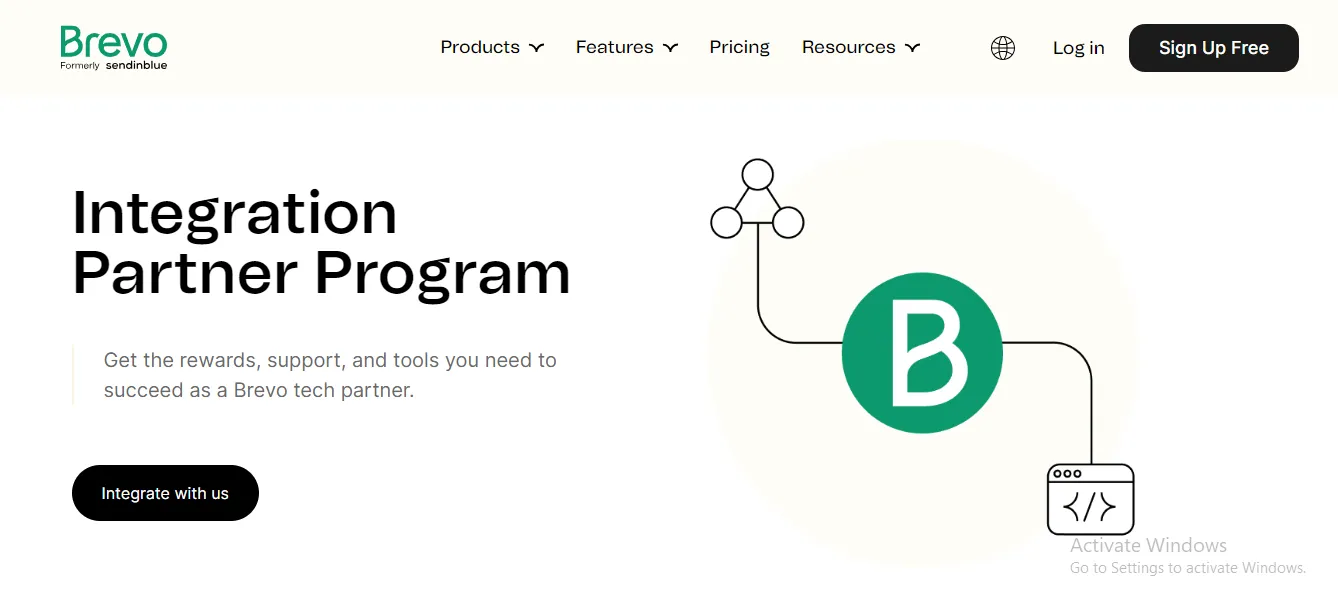 CRM integration links a CRM's marketing, sales, and customer service functions. SendInBlue helps you integrate data from different departments companies can identify and act on opportunities to increase sales and profitability.
Integrating CRM software with other business systems allows businesses to manage their customers more efficiently.
It enables companies to provide higher levels of customer service and support, with increased levels of automation and reduced person-hours required for the same tasks.
SendinBlue enables users to access all information about a customer or lead in one place, providing a 360-degree view of interactions with your company.
Facebook Advertising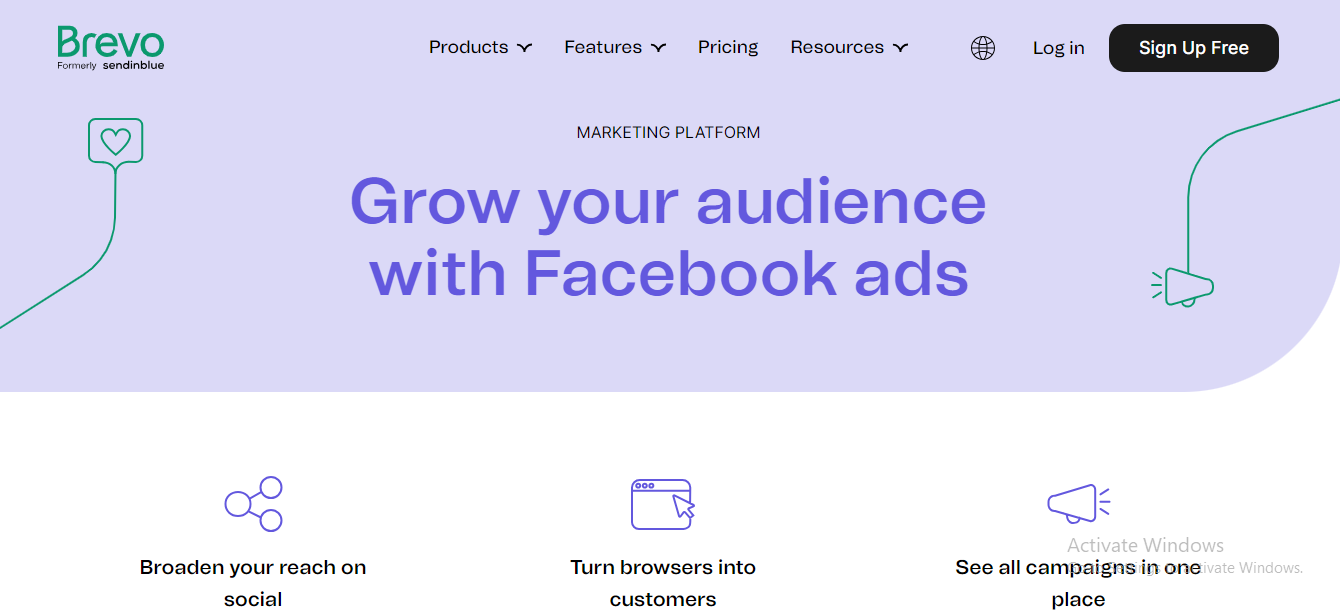 Facebook ads are the sponsored posts that you see in your Facebook news feed. They usually include a photo and some text. Businesses put out these ads to encourage you to take a specific action. Mostly to buy a product or learn more about something.
Facebook ads allow businesses to reach people who might be interested in their products or services but aren't yet familiar with their brand. Ads can also help enterprises target audiences based on location, interests, or behaviors.
It is an evergreen platform with more than 2 billion people using it every month. It's an effective way for businesses to reach a broad audience without spending a lot of money on advertising.
The Bottom Line
It is marketing automation and email marketing software that has been around for more than ten years. It's one of the best email marketing tools that makes it easy to design, manage and optimize your email campaigns.
The platform comes with many features such as a drag-and-drop builder, email templates, personalization, automated workflows, landing pages, etc. The pricing is competitive and has plans for any size and budget.
It's a perfect choice if you're looking to automate and personalize your emails or build an entire marketing campaign from scratch. It comes with a wide range of features suitable for all businesses. It has proven itself to be an excellent service for many leading firms.
Have a great time figuring it out for yourself. If you decide to subscribe, go for a trial version first and go crazy with the features.

Frequently Asked Questions (FAQs)
How much does Sendinblue cost?
Sendinblue offers a free plan for up to 300 emails per day. Paid plans start at $25 per month for up to 10,000 emails per month. The pricing depends on the number of emails you send, the features you need, and the length of your subscription.
What features does Sendinblue offer?
Sendinblue offers a variety of features for email marketing, including:
Email automation: Sendinblue allows you to create automated email sequences that are triggered by specific events, such as a customer subscribing to your list or making a purchase.
SMS marketing: Sendinblue lets you send SMS messages to your subscribers. This can be a great way to promote time-sensitive offers or to keep your customers updated on your latest news.
Contact management: Sendinblue allows you to store and manage your contacts information, such as their name, email address, and phone number. This information can be used to personalize your email campaigns and to track the performance of your marketing efforts.
Landing page builder: Sendinblue's landing page builder makes it easy to create custom landing pages for your website. These pages can be used to collect leads, promote products or services, or drive traffic to your website.
Marketing analytics: Sendinblue offers a variety of marketing analytics tools that you can use to track the performance of your email campaigns. These tools can help you see how many emails were opened, clicked, and bounced, as well as other metrics.
How do I create an email campaign in Sendinblue?
To create an email campaign in Sendinblue, you will need to:
Create a contact list. This is where you will store the email addresses of your subscribers.
Choose a template or create your own design. Sendinblue offers a variety of pre-made templates that you can use, or you can create your own design from scratch.
Add your content, including text, images, and links.
Set up your email campaign settings, such as the subject line, send time, and recipients.
Preview and send your email campaign.
How do I send an email through Sendinblue?
To send an email through Sendinblue, you will need to:
Create an email campaign.
Click the "Send" button.
Review your email campaign settings and click "Send."
How do I track the performance of my email campaigns in Sendinblue?
Sendinblue offers a variety of marketing analytics tools that you can use to track the performance of your email campaigns. These tools can help you see how many emails were opened, clicked, and bounced, as well as other metrics.
How do I create a landing page in Sendinblue?
To create a landing page in Sendinblue, you will need to:
Go to the "Landing Pages" section of your Sendinblue account.
Click the "Create Landing Page" button.
Choose a template or create your own design.
Add your content, including text, images, and links.
Publish your landing page.
What are the benefits of using Sendinblue?
Sendinblue offers a number of benefits for businesses, including:
Affordable pricing
A variety of features
Easy-to-use interface
Integration with other apps
Excellent customer support