According to Acquire, approximately 57% of consumers abandon a purchase online if they don't receive answers to their queries. That's over half of your potential customers, leaving unhappy. Often, customers get disappointed with inadequate support for products they want to buy. Now that the world is moving online, and products and services get digitalized,
it gets harder to converse with customers or leads.Most customers demand an immediate response or abandon your products for good because emails take too long to respond to and demand. They go onto another tab, search for your email, and whatnot! A ground-breaking tool that has come to fill the gaps and help businesses engage with their customers right where they need it is Live Chat. A Live Chat widget on a website page can boost your business growth and take it to new heights.
Pure Chat is a live chat provider for websites and apps, ensuring you meet your customers where they need it most. If you're looking to try out how pure Chat works for your business, this tutorial will help you do just that, showing you all the ways you can use Pure Chat!
What is Pure Chat?
Pure Chat is a live chat platform that helps businesses provide support, engage, and monitor their website visitors in real-time. Pure Chat was created, keeping the needs of small and medium businesses in mind.
With its comprehensive features and integrations, you can add a live chat support widget to your website and integrate it with other third-party software to give your customers an even more personalized experience.
The Pure Chat widget can be designed from the many theme choices available so that your brand doesn't lose its personality and aesthetics. Pure Chat's cloud-based nature means there's no need for additional hardware installation.
Pricing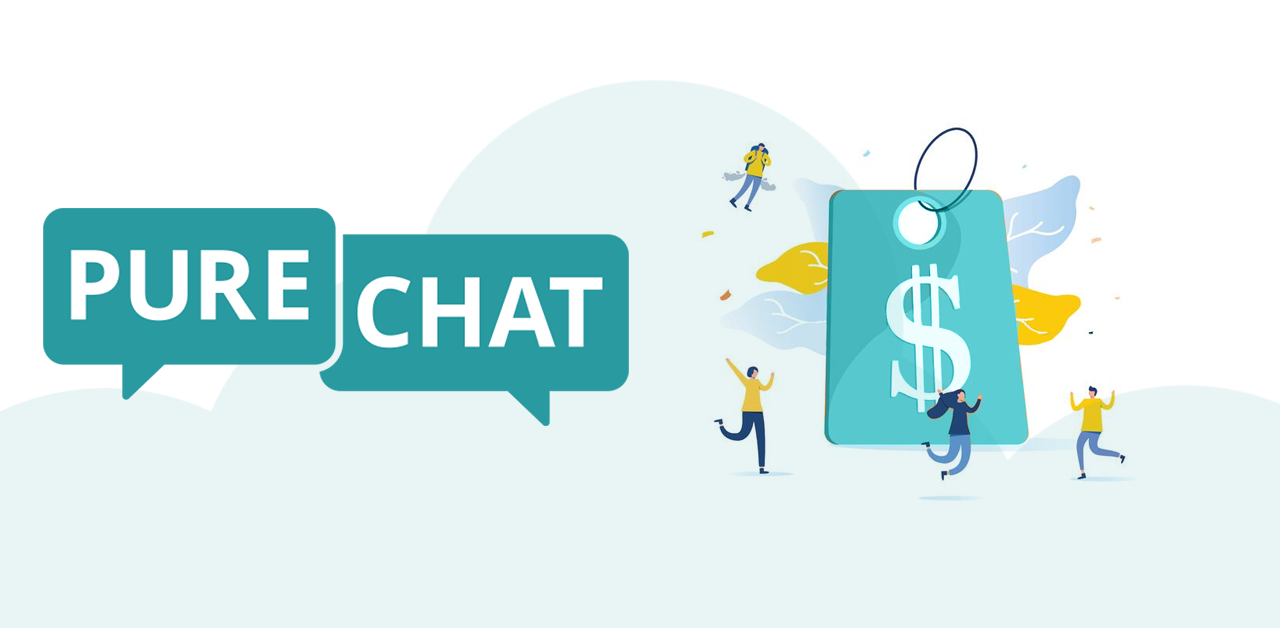 Pure Chat has a limited free trial and a two-tiered service plan. The prices are based on the number of agents using the live chat features per month. There is no limit to the number of chats, branded widgets, and chat transcript histories.
The Growth plan and the PRO plan are the two choices that differ, and you must know how before you start building a Pure Chat widget for your business.
The growth plan is priced at $39/Month/4 Users, allows unlimited interactions per agent, but can only integrate with one website. Another important drawback is that you can't white-label the widget.
The Pro plan is priced at $79/Month/10 users., has no limit to website integrations, and the pure chat branding is removable.
Pure Chat Integrations & Plugins
Using a Live Chat feature to its optimum level means integrating it with other software, such as a CRM platform.
Data integration with other software is crucial for saving time and effort. It is done by gathering data from separate tools on one Management platform, so your agents can perform other tasks that demand more thought.
Pure Chat acknowledges that and can integrate with over 1000 applications. Some of these popular apps are:
Zoho
Zapier
Salesforce
Shopify
Google Analytics
MailChimp
HubSpot
Pure Chat: How To Use it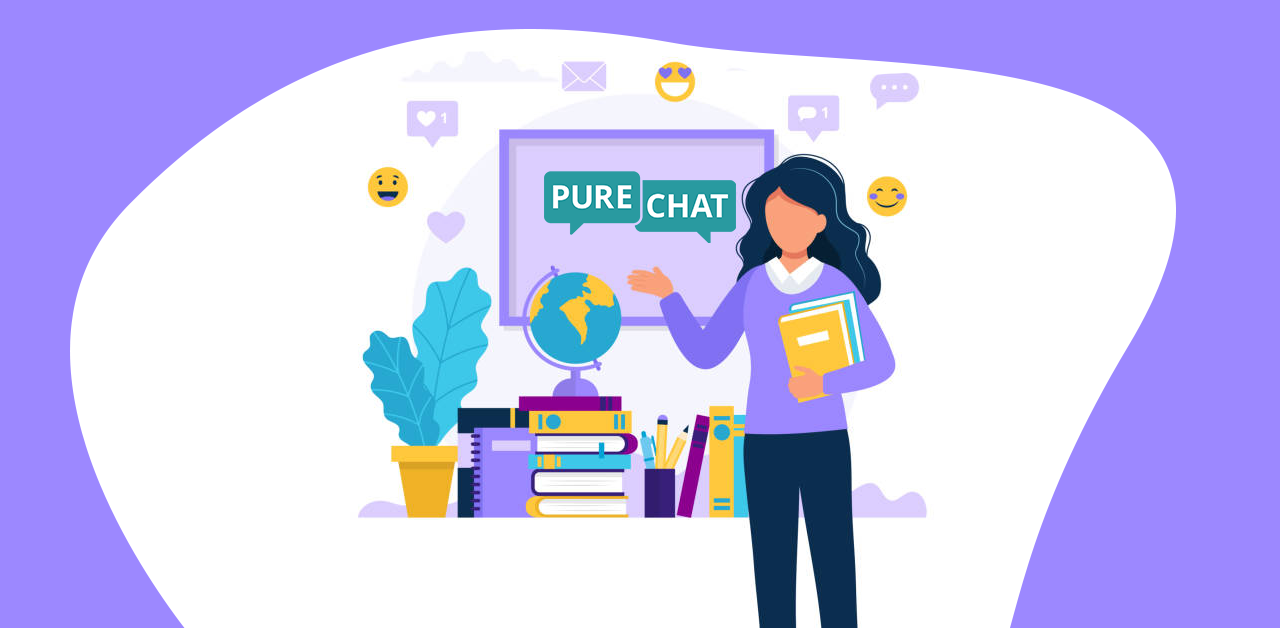 Add it as a plugin to a website builder: WordPress (fastest method)
Log into your WordPress account and go to your dashboard.
On the left sidebar, select Plugins
In the "Add New" section, search for the Pure Chat plugin in the search bar and install the Pure Chat plugin on your WordPress
Activate the plugin and find Pure Chat in the sidebar and pick a widget to turn the Chat on
With the WordPress integration, you can reach customers from your phone too.
Once Pure Chat is activated on your WordPress, you can use the mobile to chat with customers from anywhere. All you need to do is set your status to "available" on the web and then download the app on iOS or Android.
Install Pure Chat on your Website (HTML method)
Go to your Pure Chat Account
Choose Websites on the left sidebar
From the options, select the chatbox you like to install and click Get Code Snippet at the bottom right
Copy the custom code snippet and paste it just before the closing body tag of your website
If you don't know how to edit the code of your website, you can send the instructions to your webmaster.
Pure Chat : Integrate With Zapier
If you have a Zapier Account like most businesses, here's how you can make full use of Pure Chat's live Chat:
Log onto your Zapier account, go to the Zaps section, click ​Make a New Zap
Under Set up on the left sidebar, click on Choose App
Select Pure Chat
Next, choose the trigger you'd like to use(these triggers can be when a site visitor initiates a conversation, when a conversation ends, and when an email is collected)
Once you've chosen your trigger(s), choose the Pure Chat account by clicking on Connect a New Account
Here, you must enter an API key which you can get from your Pure Chat Account tab
Click on Integrations on the sidebar, then select Zapier
Generate a key to connect your account on Zapier
Choose an Action app to integrate it with- Slack, MailChimp
You can now update settings for the app you've selected
Name your Zap and click ​On​ to save it
Customization (With JavaScript API)
If the standard Pure Chat chatbox doesn't fit your needs quite well, you can always manipulate it to better integrate with your website in several ways. To use the Pure Chat Javascript API, ensure you have the latest chat box snippet installed on your website.
The latest snippet can be installed from your account's installation page.
All interaction with the Pure Chat Javascript API happens through an API object written to the window when your Pure Chat snippet loads. This object will stay on your page unless it is deleted manually.
You can check out the Pure Chat Website to know how to customize Pure Chat without JavaScript API, but here are some of its customizations:
Settings Overview: All settings can be modified using the dot syntax
Chat Box Positioning: Change the position of the chatbox on your website the way you want it
Chat Fields: Change what fields a visitor is required to fill before they can begin a chat on your site
Unavailable Behavior: Change what happens to your chatbox when no agent is around to chat
First Chat Message: Customize the first message that a visitor sees before a chat
End Chat Options: Customize whether to offer your visitors a download link to the transcript when the Chat ends or to allow your visitors to rate the Chat when it ends
Visitor Details Change: Get notified whenever a visitor's details have changed. This can be programmatically, or an operator can change the details during the Chat
Available / Unavailable Images: Customize the image that is displayed when the chat box is closed by a visitor
Tutorial: How To Chat With Website Visitors
Step 1: To receive chat messages, the first thing you have to do is make sure the chatbox availability toggle is on in the dashboard on your Pure Chat account.
Step 2: New chat requests will be visible in the Incoming Chats section of the left sidebar. To start a chat from the requests, click on chat request
Step 3: Once in the Chat, you can choose to type new custom answers or select one of the canned responses that automatically suggests while you type. You can also add a touch of personality with emoticons by clicking on the smiley icon at the bottom of the Chat
Step 4: If you look at the right, you'll find the contact panel, where you can add/customize a website visitor's name, monitor their visit history, and their location.
Step 5: The Actions button near the top allows you to invite a teammate to the Chat for help or re-queue the conversation so another agent can accept it if need be.
Step 6: Once a chat is finished, if needed, you can immediately post a tweet, export the conversation to one of your integrated apps, download or email the transcript to someone, and ban the IP address.
Must Use Features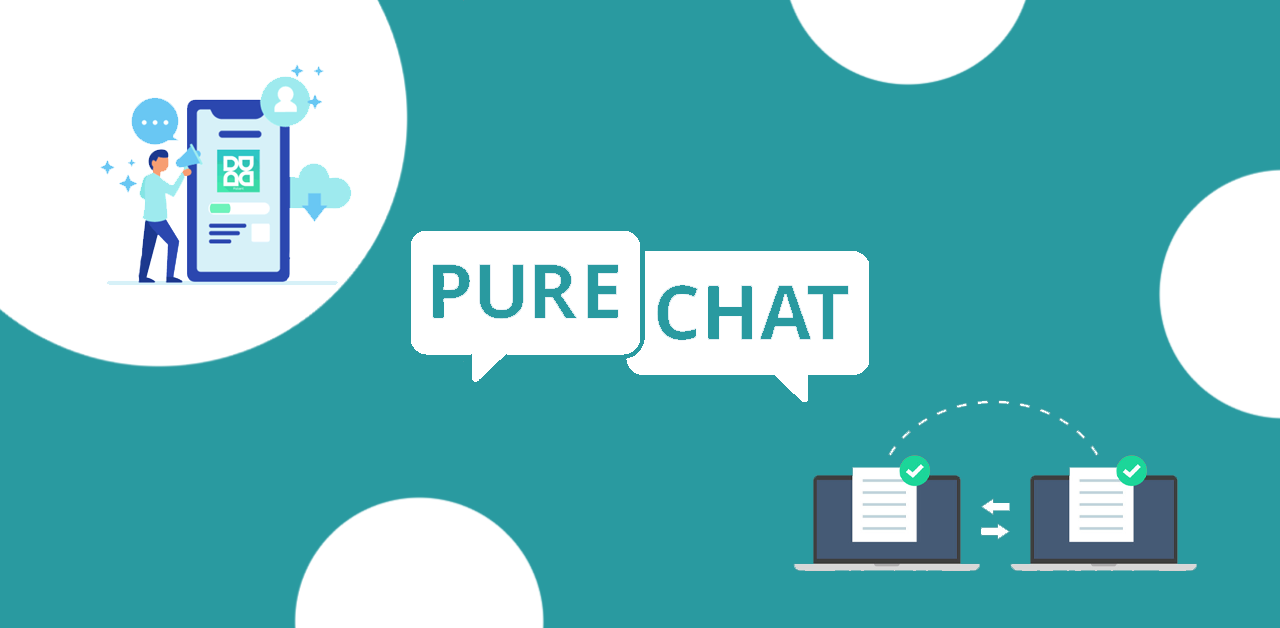 Mobile App
Manage your business while on the go, on both iOS and Android mobile apps. Your agents too can interact with website visitors and customers by installing Pure Chat from the App Store, so you never miss a lead even while away from a desktop.
Unlimited chat history (transcripts)
Most live chat providers don't provide unlimited chat history transcripts. MyLiveChat, for example, only stores three years, five years, or ten years of data, depending on which plan you subscribe to. With this feature, you can use visitor data no matter how old the data is.
Engagement Hub
The Engagement Hub brings all of your desired modes of communication into one, easily accessible location for better user engagement. This free tool lets your visitors see the Engagement Hub on every page of your website, eliminating the frustration of searching for a way to get in touch with your business on a contact page.
Using this feature will help you capture more leads as customer support is easily accessible,
File Transfer
Sometimes words aren't enough to explain something. Use the file transfer tool within the chatbox to make conversations more interactive!
If the Administrator enables inbound file transfer, you can receive files from website visitors and send them. Inbound file transfers work only for website visitors using the widget.
Wrapping Up
According to Superoffice, Live Chat costs 50% less than handling phone calls. That too, while delivering superior customer service.
Phone calls can be a great tool to give your interactions a human touch. However, in the modern era where time is precious, and globalization is at a peak, 73% of customers find live Chat the best form of communication with an organization (99Firms). When used correctly, Live Chat can also benefit your business in ways you never thought possible.
Pure Chat is easy to install, integrates with your CRM, provides you with in-depth information on web page visitors in real-time, and collects feedback, so your business always keeps improving. We hope that this Pure Chat tutorial will help you figure out how to use the platform to your advantage.
Check Out BotPenguin
Related Article: