MobileMonkey Alternative: Introduction
Having automated customer service is vital for every business. Automation is necessary for many reasons but the primary reason is staying ahead of the competition. There are a number of tools available nowadays to achieve automated customer service but one of the cheapest and easiest to use is a chatbot. A chatbot can help in automation and customer service. Chatbots answer most consumer queries, whether on social media or websites. Platforms like Mobilemonkey are popular among various users, is there a MobileMonkey alternative?
MobileMoneky is famous for its Facebook Messenger marketing chatbot. It enables clients to communicate with you via web chat and SMS. Furthermore, It assists in growing sales and revenue and acquiring new clients. But like every other tool, it has flaws too. As a result, in this article, you will find why BotPenguin is the best alternative for MobileMoneky.
Now, let's get a brief idea about BotPenguin. BotPenguin is an AI-powered chatbot platform that is easy to build and user-friendly. It is available 24x7, answering queries, generating leads, and booking appointments. With BotPenguin, you can create four different types of chatbots for your business. It increases your conversion rate by 300% to 500%.
MobileMonkey Alternative: An Overview
MobileMonkey is a leading platform for scaling Facebook Messenger marketing operations. It reaches many potential consumers at scale. It allows you to gather messenger contacts, send messages, set up drip campaigns, and execute hundreds of other marketing tasks. You can use chatbots for designing and deploying without knowing how to code.
MobileMonkey Features
The features of MobileMonkey are the following:
Live chat system
Analytics
Scheduling
Reporting
Dashboard
Notifications
Performance Analysis
Artificial Intelligence
Social Media
Voice Assistants
Customer Success
Qualified leads
Route visitors to the product, team, or information
Capture lead information on first contact
Conversation at the right time with real-time leads
The ultimate mobile-friendly
Cross-device
Multi-platform experience.
Pros and Cons of MobileMonkey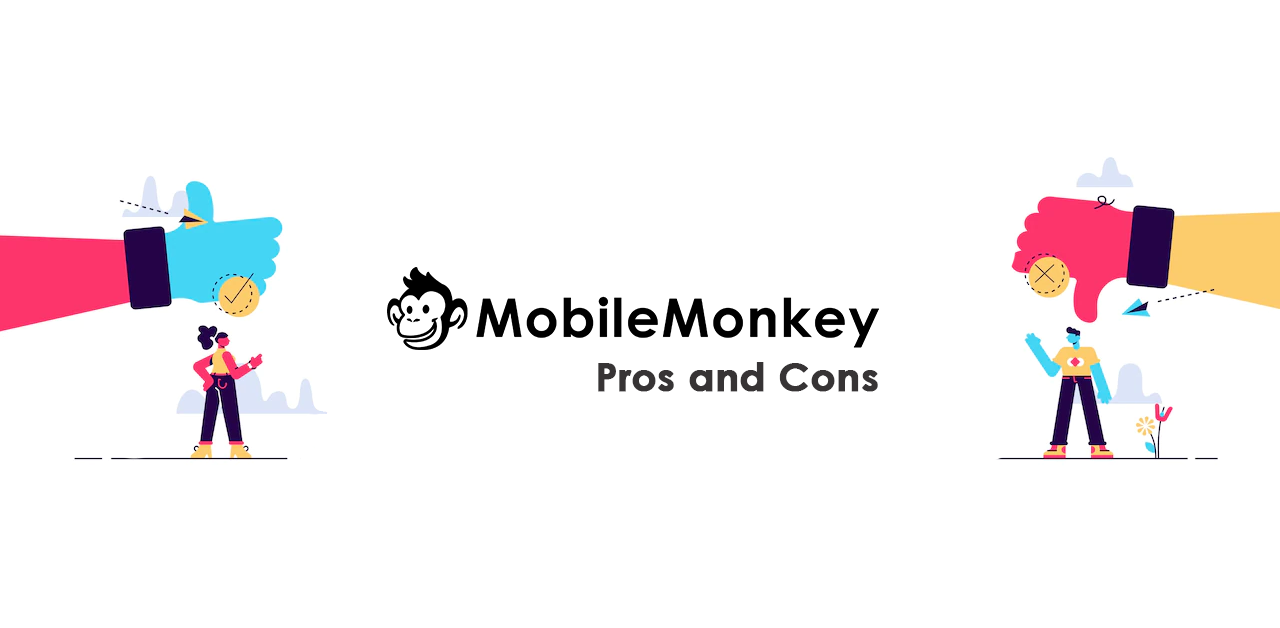 The pros and cons of MobileMonkey are the following:
Pros
MobileMonkey Provides a free service for small enterprises with no money.
A Facebook group with peers and specialists assisting one another.
Cons
Questionable marketing tactics
Spam calls are persistent.
MobileMonkey Alternative: BotPenguin Overview
BotPenguin makes it simple to construct chatbots and marketing automation without writing a single line of code. Marketers can set up autoresponders and drip campaigns with powerful chatbot creation tools. Furthermore, they can expand their lead lists, and improve conversions.
BotPenguin is a chatbot creation tool that works with Facebook Messenger, WhatsApp, and Slack. Using this robust platform, you can build chatbots for your team on Facebook, Slack, WhatsApp, SMS, and your website.
MobileMonkey Alternative: BotPenguin Features
The features of BotPenguin are the following:
Chatbot
Natural Language Processing
Zero Development Time
Live Chat
Zero Setup Cost
Conversational UI
Multi-Language
Deep Analytics
Easy to Integrate
Pre-Configured Bot
Cost-Effective
Easily Customized
Speech Recognition
Strong Validation
Multi-Channel Communication
Branching
Capable of Being Trained
MobileMonkey Alternative: BotPenguin Chatbot Services
Botpenguin doesn't offer only one type of chatbot. It provides various chatbots like:
Lead generation chatbot
Customer service chatbot
Assistant chatbot
Order booking chatbot
MobileMonkey Alternative: BotPenguin Integrations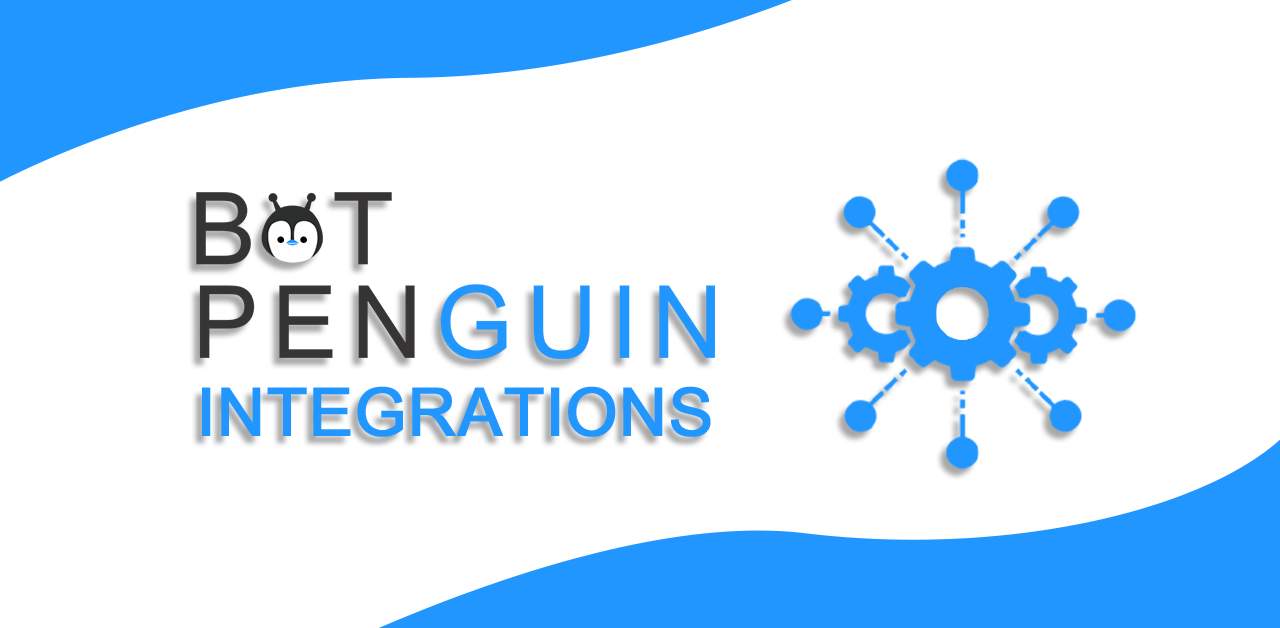 It easily connects with any tools, increasing productivity and smooth processing:
HelpScout
HelpDesk
Zendesk
Freshworks
+Desk.com
Happyfox
Time trade
Eventbrite
Acuity Scheduling
Mindbody
ClickMeeting
Appointy
Outlook
Google calendar
Zapier
Webhook
Segment
Tray.io
Agile CRM
Base
Zoho CRM
Hubspot
Pipedrive
Capsule
Salesforce
Drip
Britix24
Sugar CRM
Insightly
1 CRM
Gold vision
Leadsquared
AMOCRM
Freshsales
Sales manager
LeadsBridge
Botanalytics
Google Analytics
Todoist
Tasks
Meistertask
Stripe
Paypal
Site
Instapage
Weebly
GoDaddy
WordPress
Webs
Wix
Google Sheets
Google Contacts
Google Drive
GetResponse
Chili Piper
MailChimp
Click Funnels
Twilio
Dropbox
MobileMonkey Alternative: BotPenguin Benefits
The benefits of BotPenguin are the following:
Simple to set up and run in a matter of minutes.
Increases the number and quality of buyer dialogues by talking in. Visitors learn more about the product and qualify themselves faster.
It provides users with more relevant experiences and material depending on their specific use cases.
Stands out in the market by bringing your brand to the prospect experience.
Whenever there has been a problem with the product, the crew has always been eager to resolve the issue.
Conversion metrics reporting within the platform enhanced.
19 Reasons Why BotPenguin is the Best MobileMonkey Alternative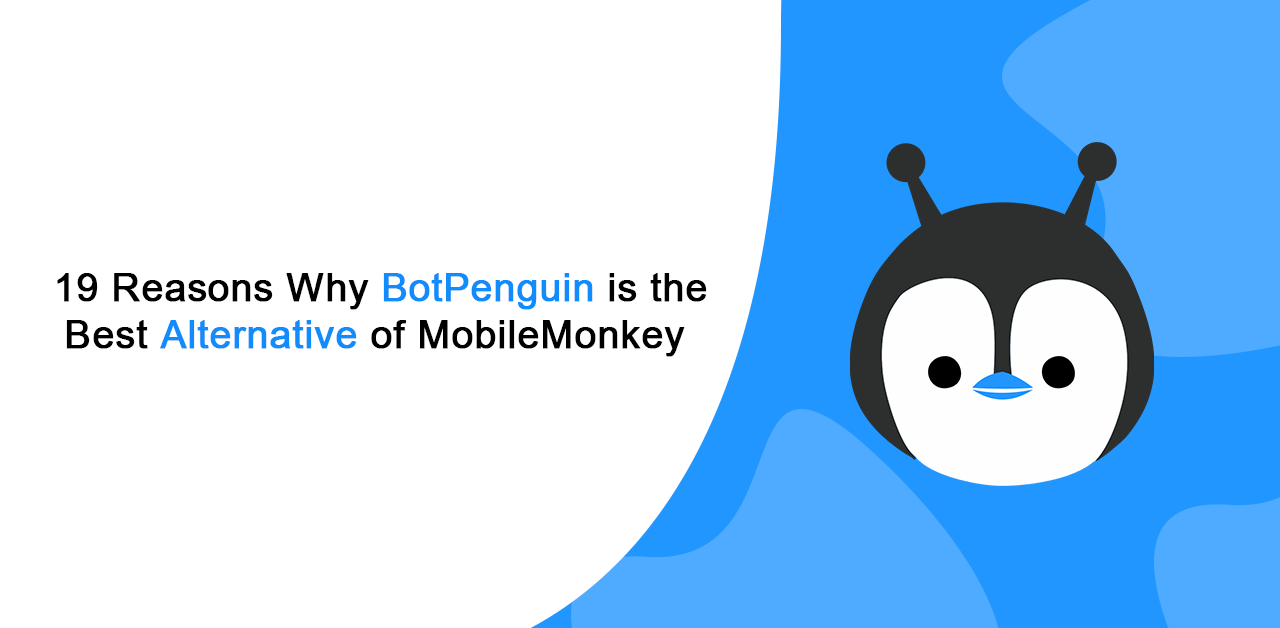 Here are the reasons why BotPenguin is the best alternative to MobileMonkey:
Easy handling: BotPenguin handles client inquiries with ease by activating a chatbot. Further, it will improve your overall efficiency.
The Ability to Train FAQ: In seconds, the BotPenguin chatbot can learn a list of all commonly asked questions. It will respond to them with fast and helpful replies.
No Coding Needed: Bye-bye to the convoluted code framework required to create a bot. BotPenguin chatbot tool includes a drag-and-drop builder to make things easier for you. The task is more accessible because pre-defined flows fit your company's needs.
Zero development time: In less than 10 minutes, you can launch your first operational chatbot on your website with the help of BotPenguin.
Easy to Build & Deploy: With the help of BotPenguin, it is easy to build and launch chatbots other services on your website. All you have to do is follow the instructions on the website. Advanced capabilities in the program allow you to automate your consumer engagement across several platforms. Describe the flows and the triggers, and the chatbot will take care of the rest.
Customer support: If the consumer appears to be engaged and wishes to address significant concerns, the customer service is present in minutes to help. You can talk by phone, chat, or email. It provides 24/7 customer support. If you run into any problems when constructing your bot, contact them, and you will get help.
Seamless Integration & Relentless Automation: As part of digitalization, continual expansion necessitates automation. BotPenguin chatbot software can help you automate repetitive chores. It also interfaces with various platforms, automating the majority of tasks.
Logical conditional situation: You can generate many responses and branch them accordingly for any queries.
Higher ROI & Less Human Intervention: When you use BotPenguin chatbot software, you see the business process multiplying quicker. The exponential increase in efficiency is immediately visible, resulting in a greater return on investment. It is the ultimate advantage for your company.
Strong validation: The BotPenguin Bot ensures that no spam or incorrect information is available to visitors. It further provides that the firm only receives genuine leads.
Good Assisting: Take your company to the next level by increasing your staff's productivity and general performance.
Chatbot Personalization: You may customize the chatbot to meet your firm's demands.
Boost Productivity and Revenue: BotPenguin will handle all your customer support requirements. You can develop a customized chatbot assistant who will do all of your customer care responsibilities within a few clicks. BotPenguin is a cost-effective solution to increase your company's productivity and income. It has a 400% conversion rate.
Handles Complex Tasks: You can delegate any complex task of understanding your business to the BotPenguin. It will ensure to fulfill every task you assign.
Build Flows with Visual Designer: BotPenguin is a drag-and-drop conversational bot and chatbot flow builder. Connect with your preferred texting provider and get started right now!
Natural language processing (NLP): The well-designed BotPenguin chatbot ensures that if a consumer asks many inquiries simultaneously, the bot knows how to respond and matches the correct string. The chatbot is intelligent enough to discover incorrect replies as well.
Integration: All of your business software, including CRM, Live Chat, Helpdesk, and more, can be automated and integrated. It will allow you to increase production while also saving time and money.
Quite affordable: Get the finest chatbot on the market for years for a fraction of the cost. BotPenguin is a straightforward chatbot that handles all of your customer support requirements. You don't need to create code for the chatbot today! It is available for free usage. And the monthly payment is only $4.
Multiple-Service at one time: BotPenguin can be installed across various platforms simultaneously. The bot might be a:

Telegram chatbot
Facebook Messenger chatbot
Website Chatbot
Line chatbot
Landing page chatbot & covers many other platforms as well.
MobileMonkey Alternative - Why is BotPenguin free?
The BotPenguin free plan includes everything you'll need to create and implement effective messenger marketing campaigns that provide tangible results for your company. It has a chatbot builder, messenger advertisements, chat blaster, Q&A triggers, and other features.
MobileMonkey Alternative - Is BotPenguin safe?
Yes, BotPenguin is entirely safe. It has advanced security for protecting your data and business information. BotPenguin is a fantastic solution for folks who want to automate their Facebook business page conversation but don't know how to use Messenger or Chatbots.
The Bottom Line
BotPenguin is an AI-powered chatbot platform that lets you create amazing chatbots. It engages your consumers on your website, Facebook, and other platforms fast and effortlessly.
For keeping up with fast-moving digitization, you require feasible automation. If you can build pipelines and activate a bot to automate client interactions, your performance will be next level.
BotPenguin chatbots exponentially improve your services and make your business a success. You can use them to answer questions, live chat with customers and enhance company support services. Go check out the website!